Home Tours
Take a Tour of Catriona Gray's Colorful, Eclectic Condo Home
Welcome to Casa de Gray! Photography: Courtesy of Instagram/@catriona_gray, YouTube/Catriona Gray
It is always fun watching celebrity home tours, because these videos give us a sense of what these people's personalities and preferences are (not to mention a lot of design inspiration!). One famous face who has recently given fans an exclusive peek into her space is Miss Universe 2018 herself, Catriona Gray, through a brand new video on her YouTube channel.
Catriona shared that from the very beginning, she already knew how she wanted her space–also known as Casa de Gray–to look: "It was really just a lot of my vision was already set in stone, if I'm to be honest. I don't think I took much suggestions because I've just really wanted my own home for so long now. Ever since I moved out from my parents' house, I've always been dreaming about owning my own home and being able to do what I wanted with it."
ADVERTISEMENT - CONTINUE READING BELOW
She worked with Pasig-based firm Hurray Design to bring her vision to life. This involved lots of bold and eye-catching decor, locally-made products and textiles, interesting conversation pieces, and an adventurous color palette. The unit also underwent quite a bit of reconstruction work, which was handled by Urban Konstruct Studio.
Have a look at this colorful, eclectic home that is fit for a queen:
Entryway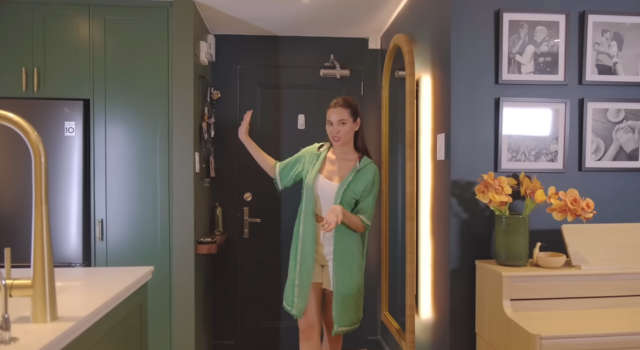 The first thing you will see when you enter Catriona's home is a grid wall organizer, which she uses to organize items such as keys and face masks, as well as dark walls and a wood-framed full-length mirror.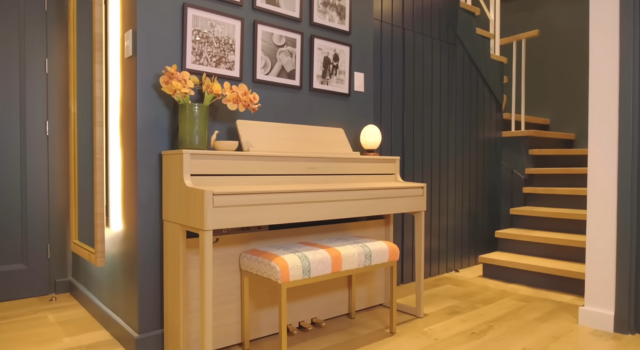 Just past the entrance is an electric piano from Roland Philippines. The beauty queen shared that she invested in this item because she has always wanted to develop her skills in playing the piano. Paired with this is a custom piano bench created by Studio Fino, with fabric commissioned from ABEL Philippines which gives you a taste of Catriona's love for local weaves and textiles.
ADVERTISEMENT - CONTINUE READING BELOW
Atop the piano are some interesting knick knacks like a bowl from a past trip to Colombia and a carved ostrich egg lamp from Africa. On the wall, Catriona hung black-and-white photographs of special moments and people in her life, including her fiance, actor Sam Milby, and her first visit to the non-government organization Young Focus Philippines after winning Miss Universe.
Living Room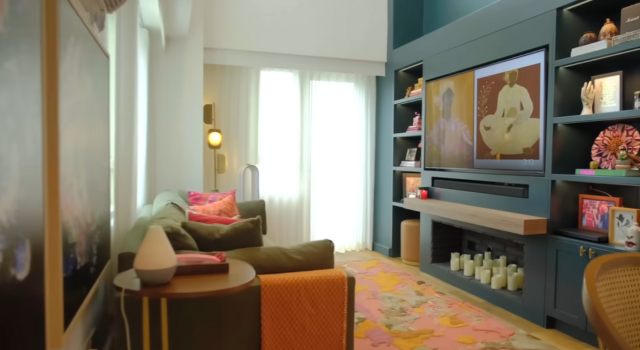 ADVERTISEMENT - CONTINUE READING BELOW
Catriona explained that the living room was the one part of her home that she really wanted to show her personality, which is why it is full of bright colors and a variety of decor. She shared, "I'm a very expressive person, very artistic person, so I really wanted my space to reflect me as a person, which is why I also have a lot of display shelves in this house, because I just love displaying mementos, things from my travels, or just meaningful photographs or even just pieces of my heritage, whether that be Australian or also Filipino."
One of her favorite nooks in the media unit is the one that contains the ear cuffs she wore when she competed in both Binibining Pilipinas and Miss Universe, as well as a framed photograph gifted to her by one of the Miss Universe judges and a piece of fan art. The other squares display items from her travels, family photos, and more.
ADVERTISEMENT - CONTINUE READING BELOW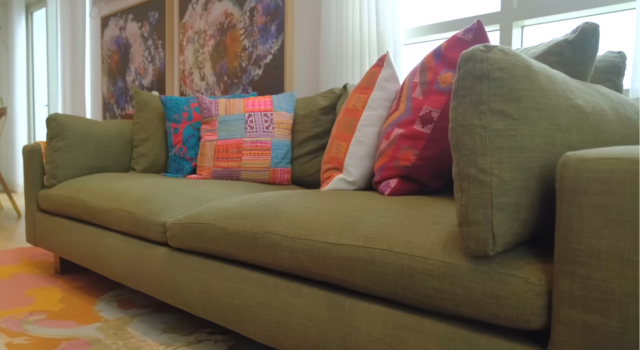 Though she is not a big TV watcher, Catriona wanted a plush couch where she could cuddle with her pets and play video games with her fiance. The couch is decorated with yakan throw pillows from Malingkat Weaves and an inabel throw blanket that she bought in La Union. Other interesting pieces you'll find in this living room are colorful woven chandeliers from Calfurn and a whimsical rug from Studio Soliven.
ADVERTISEMENT - CONTINUE READING BELOW
Dining Room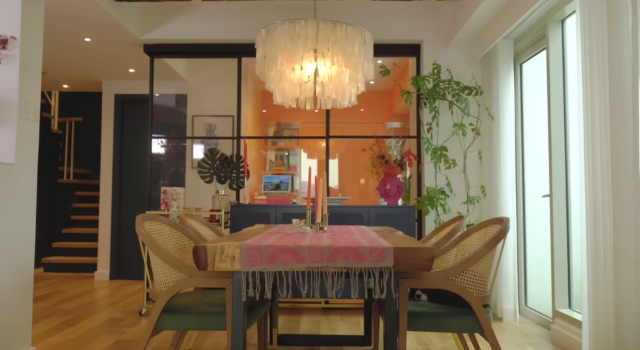 Many people say the kitchen is the heart of the home, but for Catriona, this label applies to the dining room. She made sure to keep this area as comfortable as possible, since it is where she and her loved ones usually spend hours eating, chatting, and playing games. The dining table, which is made of acacia, was made by CASAMA Craftsmanship, while the chairs are custom creations of Calfurn. She accessorized the table with an inabel table runner, accents from H&M Home, and a Capiz chandelier from West Elm.
ADVERTISEMENT - CONTINUE READING BELOW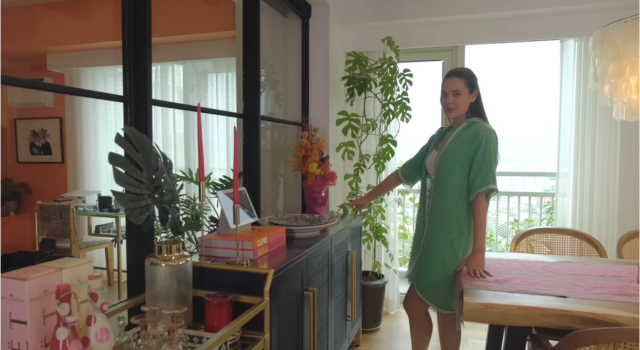 Behind the dining room is a storage unit that features yet another set of eclectic decor, including a hot pink Stefania Boemi head vase from Fenton & Fenton and a climbing monstera plant from PGD Botanique standing next to a balcony door. This area also has a mini bar cart that Catriona uses when entertaining guests.
ADVERTISEMENT - CONTINUE READING BELOW
Catriona also talked about the process of renovating her home. "It's really funny because the first time I saw it, I was not sold because it was quite cluttered. I knocked down a lot of walls," she shared. "Originally, it was quite more closed up, but by really opening it up and seeing how much natural light it had, I really fell in love. I'm just really happy that it turned out the way that it did."
Kitchen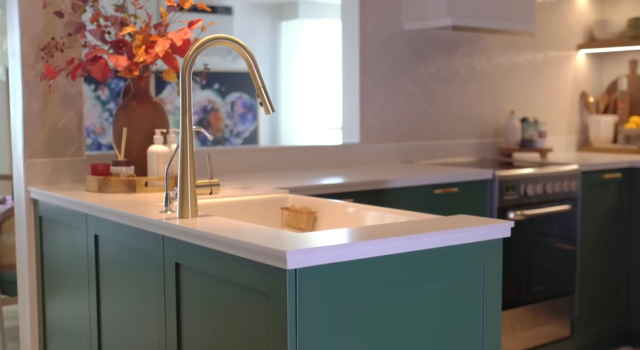 ADVERTISEMENT - CONTINUE READING BELOW
According to Catriona, the kitchen is the one part of the unit that saw the most changes, with a lot of walls being torn down, the counters being extended, shelves and cabinets being installed, and more. She opted for quartz countertops from Mobler since she wanted something low-maintenance.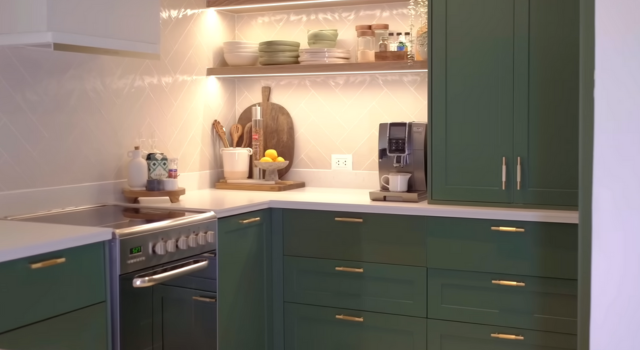 ADVERTISEMENT - CONTINUE READING BELOW
The open shelves give a rustic look to the beauty queen's sleek kitchen, and allow her to put her cookbooks and ceramic dining ware from H&M Home on display. She also had the Elba S 66 X 938 induction cooking range installed here, along with a range hood to get rid of cooking smells. The cabinet was constructed to hide the switchboard, which could not be moved elsewhere.
"I really love that we were able to really open it up, and I feel like I've always really bonded over food with my loved ones," Catriona gushed. "Even when I was growing up with my family, it was always over mealtime, and then even with my friends, we always get together and we eat together. So I love that I have this space that hopefully, I can cook good food to share with people that I love."
Balcony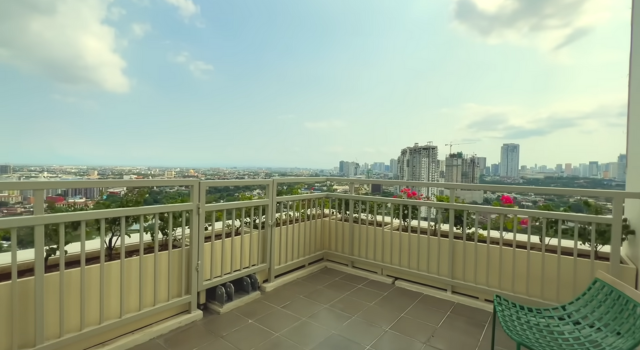 ADVERTISEMENT - CONTINUE READING BELOW
Catriona revealed her excitement over being able to have such a spacious balcony in the middle of the city. She also added, "My green thumb seems to be working 'cause all of my plants have not died yet!"
Later on, she plans to spruce up this area a lot more and convert it into a "beautiful little chill-out area" that she can hang out in with her loved ones. For now, she just has several chairs from Zarate Manila decorating her balcony.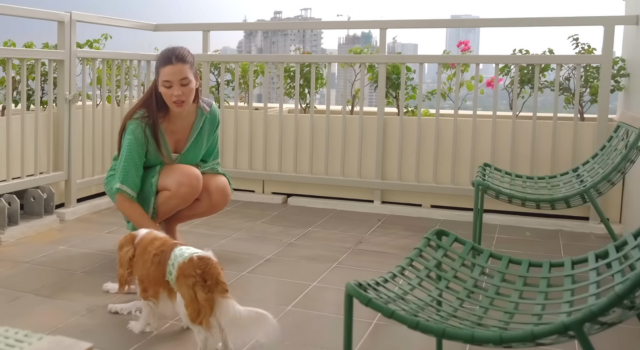 ADVERTISEMENT - CONTINUE READING BELOW
Catriona, a proud fur mom, revealed that her two pets, Theo and Bailey, love sunbathing on the balcony! "The puppies love it out here, especially Bailey. She loves sunbathing, especially when the sun's out. She would just come out here and lie in the sun."
Content/Creative Room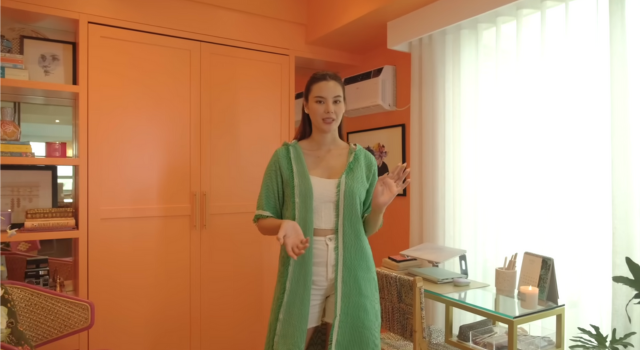 ADVERTISEMENT - CONTINUE READING BELOW
Right next to the dining room is the content/creative room, which, according to Catriona, can be used not just as a work area but also as a hair and makeup studio or an extra bedroom for when her family come to visit. This room took the longest to decide on the look of–though it was initially supposed to be painted pink, Catriona eventually decided to paint the walls orange, since that would go well with the deep blue and deep green elements of the rest of her home. Another very special piece you'll find here is a Junk Not chair made out of recycled single-use plastics.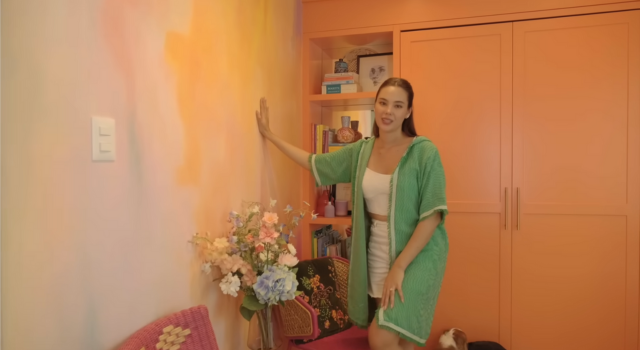 ADVERTISEMENT - CONTINUE READING BELOW
This room is where you'll find one of Catriona's most favorite parts of her whole home: this painted mural created by MIKRA Faux. She said, "They came in and they painted this, and I'm really, really happy with it. It just gives me all my artsy vibes, which I love." Next to this painted mural are more open shelves, where Catriona keeps everything from her favorite books to an heirloom from her grandmother.
Powder Room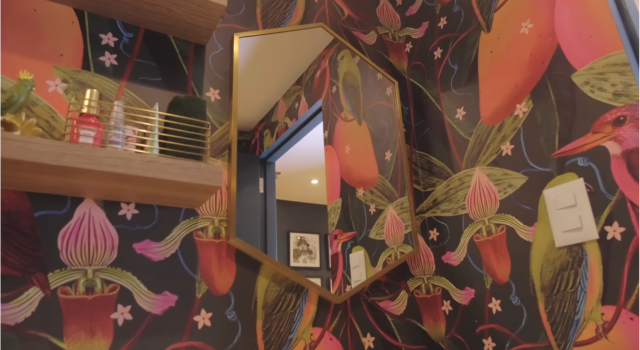 ADVERTISEMENT - CONTINUE READING BELOW
Catriona's love of colors and art shines through in the design of her powder room, which has an impressively bold wallpaper created by Filipina artist Raxenne Maniquiz and which features endemic flora and fauna from the Philippines. "I sent her the five things that I wanted to be reflected onto my wallpaper, and she painted it, and then we printed it on wallpaper, and it's here and it's so beautiful! It's so, so happy because it's like my whole powder room is wrapped in art, which is a dream," Catriona said.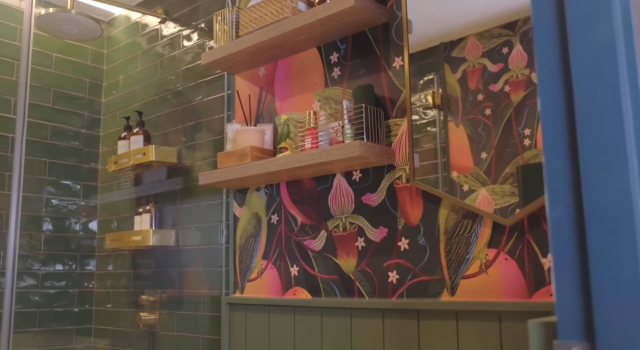 ADVERTISEMENT - CONTINUE READING BELOW
The tiles in the powder room are also in a deep green color, while the accessories were sourced from KARE Philippines and H&M Home. "It was just something that was very bold, and I think it's just a nice welcome to your guests who come to visit your home with a very statement powder room," the beauty queen shared.
Make sure to keep your eyes peeled for Part 2 of Catriona's house tour! Meanwhile, check out this other impressive home:
ADVERTISEMENT - CONTINUE READING BELOW
More on Realliving.com.ph
Load More Stories