Your Go-to Guide in Designing a Kitchen According to Aesthetic
Scandi, space-saving, or modern? Here's what you need to know! Are you one of the many who always look forward to the kitchen when viewing home tours? Whether it's compact or spacious, one-wall or galley, modern or Scandi-inspired – the heart of the home is always fascinating because it can tell a ton about the owners and their preferred style. If you think about it, the kitchen can also clue you in on how the homeowners organize and work around the space.
Whether you want to renovate the kitchen or you're in the process of building your forever home, you might be wondering what's the best kitchen design to pursue given the space you have. It can follow the overall style of your home and what's important is it reflects your taste. Interior designer Kimi Manuel says that it needs to reflect your personality. "The best design is one that is personal to the owner. Display your recipe books, even kitschy vessels, toys, and memorable objects such as a bottle from a particularly special get-together. Do what makes you happy so you can make it a pleasant experience as you start and end your day from the kitchen," she explains.
What should you consider in your kitchen design?
To get started, you need to re-familiarize yourself with the basics of kitchen design. "For a ground up construction or a major renovation, the most important consideration is the work triangle. This is the concept of the placement of the sink, cooktop, and refrigerator for an efficient layout and work flow. Even if the kitchen is spacious, keep the work triangle compact," says Kimi.
ADVERTISEMENT - CONTINUE READING BELOW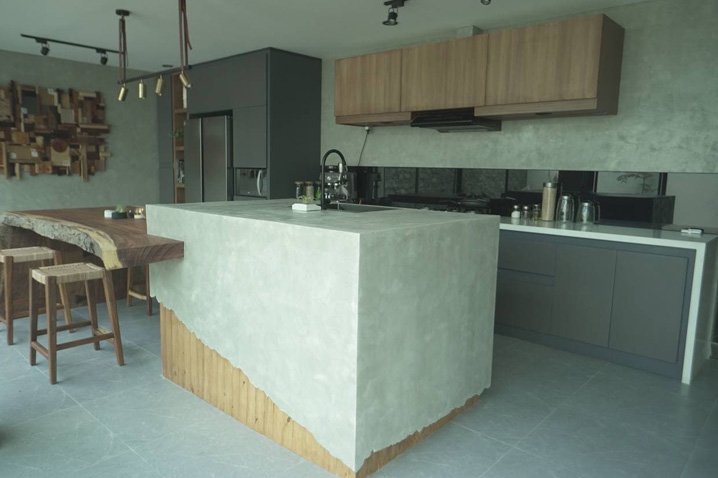 Depending on how you work around the kitchen, you need to design it with the work triangle in mind. As an example, you can consider having the refrigerator on the right, the cooktop in the middle, and the sink on the left. Where your kitchen is located is important, too. Kimi says that the kitchen should be at the central location of the house. "Ideally, where it is should be in close proximity to the point of entrance such as the main door or the garage where the groceries will be carried from at the shortest distance," she adds.
What are the non-negotiables when designing a kitchen?
Aside from using the work triangle as guide, you also need to take into consideration proper measurements. "The best way to design a kitchen is to use the standard kitchen dimensions for proper ergonomics, comfort, and safety," the interior designer explains. To give you an idea, here are numbers to keep in mind:
Counter height – at 800mm to 850mm, maximum of 900mm for taller users
Counter depth – 600mm
Minimum height between countertop and wall cabinet – 600mm
Clearance in front of a counter – 1,000mm – to determine this, you also need to consider the number of people that will work in the kitchen simultaneously
Clearance between counters – minimum 1,200mm if there are two appliances across each other especially in a corridor type kitchen layout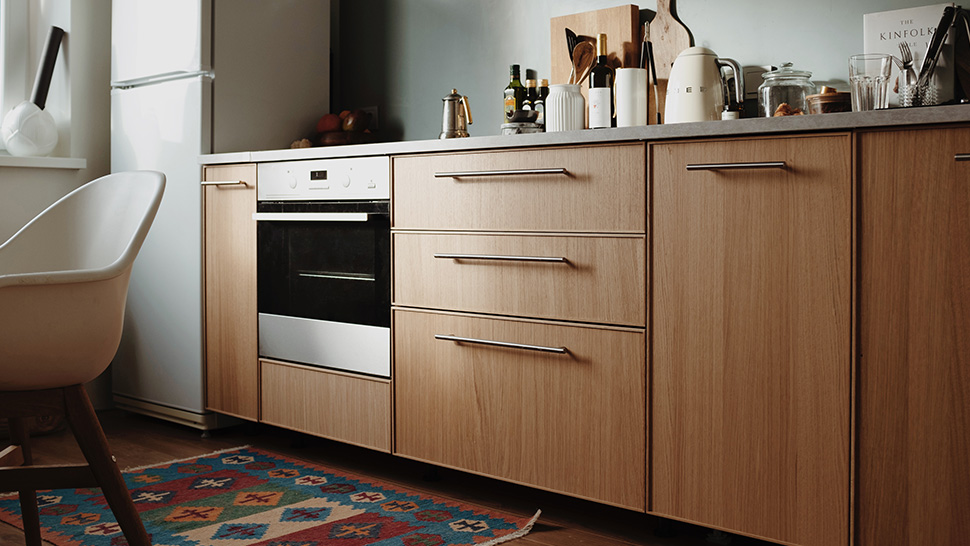 In addition to these measurements, Kimi also suggests having sufficient outlets every 1,200mm or four feet of counter space and within 600mm or two feet of a wall corner. An outlet above the countertop should be around 150mm or six inches above the work area.
What elements should be present in any kitchen design?
It's easy to distinguish a modern kitchen from a Scandinavian-inspired one or an industrial cooking area from a farmhouse-inspired nook. While you may lean toward a specific style, there are elements that should always be present to complete the look you're going for. Kimi identifies some of these below:
ADVERTISEMENT - CONTINUE READING BELOW
Backsplash
Your chosen backsplash can double as accent in the kitchen. If you're working with a limited budget, you can always go for peel and stick backsplash tiles you can install on your own. Remember to purchase those that are water- and heat-resistant.
"If the rest of the kitchen is muted in design and color, feel free to select a loud pattern or color. It can be a mosaic in organic shapes or a tile design in rich sinuous plant forms," suggests Kimi.
Handles and knobs
Pretty cabinets can instantly catch one's attention, but the handles and knobs can make a difference, too. "If you're using the existing holes on the cabinet door o drawer face, check that the new cabinet pull is at the same hole-to-hole distance or that its shape o design does not leave the old holes visible," advises the interior designer.
Depending on your kitchen design, you can pick handles in stainless steel, brass, zinc alloy, and aluminum. There are many options – just choose one that complements the overall style.
Task lamps
Lighting is important in the kitchen – especially when you're preparing ingredients and checking the food you're cooking. Kimi suggests installing lighting under the wall cabinets or having a clamp lang when the overhead light is insufficient. This type of lamp can be easily attached to a shelf, a table, or a countertop.
"Adequate natural or artificial lighting creates a more pleasant working space while making tasks easier and safer. Remember to choose lamps with a color temperature in daylight or cool white. The latter is a balance between daylight and warm white," explains the designer.
3 kitchen design ideas you can try
Now that you know what to prioritize in designing a kitchen and the elements you need to have, the next step would be choosing which design or style to pursue. To inspire you, we've listed three designs which you can consider. From sleek and modern, to cozy and bright – you'll have fun finalizing the design to work on:
Modern Kitchen Design
When you hear modern kitchen design, what immediately comes to mind? We're sure you're imagining a sleek aesthetic, a luxe ambiance, frameless cabinets, and minimal décor. If you plan to work on this style and of these things are on your list, then you're on the right track.
Some of the style elements of modern kitchen design include clean lines, high-end materials, minimalist styling, and an overall sophisticated appeal. Home Stratosphere explains that modern kitchens emphasize the beauty of its posh finishes by leaving the countertops bare and polished, with pops of color as accents to create an upscale look.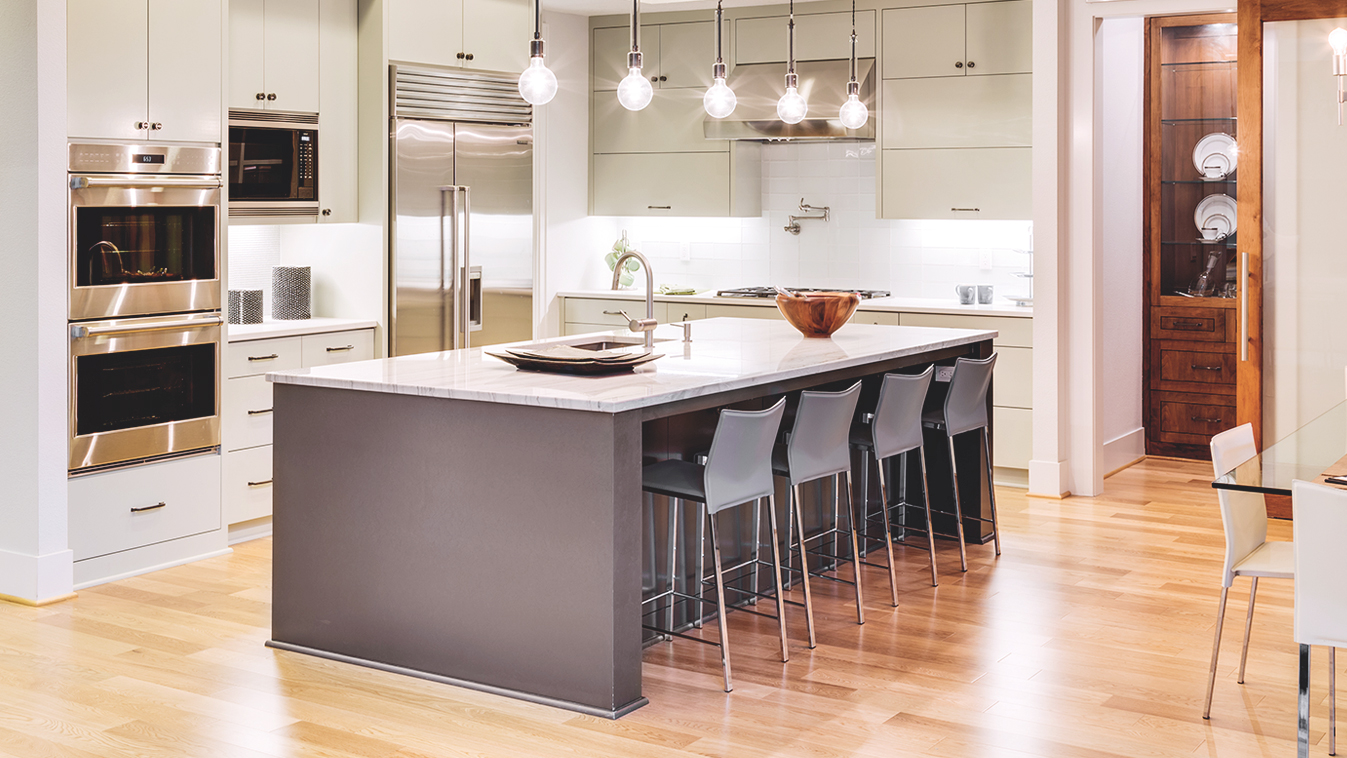 ADVERTISEMENT - CONTINUE READING BELOW
To achieve timeless modern kitchen design, you can consider going for frameless cabinets or cabinets with frosted glass, laminate, or wood veneer. To complement any of these materials, you can also invest in granite countertops and hardwood flooring.
Since accessories will be minimal, choose those that will leave a lasting impact. Think décor pieces, small appliances, and even cookware in bold colors. Essentials in bright shades can double as décor in your modern kitchen. Other elements to consider that can complete a modern kitchen design include lighting and furniture with clean lines, choosing natural materials, and simple yet streamlined hardware.
Scandinavian Kitchen Design
If you're one of the many who just can't get enough of the wood and white aesthetic, working on a Scandinavian kitchen design sounds enticing. To achieve this look, The Spruce explains that you can "layer on accents of warm wood in your cabinetry and flooring, plus, painting in pale hues, and have a minimalist yet textured backsplash." 
When done right, the Scandinavian-inspired kitchen design can also be timeless like the modern option. Remember that one of the goals of this look is achieving warmth. One of the key elements of this design is the use of white. Working as a canvas and focal point at the same time, white creates light, an illusion of space, and the polished look Scandi design is known for.
While white can do wonders in a space, using it too much runs the risk of having a kitchen that's too stark and uninviting. To level up the Scandi kitchen design, wood comes in handy. According to Decoholic, wooden floors like beech, pine, or teak can add texture and warmth to a kitchen. If switching up floors isn't part of the plan, a wooden table, kitchen island, or breakfast nook sounds like a good plan B.
Aside from adding wooden touches, you can also explore bringing in color to your Scandinavian-inspired kitchen. Pops of pastel and metallics work well in this kitchen design and can further elevate it. Keep in mind these colors when shopping for décor and furnishings. Lastly, practicing less is more is also key in Scandinavian kitchen design. Make sure you maximize storage to avoid clutter and limit your décor pieces to items that complement the look.
Small Kitchen Design
Whether you live in a condo unit, an apartment, or a townhome, you might have a compact kitchen to work with. In any small space, one of the most important things you need to accomplish is keeping it clean and organized. "A lighter color palette for a kitchen can help it look more spacious," says Kimi. "Continuous working surfaces at the same level create ease of movement and are easier to clean as well," she adds.
A small kitchen usually follows a one-wall or straight kitchen layout. This sounds simple but you might end up with limited work surface. To work around this challenge, your design must include a moveable cart which can work as an extra work, storage, or serving area.
ADVERTISEMENT - CONTINUE READING BELOW
"It also helps to have a designated storage space for all implements, appliances, and equipment. Make it flexible so that things can be moved around as needed such as with the use of adjustable shelves and drawer organizers with movable partitions," suggests the interior designer. Kimi also advises keeping frequently used essentials within reach to minimize reaching up and stooping down so you can achieve a more efficient workflow.
The key to small kitchen design is minimizing clutter that can make your cooking area look cramped. Maximize available storage and do add storage options as needed. Keep your countertops clean and consider working with a lighter color palette that can open up the space and make it look bigger.
How can you make the kitchen more "extra?"
The abovementioned kitchen design ideas are basics you can look into so you can achieve the look you have in mind. Aside from these suggestions, you may also want to up the ante of your chosen aesthetic by adding extra touches to your cooking space.
Kimi suggests adding a coffee, tea, or cocktails bar where related essentials are grouped together. "Set these on an actual bar cabinet, trolley, or designated corner of the kitchen counter," she says. For a more cohesive look, you can also go for uniformed containers such as glass jars and sealed canisters. You can also bring in properly labeled bottles for liquid ingredients.
How do you maintain your chosen kitchen design?
Once you've achieved the look you have in mind, the next crucial step would be maintaining it and keeping it looking polished. To make sure your kitchen will look good for years, be conscious of the materials you're working with. "As much as possible, keep away from using MDF or medium-density fiberboard and particle board in the kitchen – especially for wet areas. These are materials are not resistant to water and are prone to warping," explains Kimi.
Always be on the lookout for minor problems so you can address it as soon as possible to prevent bigger and more costly damages. You can also consider working on monthly or annual improvement projects to keep your kitchen in good condition. Mini makeovers such as repainting cabinets, switching lighting pieces, and bringing in new furniture are projects you can look into. Simple must-dos such as changing drawer pulls and cabinet handles can do wonders as well.
Like any other endeavor or home-related project, choosing and working on a kitchen designed should be properly planned. By doing it step-by-step and without rushing, you lessen the possibility of pricey mistakes. While going DIY sounds exciting, remember that seeking professional help is important – especially if you're working on a major construction or revamp. A design professional can provide sound insights and helpful recommendations so you can achieve your dream kitchen design.
Working on a tiny kitchen? To help you get started, you can check out our list of remarkable tiny kitchens from some of the homes we've featured or have a look at our list of beautiful kitchens for a dose of inspiration.
ADVERTISEMENT - CONTINUE READING BELOW
Ready to work on your dream kitchen design? You can get in touch with interior designer Kimi Manuel through email at [email protected]
* * *
More on Realliving.com.ph
Load More Stories