Houses
A Vacation Home in Tagaytay Transformed Into a Classy, Homey Airbnb
It can fit up to 75 people! Photography: Courtesy of Je Gutierrez Interior Designer: Orange Spaces by Orange Clemente
Products and services recommended on our websites are independently selected by our editors. If you buy something through our links, Summit Media may earn an affiliate commission at no extra cost to you. 
Life can get so overwhelming sometimes, and we all deserve some time off. Thankfully, there are lots of places not too far from Manila that can be the perfect setting for that, including an Airbnb in Tagaytay known as Hilltop Country Inn.
In an email interview with RealLiving.com.ph, the owner revealed that Hilltop Country Inn was actually originally a vacation home for their family. However, when the pandemic hit, they realized the property was being left unused. They also realized that there was a demand for a cozy escape, particularly among balikbayans who were looking to spend time and make memories with their loved ones. This prompted them to decide to turn their home into an Airbnb. Their rates start at P28,286 a night for more than 16 guests.
ADVERTISEMENT - CONTINUE READING BELOW
Initially, the owner wanted a homey look for Hilltop Country Inn. Eventually, though, he had to go a different way in terms of the design because his original vision was not flexible enough and it wasn't possible to add a lot of big pieces into the space. Thankfully, interior designer and contractor Orange Spaces by Orange Clemente came to the rescue with the perfect recommendation.
Also Read: This Couple's American-Inspired Farmhouse Has Spacious Outdoors And Stunning Views
"'American Transitional' is the style our designer recommended to us and which instantly resonated with our vision," the owner shared. "This style beautifully merges the coziness of a homey atmosphere with the flexibility we sought. What truly excited us was the opportunity to work with Hilltop's current elements and skillfully integrate new furnishings to create a harmonious and timeless space."
They inevitably encountered several hurdles in the design process, including finding storage for the old pieces they wished to preserve and repurpose; choosing which furniture to retain and which ones to get rid of; and achieving the look they want while working with a limited budget.
Orange was able to ably address these issues, as the owner explained: "Orange was able to assess the pieces based on its design relevance and overall conditions, carefully arranged temporary storage solutions, and most importantly sourced affordable yet high-quality materials and furnishings that contributed to the overall charm of the space without breaking the bank."
Facade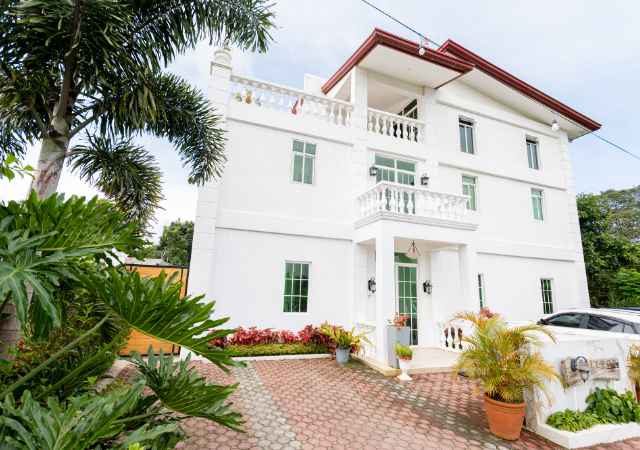 ADVERTISEMENT - CONTINUE READING BELOW
Before you even enter Hilltop Country Inn, you already get a sense of the welcoming vibe of the property. All this was achieved with the help of the staff's hard work and friendliness, which have also helped get them recognized as an Airbnb Superhost.
Another person who put in his heart and soul into making Hilltop Country Inn what it is, is the owner's dad. He wrote, "He's the one who made Hilltop a reality with his vision. Every corner of this beautiful place speaks of his dedication and hard work. The memories we've made here as a family are priceless, and now, we get to share that joy with other families and couples too."
Ground Floor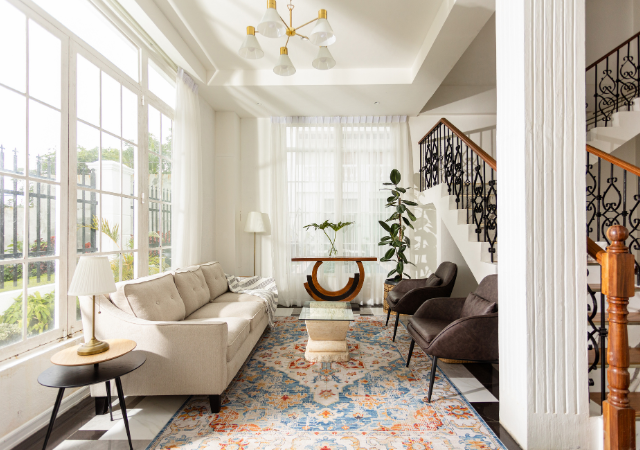 ADVERTISEMENT - CONTINUE READING BELOW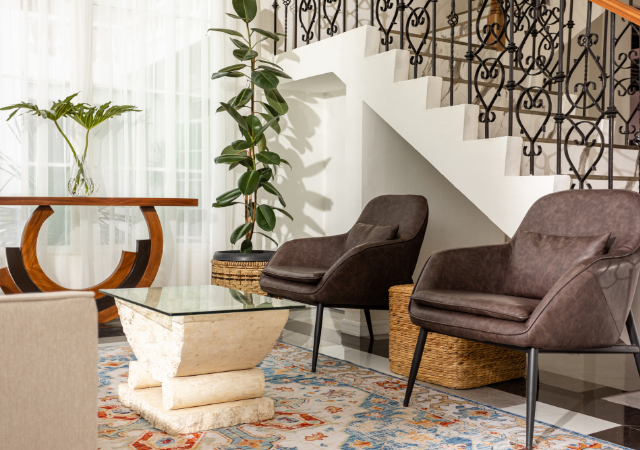 The property underwent significant changes in order to be transformed into a homey vacation retreat. According to the owner, these changes included sourcing durable and versatile furniture, reimagining the layout of the interior, and incorporating timeless design elements.
"Small yet impactful updates like enhanced lighting in the living room and stylish curtains in the dining hall added to the inviting ambiance," wrote the owner. "The result is a comforting and elegant space, perfect for creating cherished memories with guests' preferences in mind."
ADVERTISEMENT - CONTINUE READING BELOW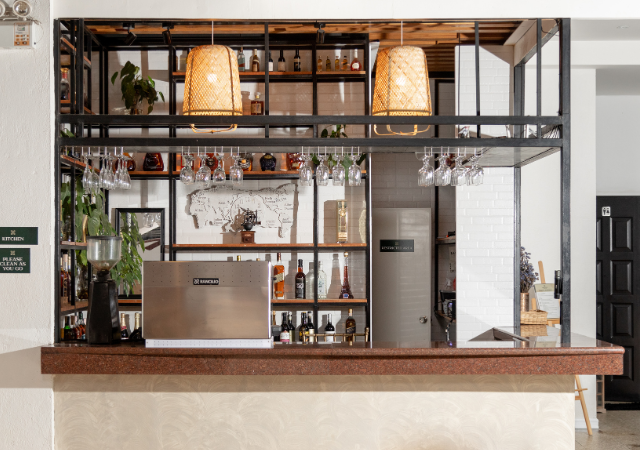 Also on the ground floor is a posh bar area, complete with high-end equipment and a tasteful wine selection. With a bar as gorgeous as this, happy hour is bound to become even more delightful!
Also Read: 5 Bar Styling Ideas For Those Who Love To Entertain
ADVERTISEMENT - CONTINUE READING BELOW
Dining Hall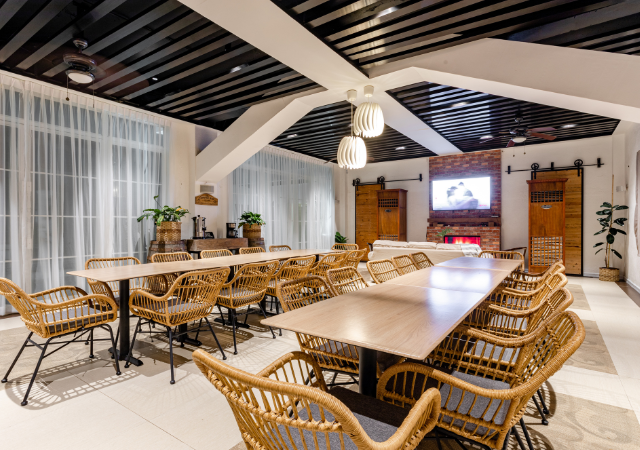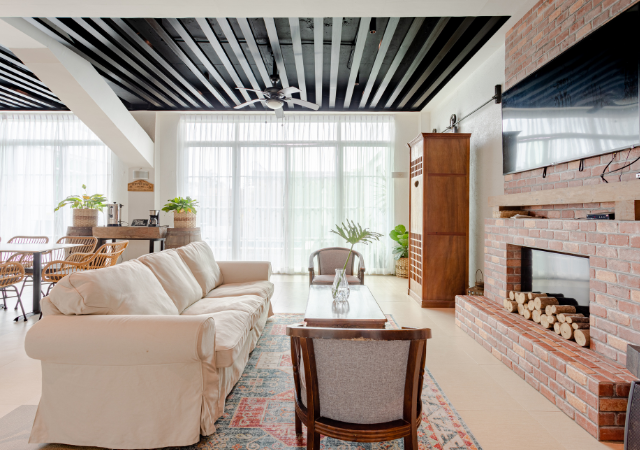 ADVERTISEMENT - CONTINUE READING BELOW
The dining hall is undeniably a standout room at Hilltop Country Inn. The owner wrote, "The dining hall is a standout feature, seamlessly connecting to the pool area, allowing natural light and fresh air to enter the space. We think this open layout creates a delightful ambiance, merging the indoors with the outdoors and providing an inviting atmosphere for gatherings."
Another perk? Its versatility! "Its flexibility allows it to transform from a spacious dining area to a dynamic venue for parties and events that can accommodate up to 75 pax," said the owner. "Whether it's an intimate family dinner or a joyous celebration, the dining hall adapts effortlessly to the occasion."
Kitchen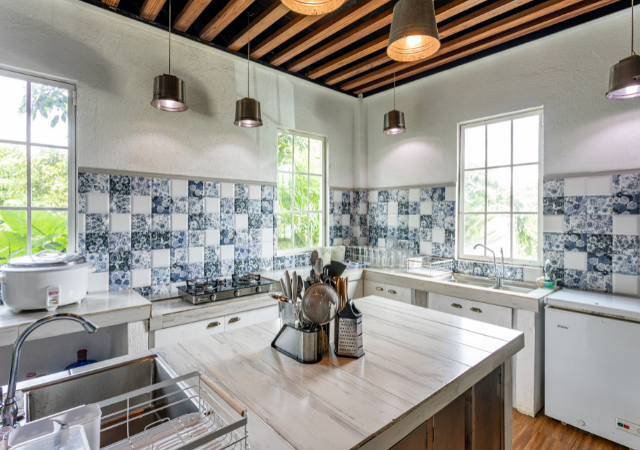 ADVERTISEMENT - CONTINUE READING BELOW
The design team, led by Orange Spaces by Orange Clemente, had to work with a limited budget. This meant they had to be creative with how to achieve the design they wanted while managing their funds effectively.
Also Read: Your Go-To Guide in Designing a Kitchen According to Aesthetic
Hallway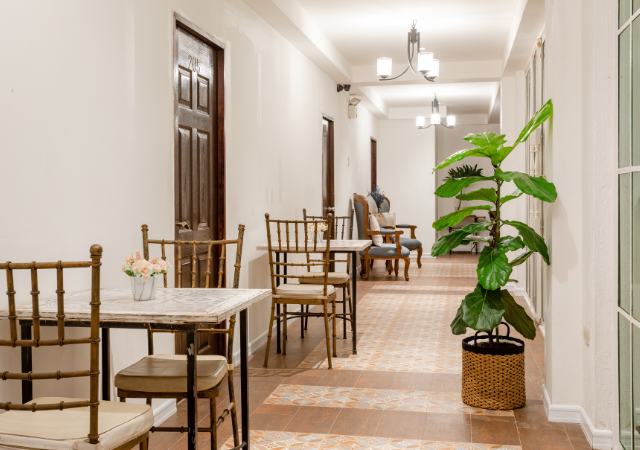 ADVERTISEMENT - CONTINUE READING BELOW
If you're in need of a quick break, the hallway features lots of seating and little tables, as well as exquisite decor like a potted plant and simple lighting pieces. Orange expertly sourced and coordinated all of the pieces used in this property, even going as far as giving the owner a comprehensive presentation to present various options for materials, decor, and associated costs. She also handled the logistics, deliveries, and setup of the furniture.
Bedrooms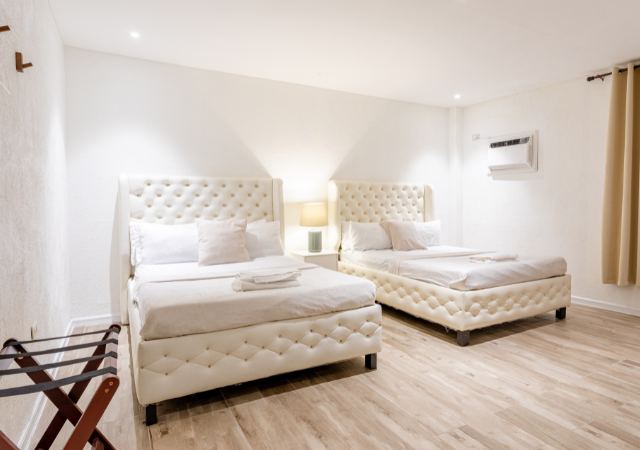 ADVERTISEMENT - CONTINUE READING BELOW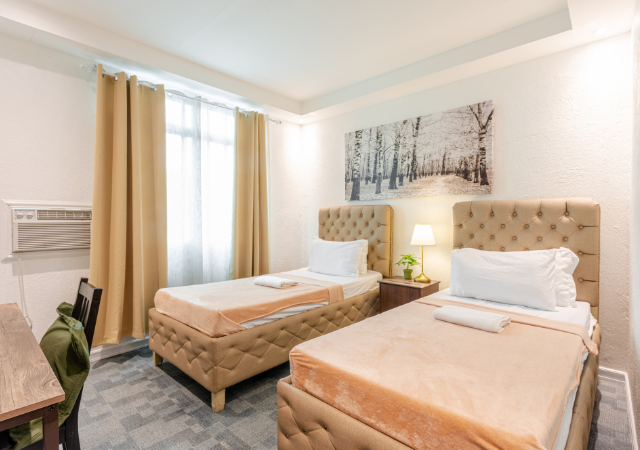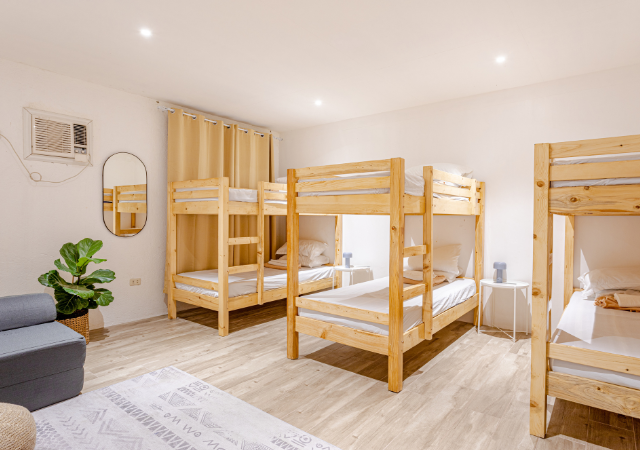 ADVERTISEMENT - CONTINUE READING BELOW
Whether you're part of a large group or a small one, there is plenty of space to rest and sleep. One bedroom has two queen-sized beds, another has two twin-sized beds, and another has several double-deck bunks. Each room is spacious and bright, and features a clean and cozy aesthetic that is consistent with the American traditional design of the rest of the property.
Also Read: These Small Bedroom Makeovers Will Inspire You to Maximize Your Space
Bathrooms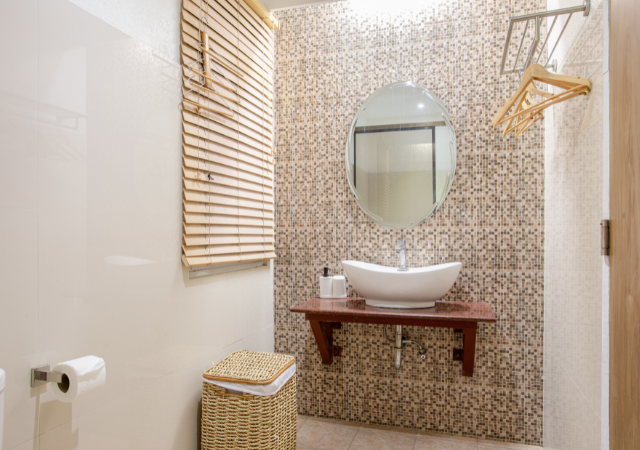 ADVERTISEMENT - CONTINUE READING BELOW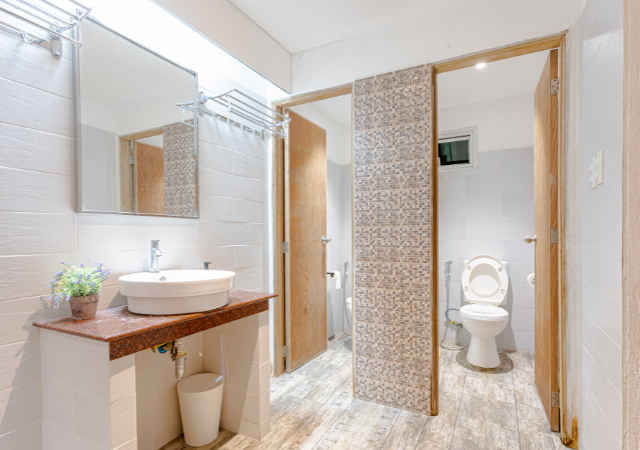 The bathroom features mosaic-style tiling on the walls, a neutral color palette, and an overall serene and relaxing vibe. (Looking for ways to create a well-designed bathroom on a budget? Click here for some ideas!)
Pool Area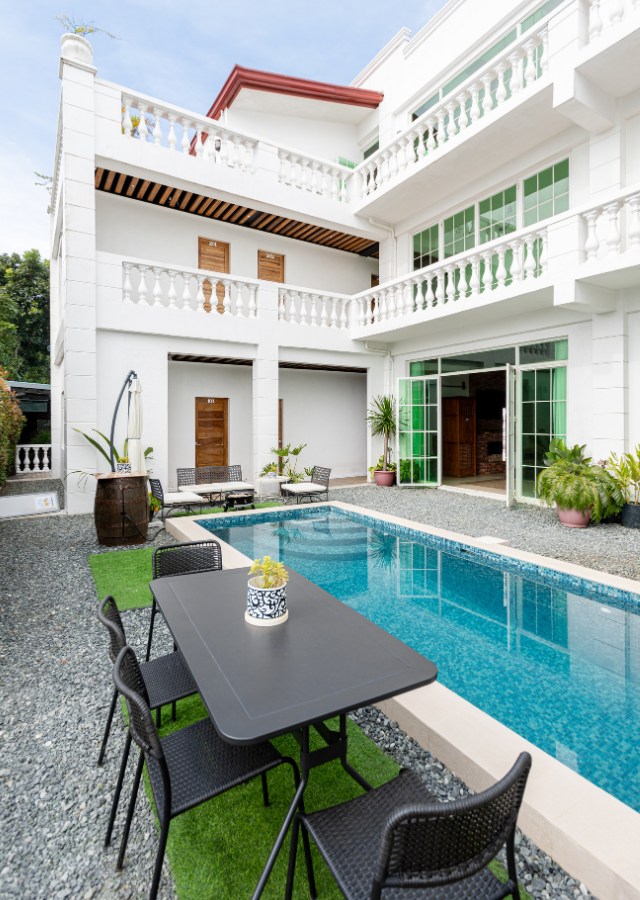 ADVERTISEMENT - CONTINUE READING BELOW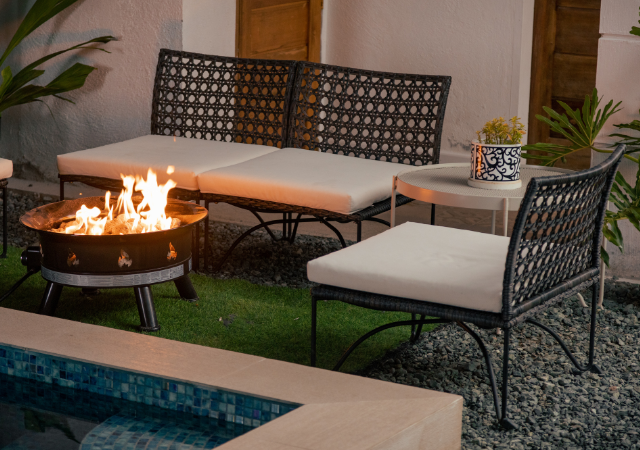 The owner shared that the most special features of Hilltop Country Inn are the open spaces. For instance, the pool area connects seamlessly to the dining hall, allowing for plenty of natural light and fresh air to enter the space.
You can book Hilltop Country Inn on Airbnb. Rates start at P28,286 a night for 16+ guests.
ADVERTISEMENT - CONTINUE READING BELOW
Links are updated regularly and as much as possible but note that products can run out of stock, discounts can expire, and listed prices can change without prior notice.
More on Realliving.com.ph
Load More Stories