Houses
This Modern Vacation Home in Baguio is a Multi-Storey Dream
Nestled in the heart of the City of Pines, the property features contemporary and rustic elements that complement the beauty of Baguio Photography: Hilary Buenaflor Photography Styling: IDr. Tala Singson Interior Designer: IDr. Tala Singson
Baguio is a hands-down vacation favorite so it's no longer surprising for homeowners to decide to have a home in this northern gem.
The owners of this multi-storey property in the City of Pines love visiting Japan and in making their Baguio vacation home come true, they took inspiration not just from the beauty of the Land of the Rising Sun, but also the soothing vibe of a Japanese onsen.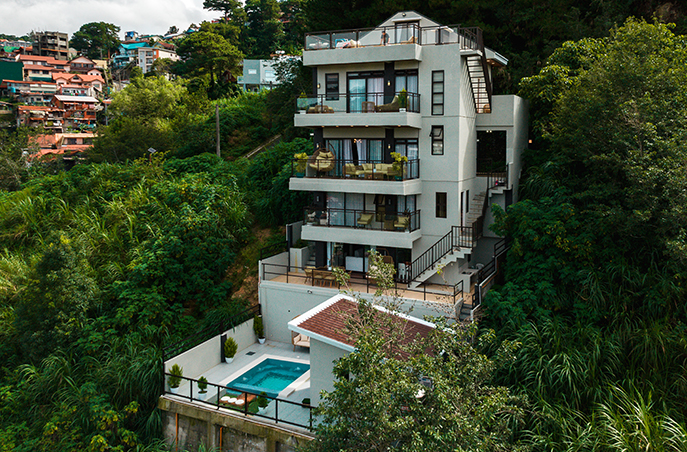 ADVERTISEMENT - CONTINUE READING BELOW
However, once the house was completed, the owners felt like something's missing in the house. "There seemed to be pieces lacking, and a lot of areas that could be improved. Before, it used to be just like how a typical house would look. It had all the necessities but lacked uniqueness and character," says the owner.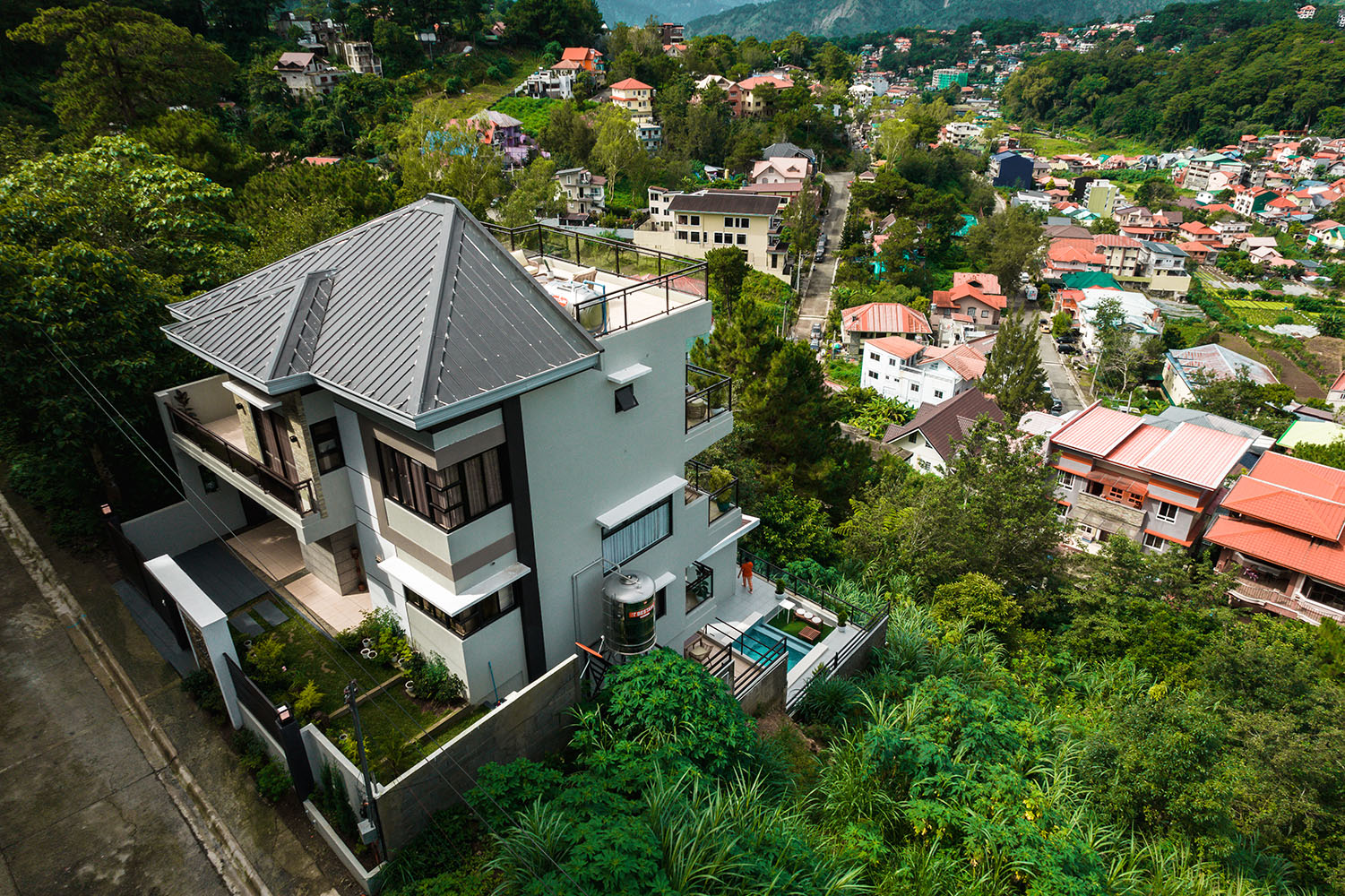 To help them transform the house, interior designer Tala Singson stepped in. After meticulously studying the photos and video clips of the property, Tala sourced items to add to the property while also taking note of how to make the areas more functional. "I stayed true to the architectural style of the home and then looked for new pieces that would match the existing pieces. I also added more organic elements to create a cozier atmosphere and to relate to the beautiful mountain view," the designer explains.
Aside from sourcing for items in Manila, Tala made sure to shop for a few pieces in Baguio as well. Sculptures, tapestries, and soft furnishings curated from local shops added that distinct Baguio touch to the home.
READ: This Quaint House in the Middle of a Rice Field Has a Swimming Pool
A 284sqm Vacation Home in Baguio
Foyer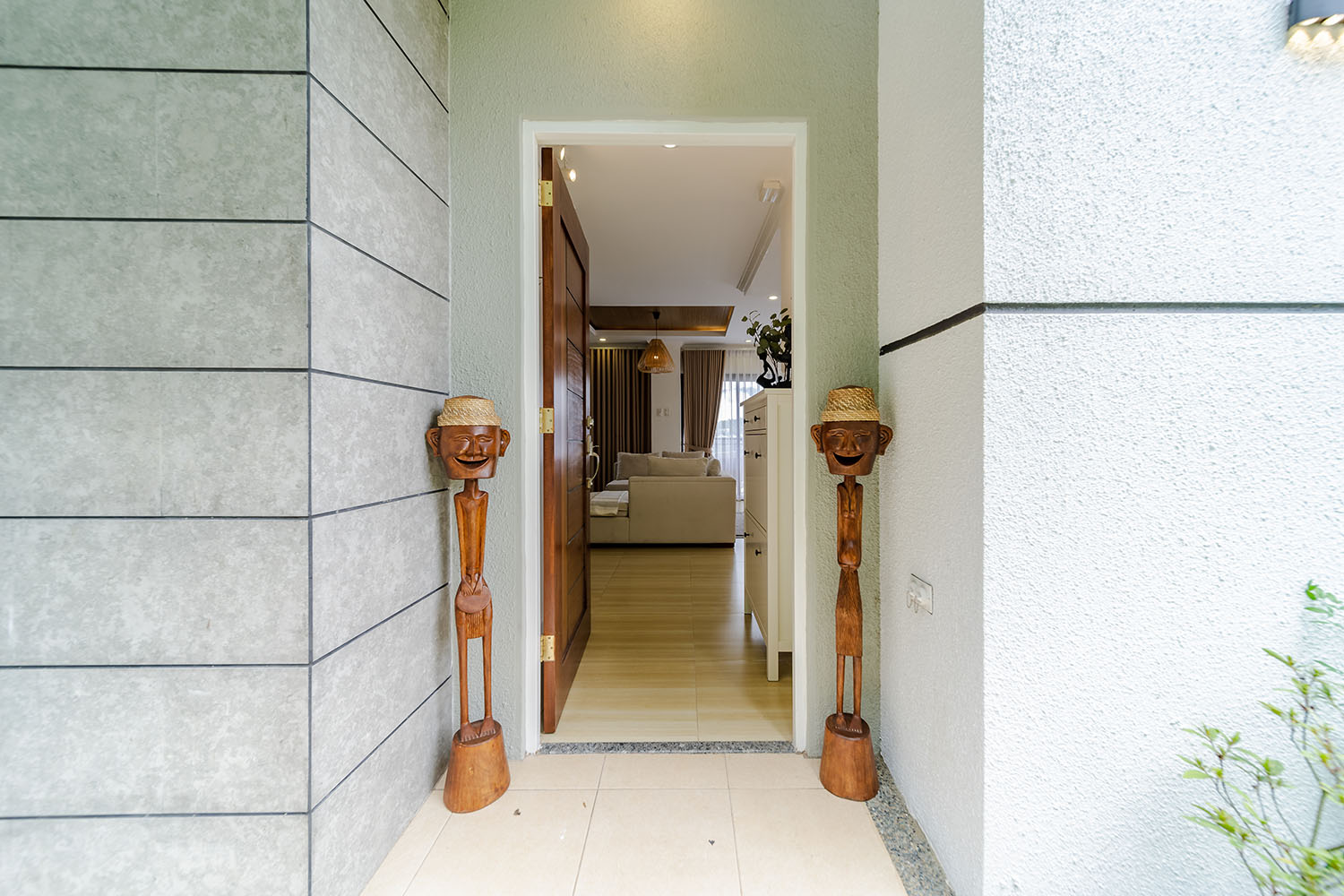 ADVERTISEMENT - CONTINUE READING BELOW
Tala placed wooden sculptures bought at a shop in Mine's View Park on either side of the door to welcome guests and give them an idea of what to expect inside the house.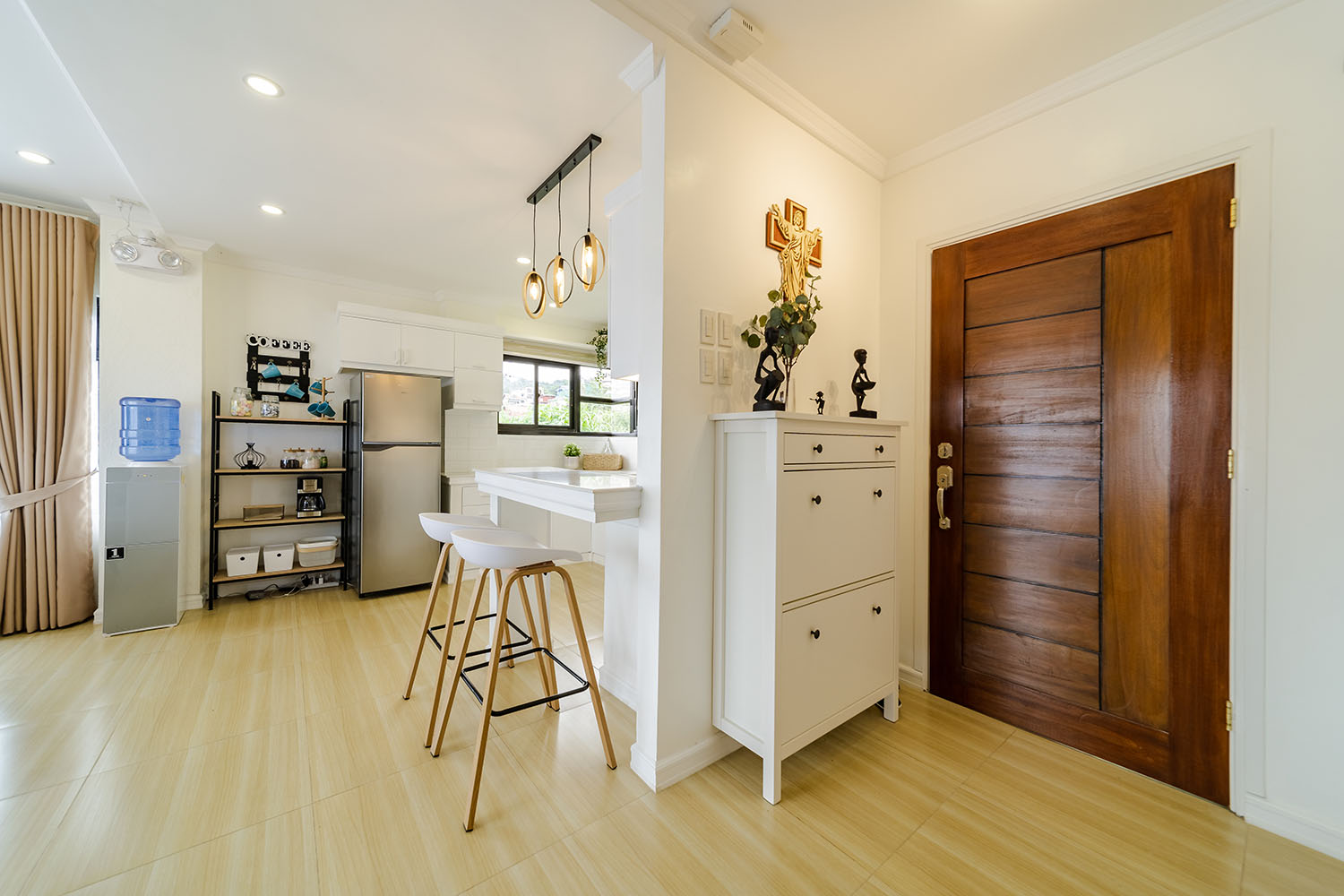 The designer also replaced the existing shoe rack by the door with a more functional shoe cabinet that can hold around 12 pairs of shoes.
ADVERTISEMENT - CONTINUE READING BELOW
Living and Dining Areas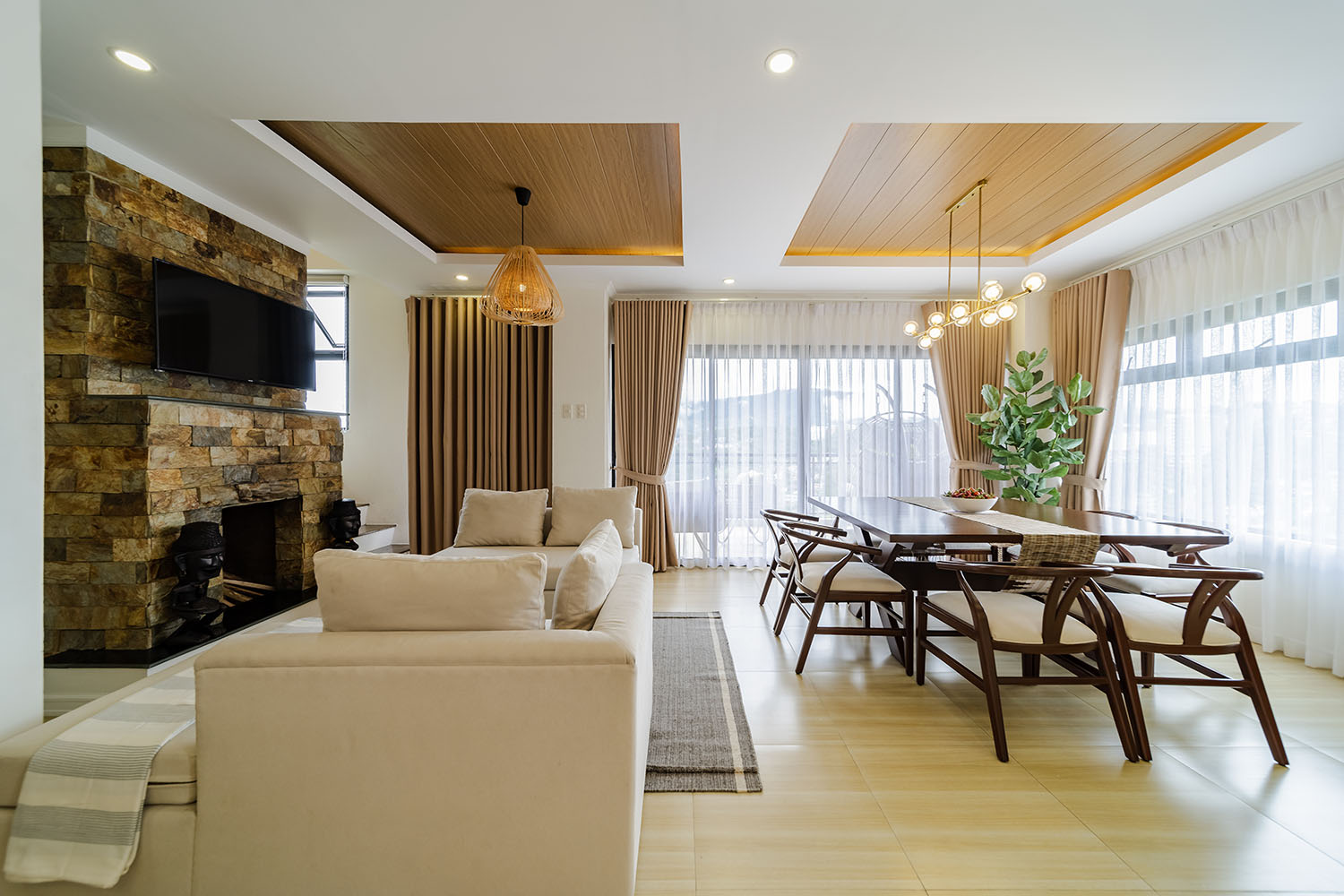 One of the first things that Tala noticed is how the living and entertainment areas needed a better furniture layout. "It's needed to maximize the use of space, create more intimate settings, and allow enough clearances for people to move around," she explains.
ADVERTISEMENT - CONTINUE READING BELOW
Living Area
In the living area, she replaced an upholstered bench with two sofas that are facing each other and then added a new rug to zone the area. This setup also brings attention to the fireplace. Another set of sculptures defines the base of the fireplace, too.
ADVERTISEMENT - CONTINUE READING BELOW
READ: This 8M Resort in Bulacan Has Spacious Villas You Can Book for Your Next Vacation
Dining Area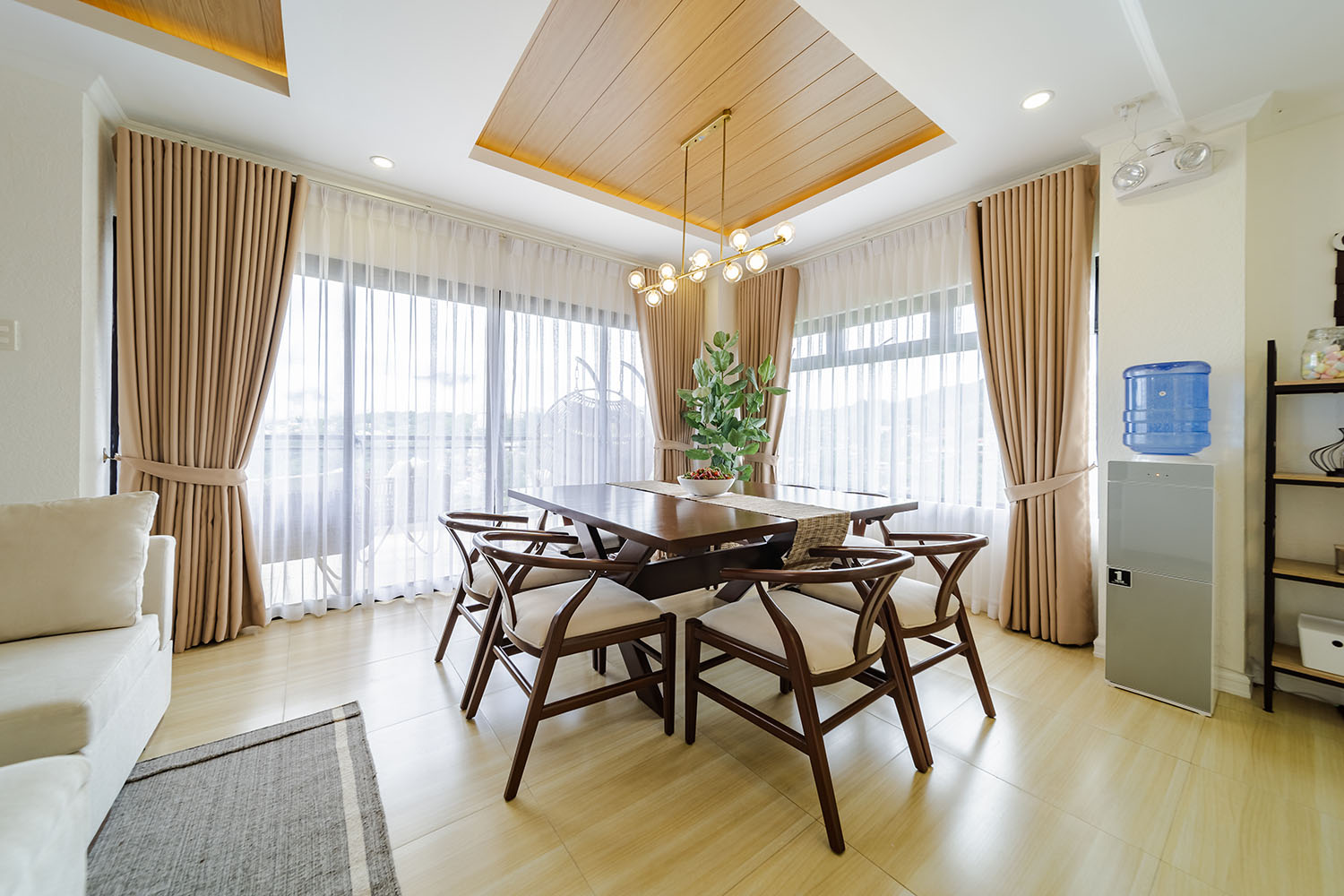 Tala centered the table underneath the existing ceiling design and then moved the tree to a corner near the dining table to create a point of interest. A table runner from one of the Mine's View Park shops and a bowl of strawberries serve as the centerpiece.
ADVERTISEMENT - CONTINUE READING BELOW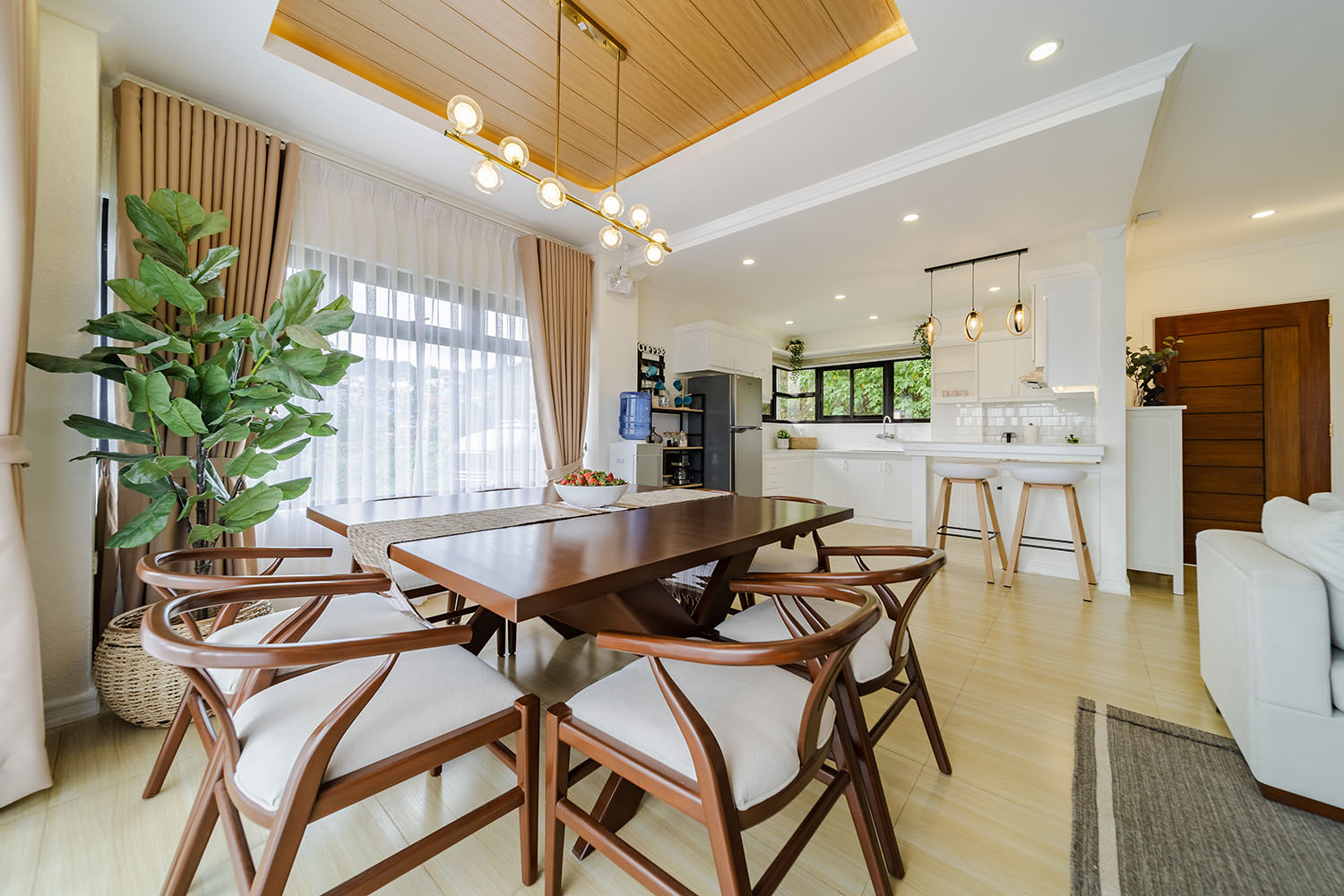 Kitchen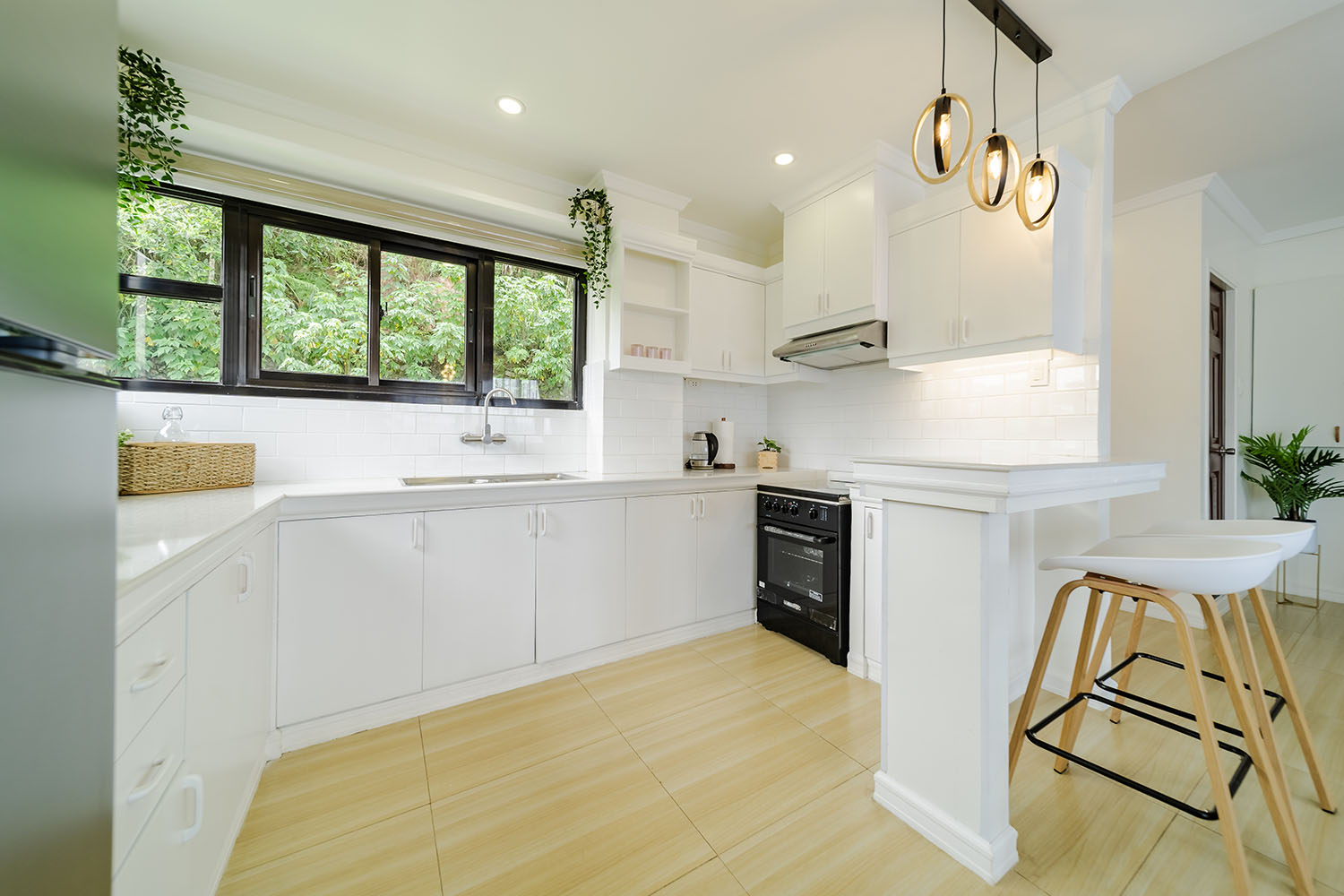 ADVERTISEMENT - CONTINUE READING BELOW
The cooking area is bright and spacious, with enough countertop space for preparing meals and enjoying quick bites.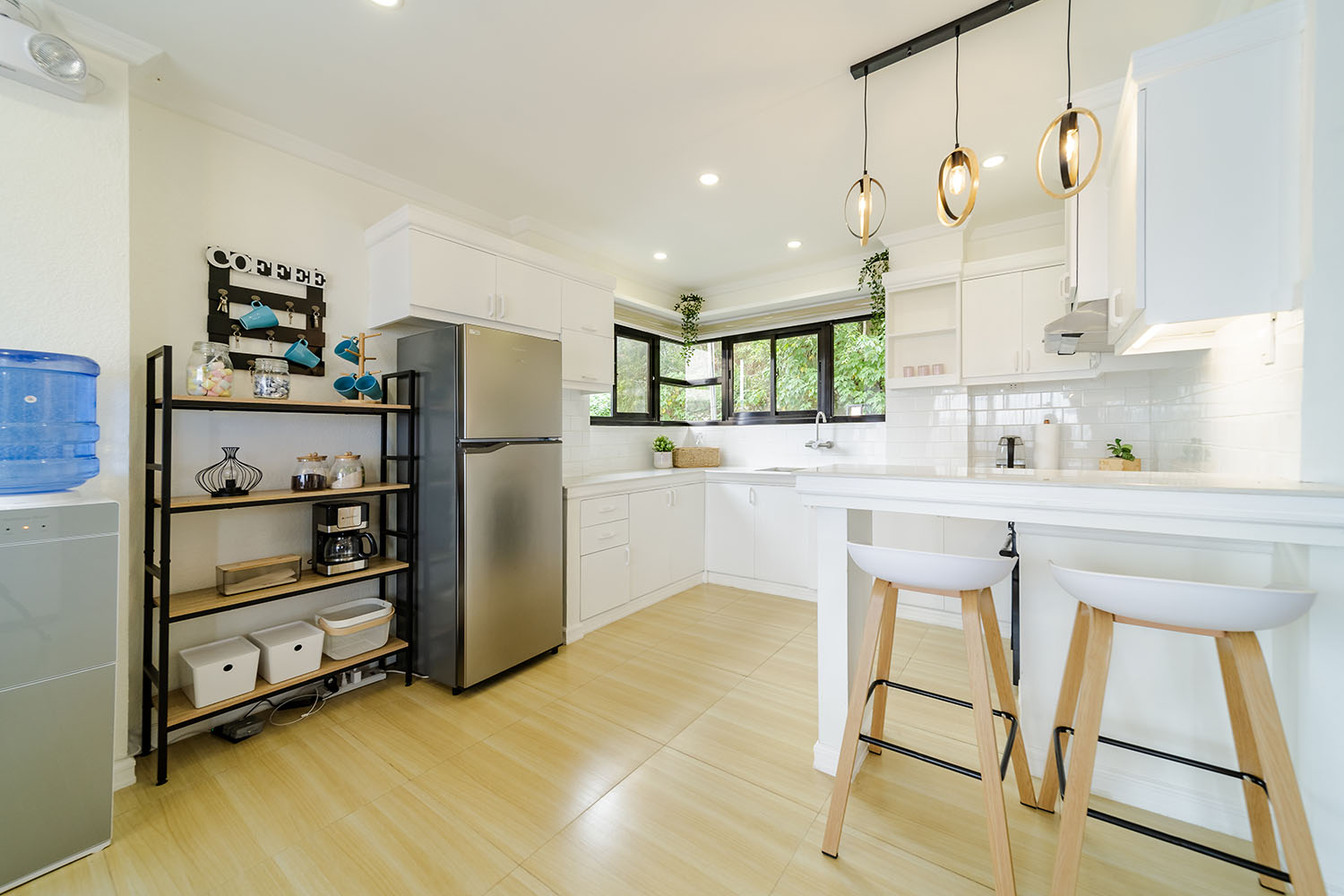 Since the owners already bought the barstools, the designer placed them near the bar to create an instant breakfast nook. "I reorganized this space and rearranged some items in the coffee nook, too," adds Tala.
ADVERTISEMENT - CONTINUE READING BELOW
Staircase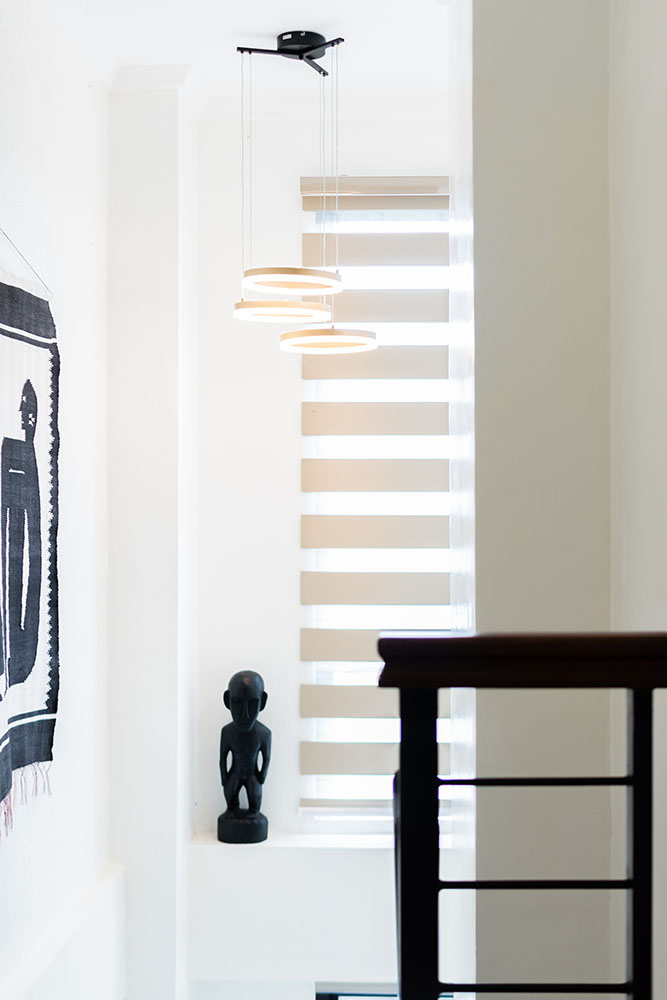 To keep this area from being too plain, Tala spruced up the wall with a large tapestry and then added a wooden sculpture on the beam.
READ: This Vacation Farm in Laguna Features 5 Charming Tiny Houses
Hallway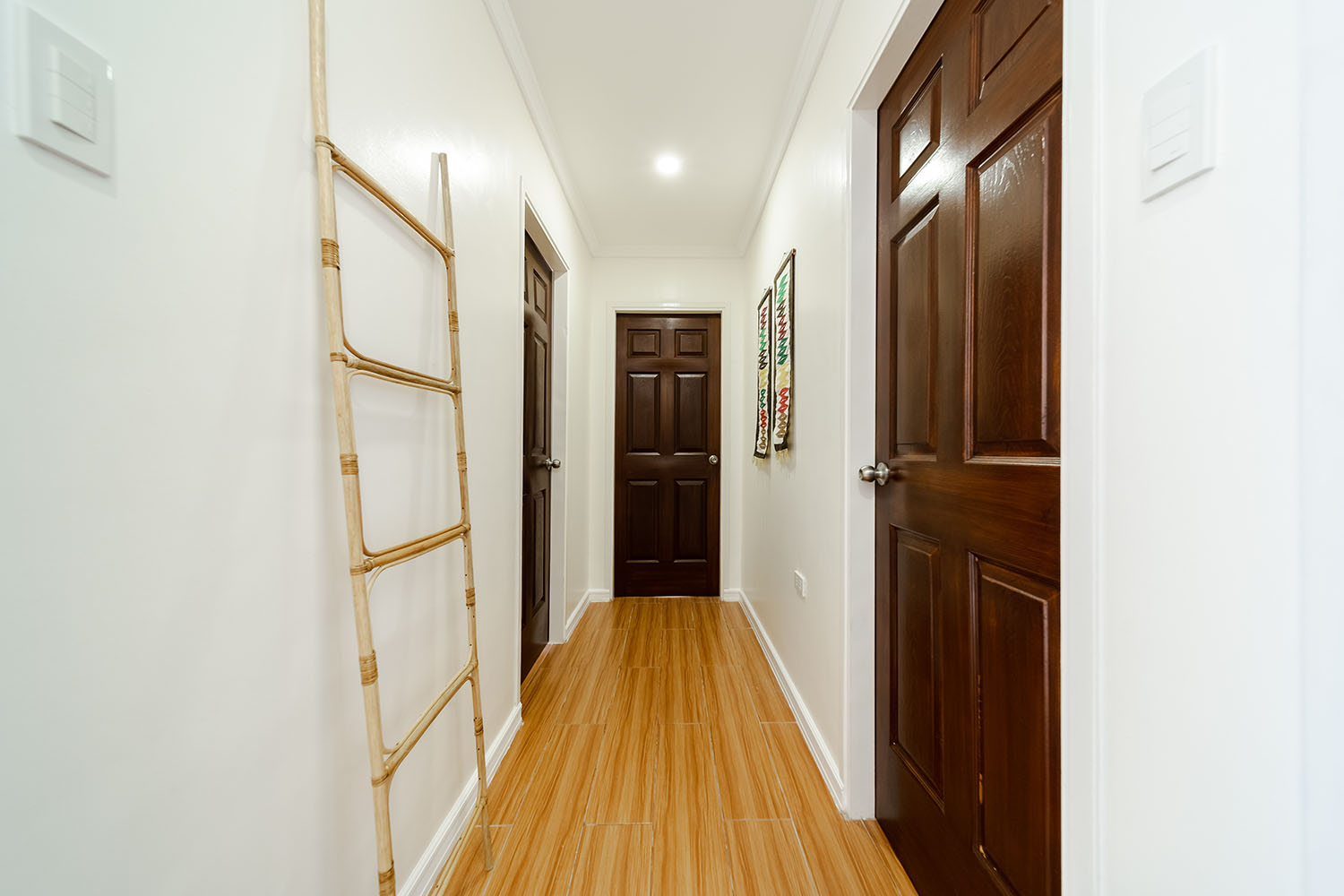 ADVERTISEMENT - CONTINUE READING BELOW
A bamboo ladder and a couple of small tapestries liven up the second-floor hallway.
Second Floor Master Bedroom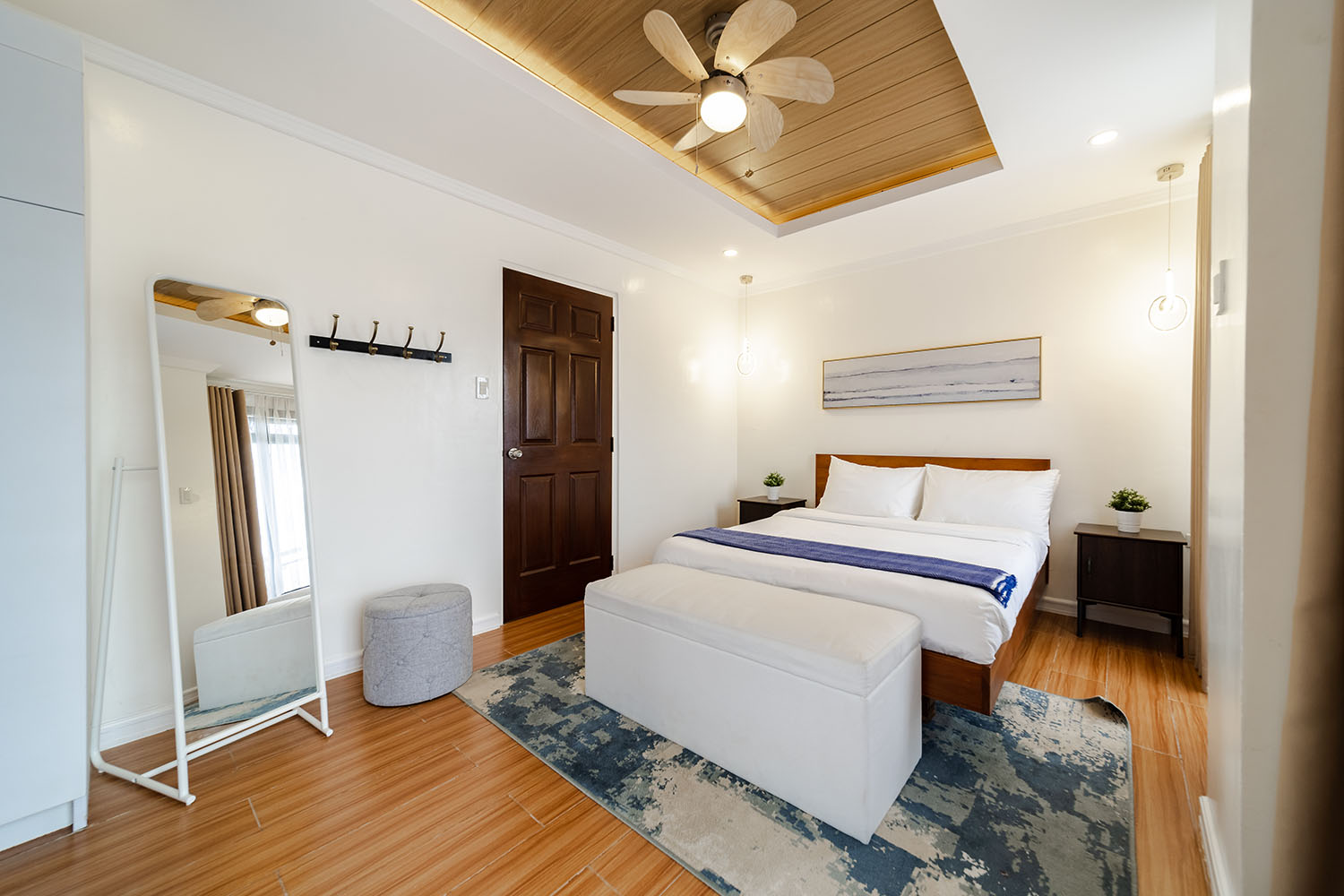 "This bedroom previously had small bedside tables so I replaced them with bigger ones from IKEA that match the TV console and wood tone of the existing bed," says Tala. An art print with blue hues from Metier.PH spruces up the wall above the bed and matches the inabel blanket on the bed.
ADVERTISEMENT - CONTINUE READING BELOW
At the foot of the bed are the upholstered bench from the living area, a freestanding mirror from IKEA, and an ottoman with storage from Mandaue Foam. Tala also made sure to add a hook rail where they can hang clothes and bags.
Second Floor Bedroom 2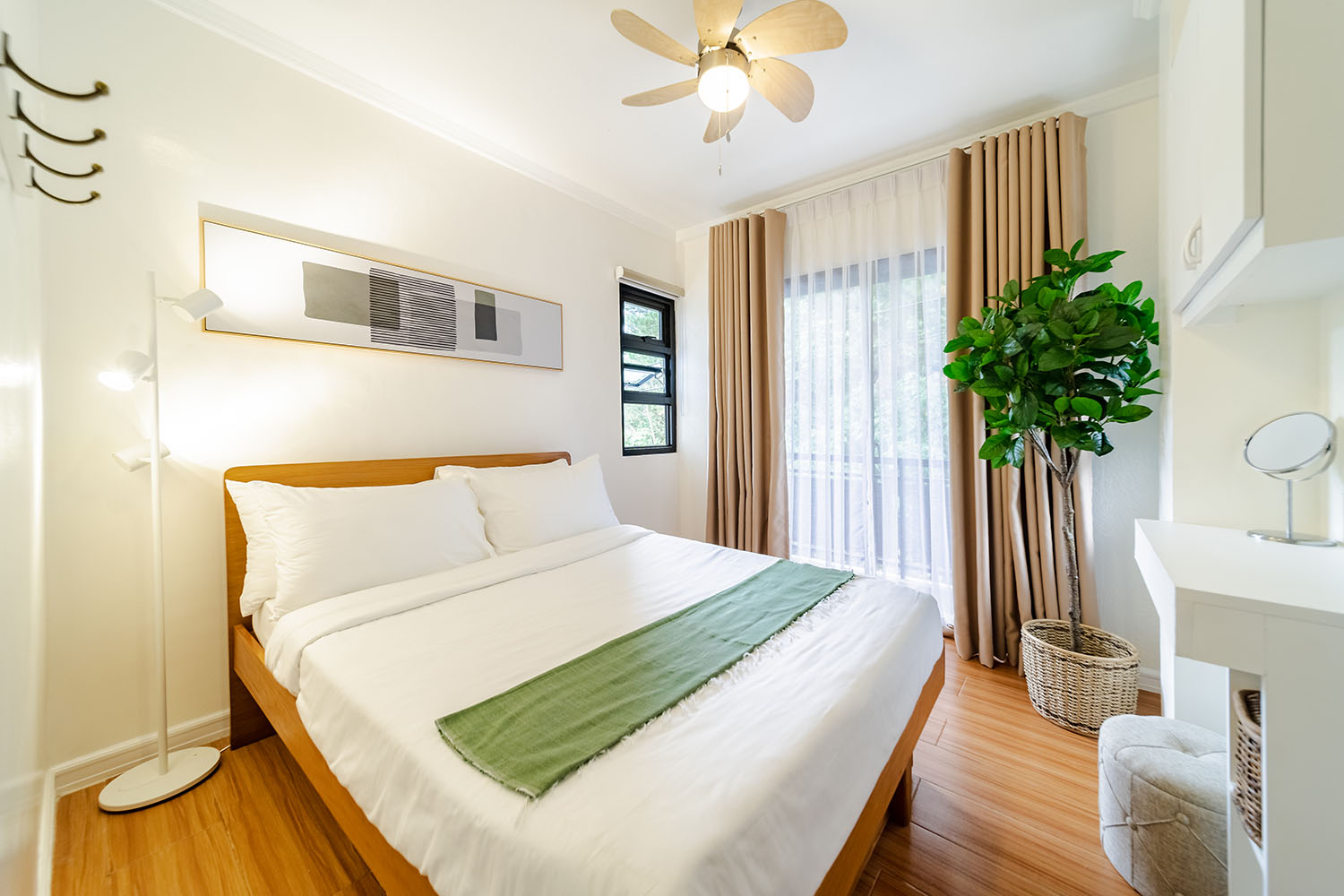 ADVERTISEMENT - CONTINUE READING BELOW
Since this is the only room with a built-in dresser, Tala wanted to make this room special. She added another ottoman under the dresser and a tree in a woven planter to liven up the room.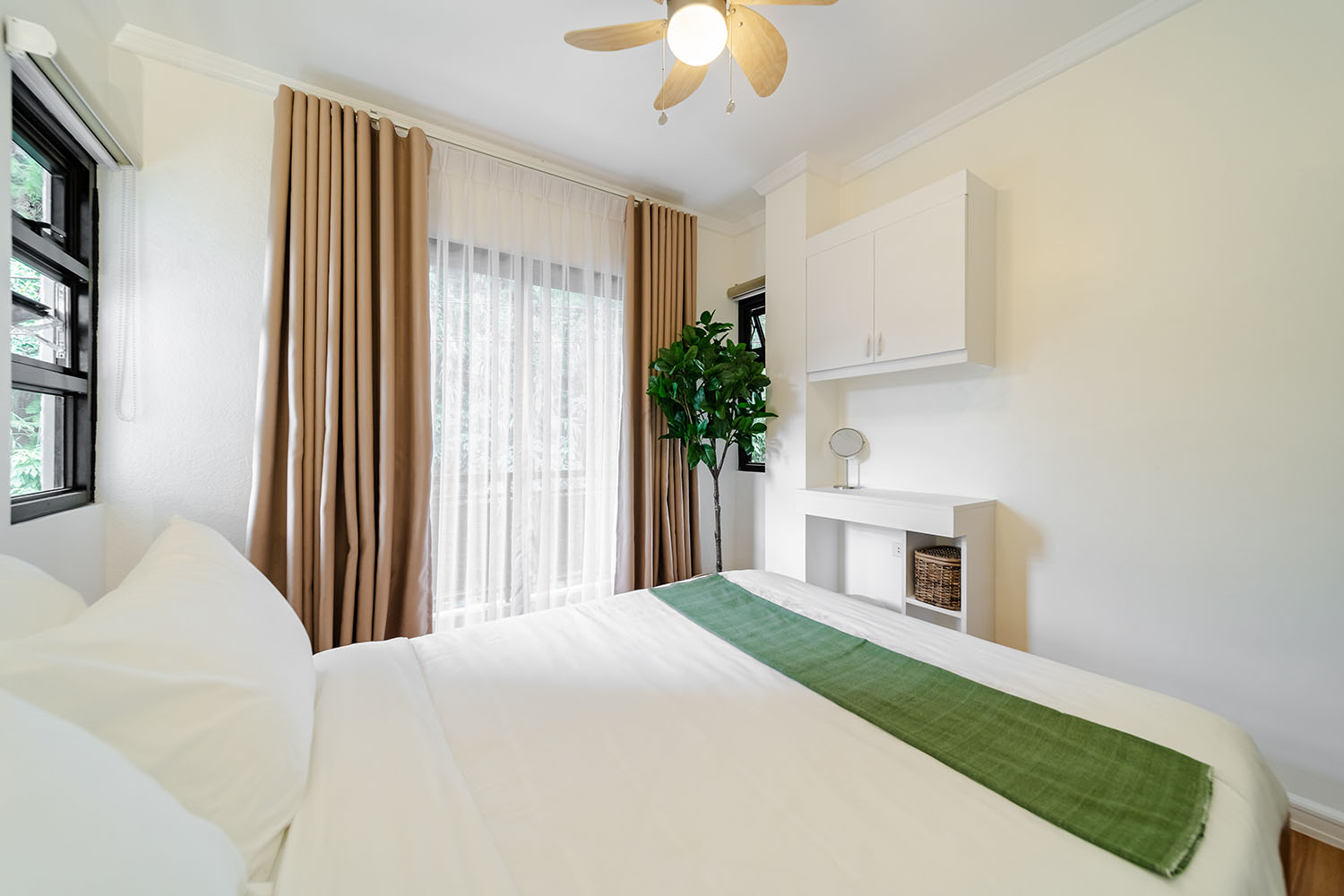 Green is the main color showcased in this room so the designer added a green art print from Metier.PH and a green blanket from Abel.PH. "This room lacked lighting so a slim directional floor lamp from IKEA was placed by the bed. Lighting makes a big difference," the designer shares.
ADVERTISEMENT - CONTINUE READING BELOW
Second Floor Bedroom 3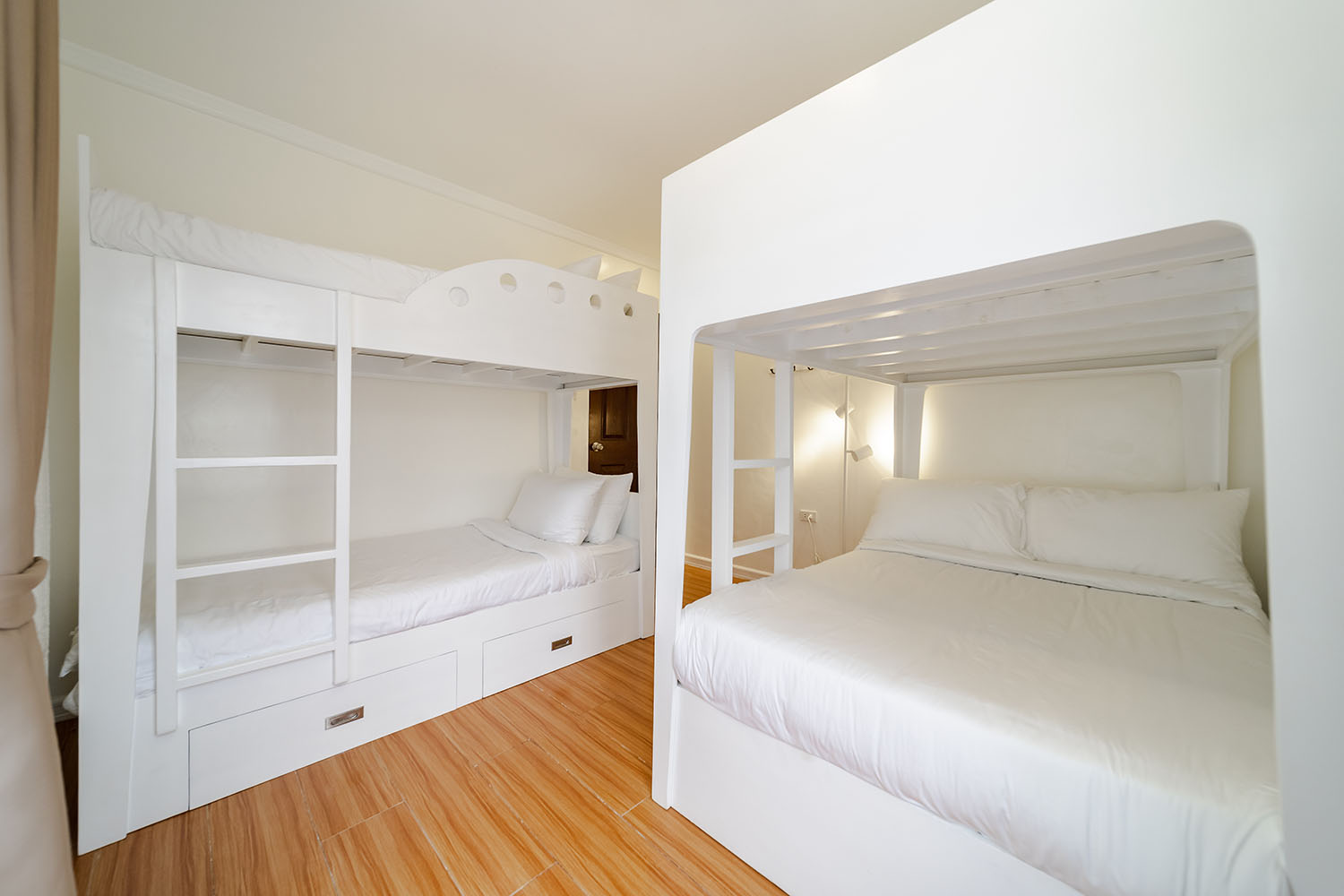 Tala added another directional floor lamp from IKEA in this room as it doesn't take up too much space. "I left this room clear of clutter so guests will have space for their things and bags," says Tala.
READ: Gold Porcelain Tiles and a Pocket Garden Complete This Loft-Type Penthouse
ADVERTISEMENT - CONTINUE READING BELOW
Basement Common Area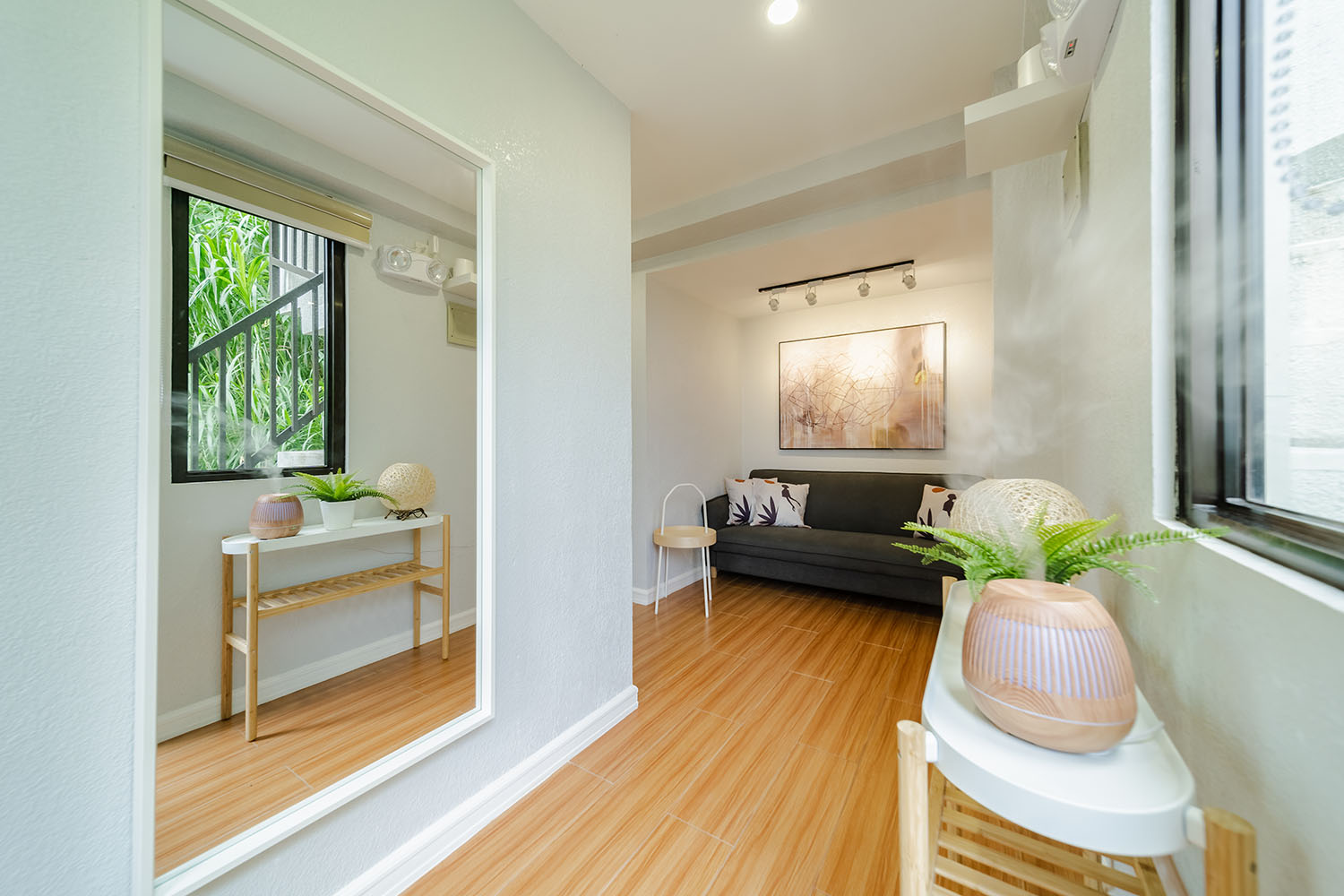 Serving as a common lounge area and additional sleeping space, this area is furnished with a rack that functions as a catchall, an existing painting on the wall, and a side table by the sofa bed,
Basement Bedroom 1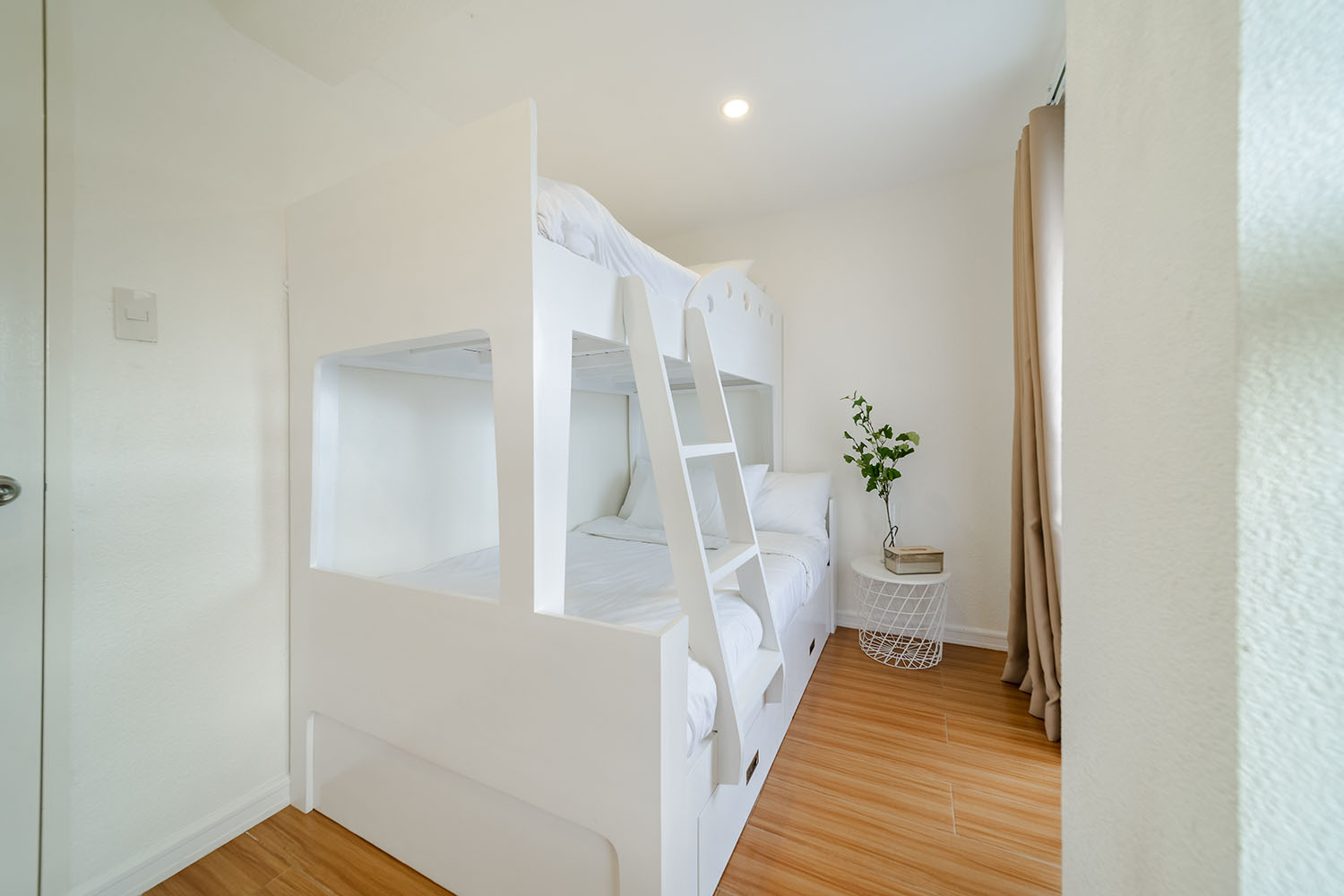 ADVERTISEMENT - CONTINUE READING BELOW
Tala prioritized functional décor by moving the wire side table and a hook rail here. Another art print from Metier.PH spruces up the plain wall.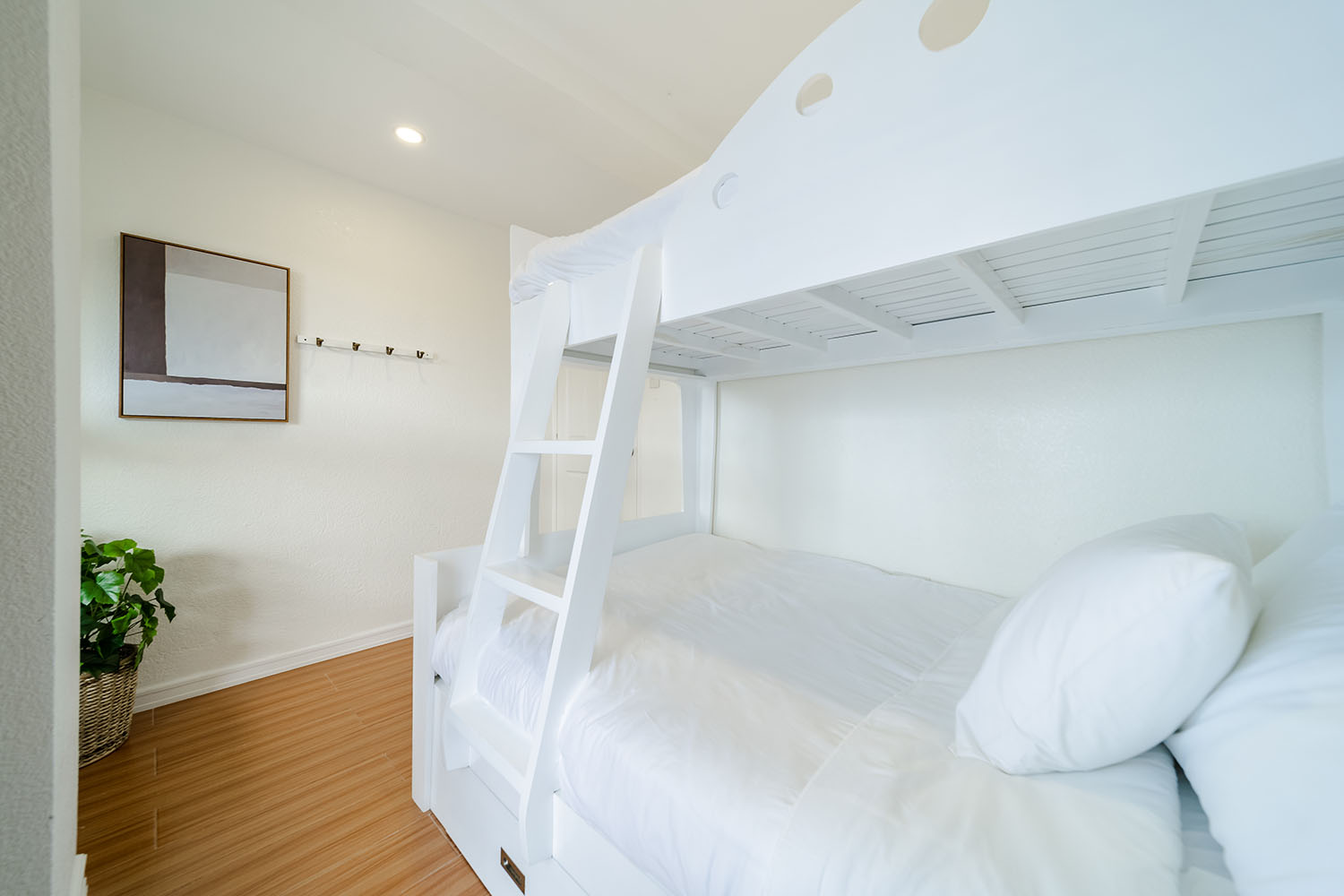 Basement Bedroom 2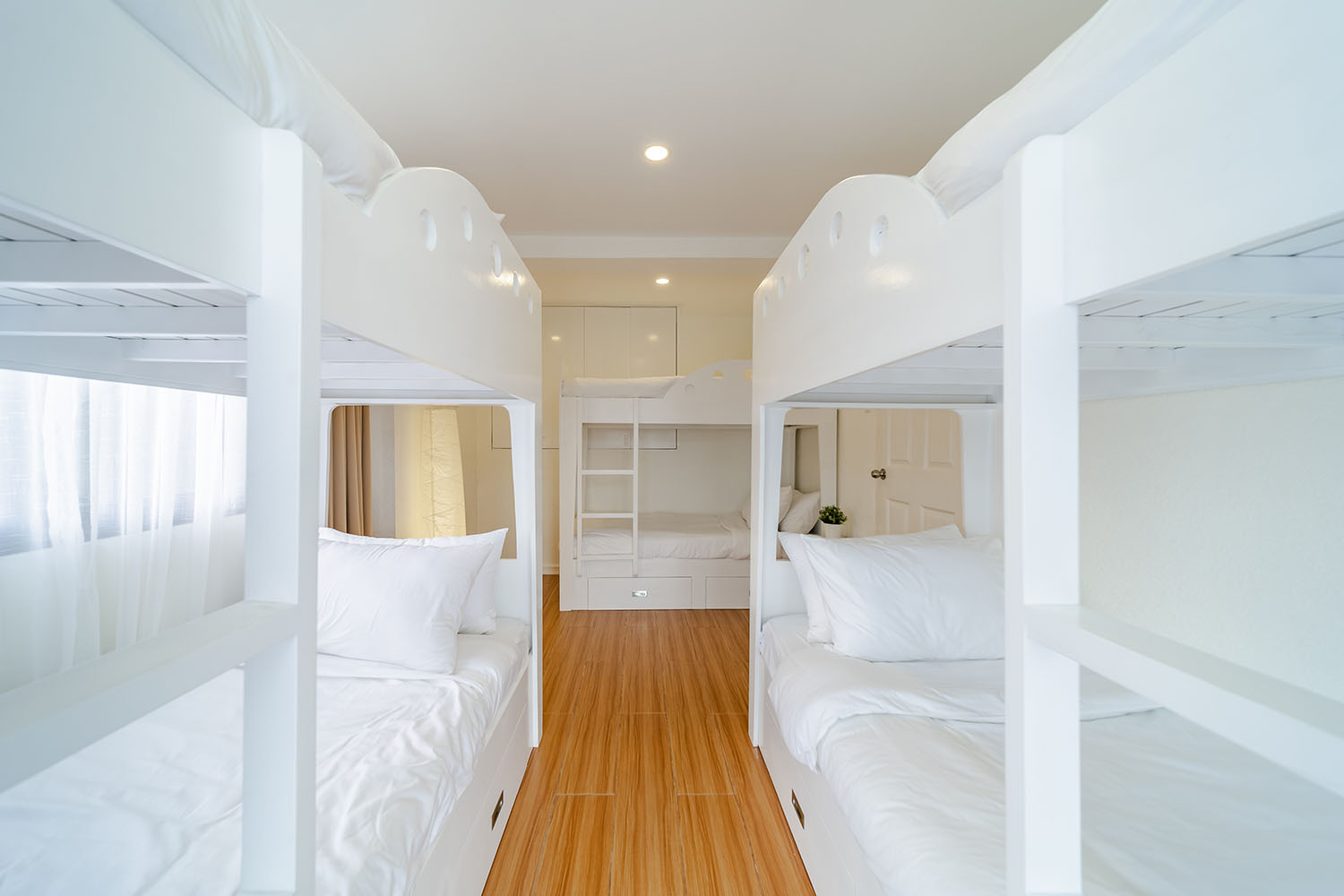 ADVERTISEMENT - CONTINUE READING BELOW
Tala focused on creating a clutter-free space to accommodate belongings while also making sure the room is well-lit by placing a floor lamp.
READ: This Modern-Filipino Family Home in Cagayan de Oro Has a View of the Sea
Basement Entertainment Room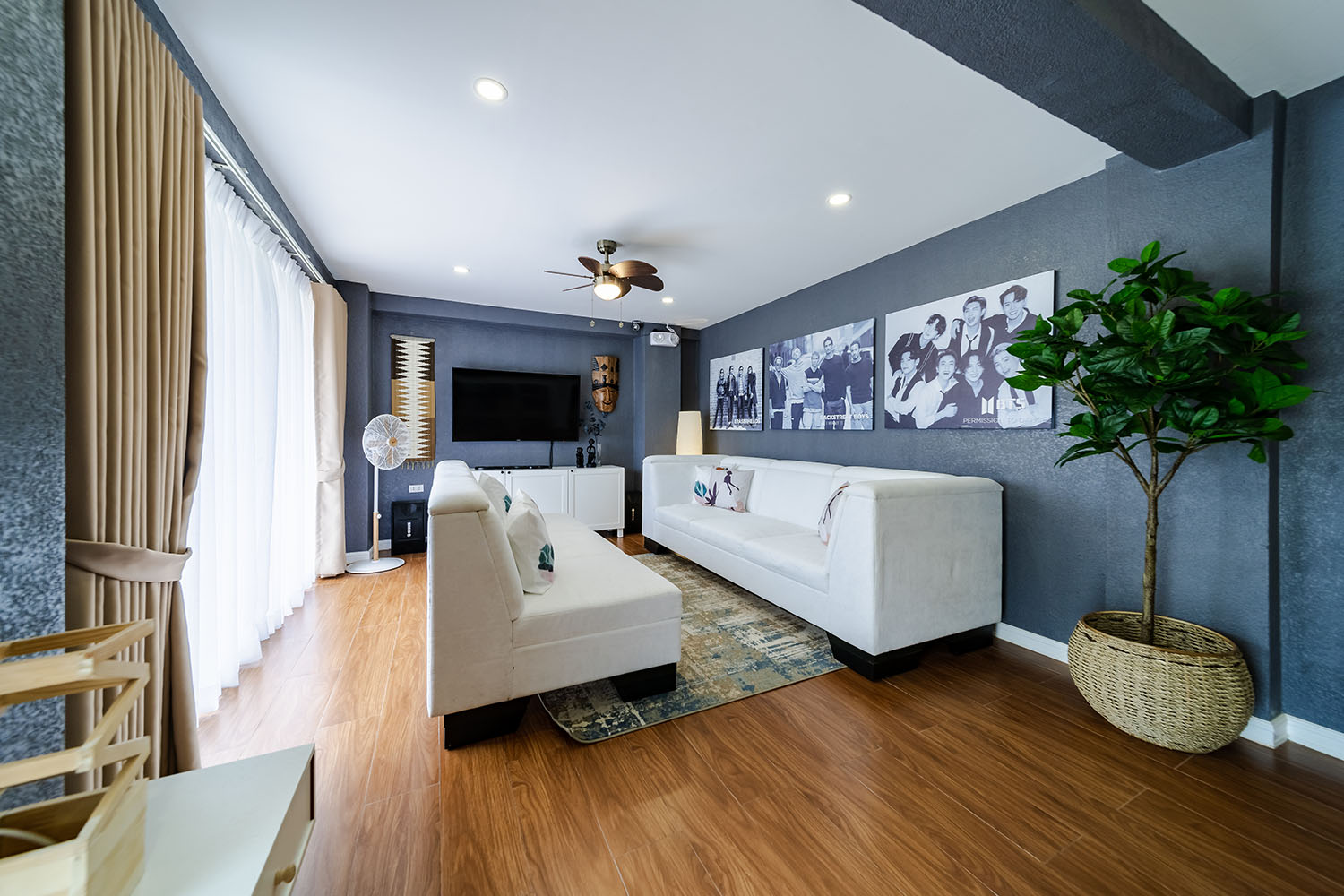 According to Tala, the owners requested to turn the entertainment room into a 'BTS room' for their niece. Since this will also function as a karaoke/music room, the designer opted to mount photos of BTS, Backstreet Boys, and Eraserheads.
ADVERTISEMENT - CONTINUE READING BELOW
Meanwhile, the media console that houses the karaoke machine and the wires serves as the focal point of the room. The designer also decided to place the huge sofas facing each other before anchoring the space with an area rug.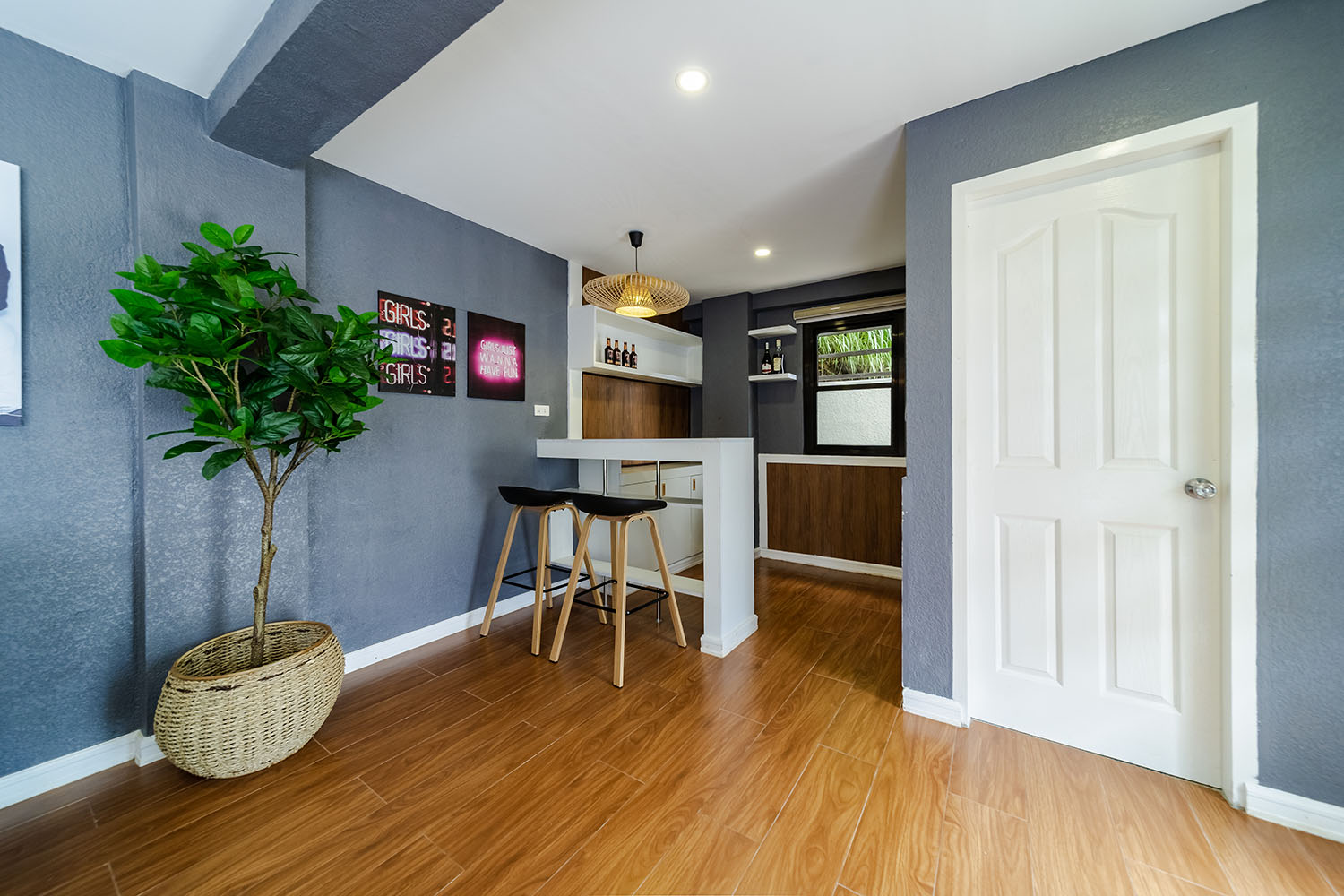 "The client already bought barstools so we placed them by the bar," shares Tala. The bar area has enough storage to accommodate refreshments and other essentials.
ADVERTISEMENT - CONTINUE READING BELOW
Jacuzzi Area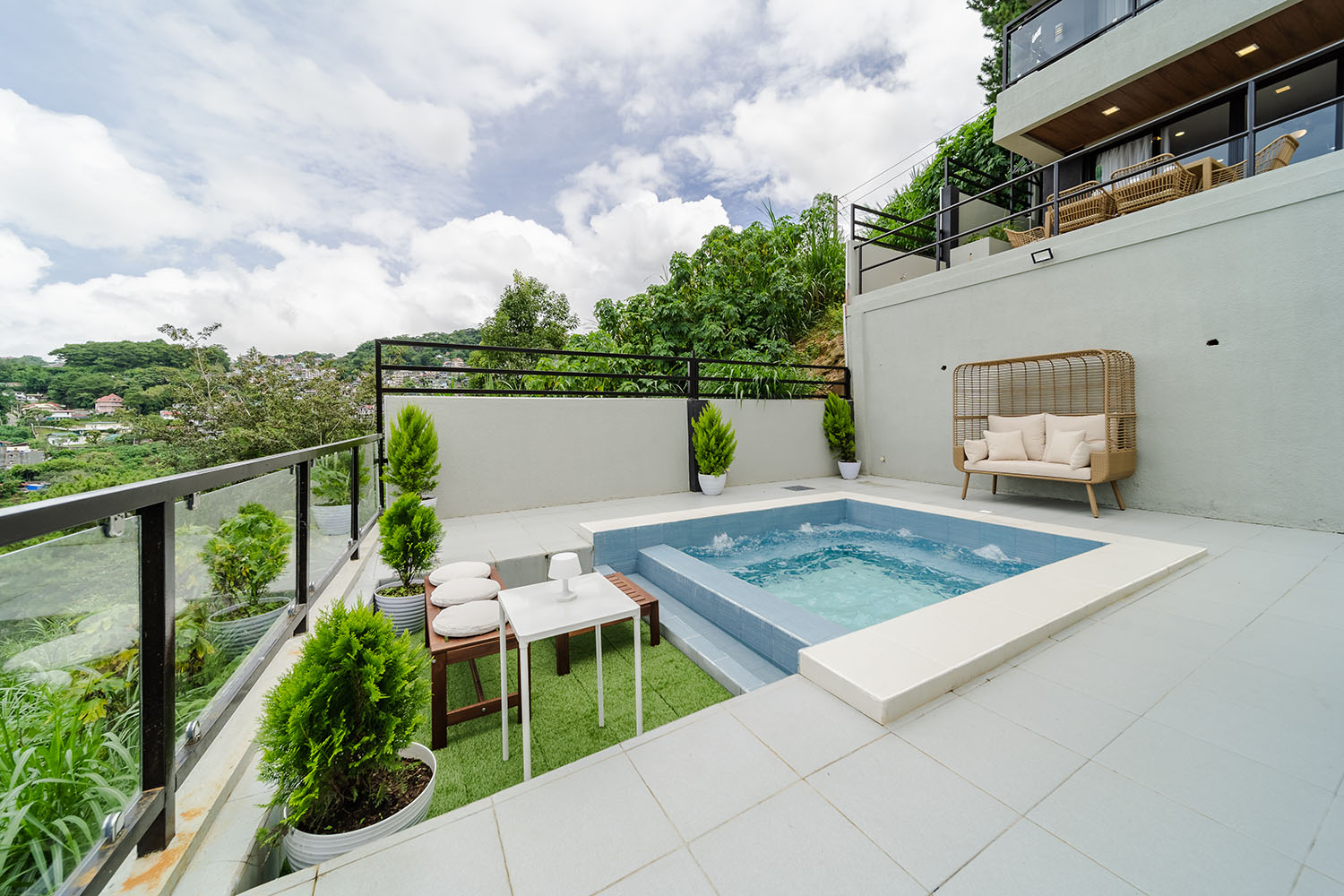 "They had an unintentional sunken area in front of the jacuzzi and it was a construction issue they had to remedy," Tala explains. Instead of leaving it bare and unused, Tala proposed to turn it into a small lounge area with deck tiles, a bench with outdoor seat pads, a coffee table, and a side table which all came from IKEA.
ADVERTISEMENT - CONTINUE READING BELOW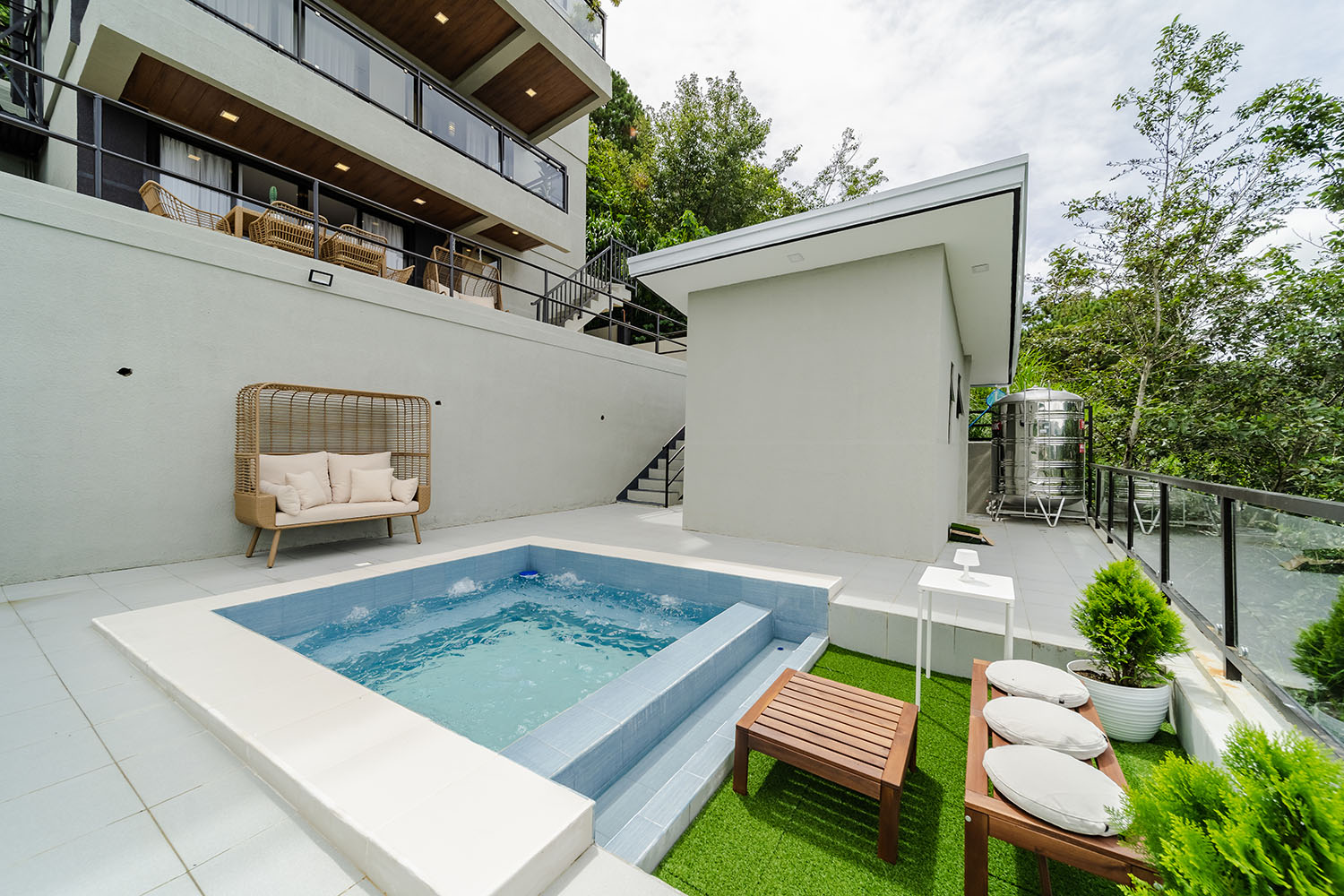 Balconies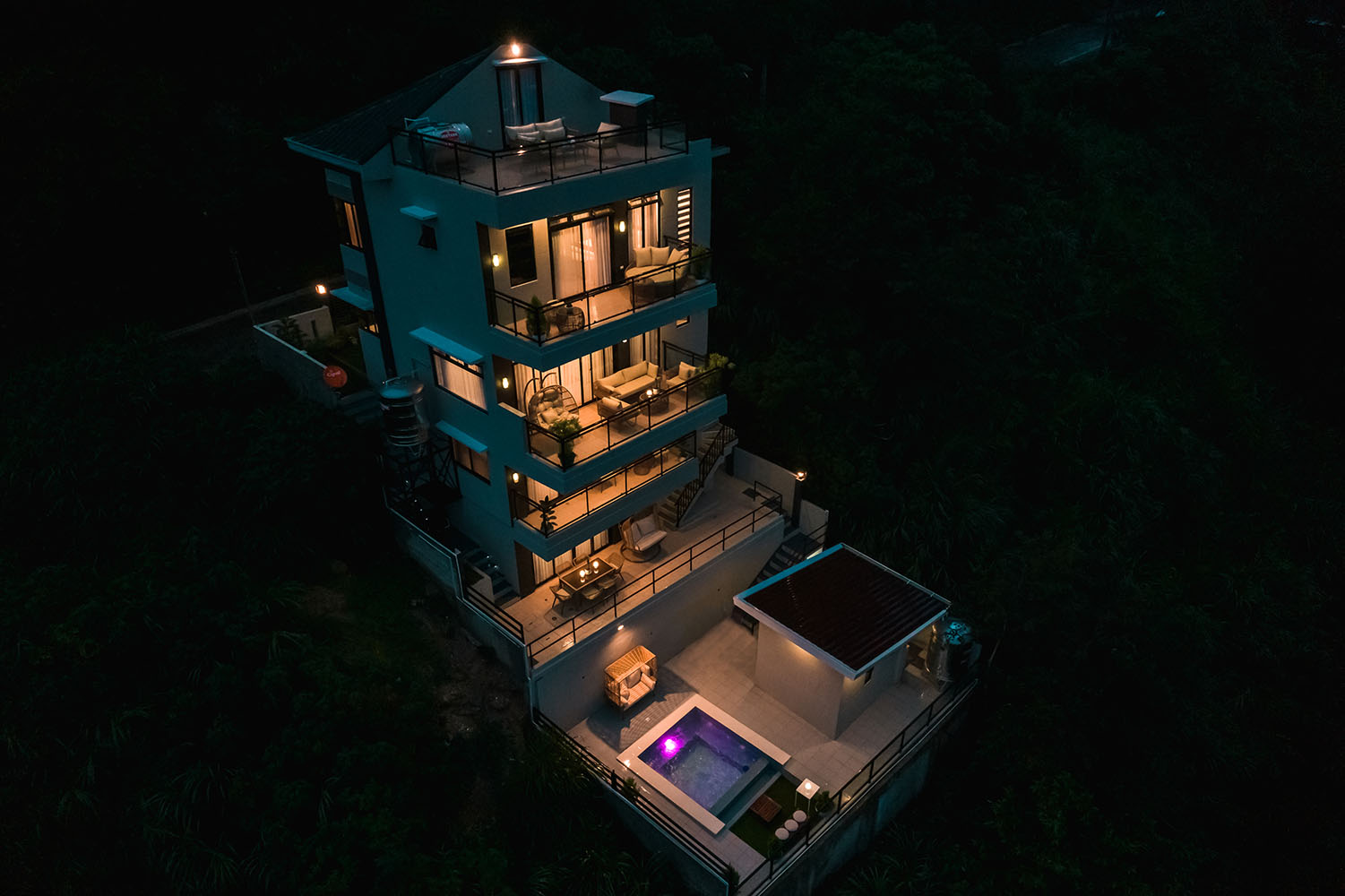 ADVERTISEMENT - CONTINUE READING BELOW
Since there's not enough lighting from the ceiling, Tala added outdoor LED table lamps on all the balconies.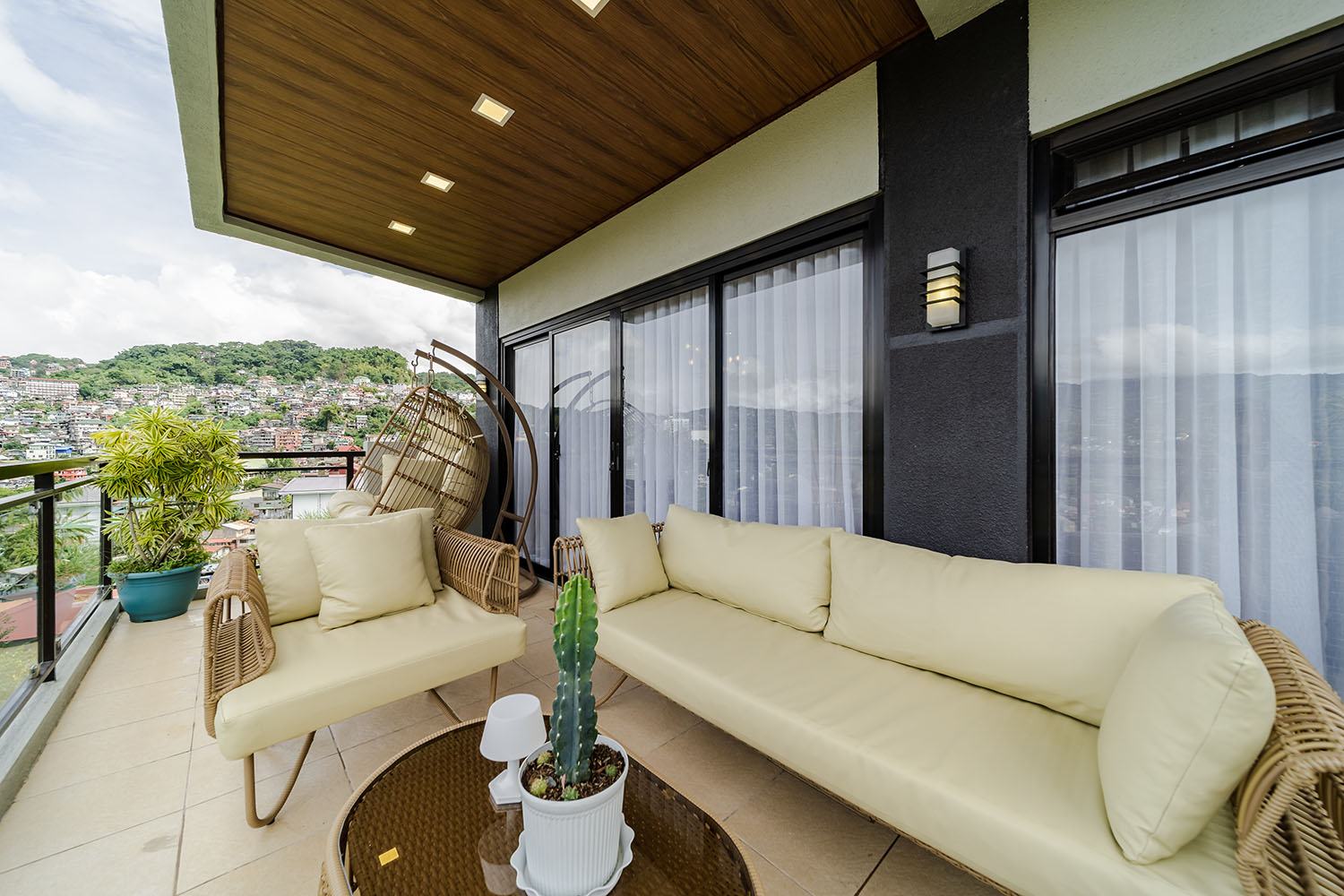 Lovely outdoor furniture pieces complete the balcony. The owners made sure there are enough seating pieces – from sofas and hammocks.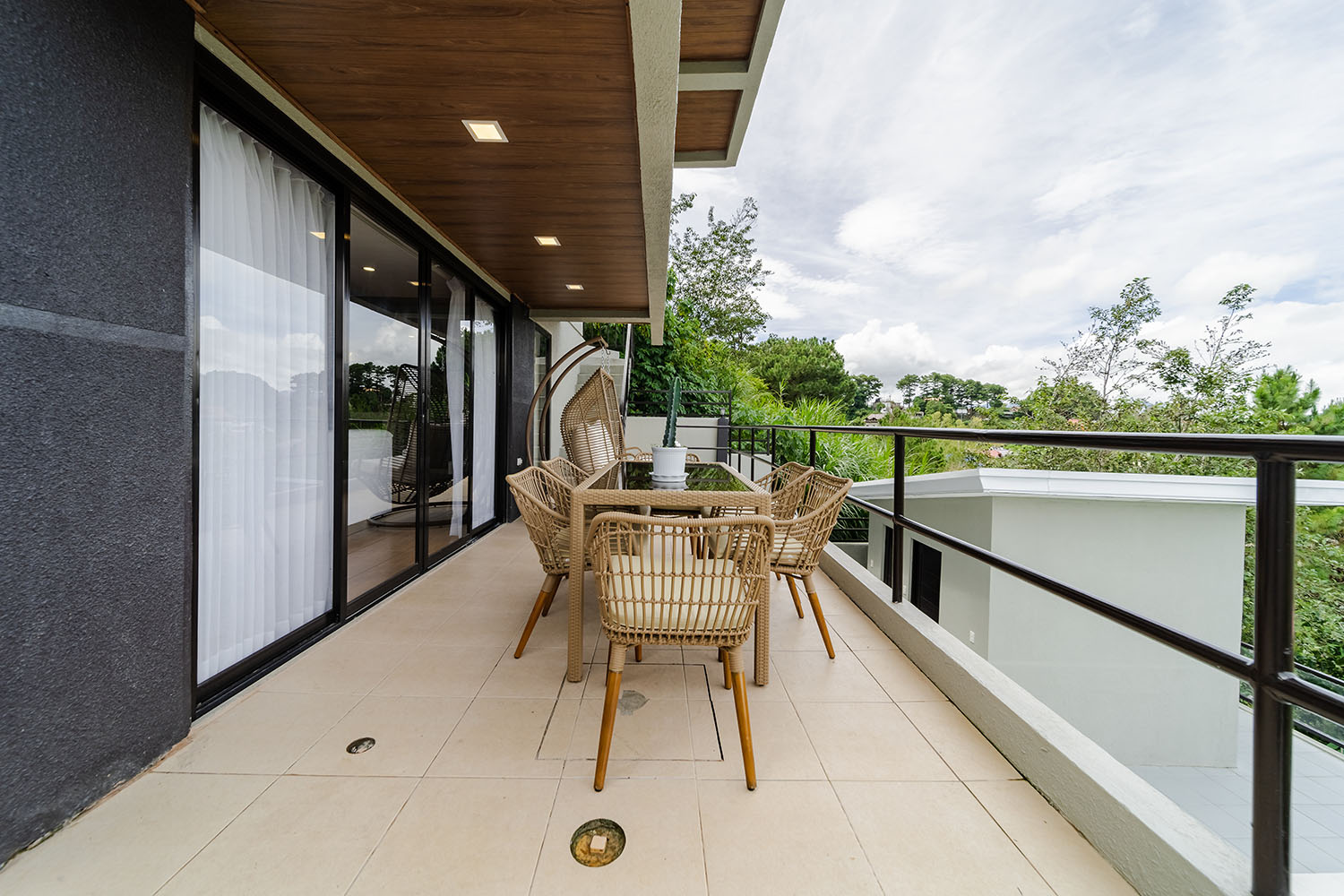 ADVERTISEMENT - CONTINUE READING BELOW
This balcony features a dining set, allowing the owners and their guests to experience al fresco dining whenever they want.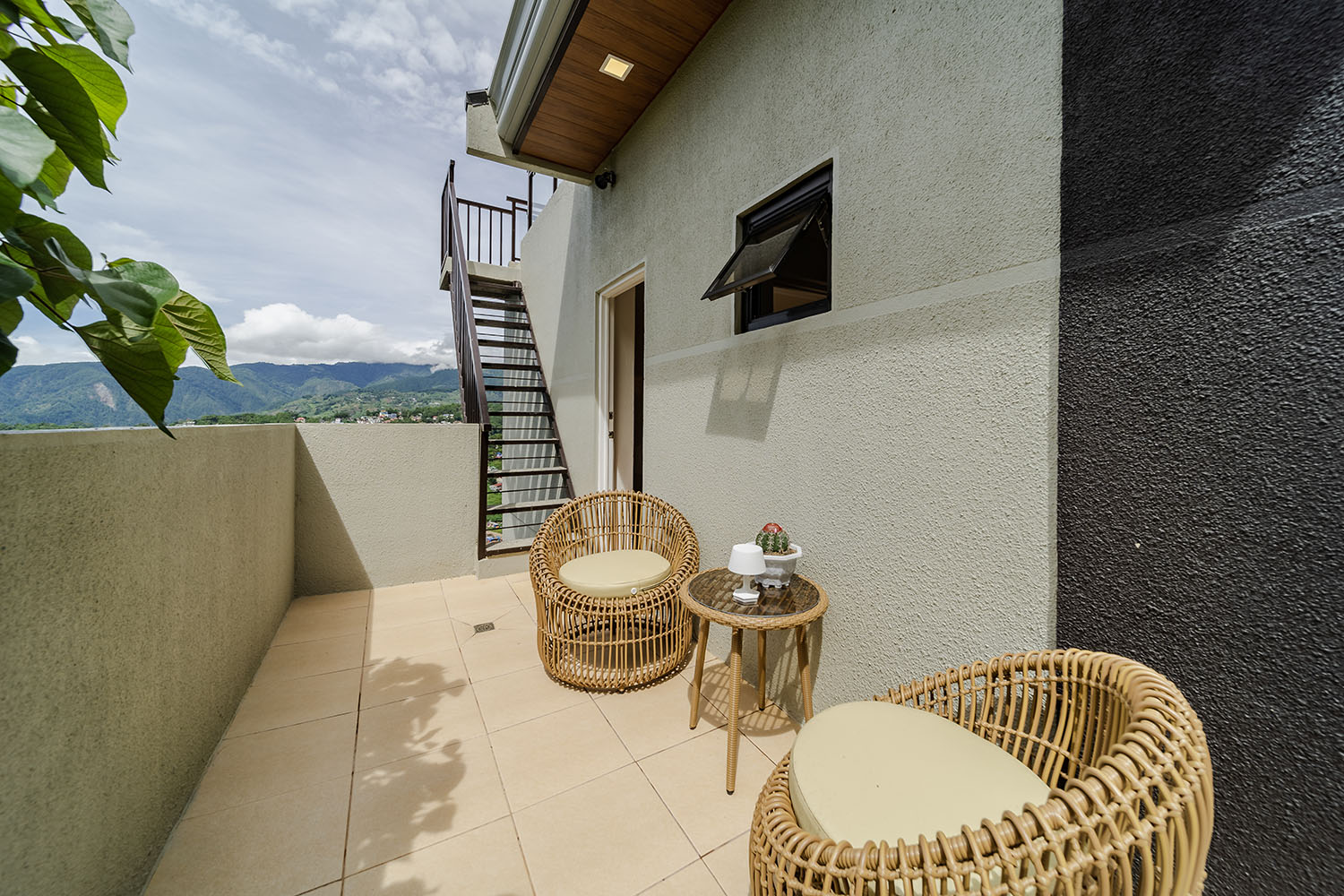 There's a compact seating nook in this part of the house, giving the owners a place where they can drink coffee and just admire the view.
ADVERTISEMENT - CONTINUE READING BELOW
READ: This Earthquake-Proof, Prefab Home Was Built In Just 6 Days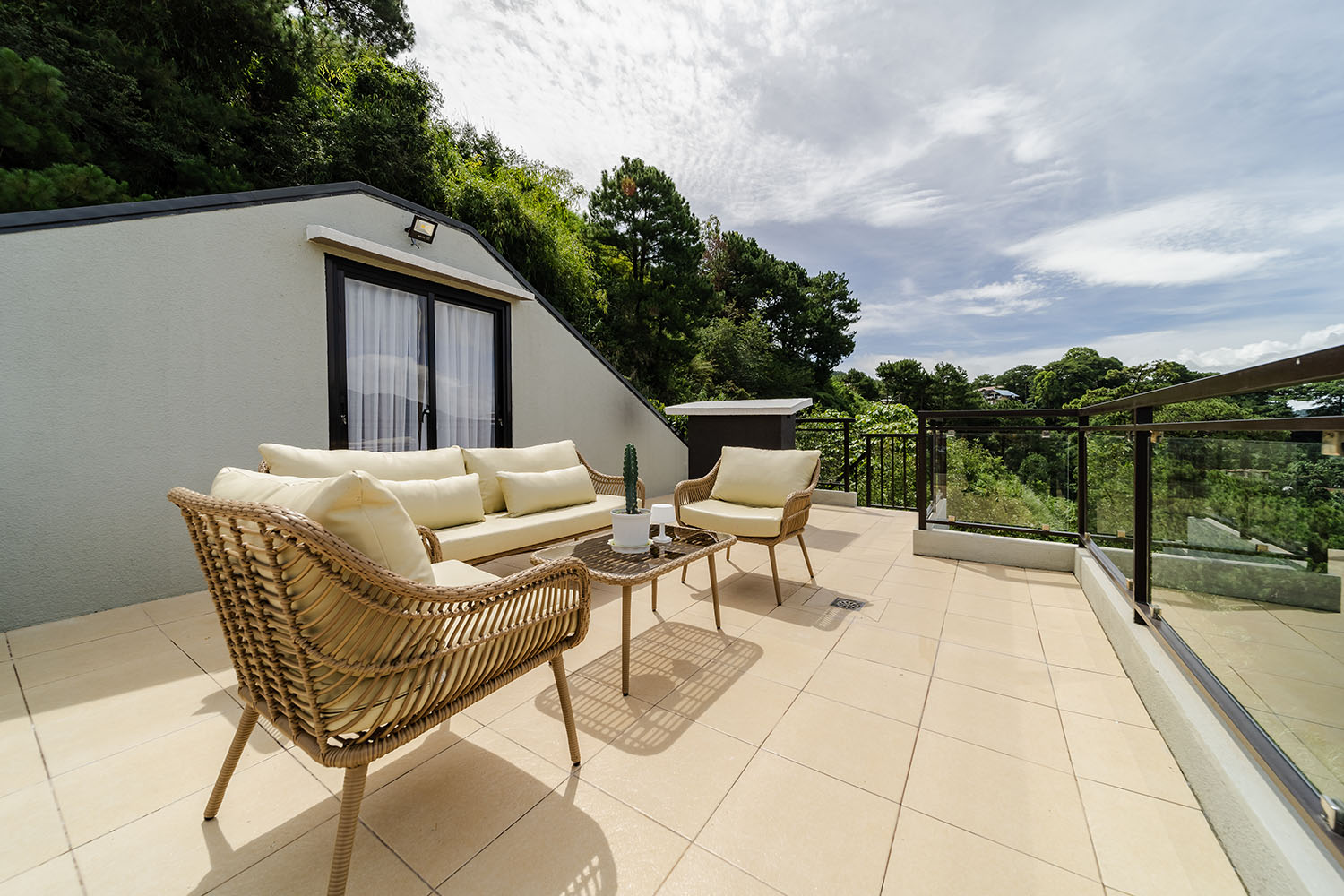 This part of the property houses a charming seating area where the owners can best marvel at the view. On the topmost floor, they can see the city and feel the familiar Baguio breeze.
Interested to work with interior designer Tala Singson? You can get in touch with her through email at talasingson[at]gmail.com.
ADVERTISEMENT - CONTINUE READING BELOW
More on Realliving.com.ph
Load More Stories