Condos
Smart Storage Ideas and Wood Finishes Complete This Modern Filipino Condo
IDr. Jamila Aves turned the 60sqm one-bedroom unit into a fitting second home for a family based abroad Photography: OLA Interior Photography Interior Designer: IDr. Jamila Aves
Filipinos living abroad miss many things about the Philippines, from our native delicacies to the distinct homey vibe of a Pinoy home. The owners of this condo unit wanted it to be simple, modern, and with a Filipino touch to distinguish it from the American-style home where they live.
To achieve the modern concept with an organic touch, IDr. Jamila Aves used wood and incorporated solihiya patterns. "Light neutral tones are used on the walls to create contrast with the furniture pieces and to make it homey and elegant," she explains.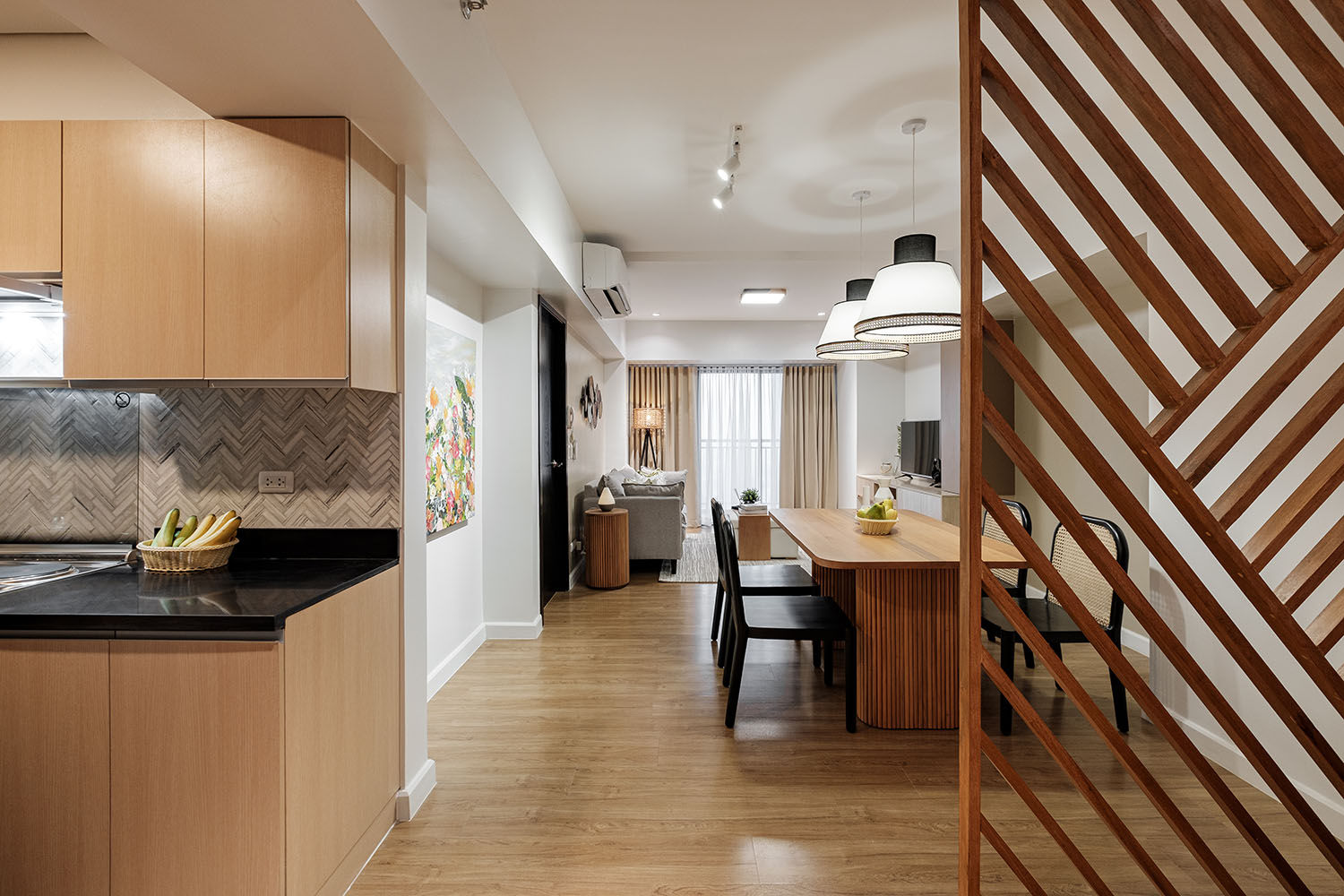 ADVERTISEMENT - CONTINUE READING BELOW
Since storage is key in condo homes, the designer also made sure to incorporate nifty storage solutions into the final look by opting for multipurpose pieces and adding nooks wherever possible. Working on the unit was a breeze as the owners gave their complete trust to the designer throughout the process.
READ: An Impressive Art Collection Completes This Couple's Condo Home
A 60sqm Modern Filipino Condo
Entryway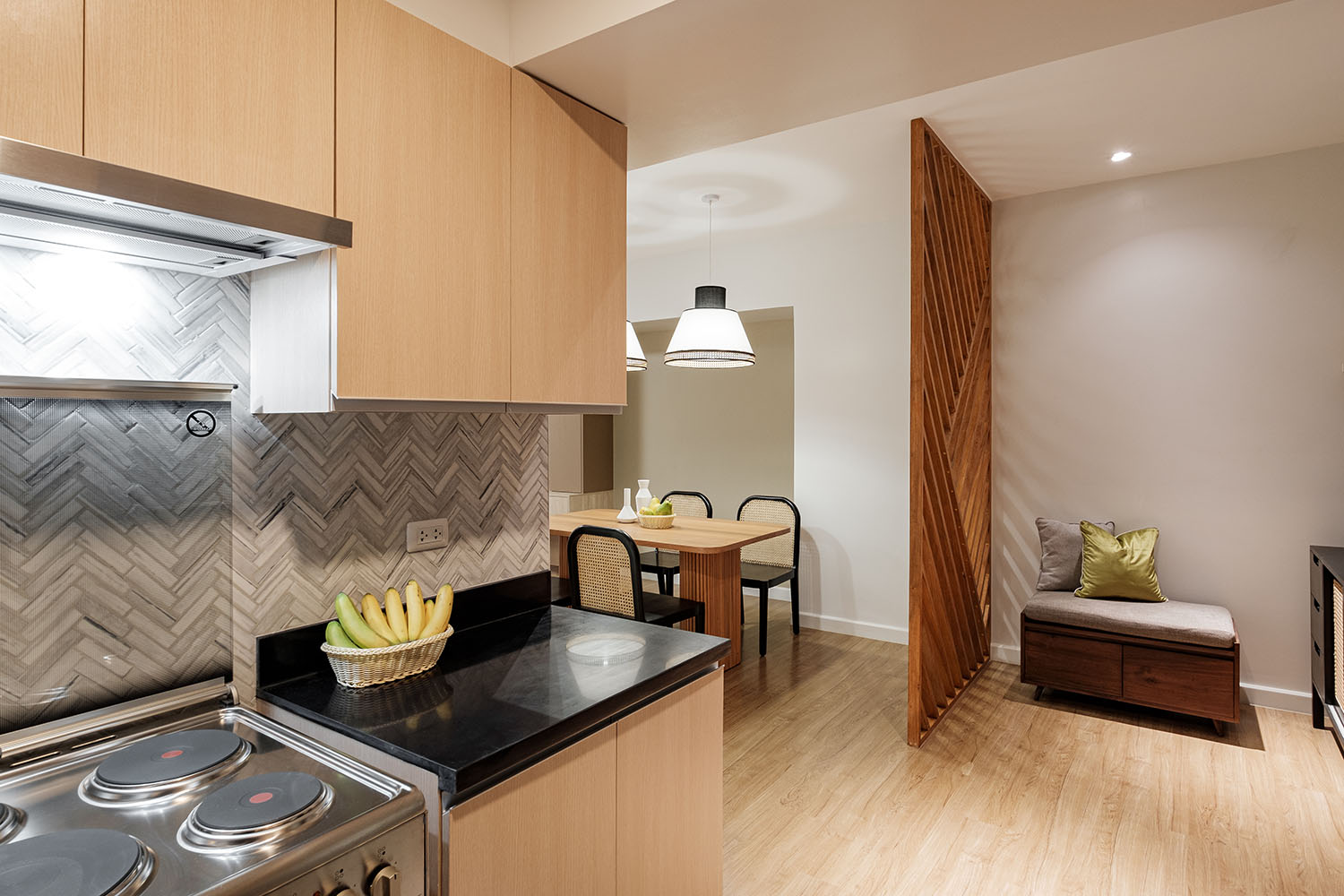 The owners wanted a partition that separates the entryway from the living and dining areas, so Jamila created a space she refers to as the "entry." "Upon entering, you will be greeted by a geometric-patterned partition, which is designed to separate areas but is not too heavy on the eyes," she explains.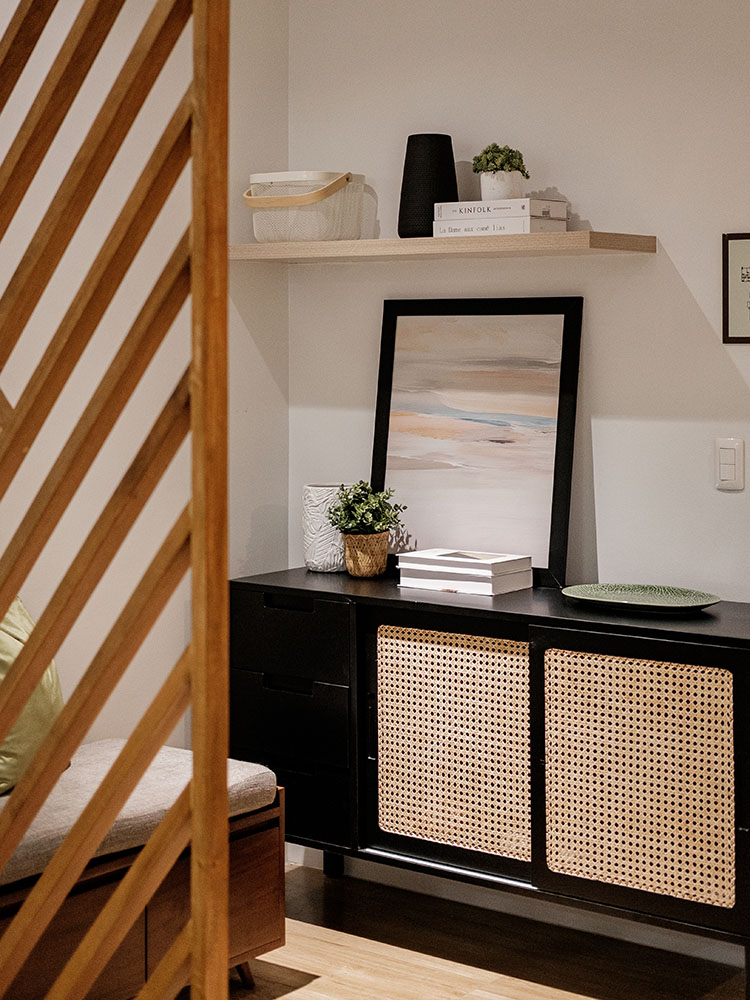 ADVERTISEMENT - CONTINUE READING BELOW
A small bench with drawers underneath makes it easier for the owners to wear and take off their shoes. Meanwhile, they can keep keys, small knickknacks, and other essentials on the sideboard cabinet as well.
READ: A 44sqm Resort-Like Condo in Valenzuela City
Kitchen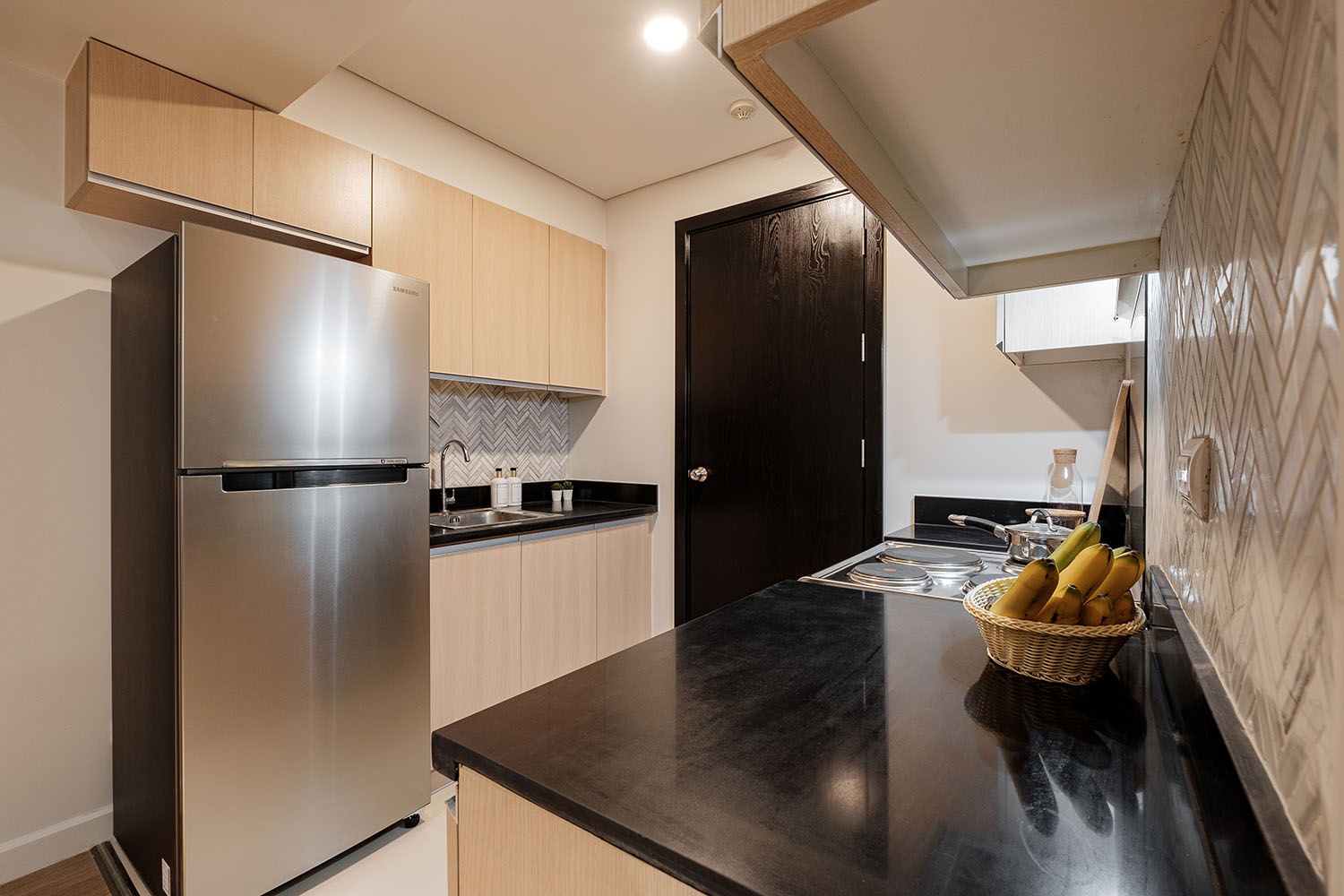 Since the unit is brand new, they decided to keep the kitchen as is.
ADVERTISEMENT - CONTINUE READING BELOW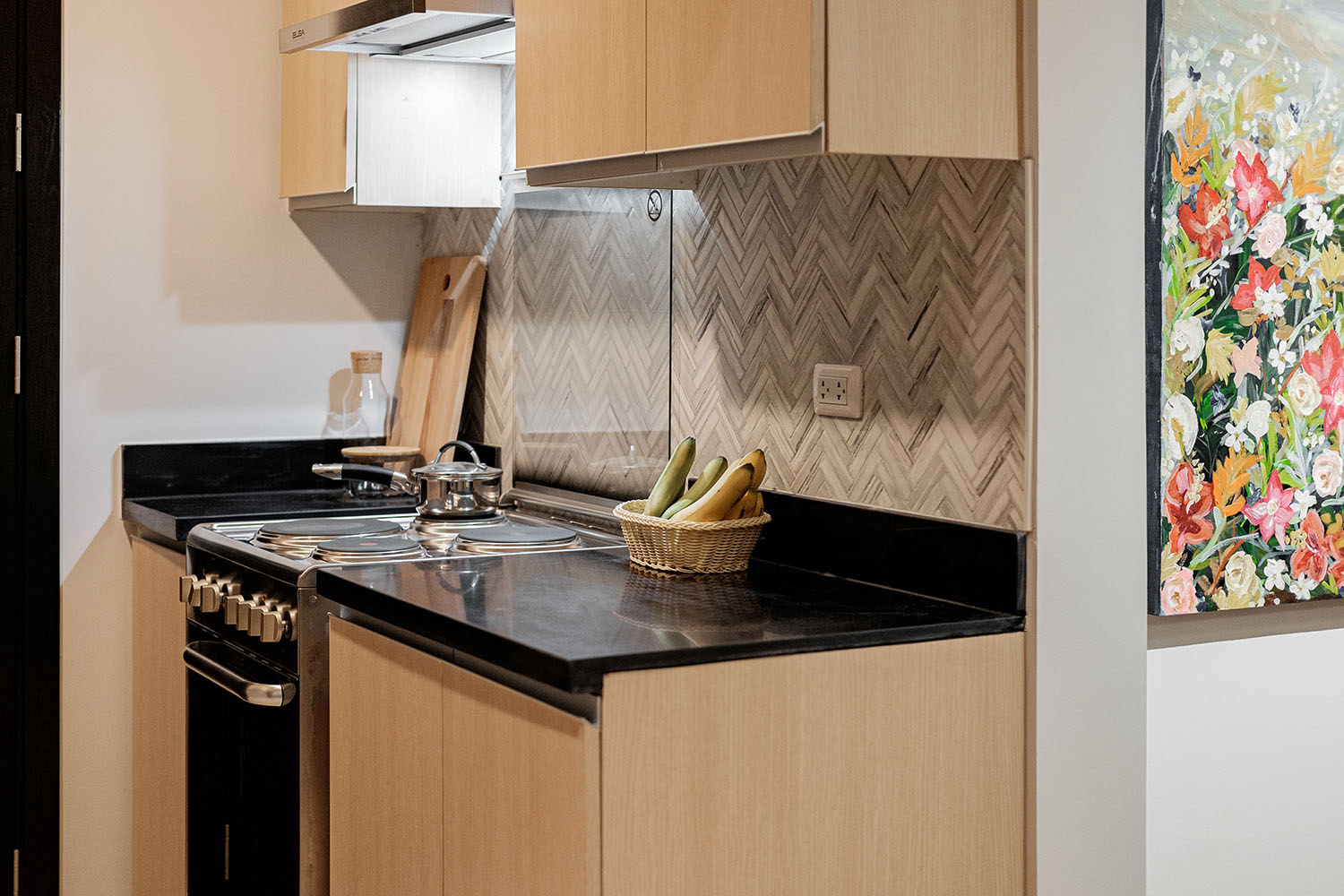 To spruce up the kitchen, mosaic tiles in a herringbone pattern were installed as a backsplash.
Laundry Area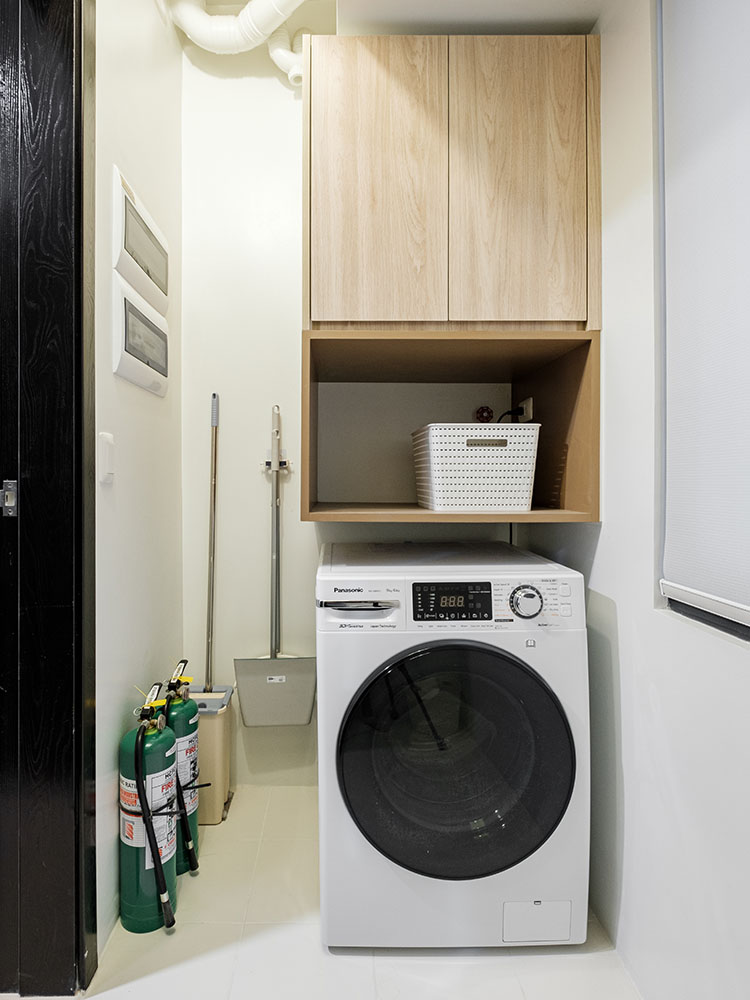 ADVERTISEMENT - CONTINUE READING BELOW
Maximizing every corner possible is essential in condo units. Jamila was able to locate a laundry area in the unit and to keep it clutter-free, a shelf and a cabinet where laundry essentials can be stored were installed.
"For drying, we installed a built-in retractable rack, which they can pull out when needed. It saves a lot of space," she shares.
READ: An American Homeowner's Colorful and Eclectic One-Bedroom Condo
Dining Area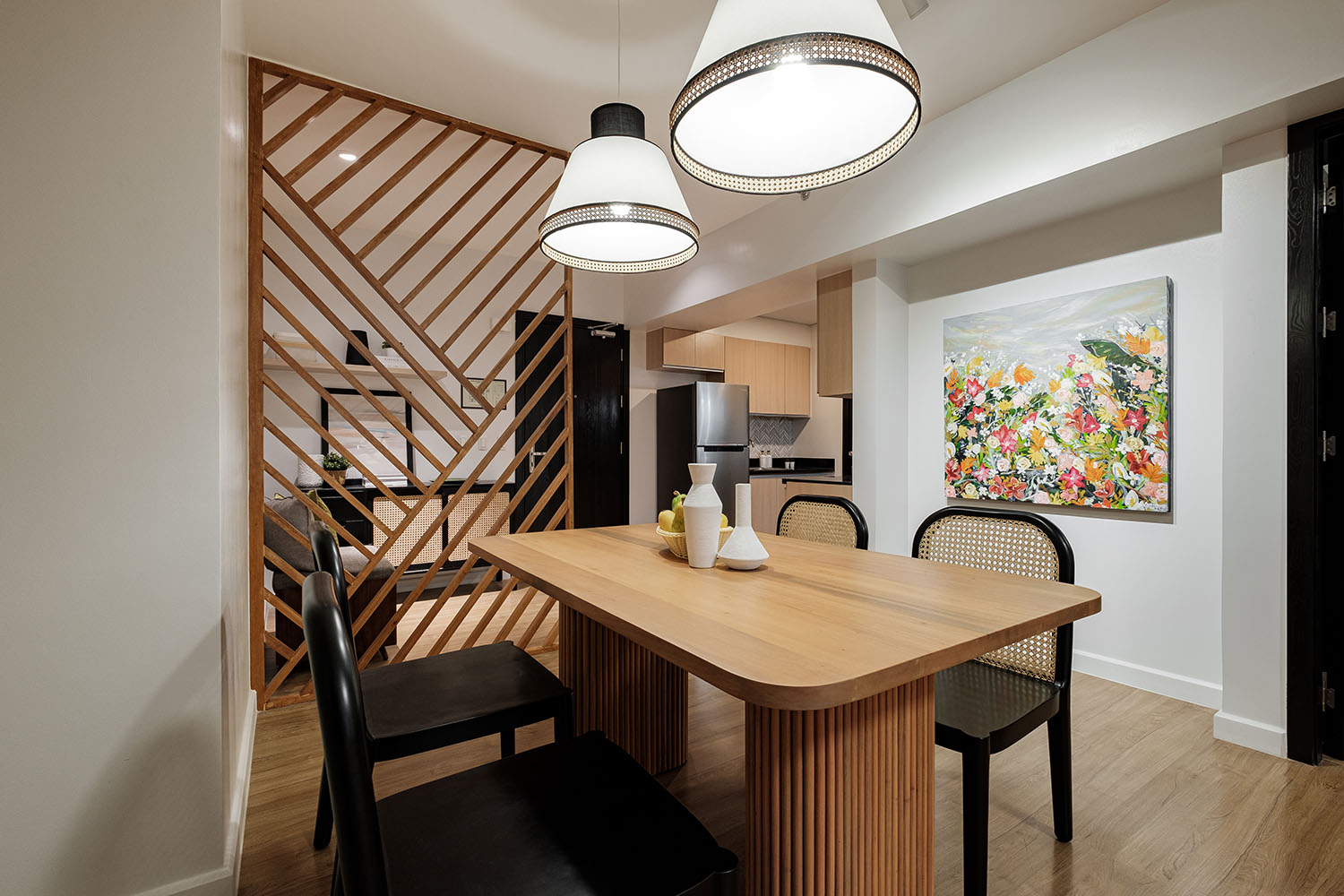 ADVERTISEMENT - CONTINUE READING BELOW
One of the owners' requests was to have custom floral artwork in the unit to reflect their love of flowers. Jamila commissioned a talented young artist, Janella Marahay, to work on the lovely piece on display in the dining area.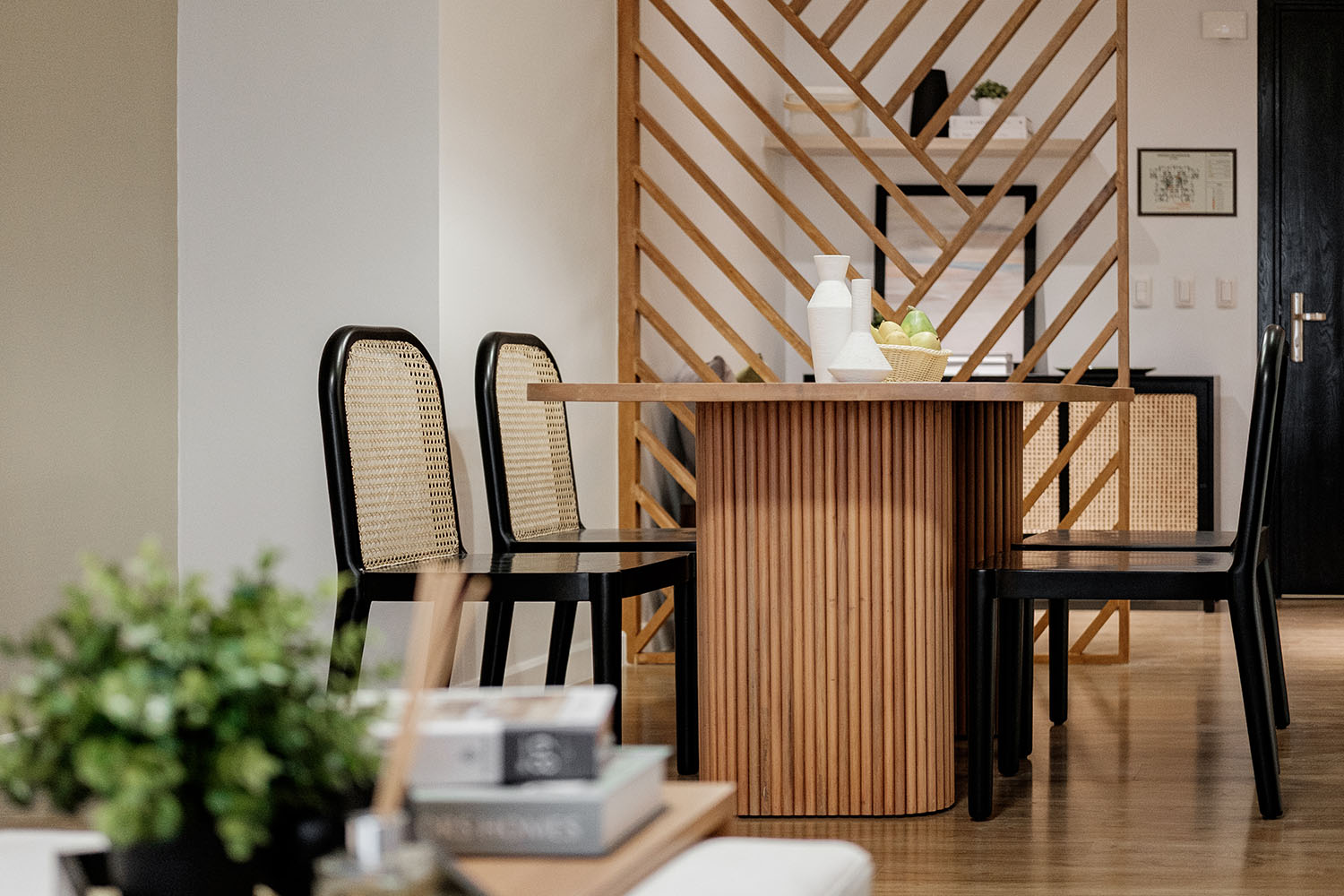 Jamila opted for a dining set in warm tones. The dining chairs are made of mahogany wood painted black with a solihiya backrest. The real star of the space is the mahogany dining table with a fluted, semi-cylindrical base in a light stain finish.
ADVERTISEMENT - CONTINUE READING BELOW
Living Area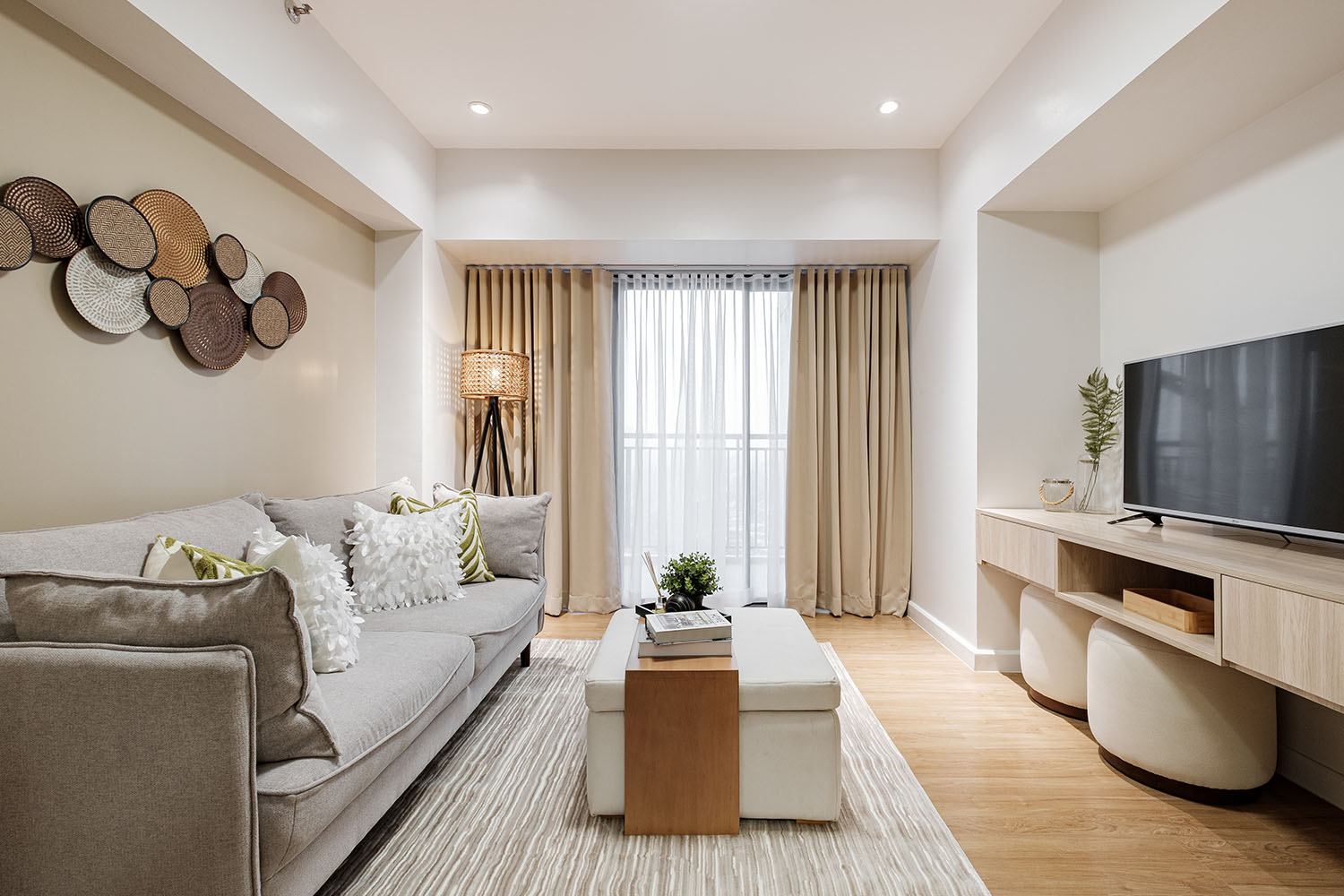 In any Filipino home, the living area is the special space where families bond and guests are received. This inspired Jamila to make the living area as beautiful and comfortable as possible. Instead of having an accent chair, she chose to have ottomans that can be tucked under the TV cabinet when not in use.
ADVERTISEMENT - CONTINUE READING BELOW
READ: This 78sqm Multi-bedroom Condo Offers an Elegant and Homey Filipino Vibe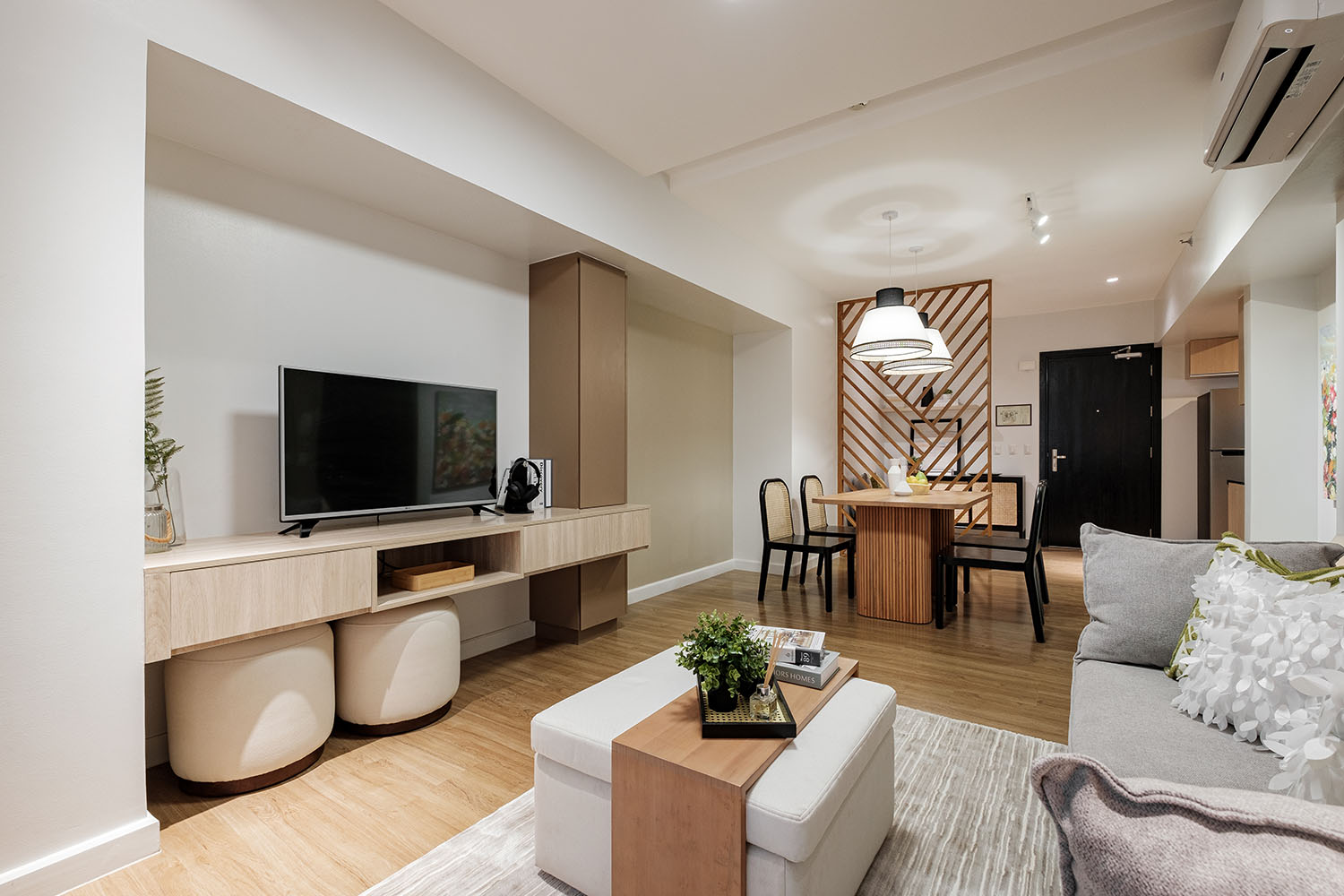 "The center ottoman is also an additional seating piece, as the wood overlay is detachable," adds Jamila.
The designer tied the look of the living area with the dining area by using pillowcases with tropical patterns and placing a solihiya-patterned floor lamp in the space as well.
ADVERTISEMENT - CONTINUE READING BELOW
Bedroom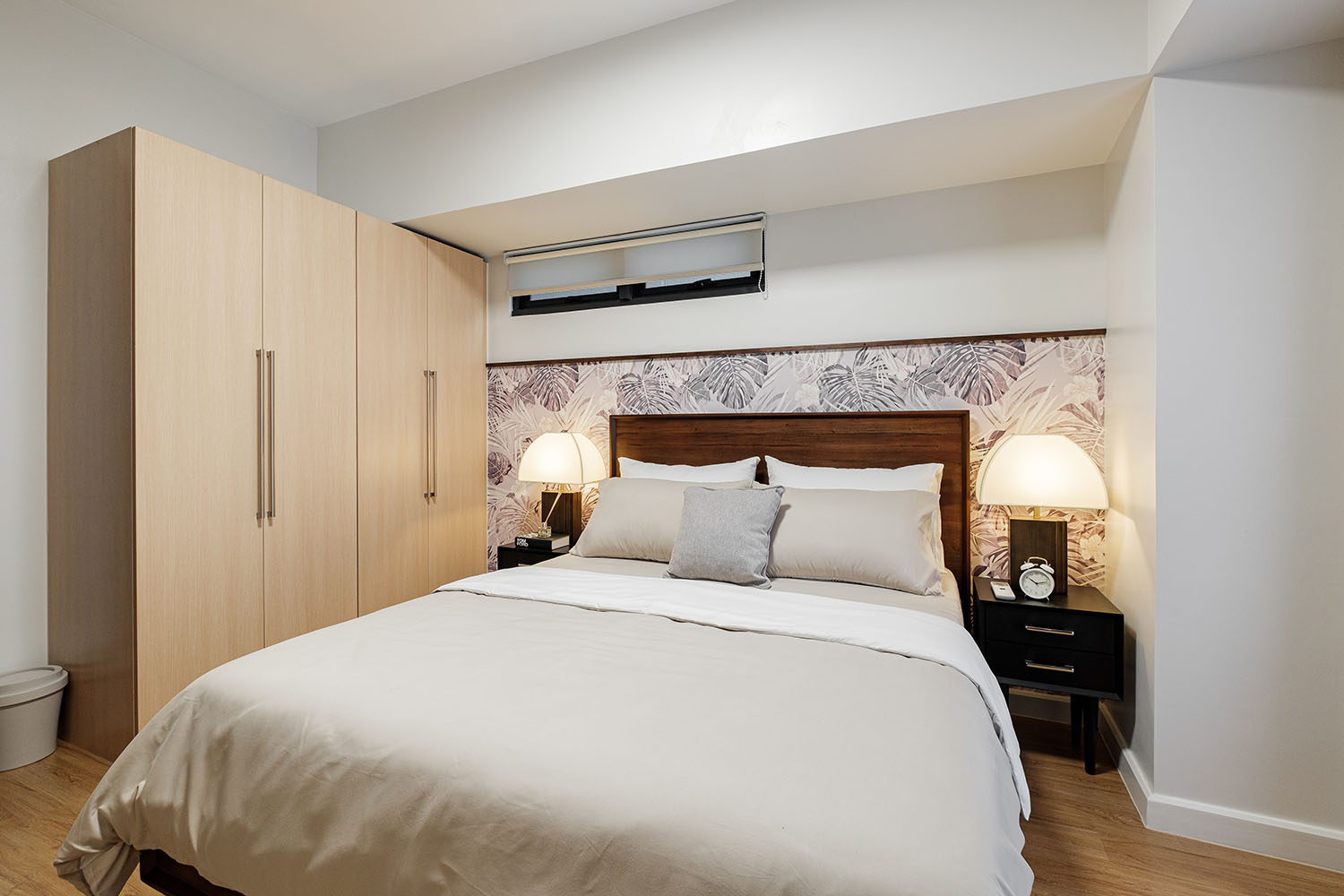 Jamila designed the bedroom with a soft and darker color palette and cozy textures to create a space for rest.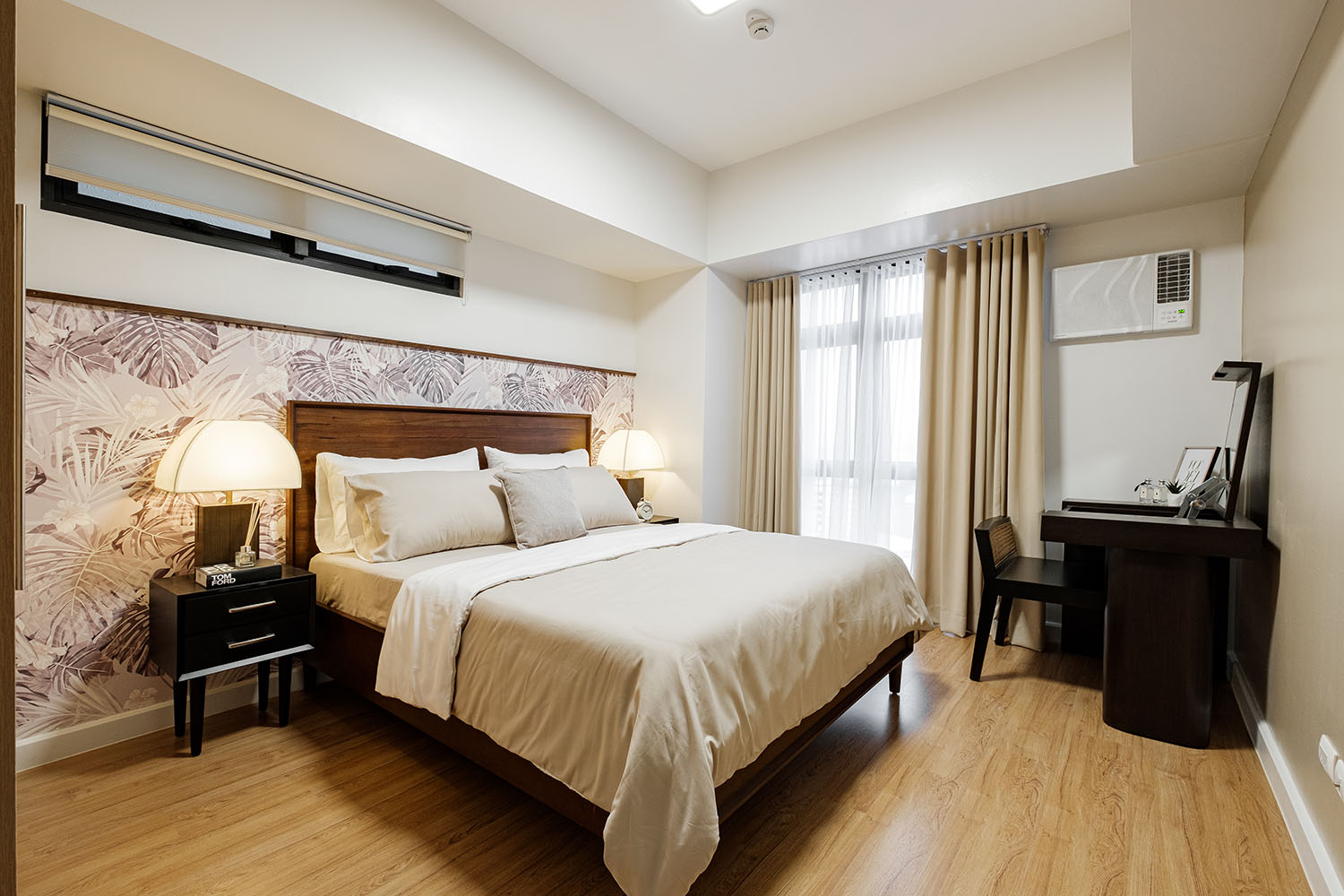 ADVERTISEMENT - CONTINUE READING BELOW
The mahogany queen-size bed in a darker stain works in contrast with the wall and the table that functions as a study and vanity area.
READ: A Modern Filipino Style for a Three-Bedroom Condo
Bathroom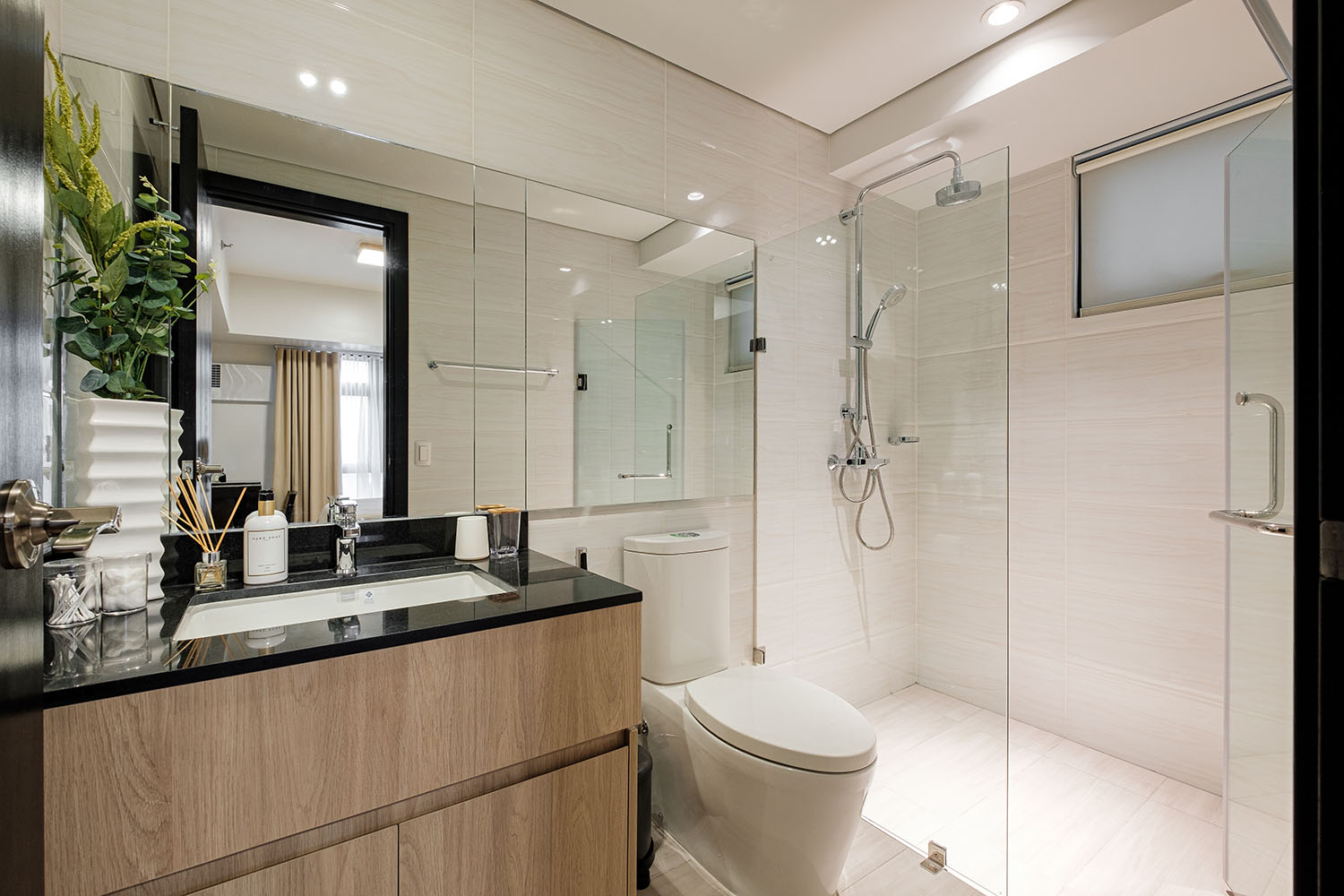 The original look of the bathroom was retained, as it's already spacious and has an enclosed shower area.
ADVERTISEMENT - CONTINUE READING BELOW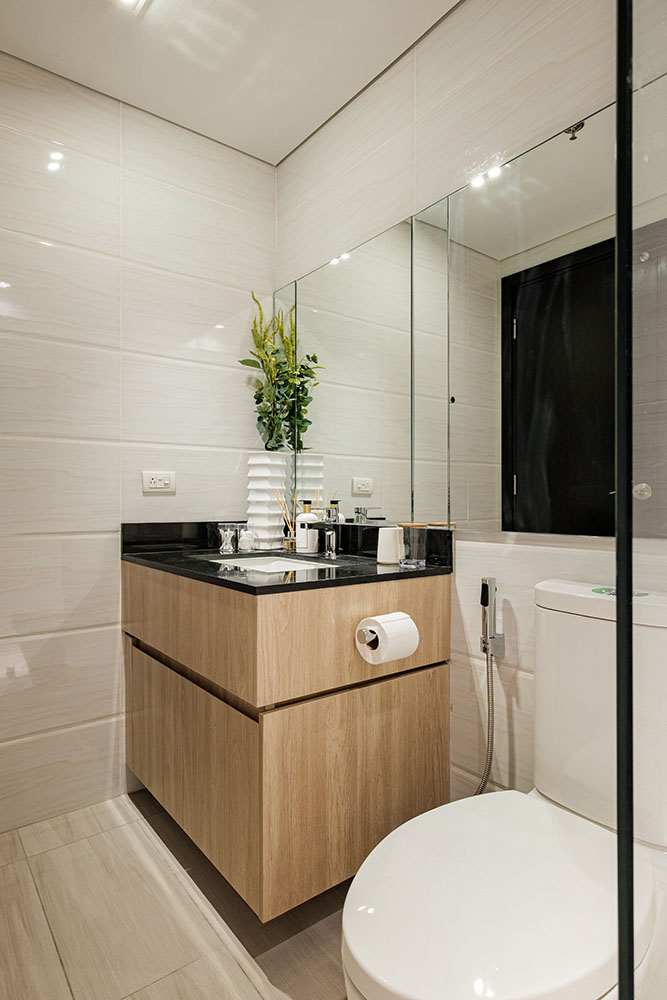 According to the designer, they only added mirrors to create the illusion of a wider space and a lavatory cabinet for storage.
Interested to work with IDr. Jamila Aves? You can get in touch with her through email at ja.designstudio[at]gmail.com. You can also follow her on Instagram: @jadesignstudio.
ADVERTISEMENT - CONTINUE READING BELOW
More on Realliving.com.ph
Load More Stories