A 44sqm Resort-Like Condo in Valenzuela City
Designed for a family of four, the two-bedroom home combines Scandinavian aesthetic and contemporary Filipino touches The story of the Soleta family's condo home is one of divine providence and perfect timing. Given the challenges of the pandemic and the adjustments Maycel and her husband Nolvin had to make, finding a home in near their office in Valenzuela City became a must.
Watch the summary of the space here:
"We were renting an apartment in Parañaque and it will be very tiring to travel from our house to the office. Wala kaming mahanap then God showed us this condo na sobrang lapit, mga five minutes away from our new office location," relates Maycel. They didn't have enough money to purchase the unit back then, but the owner was kind enough to let them pay in installments.
To transform the unit into a home the family of four will love, they worked with a team of design professionals—La Arte Design Interior Works as contractor and interior designer Mazen Castro of Studio Castro. "From the start, I was very honest to Mazen that I'm working within a strict budget. Gusto ko 'yung minimalist/Scandinavian style kaya lang alam kong impossible because I have kids and they have a ton of belongings. Mazen told me it can be done and I loved every detail of her design," the mom of two shares.
The interior designer was able to make the unit look bigger than it really is with proper lighting and well-thought-out storage nooks. In finalizing the look, she took inspiration from the owners' love of staying in hotels and resorts.
ADVERTISEMENT - CONTINUE READING BELOW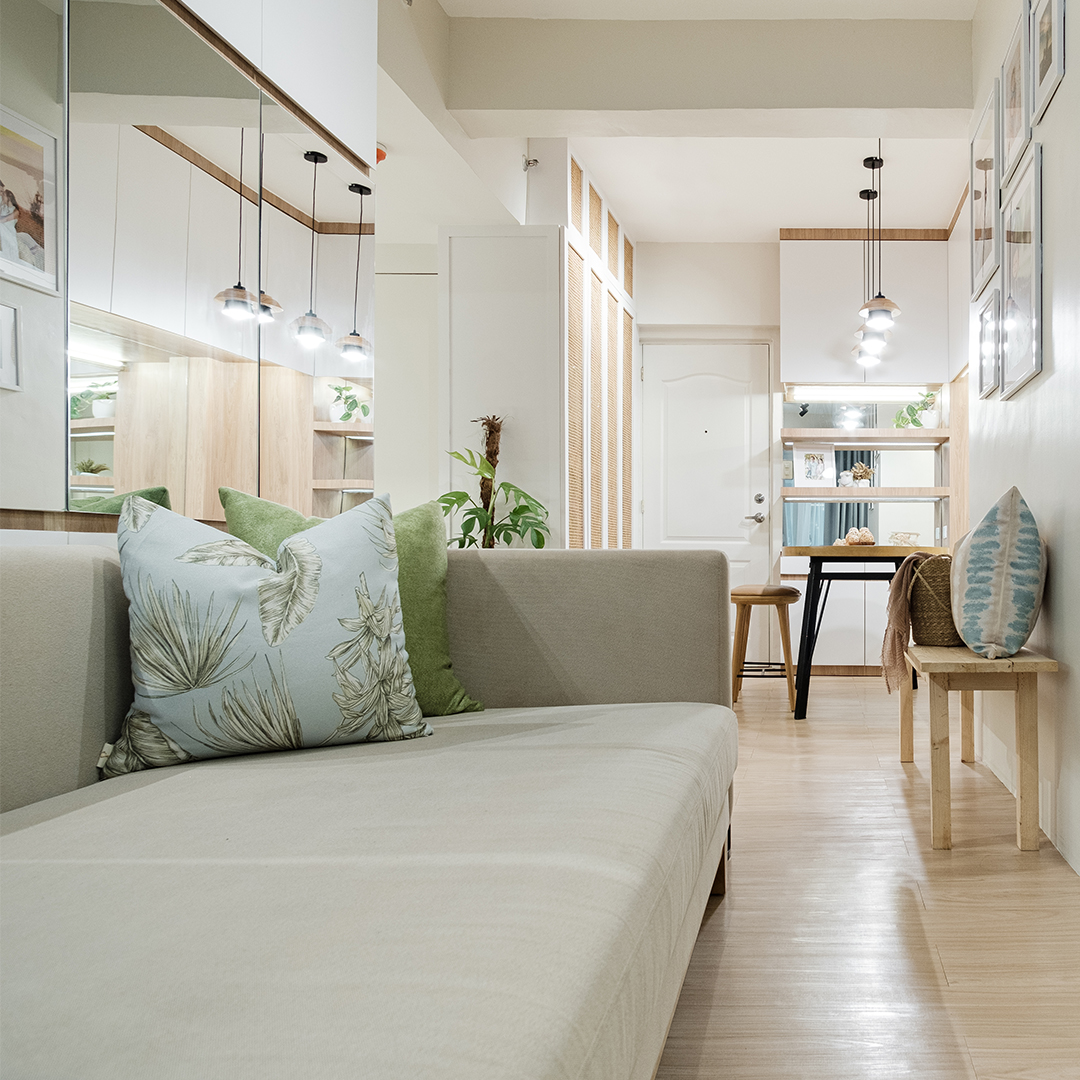 "The design concept is contemporary Filipino resort with a touch of Scandinavian aesthetic. This home offers a staycation vibe every day. It's nice to have a space that doesn't feel like we need to have an escape away from the city all the time," Mazen explains.
Take a peek inside Villa Soleta below:
Living Area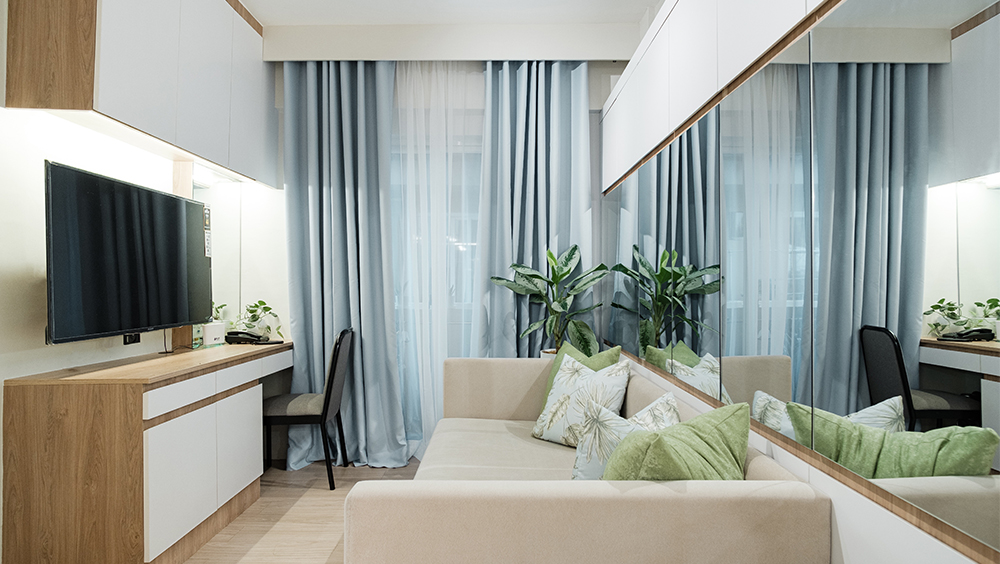 The living area is Nolvin's favorite spot in the condo home because of how comfy and inviting the sofa bed is. He usually enjoys watching shows on Netflix after work. The mirrors help create an illusion of a wider space and Mazen made sure to incorporate cabinets above the mirrors to keep clutter at bay.
To maintain the resort-like vibe, potted plants are placed in corners and soft furnishings are in earth tones with nature-inspired prints.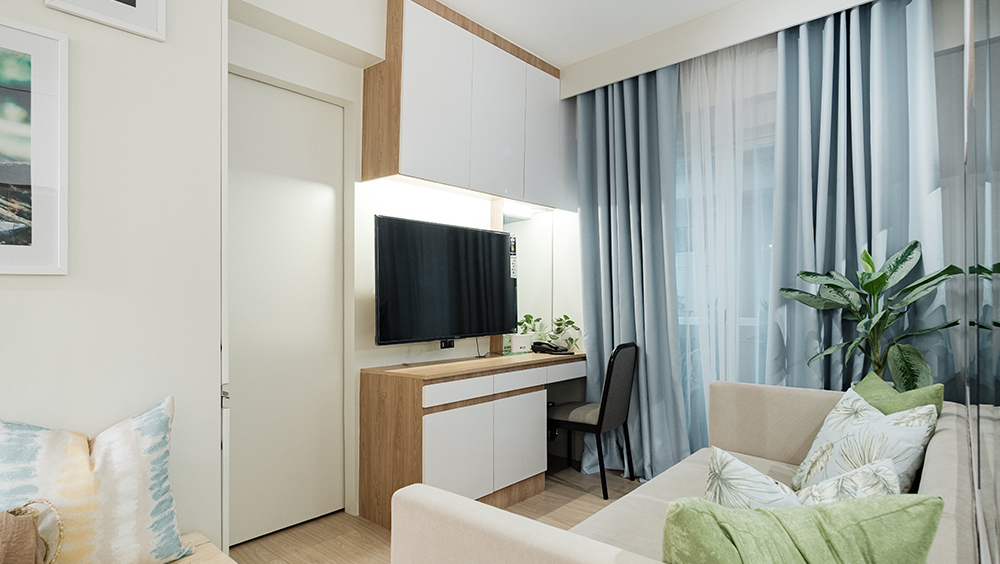 A chair is placed at the far right of the entertainment wall so the corner can work as a vanity/work area when needed. Below the overhead cabinets is an additional mirror to help reflect the light streaming through the windows during daytime.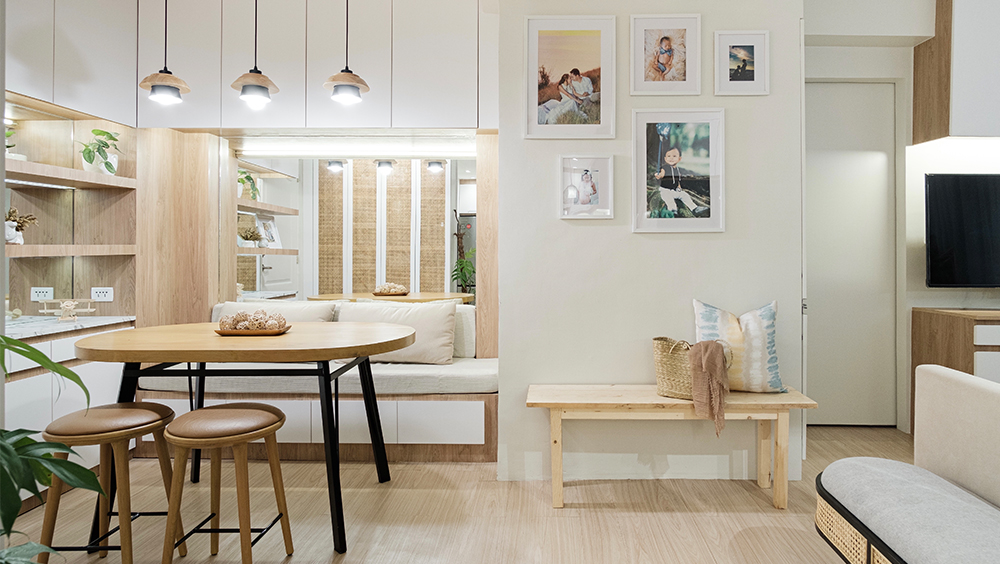 ADVERTISEMENT - CONTINUE READING BELOW
Separating the living and dining areas is a photo wall featuring framed photographs of the Soleta family. Using frames in different sizes helped liven up display and make it more interesting. To make the area more hardworking, a wooden bench serves as extra seating when guests come over.
Dining Area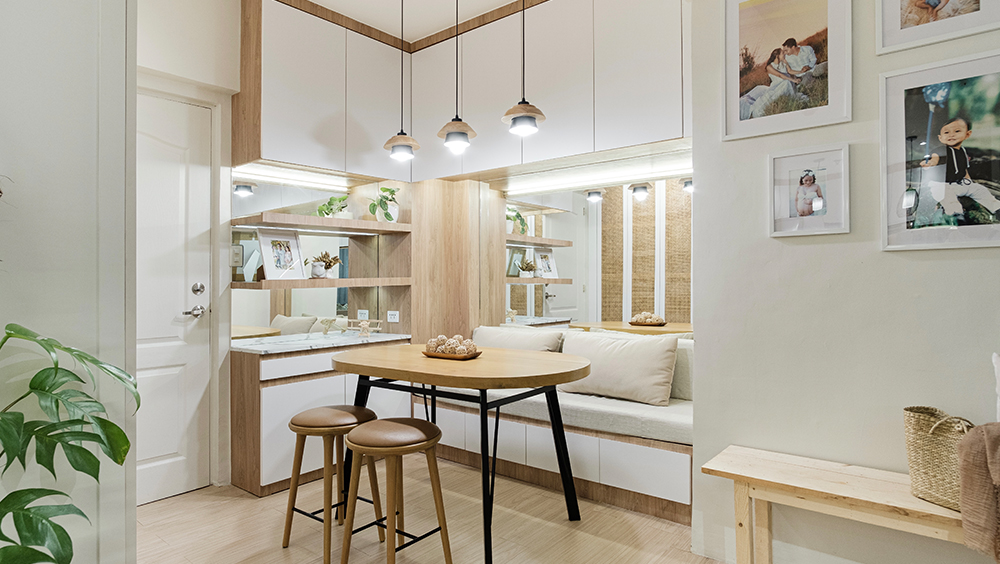 Compact yet impactful, the dining area is completed with a bench seat with storage compartments underneath. Mazen paired it with an oval dining table and matching stools. Arksmith Furniture Design and Manufacturing customized all of the furniture pieces in the unit.
"Mazen is very particular when it comes to home and furniture design. She will make sure na ma-fulfill 'yung requirements ng client nya at the same time, it's affordable," shares Maycel.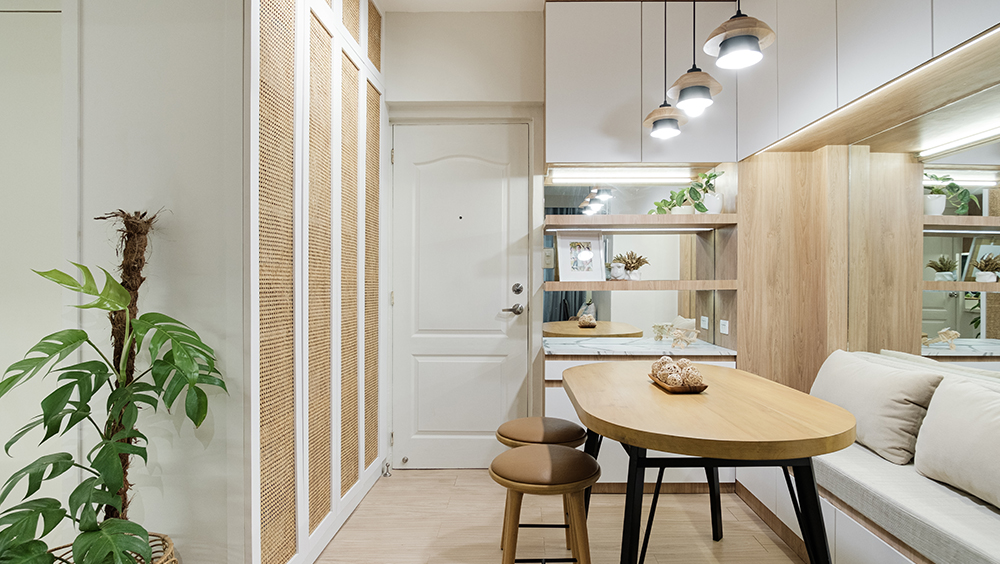 The built-in mirror shelf holds photographs, small potted plants, and décor pieces. To make the area more functional, overhead cabinets are also added. Having as many cabinets as possible helps address the owners' concern about keeping the unit clean and organized.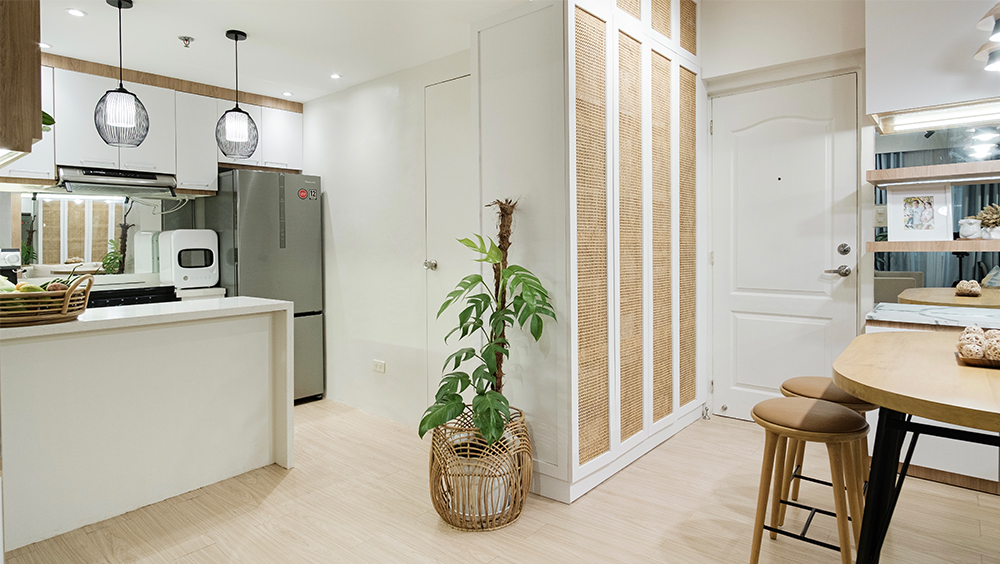 One of the striking elements in the unit is the lovely solihiya detail featured in this storage center that separates the dining area from the kitchen. Aside from going the contemporary Filipino resort look, it also complements the Scandinavian-inspired aesthetic.
ADVERTISEMENT - CONTINUE READING BELOW
Kitchen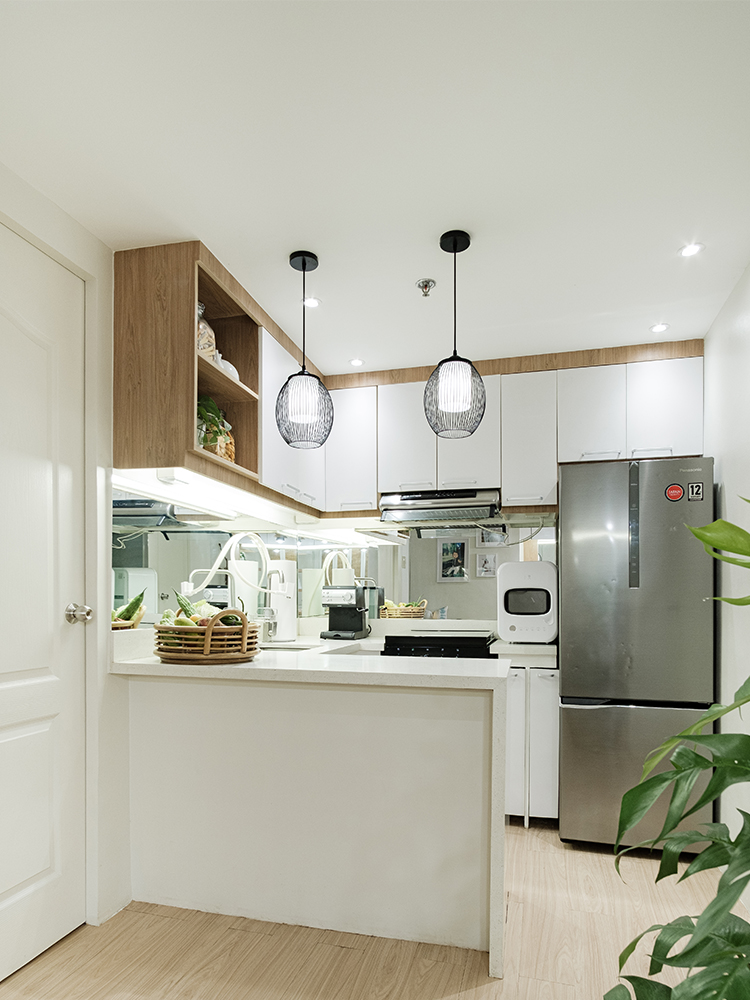 According to Mazen, the home is "a small space with big impact." This description can be applied to the cooking area as well. By adding a counter and enough storage, the owners can prep meals easily and stock up on supplies without worry.
Opting for a similar look for all cabinets proved to be a wise decision as it makes the unit cohesive and easy on the eyes. Instead of using a different material as backsplash, mirrors were chosen, following the same approach seen in the living and dining areas.
Kids' Room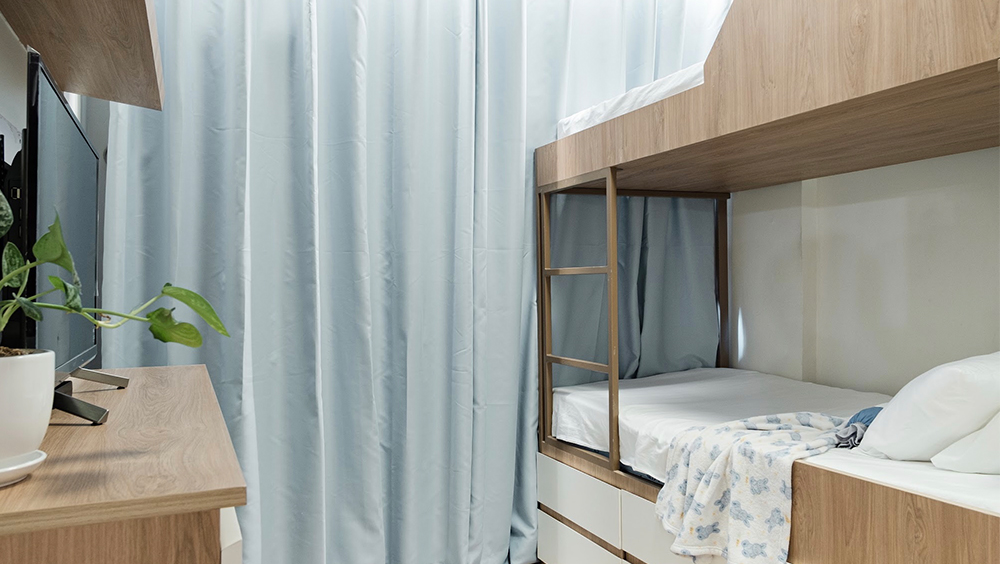 While the kids aren't old enough yet to stay in this bedroom, the owners decided to complete it with a bunk bed, perfect for when they are old enough to sleep in a separate room. The bottom bunk has drawers underneath to accommodate the kids' belongings.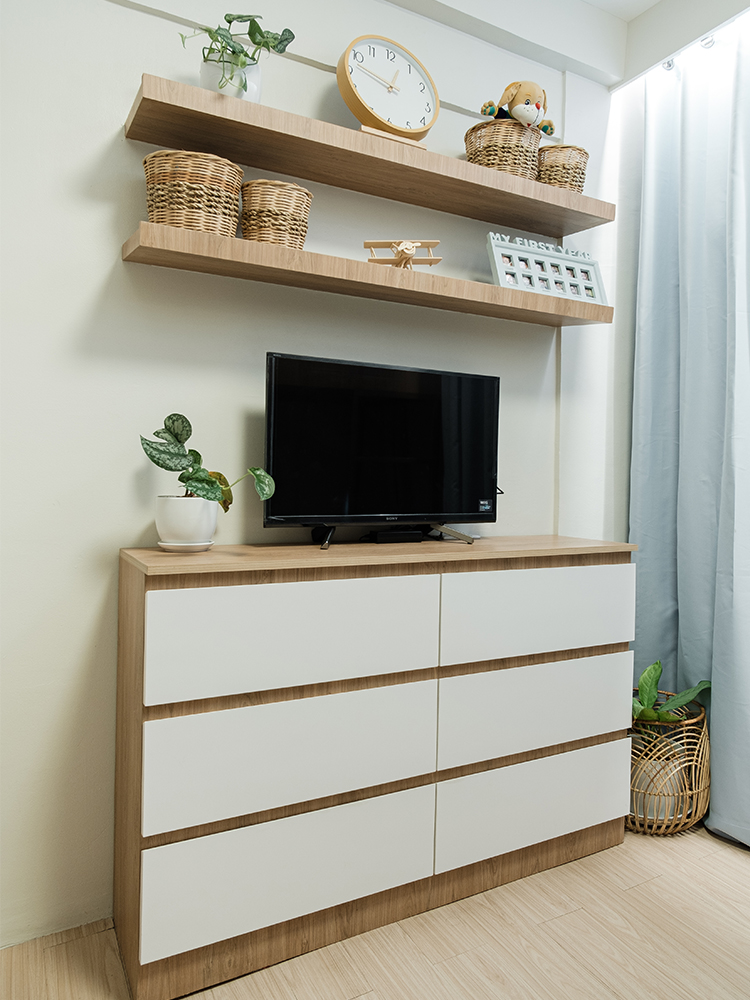 Fans of #TeamPuti and #TeamKahoy will definitely love this slim storage unit. It doesn't take up floor space and perfect for storing toys, clothes, and other essentials.
Master Bedroom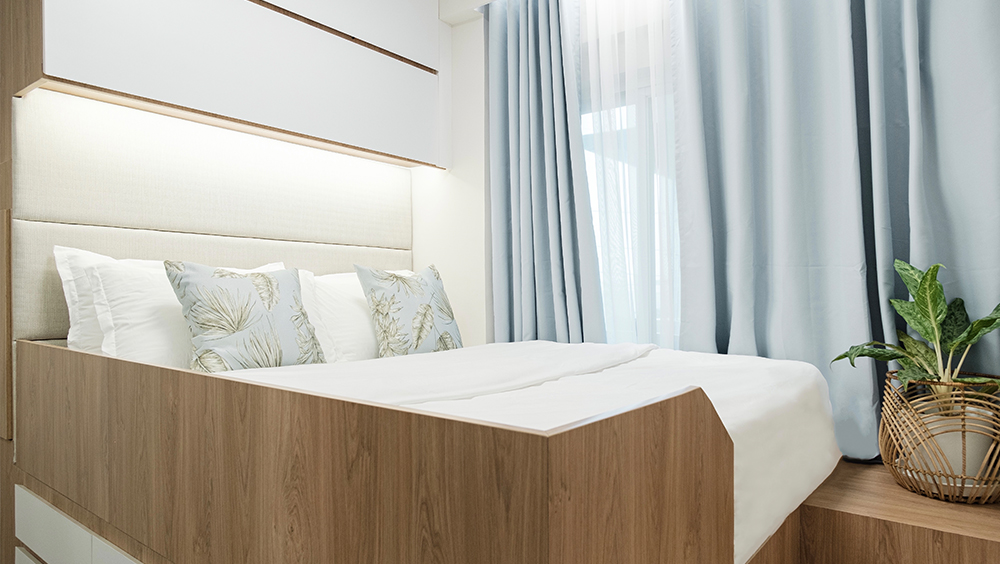 ADVERTISEMENT - CONTINUE READING BELOW
"My favorite area is our master bedroom. When we spend time here with our kids, nawawala ang pagod namin. It feels like we're in a hotel kasi ang ganda ng pagkaka-design ni Mazen," Maycel shares. The bed is elevated, with a short flight of steps that give it a luxurious vibe.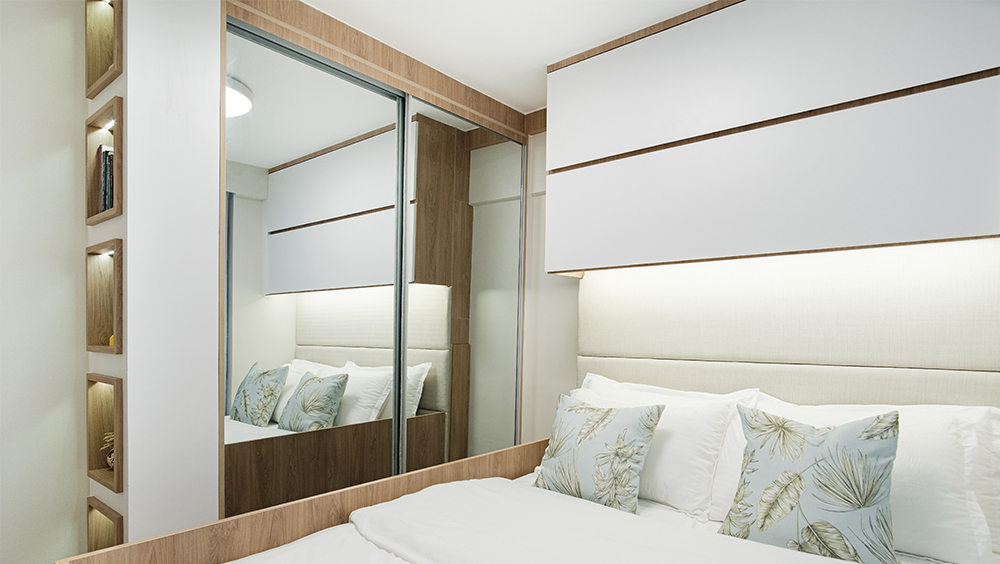 When it comes to small-space-living, storage is definitely a must. To address this requirement in the master bedroom, the designer added cabinets above the padded headboard, drawers under the bed, and shelves on one side of the closet. Opting for mirrored closet doors is also a smart move as it doesn't only help make room feel bigger, it makes dressing up easier, too.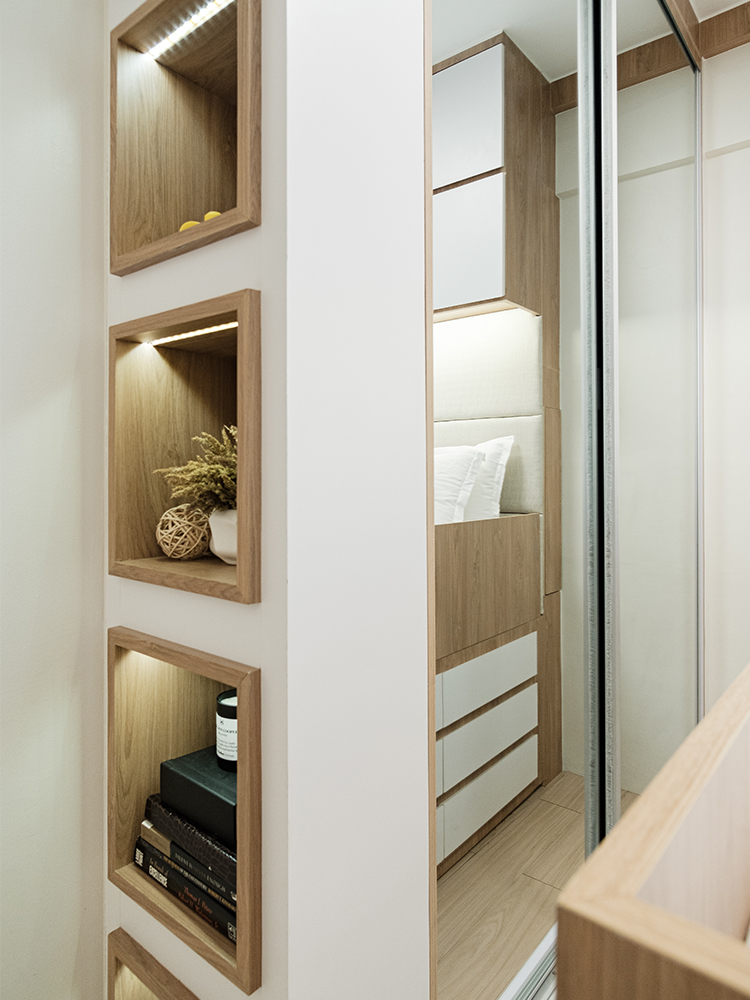 Making sure no space is wasted, Mazen incorporated these display shelves that can hold books, collectibles, and handpicked décor pieces.
Bathroom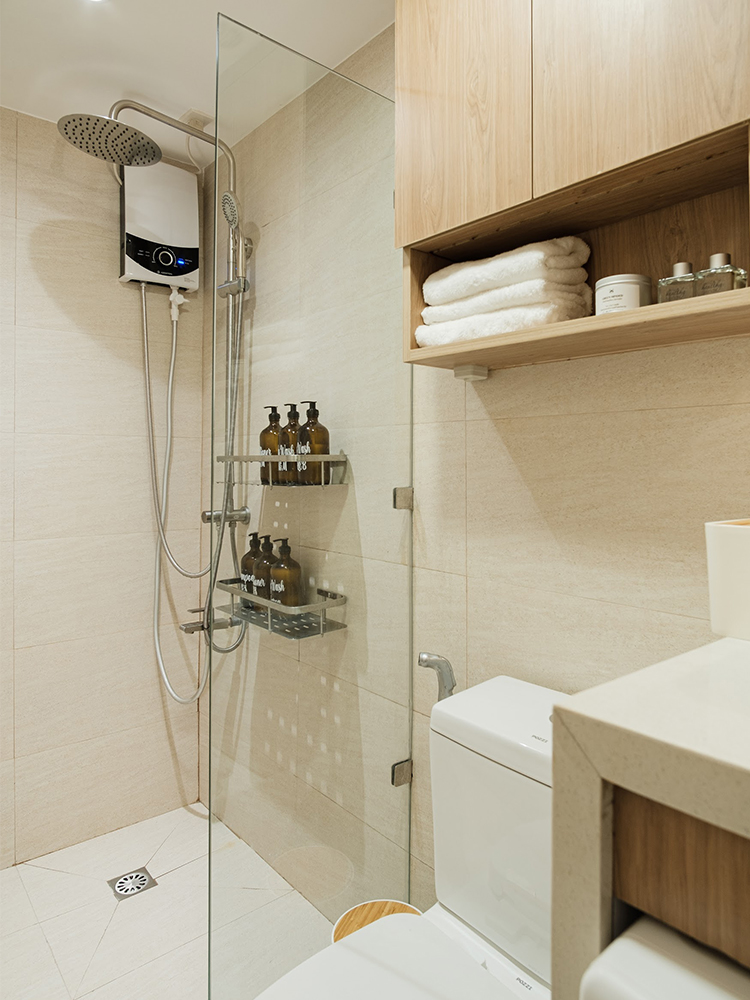 Following the Soletas' requirement of wanting a minimalist yet hotel-like vibe, the bathroom is completed with a glass shower partition, wall-mounted laminated cabinets, and uniform containers.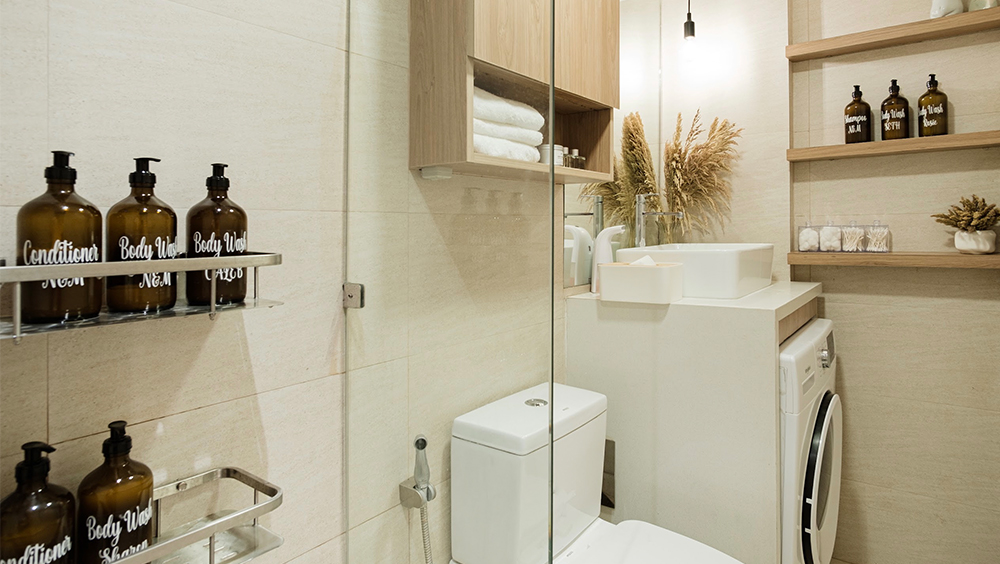 ADVERTISEMENT - CONTINUE READING BELOW
Doing the laundry is also covered as Mazen was able to fit the washer/dryer in the bathroom—conveniently placed under the sink.
Ready for your own makeover? Get in touch with Studio Castro on Facebook. You can also contact La Arte Design Interior Works.
* * *
Have you recently spruced up your room or renovated your home? We'd definitely love to see the result! Send clear photos (with your full name, city address, and accompanying kuwento) to [email protected] with the subject "DIY Makeover" and we may just feature your DIY project!
More on Realliving.com.ph
Load More Stories