Home Tours
Mimiyuuuh's Next House Project: Building The Dream Bedroom
Her dream bedroom has a loft! Influencer, vlogger, content creator, hydration enthusiast, and everyone's source of Monday motivation, Mimiyuuuh (Jeremy Cancebuche) has gone through quite a number major glow-ups throughout the years because of her rising popularity. If you've followed Mimi since her earlier days—during her mint green room era with the Lucky Star cabinet, you know that in 2020, she's already moved out from her previous place and moved in to her first ever house. Since then, the two-story residency went through significant transformations, as seen on Mimiyuuuh's updated house tour of Casa de Mimiyuuuh, and included is her upcoming dream bedroom.
Under construction: Mimiyuuuh's dream bedroom
In a recently uploaded video on Mimiyuuuh's YouTube, she shared that she enjoys improving her house. She says, "Sobrang-sobrang mahal ko po 'tong bahay na 'to. This house felt like home to me and it's my first-ever house kaya sobra kong gusto na pinapaganda siya."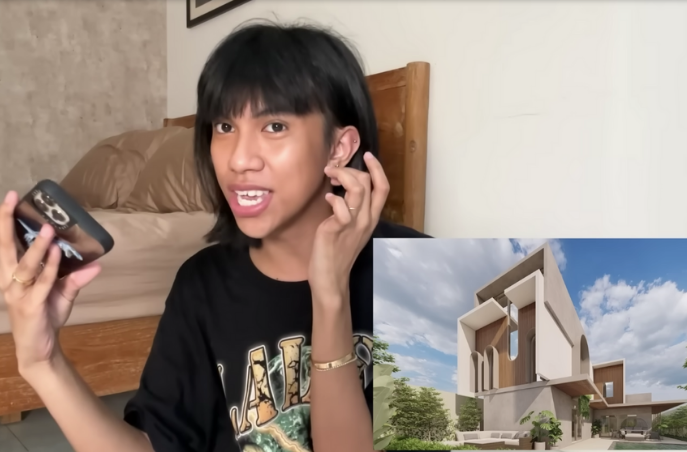 ADVERTISEMENT - CONTINUE READING BELOW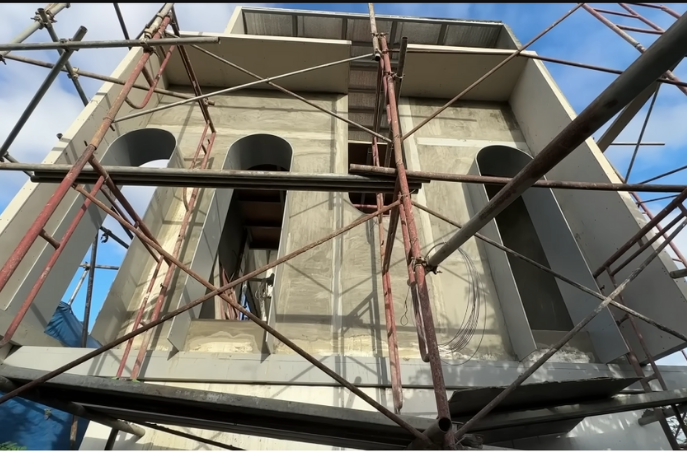 The construction of the dream bedroom is ongoing!
If you can recall Mimiyuuuh's first house tour, her parents' room was located on the second floor. But with the recent developments, she is switching her room with her parents' and turning her parents' room (and the terrace beside it) into her dream bedroom.
Outside Casa de Mimiyuuuh
According to the layout, the exterior of her dream bedroom has dark wood panels, portruding cream-colored cement that extentuates the structure, and a number of arched windows that receive sa good amount of sunlight. "Love ko po yung sunlight. Mas okay po talaga if madaming sunlight na pumasok sa kwarto ko kasi napapa-uplift niya po mood ko."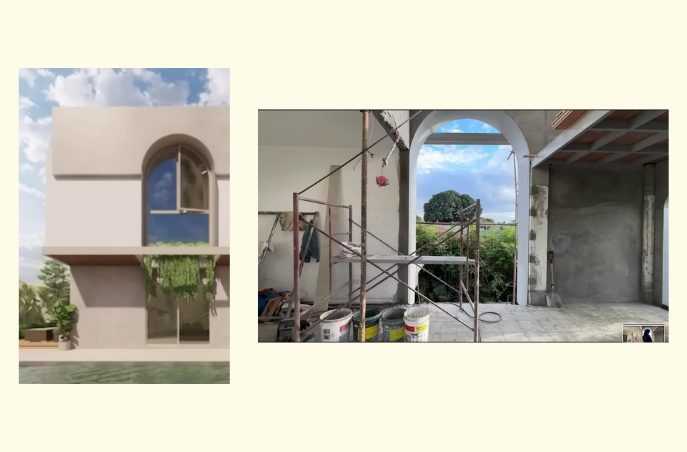 ADVERTISEMENT - CONTINUE READING BELOW
L-R: The rendered look of the bedroom's largest window, the actual room with the arc where the window will be installed.
The space originally had an outdoor staircase leading to the garden and swimming pool, as mentioned on the first house tour. Mimiyuuuh has decided to keep this for when she entertains guests and, jokingly, for sneaking in guys.
A look into Mimiyuuuh's dream bedroom
The rendered look of the dream bedroom is cohesive—an extension, if you will—of the house's exterior. It's spacious with a warm, cozy vibe that has hanging lighting fixtures, unpainted or bare cement walls (Mimiyuuuh has repeatedly mentioned she prefers the industrial style), elements of wood, and the arched shape of the windows is also seen in the few furniture pieces in the bedroom, such as the open wardrobe.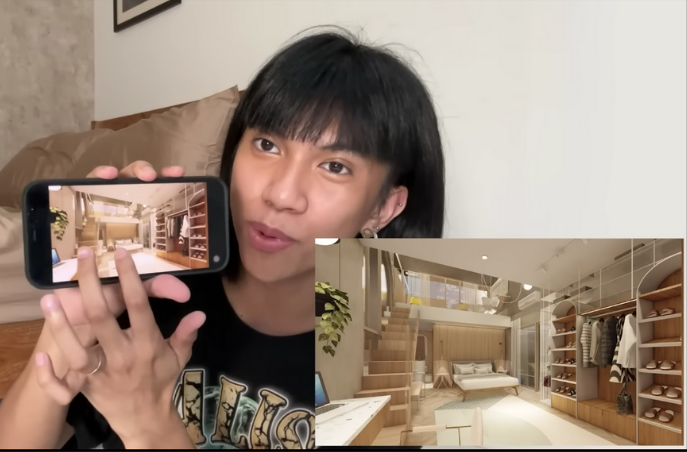 ADVERTISEMENT - CONTINUE READING BELOW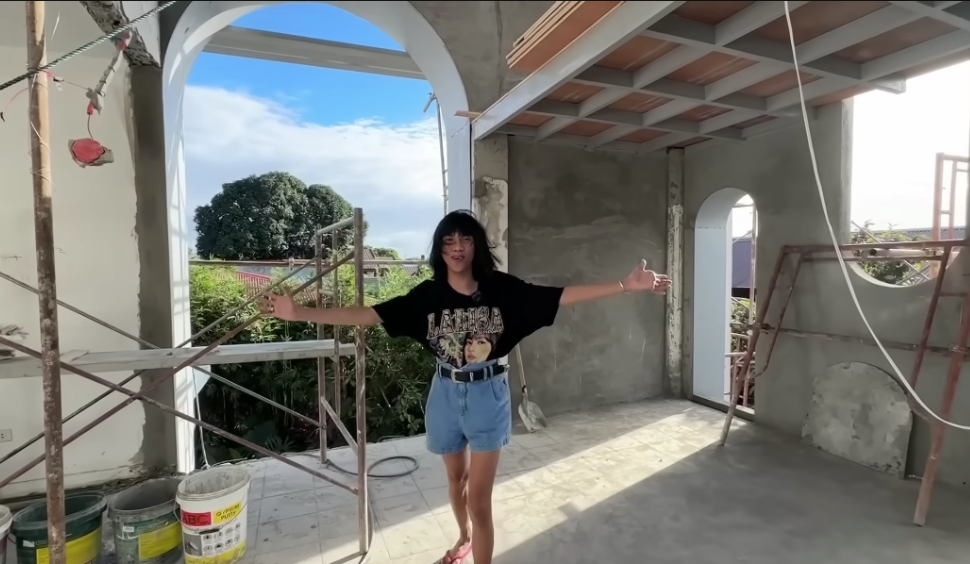 One of the things Mimiyuuuh first pointed out was how spacious the bedroom will be, which is crucial for content creators like her because they need enough space to shoot their content. And speaking of work, this brings us to another highlight of the dream bedroom: there's a loft leading up to an editing room where her editors can work. Although simple, the editing room has multiple windows with front row seats to an elevated view of the sky and nature. Mimiyuuuh pointed out that it's important to have these windows in the editing room, especially when she or her editors want to take breaks in between working.
ADVERTISEMENT - CONTINUE READING BELOW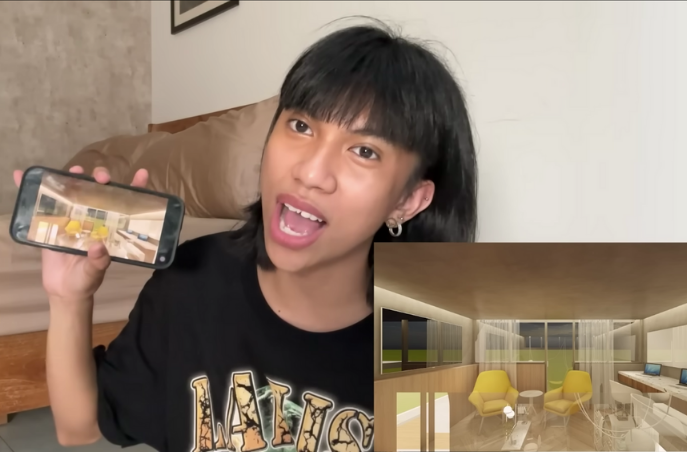 Right under the loft area and right behind the bed is the bathroom, a.k.a. the part of Mimiyuuuh's dream bedroom renovation she's extremely excited about. If you've been following Mimiyuuuh's content religiously, you know that she loves this part of the house as a person who is serious about taking baths.
ADVERTISEMENT - CONTINUE READING BELOW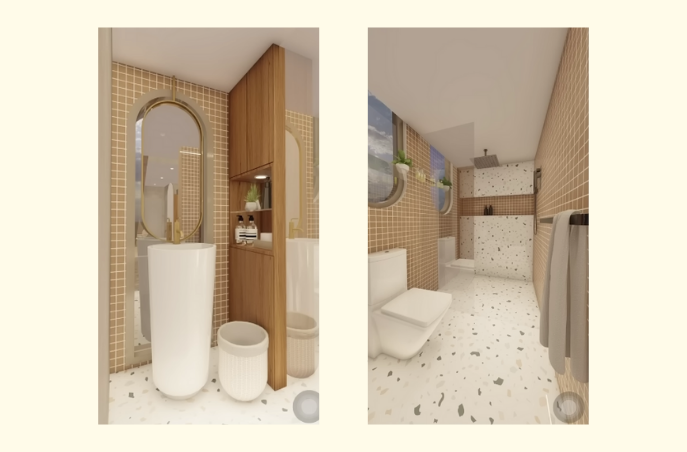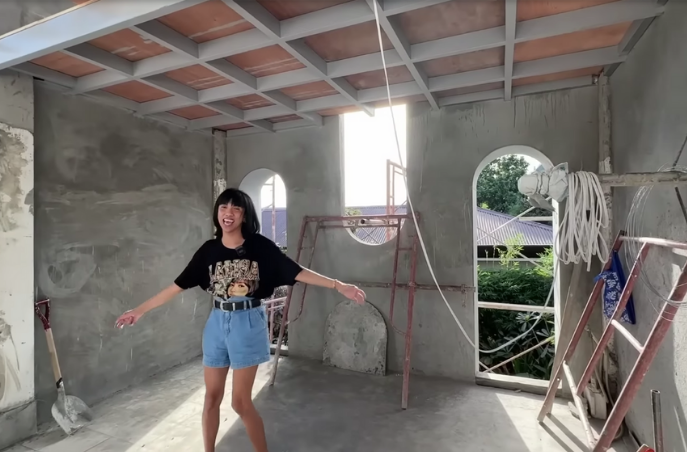 ADVERTISEMENT - CONTINUE READING BELOW
The windows of the bathroom will be tinted for privacy.
Her plans for the the bathroom's interior has coffee-colored square tiles for the walls and speckled marble tiles for the floor; the sink is purposefully placed behind a window where sunlight can enter because proper lighting is important; and a rain showerhead attached to the ceiling of the bathroom.
Mimiyuuuh, who is also known for her distinct fashion style, will store her clothing pieces, accessories, and footwear in an open wardrobe. Adjacent to the wardrobe is a vanity area—which doubles as a smaller working station—that has a table with an LED mirror, plus a hanging bookshelf.
Adjusting the original layout
When you see and experience being in the very room while its being built, it's normal to have second thoughts and apply adjustments. And Mimiyuuuh, is willing to switch things up a bit from the original rendered layout of the room. The two huge changes are the wardrobe and the placement of the bed.
ADVERTISEMENT - CONTINUE READING BELOW
Since the sunlight directly hits where the open wardrobe should be, Mimiyuuuh is requesting the architect to switch it with the adjacent vanity area. As you know, direct sunlight is one big no-no when it comes to storing leather products as it can result in the skin to darken, dry out, and crack.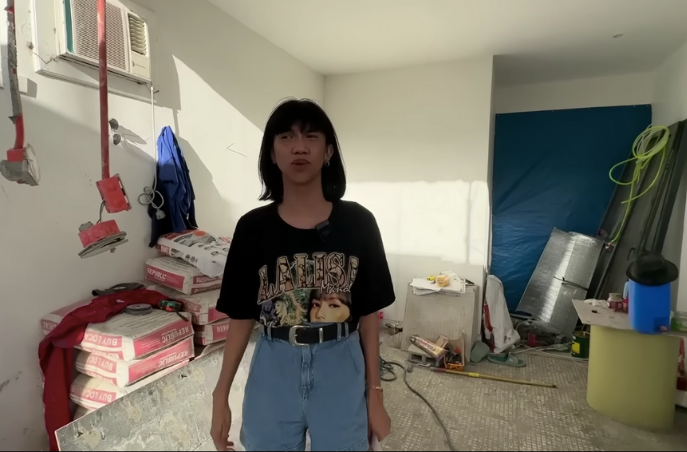 ADVERTISEMENT - CONTINUE READING BELOW
The left side is where the wardrobe is originally planned to be installed in.
As for the placement of the bed, Mimiyuuuh is thinking (it's not final yet!) of moving the bed to the loft area as this sets a clear boundary between where she works and where she rests. "Dapat talaga hindi magkasama and room mo at and workplace mo. 'Yun ang na-realize ko last year. Parang napapagod ako kasi nga naiisip or nafefeel ng katawan ko, ng brain ko, na 'I need to work here' kasi nga sanay siya nagtatrabaho siya sa space na 'yun," she says.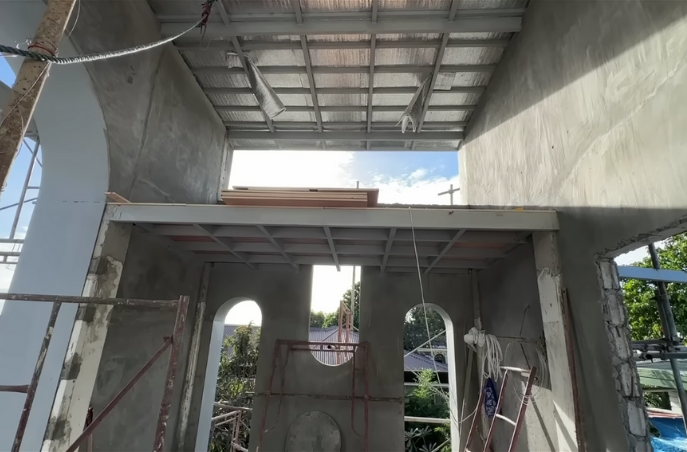 ADVERTISEMENT - CONTINUE READING BELOW
The stairs to the loft has yet to be installed.
If Mimiyuuuh decides to go through with the bed and loft switch, it would make more sense as it combines the space for shooting with the space for editing. She mentions that the main floor of the bedroom's ceiling is quite high, which makes it ideal if she needs backdrops for her videos.
Mimiyuuuh says the bedroom will soon come into completion. When it's finally done, we can expect another bedroom tour on her YouTube channel.
More on Realliving.com.ph
Load More Stories