Small Kitchen Design Tips That Can Help You Transform a Tiny Space
Got a one-wall kitchen? Here's how you can keep it organized and functional! What's the first thing that comes to your mind when you see a small kitchen? We're sure you're wondering if it's possible to get cooking and other chores done in a tiny area with limited countertop space. If you've seen some of the condo homes we've featured on the website, you'll know that small kitchens can work – with the right design and maintenance.
"Small space kitchens are the simplest of all kitchens – the kind you see in small condo units and homes. It's practically a straight kitchen that meets all basic requirements," shares interior designer Vera Villarosa-Orila. In many compact homes, the kitchen follows a one-wall layout, with some homeowners choosing to bring in movable counters and freestanding shelves to have extra storage.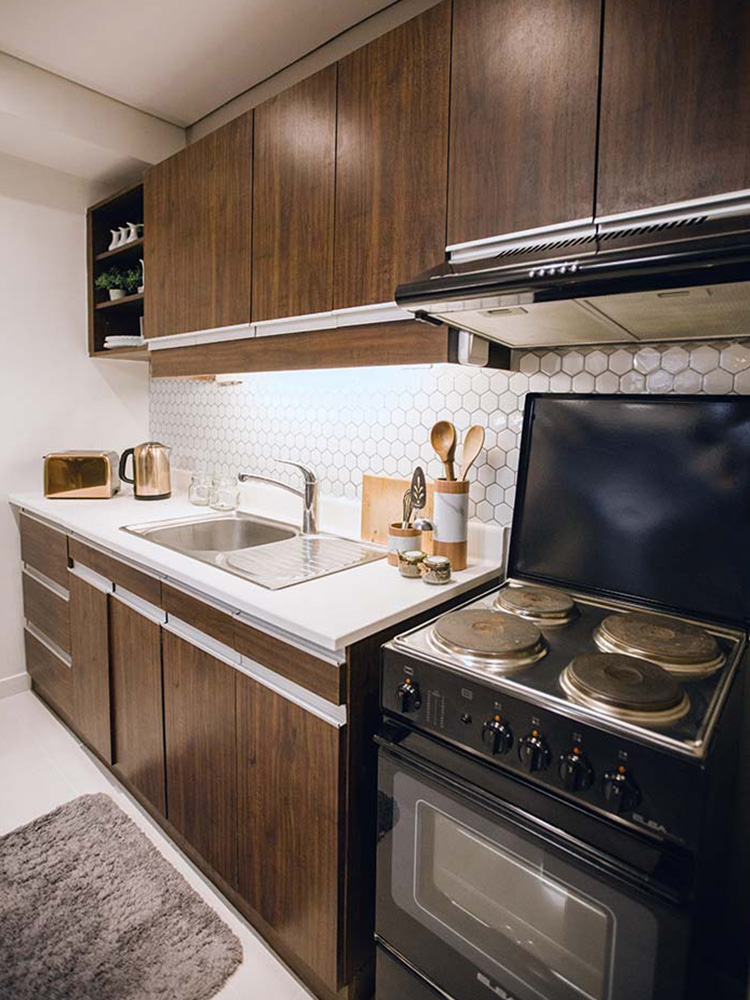 ADVERTISEMENT - CONTINUE READING BELOW
While working with small spaces can be challenging, it's guaranteed to bring out your creativity and resourcefulness in making it functional. Just because it's commonly seen in condo homes doesn't mean you can't apply some ideas in bigger houses, too. Here are a few small kitchen design ideas to keep in mind if you want to achieve this aesthetic:
What is small space kitchen design?
According to Vera, a small space kitchen design features a straight kitchen that still needs to have the three things that complete the kitchen work triangle – a sink, a stove, and a refrigerator. While these three don't necessarily form a triangle in a one-wall layout, all are needed to ensure that a cooking area is functional.
Those who are fond of cooking might second-guess this kitchen design. After all, can one bake, cook, and wash ingredients freely in such a compact space? "Since it's simple, it will save you a lot of floor space as opposed to parallel, L-shaped, and U-shaped kitchen layouts. Going for a one-wall kitchen layout can also help make your space look bigger if you plan to integrate your kitchen and dining areas," explains Vera.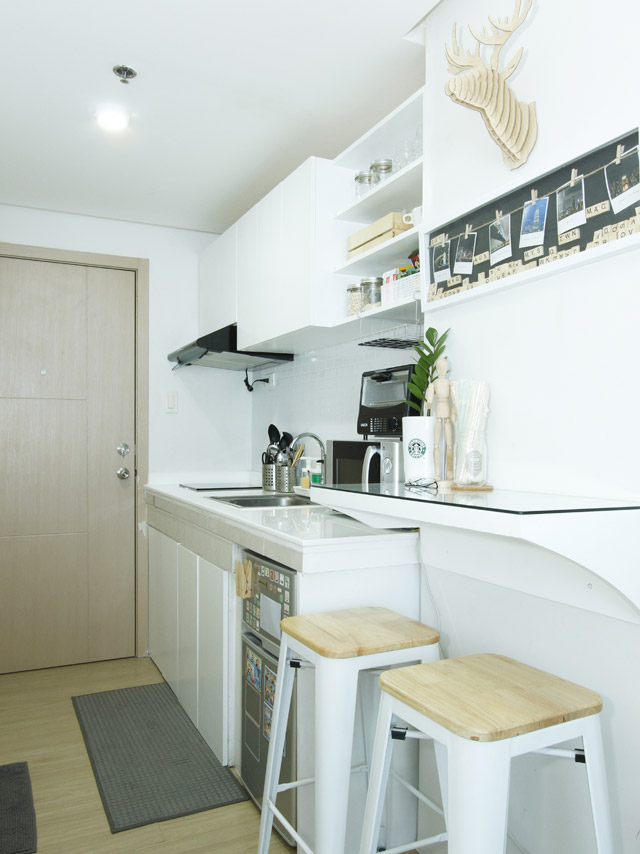 What are the challenges of going for a small space kitchen design?
If you have a small space to work with, you might not have enough room for extra appliances and food prep – especially if your countertop can only accommodate the basics. The good thing is you can easily solve these by being smart when it comes to storage and organizing.
ADVERTISEMENT - CONTINUE READING BELOW
"You have to be some sort of minimalist and you can't have too much kitchen appliances. You'll have to consider alternatives such as skipping having a water container and just opting for a tap water filter. You also have to keep things in their place so that you have free counter space to work on," Vera suggests.
Why should you consider going for a small space kitchen design?
When going for a small space kitchen design, the pros definitely outweigh the cons. From saving up on building materials to being able to allot more space for key areas, this kitchen design has advantages you cannot dismiss such as:
According to an article on The Spruce, a small space kitchen design involves having a tighter work triangle – meaning these three stations are nearer each other – making it easier for the user to move around and get things done.
ADVERTISEMENT - CONTINUE READING BELOW
You don't need to spend so much time on the design because all you have to focus on is functionality and investing in quality materials.
More spacious living areas
The Spruce explains that, "because there is less space given over to the kitchen, this means that there is more space in your home for the living room, family room, or dining room." In addition, you can also further maximize the extra space by creating a home office, a play nook for kids, or even a home gym, to name a few.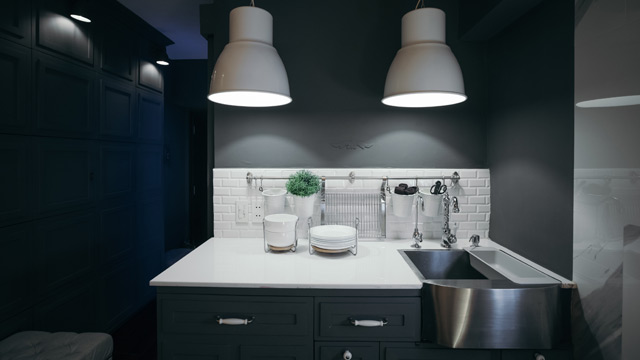 ADVERTISEMENT - CONTINUE READING BELOW
What is the best layout for a small space kitchen design?
The layout and the placement of the work triangle are of utmost importance in any kitchen – big or small. "The ref should be located next to the sink and the sink next to the stove," advises Vera. "Consider the way you move around the kitchen, usually you would need to get something from the ref, wash it in the sink, and finally, cook it in the stove. This is an application of the kitchen work triangle which is a concept used to determine a functional layout," the interior designer adds.
If you're in the process of studying your options in terms of layout, here are two layout options you can look into:
One-Wall
This might be too cramped for your needs and chores, but it sure does save on floor space. Consider this layout if you cook frequently and have only the basic appliances.
ADVERTISEMENT - CONTINUE READING BELOW
Galley or Corridor Kitchen Layout
According to The Spruce, a galley kitchen can fit in a space as narrow as eight feet. Guided by a design professional, see if your space can accommodate a galley kitchen layout. This option locates the sink and stove in one corner to be able to free up space for cooking tasks. It also features overhead cabinets.
Looking for more layout options? Click here to see a list of basic kitchen layouts.
How can you make a small space kitchen design more functional?
From investing in proper storage to efficiently using the available space, you can make the most of a small space kitchen design with a few easy tweaks. Here are a few ideas to keep in mind:
1. Work with the right colors.
Lighter colors can help create an illusion of a bigger space so consider having white cabinets and décor pieces. To keep it from being boring, you can pair it with wooden touches. While white and lighter colors can do wonders, this doesn't mean you can't be creative with darker tones. Consider defining your small kitchen with touches of black pr gray – just remember to temper it with other shades and keep it well-lit.
ADVERTISEMENT - CONTINUE READING BELOW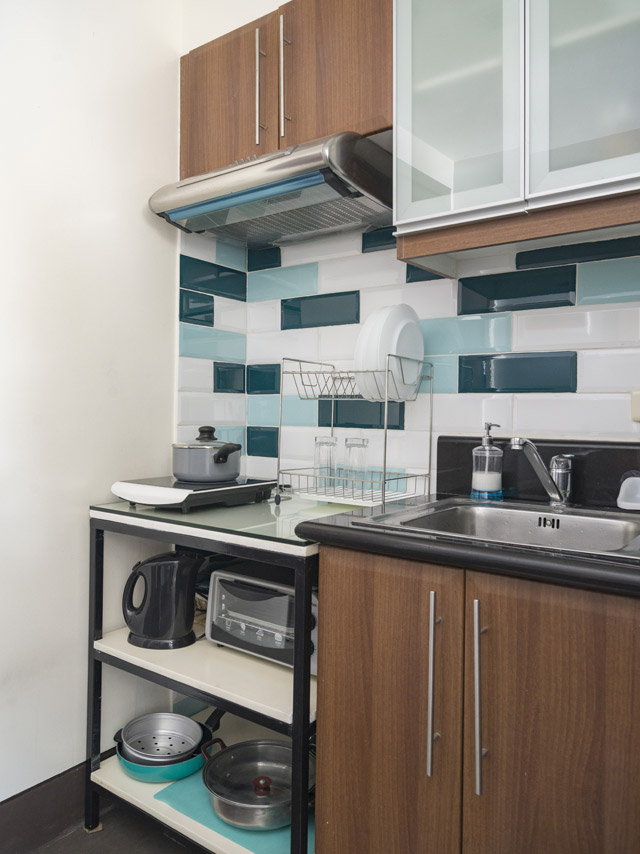 2. Consider having a prep area.
This can be a rack where all your essentials are kept. A slim cart can fit in a corner of your kitchen so it doesn't get in the way of your chores, plus, you can easily roll it out when you need it.
ADVERTISEMENT - CONTINUE READING BELOW
3. Add a kitchen island.
Similar to a rack, there are carts with a solid surface on top that can work as a kitchen island. Aside from serving as a prep area, it can also work as a breakfast bar. For a customized piece, follow @dekko.ph on Instagram.
4. Invest in organizers.
Make organizing a hobby by having small organizers inside your cabinets and drawers. These essentials can make it easier for you to find what you need and make the most of each storage nook.
5. Maximize vertical space.
Consider getting hanging organizers and adding extra shelves for storage. When installing shelves, make sure these work with your existing cabinets and the overall look of your kitchen.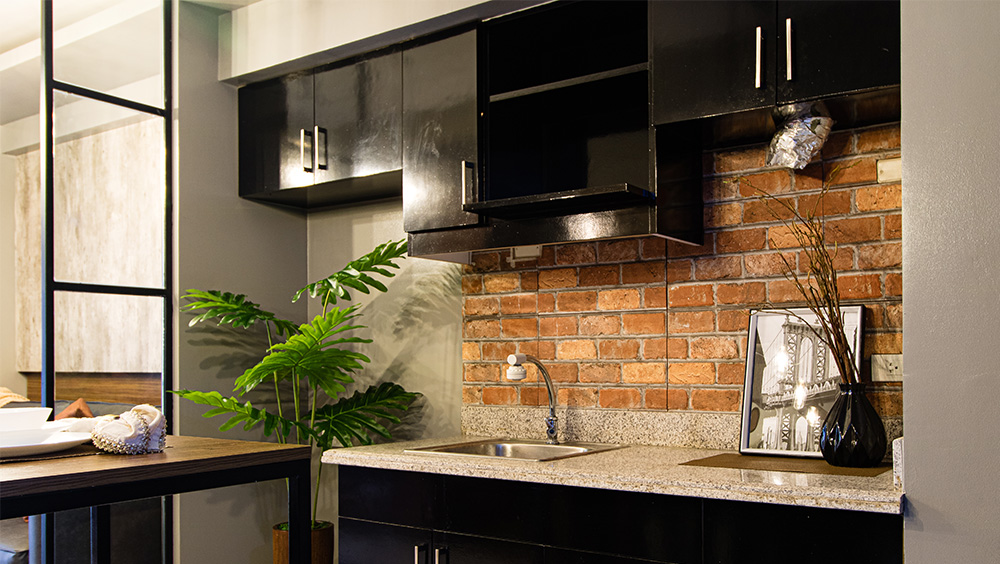 ADVERTISEMENT - CONTINUE READING BELOW
6. Choose small appliances.
These days, most items are available in mini or smaller versions – whether it's a toaster, an oven, or a ref. Depending on your needs and lifestyle, consider getting smaller appliances that don't take up too much space.
7. Declutter regularly.
Throw it expired food items and keep your countertop spotless. Remember, given the limited space you have, every inch counts. Make space for things you really need and use.
Ready to work on your dream kitchen makeover? Aside from small space kitchen design, you can also consider going for a modern kitchen design. Deciding on a kitchen design can be easier if you're familiar with the basics of kitchen design aesthetic. Consult with a design professional to get started.
Special thanks to interior designer Vera Villarosa-Orila. You can get in touch with her through email at veravillarosa[at]gmail.com.
* * *
Have you recently spruced up your room or renovated your home? We'd definitely love to see the result! Send clear photos (with your full name, city address, and accompanying kuwento) to [email protected] with the subject "DIY Makeover" and we may just feature your DIY project!
ADVERTISEMENT - CONTINUE READING BELOW
More on Realliving.com.ph
Load More Stories