What You Need to Know About Modern Kitchen Design
Achieve this sleek and sophisticated look with the right materials and décor pieces When it comes to kitchen design, what look catches your attention in a snap? While some love a homey kitchen, there are those who can't seem to get enough of spacious cooking areas completed with top-of-the-line finishes and state-of-the-art appliances. Modern kitchen design – with its clean lines and minimalist styling – adds a touch of elegant to any space, big or small.
"Modern kitchens have always been associated with modern equipment, high-tech appliances, and materials," says architect Angelo Siochi of AGSiochi Architecture & Design. While these are common elements seen in modern kitchens, Angelo adds that modern kitchen design goes beyond these things. "A real modern kitchen is a space for cooking based on the user's preference, needed ergonomics, and movement. In addition, a kitchen becomes modern based on its customized layout and look through the use of clean and refined designs. As an example, kitchen cabinets can be in natural wood, sone, or metal to complete that modern feel," he explains.
ADVERTISEMENT - CONTINUE READING BELOW
If you've always been fascinated by modern kitchen design and you're planning to revamp your kitchen's aesthetic, here's what you need to know about achieving this look:
What is modern kitchen design?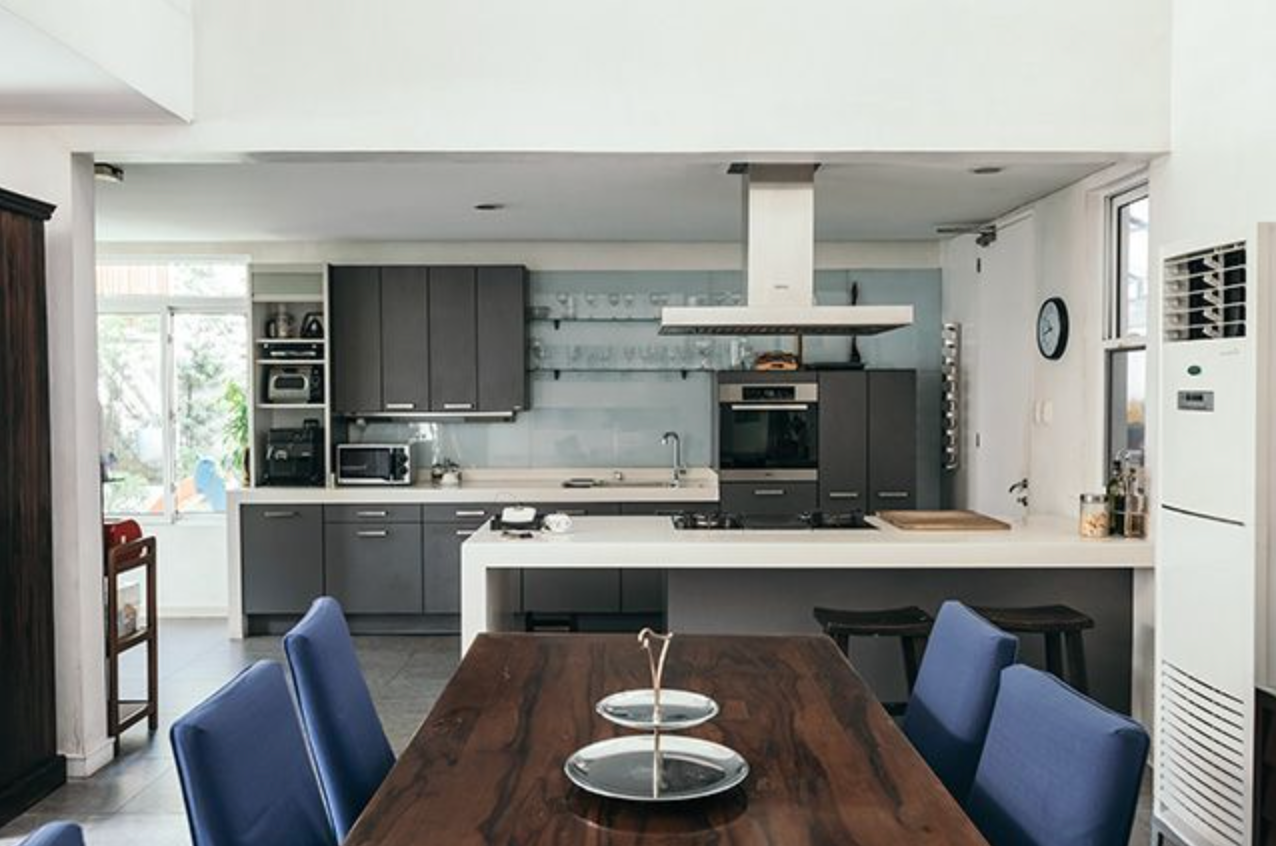 Modern kitchen design features a clean, organized, and well-lit look. According to Angelo, this design involves balancing the streamlined aesthetic with function and convenience. "A modern kitchen design ensures a safe and clean environment for cooking. This results in proper handling of food to be consumed by the family," he explains.
This focus on function and convenience is echoed in an article on DesignLike.com. As one of its designers shared, "less is more seems to describe very good the modern minimalist kitchen – extreme accuracy, simplicity without heavy background, and geometric shapes with clean, no detailed surfaces."
Simply put, modern kitchen design packs a punch in terms of aesthetic impact, it also gives importance to function and giving the user enough room to perform chores around the space.
What's the best layout to follow to achieve modern kitchen design?
Whatever style you choose for your kitchen or the space you have, you should always follow the work triangle when designing the kitchen. Understanding the basics can help you achieve not just a pretty kitchen, but an area that's efficient, too. If you take into consideration the work triangle, you'll be able to work swiftly around the kitchen and keep clutter at bay as well.
ADVERTISEMENT - CONTINUE READING BELOW
"Proper placement of the triangle's three elements – the sink, the stove, and the refrigerator – can make the kitchen more systematic for use and movement. What's important is you enjoy the space. It depends on how you use it to make it clean and spacious," Angelo shares.
Need help understanding the layout of your kitchen? Grab your floor plan and review the basic kitchen layouts.
What are the non-negotiables when working on a modern kitchen design?
Designing your kitchen will all boil down to how you will interpret the modern style while still taking into consideration function and ease of use. "In order to serve its purpose, choose the materials and appliances you'll add to space. Use light and dark colors depending on the personalities of those who will use it often," suggests Angelo.
To jumpstart the design of your modern kitchen, here are elements and tips worth keeping in mind:
ADVERTISEMENT - CONTINUE READING BELOW
Storage
Some prefer frameless cabinets to achieve a cohesive look while others prefer using frosted glass. In addition, you can consider sleek cabinets that take up space up to the ceiling to avoid awkward gaps. To liven up your cabinets, go for chrome or stainless-steel handles and knobs.
Remember, clutter is a big no-no in a modern kitchen! Angelo suggests having enough organizers and be creative with your storage options. As long as it matches the overall look and you know where to find everything you'll need, you're good to go.
Countertops
Your chosen countertop material is a worthy investment. Keep in mind that certain materials require specific care to keep it in mint condition. Knowing how to maintain your chosen countertop can help you make the most of your purchase.
For modern kitchen design, look into using marble, granite, wood, concrete, and even stainless-steel.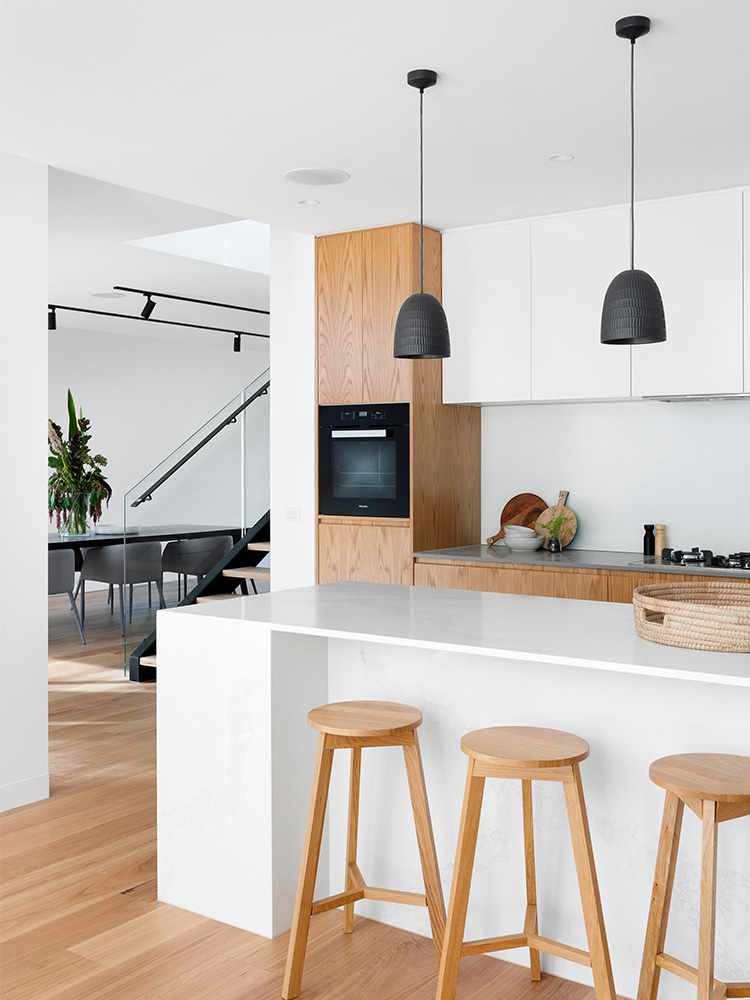 ADVERTISEMENT - CONTINUE READING BELOW
Backsplash
The wall tiles not only work as accent, it all protect the walls from damage. When choosing the backsplash for your modern kitchen, opt for bold and colorful tiles that are guaranteed to create an impact.
Lighting
Make sure you have proper lighting to make working on tasks easier. You can add task lighting under the cabinets then recessed lighting for the entire kitchen area. As DesignLike.com explains, "it's popular in giving that cooler and more striking appearance that modern kitchens have." You can also define the area with a low hanging pendant lamp.
Appliances
Go for modern, practical, and space-saving essentials. Make sure you have a cooker, a stove or oven, a refrigerator, and small appliances that make food prep easier. You can stick to one color for all or pick colors that blend well when put together.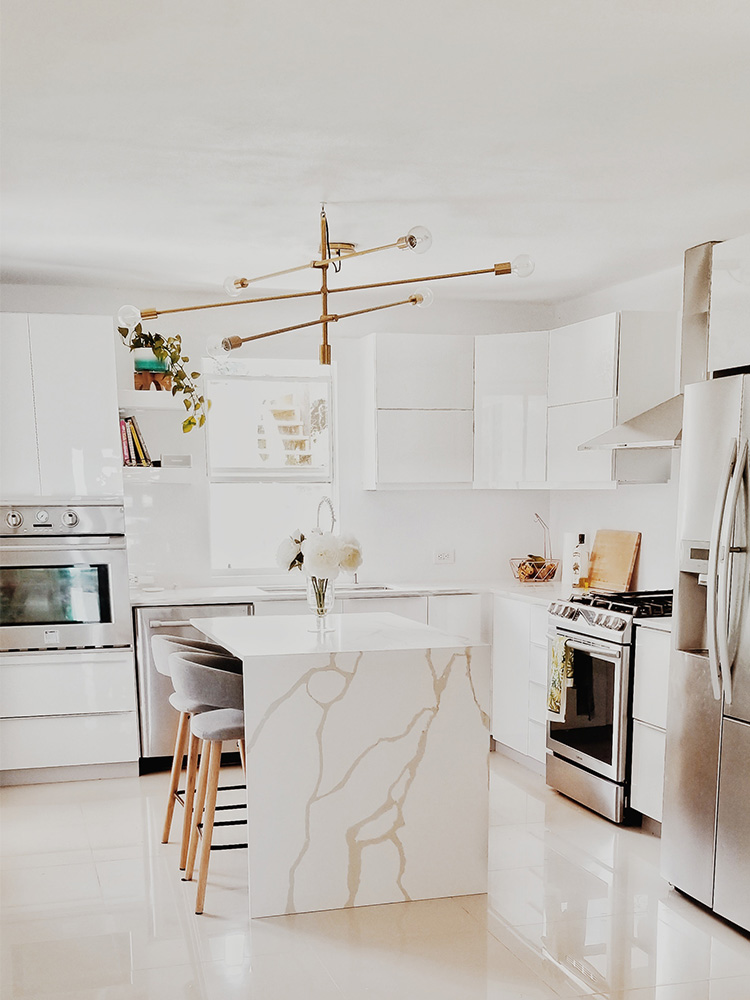 ADVERTISEMENT - CONTINUE READING BELOW
Accessories and décor
Modern kitchen design features minimal décor so if you want to add extra touches to your cooking space, go for items that add value to the space such as organizers and essentials that double as décor.
Colors
You can never go wrong with neutrals or a monochromatic palette. If you're missing a bit of shade or tint, choose pale blue, cream, red, and touches of yellow.
What are the challenges of going for a modern kitchen design?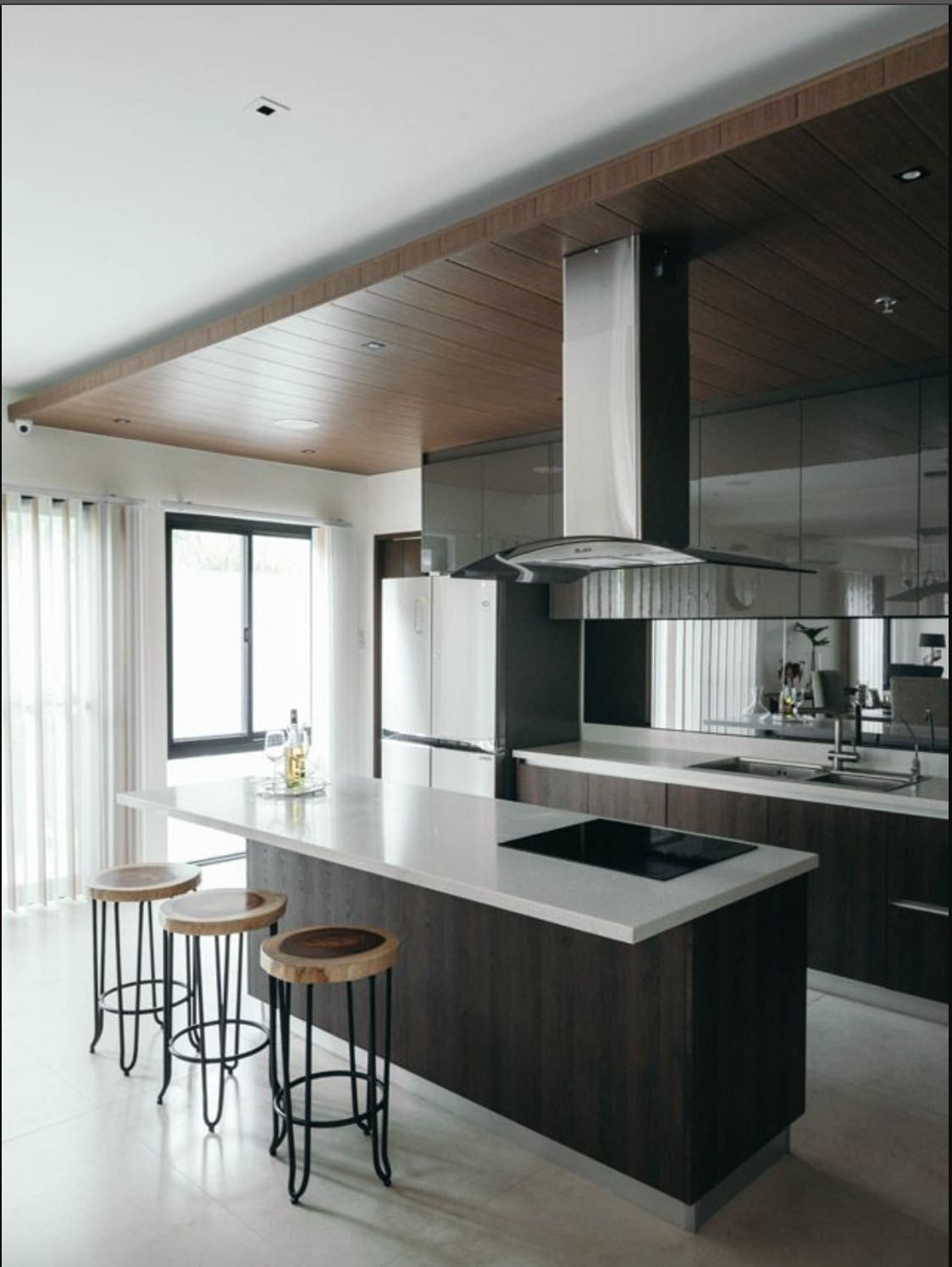 ADVERTISEMENT - CONTINUE READING BELOW
"It has always been about the choice of materials and how these are installed. Normally, leaks from faucets and pipes make a big mess which warp wood. We have to make sure these are properly sealed and kept in good condition," advises Angelo.
Tapping professional help is always a good route to take when working on major home improvement projects. They are knowledgeable about materials, how to install it properly, and how you can best maximize the available space.
Angelo shares that there are materials such as water-resistant wood that can effectively control moisture in the kitchen. "Instead of stone, concrete is also a good alternative for counters. A good faucet and quality appliances are also musts," he adds.
Here are some modern kitchens you can use as inspiration:
A modern kitchen with a moody vibe because of the combination of black and wood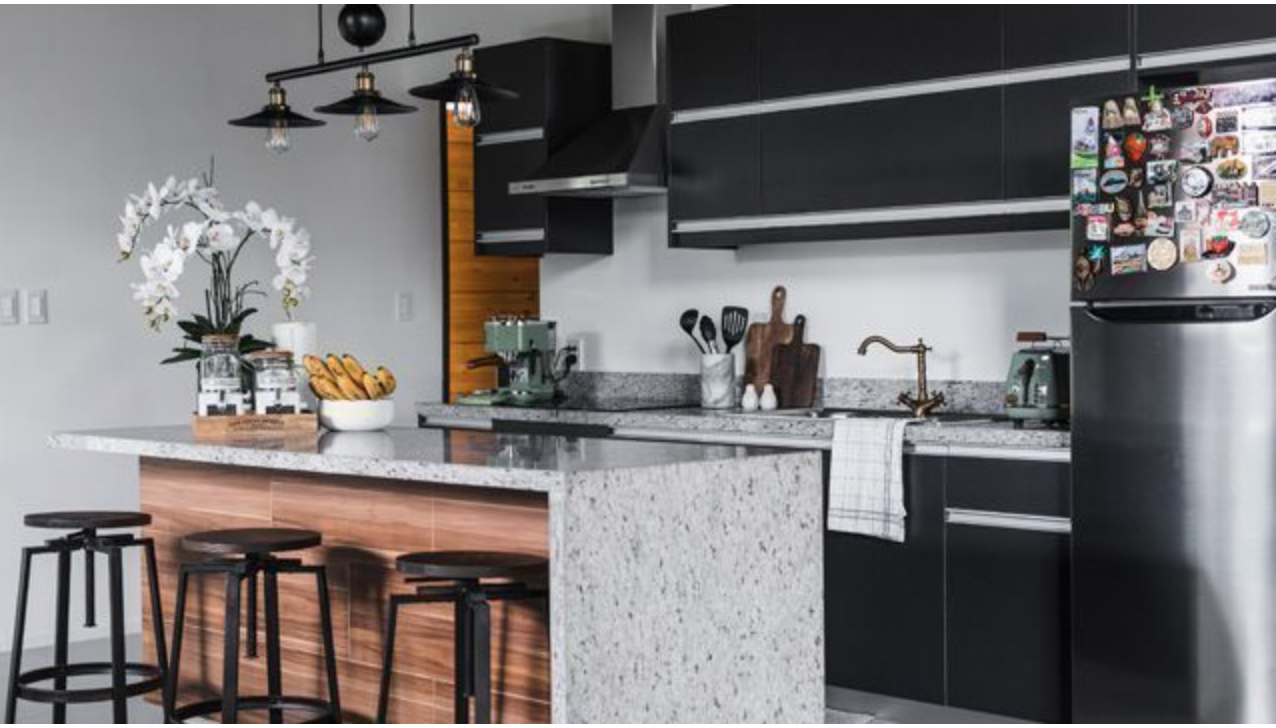 ADVERTISEMENT - CONTINUE READING BELOW
Sleek and streamlined modern kitchen with an all-white palette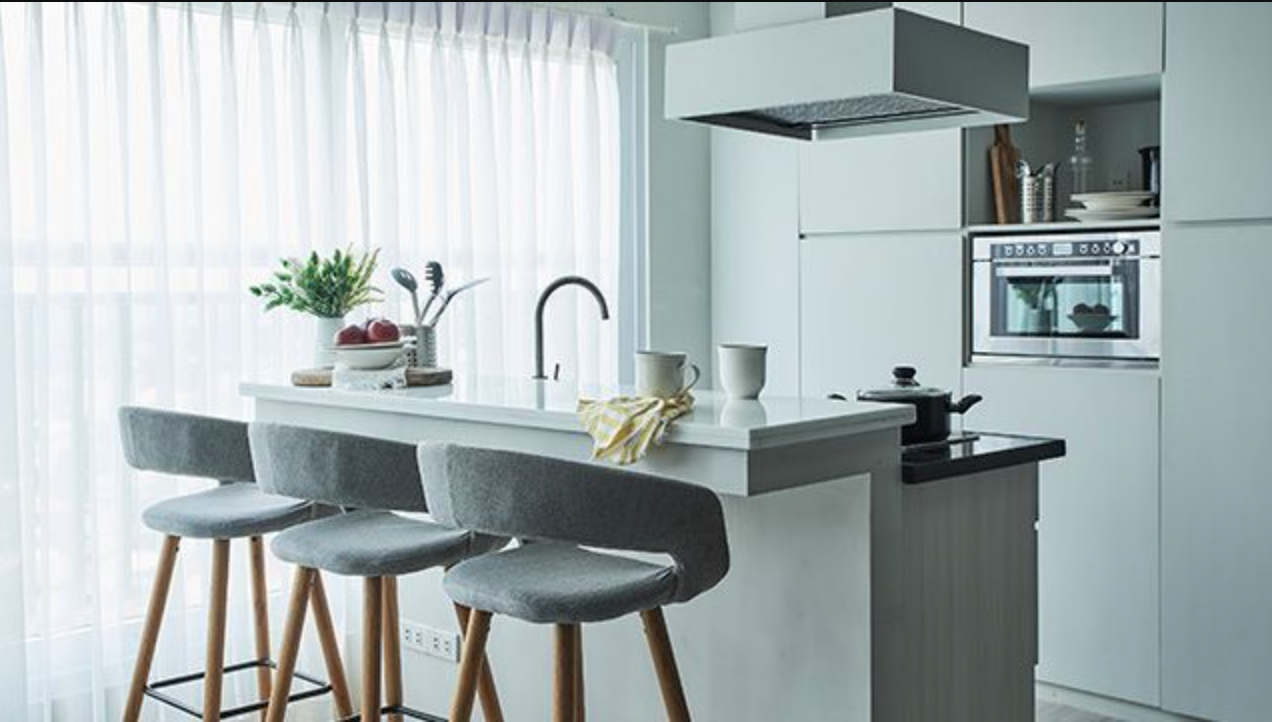 Modern kitchen with luxe tropical ambiance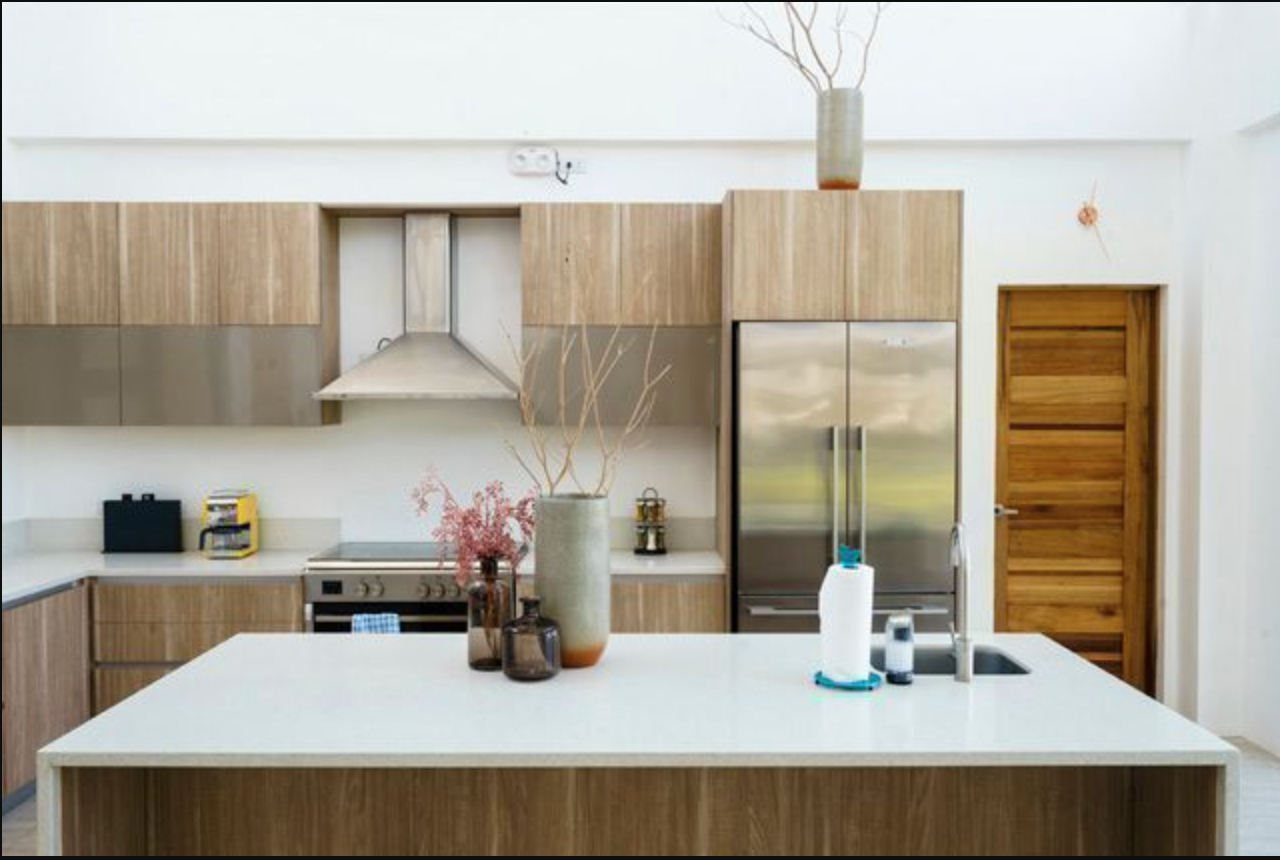 ADVERTISEMENT - CONTINUE READING BELOW
To see more beautiful kitchens, click here.
Ready to work your modern design kitchen makeover? Get in touch with architect Angelo Siochi through email at angelo.agsdesign[at]gmail.com.
* * *
Have you recently spruced up your room or renovated your home? We'd definitely love to see the result! Send clear photos (with your full name, city address, and accompanying kuwento) to [email protected] with the subject "DIY Makeover" and we may just feature your DIY project!
More on Realliving.com.ph
Load More Stories