Have You Ever Thought About the Design of Your Kitchen Cabinets?
Kitchen cabinets play a key role in keeping a cooking area functional and organized When designing your dream kitchen, have you given much thought to your kitchen cabinets? Some may have planned it well—including the knobs and handles—and there are a few who prefer a simpler cabinet design. Whether you're into sleek and streamlined or unique and colorful, there's no denying that kitchen cabinets can add an extra appeal to a cooking area. After all, it's one of the first things you'll notice in the space.
"Deciding on a kitchen cabinet design depends on a homeowner's preference in terms of style, finish, and materials to be used. As a design consultant, whenever I conceptualize a home, the kitchen will always be part of their preferred concept. Of course, you need to take into consideration the budget as well," explains design consultant Grace Moslares.
Kitchen cabinets—aside from adding aesthetic value to a cooking area—play a role in keeping it organized and functional as these are counted as storage essentials. Achieve a kitchen cabinet design you'll love with the tips below:
Finalize the location of your cabinets.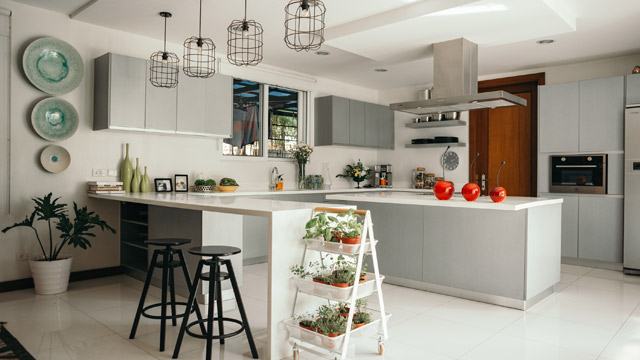 In photo: In this kitchen, the homeowners decided to have base cabinets or cabinets on the floor then paired it with open shelves.
Depending on the size and layout of your kitchen, you can locate your cabinets above or below the countertop. In some cases, cabinets are used to separate the kitchen from the dining or living area. When finalizing the placement of your cabinets, make sure the final layout is still functional and you don't end up with a cramped cooking area.
ADVERTISEMENT - CONTINUE READING BELOW
Choose durable materials.
Since the kitchen is a busy area, it's important to invest in hardwearing materials. It's not enough that you choose thick plywood as you need to make sure if it can withstand the activities done in the space. There are materials that can get damaged or warped so best to make sure the material you choose can hold out against moisture.
"The most common material used is marine plyboard on semi-ducco or ducco finish based on the color tone you want. Some would prefer medium-density fibreboard (MDF) or engineered wood to make it more modern," shares Grace.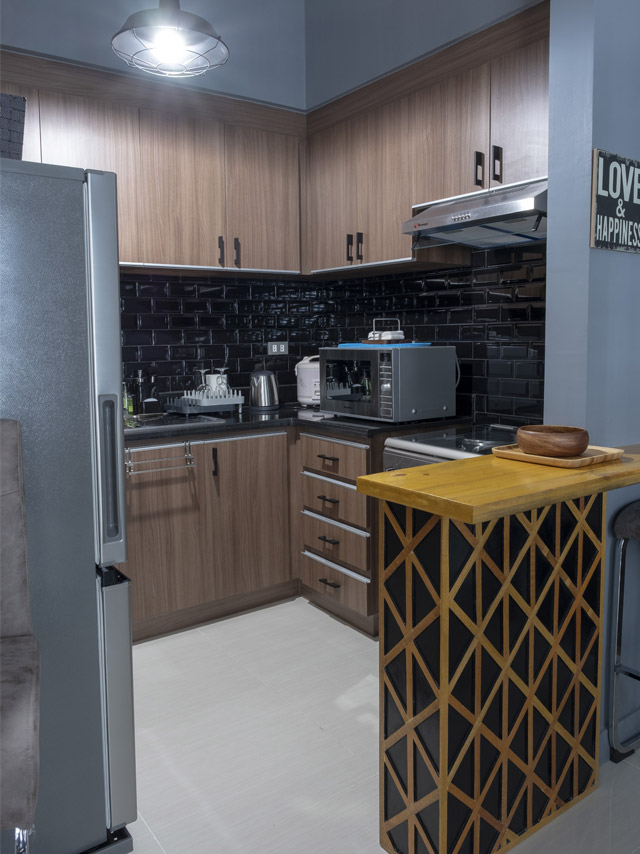 In photo: In this condo kitchen, design consultant Grace Moslares used laminated wood to create a sophisticated appeal. Liven up a streamlined kitchen by choosing a bold backsplash. 
A design professional can make a suggestion on the best material to use. Many designers and homeowners prefer marine plywood as this can last in areas that often get wet.
In addition to wood, you can also look into other materials such as stainless steel, laminates, and solid surface. Remember that working with "exotic wood" and high-end materials can increase the cost of your kitchen project.
Don't forget about hardware and mechanisms.
Make sure your cabinet handles or knobs match the overall look of your cooking area. if you're working on an industrial-inspired kitchen, you can consider having vintage knobs and metal handles. Achieving a seamless look is a must, but if you want the cabinets to stand out, you can consider having mismatched knobs that can double as décor.
ADVERTISEMENT - CONTINUE READING BELOW
"Mechanisms are also important," says Grace. "There are not soft-close hinges, drawer guides, and multipurpose options," she adds. Soft-closing kitchen cabinets are worth looking into to avoid slamming doors or leaving them open. There are also brands that offer concealed hinges so you can achieve a clean and streamlined look.
Know your cabinet door profiles.
These days, many homeowners prefer simple cabinet doors that pack a modern minimalist punch. If you're leaning toward the traditional side, there are different cabinet door profiles you can consider such as recessed miter, raised arch, and recessed square, to name a few. These profiles can add a luxe touch to your cabinets.
Avoid common kitchen cabinet design mistakes.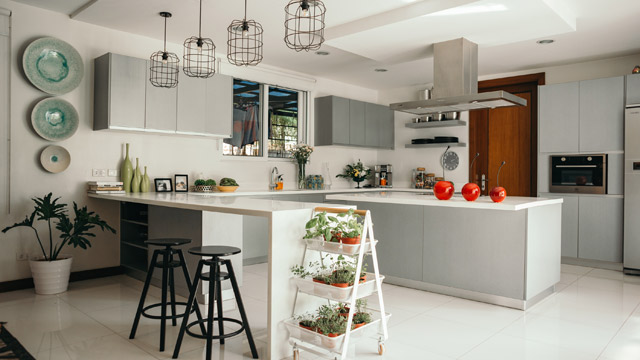 ADVERTISEMENT - CONTINUE READING BELOW
Whenever designing any part of the home, you need to consider how you use the space and how you plan it. As Grace advises, it's not enough to have a beautiful kitchen. "You need to consider the appliances you have, what you'll keep inside the cabinets, and following standard measurements," the design consultant explains.
Are your cabinets too high that you can't reach it? Chances are, the measurements aren't correct. This is one of the biggest mistakes you need to avoid as you won't be able to maximize your cabinets if you need a stool every time you need to get or return something.
To guide you, here's a list of measurements from The Spruce for base cabinets (found on the floor) and wall cabinets (above the sink):
Base Cabinets:
Height, without countertop: 34 ½ inches
Height, with countertop: 35 to 36 inches
Depth (front to wall), without countertop: 24 inches
Depth, with countertop: 25 to 26 inches
Standard widths: 12, 18, 24, 30, 33, 36, 48 inches
ADVERTISEMENT - CONTINUE READING BELOW
Wall Cabinets:
Standard heights: 12, 15, 18, 24, 30, 36, 42 inches
Standard depths: 12, 15, 18, 24 inches
Standard widths: 9 to 48 inches, in 3-inch increments
Keep in mind that these are standard measurements you can use as guide. Homeowners need to consider the height of the homeowners or who will use the kitchen to be able to finalize the measurements.
Make your kitchen cabinet design more hardworking.
By hardworking we mean, adding open shelves inside for easier organizing or fitting it with drawers and niches so you can store your cooking essentials properly. By having niches or drawers, you can separate cooking tools and food supplies accordingly.
Don't hesitate to personalize.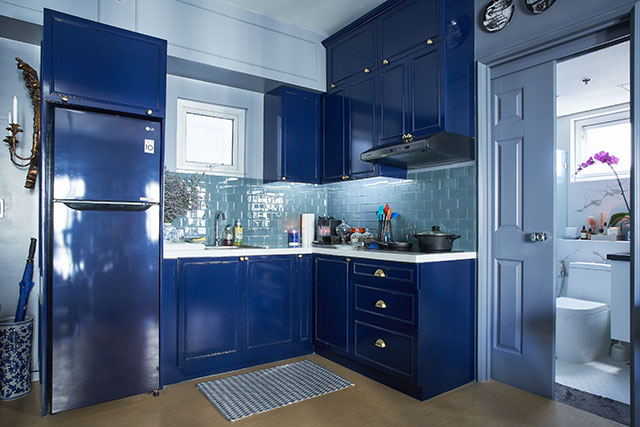 ADVERTISEMENT - CONTINUE READING BELOW
In photo: Who says you can't have an all-blue cooking area? This kitchen is definitely peg-worthy!
Paint it with a bold color or chalkboard paint so you can note recipes, menus, and grocery lists. Be creative and personalize your cabinets. Some homeowners even paint on their cabinet doors to create a focal point.
Ready to work on your kitchen cabinet design? If you can't pin a style yet, you may want to take inspiration from modern kitchen design, Scandinavian kitchens, and small space cooking areas. You can also learn more about designing a kitchen according to aesthetic while saving up for a kitchen makeover.
Want to work on a makeover project? Get in touch with design consultant Grace Moslares through email at: magarainteriors[at]yahoo.com. You can also check out some of her projects on Instagram at: @magaradesigns.
* * *
Have you recently spruced up your room or renovated your home? We'd definitely love to see the result! Send clear photos (with your full name, city address, and accompanying kuwento) to [email protected] with the subject "DIY Makeover" and we may just feature your DIY project!


ADVERTISEMENT - CONTINUE READING BELOW
More on Realliving.com.ph
Load More Stories