Makeovers
A Classy Japandi-Style Makeover for a Dark & Cluttered Condo Unit
The clients wanted a Nordic-style space with Muji-inspired features. Photography: Courtesy of Angelo Lapresca Architect: Ar. Christian Palad Interior Designer: IDr. Denise Guieb-Palad
There's a reason why the Japandi design style has been quite popular among homeowners. Japandi – which is a mix of Scandinavian functionality and Japanese minimalism – emphasizes light colors, clean lines, and bright spaces, thus creating a look that one cannot simply get tired of looking at. (Read more about Japandi design here!)
It's no surprise that this was the aesthetic that Ar. & IDr. Denise Guieb-Palad of Project 12 12 Inc. decided to use in one family's compact condo unit. In an email interview with RealLiving.com.ph, Ar. Christian Palad, who served as architect for this project, shared that the clients requested "a Nordic interior with Muji-like features for their condo unit."
Bringing this design to life did have its difficulties, largely due to the limited space available. Ar. Christian revealed that the unit was not that spacious and "mobility was definitely an issue. To address this, custom cabinetries had to be done [off site] and had to be brought in via modular construction."
Despite this, IDr. Denise's team – which includes IDr. Ghynella Bartolome – was able to pull off the job perfectly, coming up with a home that is clean, classy, and charming. If you've been considering the Japandi style for your own home, here is an example that is sure to get you convinced to give it a try!
Take a look at this impressive Japandi-style makeover:
BEFORE: Living and Dining Areas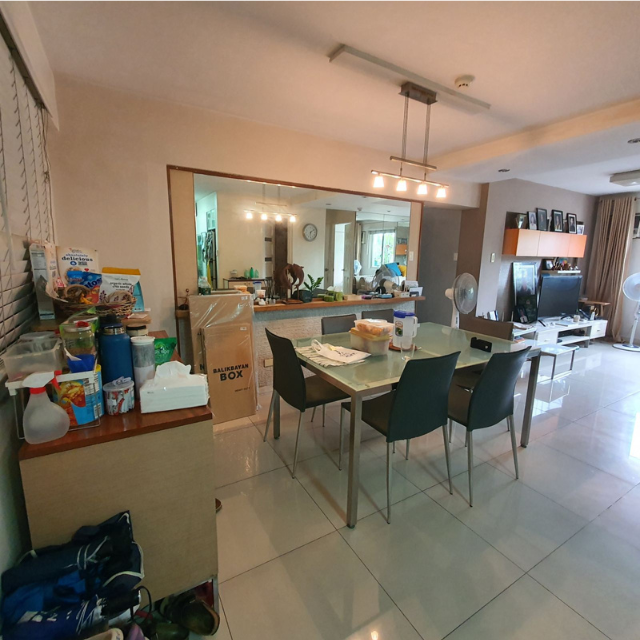 ADVERTISEMENT - CONTINUE READING BELOW
AFTER: Living Area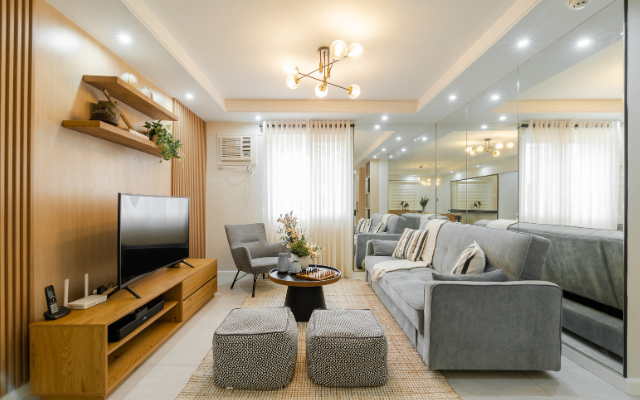 One new design element that IDr. Denise's team introduced to this space are WPC fluted and high-pressure laminate (HPL) wall panels, which you can see in the living room. According to the Composite Panel Association, HPL is "considered to be one of the most durable decorative surface materials and is available with special performance properties including chemical, fire and wear resistance."
AFTER: Dining Area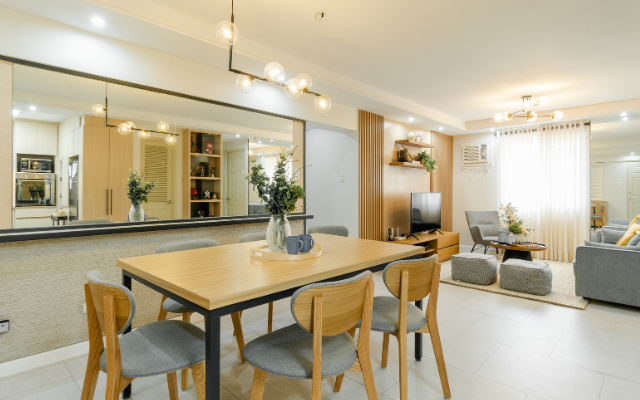 To save money, the design team chose to refurbish some of the existing items in this space, such as the sofa and the dining table. Just like the living room, this area has a built-in mirror which helps create the illusion of a larger space. The pendant light fixture is from Home Cartel, while the dining chairs are customized pieces from Cozy Furn.
ADVERTISEMENT - CONTINUE READING BELOW
BEFORE: Kitchen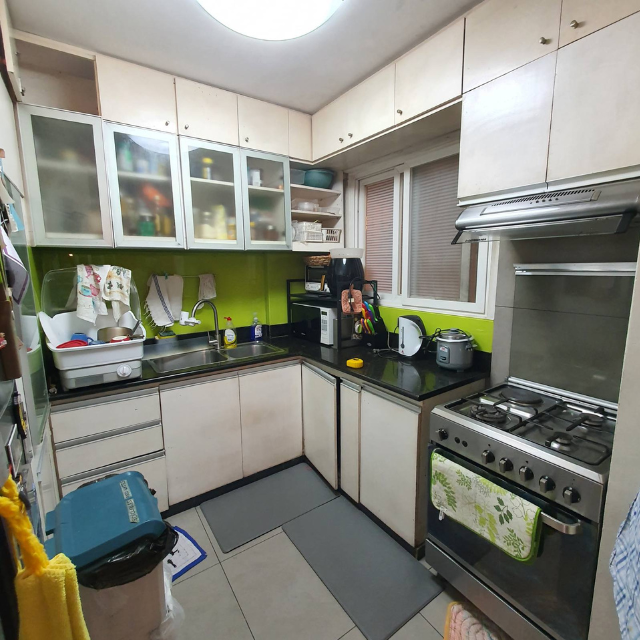 AFTER: Kitchen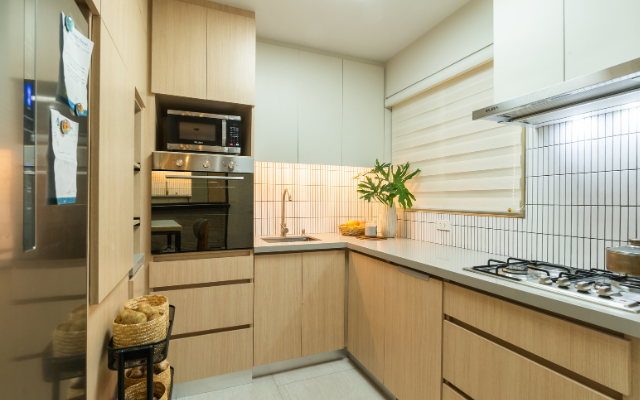 ADVERTISEMENT - CONTINUE READING BELOW
Ar. Christian also shared, "The kitchen and the toilets were a total overhaul; we replaced everything from the cabinets to the accessories."
BEFORE: Hallway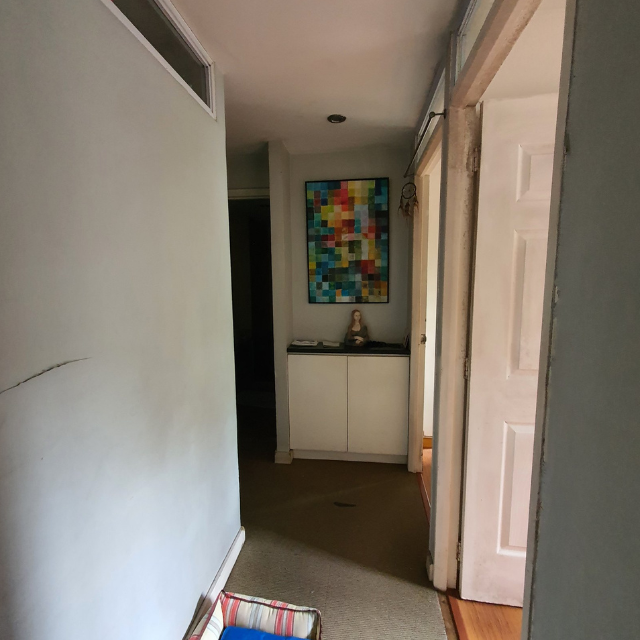 AFTER: Hallway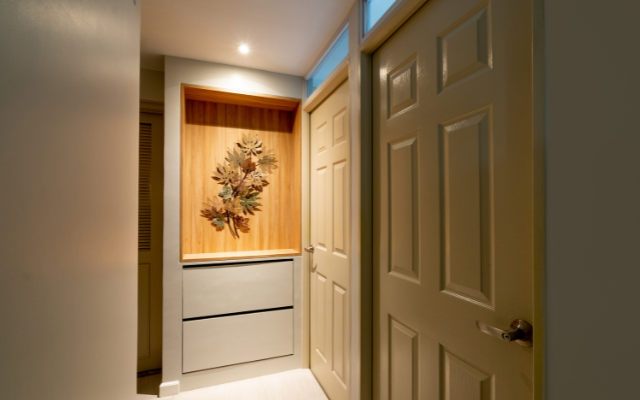 ADVERTISEMENT - CONTINUE READING BELOW
LED lights were added to strategic parts of this condo, such as the hallway, to help illuminate the space and make it look bigger.
BEFORE: Bedrooms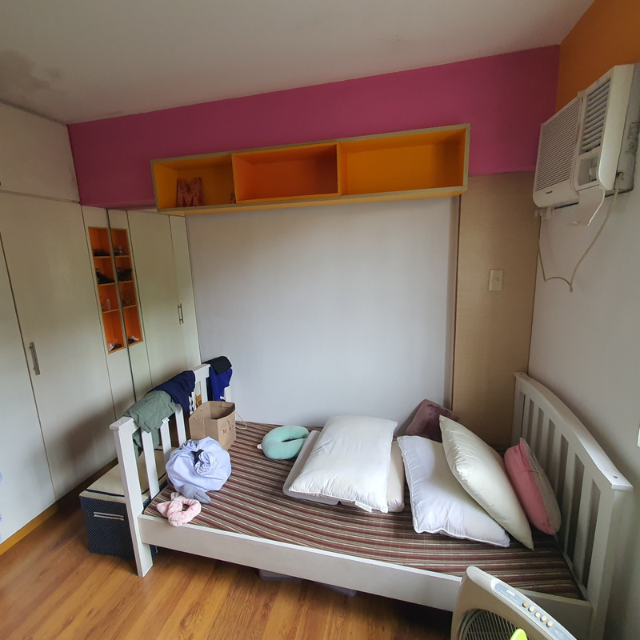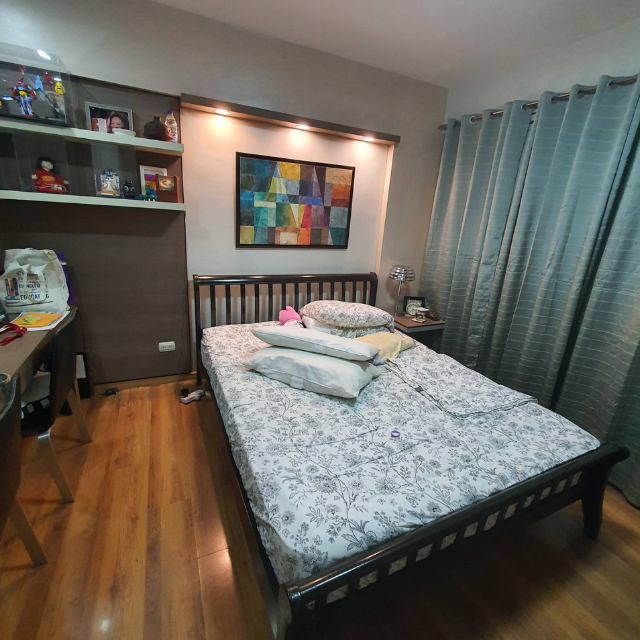 ADVERTISEMENT - CONTINUE READING BELOW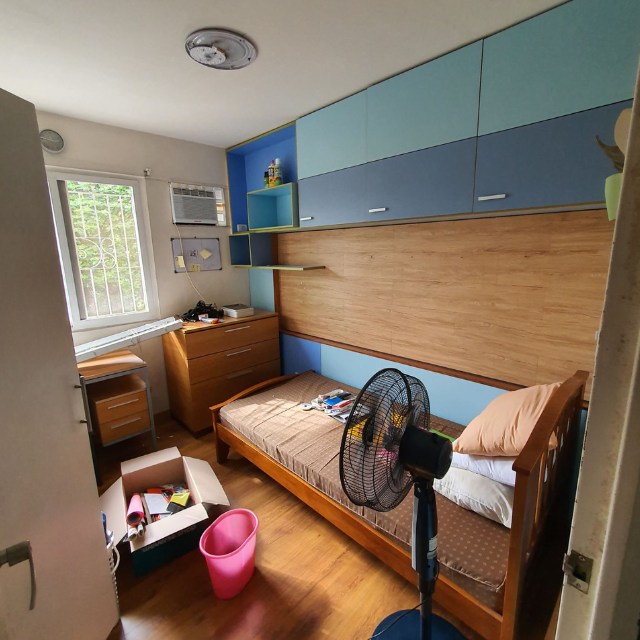 AFTER: Bedrooms
ADVERTISEMENT - CONTINUE READING BELOW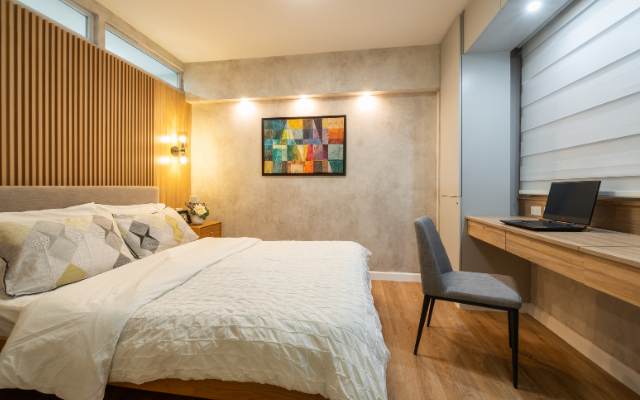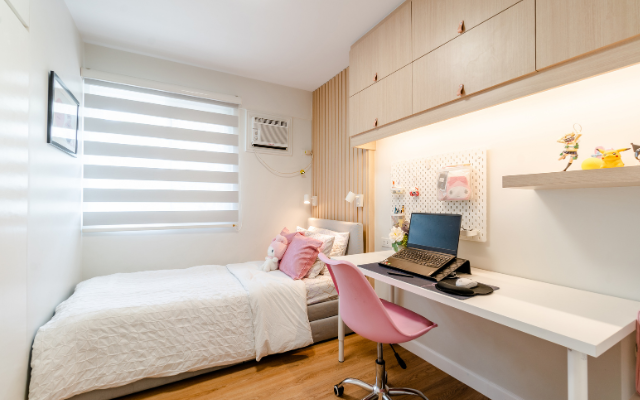 ADVERTISEMENT - CONTINUE READING BELOW
Each newly designed bedroom exudes a distinct personality, while still remaining true to the overall style of the home. Notably, one element that is found in all of these bedrooms is custom-made cabinetry, which were installed to help address the issue of limited space. One room also has fluted wall paneling. The pieces in these rooms were purchased from stores including IKEA, Cozy Furn, Home Cartel, BLIMS Fine Furniture, and All Things Mirror.
BEFORE: Bathroom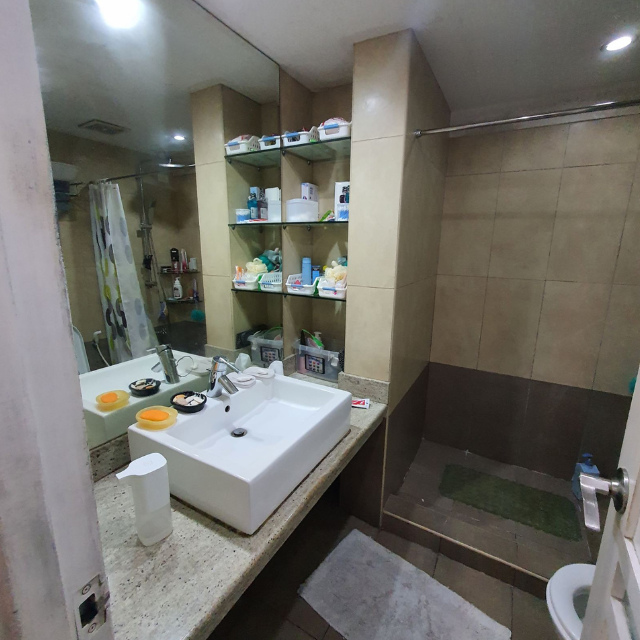 ADVERTISEMENT - CONTINUE READING BELOW
AFTER: Bathroom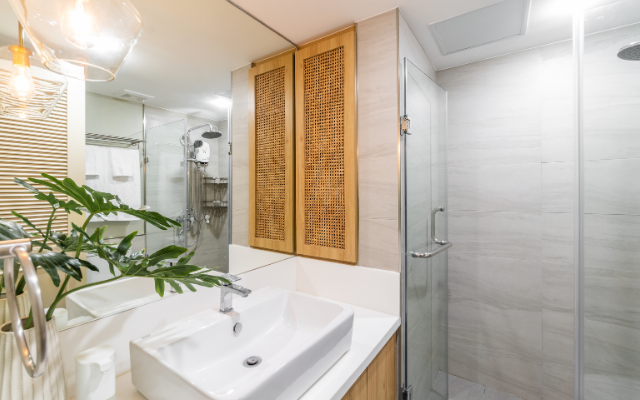 Aside from brightening up the bathroom, the design team also installed a woven-inspired cabinet door to keep the clutter hidden and added a glass enclosure to separate the shower area. There's also a little bit of greenery here – because, believe it or not, bathrooms are also a wonderful place to display plants!
ADVERTISEMENT - CONTINUE READING BELOW
Want more home tours? Check this out:
More on Realliving.com.ph
Load More Stories