Houses
Coastal Living Meets Rustic Elegance in This Beach Shack-Style Airbnb in Batangas
The owners took inspiration from beach shacks in Australia and California. Photography: Courtesy of Trina Jimenez
Products and services recommended on our websites are independently selected by our editors. If you buy something through our links, Summit Media may earn an affiliate commission at no extra cost to you. 

If you've been dreaming of going on vacation recently, chances are you've been thinking of hitting the beach. The good news is there are lots of gorgeous spots you can go to that won't require super long drives or even hopping on a plane, and we've got one example that you're going to want to check out.
The Lookout Villa, located by a beach in Calatagan, Batangas, is an Airbnb that features a unique beach shack–inspired look. According to the property host Trina Jimenez, this style initially came out of necessity due to budget constraints. Thankfully, though, the end result turned out to be pretty amazing.
"The restrained simplicity and straightforwardness of the shack-style design sparked a desire to make the most out of what we had and look elsewhere for [a] possibility of what it could be," she wrote in an email interview with RealLiving.com.ph. "We were particularly inspired by the casual charm and homey-ness of the quaint beach shack homes typically found in the coastal towns of Australia and California."
ADVERTISEMENT - CONTINUE READING BELOW
The Lookout Villa has several special features that are surely going to convince you that it's the perfect location for your next beach trip. First, it has a clean and charming coastal look as well as some stunning views. Second, it has a "main" house that comprises the communal areas and is separate from the bedrooms, which provides guests with plenty of privacy and flexibility. Third, the bedrooms are all easily accessible from the outside, and there is a roof terrace deck from which you can enjoy the lovely view.
Also Read: This Family Built a Solar-Powered Beach House After Temporarily Moving Out of Their Condo Home
Facade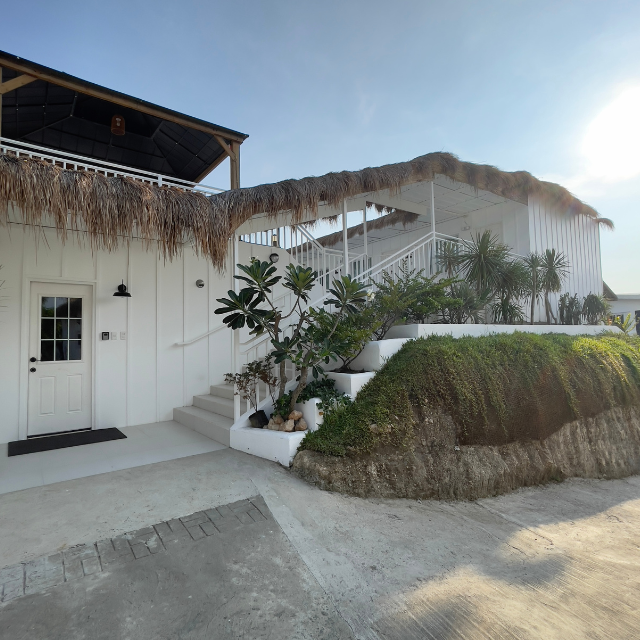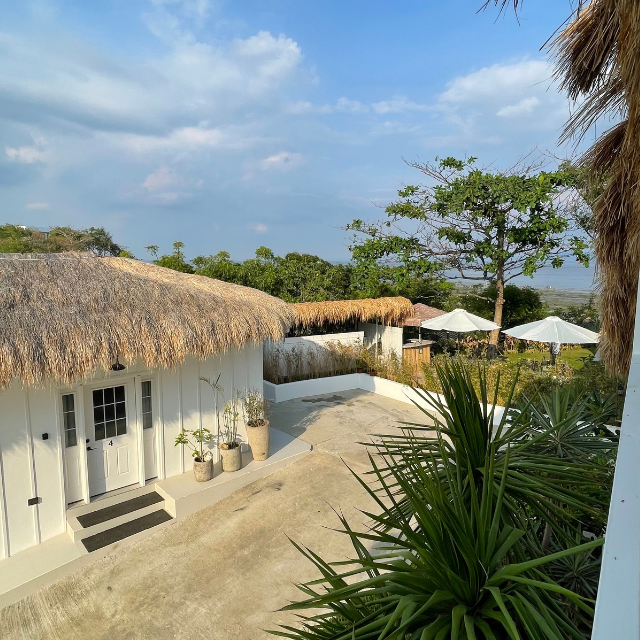 According to Trina, one challenge they encountered while working on this space had to do with the narrow and sloping limestone hill that encompassed the property. Instead of leveling it, they ultimately decided to take advantage of this feature and build on it.
"This resulted in the consequential separation of the communal main house and the regular bedrooms, and the creation of a roof terrace deck that overlooks the property's pool area and the ocean across," she shared.
ADVERTISEMENT - CONTINUE READING BELOW
Living Area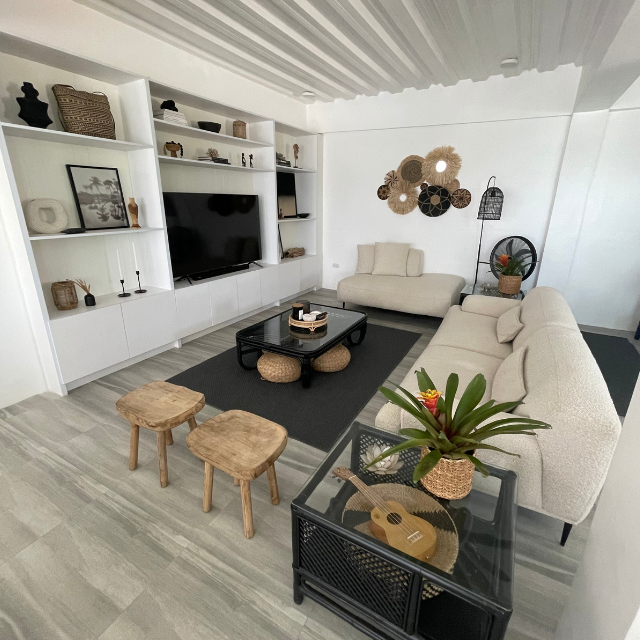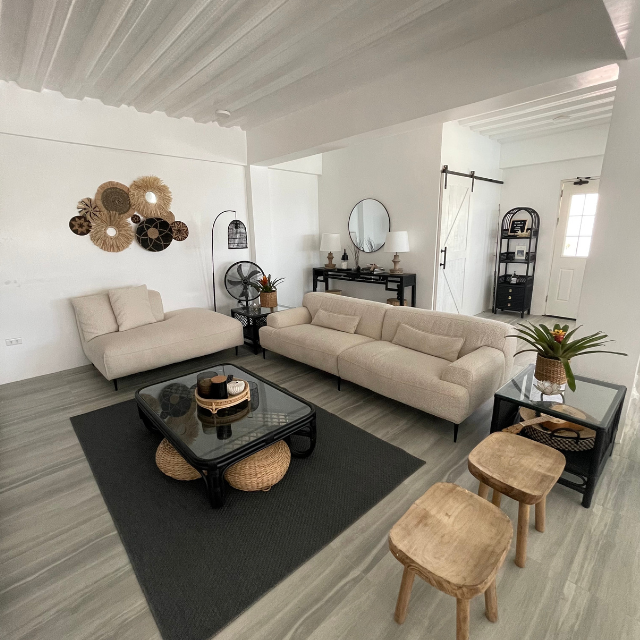 ADVERTISEMENT - CONTINUE READING BELOW
The interior decoration of The Lookout Villa was a primarily collaborative effort between Trina and her mother Faye Jimenez. Trina explained, "We tried our best to find pieces that highlighted the rustic elegance of coastal living, while also trying [to] evoke a sense of calmness and stillness particularly reminiscent of spending a quiet day at the beach."
A lot of the pieces you'll find in this property are secondhand and/or were sourced from surplus stores that Trina and her mother visited during their free time. Some were old items they took from their Manila home and spruced up with new hardware or a fresh coat of paint, while others were bought from vintage stores and home goods stores. They also tried to incorporate Filipino touches through linens and decor.
Also Read: 10 Tips to Help You Achieve A Stunning Living Room
Dining Area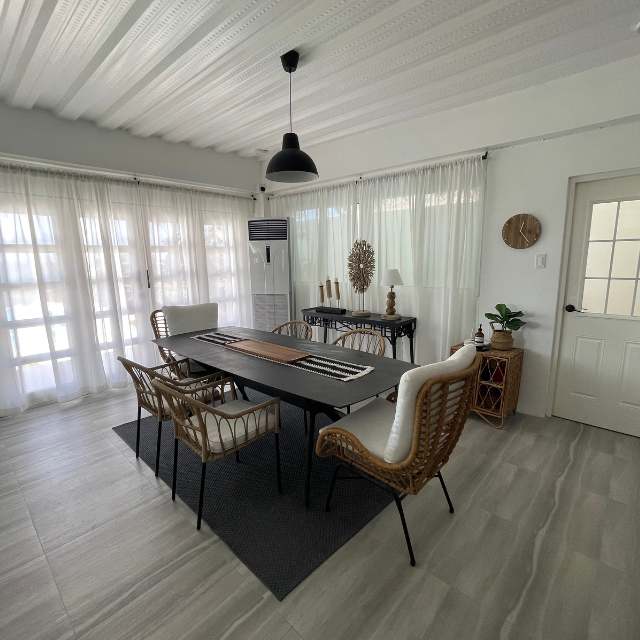 ADVERTISEMENT - CONTINUE READING BELOW
The soft fabrics, beach-inspired furniture, and presence of natural light are truly characteristic of the inspirations Trina and Faye looked at when decorating this property, which is the casual and homey vibe of beach shacks in places like California and Australia.
Kitchen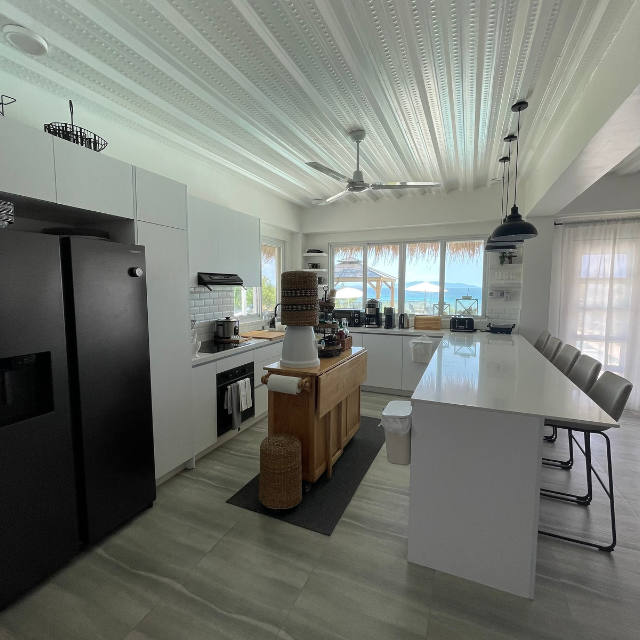 The kitchen has a spacious countertop that can be used both as space for meal prep and for eating, particularly for large groups. More importantly, the kitchen is very well-equipped with a large refrigerator, induction cooktops, an oven, and even a coffee-making station. Plus, check out that gorgeous view!
ADVERTISEMENT - CONTINUE READING BELOW
Bedrooms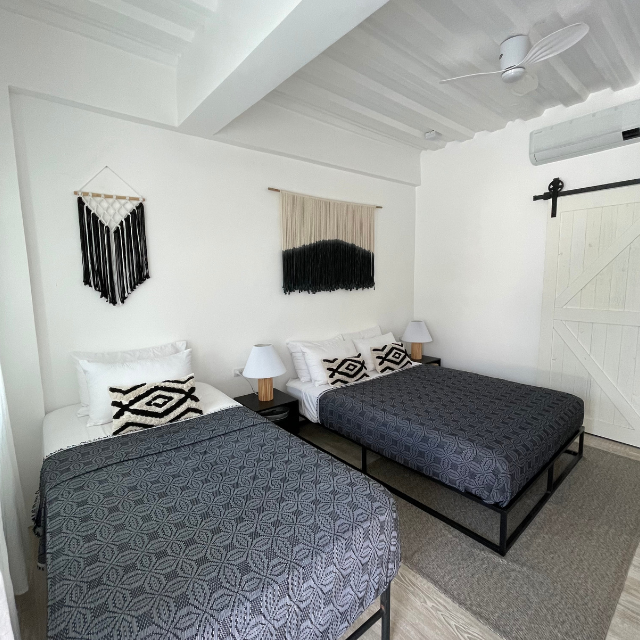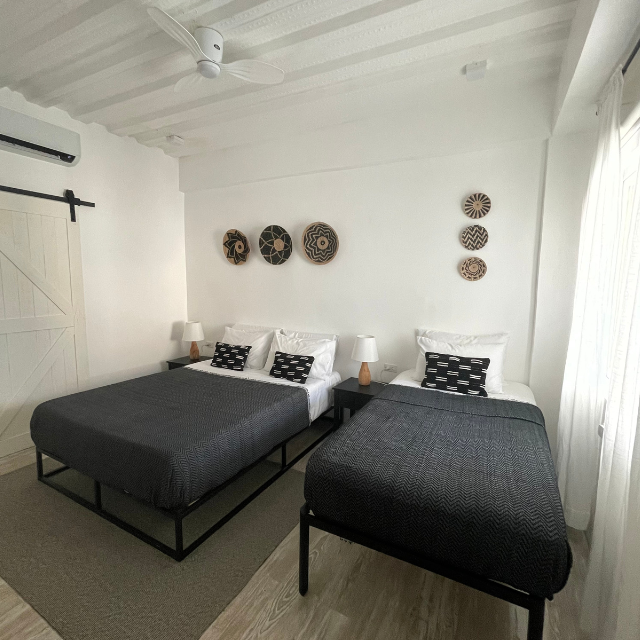 ADVERTISEMENT - CONTINUE READING BELOW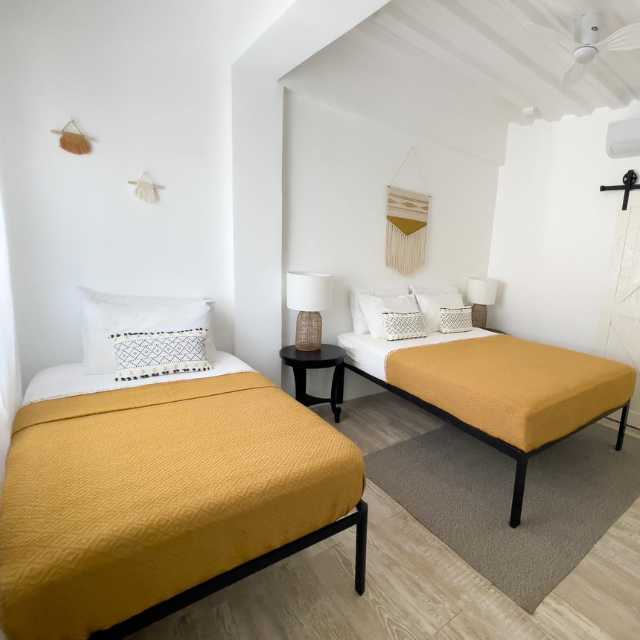 There are a total of four bedrooms in The Lookout Villa, three of which each have one queen-sized bed and one single bed. Each room has an ensuite toilet and shower area.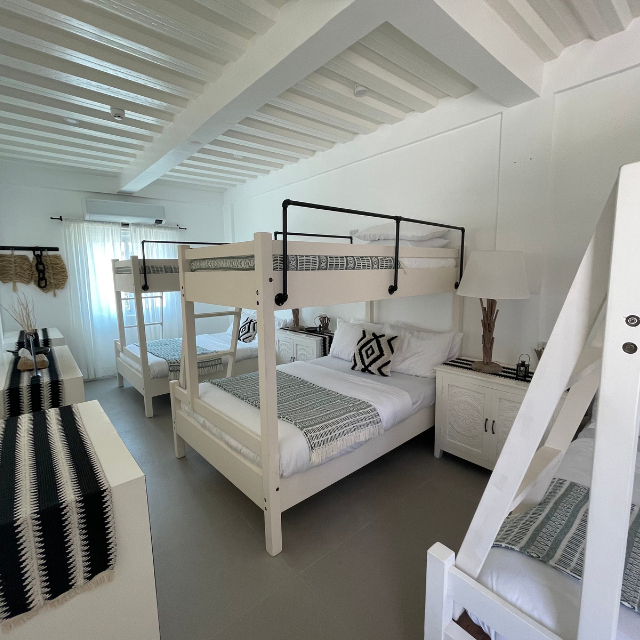 ADVERTISEMENT - CONTINUE READING BELOW
The fourth bedroom has several bunk beds and can comfortably fit up to nine people, which is why, according to Trina, it is "always a treat for the younger crowd during group or family getaways."
Bathrooms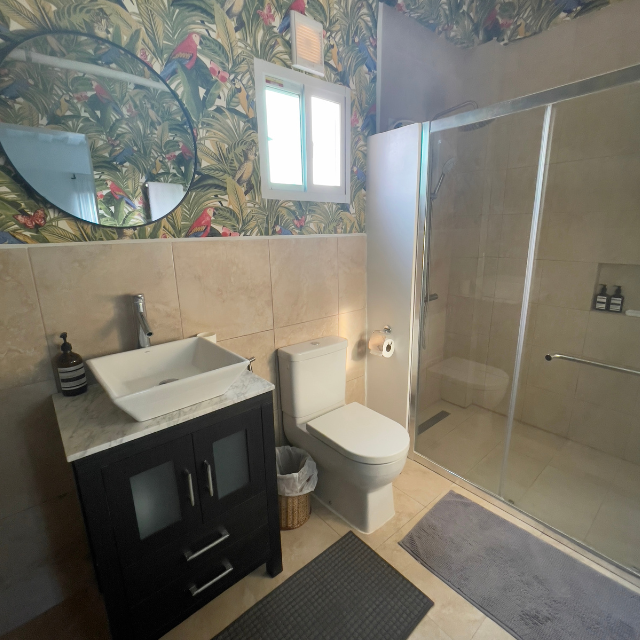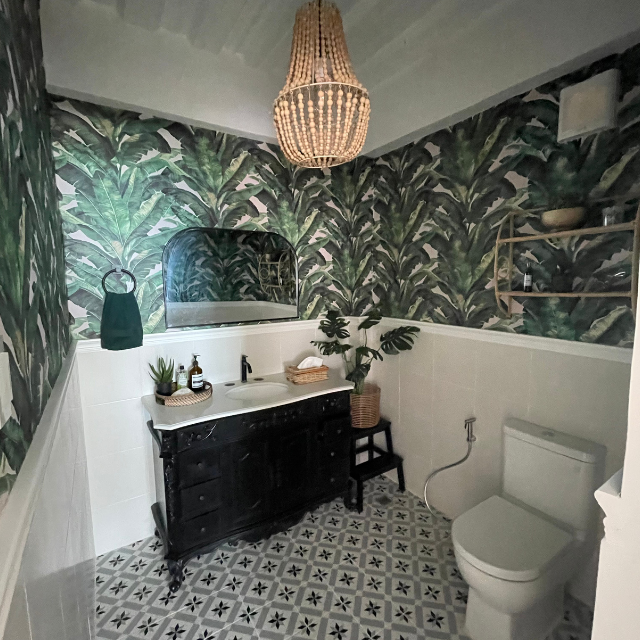 ADVERTISEMENT - CONTINUE READING BELOW
Though small, the private bathrooms are full of personality, each decorated with printed wallpaper in vibrant, vivid colors. These only emphasize the look that Trina and her mom Faye aimed for when they were working on the design of The Lookout Villa, which is a blend of rustic elegance and a calm, beach vibe.
Also Read: How Much Does a Modern Bathroom Makeover Cost? Get Tips from an Architect
Outdoor Area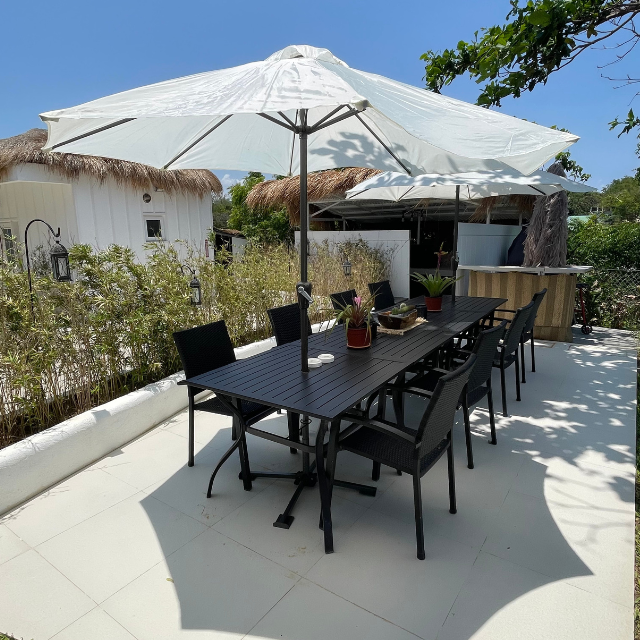 ADVERTISEMENT - CONTINUE READING BELOW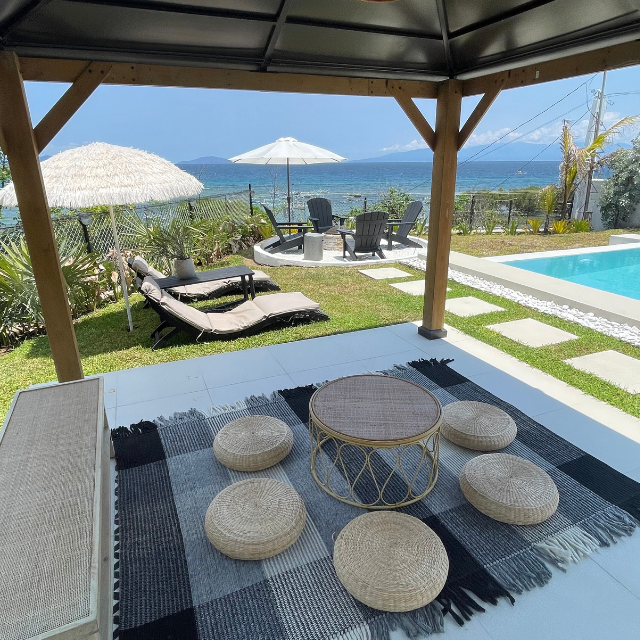 Group getaways become even more memorable when you stay in an accommodation that is conducive to quality time. With the spacious outdoor dining area, quaint cabana, and shaded sitting nooks, The Lookout Villa is definitely one such place! Here you'll also be able to enjoy amenities like an outdoor cooking and grilling station and a bonfire pit.
ADVERTISEMENT - CONTINUE READING BELOW
Pool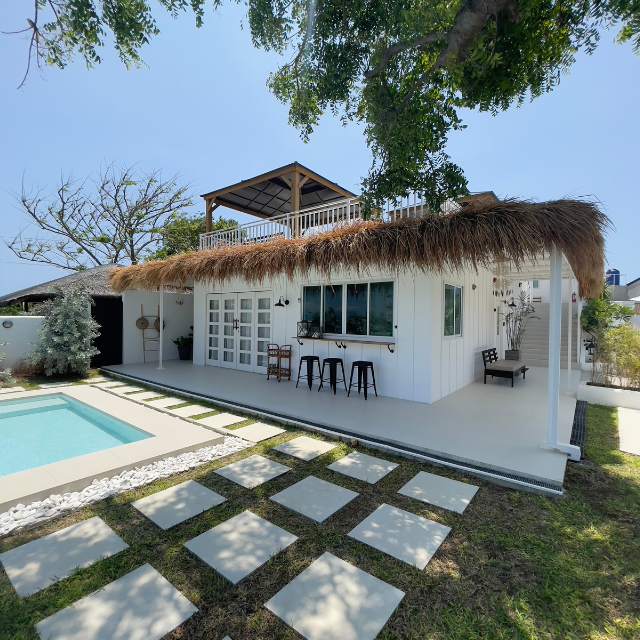 The large pool has an expansive view of the ocean, so not only will you be able to have some fun in the sun, but you'll also get a stunning backdrop for your vacation photos. Right next to the pool, there isalso an outdoor bar complete with stools, making a perfect spot for merienda and cold beverages.
ADVERTISEMENT - CONTINUE READING BELOW
Book The Lookout Villa on Airbnb for P23,500 a night.
Links are updated regularly and as much as possible but note that products can run out of stock, discounts can expire and listed prices can change without prior notice.

More on Realliving.com.ph
Load More Stories