Houses
This 1,000sqm Family Home is Perfect for Entertaining Guests
The team of Magara Interiors achieved a modern space complete with a roof deck that can function as a separate house Photography: Photos courtesy of Design Consultant Grace Moslares and Magara Designs
Working on a big house is already challenging as it is, more so if it's done in the middle of a pandemic. This family home measures 1,000sqm, has five bedrooms, seven bathrooms, and a roof deck with a kitchenette and its own T&B. The secret to delivering a home the owners can be proud of lies in the expertise of the design team and it's something Magara Designs gladly took on.
"What sets it apart from other projects is we need to work within a timeline while taking into consideration the restrictions of the pandemic. The sourcing and delivery of materials took time but our design and design implementation processes remained the same," shares design consultant Grace Moslares. Magara Designs is known for its projects that showcase a balance of contemporary and homey touches. The team also goes beyond finishing a home and turning it over to the owners by working on creative pieces that liven up the different areas of the space.
ADVERTISEMENT - CONTINUE READING BELOW
For this project, Grace brought together the professional know-how of Bot Moslares and Jun Mangat (full finishing including carpentry, painting, and tile installation), Arnel Lozano (implementation), and Jayson Bongat  (artwork and creative pieces). "This is indeed a special home that radiates the warmth of the family. It also has open spaces ideal for entertaining guests," Grace says.
CONTINUE READING BELOW
Recommended Videos
Check out some of the areas that complete this spacious family home below:
Foyer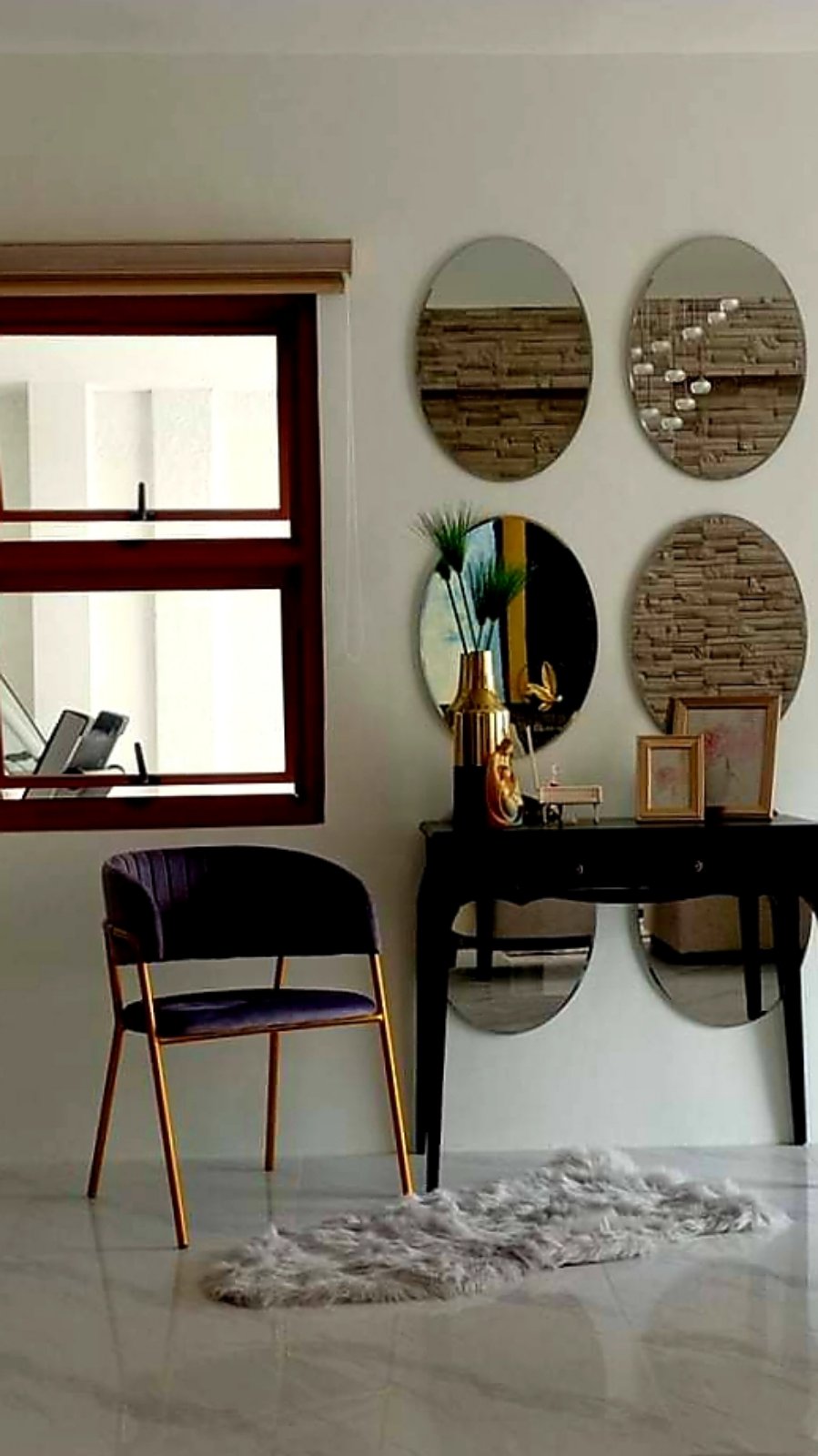 ADVERTISEMENT - CONTINUE READING BELOW
First impressions last and what better way to leave a lasting one than with a chic foyer? To define this nook, Grace added a chair, a slim table, and mirrors that double as accent pieces. Oval mirrors are refreshing to the eyes, especially when we're used to seeing rectangular or square reflective surfaces in homes.
Living Area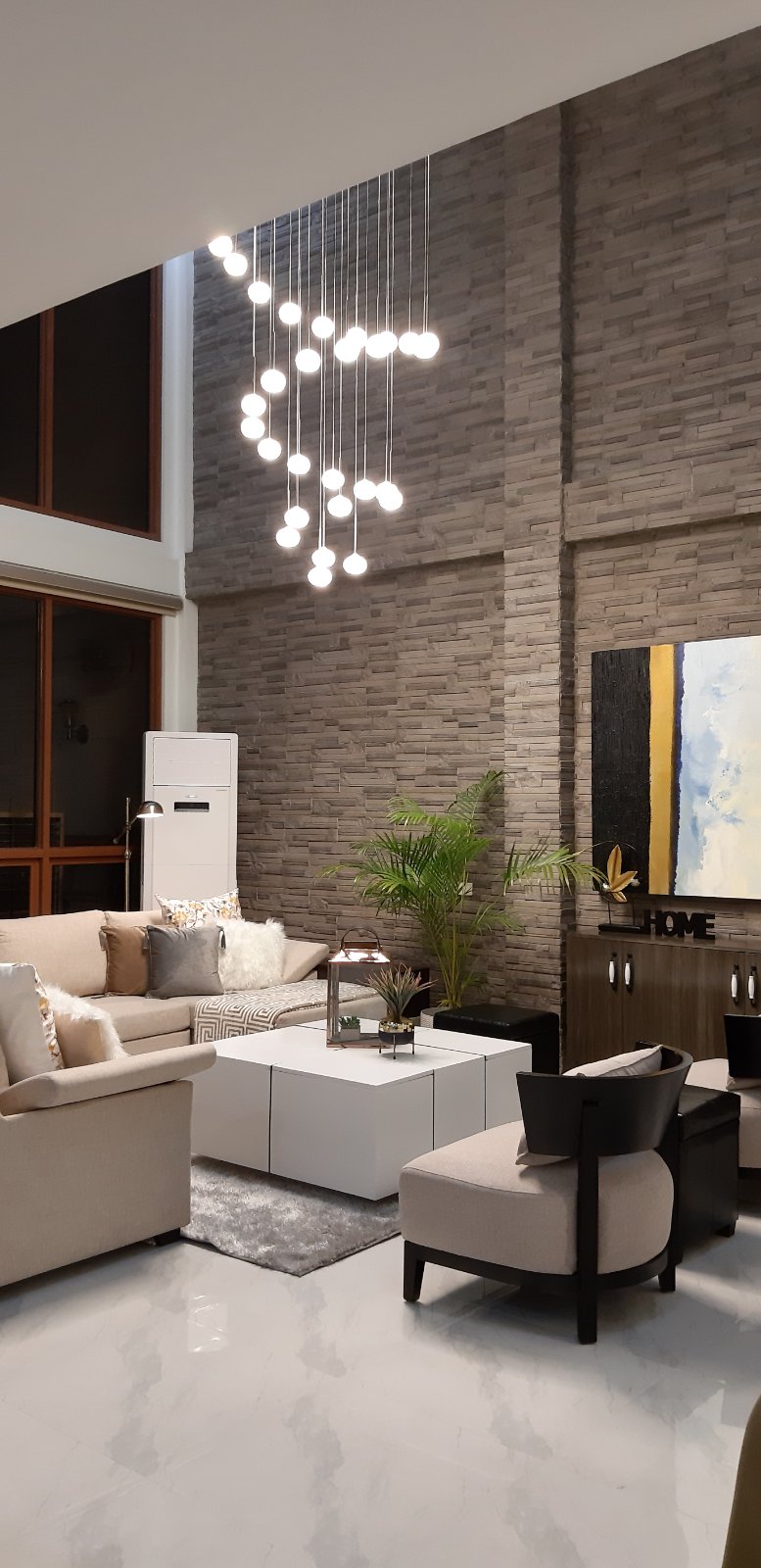 ADVERTISEMENT - CONTINUE READING BELOW
The living area has a high ceiling, enabling the design team to add a captivating Italian chandelier to spruce up the space. To keep within the contemporary theme of the home, Grace chose custom-fit furniture pieces in neutral colors that add a cozy vibe to the space.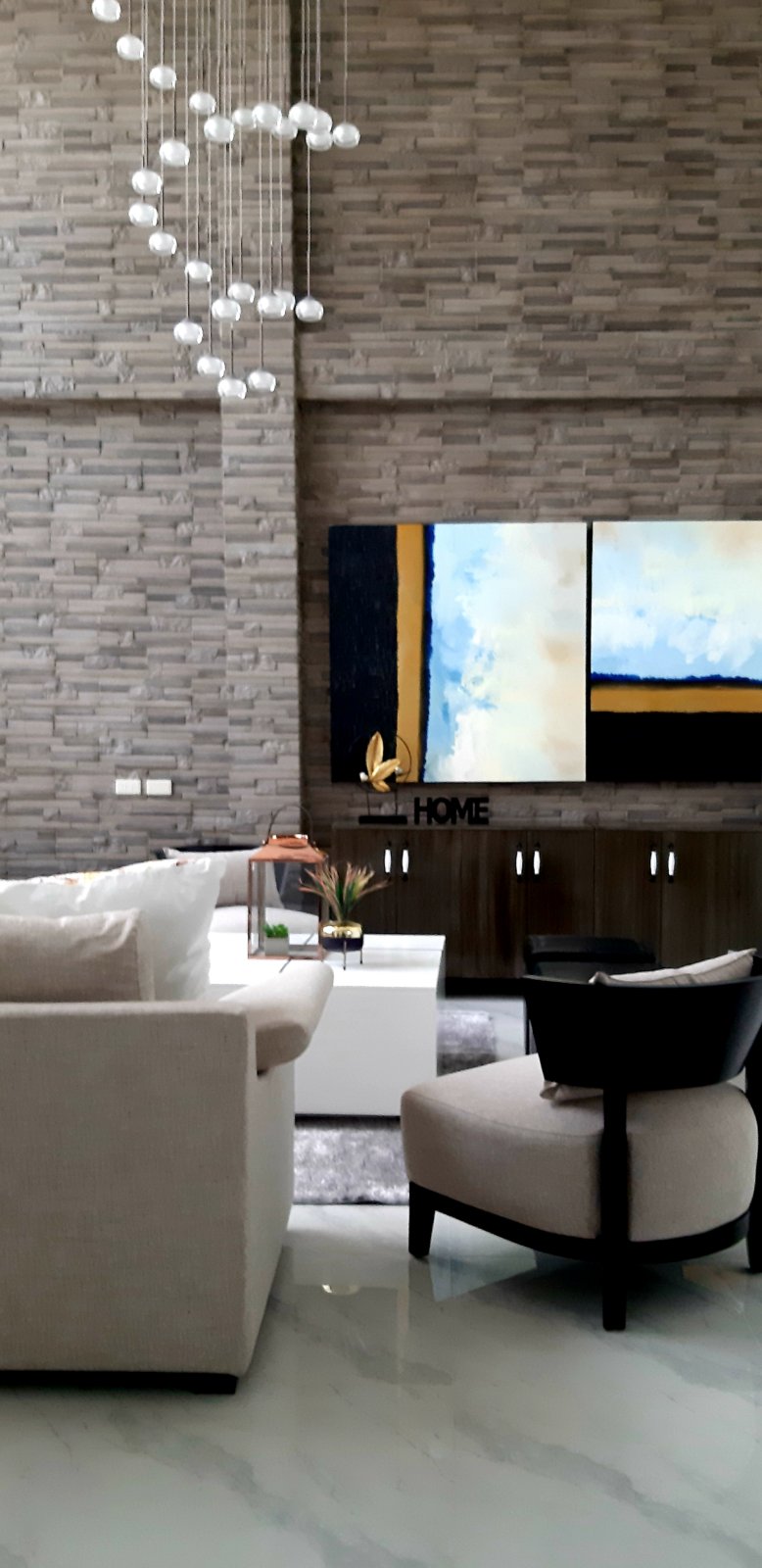 Magara Designs makes it a point to add a personal stamp on the projects they work on by creating works of art that liven up the walls. In the living area, Magara's Jayson Bongat worked on a piece entitled "Sunrise & Sunset," depicting the rise of the homeowners through kindness and love.
ADVERTISEMENT - CONTINUE READING BELOW
Dining Area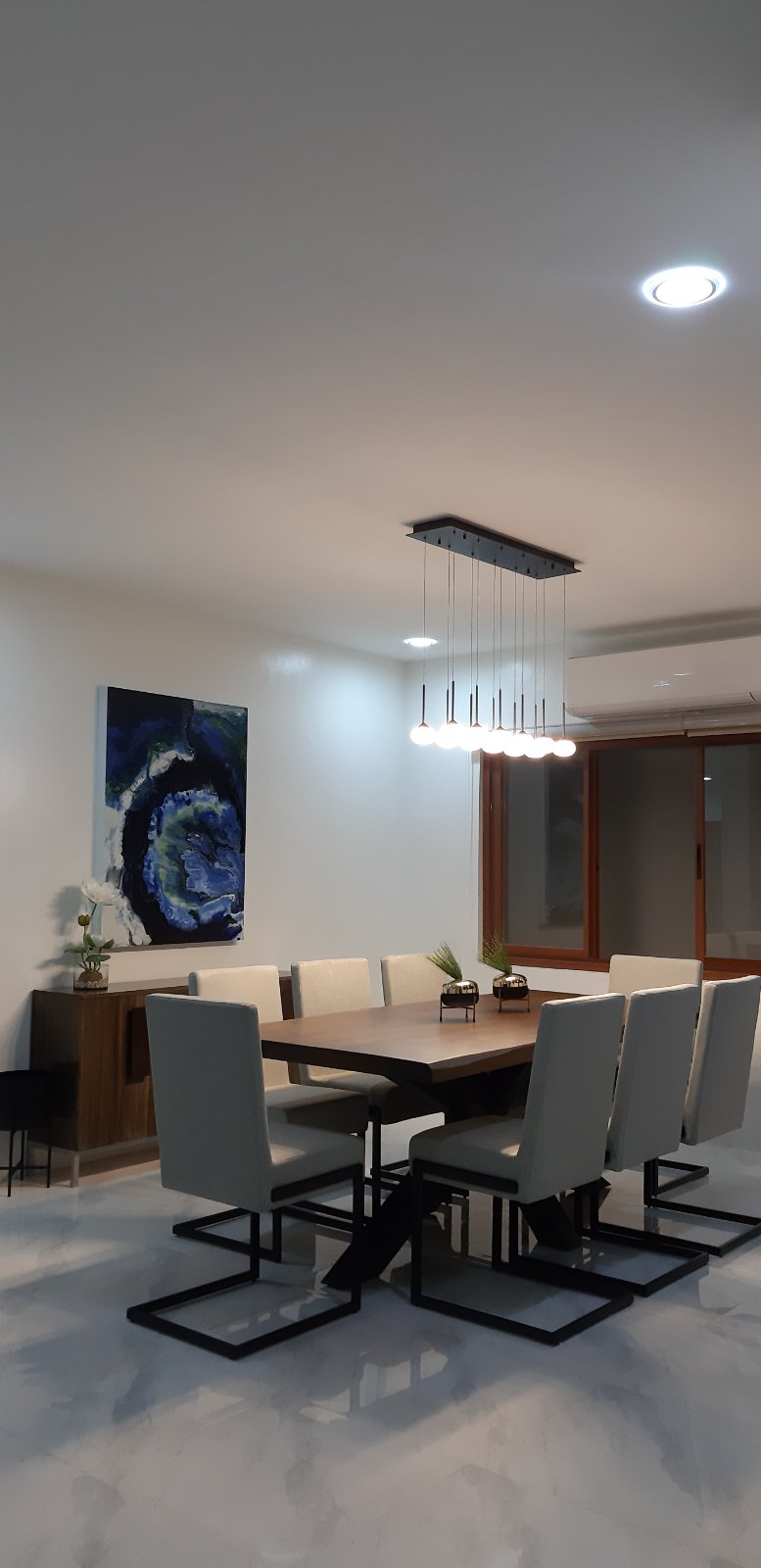 Sleek and modern, the dining area features a customized dining set that can accommodate eight to 10 people comfortably. To complement another Italian lighting piece, Jayson created another work of art entitled "Depth," to symbolize the deep relationship of the family members with each other. It's a fitting accent in a space where people gather to enjoy meals together.
ADVERTISEMENT - CONTINUE READING BELOW
Kitchen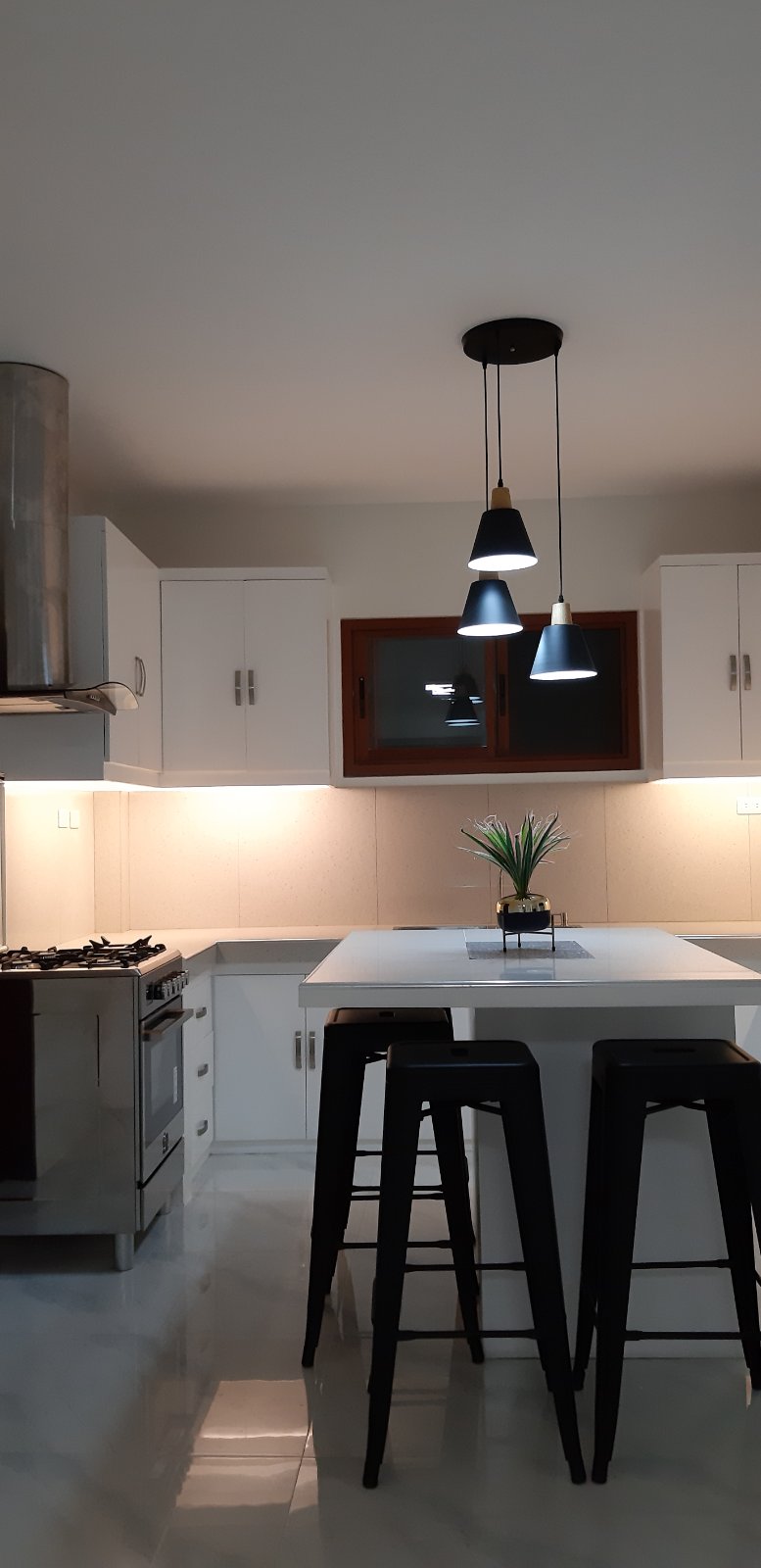 Who wouldn't love whipping up delicious meals in a kitchen as streamlined as this? All of the features of the cooking area were custom-built to maximize the space and to provide the owners enough storage. To make the island more functional, barstools are placed, turning it into a prep area/breakfast nook.
ADVERTISEMENT - CONTINUE READING BELOW
Bar Area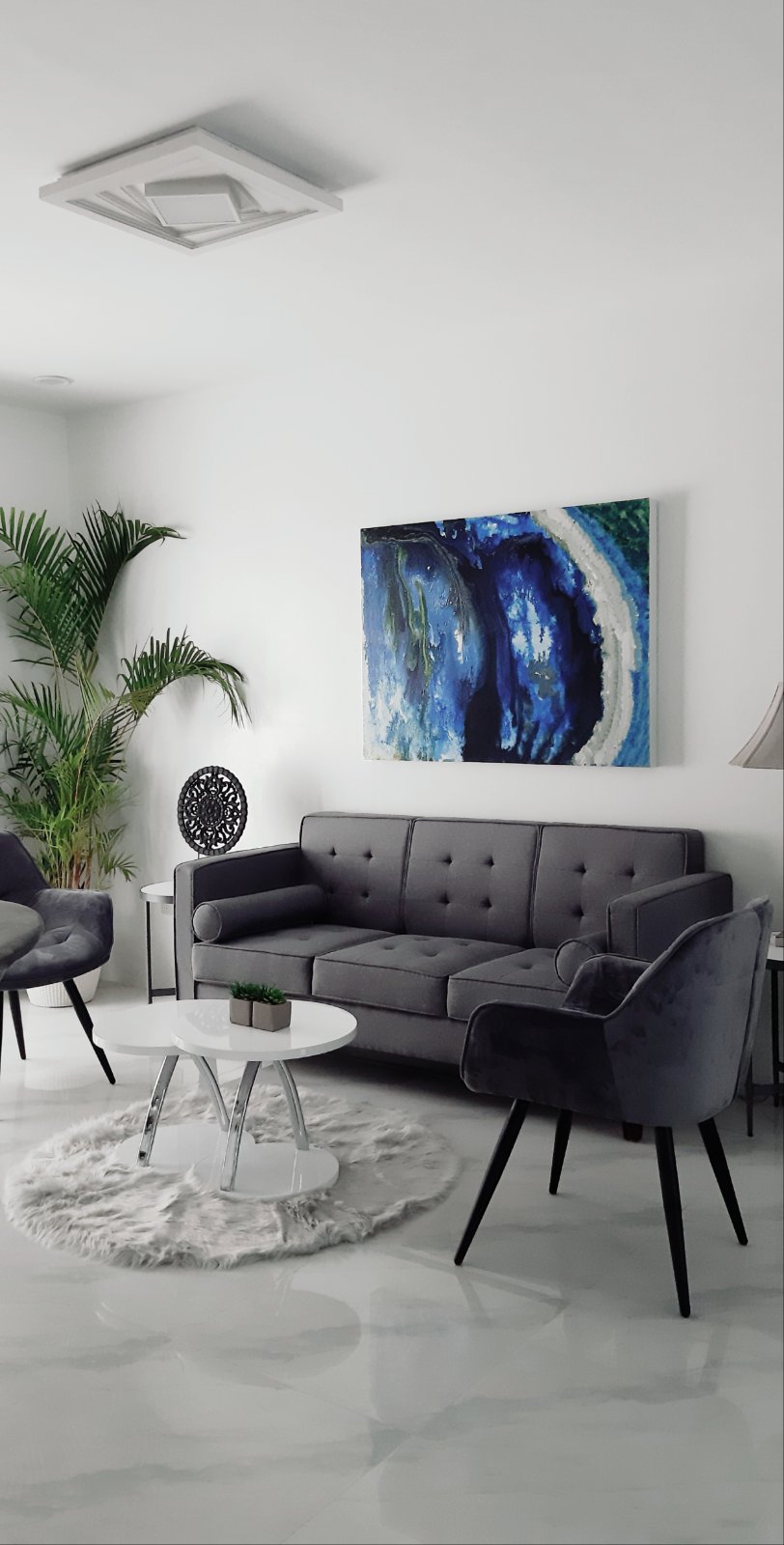 "The owners' envision the home to be a cozy space where they can entertain," Grace shares. This inviting seating area faces the bar, allowing the homeowners to mix cocktails and serve drinks while chatting with their guests.
ADVERTISEMENT - CONTINUE READING BELOW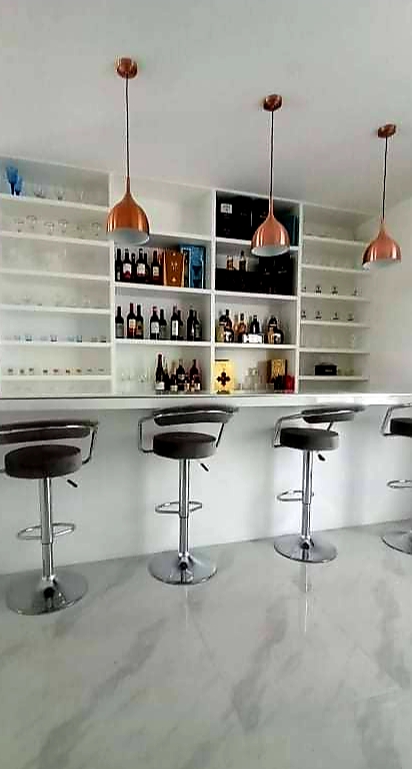 Reminiscent of must-visit bars in the Metro, the family's bar area is well-lit and completed with essentials – from display shelves and barstools, to sufficient lighting and storage. This area can be an instant hang out spot for afternoon refreshments.
ADVERTISEMENT - CONTINUE READING BELOW
Girl's Bedroom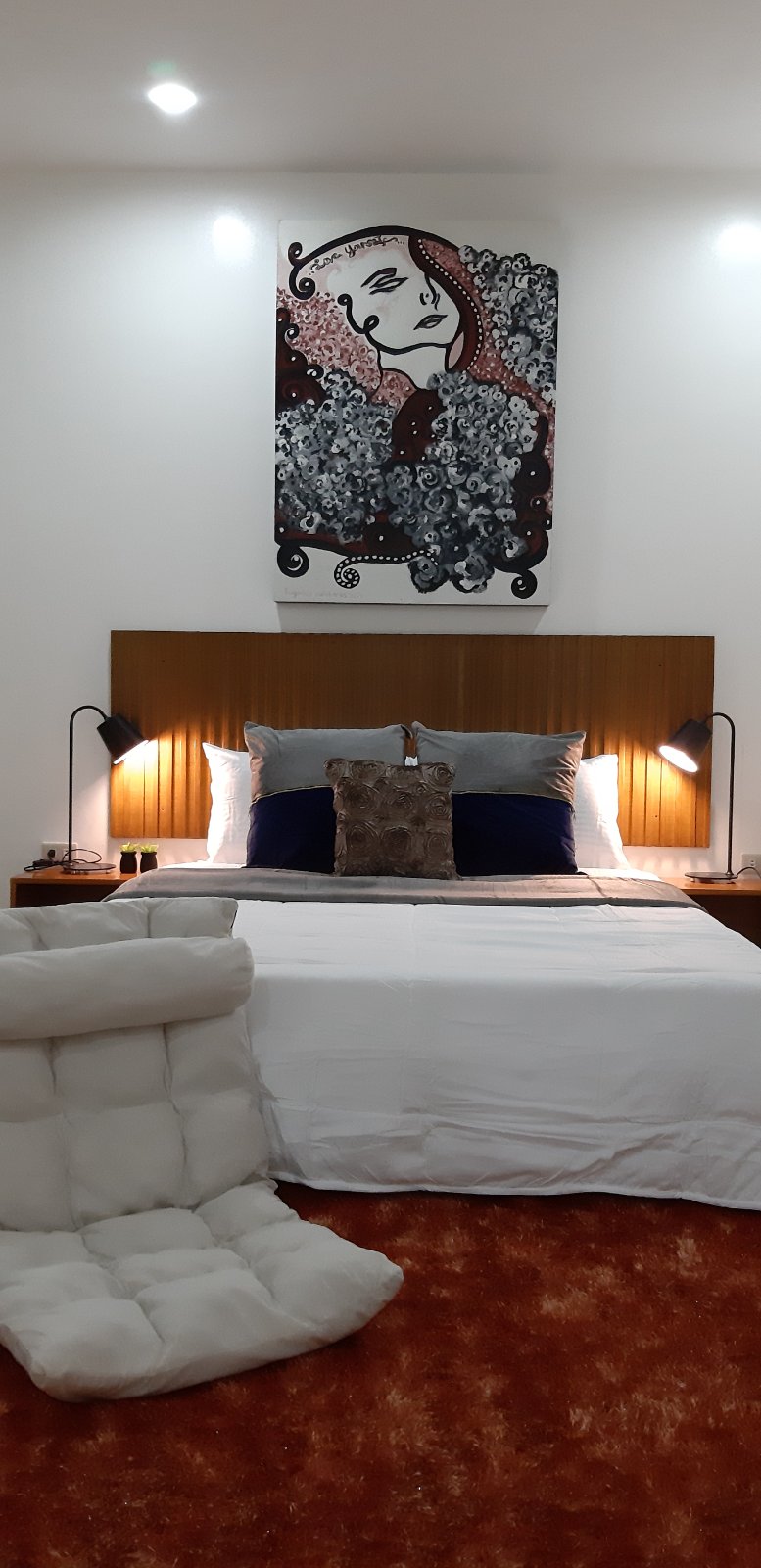 Each bedroom showcases the personality of its occupant. The girl's bedroom is homey and relaxing, with warm lighting perfect for restful slumbers. Grace added seating pieces at the bottom of the bed, perfect for reading or watching TV. The work of art on the wall was done by Grace.
ADVERTISEMENT - CONTINUE READING BELOW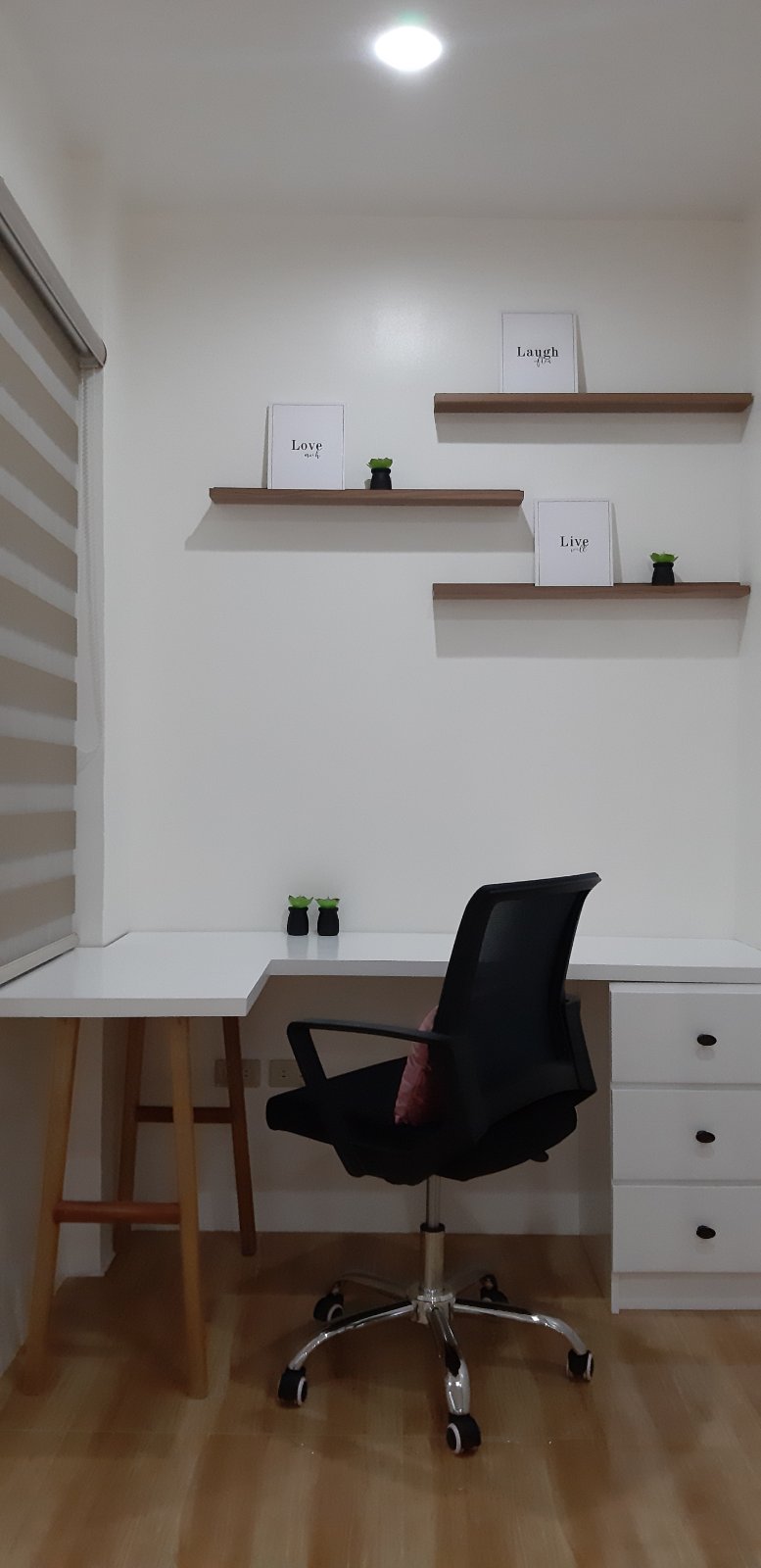 A proper work/study space is a must these days and to make the most of the room, a desk was added and paired with a comfy chair. The wall-mounted shelves make use of the available vertical space by giving the occupant a special place for displaying photographs, books, and other favorite things.
ADVERTISEMENT - CONTINUE READING BELOW
Boy's Bedroom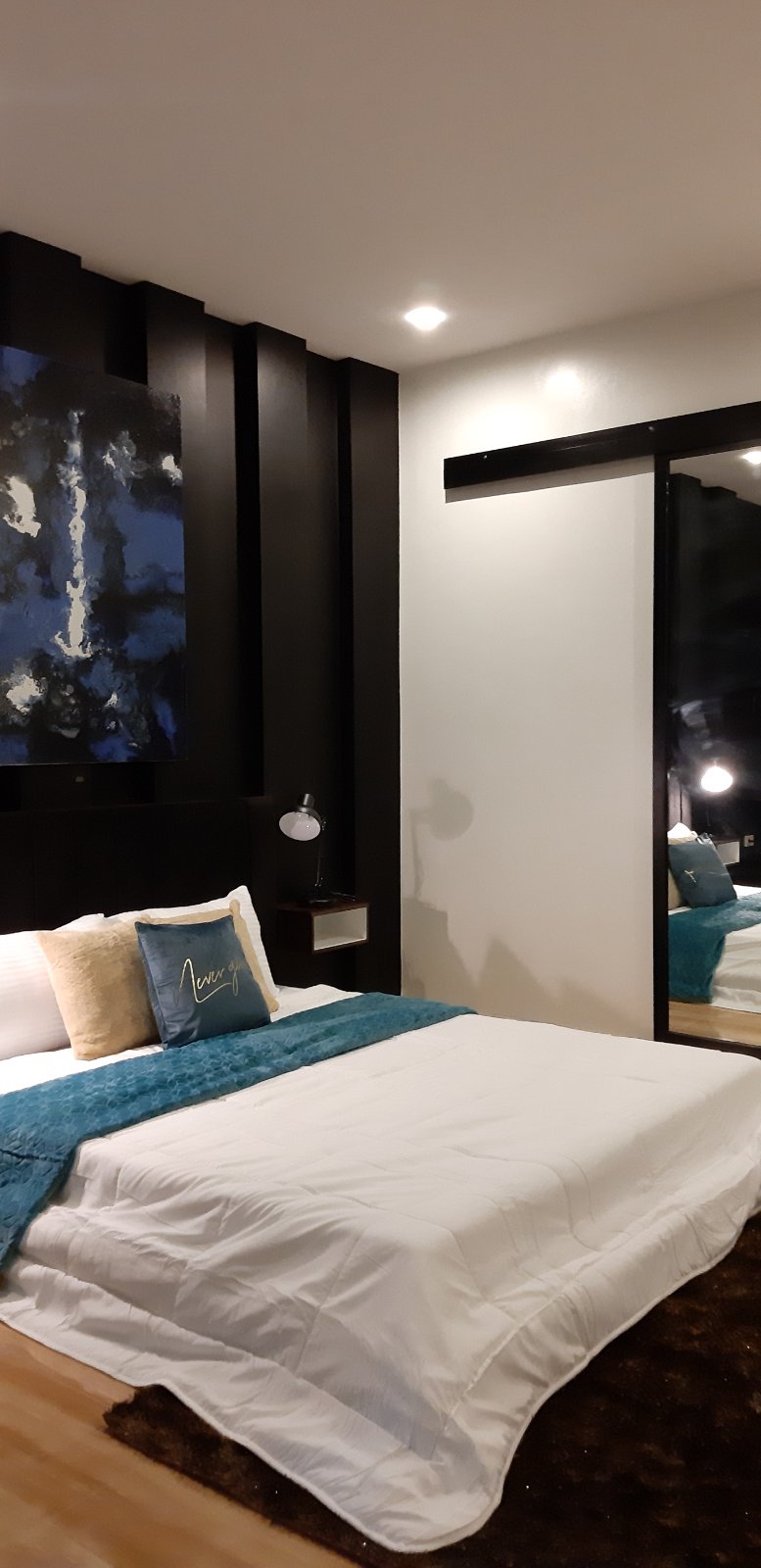 The boy's bedroom has a moody vibe, with a balance between dark and bright colors. Using a darker shade behind the bed helps define the sleeping space while complementing the work of art on display.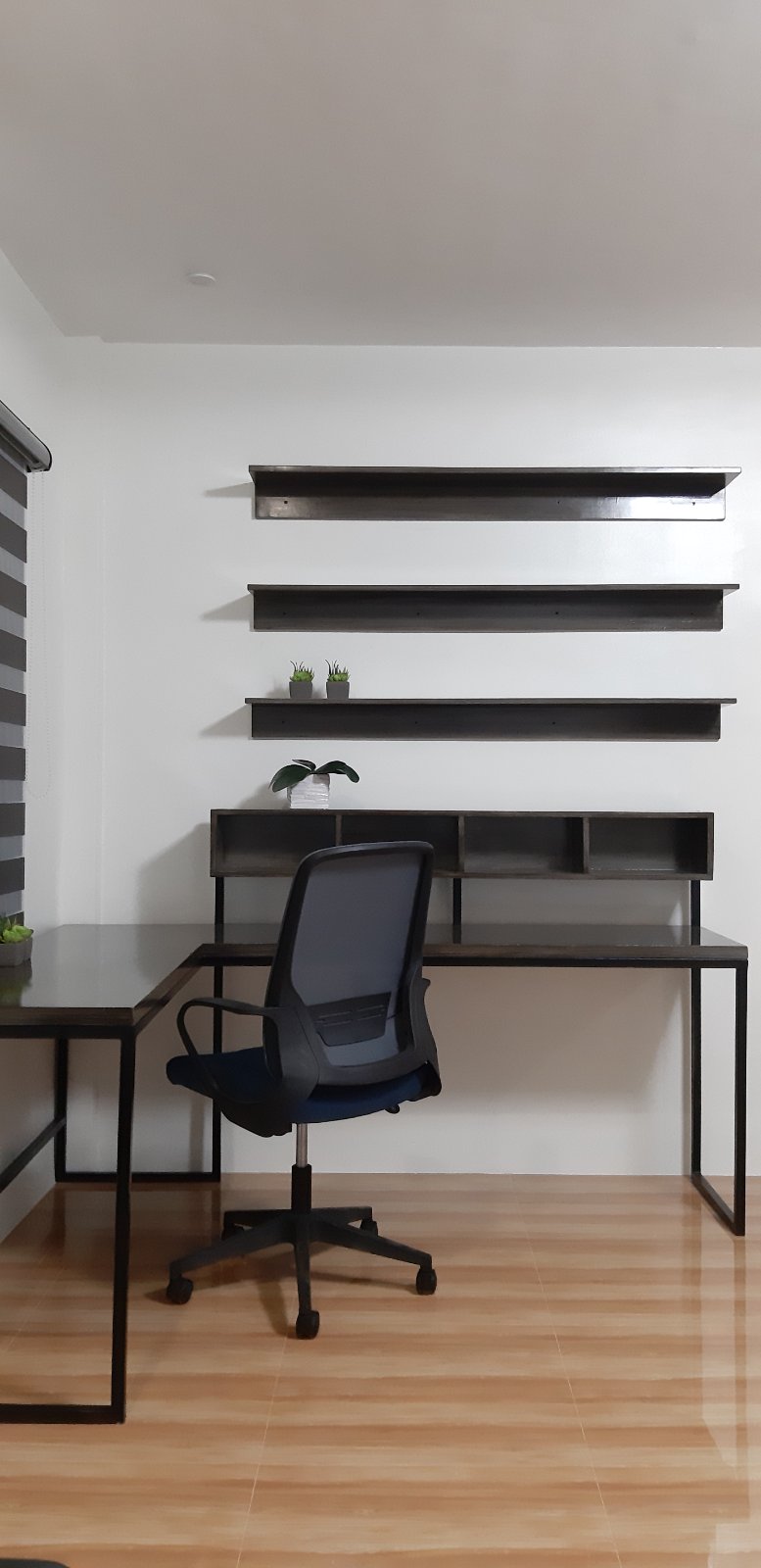 ADVERTISEMENT - CONTINUE READING BELOW
Similar to what's seen in the girl's bedroom, this room also has a work/study space but with furniture pieces and shelves in a darker color to match the sleeping area.
Master Bedroom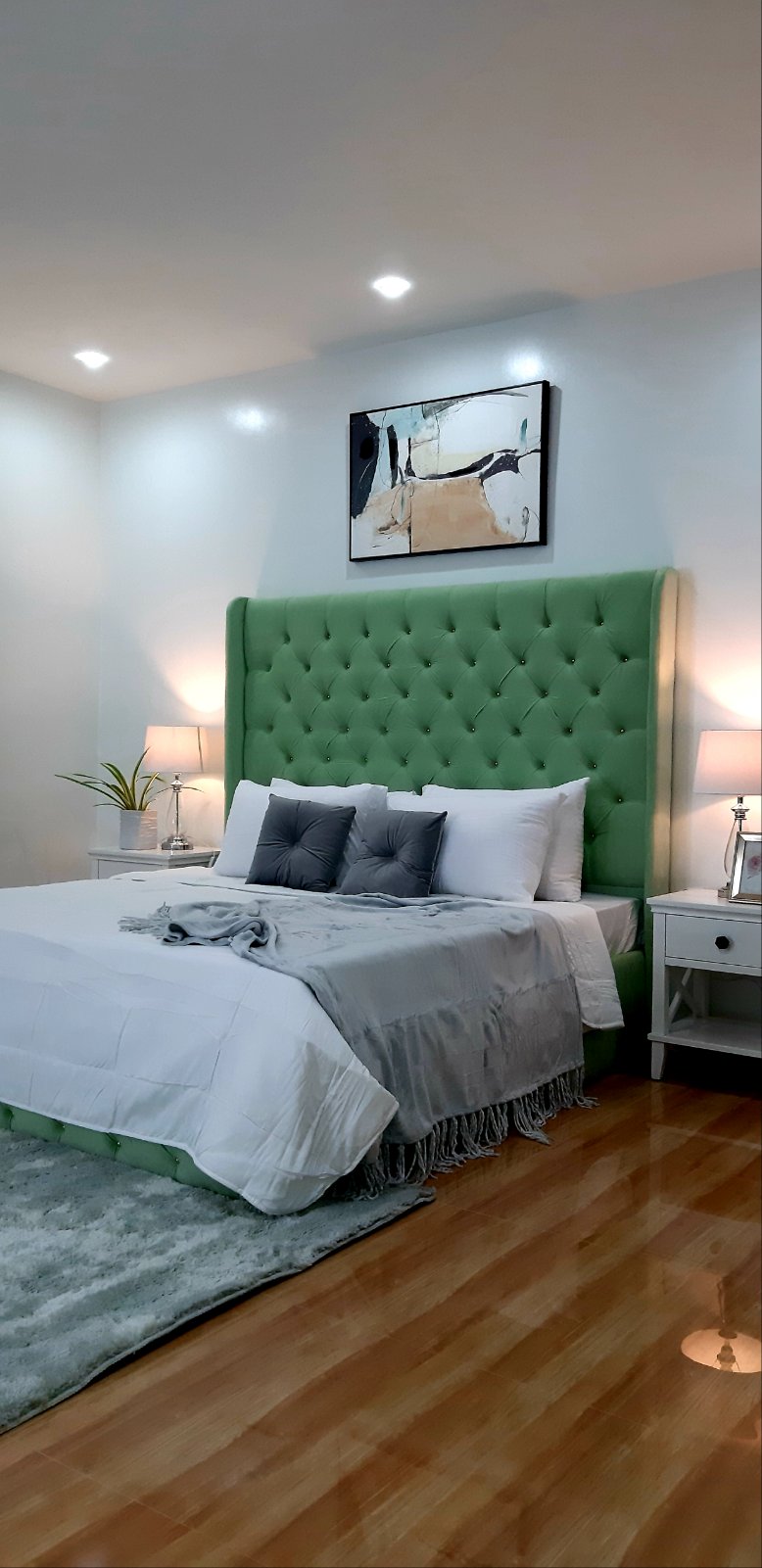 Simple and hotel-like, the master bedroom is dominated by neutrals, with the tufted headboard in green serving as an accent piece/color.
ADVERTISEMENT - CONTINUE READING BELOW
Powder Room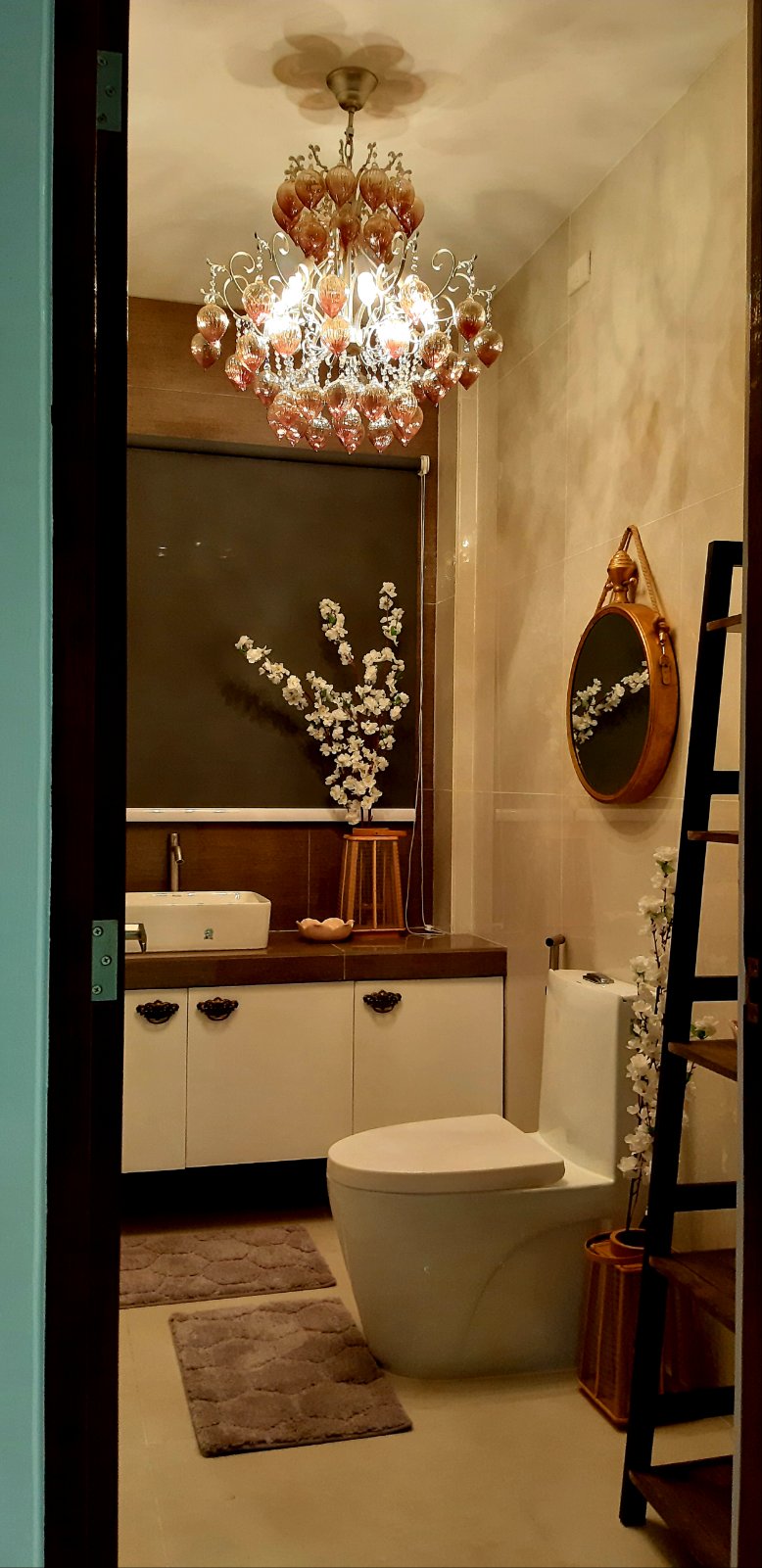 Mirroring the look and feel of posh hotel lobbies, the powder room features a slim shelf to keep clutter at bay, luxe décor pieces, and an enchanting Italian chandelier that helps create an illusion of height and space.
ADVERTISEMENT - CONTINUE READING BELOW
Second Floor Seating Area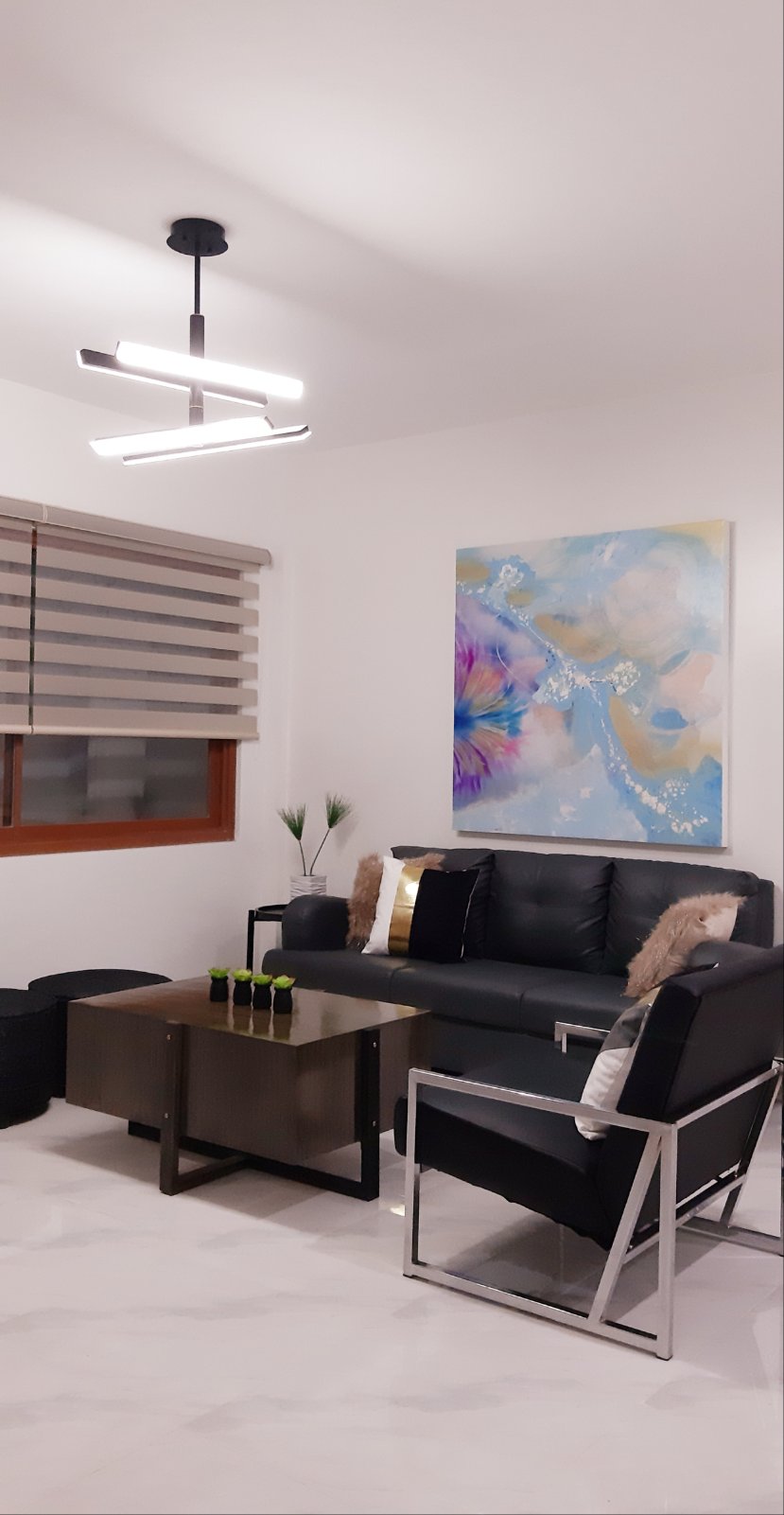 The owners take entertaining guests seriously – it seems everywhere you look, there's a seating area where you can hang out and chat with friends. This seating area is completed with comfy pieces and a lovely work of art that balances out the dark tones.
ADVERTISEMENT - CONTINUE READING BELOW
Roof Deck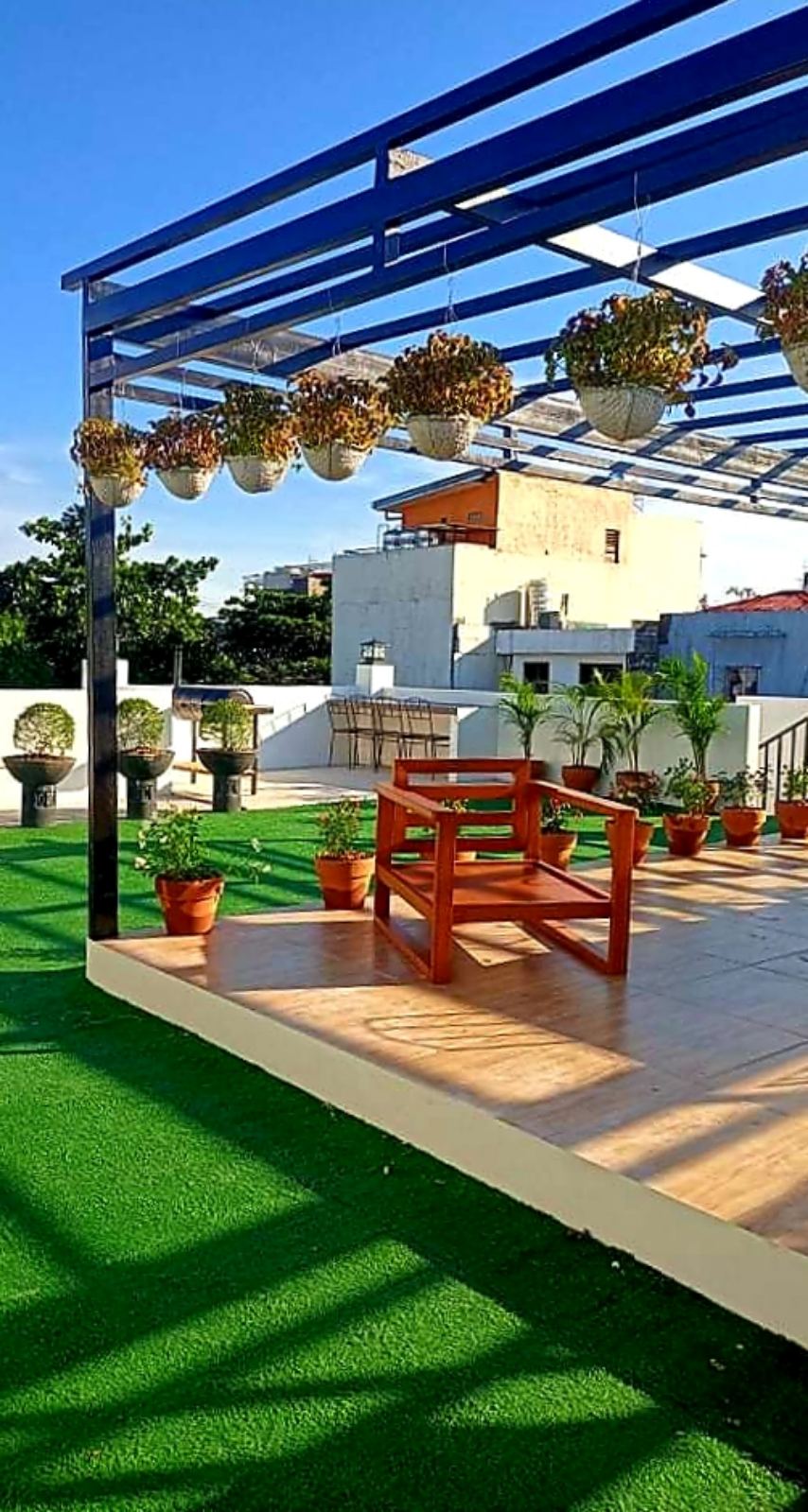 It's safe to say the owners won't miss going out much, especially with a roof deck as spacious and beautiful as this. "The roof deck has its own kitchenette, dining area, living area, daybed, and a bathroom," shares Grace. Since the structure of the roof deck is made of steel, faux turf was installed to create a sprawling garden feel.
ADVERTISEMENT - CONTINUE READING BELOW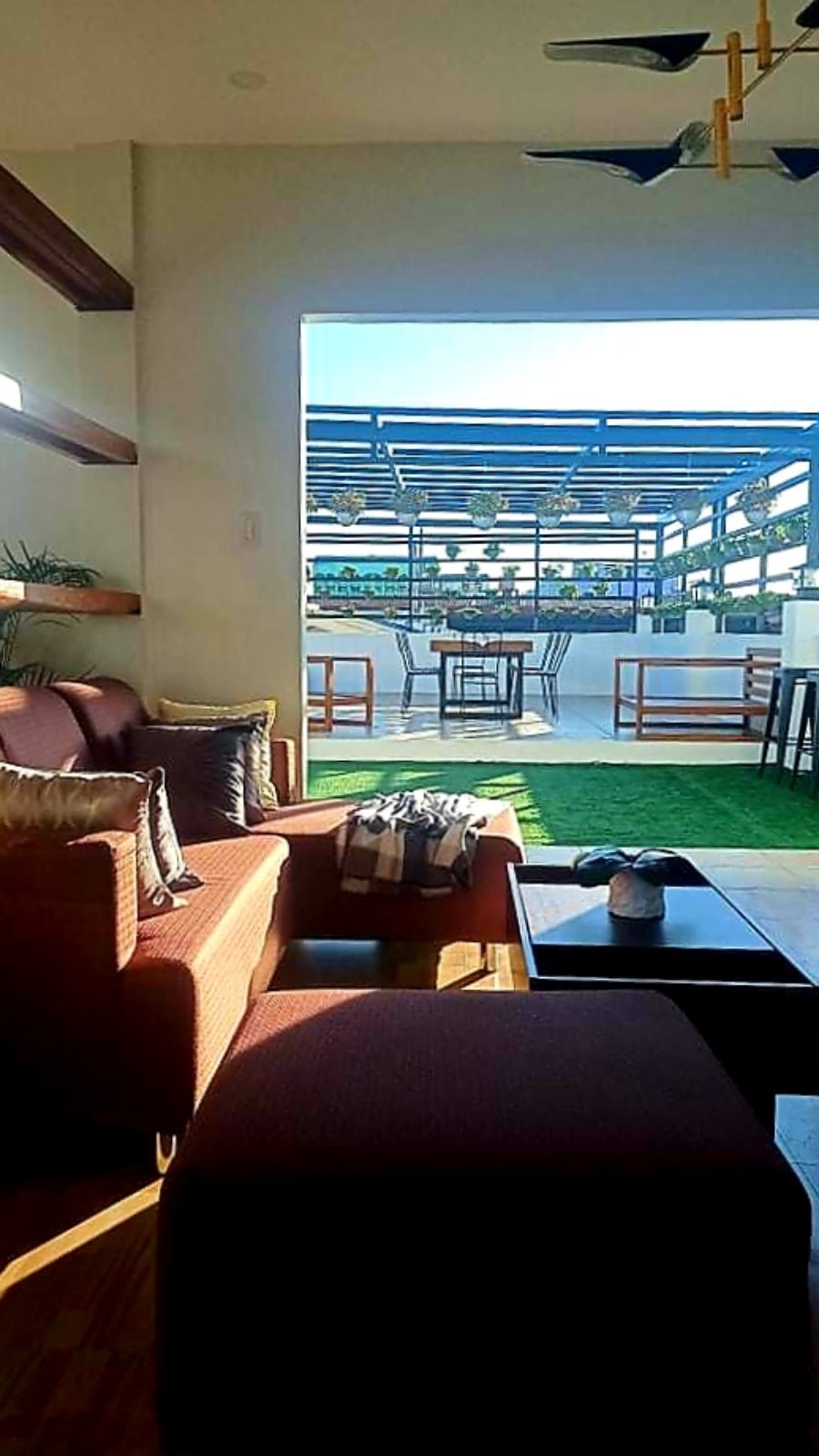 According to Grace, the roof deck can be treated as a second home within the main house because of its complete amenities. It can be used as a venue for family gatherings or a place where the children of the owners can entertain their friends.
ADVERTISEMENT - CONTINUE READING BELOW
Get in touch with design consultant Grace Moslares and Magara Designs through mobile at (0927) 715-1393 or e-mail magarainteriors[at]yahoo.com. You can also follow them on Facebook: facebook.com/magaradesigns.
More on Realliving.com.ph
Real Living is now on Quento! Enjoy more of our stories by clicking here to download the app.
Load More Stories