Houses
This Home Has a Mini Resort with Its Own Galaxy-Inspired Room
Every day feels like a vacation in this house extension Photography: OLA Interior Photography Interior Designer: Dianne Versoza of VRSO Interiors
It's safe to say that many, if not all of us, cannot wait to go on a vacation when it's safer to do so. While we're waiting for things to get better, we've all made adjustments around the home to make it as comfortable as possible. In this family home, the owners took it to another level by working with interior designer Dianne Versoza to build a house extension.
"This is the garage area of their house and we built the new leisure areas on top of it. For this project, I ensured that the interior is more appealing because it's experiential. Each room has a different mood and serves the needs of the owners so they won't feel the need to go out or miss going on vacations," the designer explains.
Dianne and her team achieved the relaxing resort vibe, creating rooms that are perfect for leisure and entertainment. The owners don't have to leave the house whenever they want a massage, a salon treatment, or a quiet movie night. "It's like being transported to different worlds without stepping out," Dianne muses.
ADVERTISEMENT - CONTINUE READING BELOW
Take a look around the house extension project below:
CONTINUE READING BELOW
Recommended Videos
Outdoor Area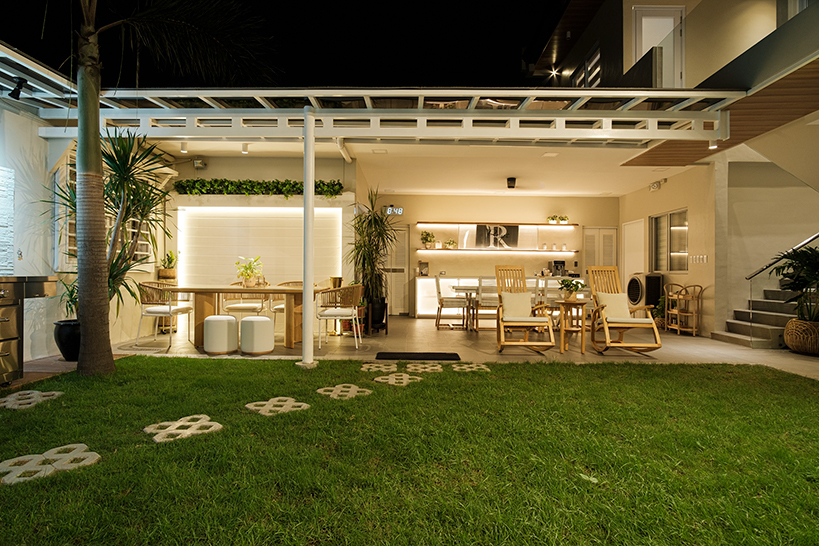 Since the house already has a spacious outdoor area, the design team focused on maximizing the space to make it more welcoming and perfect for family gatherings. Dianne loves working with lighting and she made sure the outdoor area is well-lit even at night.
ADVERTISEMENT - CONTINUE READING BELOW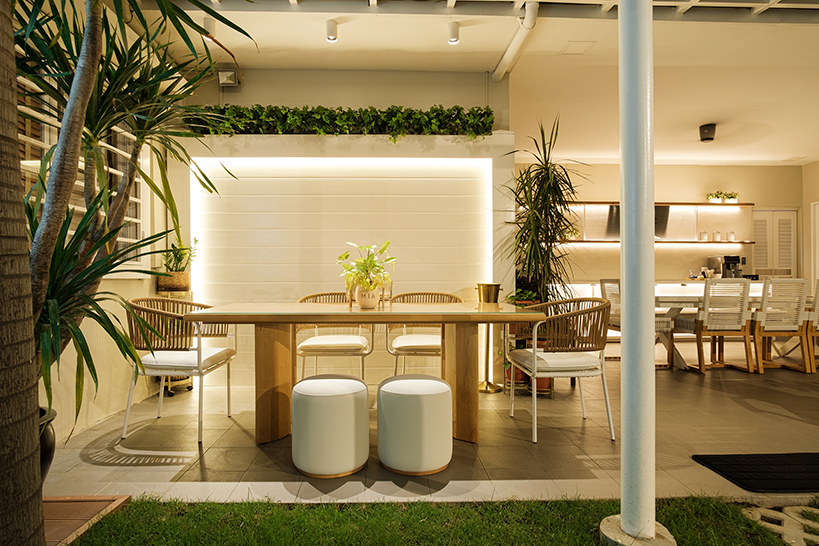 The al fresco dining area is reminiscent of resorts – thanks to the mix of furniture pieces. Complementing the wooden dining table are mismatched seating pieces that can accommodate six more people. More family members and guests can enjoy meals in the dining table near the food prep area.
ADVERTISEMENT - CONTINUE READING BELOW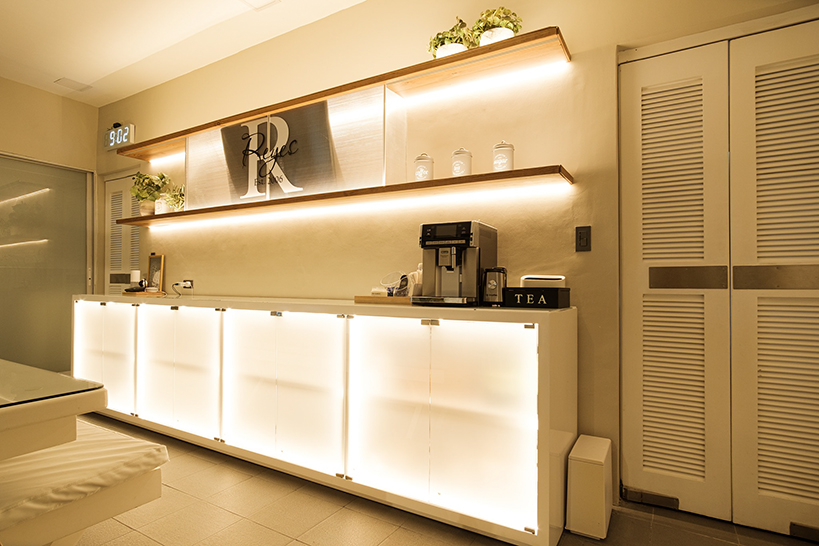 To elevate the aesthetic of this compact food prep space, Dianne opted for frosted cabinet doors that help conceal the items kept inside. The lighting inside the cabinets help keep the area illuminated as well.
Pool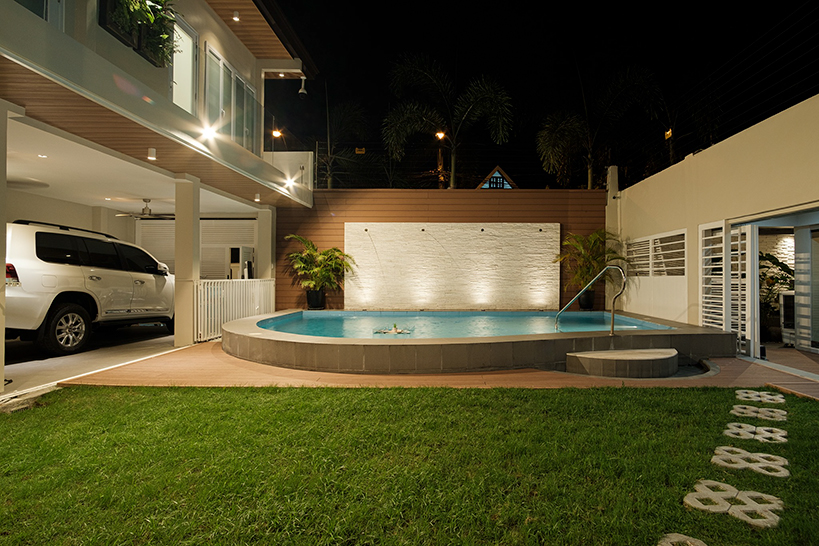 ADVERTISEMENT - CONTINUE READING BELOW
We're sure the owners love taking a dip in their pool accentuated by lighting and striking wall treatments. From the outdoor dining nook to the pool area, you can feel the calming resort-like vibe.
Wellness Room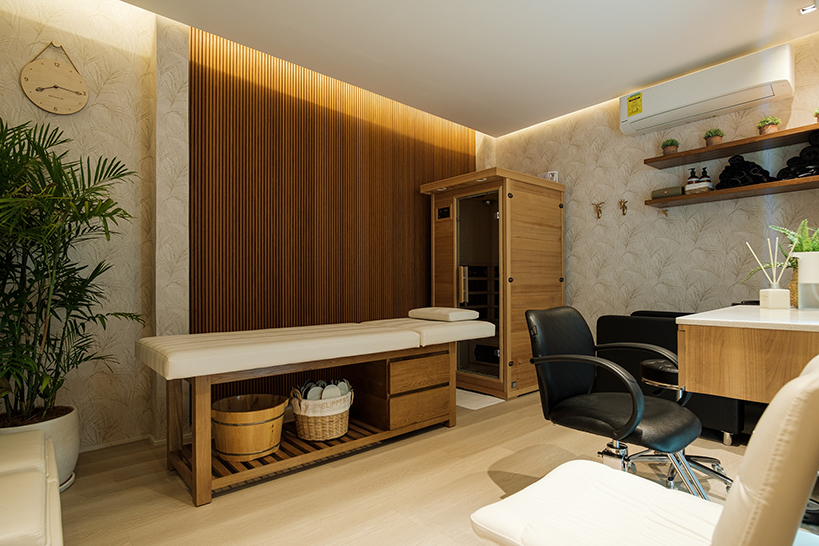 It's no secret that many of us going to spas to get a quick pampering session. To give the owners their own spa, Dianne completed this room with a massage area, a sauna, and a mini salon.
ADVERTISEMENT - CONTINUE READING BELOW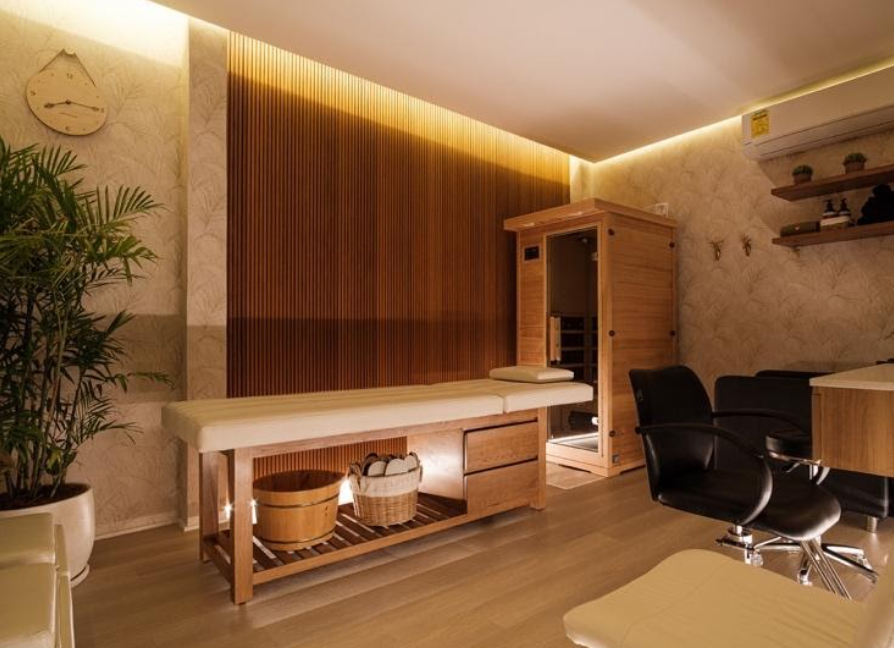 The room can rival any spa with the design team's expert use of lighting. Mood lights instantly create that soothing ambiance that can help make anyone feel relaxed.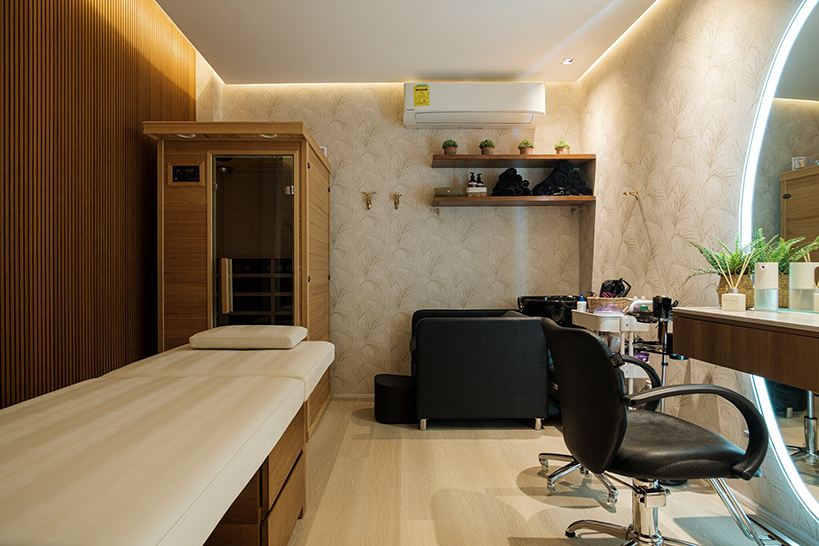 ADVERTISEMENT - CONTINUE READING BELOW
At the far end of the room is the shampoo area. To prevent the wallpaper from getting wet, Dianne had a rod and short shower curtain installed. There are also enough shelves and organizers where salon essentials can be kept.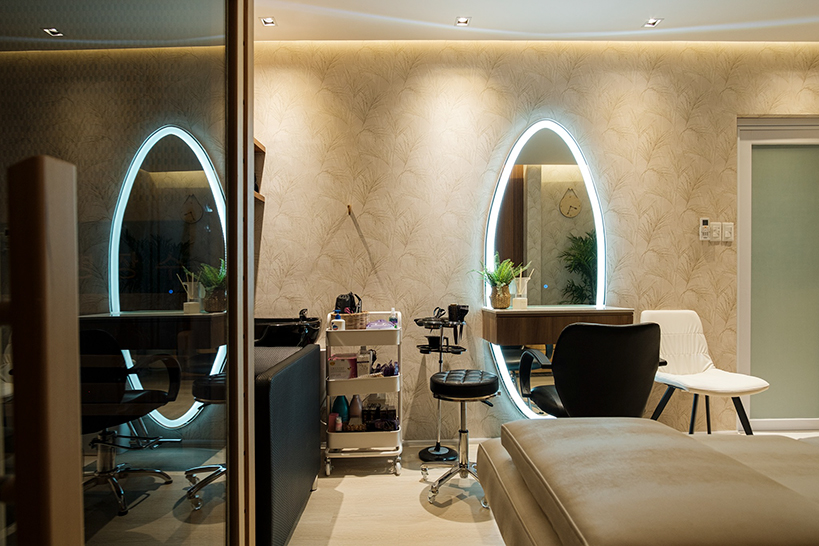 A vanity area completes the salon part of the wellness room. The unique lighted mirror doubles as a wall accent as well.
ADVERTISEMENT - CONTINUE READING BELOW
Guest Room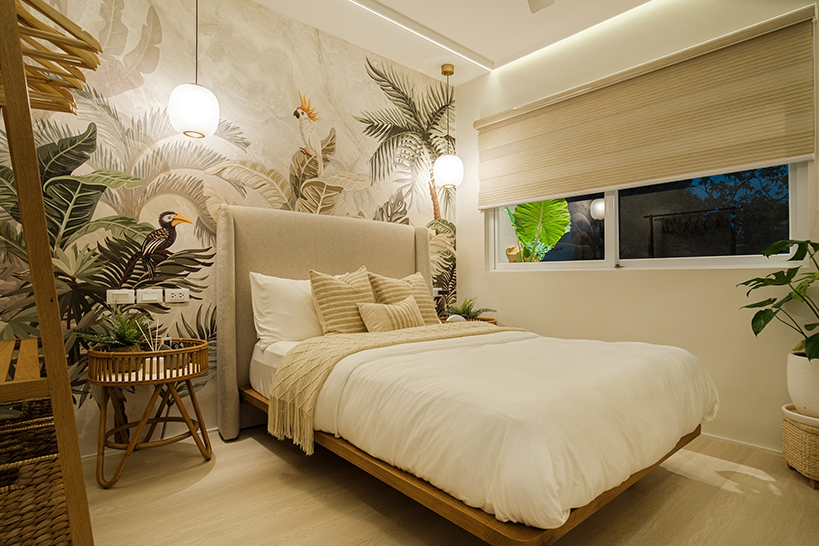 The guest room showcases a tropical-inspired aesthetic – from the wallpaper, furnishings, and chosen materials. "I focused on a simpler design and just used authentic materials like rattan and natural wood which made the space incredibly comforting," explains Dianne. To spruce it up, the designer also added accent pillows and a macrame piece.
ADVERTISEMENT - CONTINUE READING BELOW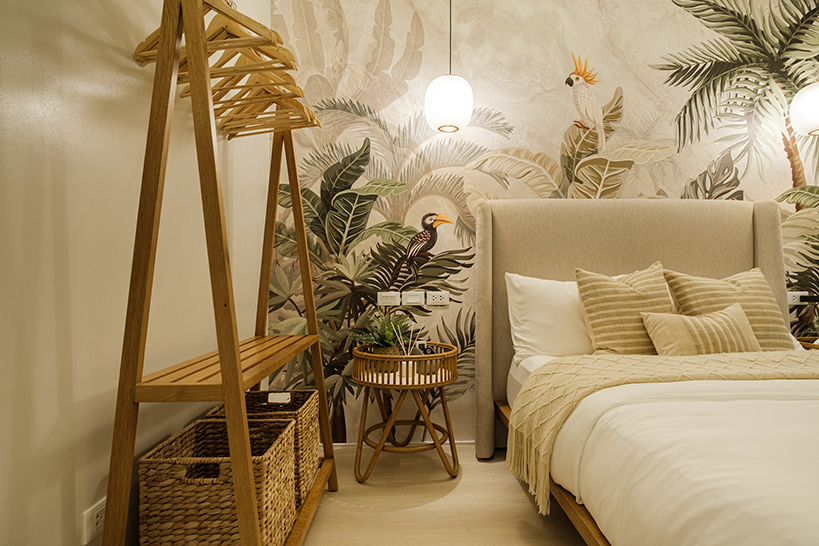 Instead of adding a bulky cabinet, the designer placed an open closet which goes well with the room's overall look and complements the bedside furniture piece.
Bathroom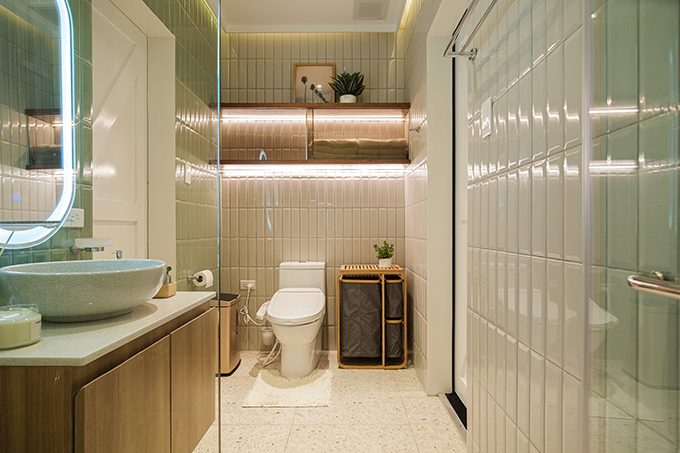 ADVERTISEMENT - CONTINUE READING BELOW
The bathroom is simple yet elegant, with sleek tiles that give it a modern appeal. By keeping it clutter-free and completing it with luxe fixtures, Dianne and her team were able to create a T&B that will remind the owners of posh hotels.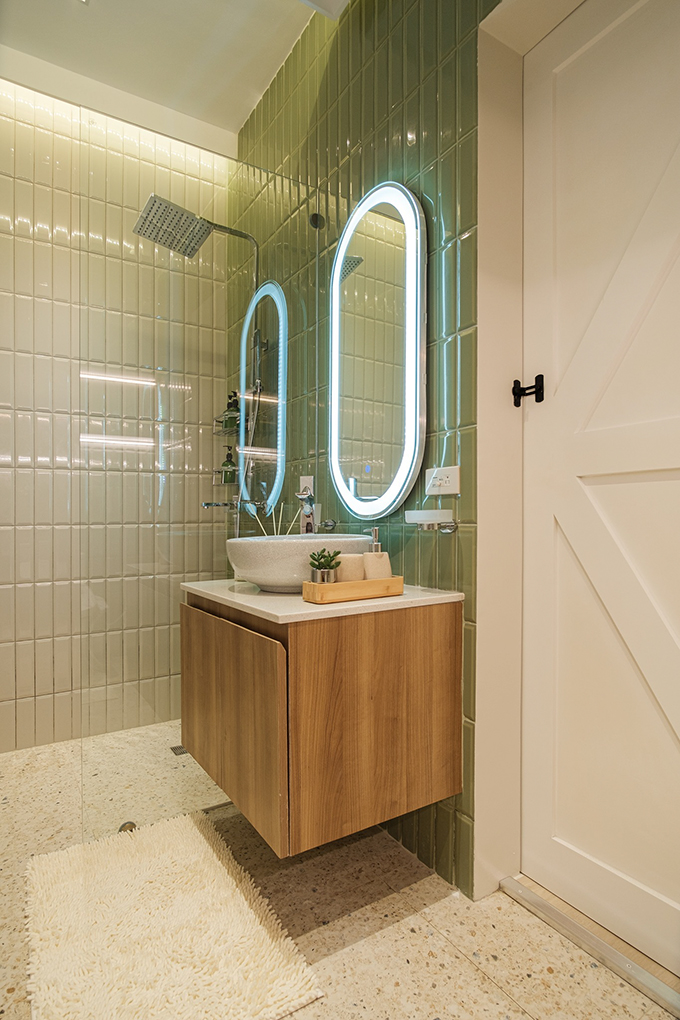 The lighted mirror in the T&B has a feature that allows the owners to adjust the light according to their needs.
ADVERTISEMENT - CONTINUE READING BELOW
Entertainment Room / Galaxy Room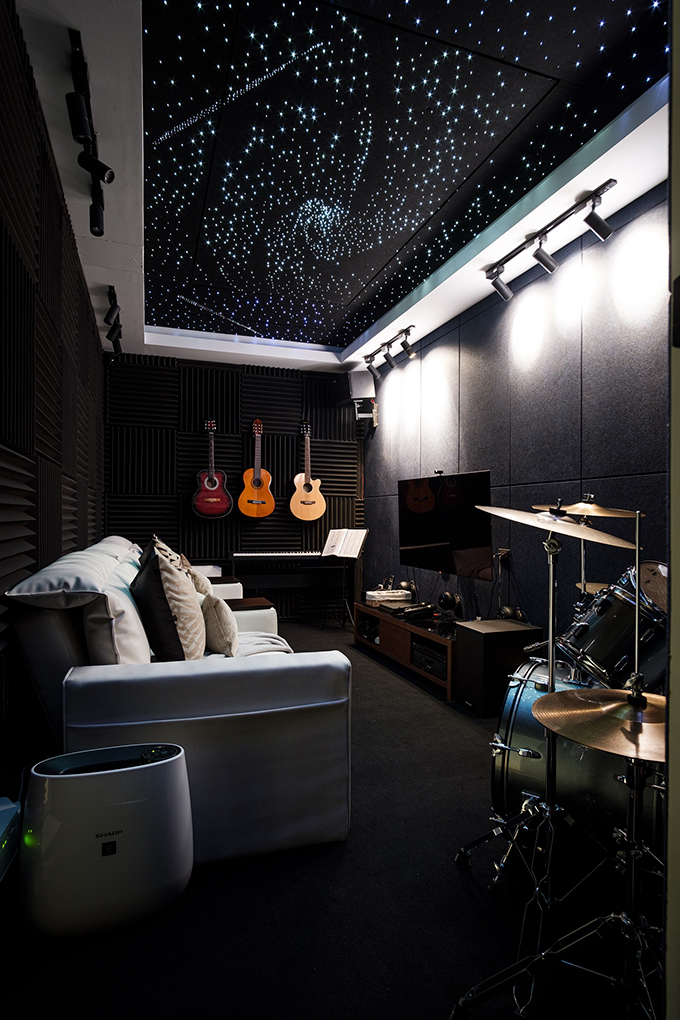 The highlight of the house extension project is the entertainment / galaxy room where the owners can enjoy movie marathons, play musical instruments, or simply spend some quiet time.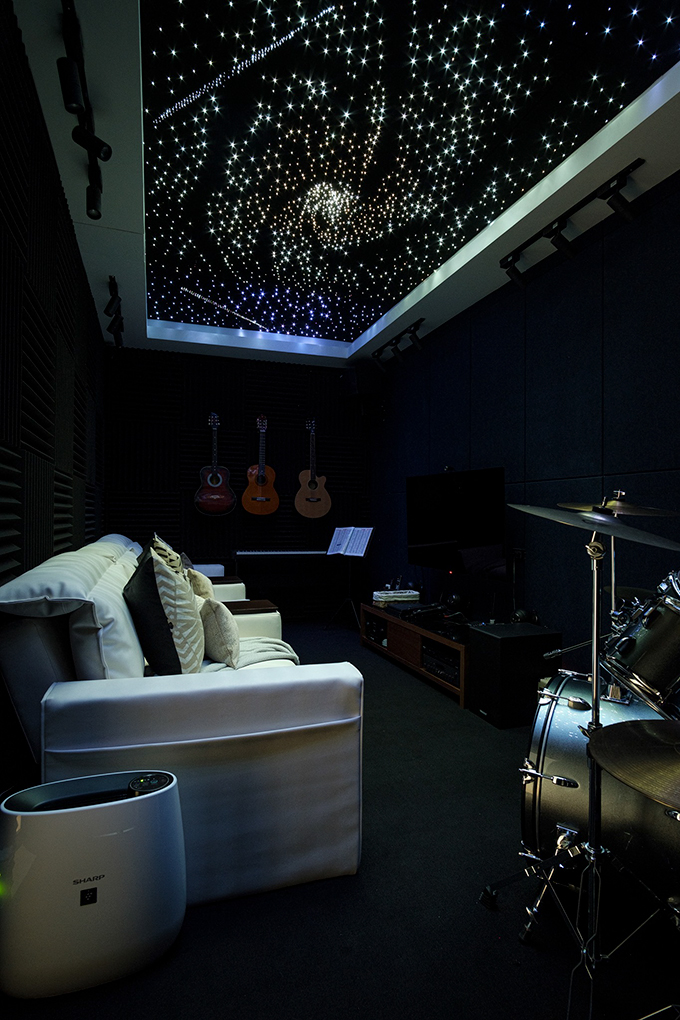 ADVERTISEMENT - CONTINUE READING BELOW
"We used plain acoustic panels in a dark color to soundproof the space and make sure it has good acoustics," says Dianne.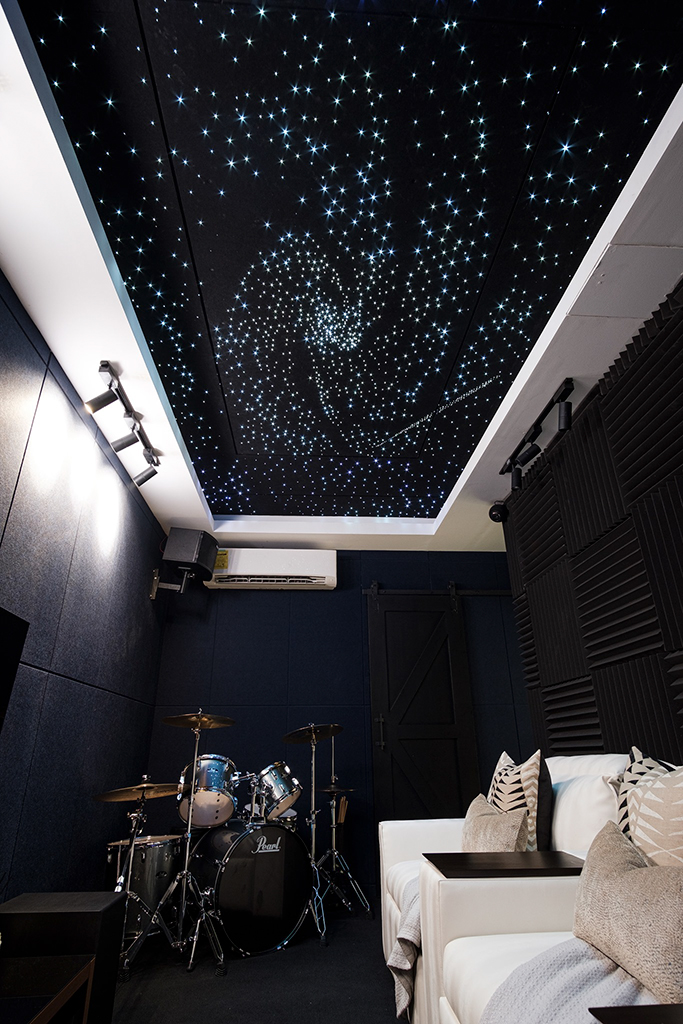 To keep the room from being too plain, she thought of creating a galaxy ceiling using LED lights. The lights can make the owners feel like they're relaxing under the night sky as Dianne made sure there are streaks of light that look like shooting stars. 
ADVERTISEMENT - CONTINUE READING BELOW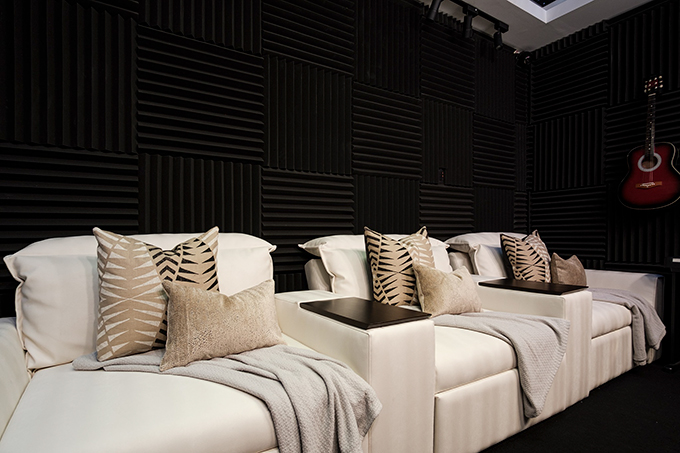 The comfy seats customized by Versoza Furniture can be converted into beds so that the room can be used as an extra sleeping space when needed. The wood in between seats can be lifted to reveal an outlet for charging gadgets, plus, there's enough space where snacks can be kept.
ADVERTISEMENT - CONTINUE READING BELOW
Ready for your own makeover? Get in touch with interior designer Dianne Versoza through email at versozadianne[at]gmail.com. You can also follow her on Instagram at @vrsointeriors.
More on Realliving.com.ph
Real Living is now on Quento! Enjoy more of our stories by clicking here to download the app.
Load More Stories