Condos
This Hotel-Inspired Condo Unit in Makati Is All About Contemporary Luxury
Interior designer Dianne Versoza brings urban elegance into this abode. Photography: Courtesy of Dianne Versoza Interior Designer: Dianne Versoza of VRSO Interiors
Oftentimes, staying in a plush hotel is synonymous to R&R—after all, top-notch accommodations can make an out-of-town trip more enjoyable—but have you considered creating a home that's just as elegant and relaxing? This is what inspired interior designer Dianne Versoza of VRSO Interiors in creating a refined yet cozy space in this unit at The Proscenium Residences in Rockwell.
"I've always been drawn to hotel-type designs for its clean, sophisticated, and striking appeal but I constantly consider that it's a home and must reflect the client's personality and own desires," Dianne shares in an email interview with Real Living. "I combined the two concepts to make it look elegant yet homey and livable."
Her contemporary luxe look brings together "sleek furniture, complementing decors, [and] contrasting textures and colors." Unlike the generic ornateness of many high-end hotels, however, Dianne's design focuses of customization, taking into account both the needs of the owner while carefully combining different materials that would give depth and create a diverse space with a unified look.
"It is a look that is refined yet still excites the eye," she says. "A space that will grow on you the longer you stay."
Foyer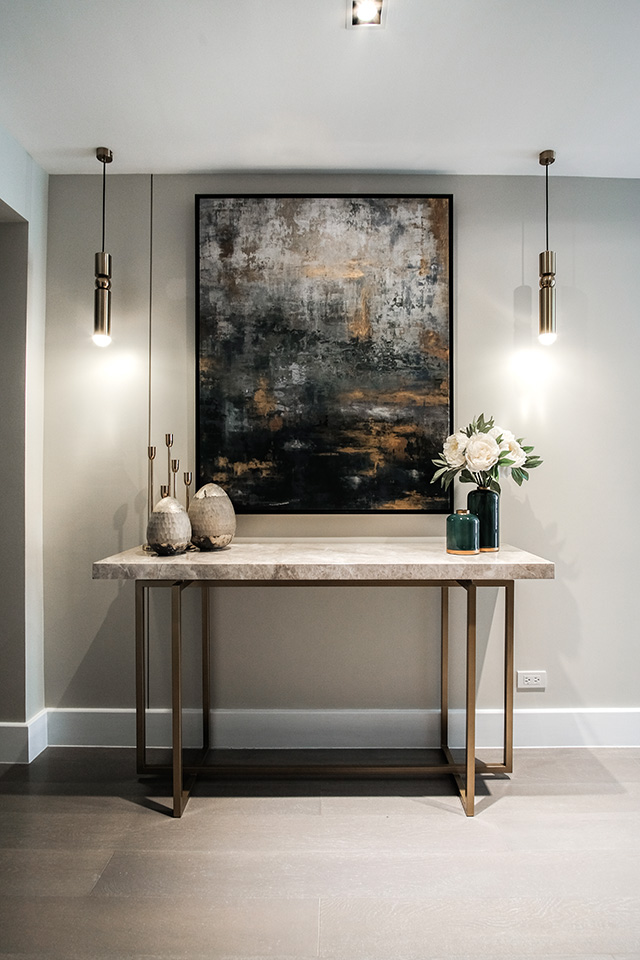 Guests are immediately given a sense of elegance upon entering the unit. A customized table combined with store-bought pendant lights and a painting sets the mood for the rest of the space.
ADVERTISEMENT - CONTINUE READING BELOW
Pedant light from Home Cartel | Painting from Crate and Barrel
Living and Dining Area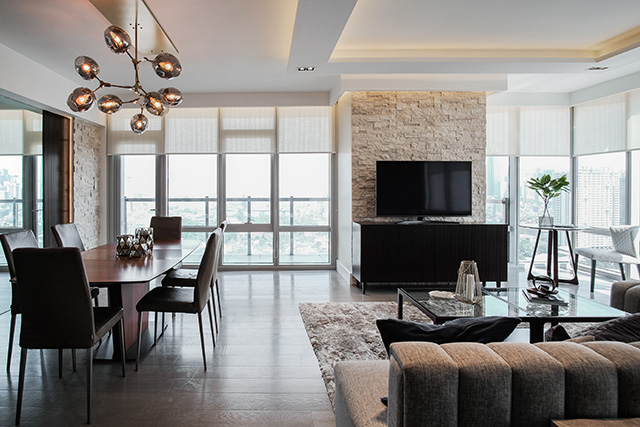 The space opens up to light, monochromatic palette highlighted by the corner unit's floor-to-ceiling windows, and accented by dark pieces for a luxe appeal.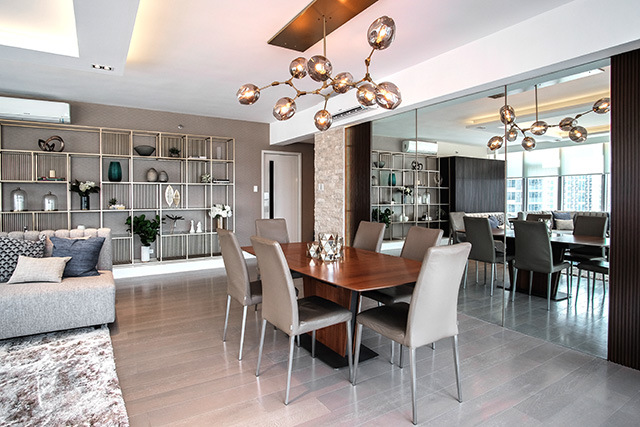 A mirror was added to the dining area to give the illusion of space. According to Dianne, it's position "brings prosperity to the family" in Feng Shui. Wood and stone border the installation for a sense of continuity.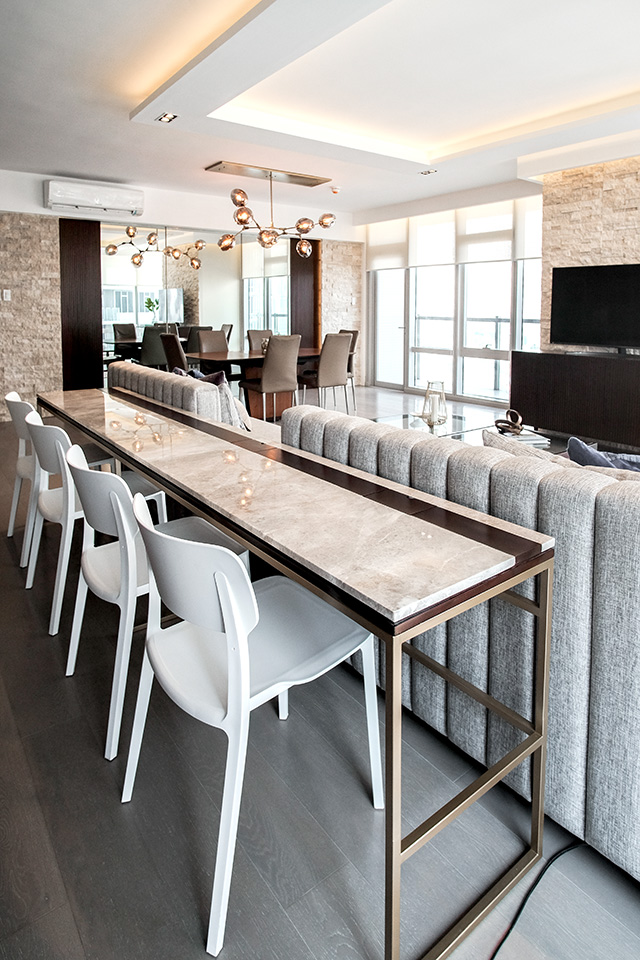 One of the owner's requests included a work and study area, as well as ample storage, which Dianne addressed with a custom-made study nook for four that comes with hidden electrical sockets for convenience. Behind it is a cabinet that acts as both accent and storage. It keeps necessary home office equipment such as a printer and a photocopier/scanner.
ADVERTISEMENT - CONTINUE READING BELOW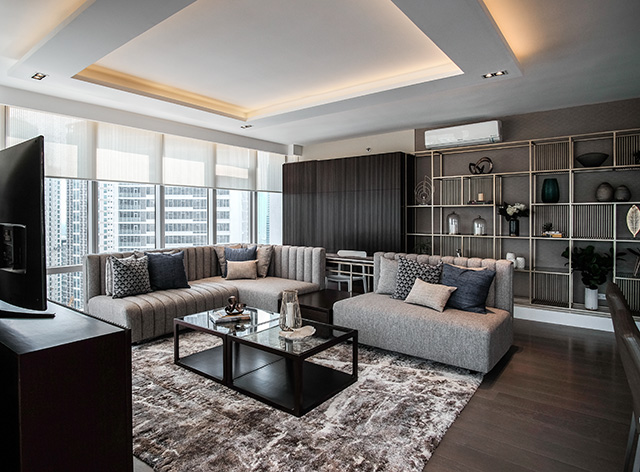 The study nook is situated behind a massive, custom-made sectional sofa which is the space's main piece. Custom-made glass top tables were used to "break" its size.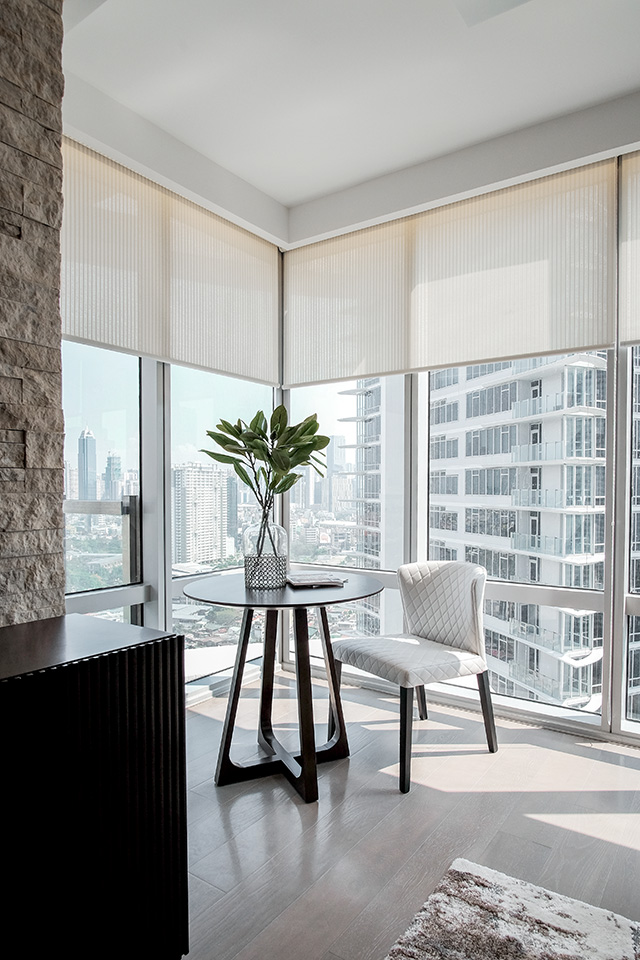 ADVERTISEMENT - CONTINUE READING BELOW
One of the highlights of the space is is this window corner. "This area can be for morning coffee, reflection, reading or working with a view," says Dianne. "Cove lighting was added for a cozy effect at night while the sunscreen with a vertical pattern wasn't just for shade but also adds more charm to space."
White chair from Crate and Barrel
Master Bedroom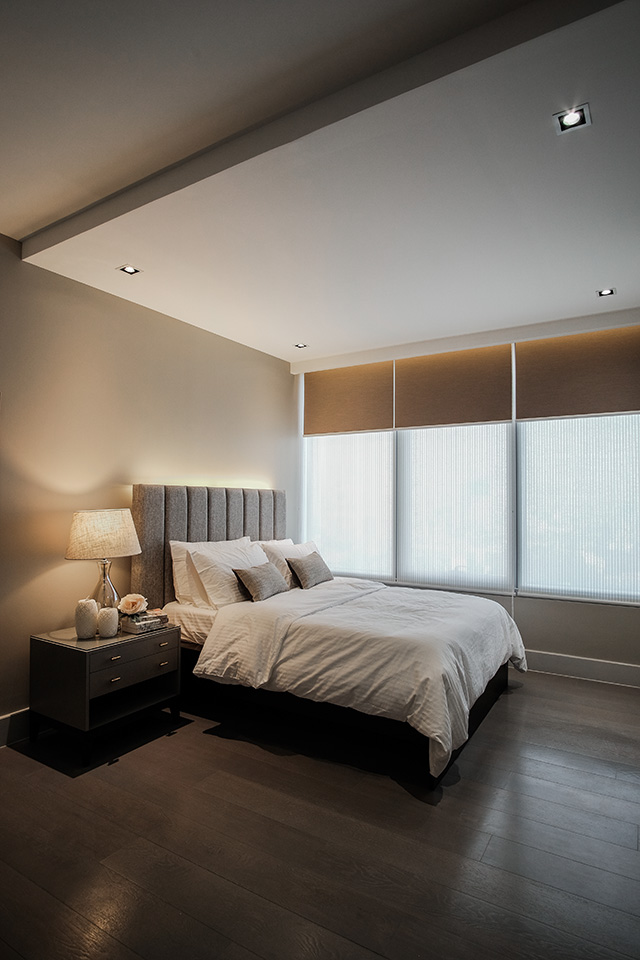 ADVERTISEMENT - CONTINUE READING BELOW
The hotel vibe continues into the master bedroom, but with an added touch of warmth and personalization. Diane explains that window coverings for the bedrooms in the unit have two layers. "The first layer is the sunscreen, to filter the daylight coming in, and the second [consists of] blackout blinds, not just to shield the light, but also to give privacy for the occupants."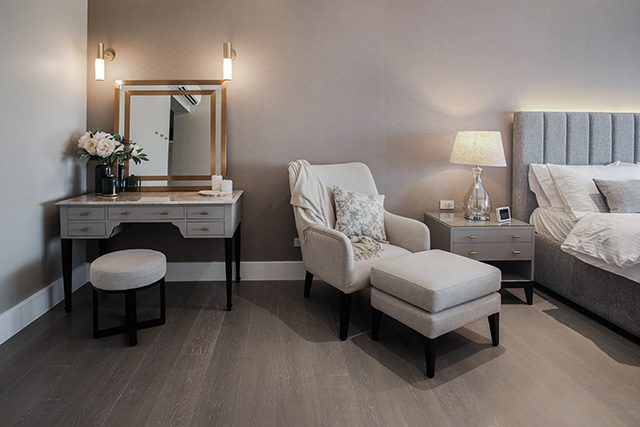 ADVERTISEMENT - CONTINUE READING BELOW
From the monochromatic walls to the arm chair and footstool, the room is all about a homey luxury. Aside from lamps, cove lights were also added for coziness.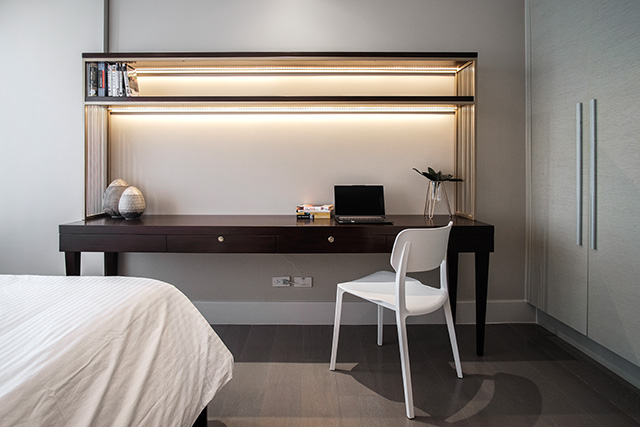 The bedroom also has a tiny office in case the owner needs a quiet, secure area to work.
ADVERTISEMENT - CONTINUE READING BELOW
Lamps from Our Home
Dianne notes that while an interior designer can help you with creating the space you want, the entire feel of your home should your decision. Knowing the vibe you'd want to exude can make picking the best palette and pieces much easier. "Is it calm, warm, cozy, bright, or lively? From there, you can decide on the colors and textures that corresponds that feeling."
Remember, however, that while your space should look tasteful, it also has to be functional. "Imagine yourself living in the space and think of the things that you want to experience and list the most important functions/things in your home that you can't live without.
"Start with that and as soon as your needs are satisfied, then, you can focus on the other things that you can still add up. Choose the decorations that will resonate your personality and always invest on the quality as your home is your safe haven and a worthy investment for your soul."
ADVERTISEMENT - CONTINUE READING BELOW
Hoping to invest in your own space or to redesign your current home any time soon? Contact IDr. Dianne Versoza of VRSO Interiors. You may call her at 0917-6295924 or 2504-0150. You may also follow VRSO Interiors on Facebook and Instagram.
Want us to feature your home or your project? Send your photos to r[email protected], and we may just pick your submission!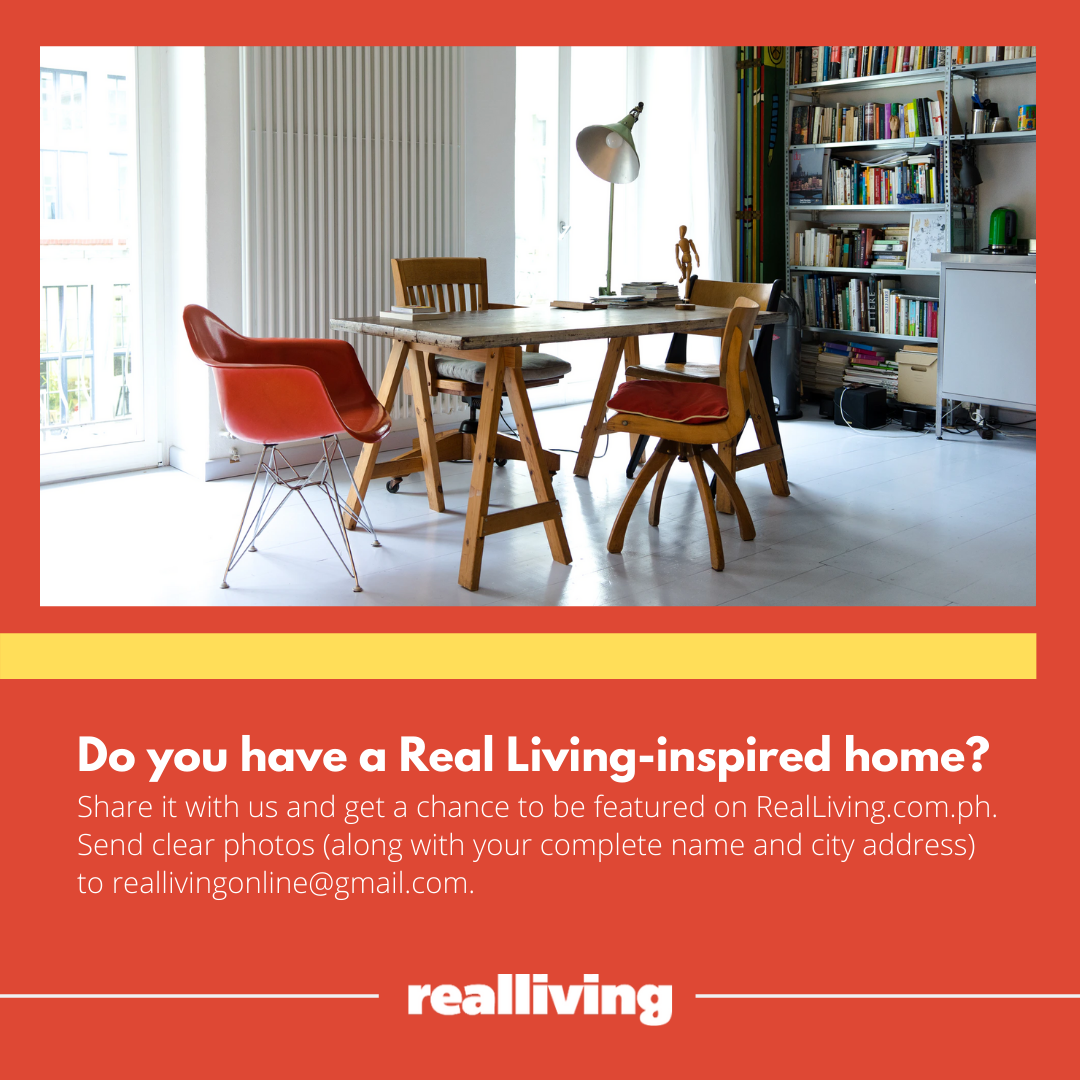 ADVERTISEMENT - CONTINUE READING BELOW
More on Realliving.com.ph
Load More Stories