Houses
You Need to See This Floating Farmhouse in Batangas
Designed and built by Minimalist Architects PH, it features a wrap-around fish pond and a swimming pool Photography: courtesy of Minimalist Architects PH Architect: Ar. Gelo Honorica | Minimalist Architects PH
At first glance, this home will immediately remind you of houses featured in telenovelas because of its structure and façade. Designed and built by Minimalist Architects PH, this floating farmhouse is located in Ibaan, Batangas features three bedrooms, two bathrooms, and a powder room. What makes it unique though is the wrap-around fish pond that you don't normally see in Pinoy homes.
"The client sent us a design peg with a pond. From there, we already knew what to do and how we'll execute it. This is inspired by old-school, cowboy-ish buildings with a touch of minimalism," shares architect Gelo Honorica who is the owner and principal architect of Minimalist Architects PH.
ALSO READ:
After Selling Their Property in Manila, This Family Moved to Laguna and Built a Black Farmhouse
Building Your First Home? You Need to See This Tiny House in Batangas
Since the client specifically requested to have a fish pond, Ar. Gelo made sure it is an integral part of the house. The pond doesn't just make the owners feel like they're one with nature, it's what completes the floating farmhouse. "If you remove it, it wouldn't be the same farmhouse. It will just be a typical house," says the architect.
Take a peek inside the house below:
Façade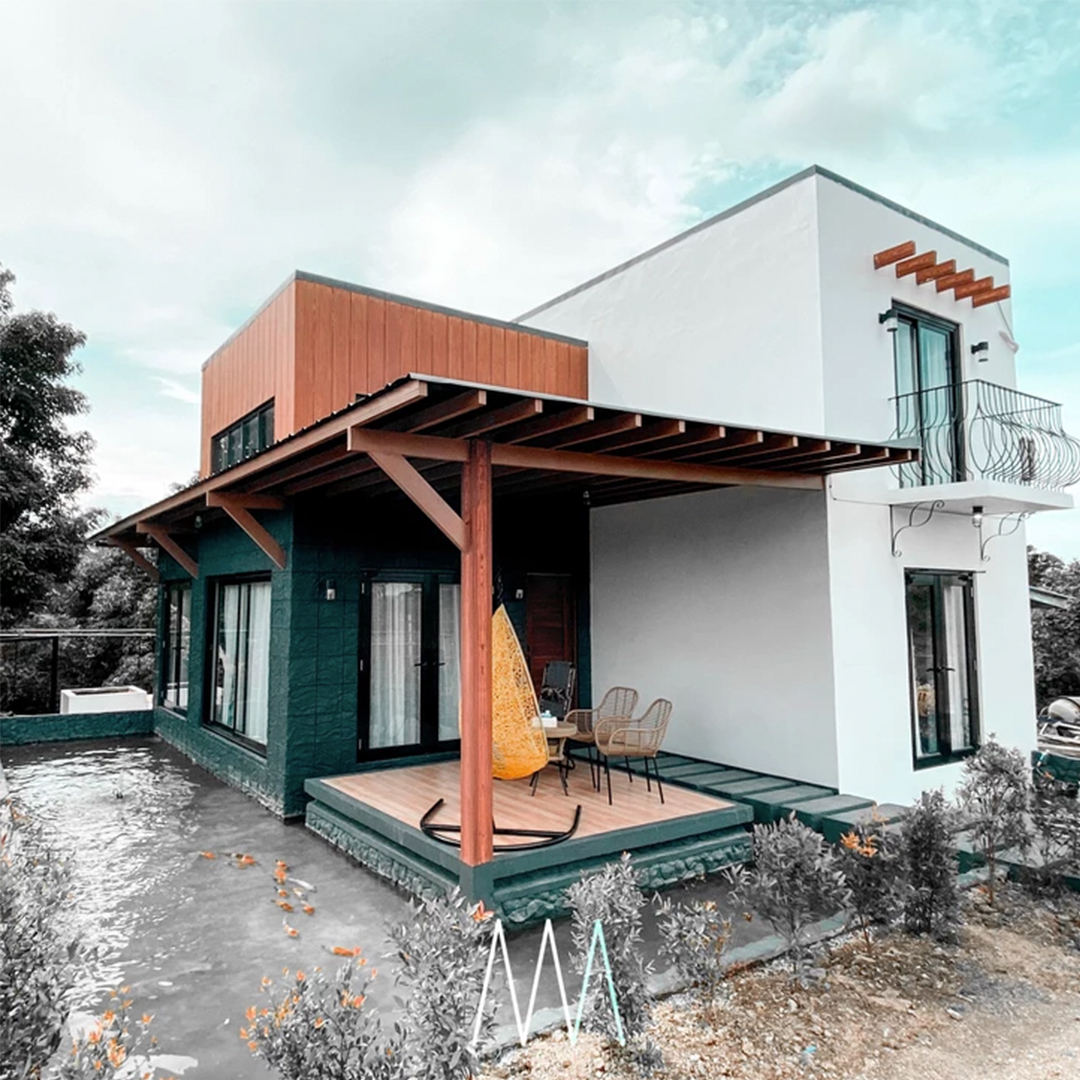 ADVERTISEMENT - CONTINUE READING BELOW
According to Ar. Gelo, the design concept of the home is more minimalist-meets-Mexican. "This is located inside a farm so we thought of old South American-type structures," he says. From this angle, you'll immediately see the wrap-around fish pond that doesn't just add aesthetic flair to the house, but also serves as a natural cooling system for the entire house.
On the left is a floating lanai that also functions as an extension of the living area where the owners can hang out or entertain guests.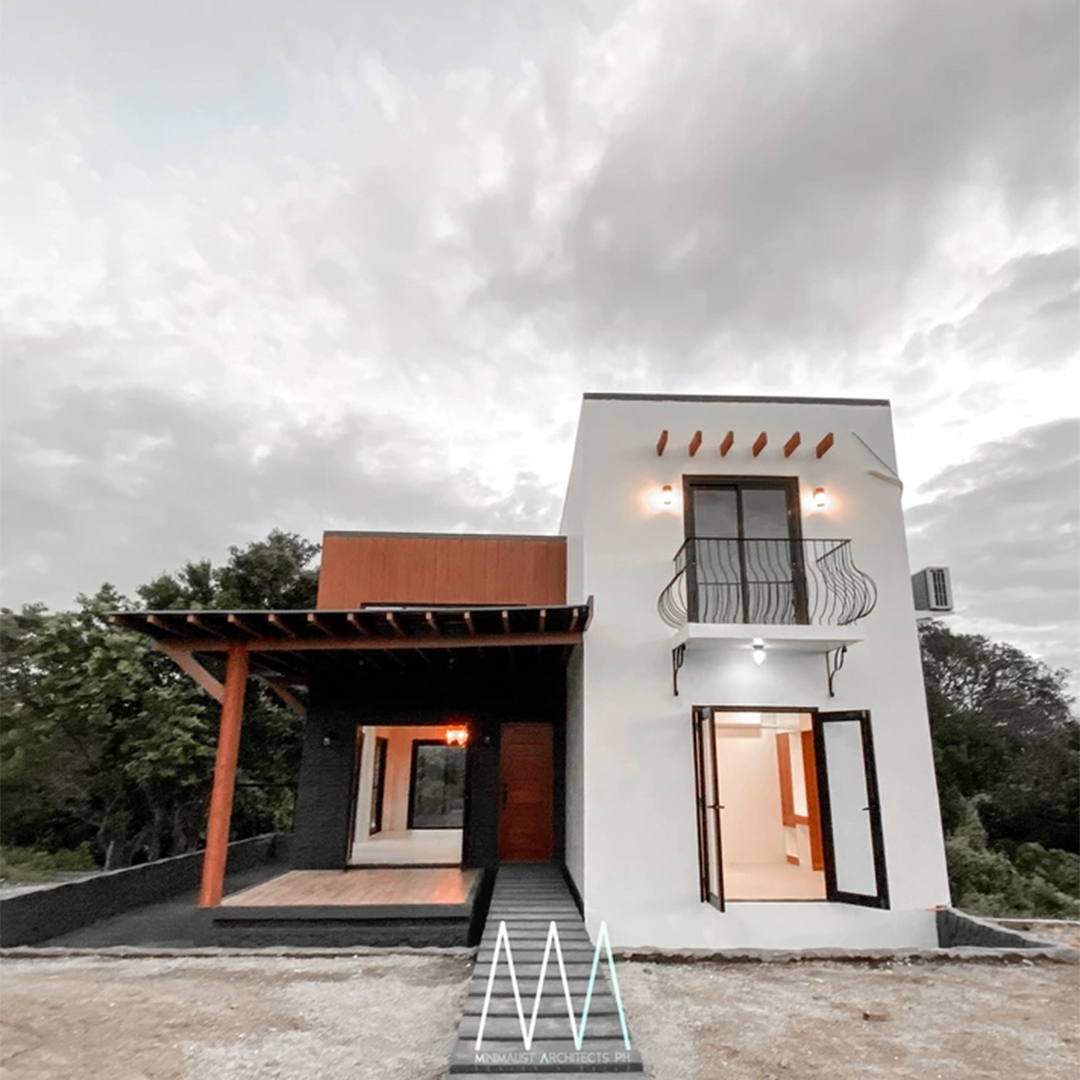 "We paired the pond with full-swing glass doors that can be opened for natural ventilation and lighting which makes the house highly energy-efficient. To complement the surroundings, Ar. Gelo worked with rustic wood textures and black stones. "The off-white color delivered a contrasting feature, making it pop out a bit without being 'too loud,'" he shares.
READ: How A Couple Renovated Their Old House Into a Farmhouse-Inspired Home
Living and Dining Areas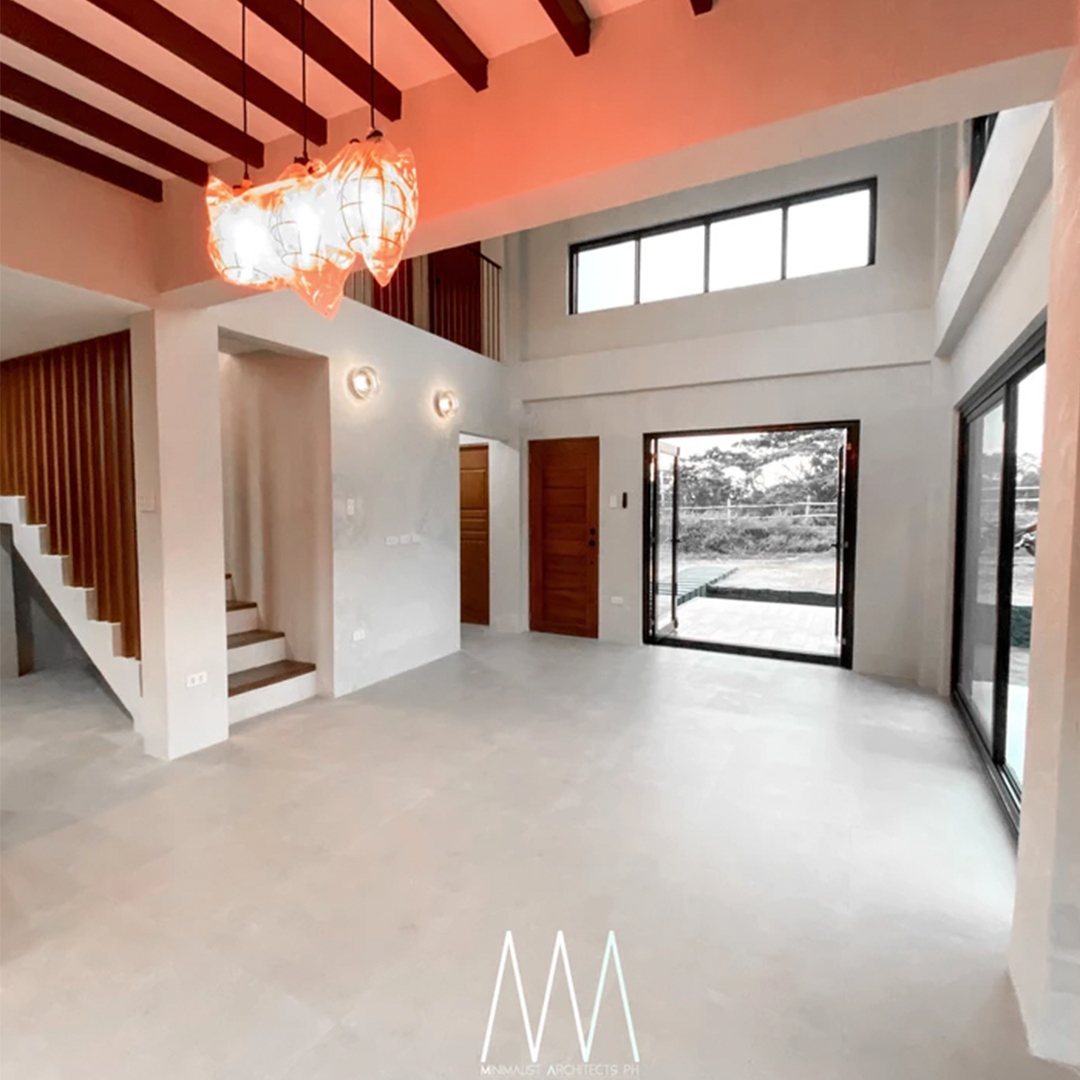 Ar. Gelo believes that when it comes to design, "simplicity is powerful." The interiors feature walls with rustic white and wood combination. With this as a backdrop, furnishing and personalizing the space can be easier.
Interiors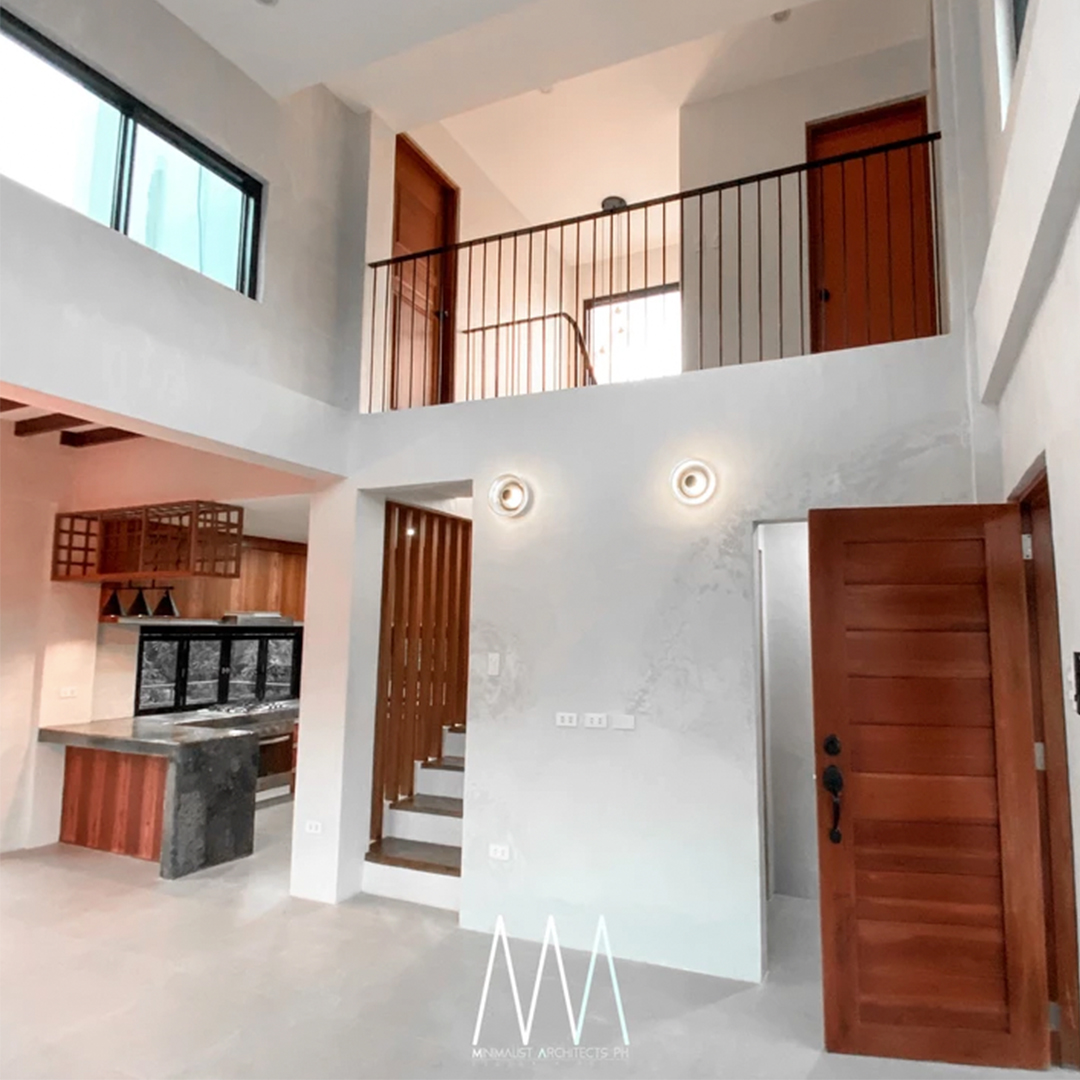 ADVERTISEMENT - CONTINUE READING BELOW
From this view, you can see the house also features a high ceiling, which also aids in ventilation in addition to making the space look bigger than it really is. The aesthetic is cohesive, with wooden touches adding warmth to the home.
READ: Architect Shares Tips on Home Ventilation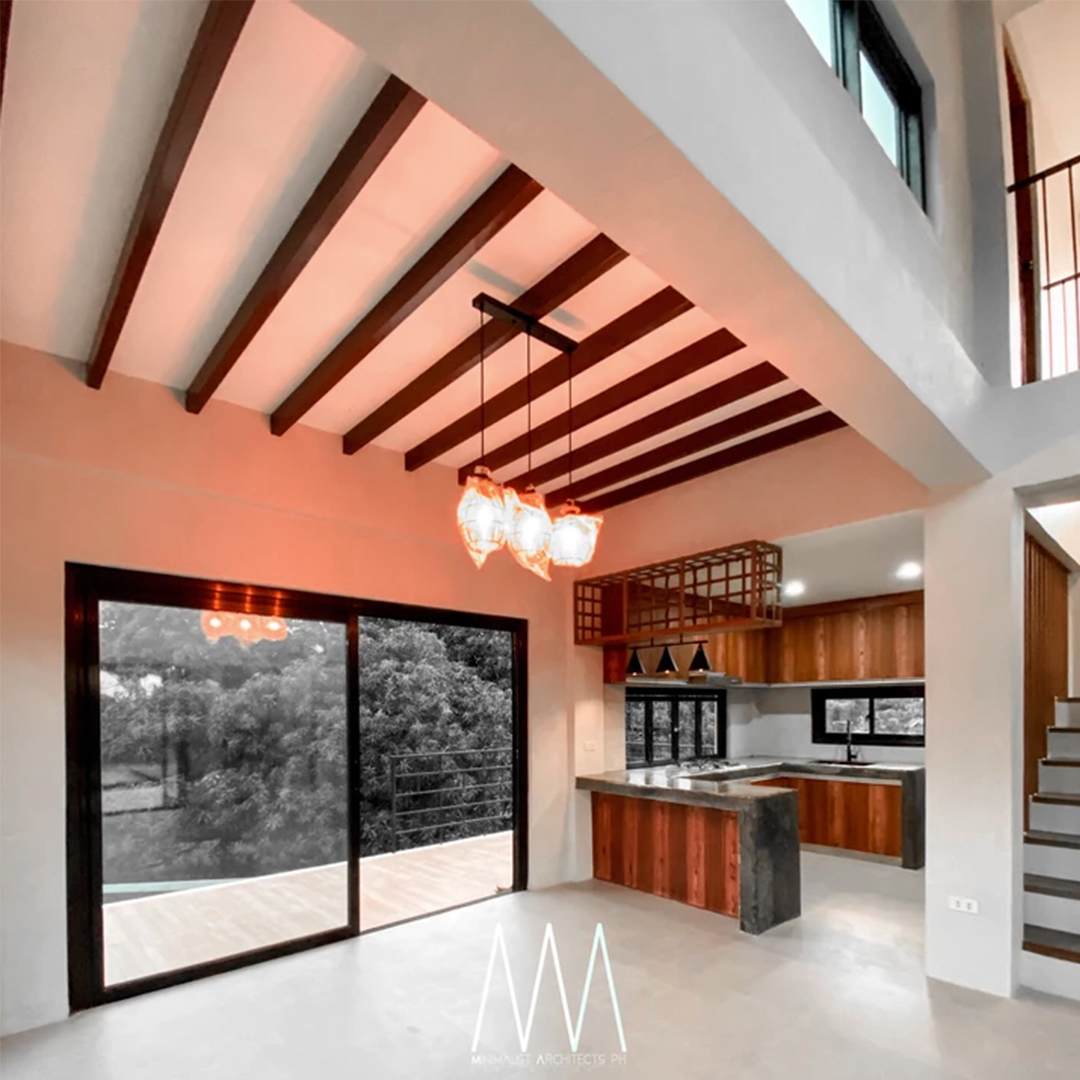 Glass sliding doors welcome nature into the house, letting natural light stream into the space. "We successfully broke the barrier between the indoor and outdoor spaces, without literally doing it," says Ar. Gelo. "The clients can feel the outdoors without actually going outside," he adds.
Kitchen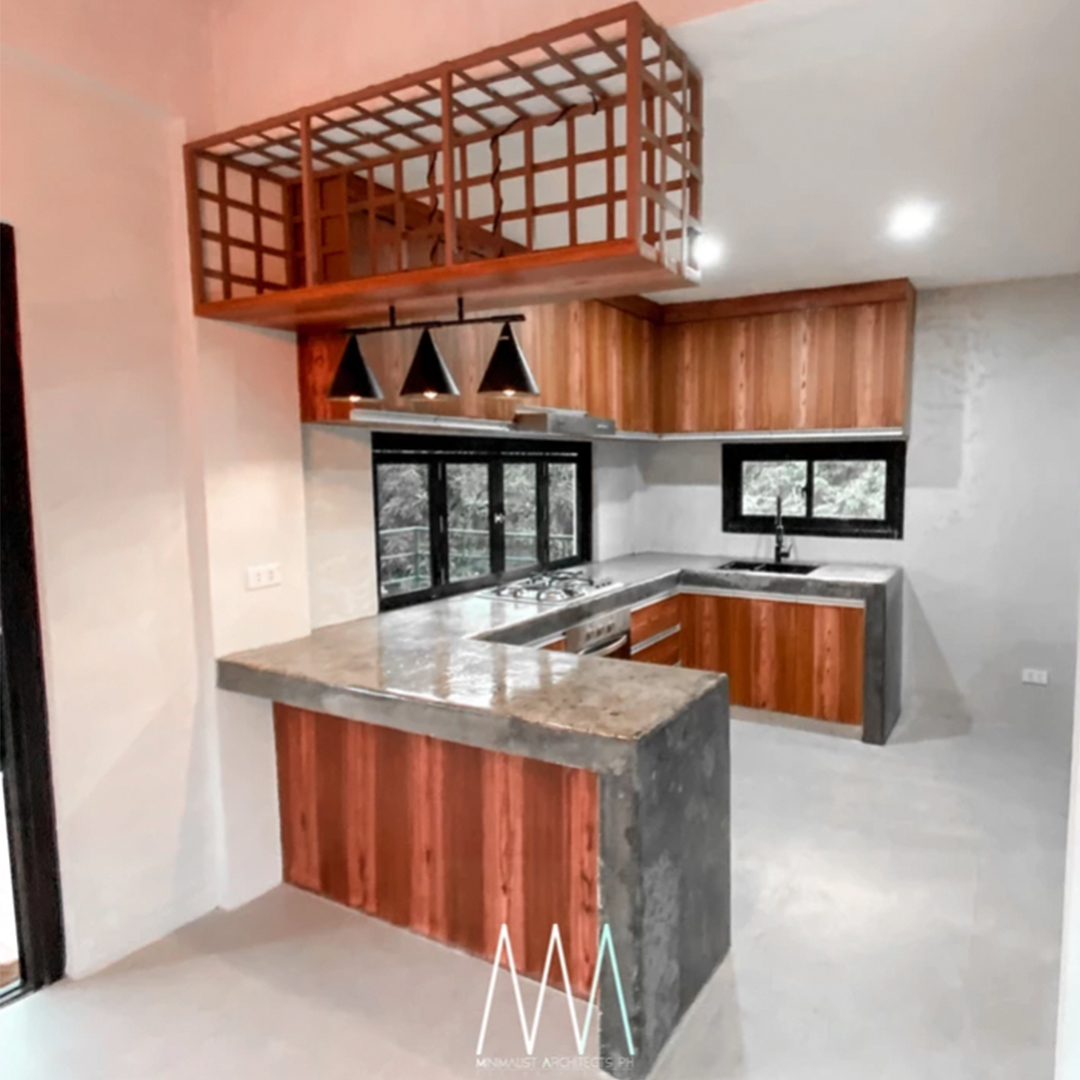 The U-shaped kitchen features spacious concrete countertops, wooden cabinets, and sleek fixtures. Notice the window on the left near the stove? It opens up to the pathways near the swimming pool.
READ: A Farmhouse-Inspired Makeover for a Drab Kitchen
Staircase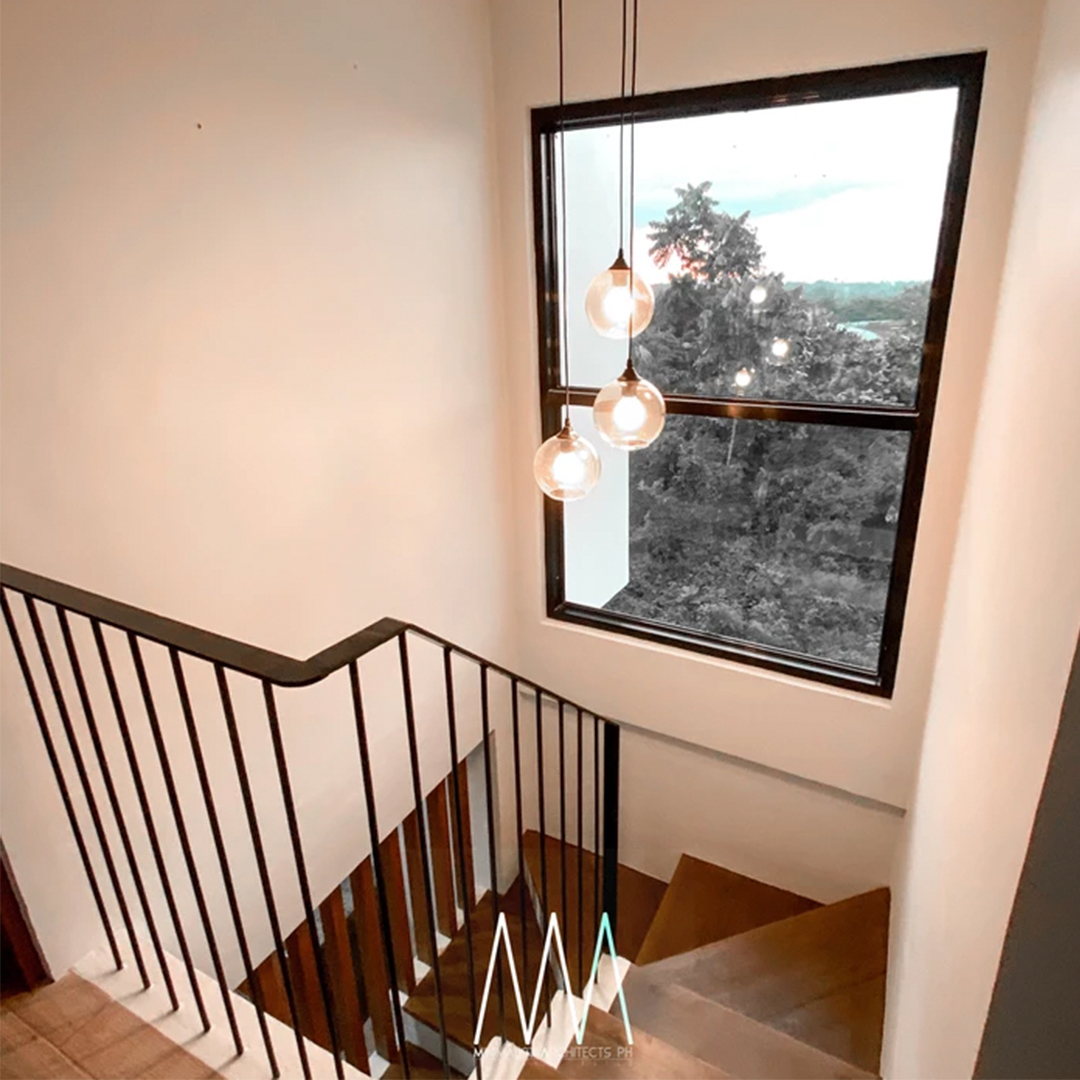 To highlight the home's high ceiling, the design team chose to display striking lighting pieces that give off a warm glow. Meanwhile, the big windows give a view of the serene surroundings.
Outdoors/Floating Pathways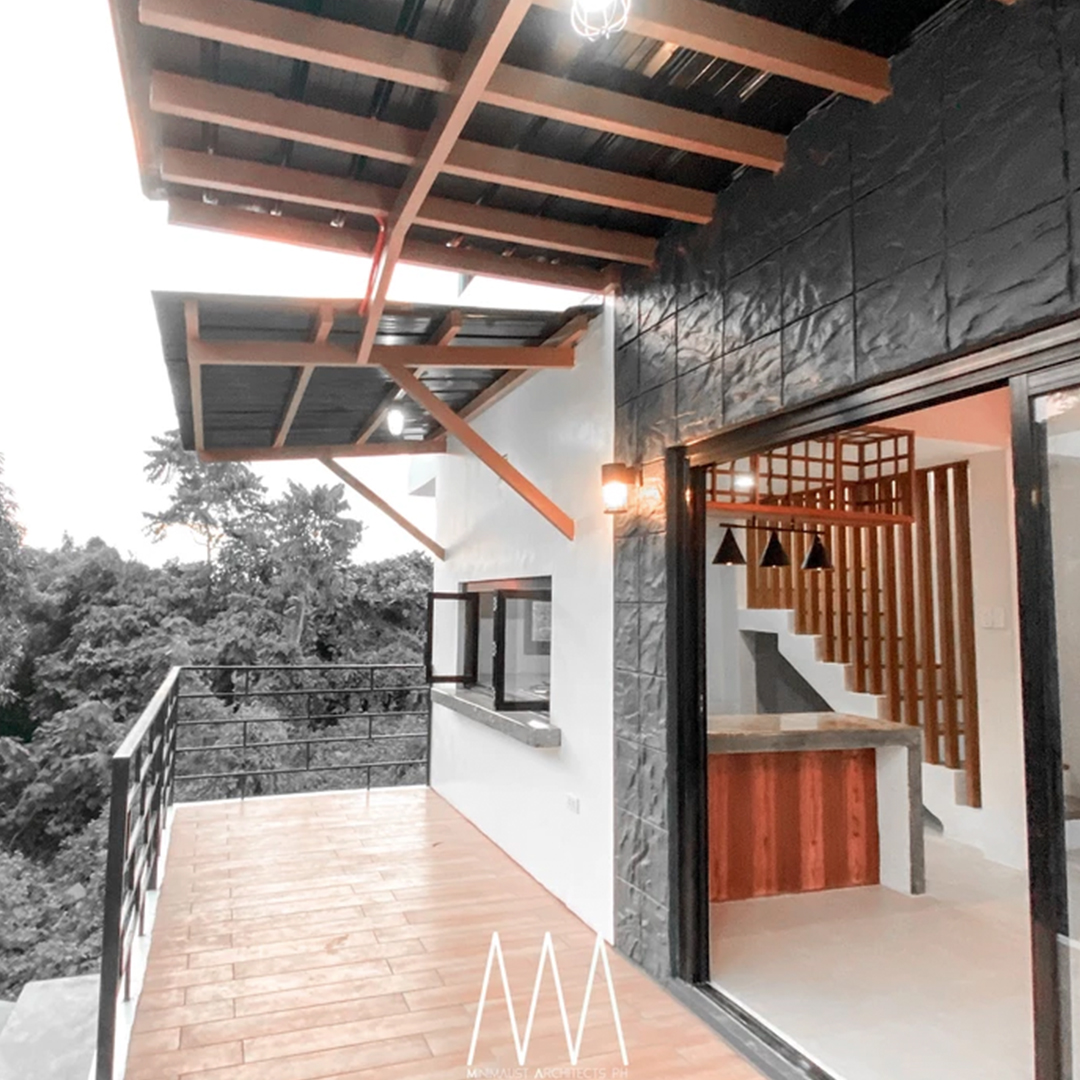 ADVERTISEMENT - CONTINUE READING BELOW
"The second design feature making this house special, aside from the floating lanai, are the floating pathways going inside the house," says Ar. Gelo. This part of the home can be furnished with a dining set to create an al fresco dining area or a couple of seating pieces where the owners and their guests can relax.
READ: These Sustainable Homes Measure 85sqm or Less
Swimming Pool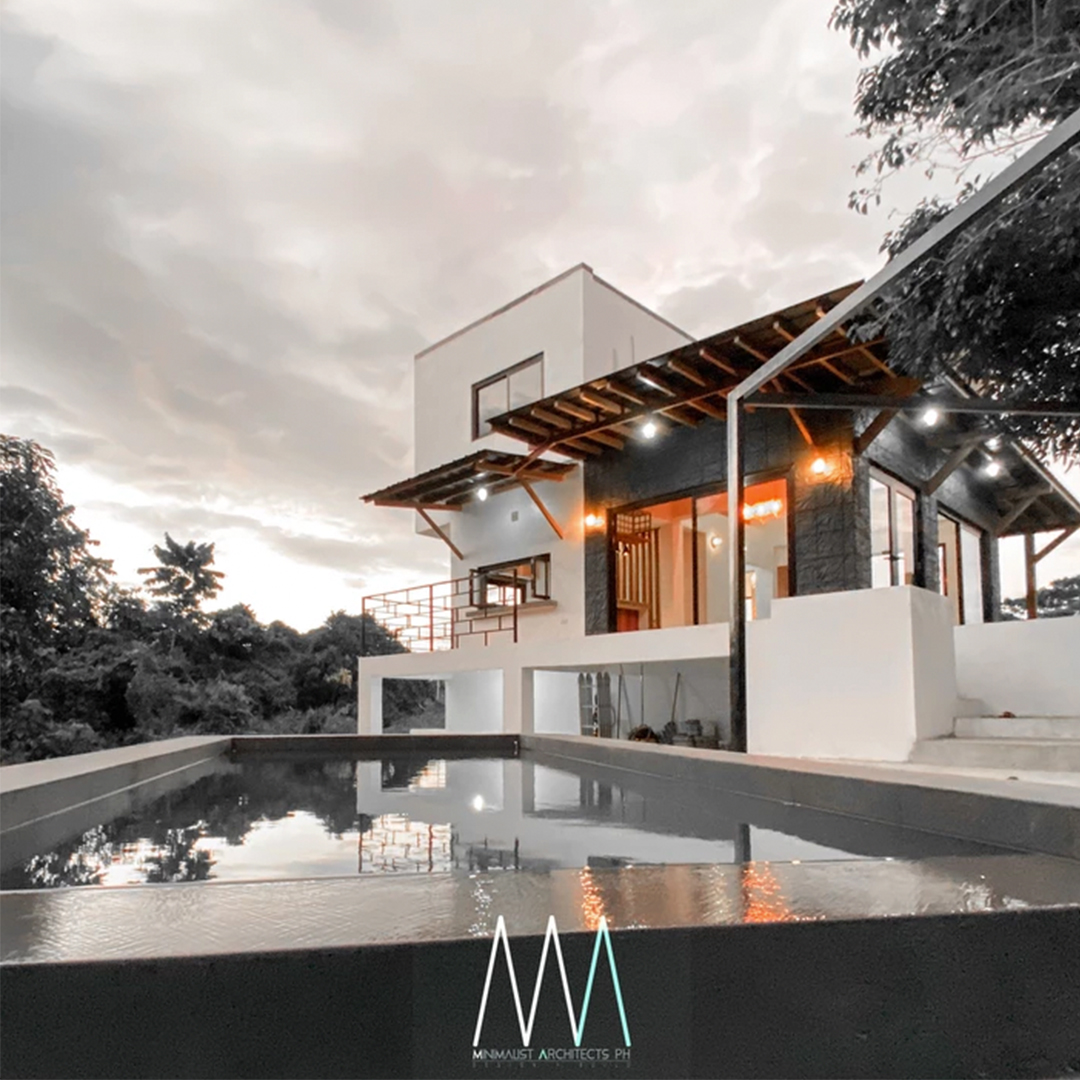 According to Ar. Gelo, they encountered a challenge during the actual build because the location of the farmhouse was transferred to a terrain location. "We had to split the pool area and make the fish pond work…making sure it will function as envisioned was a huge challenge for the build team," he explains.
Built with glass sliding doors, big windows, and floating pathways—this house doesn't just stand out because of its captivating architecture, it's also a sight to see because it completely embraces its surroundings.
Ready to build your dream home? Get in touch with architect Gelo Honorica and Minimalist Architects PH via email at minimalistarchitectsph[at]gmail.com. You can also follow them on Facebook and Instagram. Log on to https://minimalistarchitec.wixsite.com/minimalistarchitects to see their projects.
More on Realliving.com.ph
Load More Stories