Condos
Like Your Favorite Hotel, This Condo Takes Luxe Living to the Next Level
Interior designer Dianne Versoza picked elegant finishes and contemporary pieces to complete the home Photography: Courtesy of Interior Designer Dianne Versoza | VRSO Interiors Interior Designer: Dianne Versoza | VRSO Interiors
Are you one of the many who love staying in hotels? From the posh interiors to the comfy rooms—these hotels are often used as pegs in designing a home. It's no secret that staying in a hotel room can make one feel like a VIP, so why not translate that ambiance into your own space? This is exactly what interior designer Dianne Versoza of VRSO Interiors wants her clients to feel in their space—like a VIP and more. To do that, she married function, comfort, and style to create a contemporary luxurious condo home. 
"Similar to my other projects, this home is designed around the owner's lifestyle. Every corner addresses their needs and desires—from the artwork and décor, to the furniture and location of electrical outlets," she shares. How can you bring the hotel-like feel to another level? Dianne worked with nature stone, brass accents, wooden touches, black glass, carpet rugs, and leatherette. The result is a high-end home you'd love to come home to—no checking out required.
Take a peek inside the condo home below:
Living Area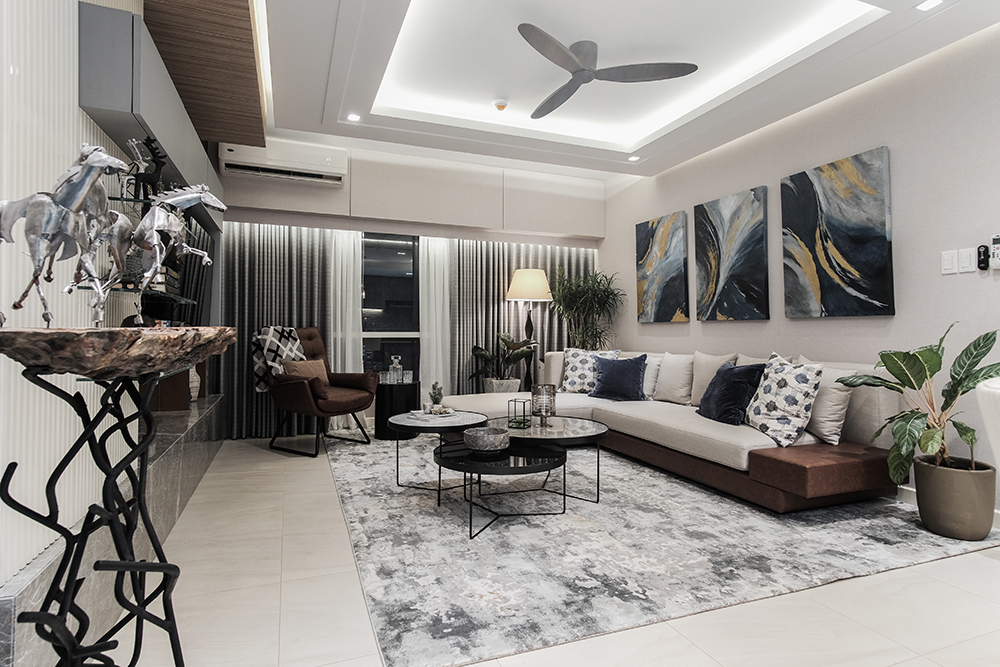 From the furnishings to the ceiling fan—the living area is chic yet welcoming with its balance of colors and textures. Anchoring the space with a carpet that resembles a marble finish definitely gives it a plush feel.
ADVERTISEMENT - CONTINUE READING BELOW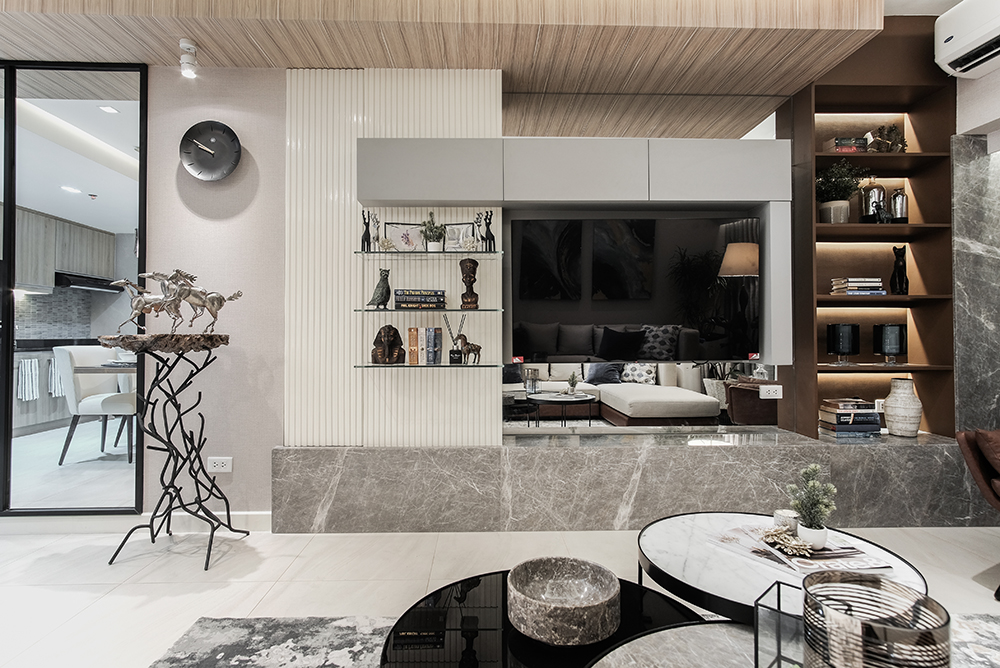 To maximize this part of the living area, Dianne incorporated storage solutions to allow the owner to display a few collectibles. Adding lighting to shelves is another way of keeping within the unit's upmarket aesthetic.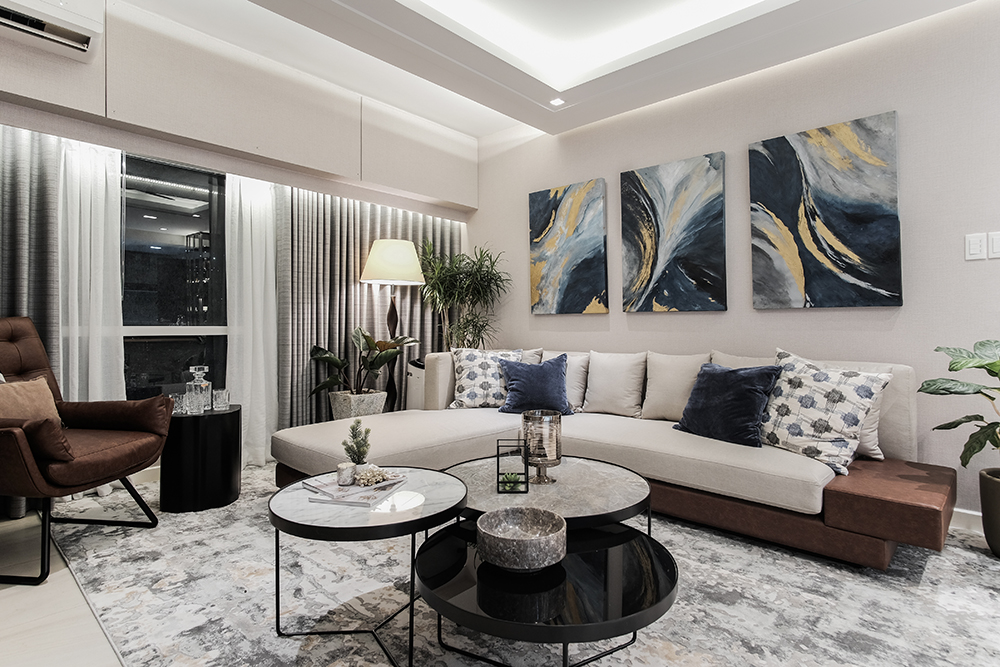 A home's color palette can make or break the look you want to achieve. In the living area, the interior designer expertly matched complementing colors—as seen on the pillows and triptych adoring the wall. To maximize the space, Dianne carved out a nook for enjoying drinks by the window instead of just adding an accent chair.
Dining and Kitchen Areas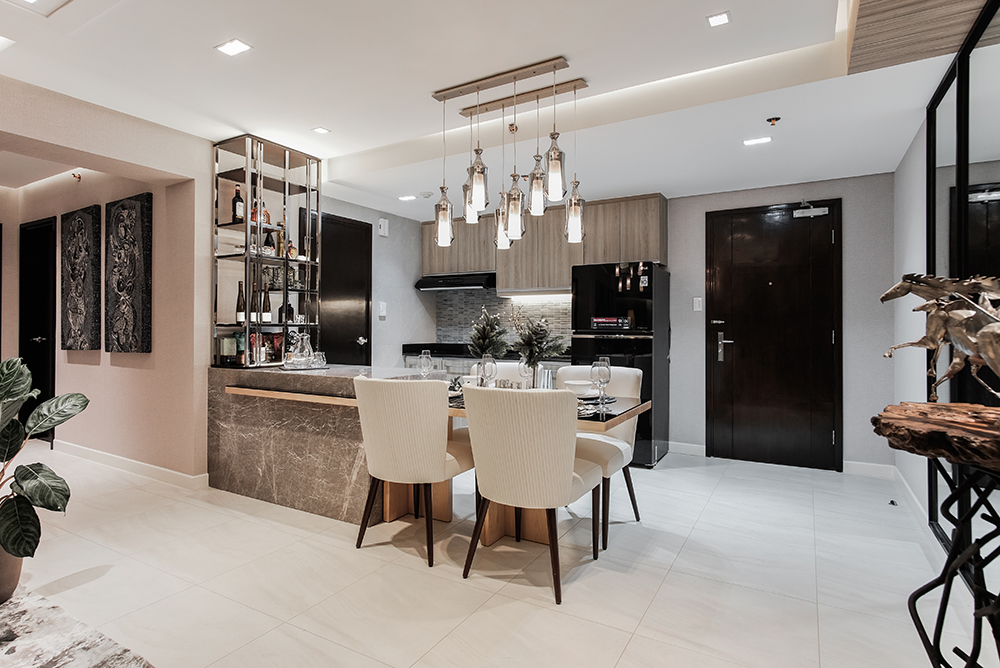 ADVERTISEMENT - CONTINUE READING BELOW
Instead of separating the dining area from the kitchen, Dianne designed it in a way that this part of the unit is maximized—making the most of the kitchen island.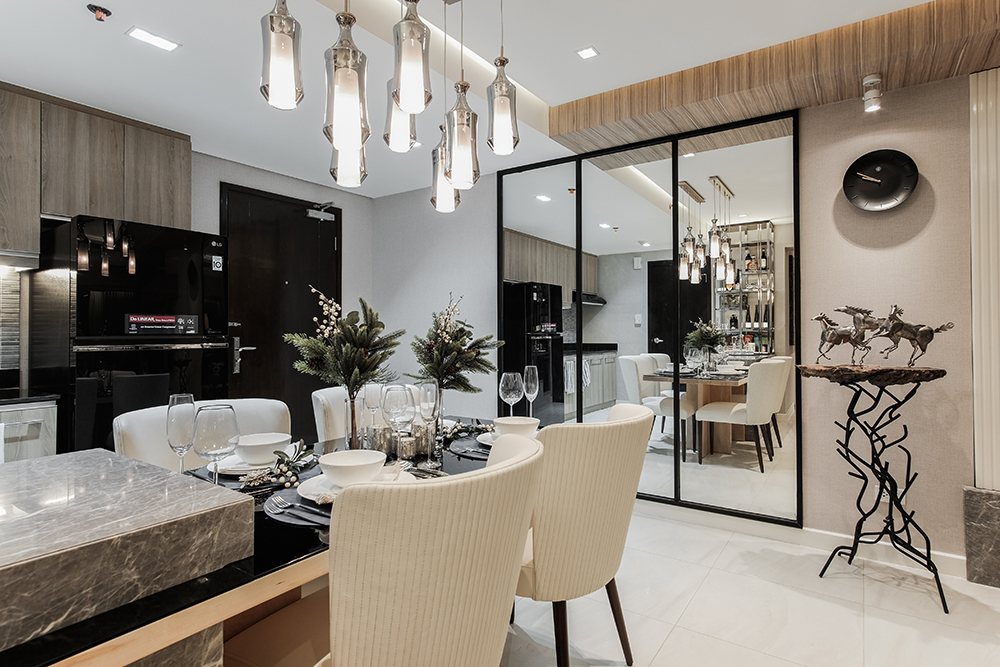 "The island extends to a dining table. This made the living and dining areas more spacious without sacrificing comfort and style," Dianne explains. She also put handy small space solutions to work—like adding a mirror to help create an illusion of a bigger space.
ADVERTISEMENT - CONTINUE READING BELOW
Kitchen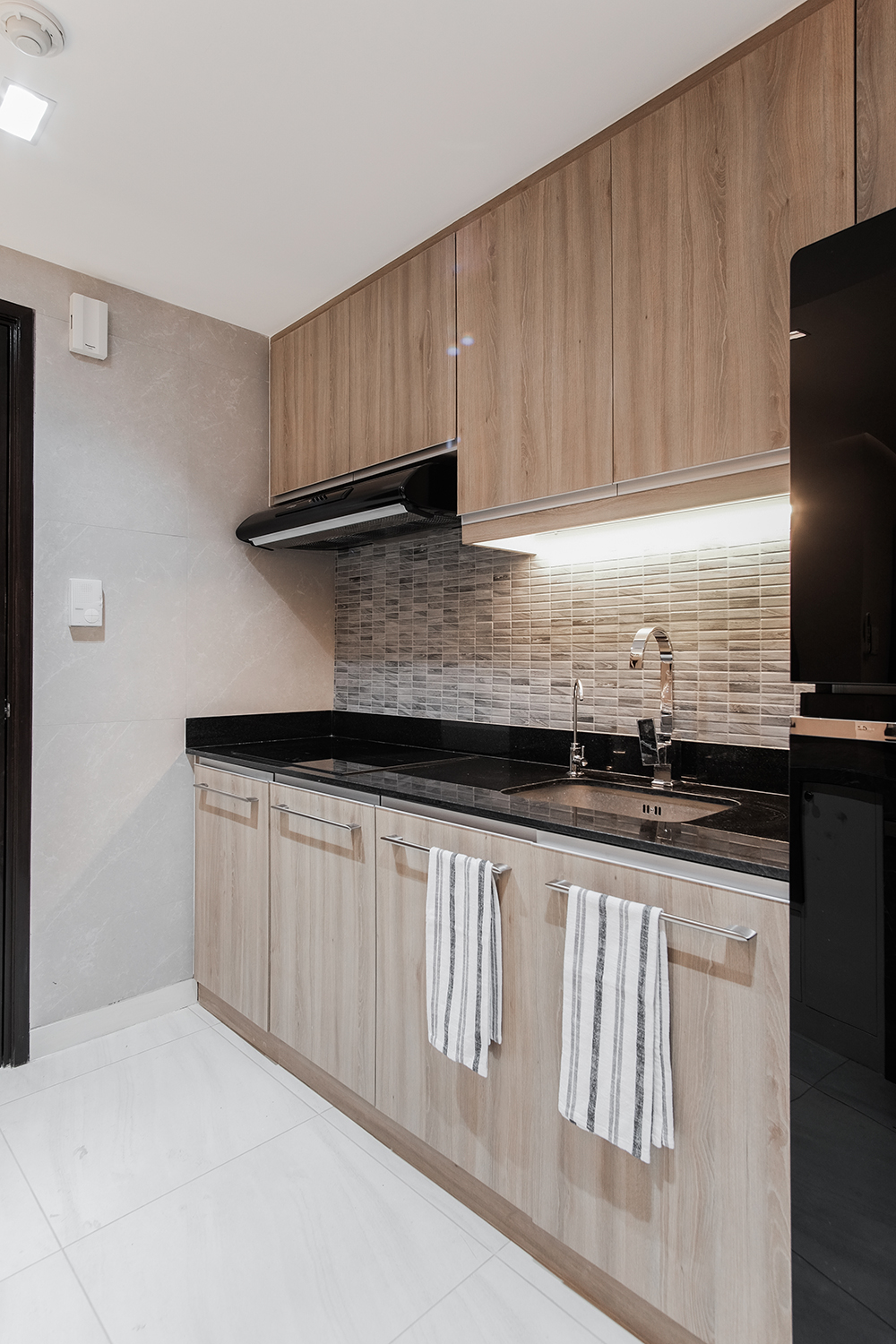 You can still make a compact kitchen look elegant by keeping it clutter-free, picking a sturdy material for the countertop, and a backsplash that complements the rest of the finishes in the space. It also helps to have task lighting to make meal prep easier.
ADVERTISEMENT - CONTINUE READING BELOW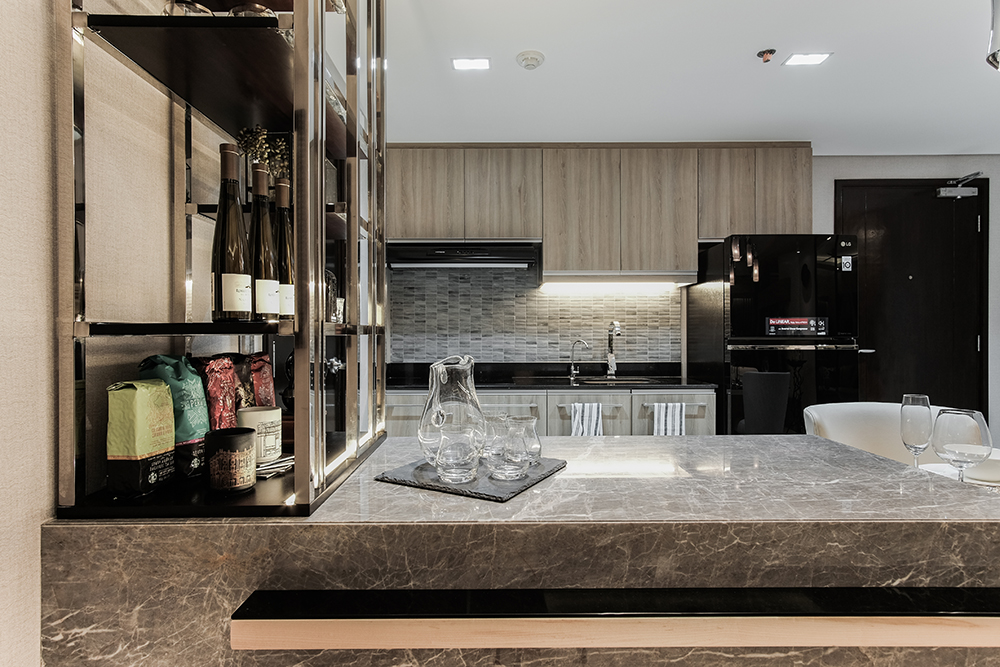 Dianne makes it a point to use natural stone as it's effortlessly beautiful when used properly. In this kitchen, it goes well with the luxe contemporary look. To manage visual clutter, a stainless freestanding shelf takes up space on the island where bottles and other essentials are kept.
ADVERTISEMENT - CONTINUE READING BELOW
Hallway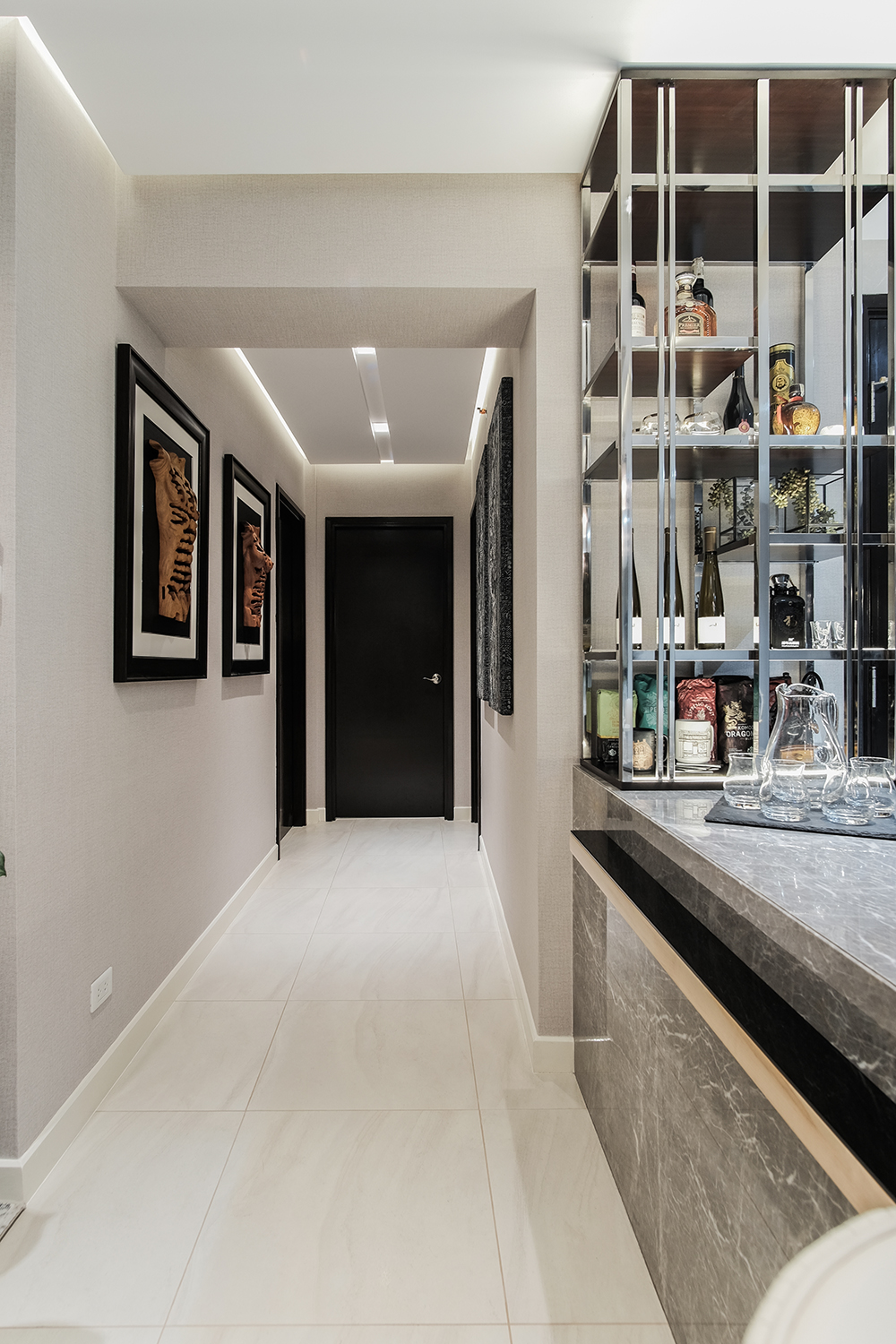 To instantly liven up the hallway that leads to the private areas, Dianne spruced up the walls with matching works of art. This hallway, though small, calls to mind some of the lovely common areas in five-star hotels.
Master Bedroom
ADVERTISEMENT - CONTINUE READING BELOW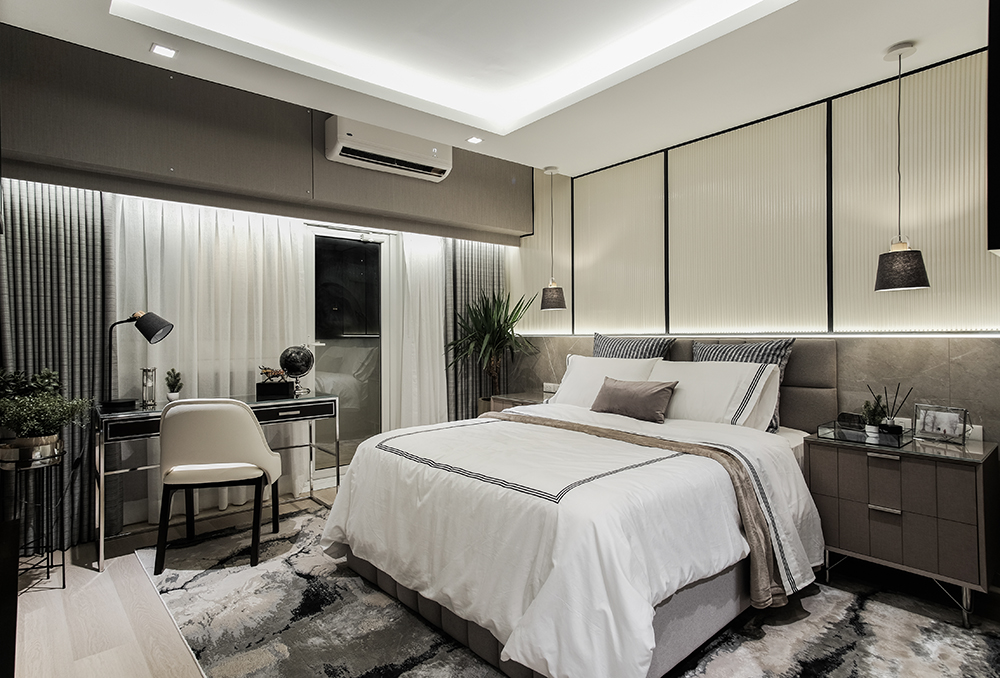 With a bedroom as stylish and comfortable like this, traveling to dreamland won't be a problem. From the bed and headboard, to the texture and furniture – it's sleeping space reminiscent of suites.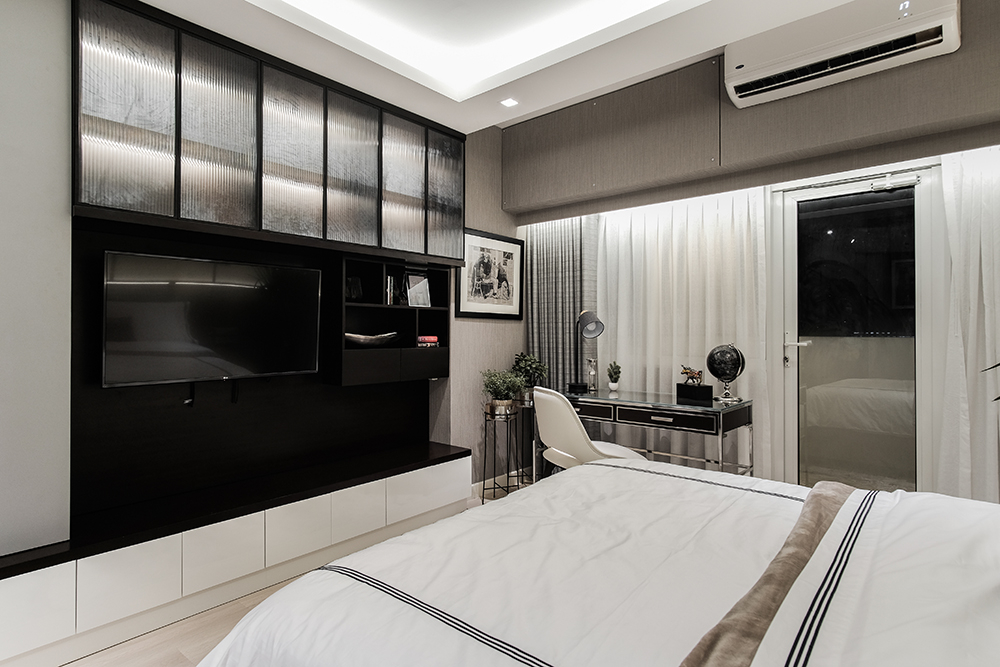 ADVERTISEMENT - CONTINUE READING BELOW
Wires are properly concealed to maintain the sleekness of the bedroom. Dianne also added hidden storage nooks for entertainment essentials.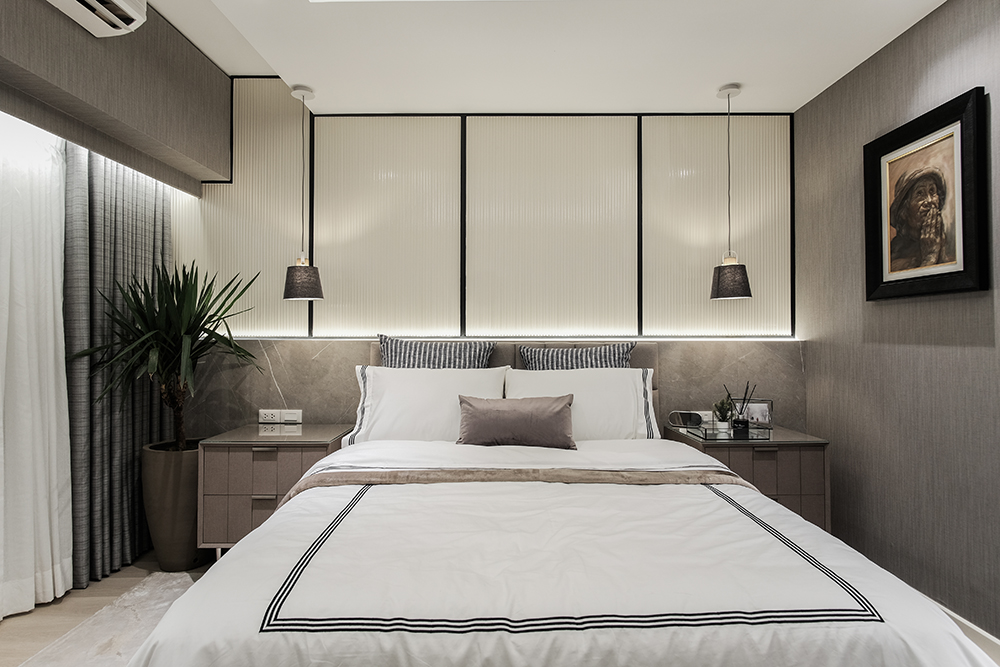 The interior designer chose matching droplights to flank the bed instead of the usual desk lamps that take up space on the bedside tables. This gives the owner an opportunity to bring in books, a clock, and even a small potted plant.
ADVERTISEMENT - CONTINUE READING BELOW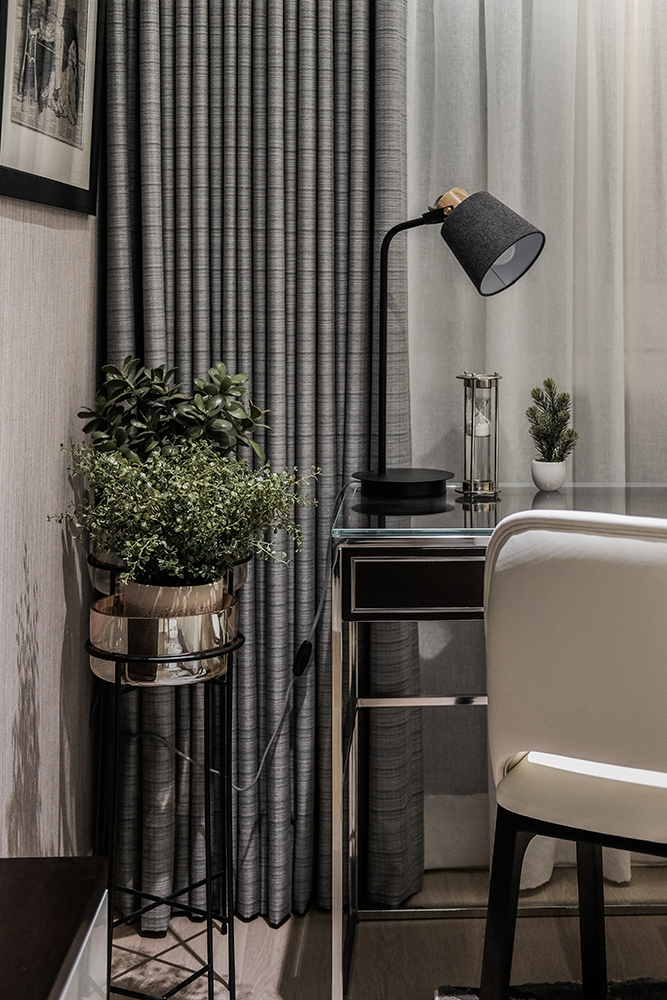 Getting work done won't be a bore in a work area as sophisticated as this. Dianne made sure the table, lamp, and even the plant stand complement each other.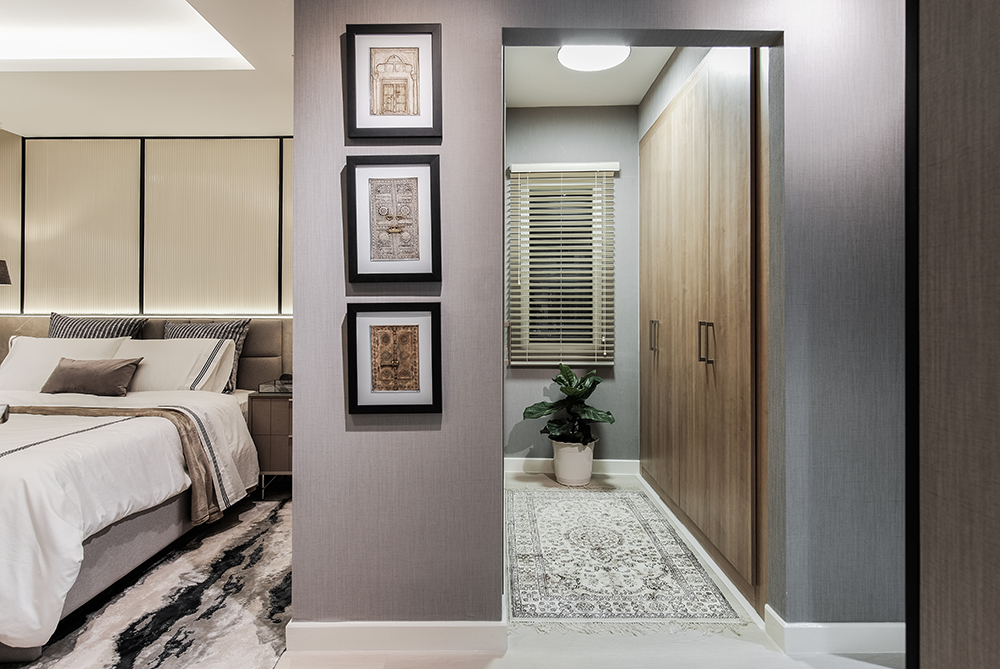 ADVERTISEMENT - CONTINUE READING BELOW
The owner will definitely feel more special by having access to a walk-in closet in the bedroom. To match the look of the rest of the space, Dianne completed it with an area rug and a plant.
Second Bedroom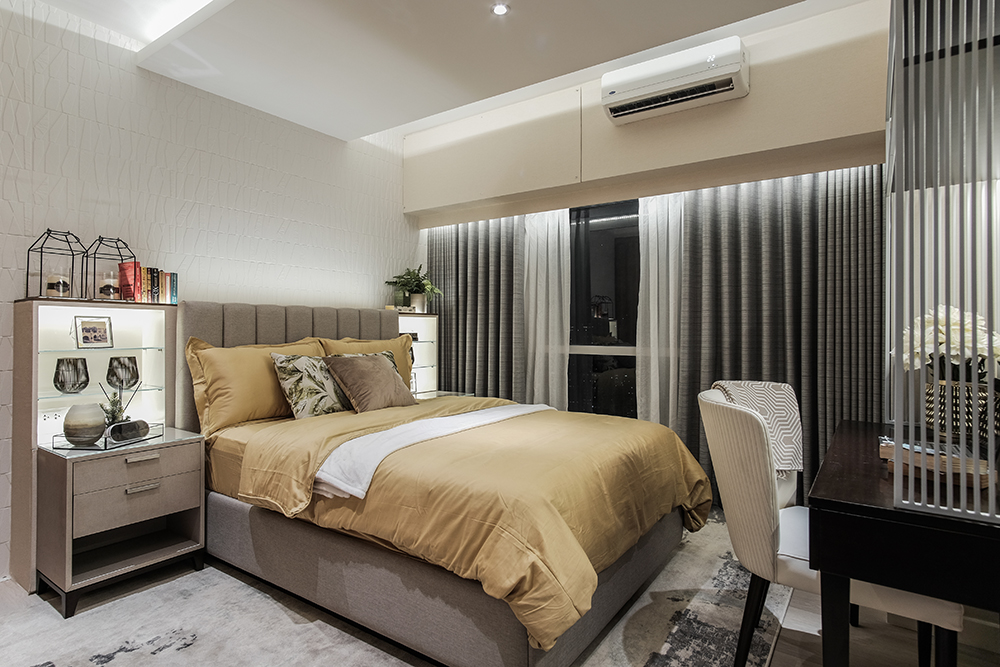 If the first bedroom showcased neutrals, the second bedroom has a nice pop of color that's not too overpowering. Mustard yellow sheets work well with the neutral pieces while still maintaining the chic aesthetic.
ADVERTISEMENT - CONTINUE READING BELOW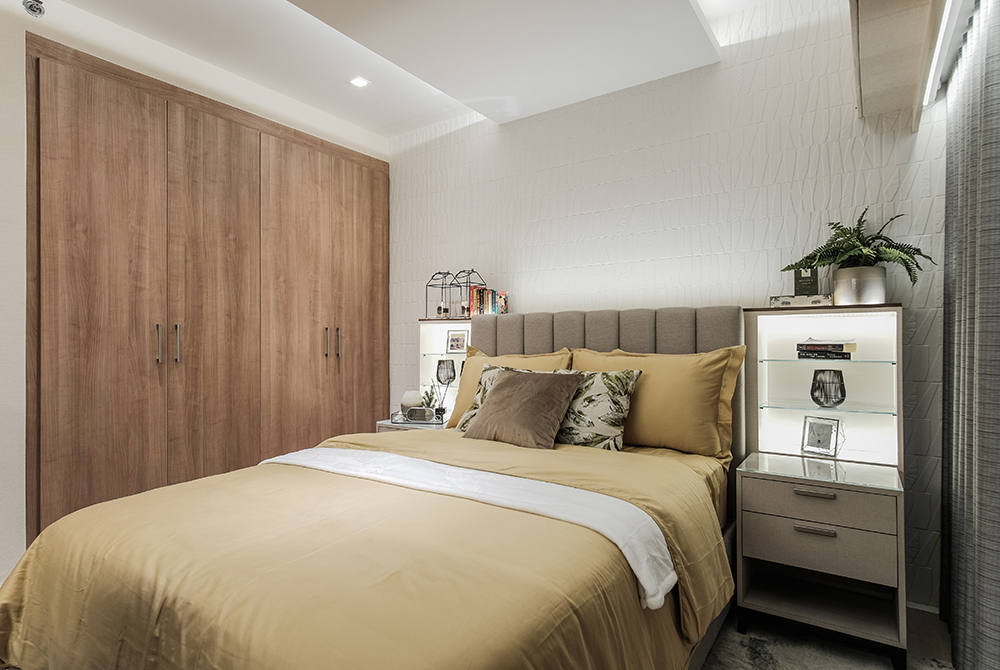 Why settle for a side table when you can have one with a shelf and drawers, to boot, for extra storage? The occupant can display mementos with flare – thanks to the lighting incorporated into the shelf. Meanwhile, instead of a bulky cabinet, Dianne added a storage nook that seems to blend into the wall for a more polished look.
ADVERTISEMENT - CONTINUE READING BELOW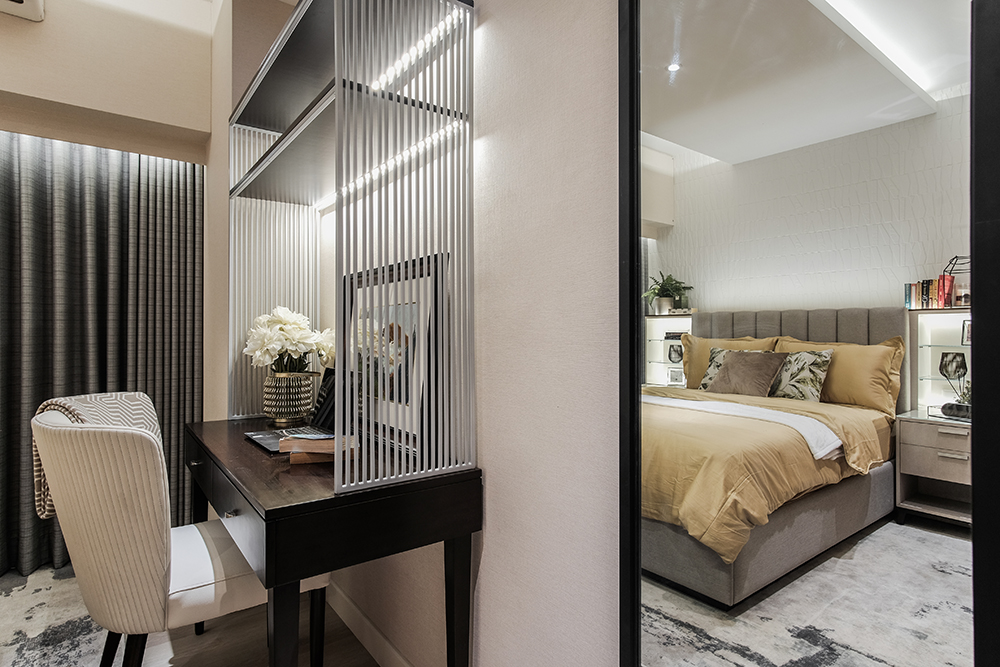 This bedroom also has a work nook with a shelf that resembles those seen beside the bed. According to Dianne, the chosen accents help balance the heaviness of the colors used in a space. 
Bathrooms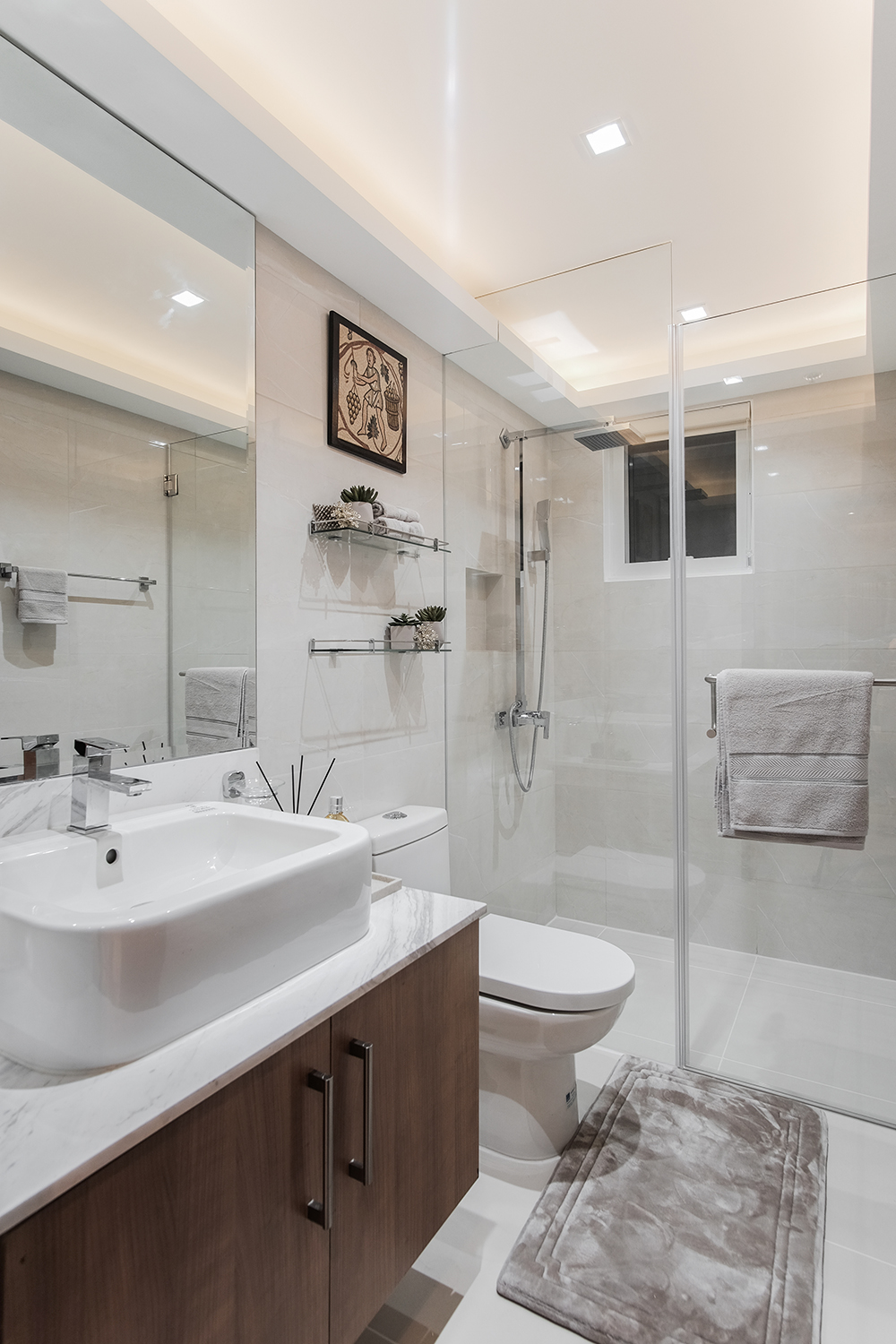 ADVERTISEMENT - CONTINUE READING BELOW
Both bright and well-appointed, the bathrooms feature glass shower enclosures, select décor pieces, tabletop bathroom sinks, and stainless bath fixtures that mirror the rest of the pieces used in the condo unit. 
Get in touch with interior designer Dianne Versoza through email at versozadianne[at]gmail.com. You can also follow her on Instagram at @vrsointeriors.
* * * 
Do you also have a Real Living-inspired home? We'd love to see it and you might get featured next. Message us on Facebook, or send an email to [email protected].
More on Realliving.com.ph
Load More Stories