Condos
Gold Porcelain Tiles and a Pocket Garden Complete This Loft-Type Penthouse
Using high-end finishes and furniture, design consultant Euzon John Catayong was able to transform the 155sqm space into a picturesque home Photography: Gio Oliva Design Consultant: Euzon John Catayong | Decor By Style Studio Imagineering Inc.
It's safe to say that penthouses are synonymous to luxury, given the privacy, space, and serenity you get from living on the highest floor of a residential building. Tasked to transform a loft-type penthouse, design consultant Euzon John Catayong of Décor by Style Studio Imagineering, Inc. drew inspiration from Modern Asian interiors, with the goal of maintaining its luxe appeal while also making it relaxing.
READ MORE STORIES FEATURING PENTHOUSES:
Why Is It Expensive To Live in A Penthouse?
Is Buying a Penthouse Worth It?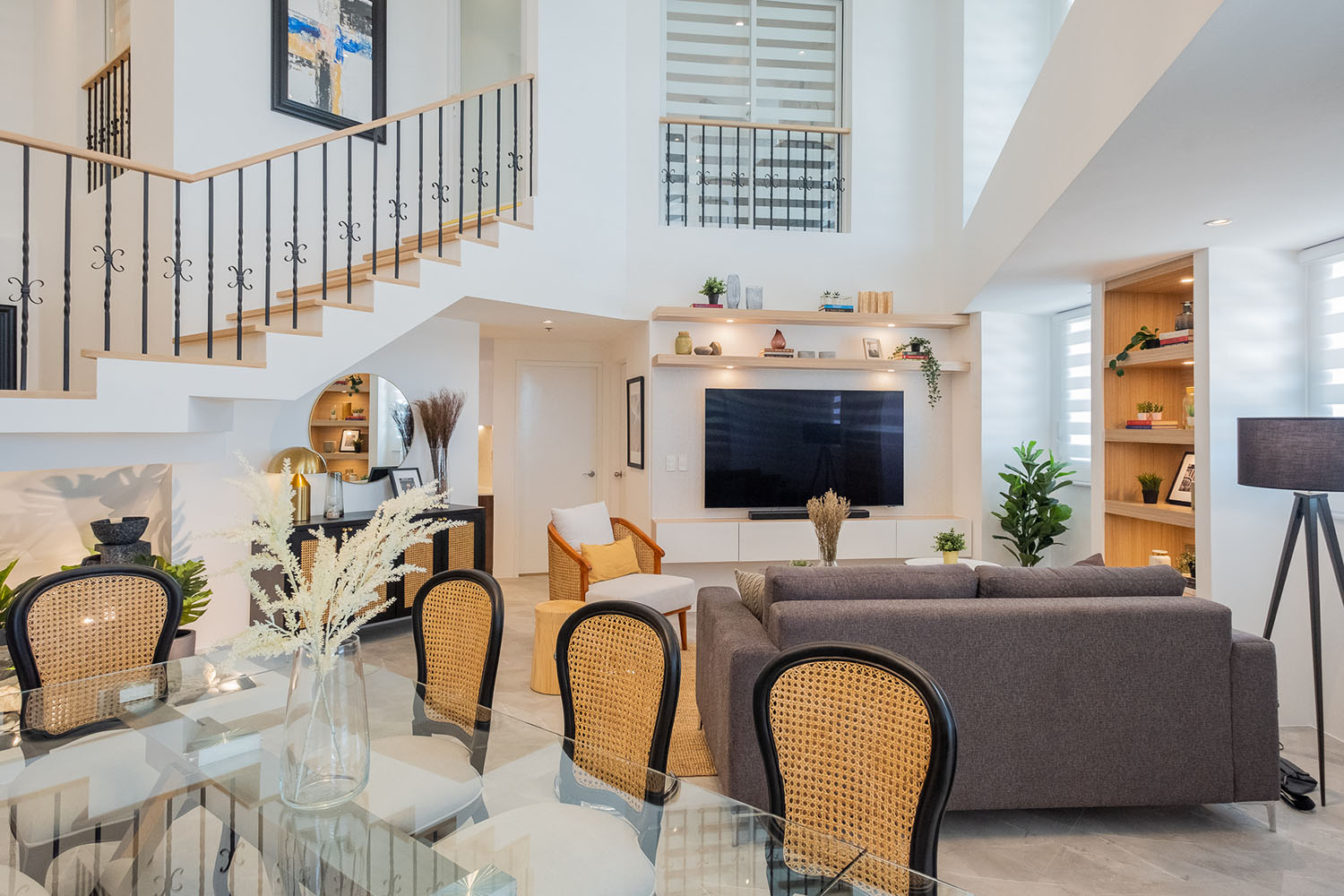 "The owners wanted the unit to look very different from the bare unit turned over to them. They requested to have the home renovated?—from the floor tiles to the ceiling while also completing it with customized furniture," Euzon shares.
The design consultant also had to make the entire unit look like a bi-level home instead of a loft-type home. He had to close off the loft area to do this, which also helped conceal the master bedroom. Indeed, the penthouse underwent a major overhaul. The result? A space that's nothing short of dreamy.
Check out the Modern Asian penthouse unit below:
Foyer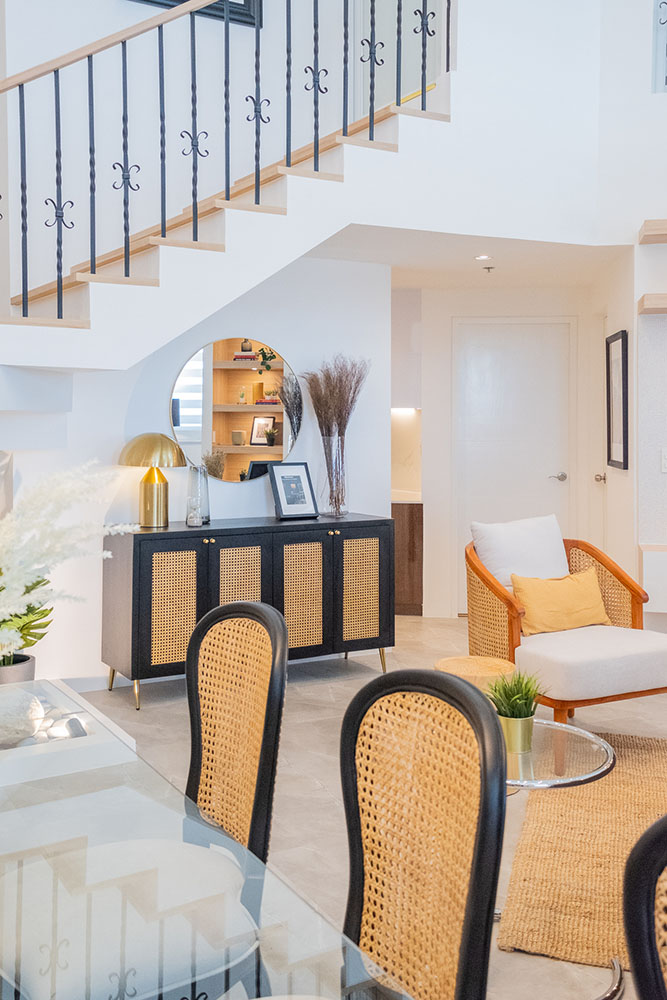 ADVERTISEMENT - CONTINUE READING BELOW
A makeshift foyer can be seen a few steps from door. Euzon mixed modern and native touches to add character to the unit. A console cabinet with solihiya details defines the foyer while a round mirror and select décor complete the look.
Unit Overview from the Living Area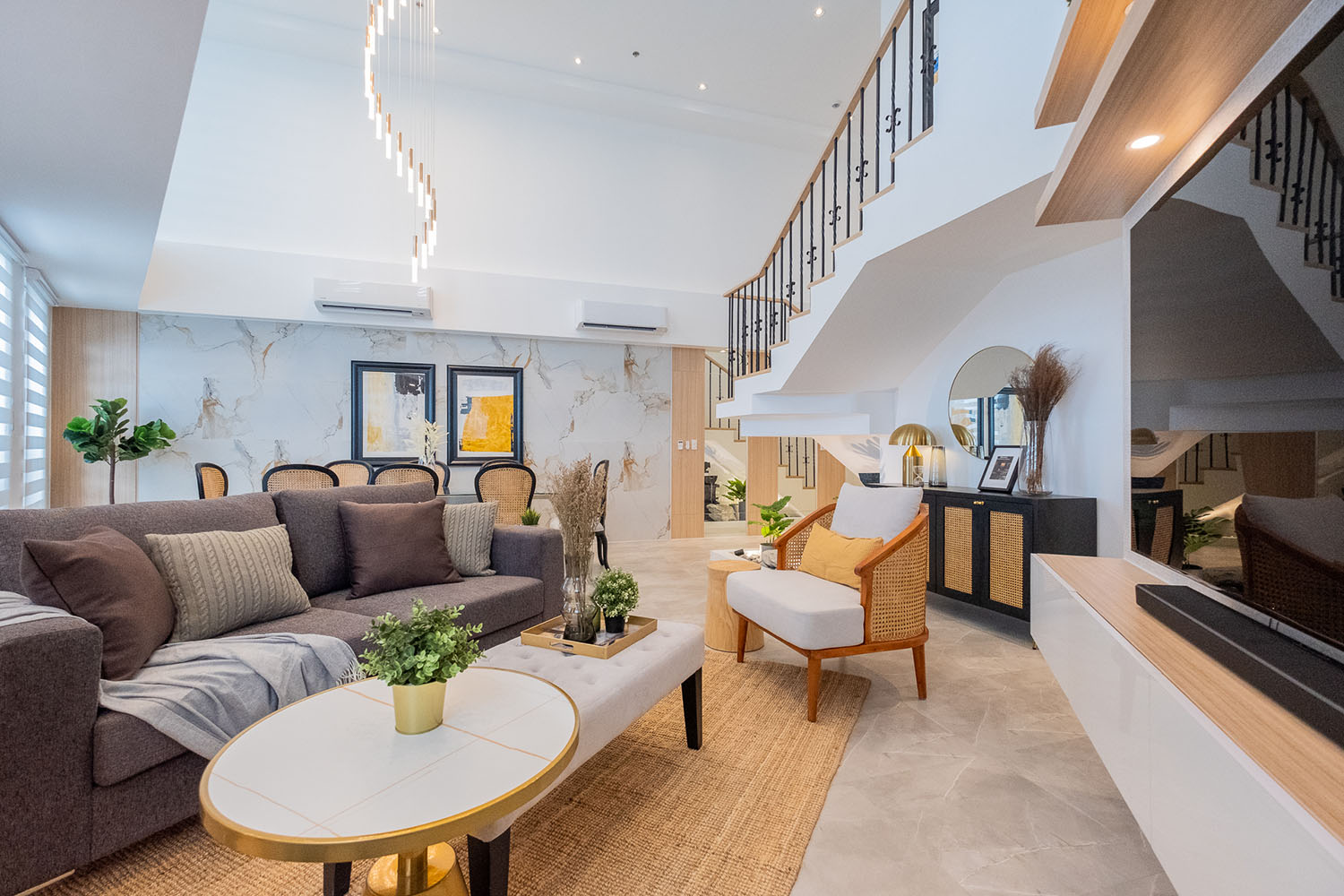 The unit has a high ceiling, which Euzon highlighted with a savvy lighting piece. From this vantage point, you can also see how each piece complements each other to create a cohesive look.
Living Area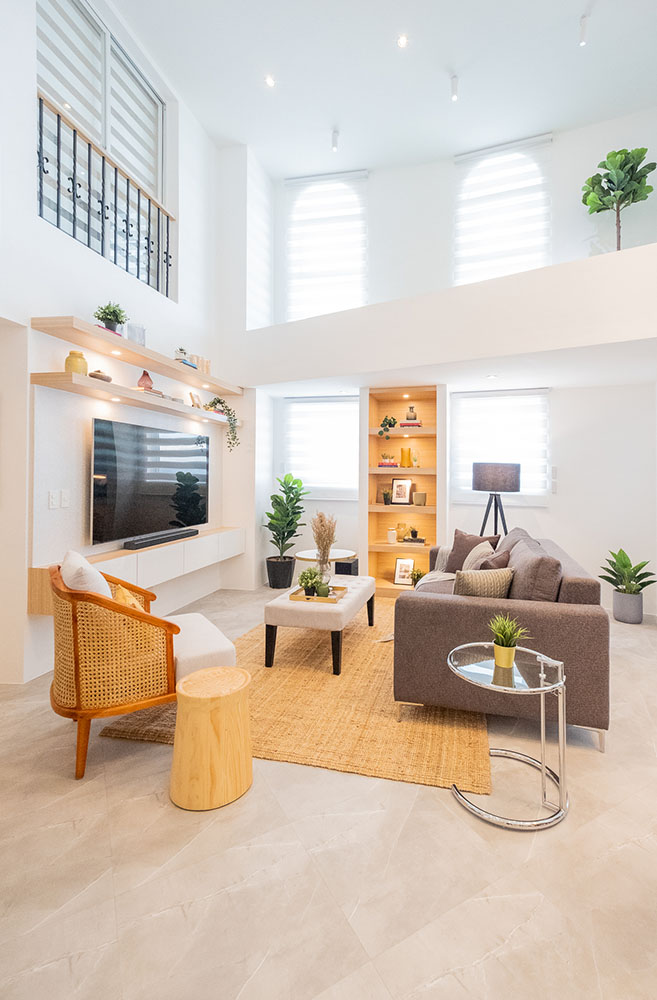 The living area showcases a balanced mix of modern and Asian touches. Complementing the neutral-colored sofa are the seating piece with solihiya backing, an abaca area rug, and a log table that doubles as décor. Serving as a center table is a tufted bench holding handpicked décor pieces.
ADVERTISEMENT - CONTINUE READING BELOW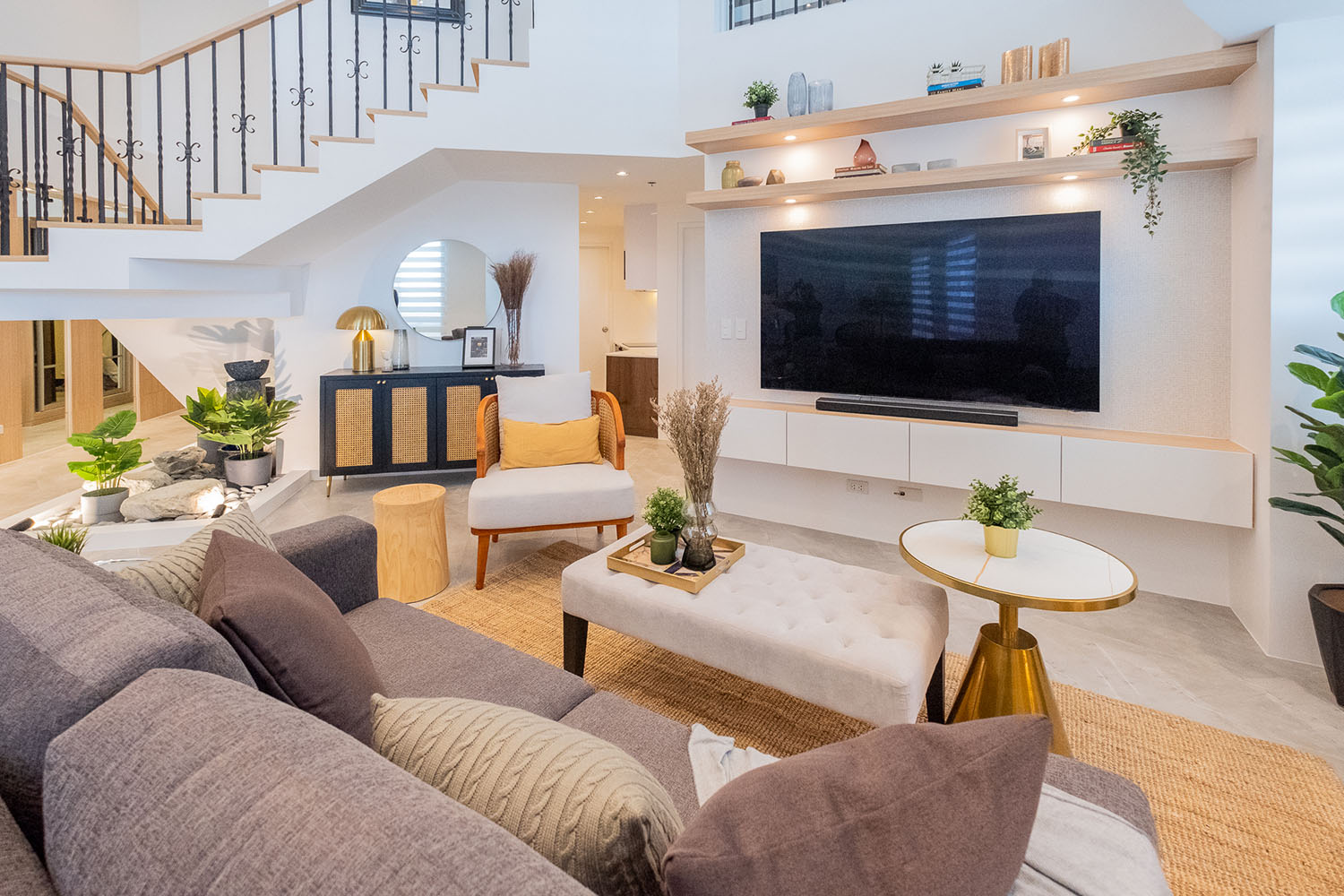 To define the entertainment area, Euzon settled on installing wall-mounted ledges to house décor and white modular cabinets where wires and other entertainment essentials can be kept.
READ: Kobe and Andre Paras's Modern Asian Family Home
Dining Area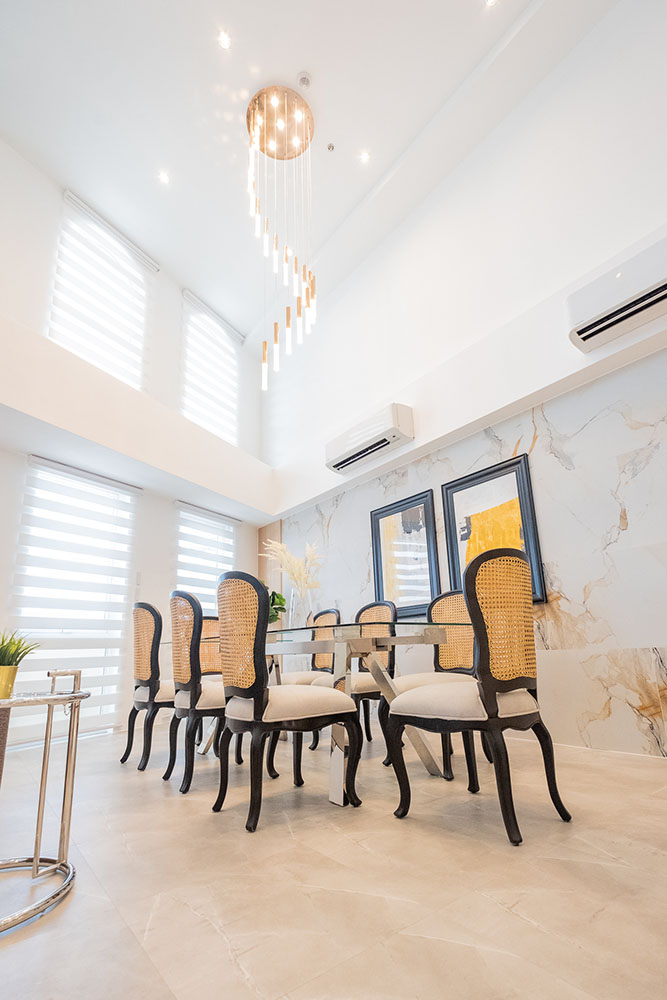 ADVERTISEMENT - CONTINUE READING BELOW
The dining area has a cozy vibe and can seat around eight to 10 people comfortably. Euzon decided to furnish it with a glass dining table and matching solihiya dining chairs. What really draws the attention in the space is the Calacatta gold porcelain tiles used to create an accent wall.
Kitchen
ADVERTISEMENT - CONTINUE READING BELOW
The cooking area is spacious and has enough storage to avoid clutter. "We kept the design clean and modern, with white gloss wall cabinets to brighten up the area," Euzon says.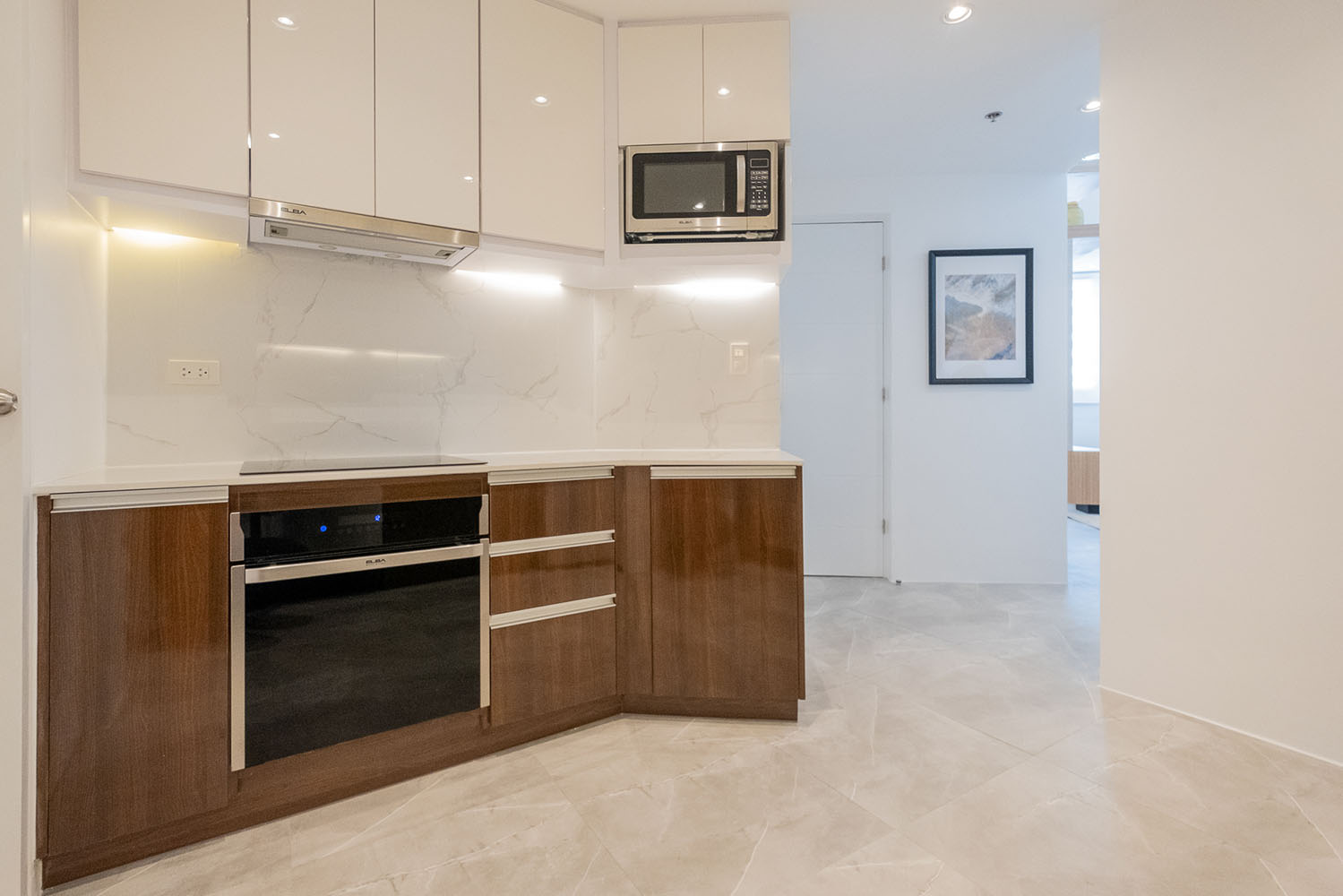 "Since white oak wood finishes were used outside the kitchen, we used dark walnut in glossy finish here not only to create distinction but also to avoid an untidy look," the design consultant adds. Minimal appliances can also be seen on display which also reflects the owners' lifestyle.
ADVERTISEMENT - CONTINUE READING BELOW
Pocket Garden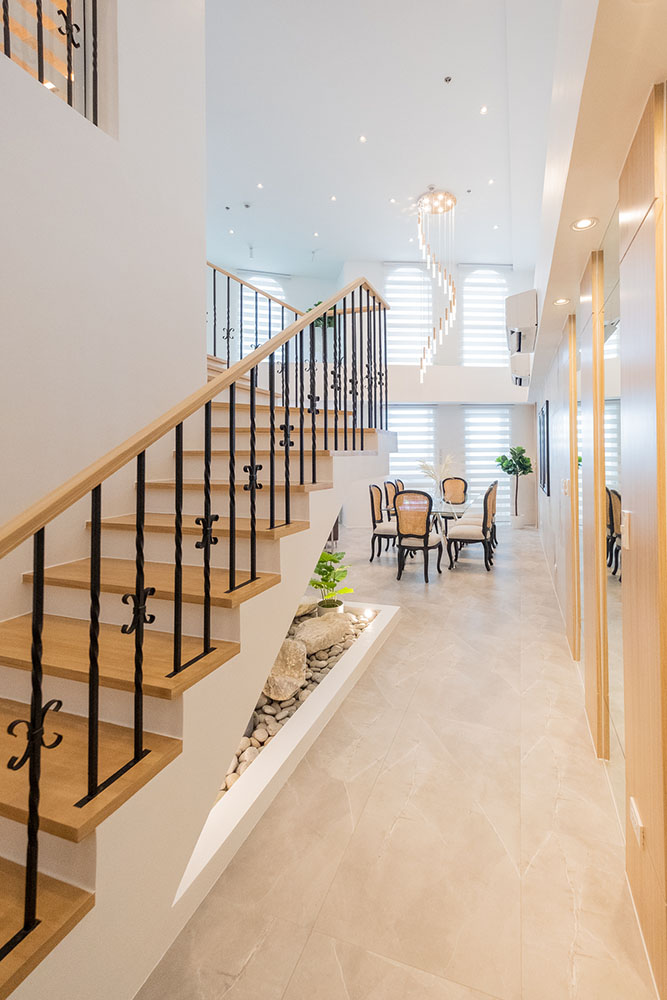 Defining the hallway going to the staircase is a pocket garden and a couple of wall mirrors. Though not seen in the photo, the pocket garden under the stairs has an indoor fountain that adds a Zen vibe to the unit. "The relaxing sound of water creates a sense of calm which welcomes the owners after a tiring day," muses Euzon.
ADVERTISEMENT - CONTINUE READING BELOW
READ: This One-Bedroom Condo Unit Has Its Own Mini Loft
Design Detail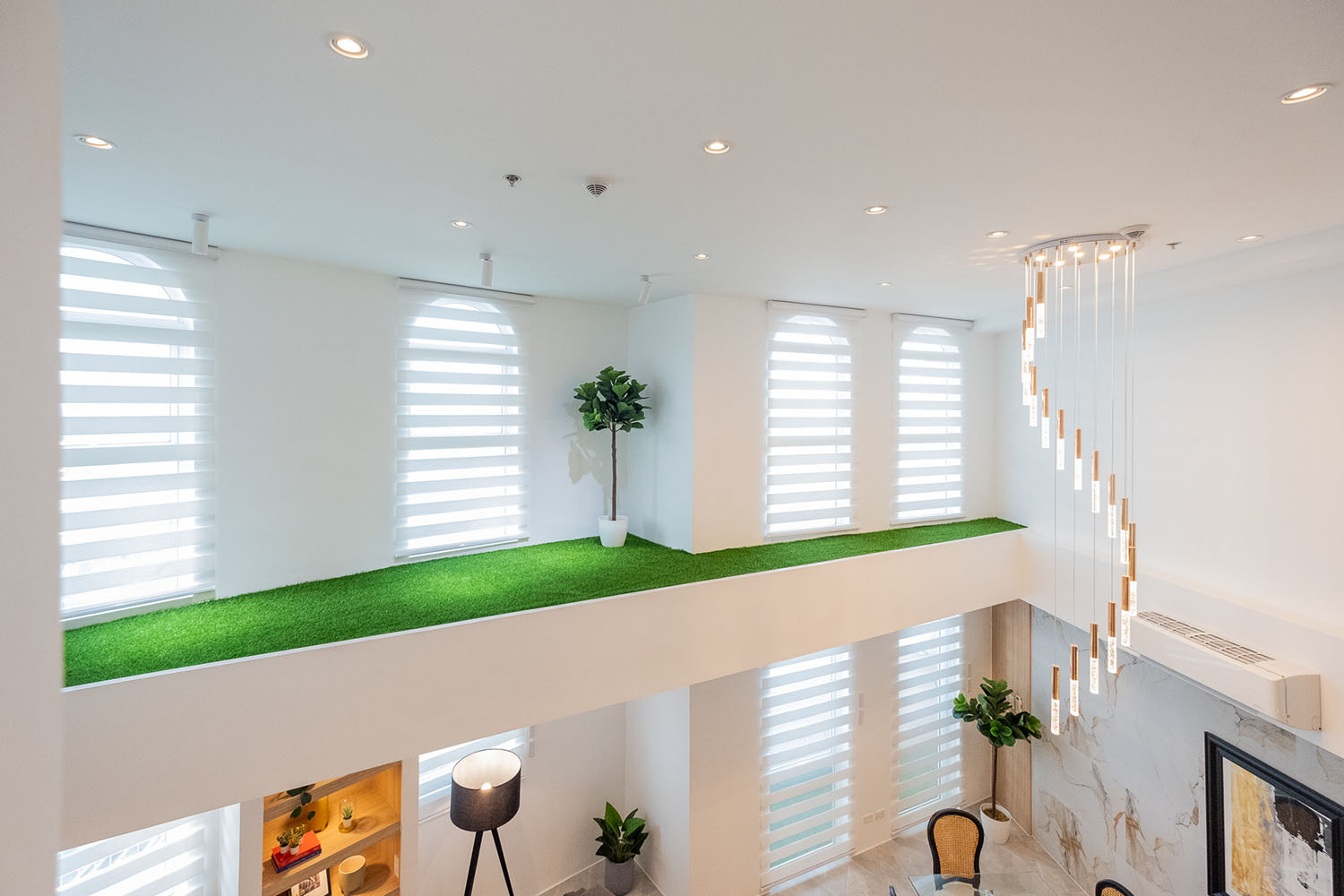 In closing off the master bedroom, structural beams had to be incorporated into the design. To keep it from becoming an eyesore, Euzon installed faux grass and displayed artificial plants. This brings a piece of the outdoors into the unit, making it more serene.
ADVERTISEMENT - CONTINUE READING BELOW
Bedroom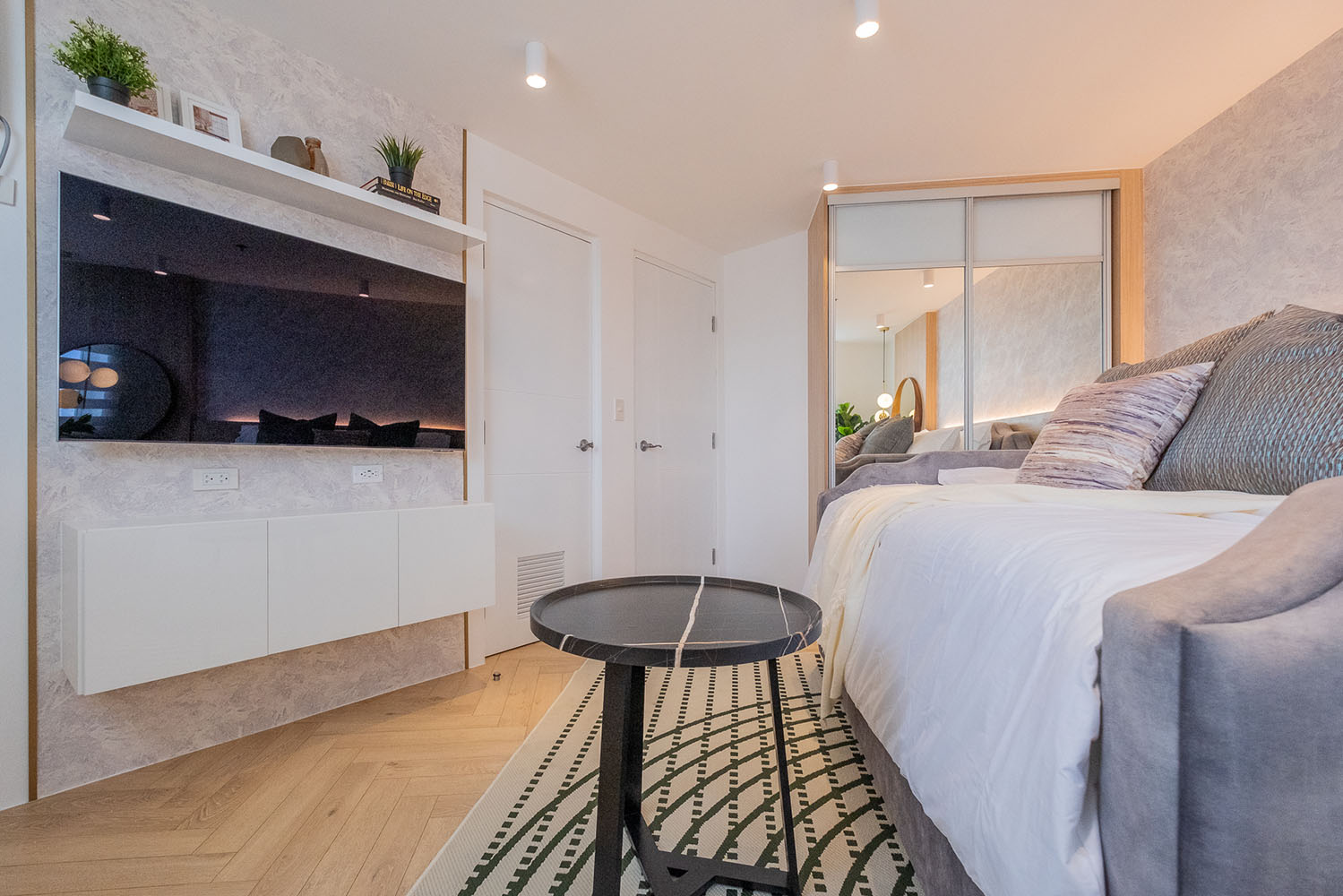 This sleeping area follows quite an unusual layout that's not often seen in condo units. To maximize the space, a daybed was put in place which helps save on space. To maintain the chic aesthetic, Euzon defined the TV area with wallpaper and worked on a herringbone-patterned flooring.
ADVERTISEMENT - CONTINUE READING BELOW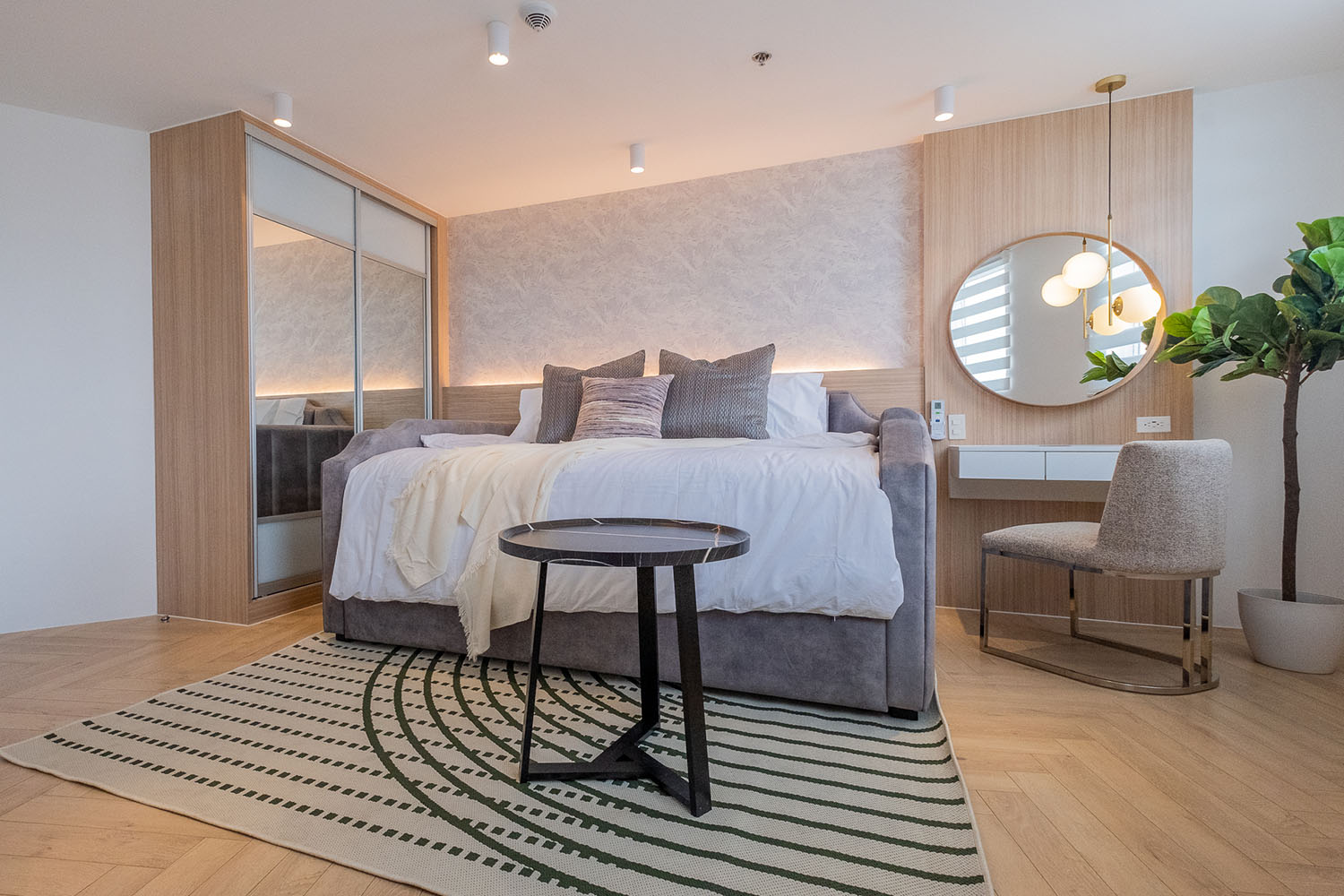 Opting for a mirrored closet softens up the look of the storage piece. The design consultant was also able to carve out a vanity nook completed with a posh chair, a round mirror, and a droplight.
Master Bedroom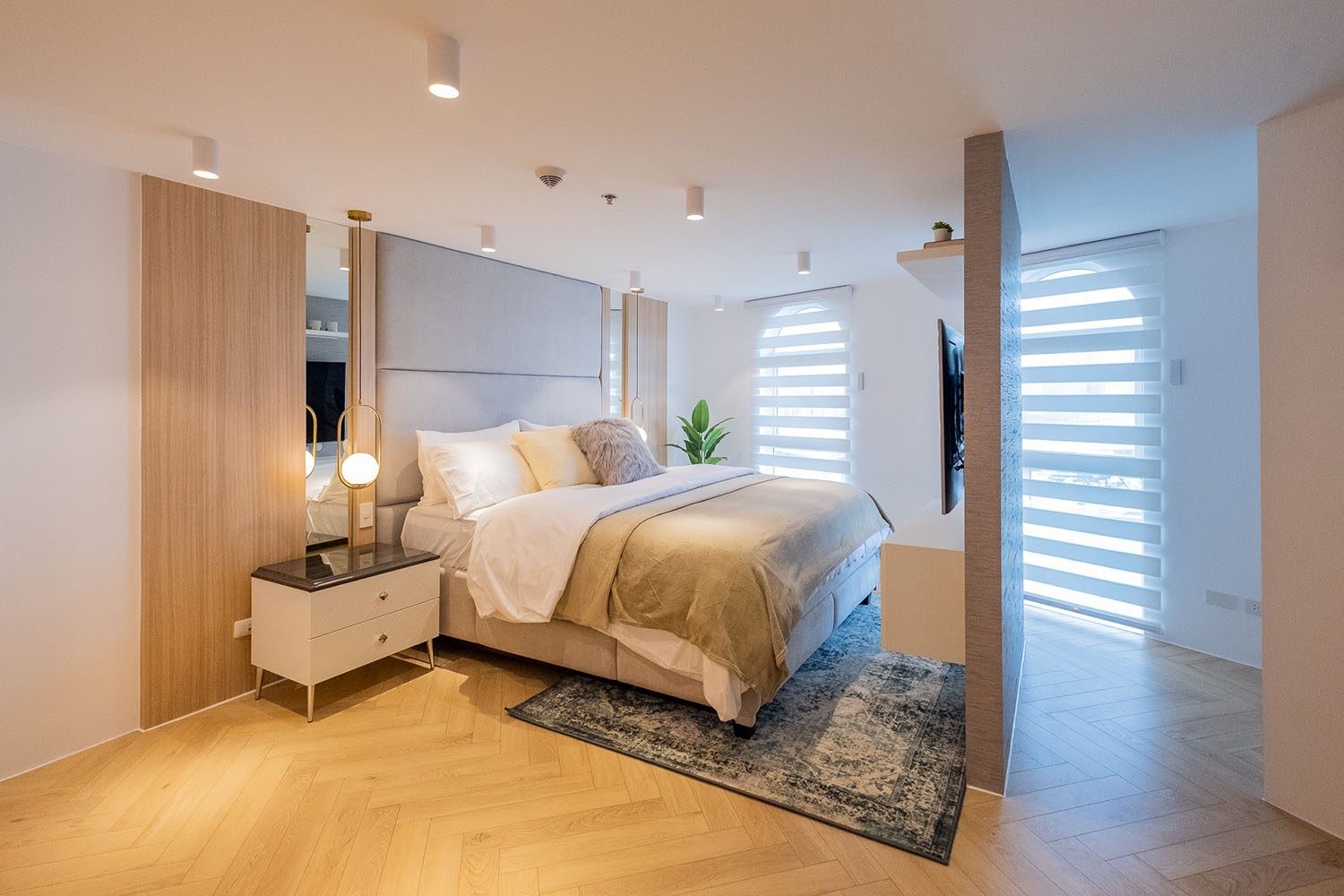 ADVERTISEMENT - CONTINUE READING BELOW
"The master bedroom has a serene palette as we paired the white wall with a light gray headboard. There's also textural interest from the beddings, linens, carpet, and curtains," Euzon says.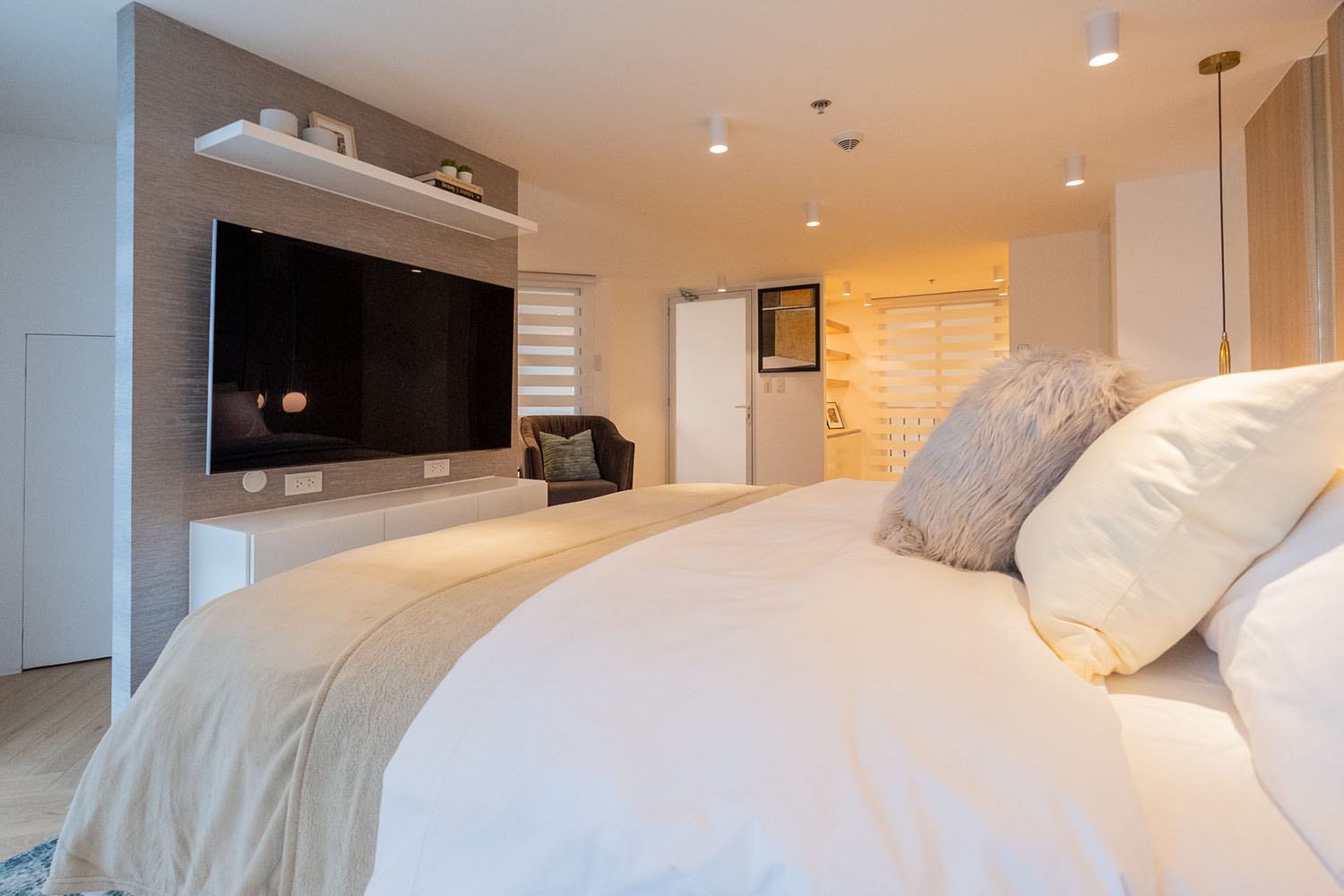 The TV area in the master bedroom mirrors the one seen in the other bedroom but the the design consultant chose to use a different wallpaper. On the other side of the room is the compact yet functional office area.
ADVERTISEMENT - CONTINUE READING BELOW
READ: This Condo Home Proves You Can Use Dark Colors in a Small Space
Home Office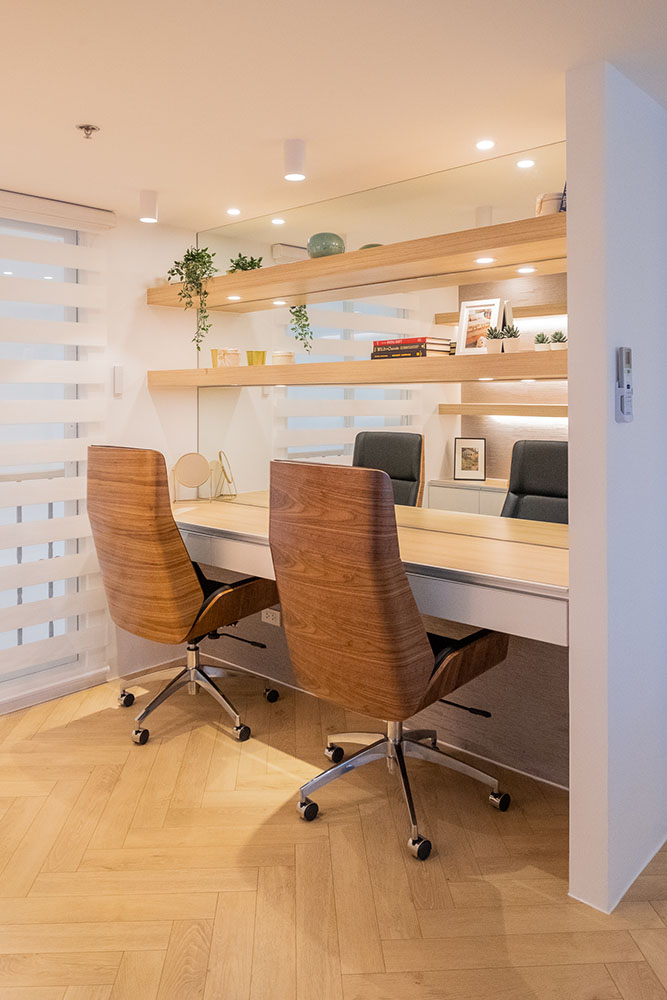 Euzon made the office nook more functional by adding storage through wooden shelves. Mirrored walls and lighting pieces make the space look bigger as well. "This office is also aesthetically visibe from the first floor when you pull up the automated combi blinds," adds the design consultant.
ADVERTISEMENT - CONTINUE READING BELOW
Walk-in Closet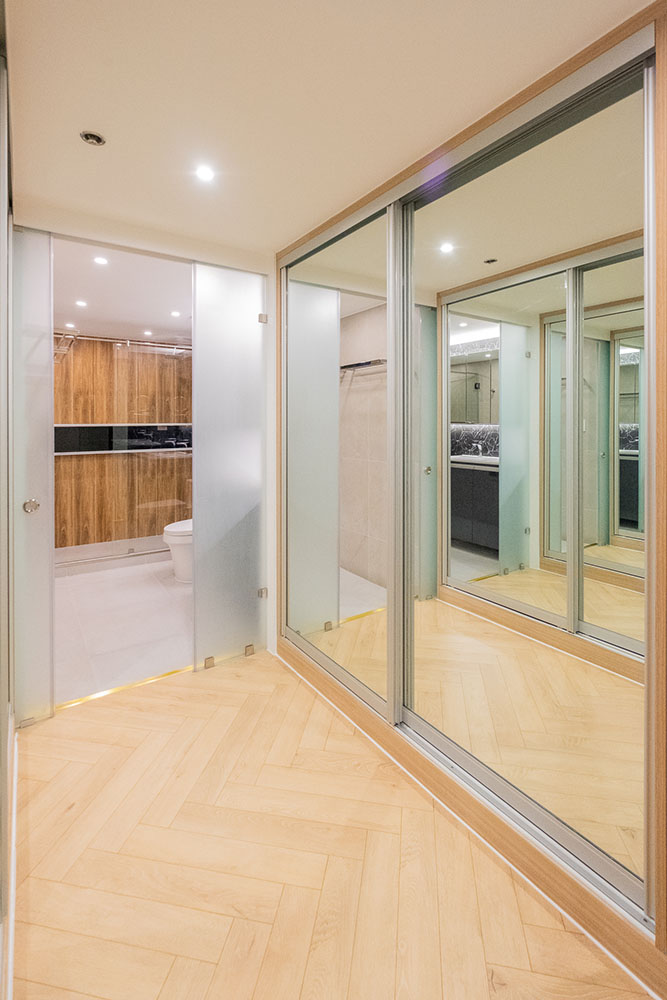 "There's a continuity of design in the walk-in closet with the herringbone layout of the engineered wood planks in oak finish that give an Asian-Scandi feel. Meanwhile, the mirrored cabinets bring functionality and style to the area," Euzon shares.
Bathroom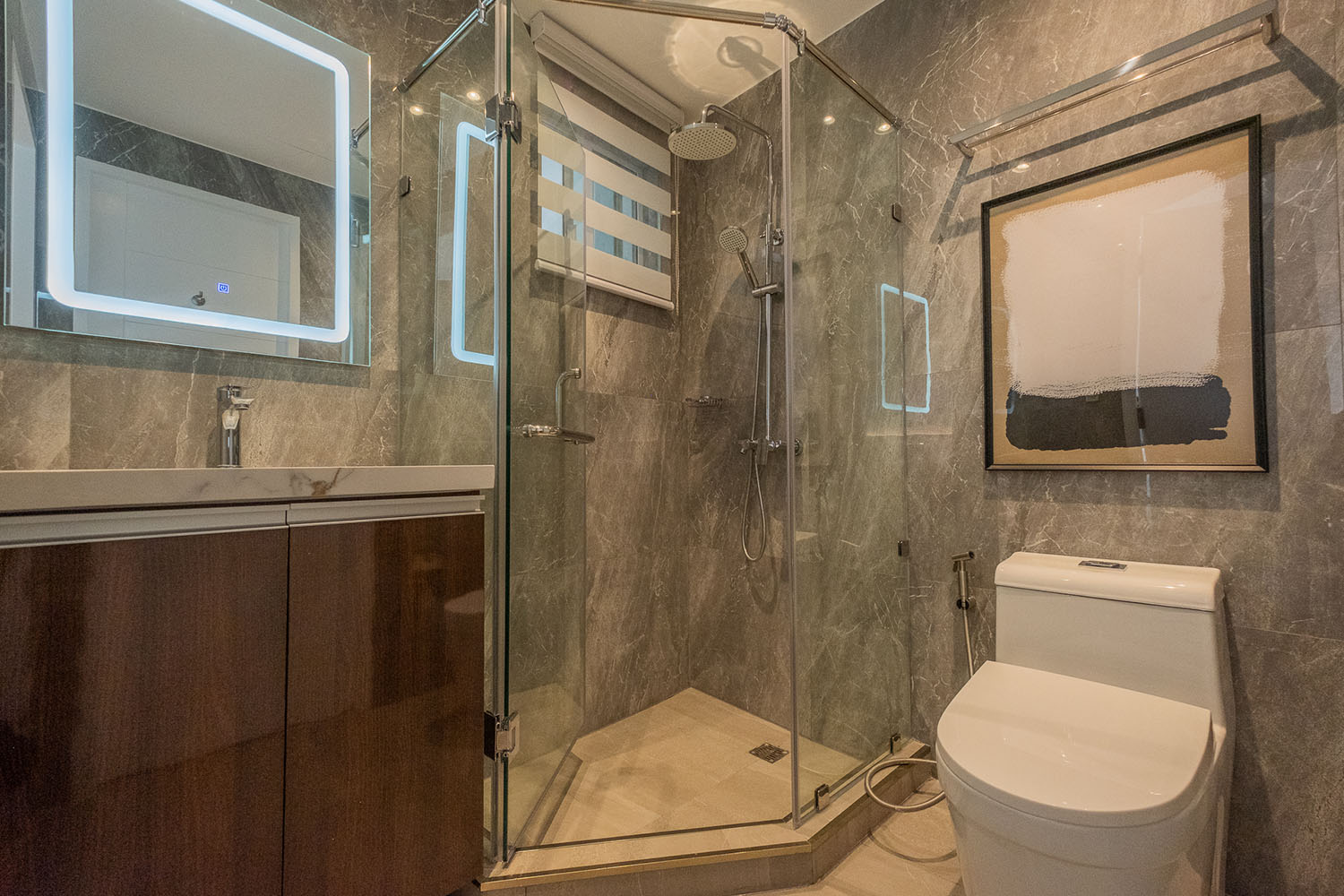 ADVERTISEMENT - CONTINUE READING BELOW
According to Euzon, he wanted to achieve an elegant and spacious bathroom that looks expensive. To achieve this, he utilized wood, stones, and glass. He also matched the mirrors with fixtures that have a stainless-chrome finish.
Interested to work with design consultant Euzon John Catayong? You can get in touch with him through email at ej_catayong[at]yahoo.com. You can also call him at (0915) 726-9995.
More on Realliving.com.ph
Load More Stories