Gardening
Plantitos and Plantitas Share Their Best Advice for Beginners
Just starting out? Here's how you can live your best plant parent life. Photography: Pexels/Athena
The quarantine has led many to embrace the plant parent life, but we know that building a home garden isn't only about procuring the prettiest picks. So if you're just starting out, it never hurts to have some tried-and-tested tricks up your sleeve so you can be here for the long haul.
Hence, we asked experienced plantitos and plantitas on our social for the tips they think all beginners should know. Check their answers below!
Do your research.
Before bringing a plant home, find out more about it to know whether it's a right fit for your lifestyle. "Make sure your space can provide the environment and the sunlight it needs to thrive," one plant parent writes. After all, most plants don't come cheap, and the last thing you want to happen is for your newest pick to die in a week.
If you live somewhere with little to no sunlight, go for ones that can grow in dark corners. If you're a busy bee, choose plants that don't need to be watered too often. When in doubt, ask the other experienced plantitos and plantitas in your life for advice or look up tutorials and guides online.
ADVERTISEMENT - CONTINUE READING BELOW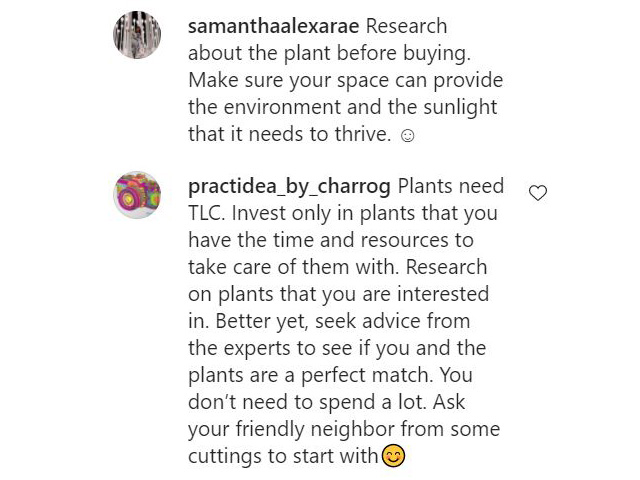 Look for trusted sellers.
With issues like plant poaching and overpricing on the rise, it places a burden on you as a consumer to look for reliable sellers. Take note of the kinds of plants they're selling (endangered plants are a red flag) and maybe look for testimonials from other customers. To save yourself the trouble and some coins, reach out to other plant lovers near you and buy your greens there!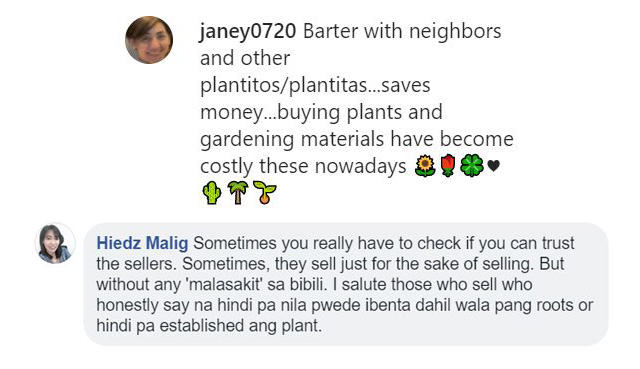 Start slow.
It's easy to get carried away and buy 10 plants at once, but this would be setting yourself up for failure. Many of the plant parents in our comments recommended starting slow so you can get the hang of it. Some say going for low-maintenance, beginner-friendly plants first is best before moving up to more care-intensive kinds!
ADVERTISEMENT - CONTINUE READING BELOW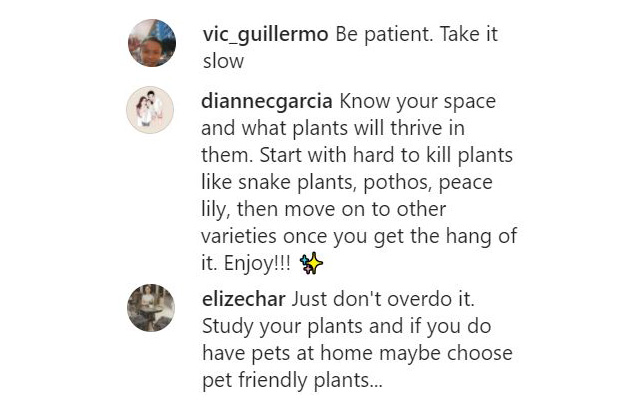 Don't overwater your plants.
This is really the most basic advice one could give, though that doesn't make it less important. "Watering everyday would result to root rot and your plants will eventualy die. Better to underwater than overwater," comments one plantita. Touch the soil before watering or invest in a moisture meter to know exactly when your plant babies need it.
ADVERTISEMENT - CONTINUE READING BELOW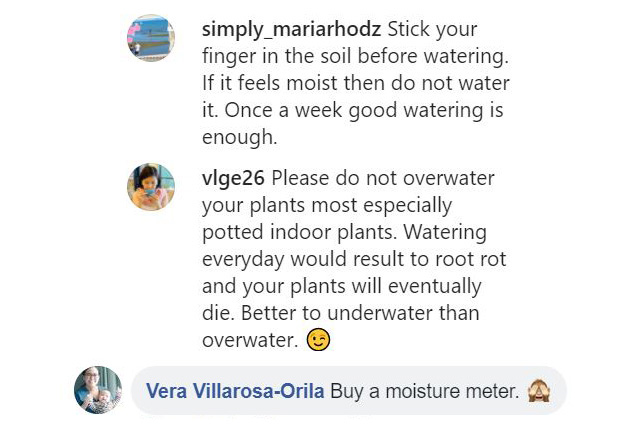 Talk to your plants.
We know it sounds awkward to talk or even sing to your plants but don't knock it 'til you try it! Research has shown that it helps plants grow faster, and they apparently respond better to female voices than male ones. The plantitas in our comments section testify to this, so if you have extra time and want to give your plant babies a boost, why not?
ADVERTISEMENT - CONTINUE READING BELOW

Be patient and keep trying.
It's not the end of the world when a plant dies in your care. You can always try again, which is the beauty of plants in the first place. Aside from buying new ones, one thing that could help you hit reset easily is propagating, be it from your own plants or from another plant parent near you. "Learn from your mistakes and don't give up! If you love plants, they will love you back," reads one comment on our Instagram, and we definitely agree.
ADVERTISEMENT - CONTINUE READING BELOW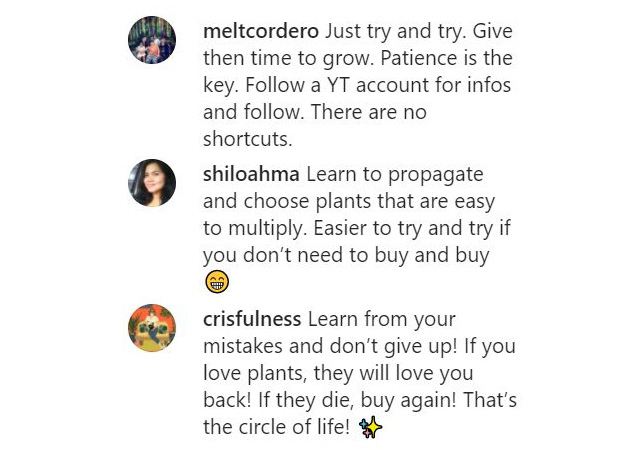 More on Realliving.com.ph
Load More Stories