Shopping & Services
This Filipina Designer Brings a Whole New Meaning to Good Luck
The founding editor of Real Living brings her handmade creations for Good Luck, Humans to the MaArte Fair this weekend Photography: @goodluckhumans on Instagram, Michael Angelo Chua (Main Photos)
The phrase "good luck" is often said to someone for whom you wish success. It's either an honest-to-goodness wish or a sarcastic remark for someone trying to do the impossible (i.e. "Oh, really? Well, good luck!") But for the threadwork studio Good Luck, Humans, the two words are meant to bring a feeling of delight. "It's good luck because it's something that brings you joy. The design sense behind it is a lot of happiness, [I] don't want it to be too serious. It's easy; the clothing is easy to wear," explains Good Luck, Humans designer and founder Apol Massebieau in an interview.
Good Luck, Humans will be one of over 50 exhibitors at the upcoming MaArte Fair 2018, to be held from August 10 to 12, 2018 at The Peninsula Manila in Makati City. Proceeds from the fair will benefit the National Museum. 
READ: Shop This Pinoy Fair In Makati And Help The National Museum
ADVERTISEMENT - CONTINUE READING BELOW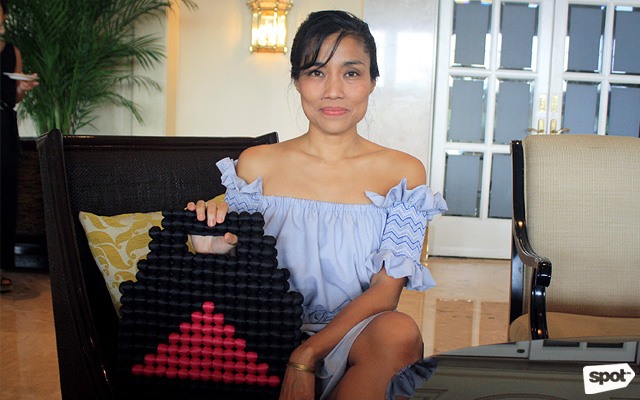 Apol Massebieau of Good Luck, Humans presents a hand bag specially made for MaArte Fair PHOTO BY Christa I. De La Cruz
ADVERTISEMENT - CONTINUE READING BELOW
Recommended Videos
Good Luck, Humans puts emphasis on hand-crafted objects that "combine the fun with the functional." It produces clutches, shoulder and hand bags, boho tops, hand-smocked dresses, boleros, brooches, earrings, necklaces, bangles, and various home items such as pillows and stools (see main photo). The studio is also testament to Massebieau's love for anything hand-sewn. She believes that "there's more of a spirit, or an essence, or a love when you do something that's been made in hands." When you're busy with crafts like embroidery, cross-stitch, or paper origami, you're forced to stay in the moment.
ADVERTISEMENT - CONTINUE READING BELOW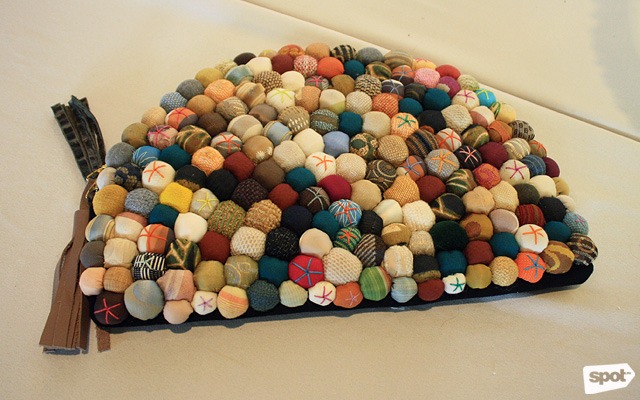 The Luna Clutch, which is part of the Recycled Line, costs P7,500. PHOTO BY Christa I. De La Cruz 
"It started because I already had this business called La Pomme Party. We do arts and crafts activities for children, we also do plush toys. The market for that is very niche naman e. I wanted to be able to have the people that I work with do more stuff. Para 'yong employment nila is assured, that they get a regular income," Massebieau further explains about the humble beginnings of Good Luck, Humans.
ADVERTISEMENT - CONTINUE READING BELOW
READ: RL Spotlight - La Pomme
La Pomme Party was launched in 2007 when Massebieau realized "she had so much time" on her hands. This was after she retired from the publishing industry (she was Editor-in-Chief of the local edition of Good Housekeeping and Founding Editor of Real Living in the mid-2000s), got married, and moved to France. Her products were sold through Etsy during a time when the e-commerce website was new and "[still] very grassroots." Though items were flying out of the shelf and into the houses of customers from U.S., Europe, Australia, and the Middle East, the return of investment isn't as regular as Massebieau wanted it to be to sustain her workers. Through Good Luck, Humans, which she founded in early 2017 after returning to the Philippines, she was able to employ stay-at-home moms from Las Piñas and laid-off factory workers from Batangas.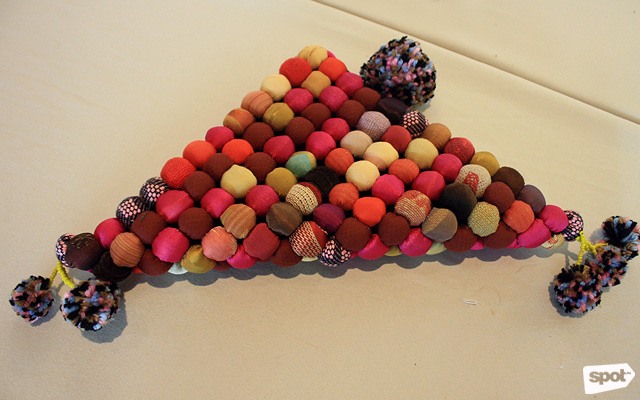 The Toast Clutch, also from the Recycled Line, costs P5,000. PHOTO BY Christa I. De La Cruz 
ADVERTISEMENT - CONTINUE READING BELOW
Despite this system, Massebieau still doesn't consider her business as a social enterprise. "I don't really [like the label]. People keep telling, 'Yes, push it as that.' Me, I'm just trying to do things correctly. I think that's the best we can do, what we're obliged to do anyway," she points out.
When asked what's next for Good Luck, Humans, all the designer wants is to grow the website. It is, after all, the e-commerce age; and for a shop that saw its beginnings in Etsy, there's no other way but to go all digital.
MaArte Fair 2018 runs from August 10 to 12 at The Gallery, 3/F The Peninsula Manila, Ayala Avenue corner Makati Avenue, Makati City. Entrance is free of charge. For more information, follow MaArte on Facebook.
This story originally appeared on Spot.ph.
* Minor edits have been made by the Realliving.com.ph editors.
More on Realliving.com.ph
Load More Stories