Neighborhoods
Hand-Painted Murals Liven Up This BTS-Themed Café in Quezon City
A team of young artists and design professionals brings Purple 7 Café's House of Army to life Coffee shops have evolved from being just a place where we can grab a cup of joe and a pastry to go. The cozier the café, the likelier its loyal patrons will stay to savor the ambiance. What more if the coffee shop you're visiting is built not just to serve good food and coffee, but to bring people who love the same thing together?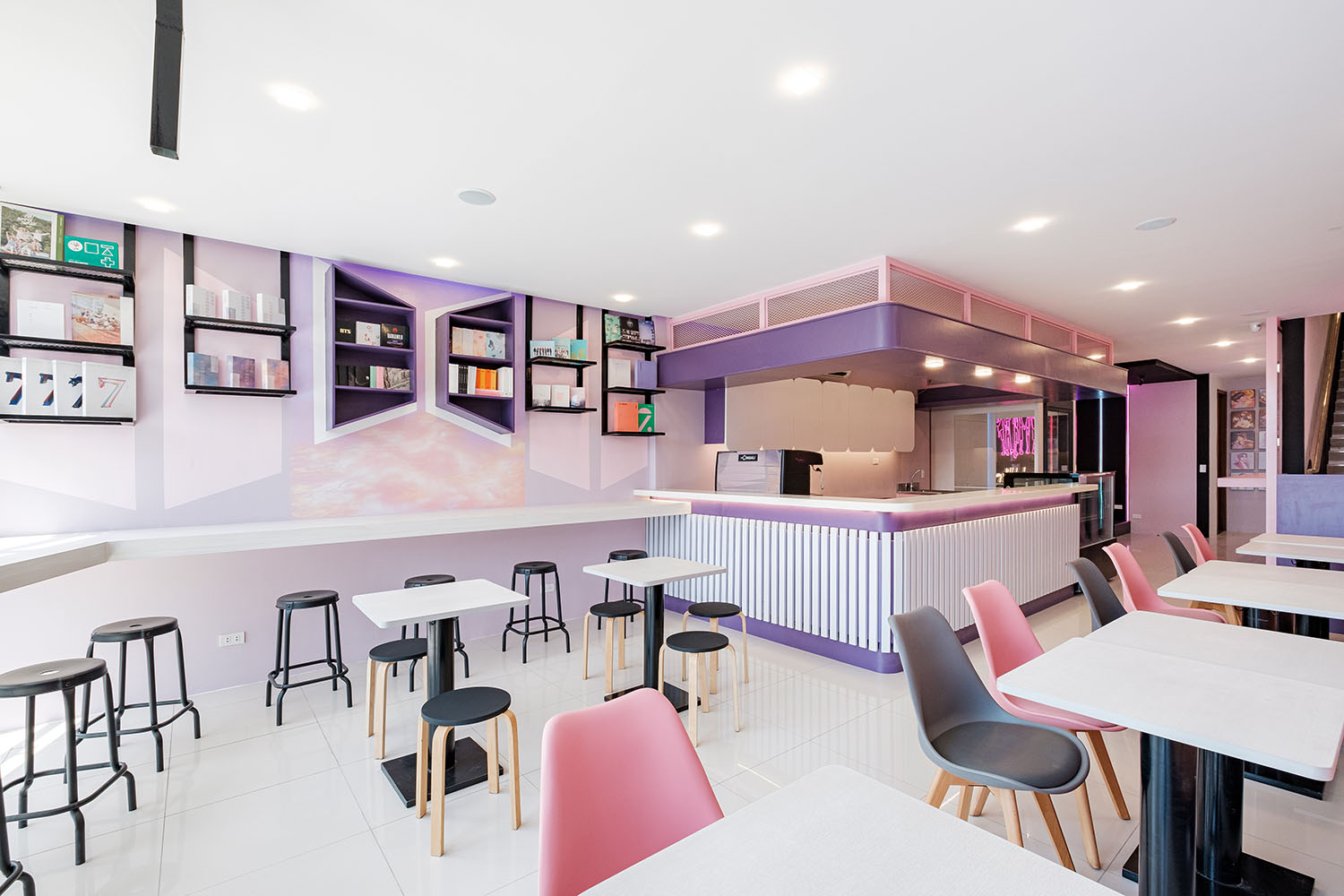 ADVERTISEMENT - CONTINUE READING BELOW
Purple 7 Café, a BTS-themed coffee shop in Quezon City, has gained quite a following over the last two years, the same time period when the group's fan base also exponentially grew. Its original location was in a compact space on the second floor of the NBC Square in Congressional Avenue where you can find memorabilia, albums, and customized artwork on display. Dianne Aguilar, the owner of Purple 7, made sure ARMYs will immediately feel at home the moment they step inside.
ALSO READ:
You'll Love the Cozy Interiors of This Farm + Resort Cafe In Pampanga
You Have To Go Underground To Visit This Dreamy Antipolo Café
This Outdoor Cafe in Rizal Has an Amazing View of the Sunset
While the shop has thrived despite the challenges of the pandemic, Dianne admits that the size of the café has limited the number of visitors they can accommodate given the COVID-19 protocols in place.
To be able to welcome more ARMYs and create a space where they can spend time together, Dianne decided to move to a bigger location in Tomas Morato, her dream location, to create the House of ARMY.
Bringing the House of ARMY to life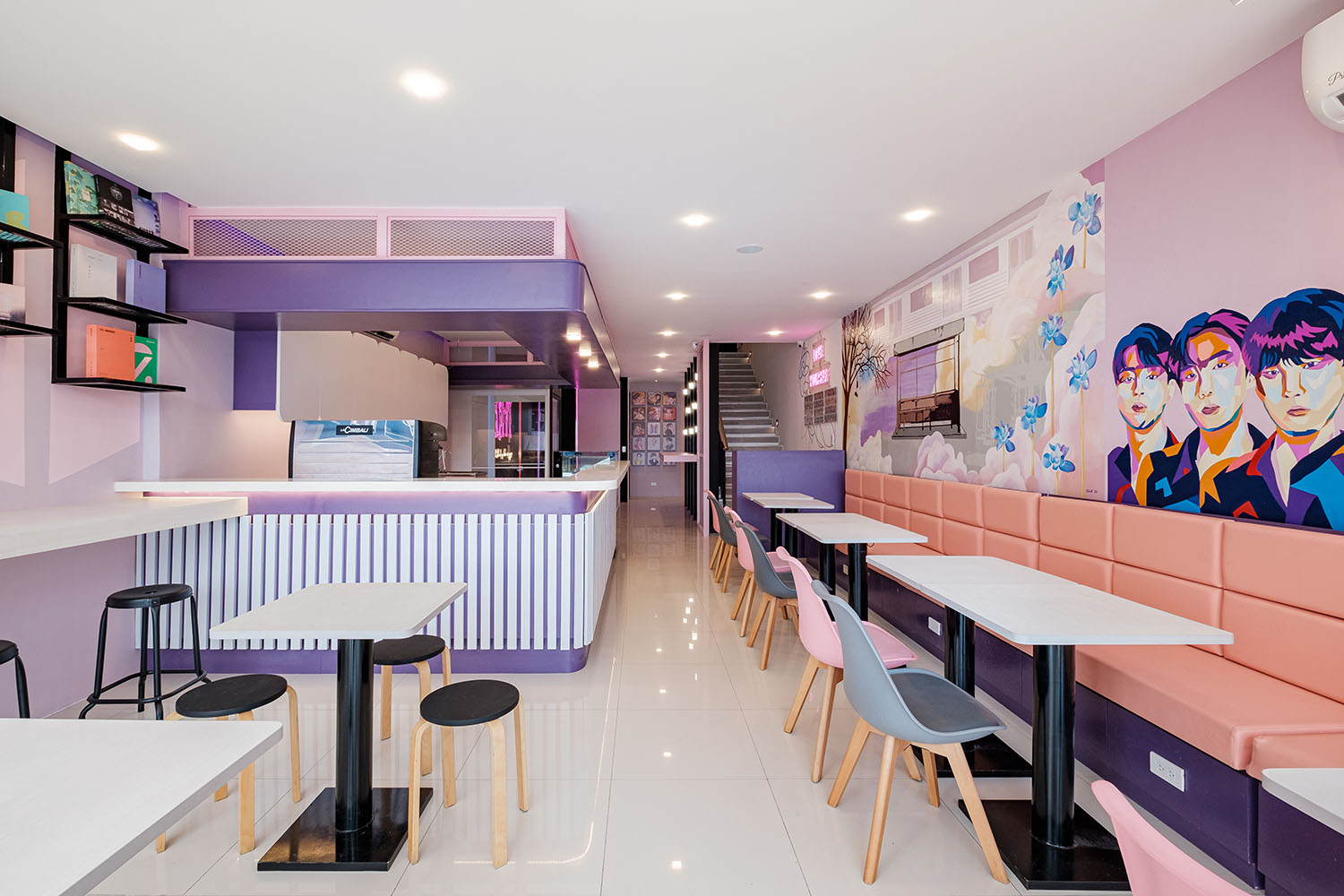 After securing the new location of the café at One Cedar Wood Place, Dianne had to look for design professionals who can help her transform it into a "mi casa" ARMYs would love. She stumbled upon the murals of KULe Design Studio on Facebook and instantly loved their work. "They are very easy to work with because when there are things that had to be fixed, they work on in right away and the turnover was fast," says Dianne.
ADVERTISEMENT - CONTINUE READING BELOW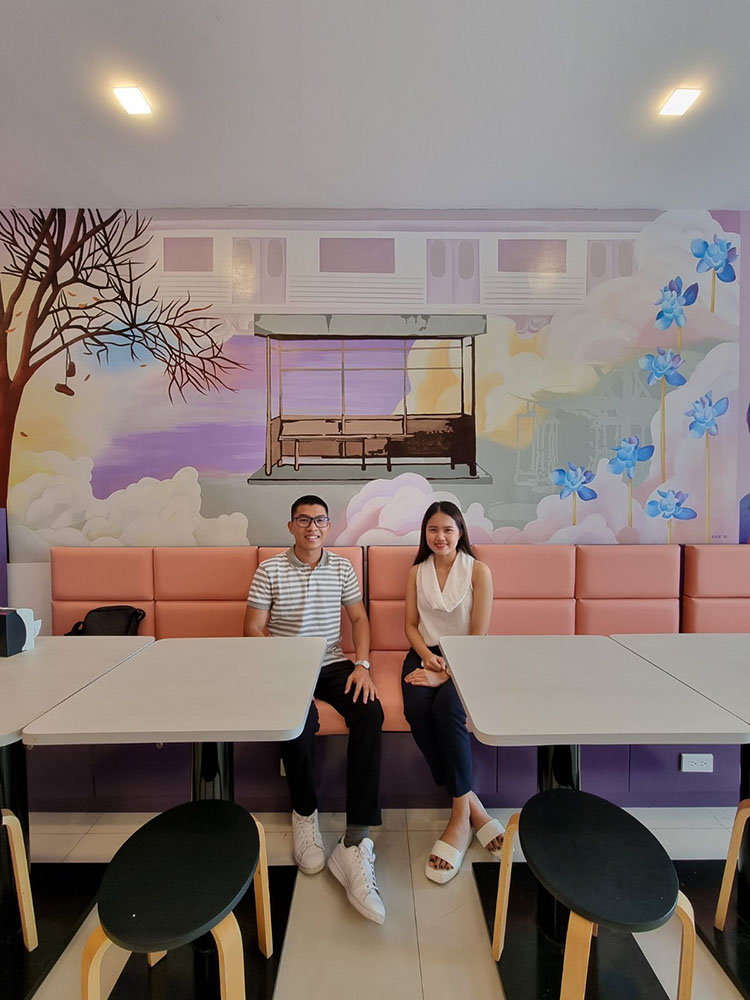 In photo: Architects Brylle Patiu and Rica Palma of KULe Design Studio
For their part, the design team was more than thrilled to be collaborating with Dianne on the project. A design studio based in Pampanga, KULe is making their mark in the field by including works of art in the spaces they work on. The team's larger-than-life murals are a sight to behold as each piece captures the essence of the space they are working on, whether it's a commercial spot or a home.
ADVERTISEMENT - CONTINUE READING BELOW
READ: What Would a BTS-Inspired Bedroom Look Like?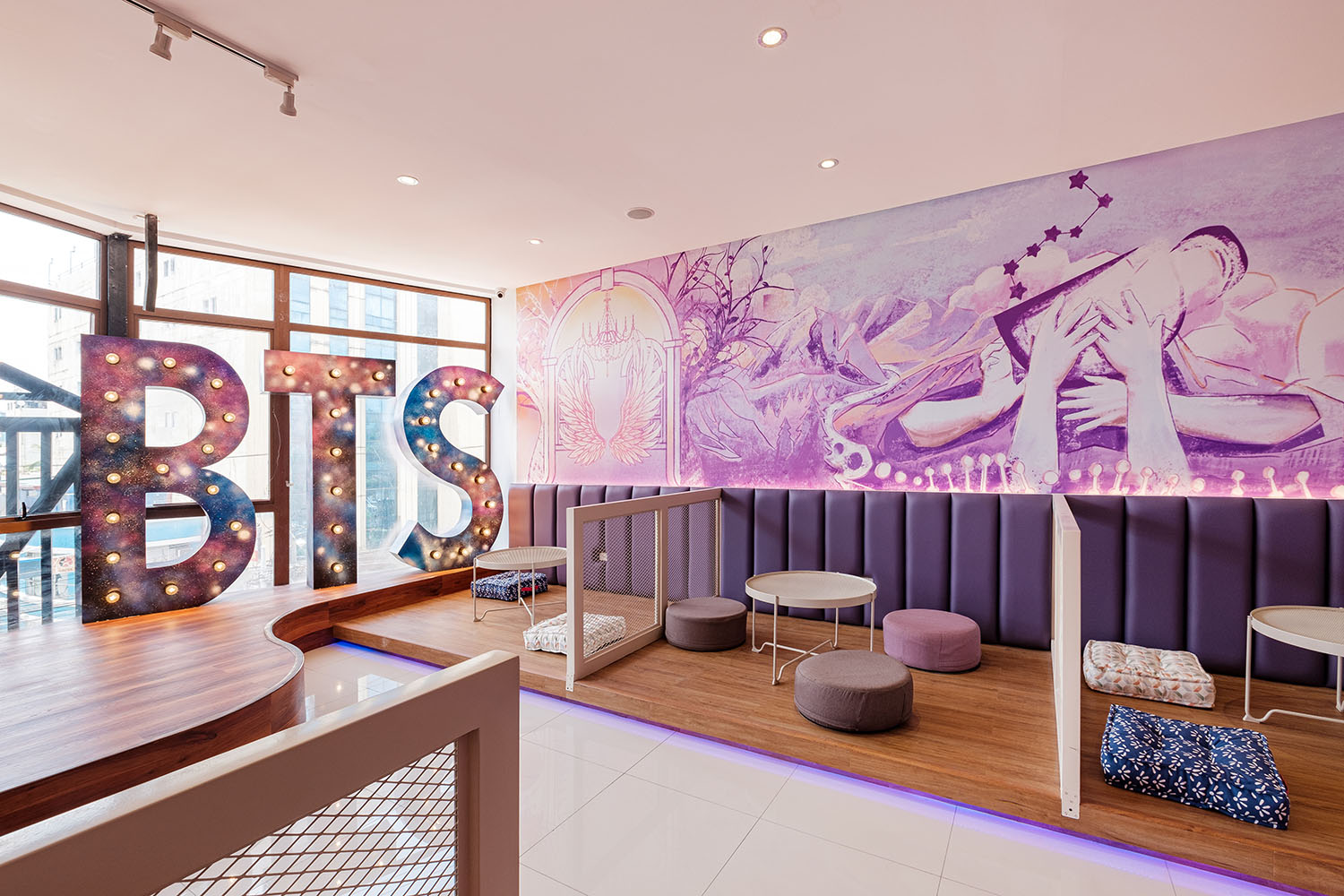 In bringing the House of ARMY to life, KULe had to sift through BTS's content to identify which ones to showcase in the café. Architect Rica Palma, the proud ARMY in the team, was designated as project lead and she came up with the initial renders for the project.
ADVERTISEMENT - CONTINUE READING BELOW
"We didn't plan on having so many murals but Dianne commissioned us to do more artworks for the shop. All of the murals were finished in a week because we had a team of artists who helped. The whole project started in September 2021 and actual construction began in January 2022," recalls Rica. Since the new shop has four floors, the challenge was how to make it visually captivating without overwhelming the guests.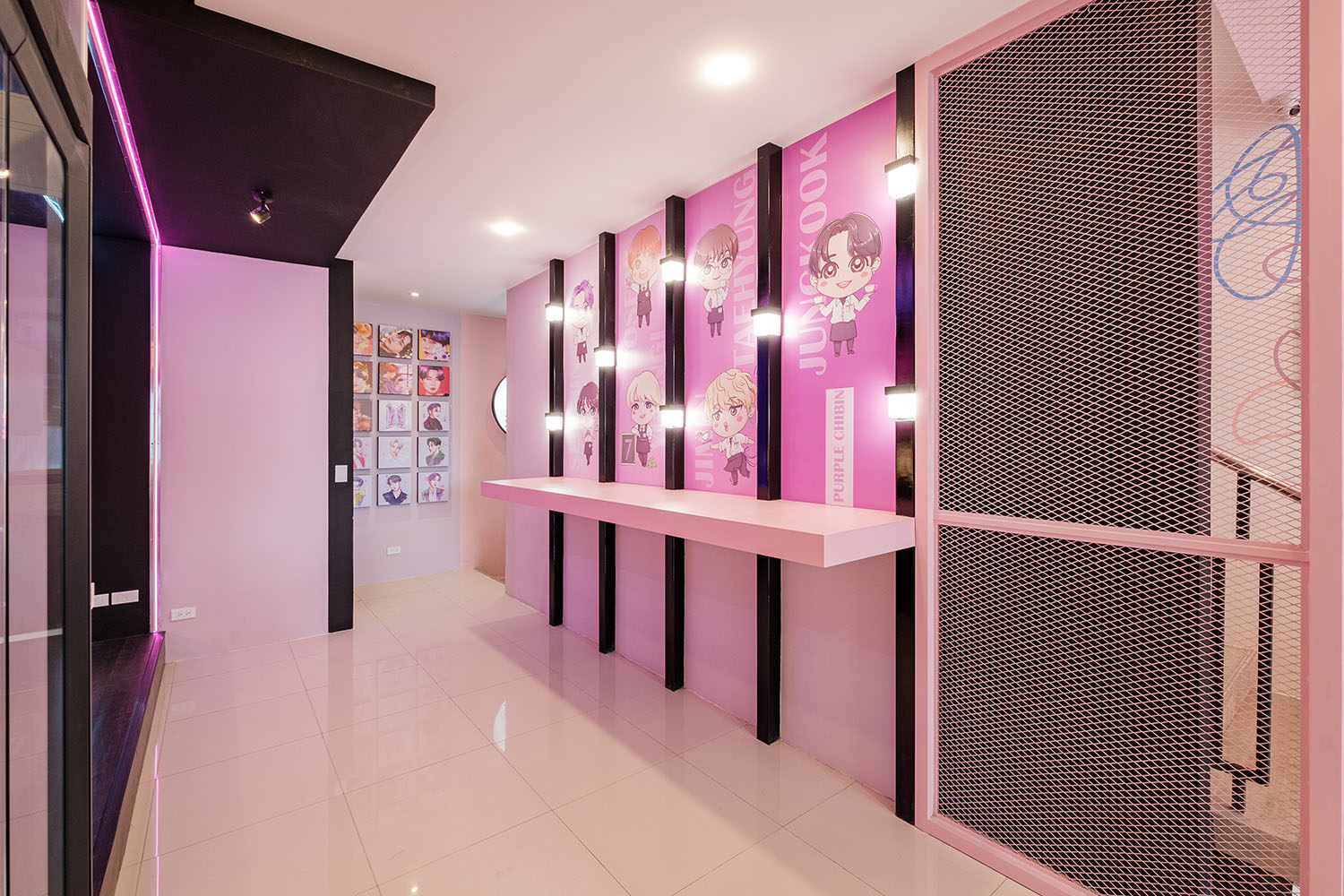 ADVERTISEMENT - CONTINUE READING BELOW
"As a regular individual, you'll be curious to see what's waiting for you upstairs. In the old location, since the space is small, you see everything at once and the eyes can get tired. Here, it's an experience because you have time to appreciate everything. It's a place where ARMYs and non-ARMYs can spend time to eat or work," explains architect Brylle Patiu.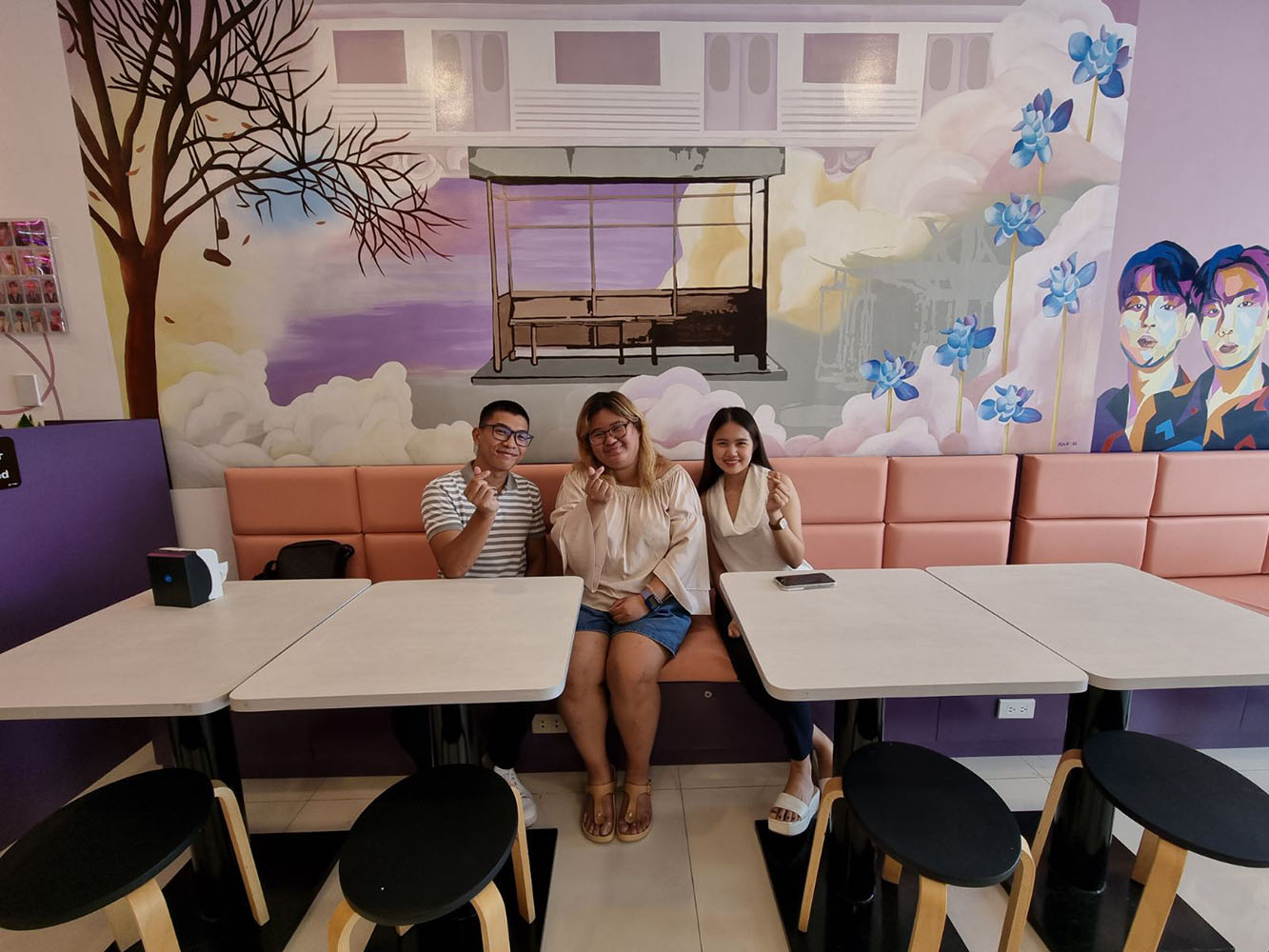 ADVERTISEMENT - CONTINUE READING BELOW
In photo: Architect Brylle Patiu, Dianne Aguilar, and Architect Rica Palma
After a five-month construction/renovation period, Purple 7 Café's House of ARMY is now ready to welcome back its regular guests and provide a place of comfort for new customers. "This is a place where they are welcomed, like they're at home. There are times when some of our regular visitors drop by when they're sad. It's like they're in a safe space," Dianne shares.
Having a place where you can unwind, bond with friends, and enjoy the things you love is a big plus these days. At Purple 7 Café, ARMYs and non-ARMYs will always have a home.
Take a tour of Purple 7 Cafe's House of ARMY below: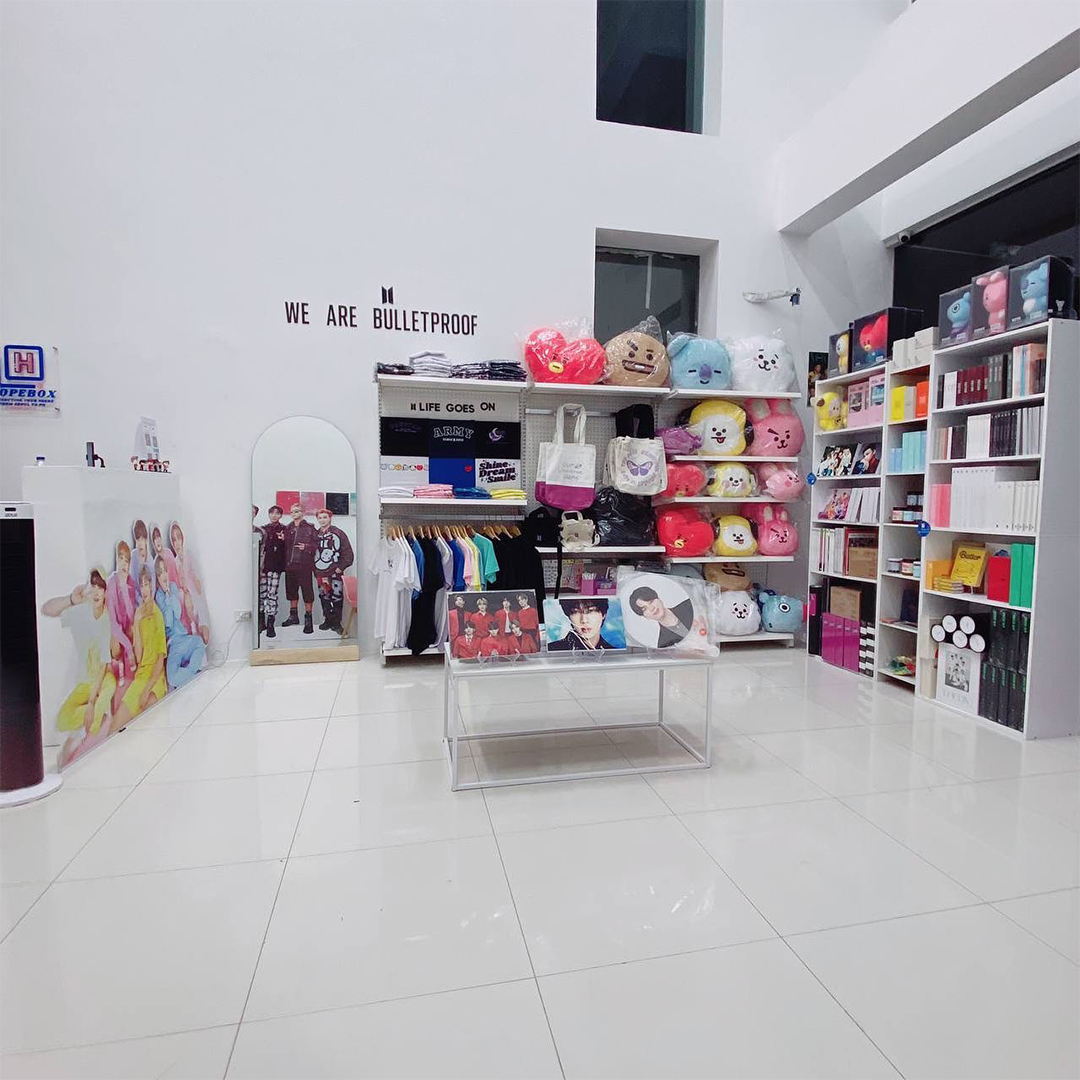 ADVERTISEMENT - CONTINUE READING BELOW
HopeBoxPH occupies the first floor of the new location where ARMYs can shop for official and fan-made merch. From premium photos and albums, to scented candles and shirts, BTS fans will have a grand time looking for an item they can add to their collection.
READ: Hiraya Wellness Resort and Ecopark is a Safe Space You'll Keep Coming Back To
The waiting area on the Mezzanine features one of KULe's murals which is reminiscent of the Boy with Luv music video.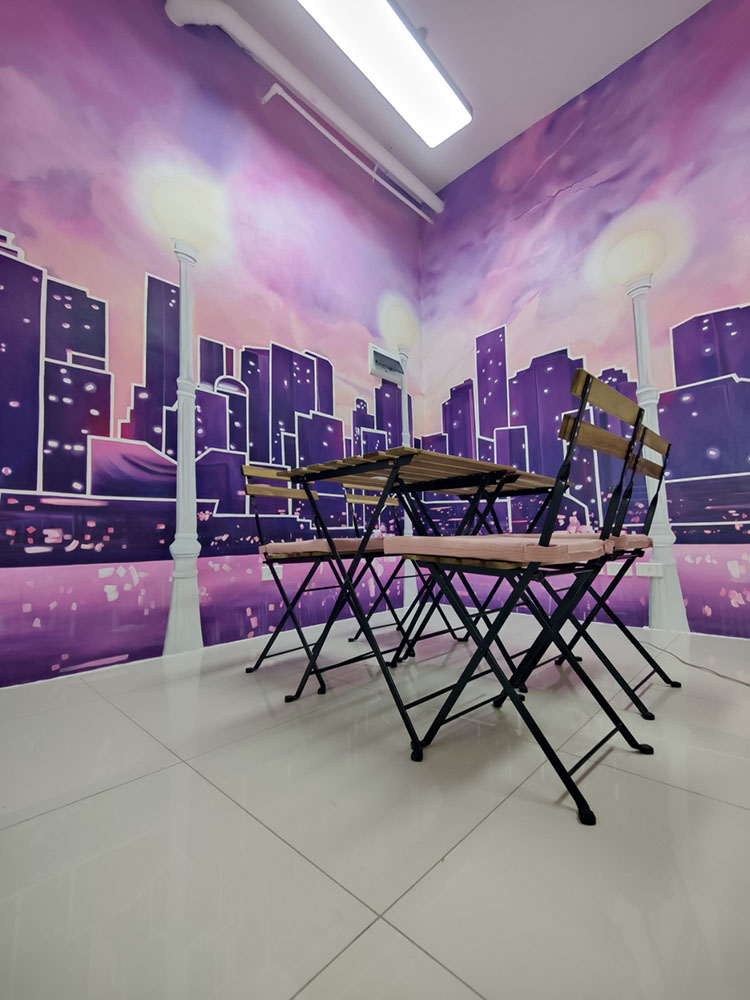 ADVERTISEMENT - CONTINUE READING BELOW
Guests can take photos while waiting and check out the accents on display.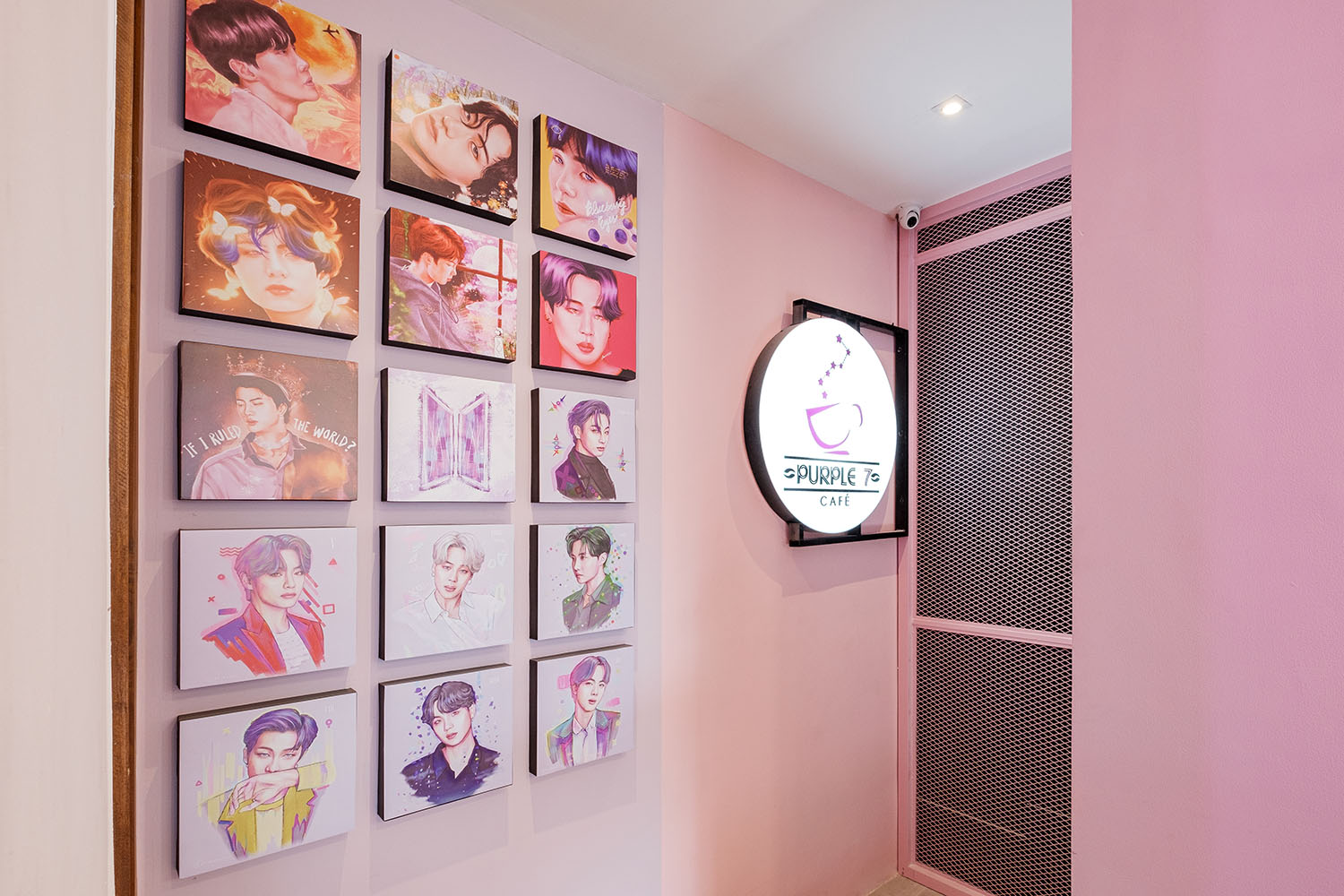 Dianne had these portraits of BTS member done by Filipino artists. These works of art welcome guests on the third floor, the café's main dining space.
The third floor also features a lit version of the BTS members spelling out ARMY with a well-loved line completing the accent. 
ADVERTISEMENT - CONTINUE READING BELOW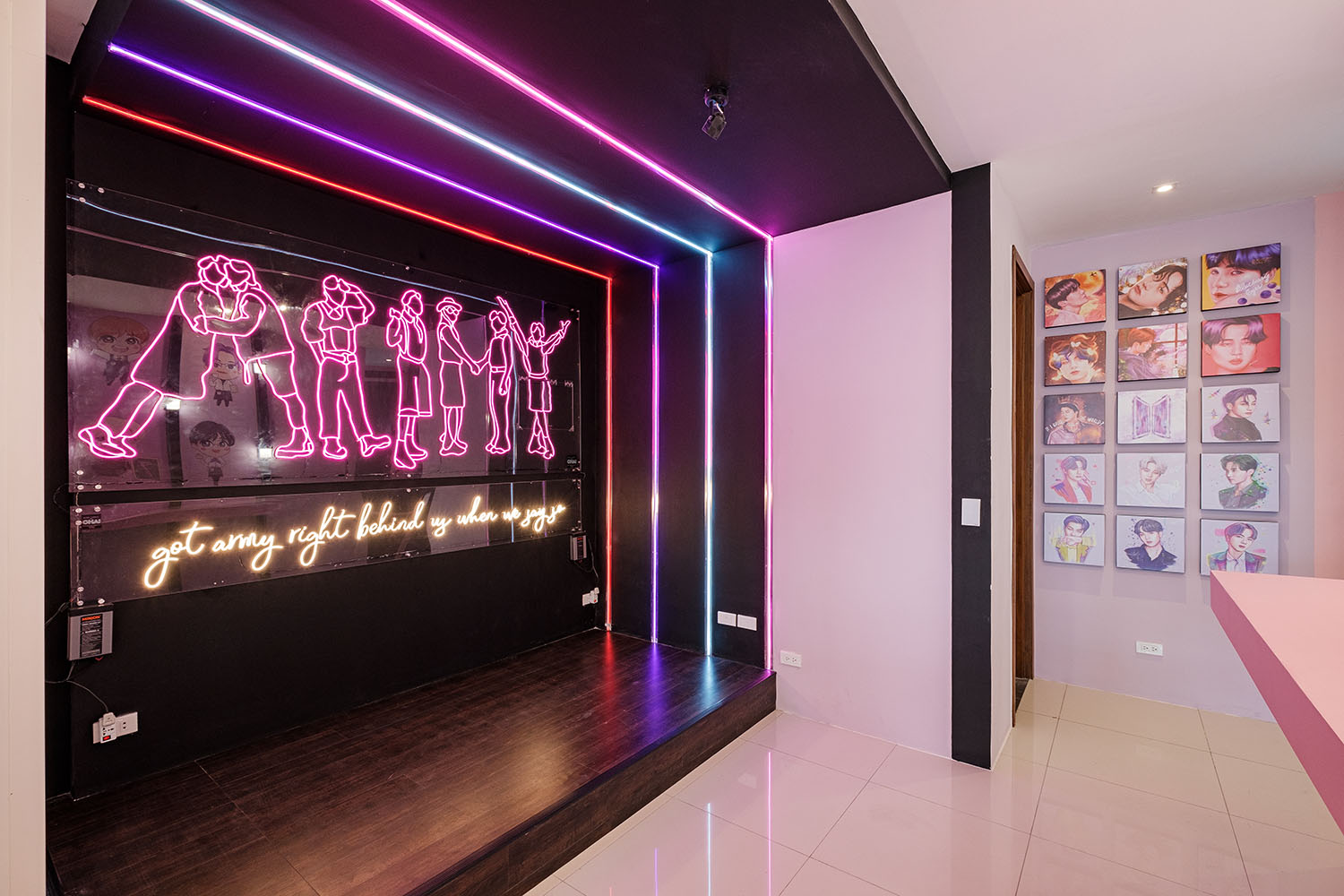 Visitors will surely have their photos taken here. In front of the neon light piece is a wall accent showcasing the Chibi versions of BTS, which were done specifically for Purple 7.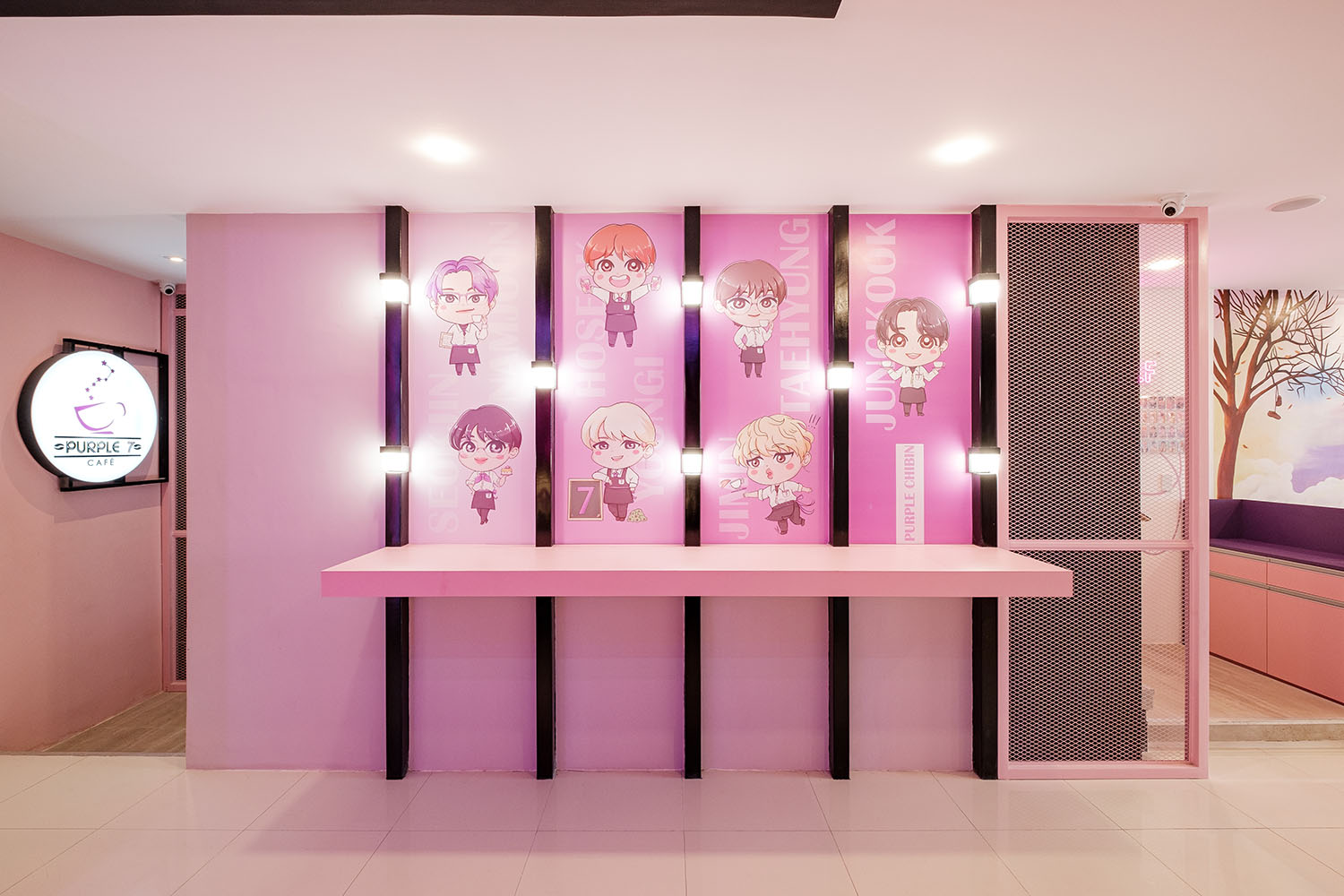 ADVERTISEMENT - CONTINUE READING BELOW
A captivating piece inspired by one of the group's hit songs, Spring Day, is seen on the third floor.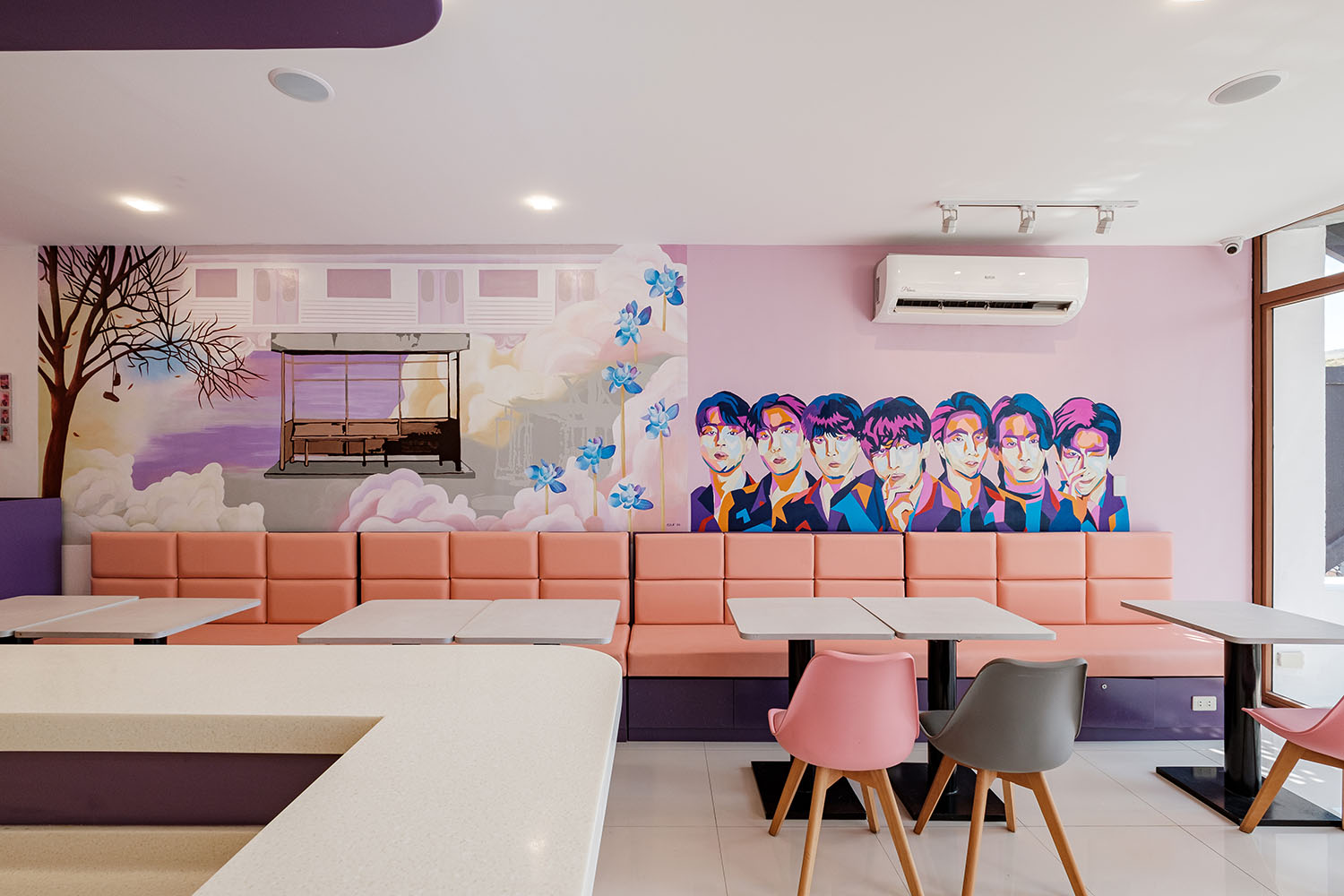 Aside from making sure non-ARMYs will love the work of art, the design team also included details that fans will immediately spot such as the seven Smeraldo flowers, the train, and the tree with the shoes hanging from it, to name a few.
ADVERTISEMENT - CONTINUE READING BELOW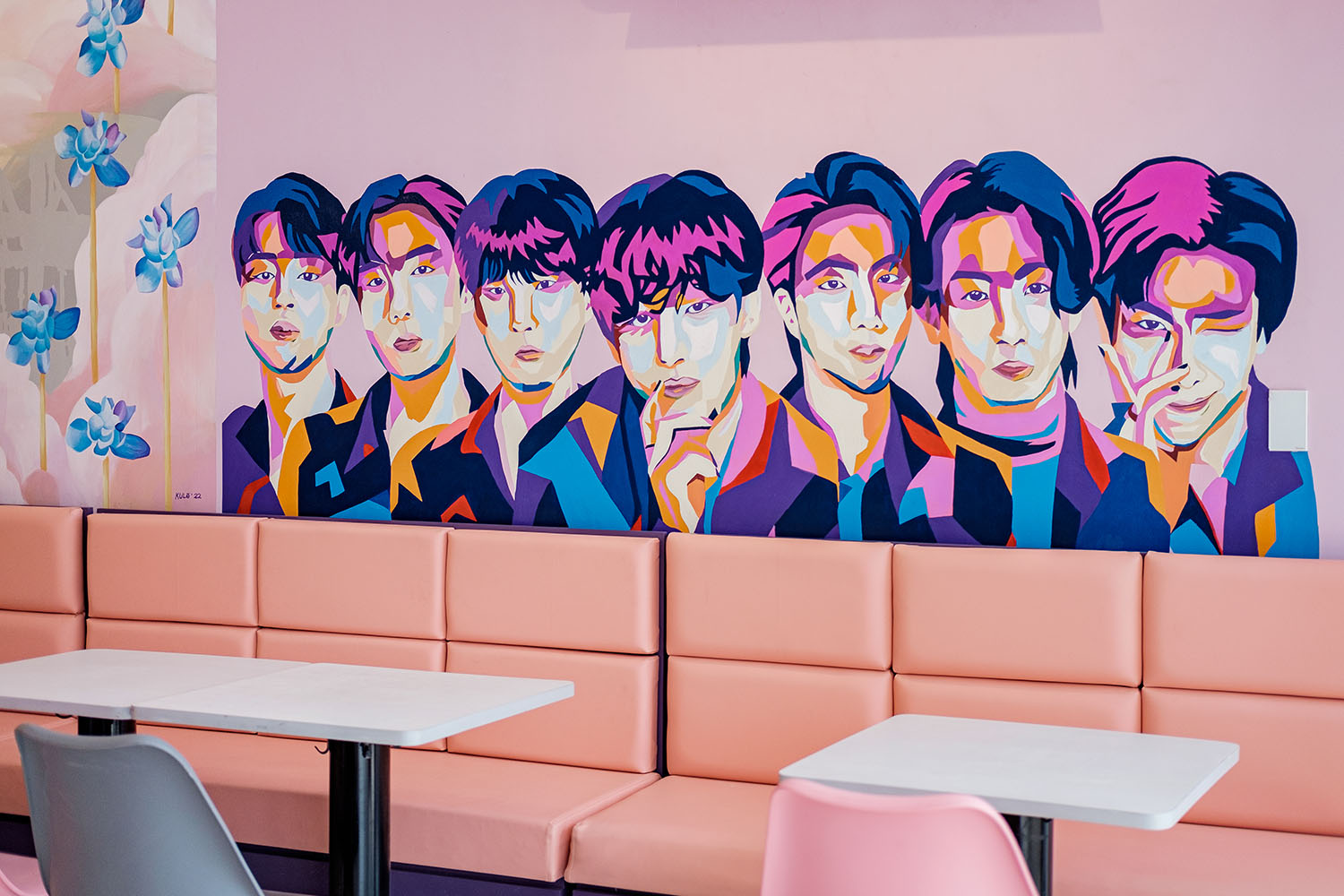 The mural beside the Spring Day piece is a recreation of a vector art done by Joshua Puertollano.
READ: Have You Seen the New Murals Around Bonifacio Global City?
Aside from completing the café with works of art and memorabilia, the design team also included details that scream BTS and ARMY while still being functional such as this logo shelf holding albums.

ADVERTISEMENT - CONTINUE READING BELOW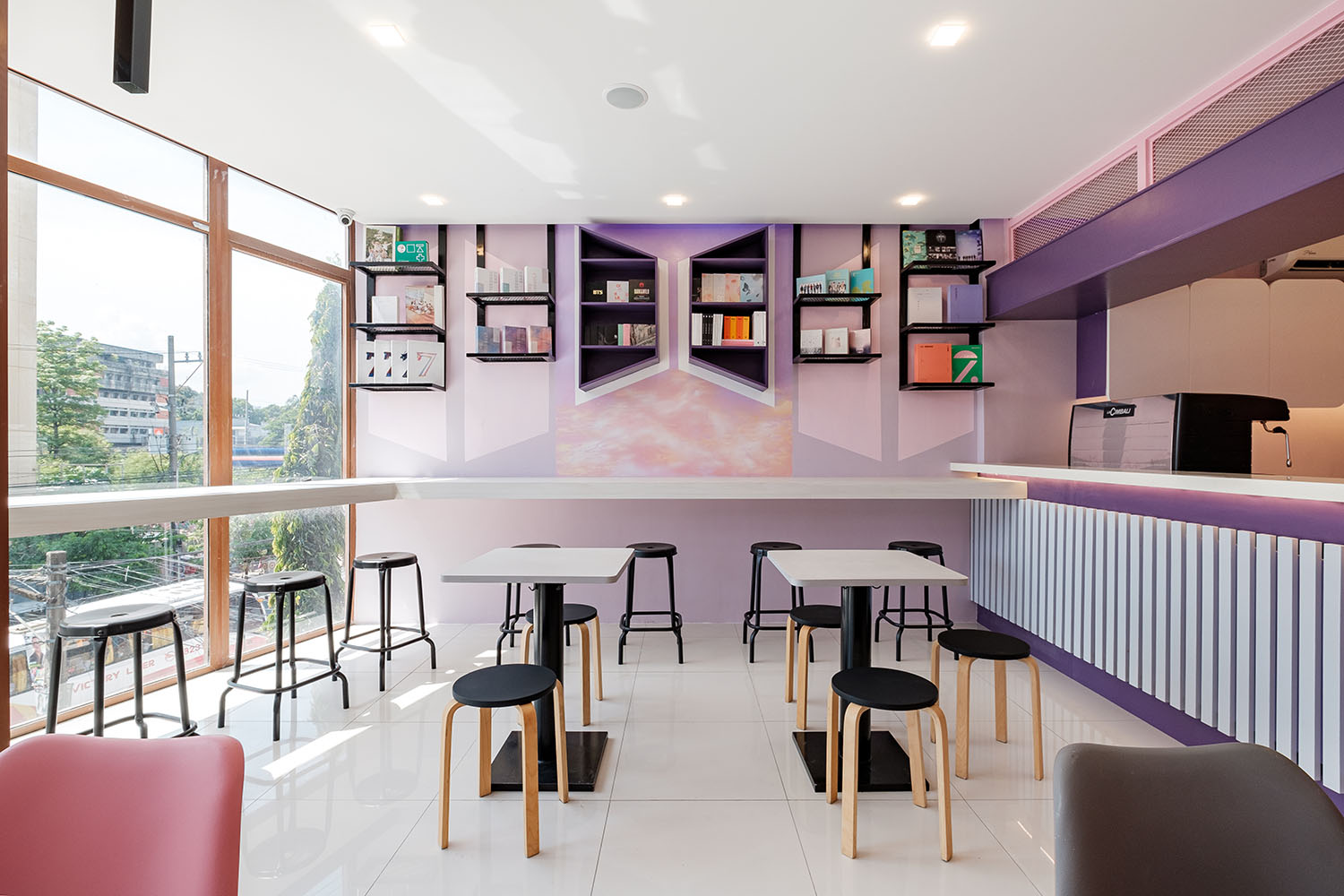 The whale holds a ton of meaning for BTS fans and KULe made sure to showcase this on the fourth floor. On the landing is a lovely mural featuring the whale and the silhouettes of the seven members.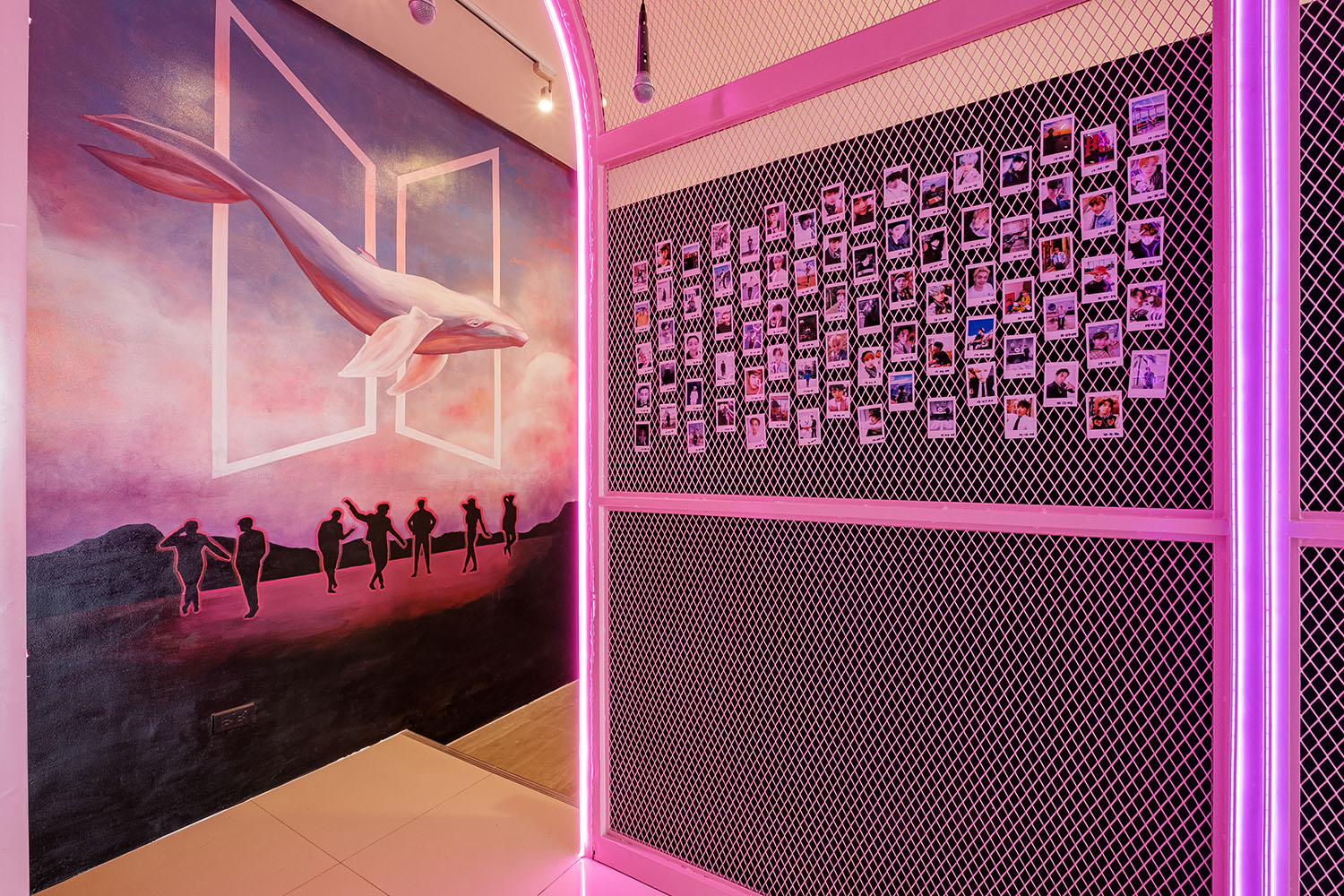 ADVERTISEMENT - CONTINUE READING BELOW
One of the well-thought-out features on the fourth floor is the Mic Drop photo op area inspired by the chart-topper.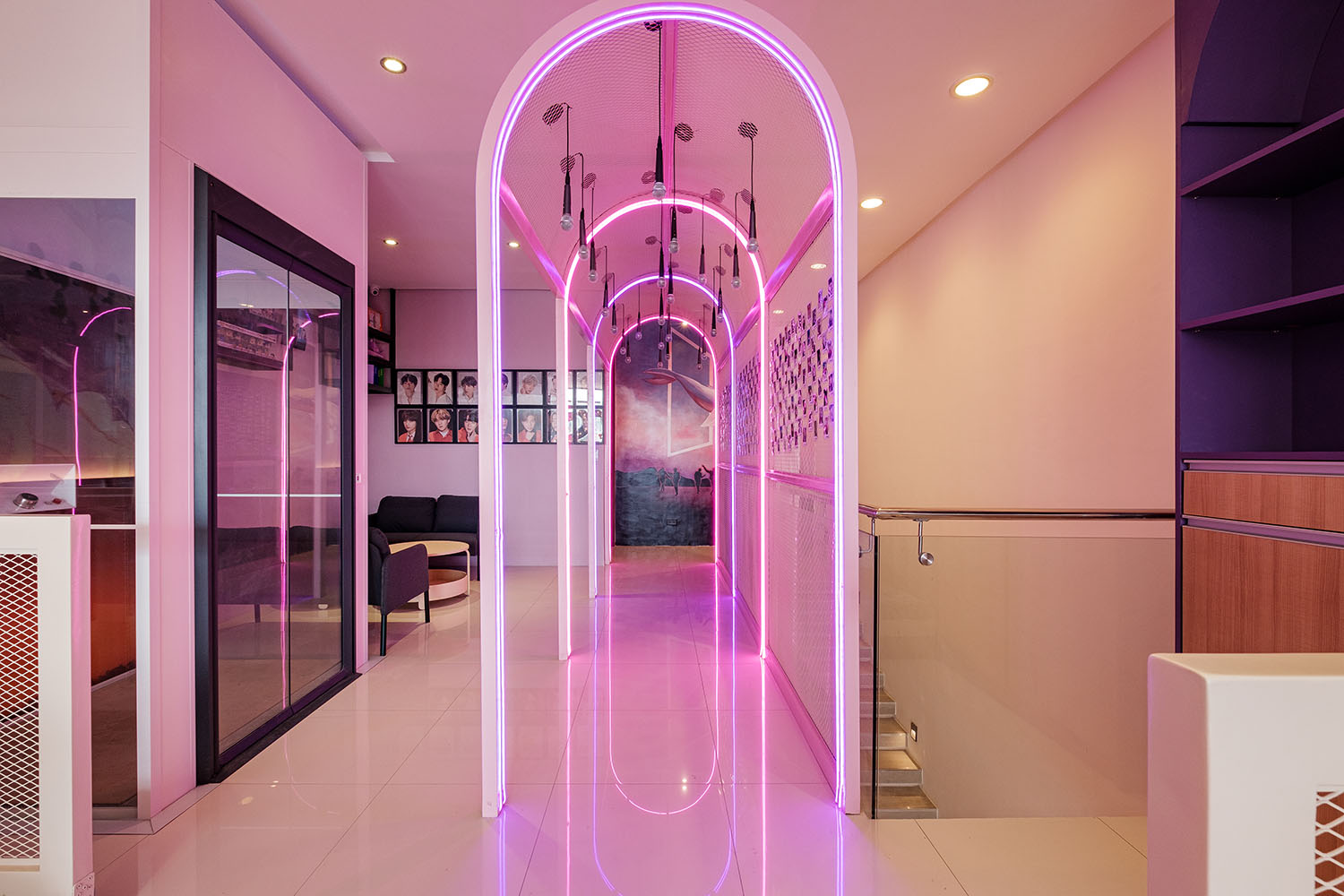 The design team believes that many guests will be sharing this on social media.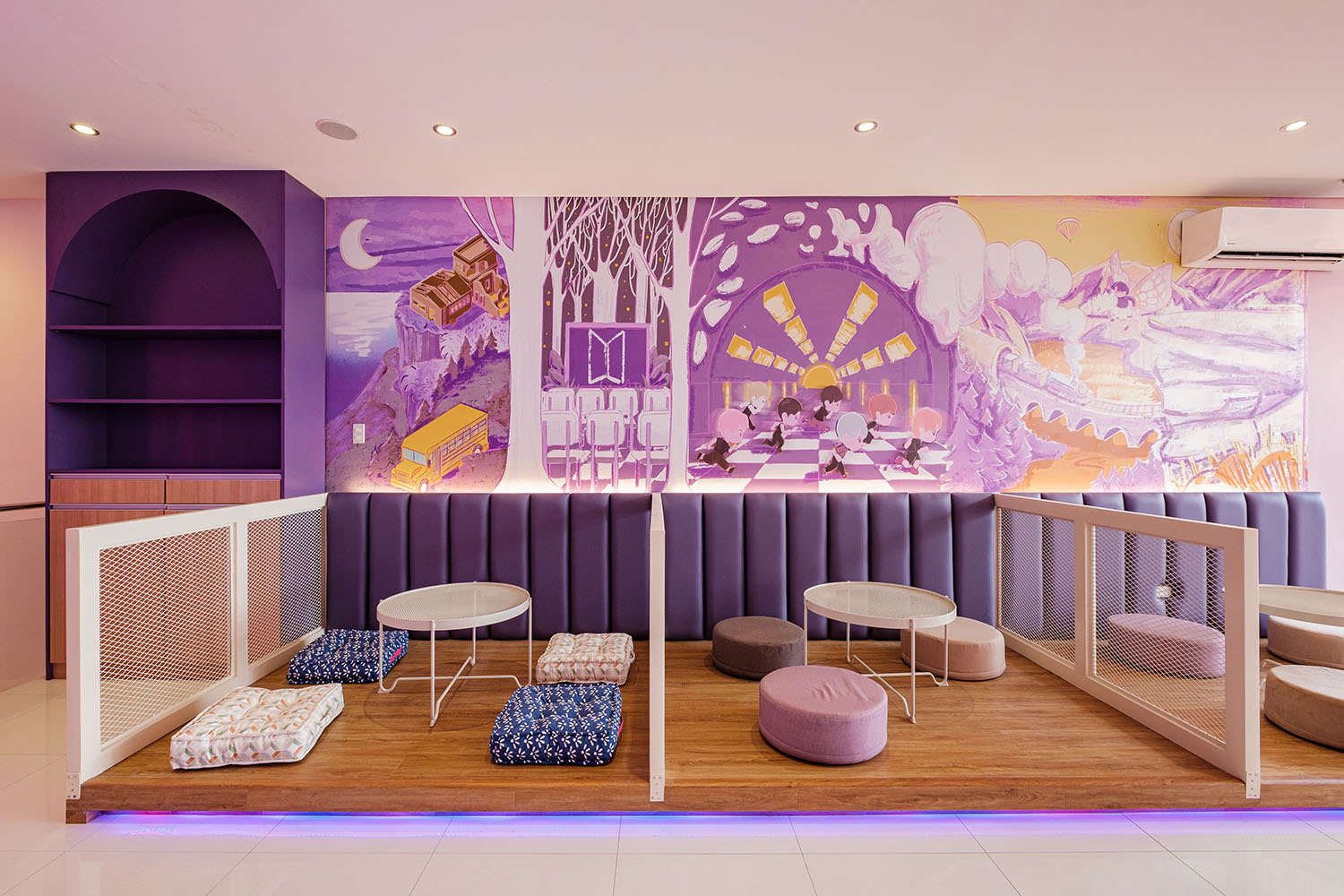 ADVERTISEMENT - CONTINUE READING BELOW
The wall accents on the fourth floor were conceptualized by the design team and completed using decals. One wall features details reminiscent of the group's hit songs while one side shows the transition of BTS from youth to adulthood. This also takes inspiration from the group's song, "We are Bulletproof: the Eternal."
READ: 5 Ways to Use Murals at Home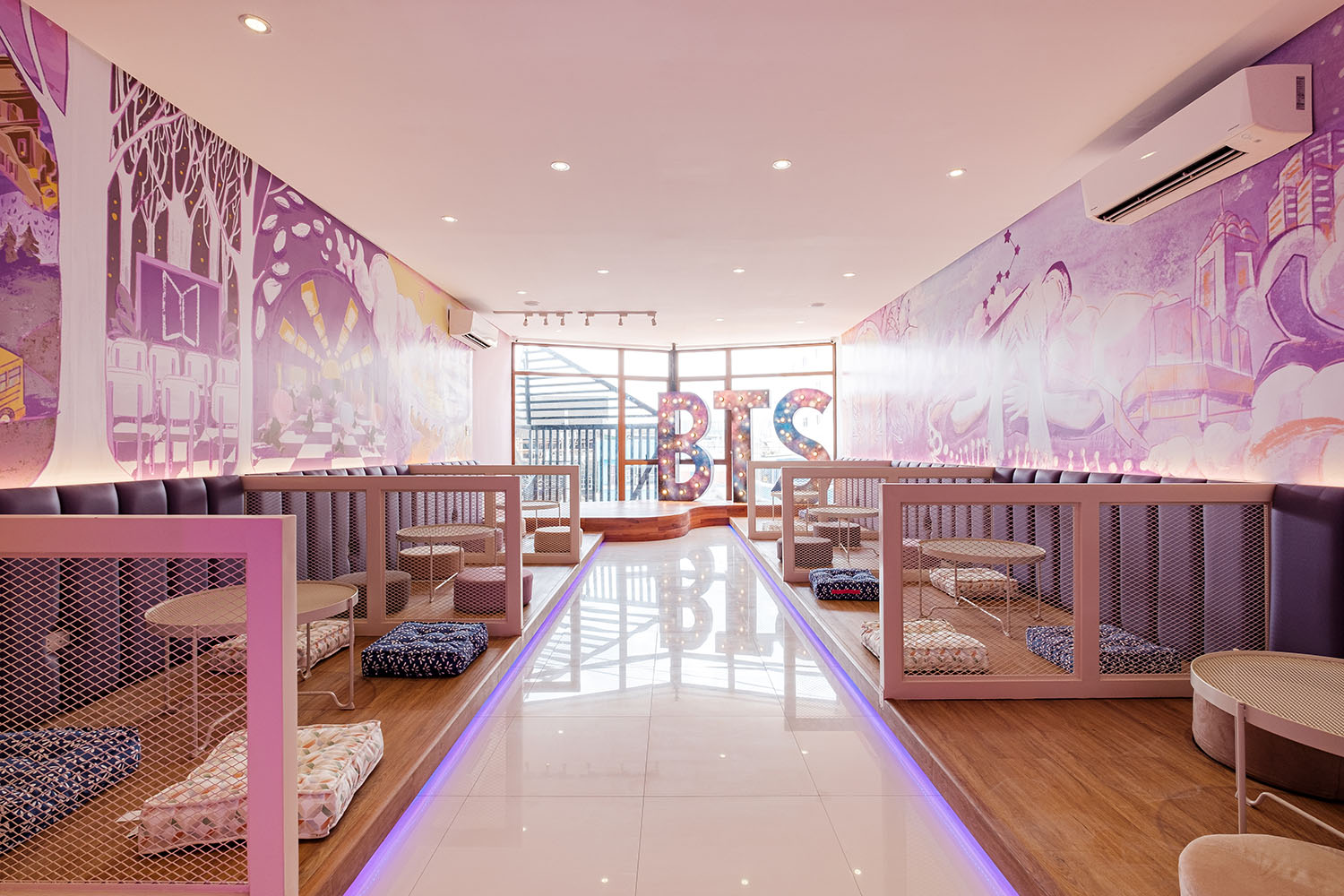 ADVERTISEMENT - CONTINUE READING BELOW
The lounge area is divided into seven seating areas completed with a table and floor cushions. Aside from enjoying their meals here, guests can also watch performances comfortably. The Purple 7 Team holds watch parties in the shop whenever there are online concerts.
The café will officially open on May 28. They are open for walk-ins and dine-in guests (fully vaccinated individuals only) on a first come, first served basis from Tuesday to Sunday at 11am to 8pm. Visitors can stay for up to two hours to allow other guests to dine in. Priority will be given to reserved guests on Friday and weekends. Click here to reserve your slot.
Purple 7 Café's House of ARMY is located at One Cedar Wood Place, Tomas Morato Avenue, Quezon City. For more details, follow Purple 7 Café on Facebook.
Want to collaborate with KULe Design Studio? Follow them on Facebook and Instagram.
Special thanks to IDr. Angelo Aguilar, Dianne Aguilar, and KULe Design Studio (Architects Ria Palma, Brylle Patiu, and Marinel Tungol)
ADVERTISEMENT - CONTINUE READING BELOW
More on Realliving.com.ph
Load More Stories