A Bodega Transformed Into a Cozy Laundry Room
Yes, doing the laundry can be comfy and somehow relaxing, too! It's safe to say that the past year was a year of finally working on long-forgotten projects, decluttering, and putting our DIY skills to good use. We're sure you've seen some of the home improvement projects of your friends, too. Living under quarantine also gave Sheryl Evangelista Baculinao an opportunity to deal with their home's 7sqm storage room which quickly became an eyesore. "It turned into a chaotic bodega real fast, with no sense of order whatsoever," she shares with Real Living.
As a full-time mom and teacher, Sheryl didn't really have the time and energy to improve the space—until the lockdown happened. "I had to detach myself from many of the stuff stored in there but I also found a number of things that I was able to repurpose. These things kept me busy and gave me projects in the duration of the lockdown. Soon, I was left with an empty space which got me excited," she recalls. The next step—deciding on how to best maximize the room. Since her kids attend online school, it's too cramped to accommodate all three of them. Creating a pantry may not be too efficient since they don't stock up on extra food and a home gym is also out of the question.
The final answer? Turning the space into a cozy laundry room! After all, in this house, doing the laundry is a family affair. "Doing the laundry is something that we have to do regularly. Since member of the family is involved in washing, sorting, folding, and storing the clean clothes, I wanted a place where we can do all those and have access to everything we'll need," Sheryl shares. After looking up inspiration on Pinterest, she began conceptualizing and putting together the elements. The result is a laundry room that doubles as a tambayan, where washing clothes can be relaxing, too. Learn more about the makeover below:
Before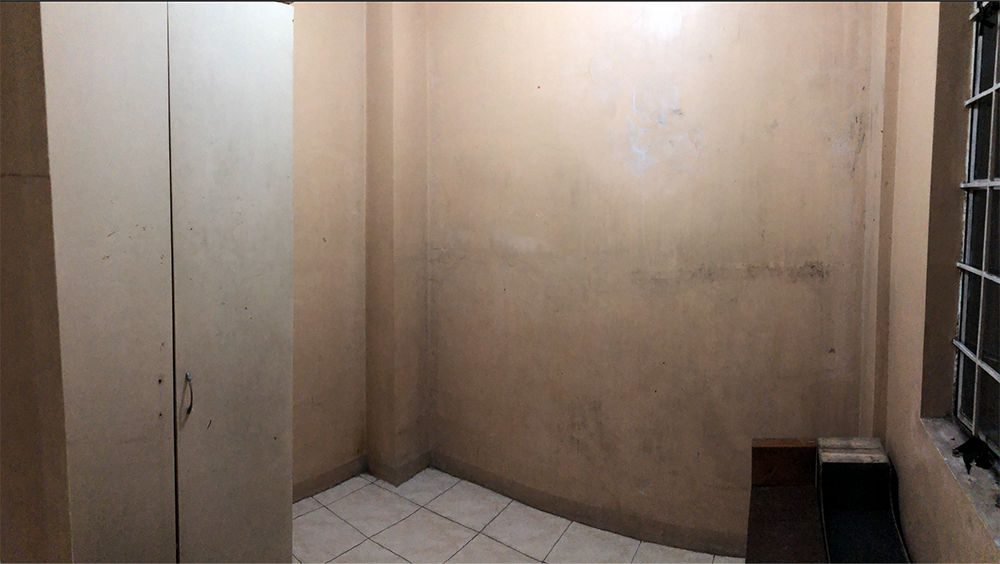 ADVERTISEMENT - CONTINUE READING BELOW
The storage room used to be the room of the family's helper. When she left, it became a storage room where unused things are kept. To kickstart the makeover, they had to remove the big cabinet by the door. "We only needed help with the carpentry and we asked the help of a friend who does it professionally. He didn't charge as much," shares Sheryl.
After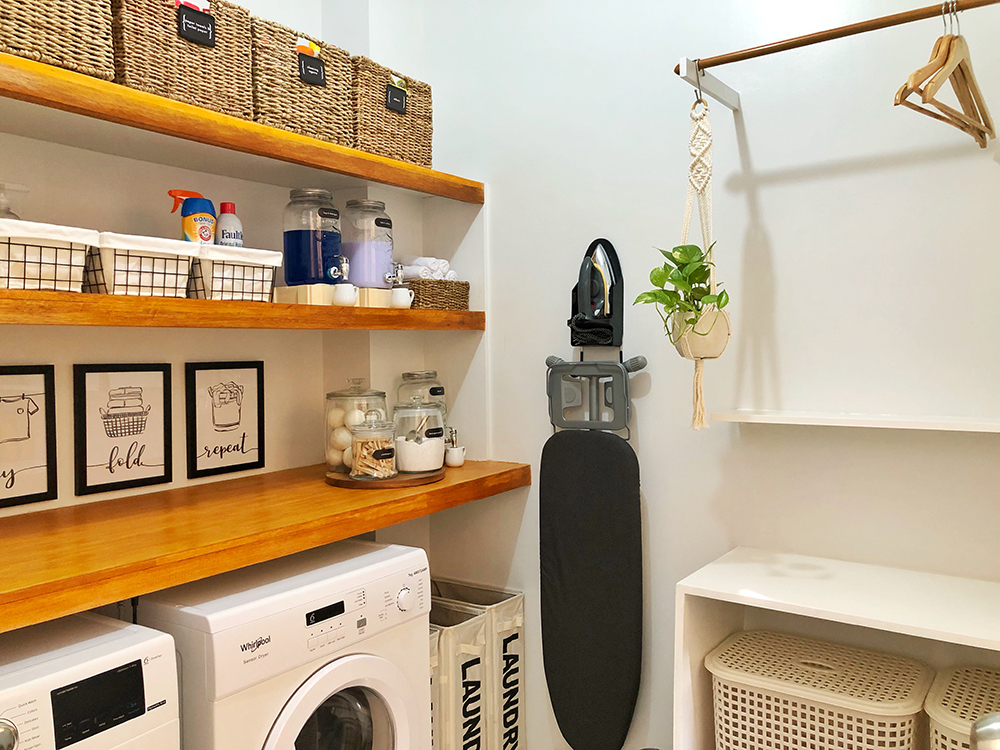 The finished laundry room looks straight out of Pinterest. According to Sheryl, a huge chunk of the project was DIY, plus, most of the items were repurposed. "Not many of them are new. The others I bought from Shopee and other local stores on Instagram," she relates.
Before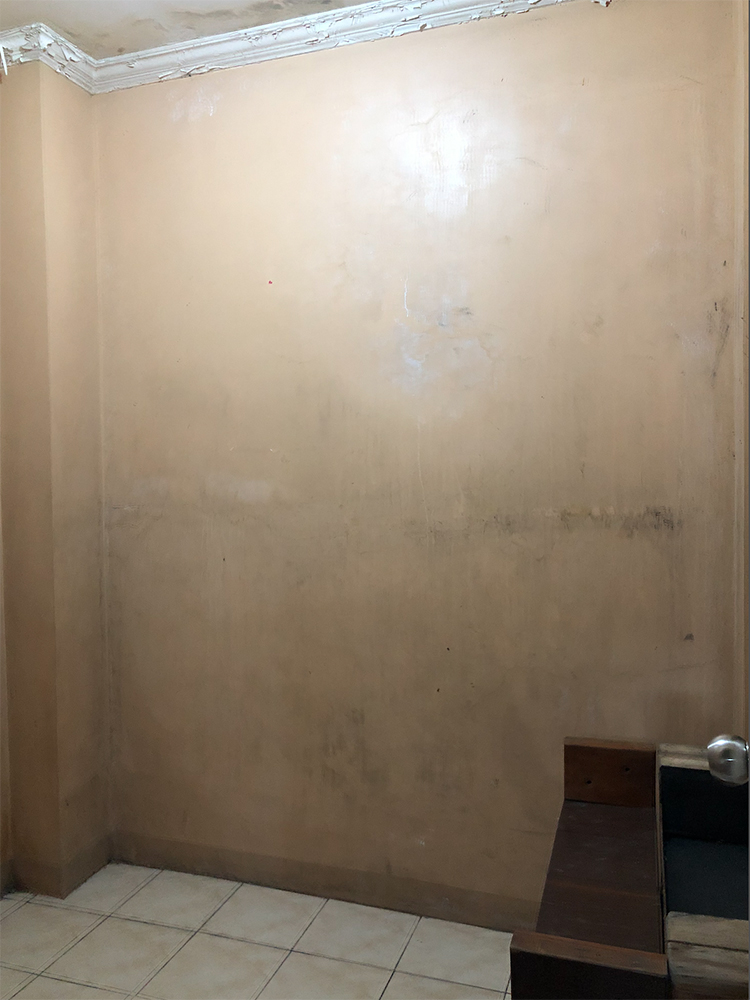 ADVERTISEMENT - CONTINUE READING BELOW
Since it served as a bodega, the room became very dirty and repainting the walls is a major must-do.
After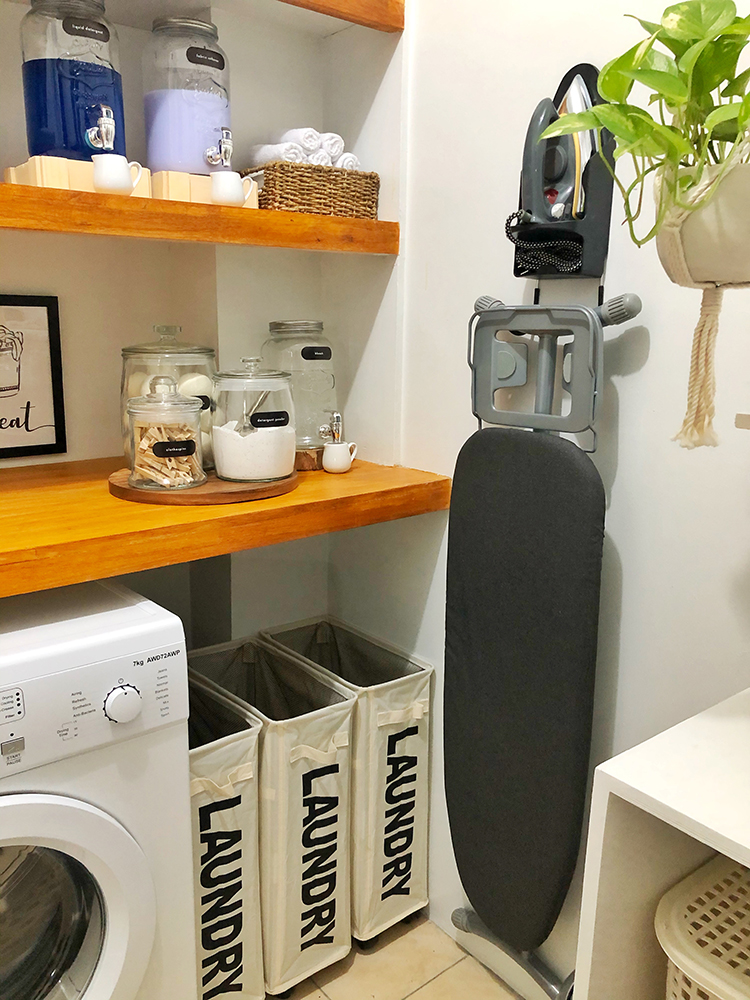 It was a good call to work with white as it brightens up the room, complements the wooden shelves, and gives an illusion of a bigger space. Sheryl even added hanging plants to liven up the space and make it more inviting. "Consider hanging the ironing board. It would be nice to get something bulky out of the way," she suggests.
ADVERTISEMENT - CONTINUE READING BELOW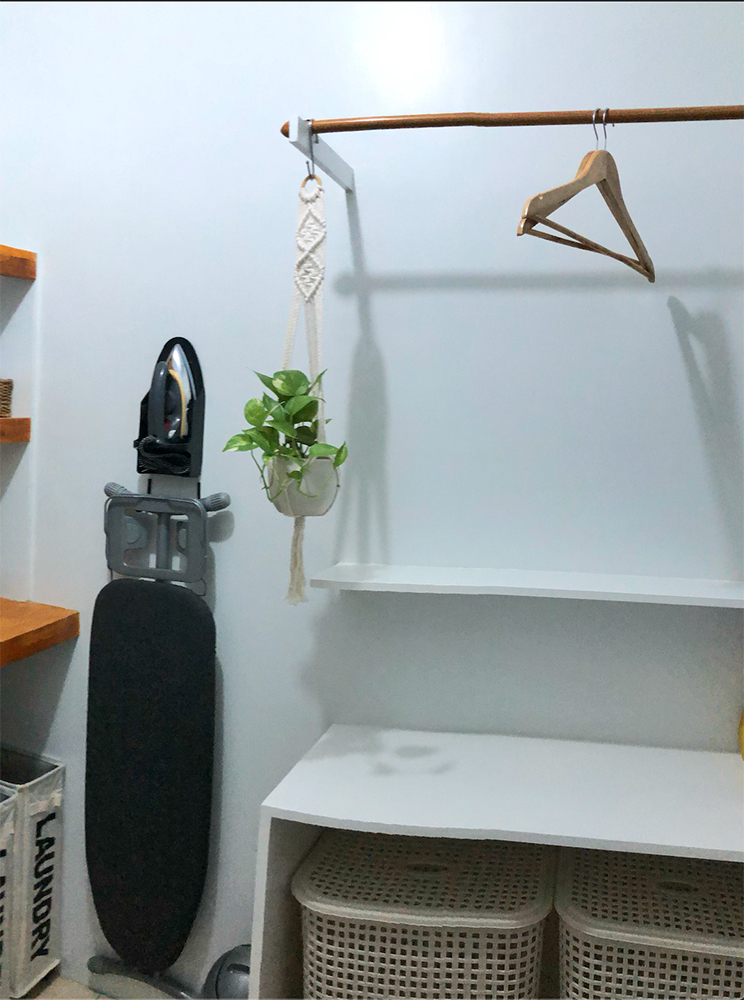 This corner of the laundry room serves as a folding area where Sheryl and her family can fold and sort their clothes. "This room makes our chores easier and a bit more enjoyable," she muses. 
Before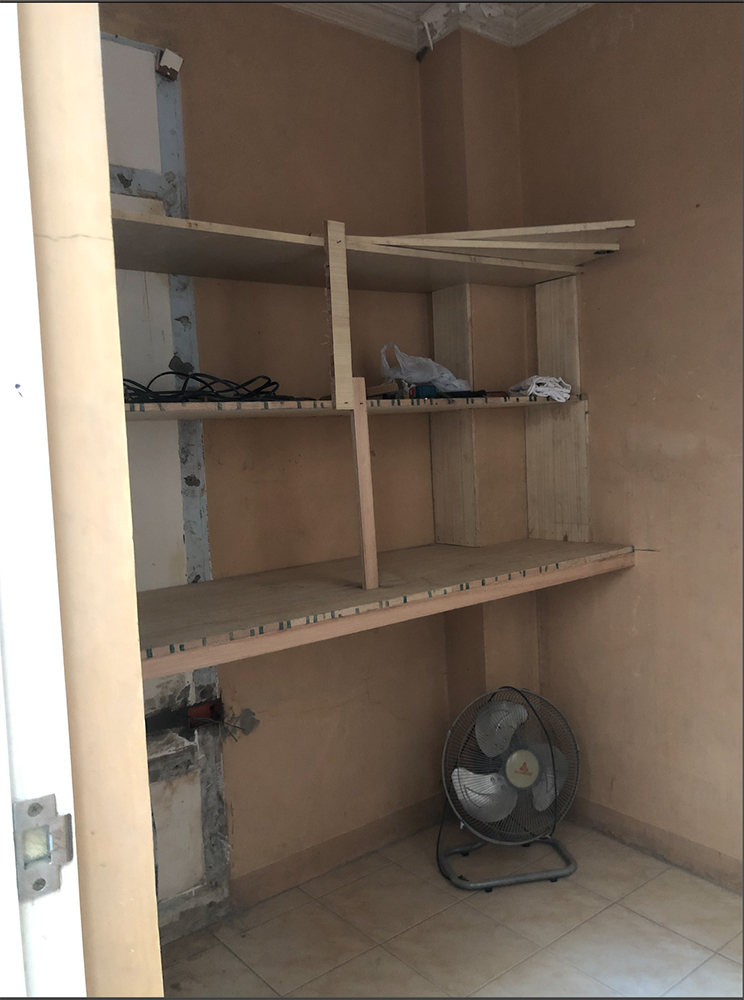 ADVERTISEMENT - CONTINUE READING BELOW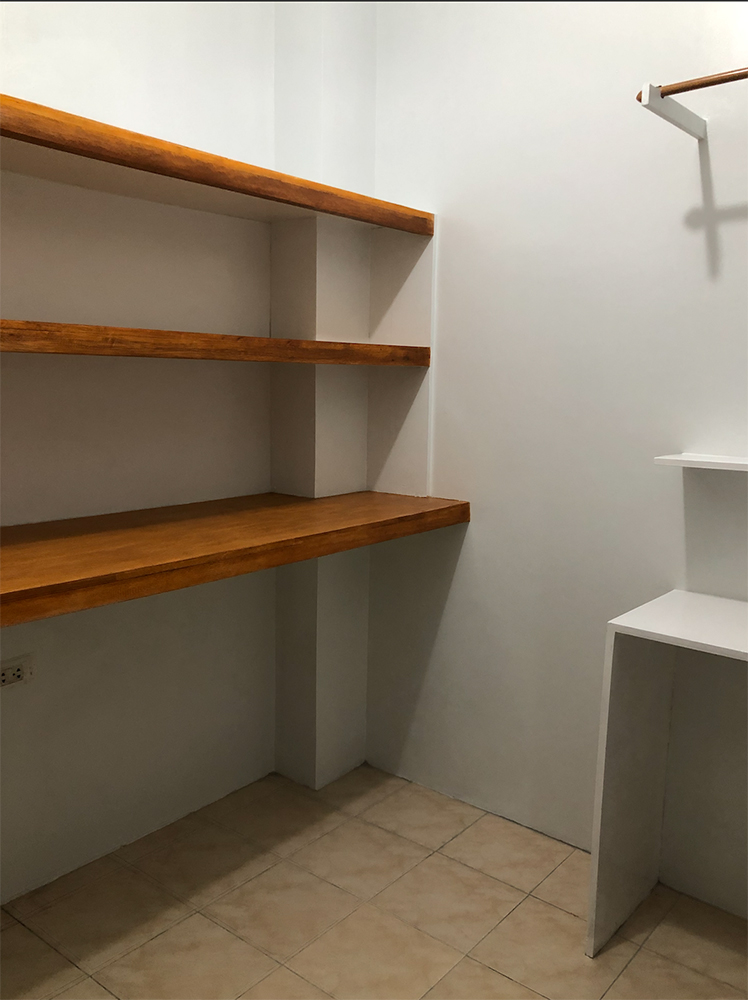 Finishing the wall-mounted shelves was crucial as it will hold the baskets and laundry essentials. Having enough tiers ensures that you have room to accommodate décor pieces that can personalize the space, too.
After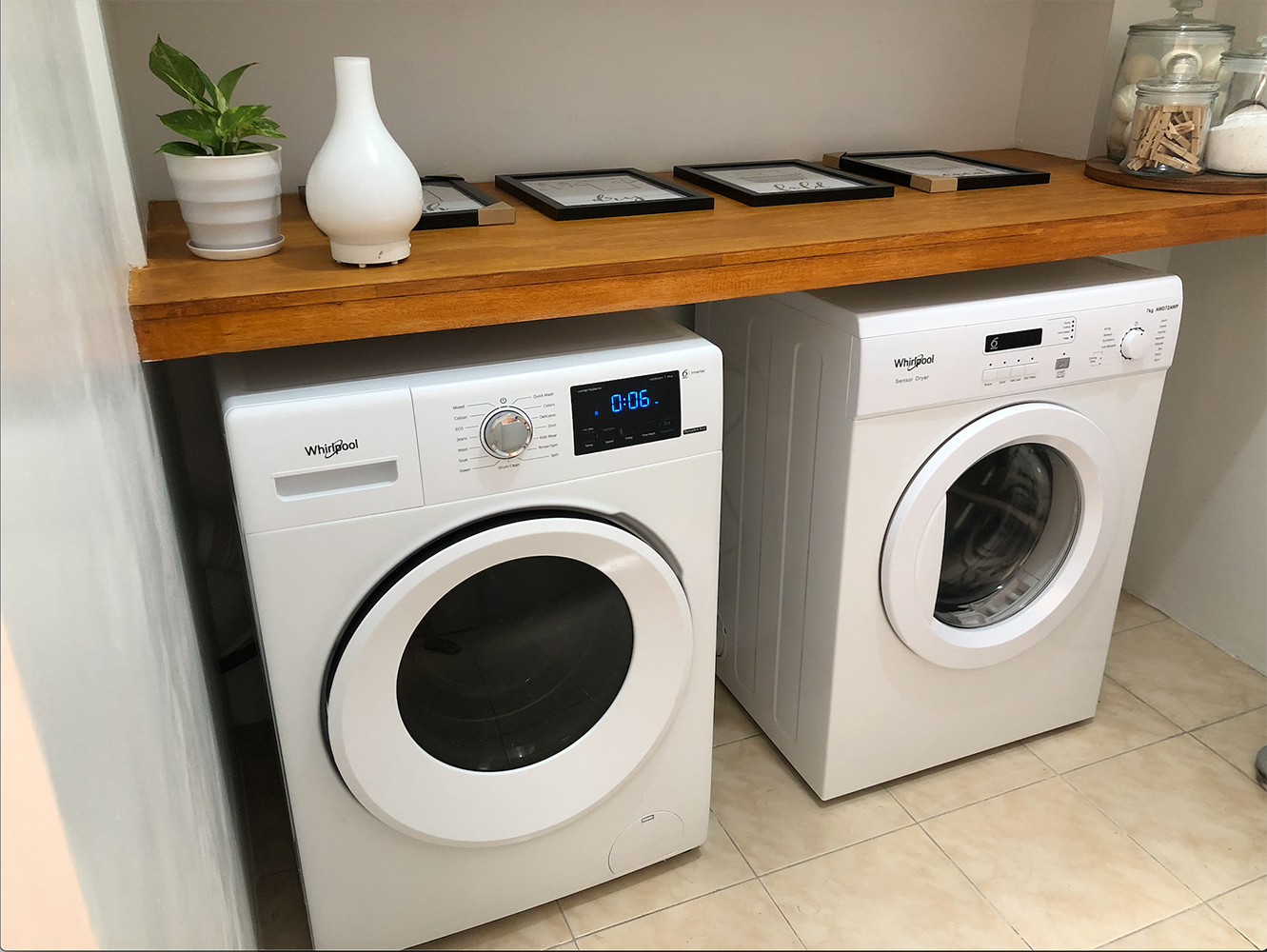 ADVERTISEMENT - CONTINUE READING BELOW
The washer and dryer perfectly fit under the shelf. If you're working on a similar project, make sure you measure the appliance correctly so you can guarantee that it will fit in the available space.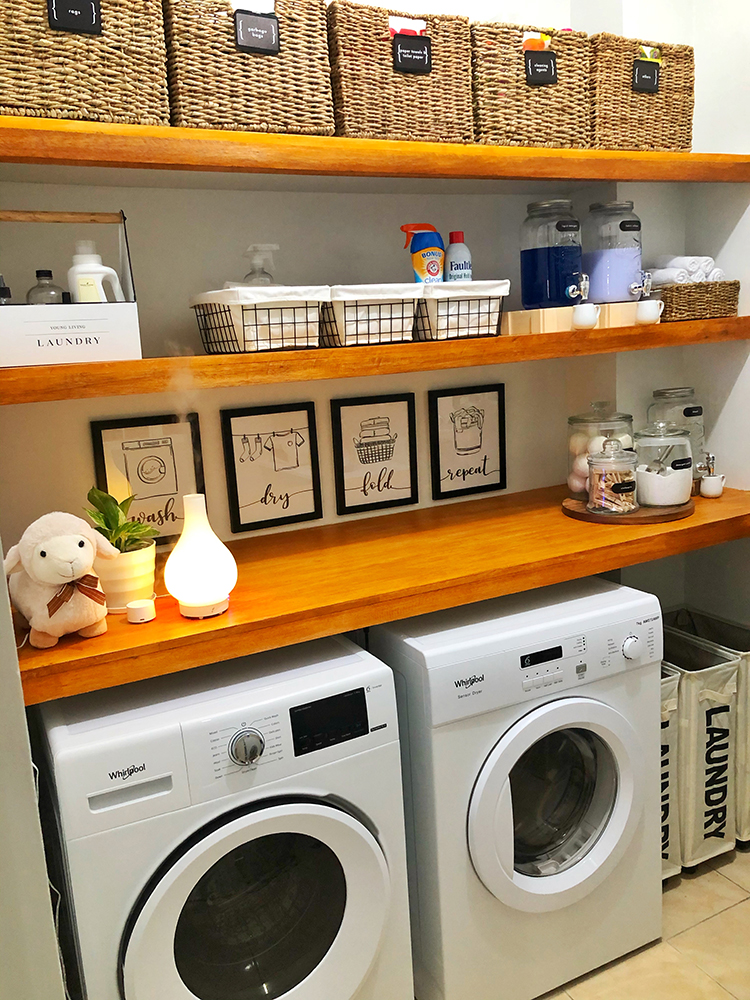 To maintain the cleanliness of the laundry room, organizing is key. "Just like in organizing most of the things around your home, you have to think about what will work best for you. Categorize your items and imagine how you go about your daily routines. Think about what things you need easy access to," Sheryl advises.
ADVERTISEMENT - CONTINUE READING BELOW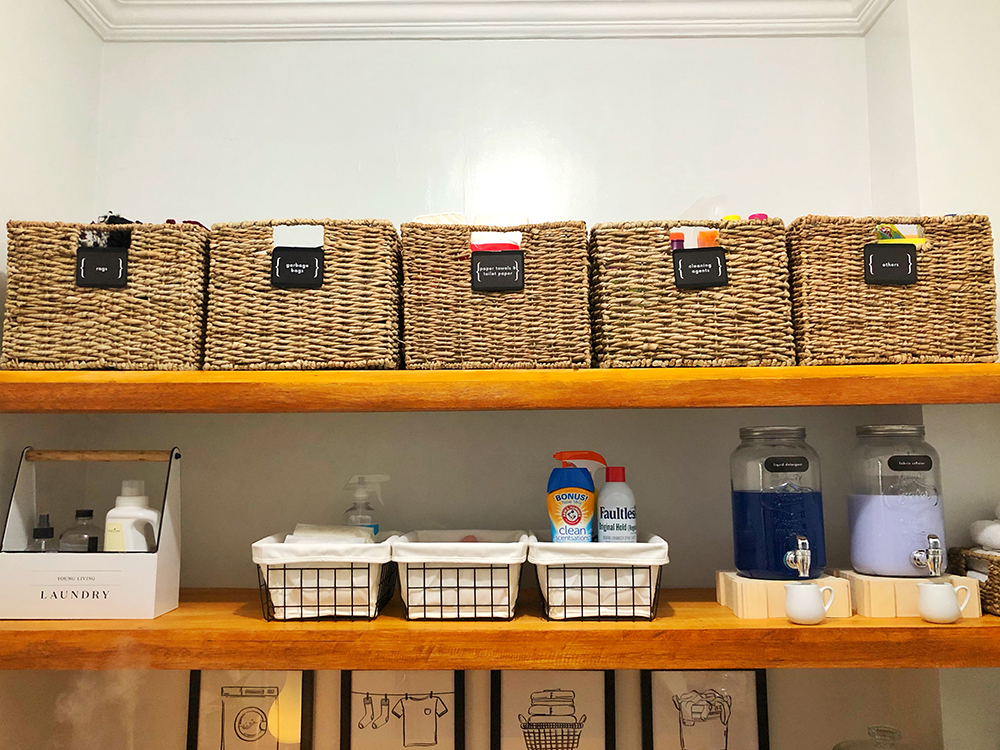 Properly labeled baskets hold most of the family's essentials – from cleaning agents to other supplies. Liquid detergents are easily accessible and kept in wire baskets as well. By decanting detergents and fabric conditioners into pretty containers, Sheryl avoided displaying bulky plastic bottles that can ruin the overall look of the laundry room.
ADVERTISEMENT - CONTINUE READING BELOW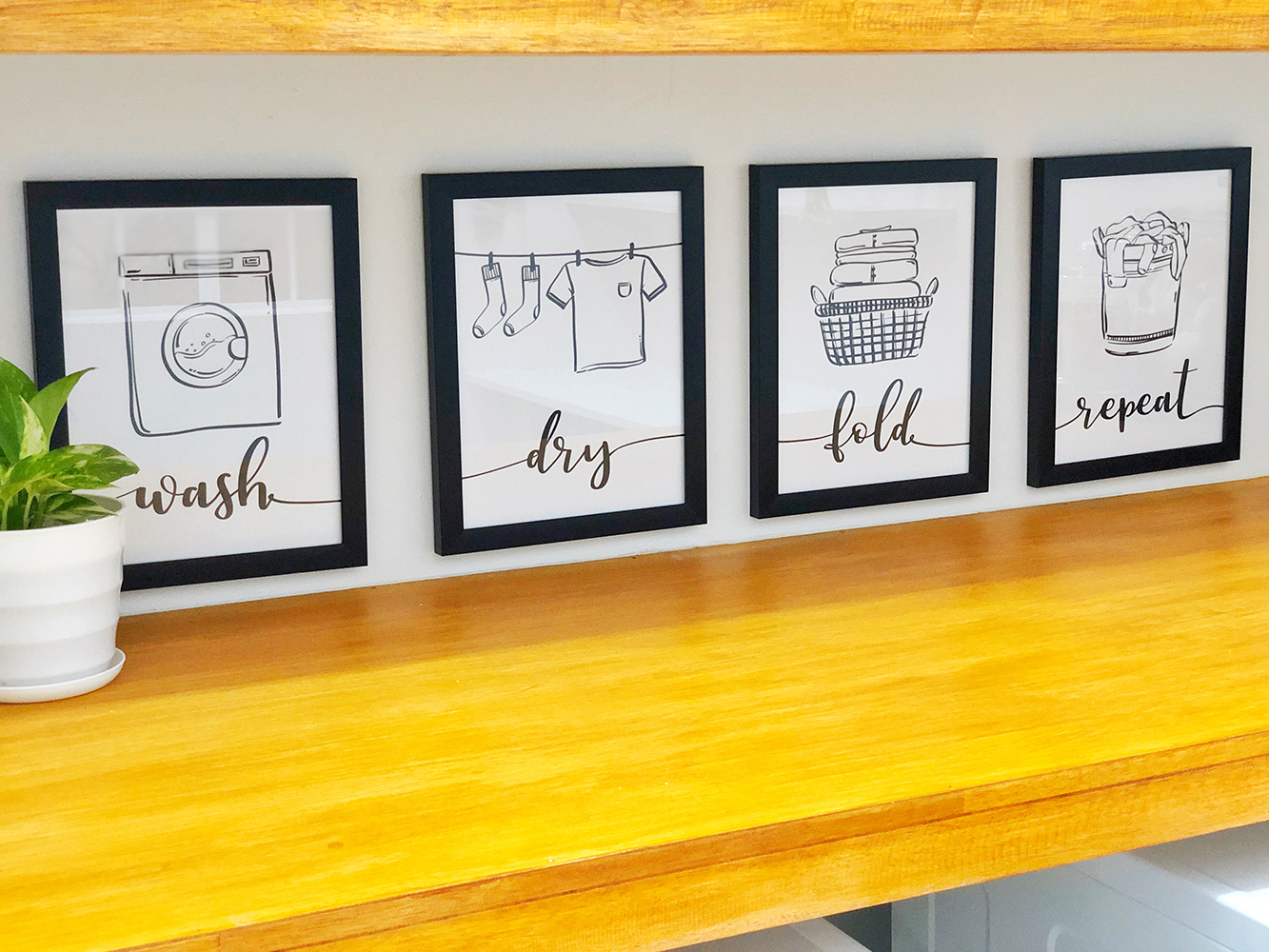 Sheryl purchased these photos online, printed it, and framed each using old picture frames.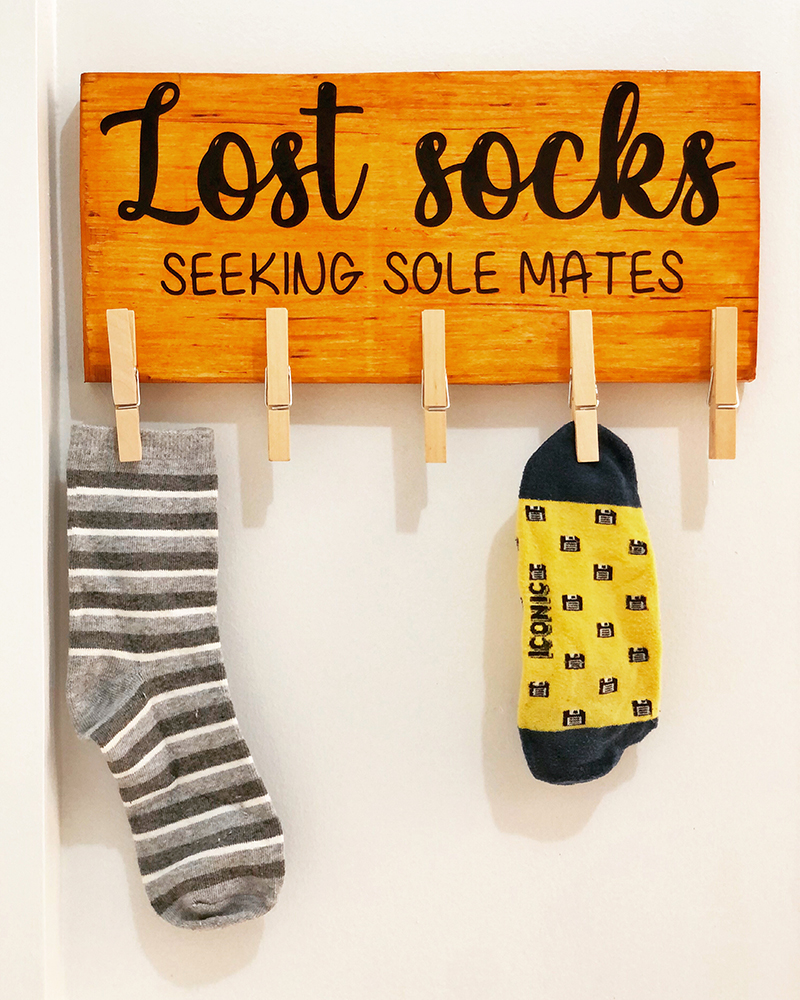 ADVERTISEMENT - CONTINUE READING BELOW
"I am particularly pleased with this Lost Socks signage I made myself," Sheryl shares. She got the idea from Pinterest, painted the sign, and simply attached clothespins.
* * *
Have you recently spruced up your room or renovated your home? We'd definitely love to see the result! Send clear photos (with your full name, city address, and accompanying kuwento) to [email protected] with the subject "DIY Makeover" and we may just feature your DIY project!
More on Realliving.com.ph
Load More Stories