Bedroom
This Php8K Bedroom Makeover Was Done Using Shopee Finds
In just five days, Febie Bayani was able to give her private space an aesthetic yet functional new look Photography: courtesy of Febie Bayani
For Febie Bayani, giving her bedroom a makeover was a way of improving not just her space but her well-being as well. After all, a clean and organized bedroom can help you sleep and focus better.
"I was just going to get rid of the clutter and re-organize my things but since I was planning to do a room makeover soon, I decided that it would be the best time to do it. It took me five days to do the makeover," she shares with Realliving.com.ph.
READ: A Senior Couple Renovated Their Dirty Kitchen for Around Php270K
Febie spent around Php8,000 for the project, most of which was spent on storage and decor pieces as well as a work desk and a chair. Since almost all of the items she bought came from Shopee, keeping the cost within her means became easier.
See how Febie worked on the bedroom makeover below:
Before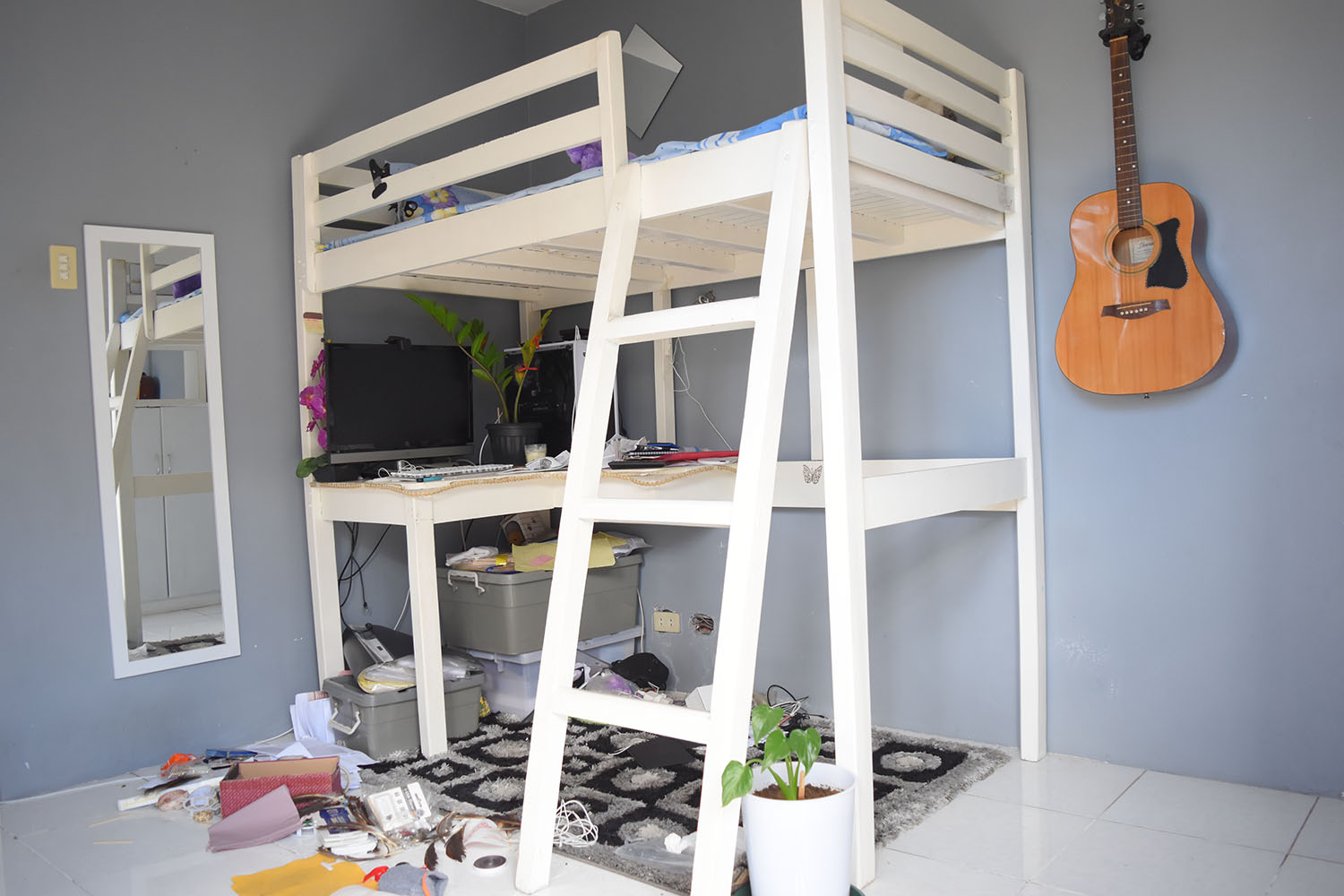 Before the makeover, Febie already had a loft bed, a gift from her parents that she received in 2012. Her work area takes up space under the sleeping area while the rest of the room houses different plants.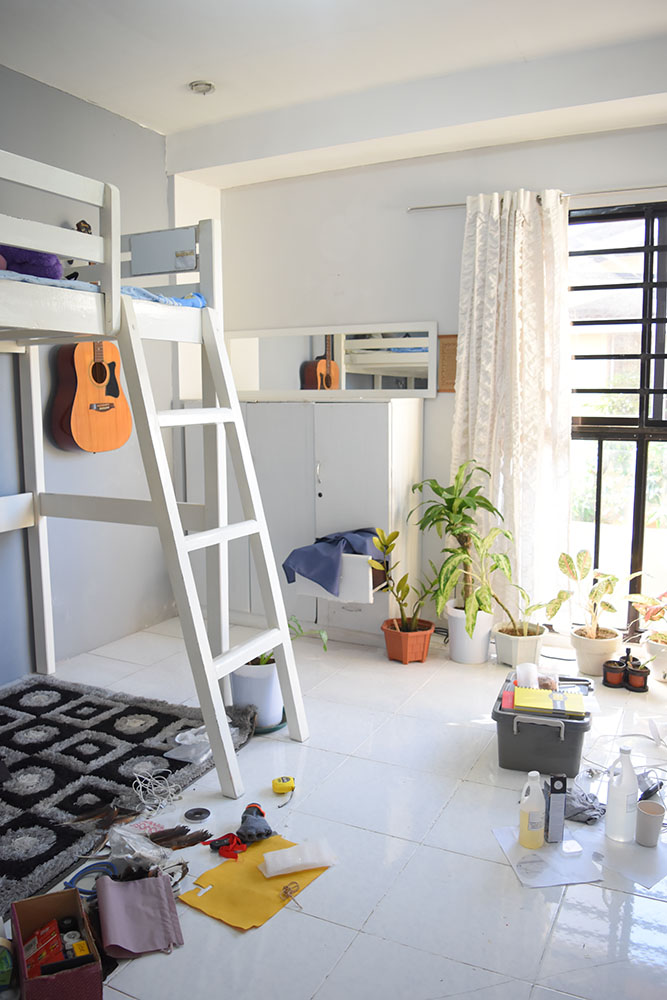 Day 1 and 2 of the makeover were all about decluttering and planning. "I separated the things I needed and those that can still be of use, things that can be sold, and things that will be disposed of. I listed my goals for the new look and then I bought the items I'll be using online," Febie recalls.
ADVERTISEMENT - CONTINUE READING BELOW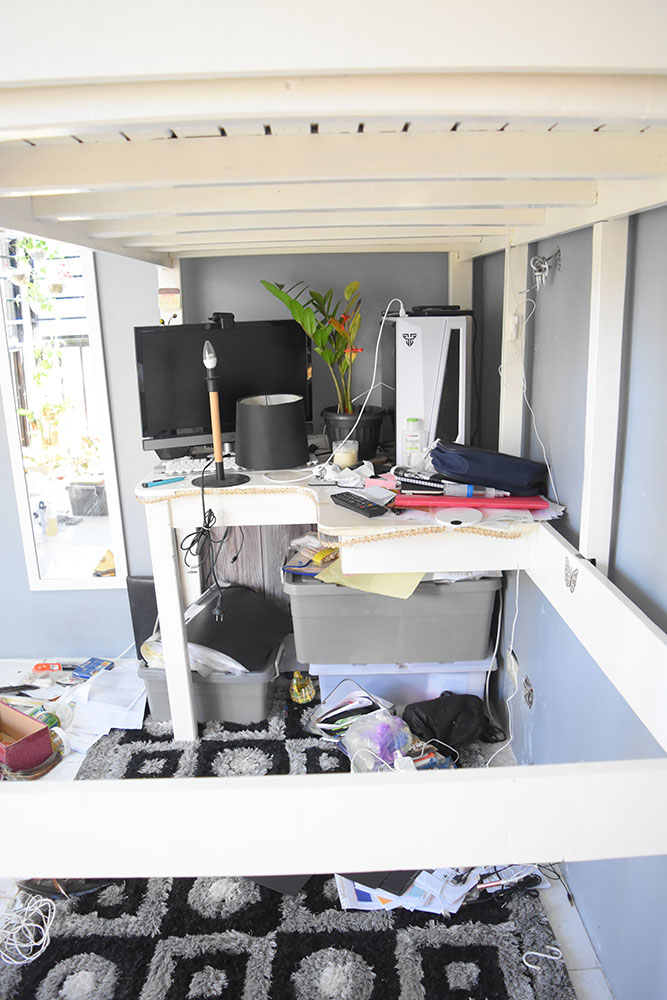 To make the process efficient, Febie waited for the items to be completed before starting work. Two days were devoted to repainting the neutral-colored walls, more cleaning, and assembling the new pieces of furniture.
READ: How an Interior Designer Renovated a Two-Bedroom Unit Into a One-Bedroom Japanese-Industrial Home
After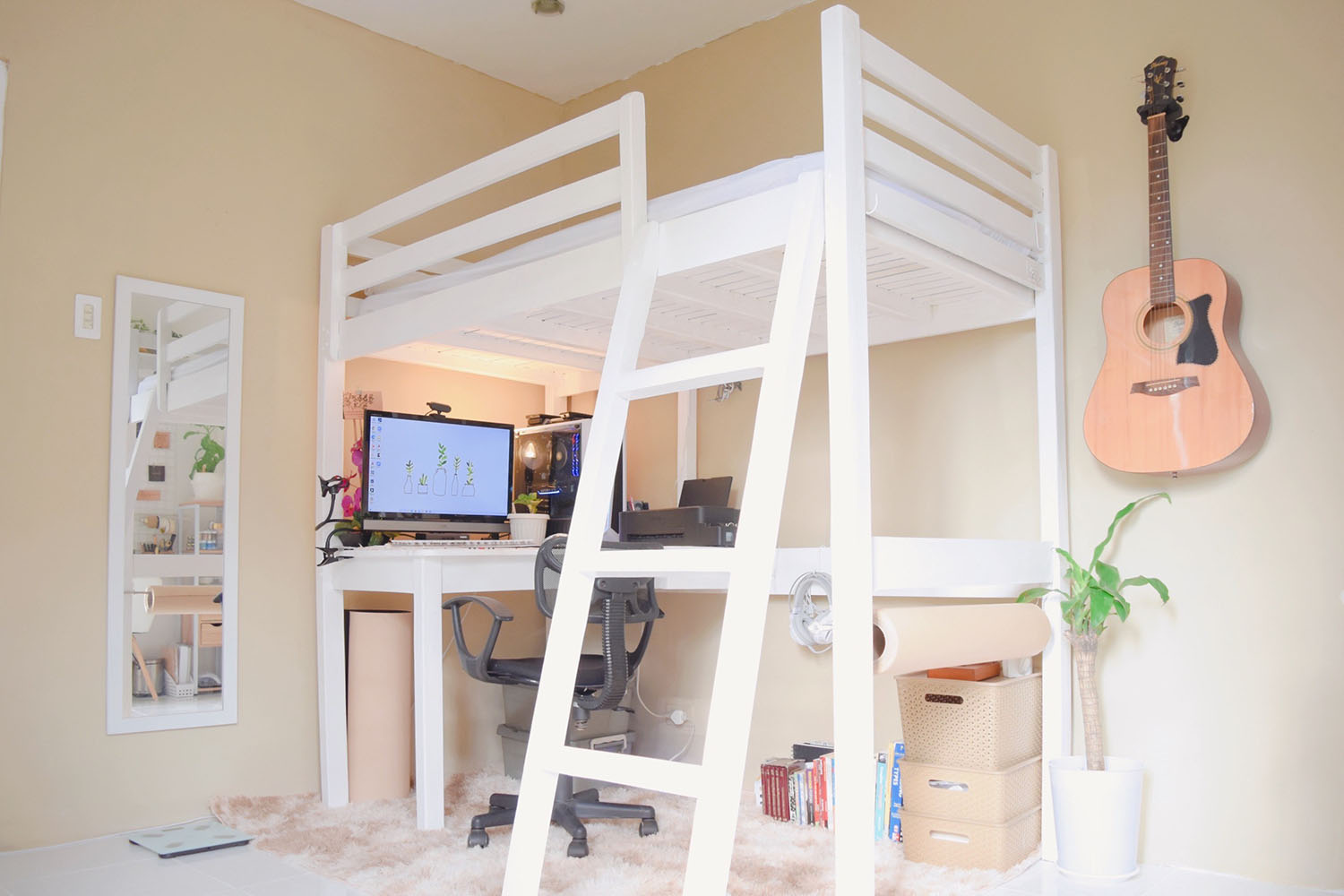 "I love that I was able to achieve my goal of having three areas for my daily activities," Febie shares once the makeover was done. The three areas she now has included the work/study area below the sleeping space, the art/business area near the window, and the workout/relaxation area furnished with a buri mat.
ADVERTISEMENT - CONTINUE READING BELOW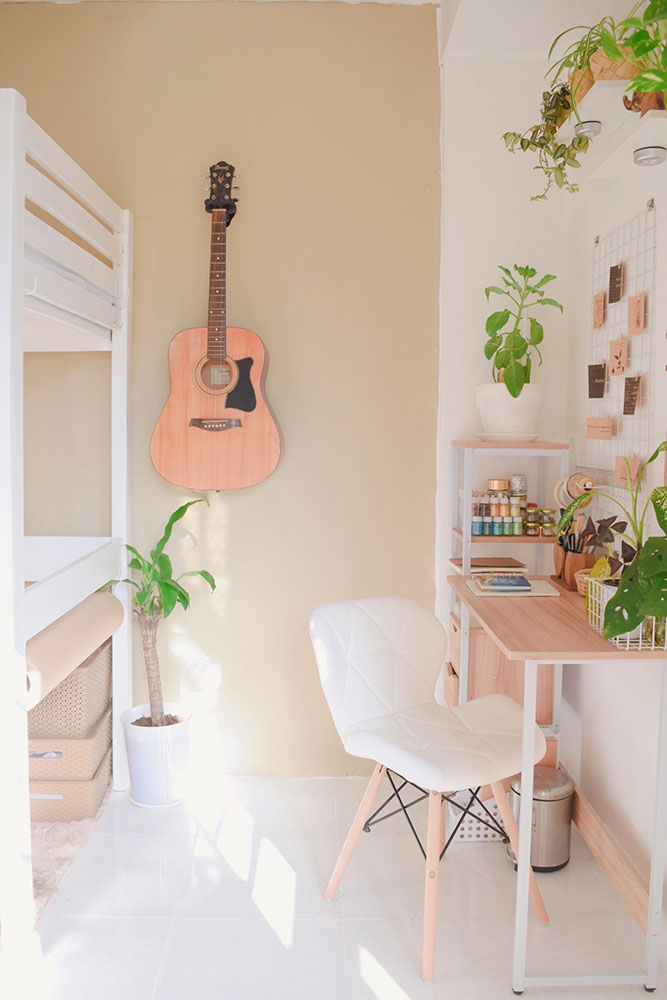 For the color scheme, she settled on using the Coconut Color from Rain or Shine. She mixed it with some white paint to lighten the color a bit. Easy on the eyes, the lightened coconut color complements the decor pieces and white furniture.
In transforming her room, Febie prioritized zoning and mobility. "Identify your daily routine and activities as doing so can help you plan the placing of furniture and your things," she shares.
ADVERTISEMENT - CONTINUE READING BELOW
READ: A Contemporary Makeover for an Outdated Condo Unit in Ortigas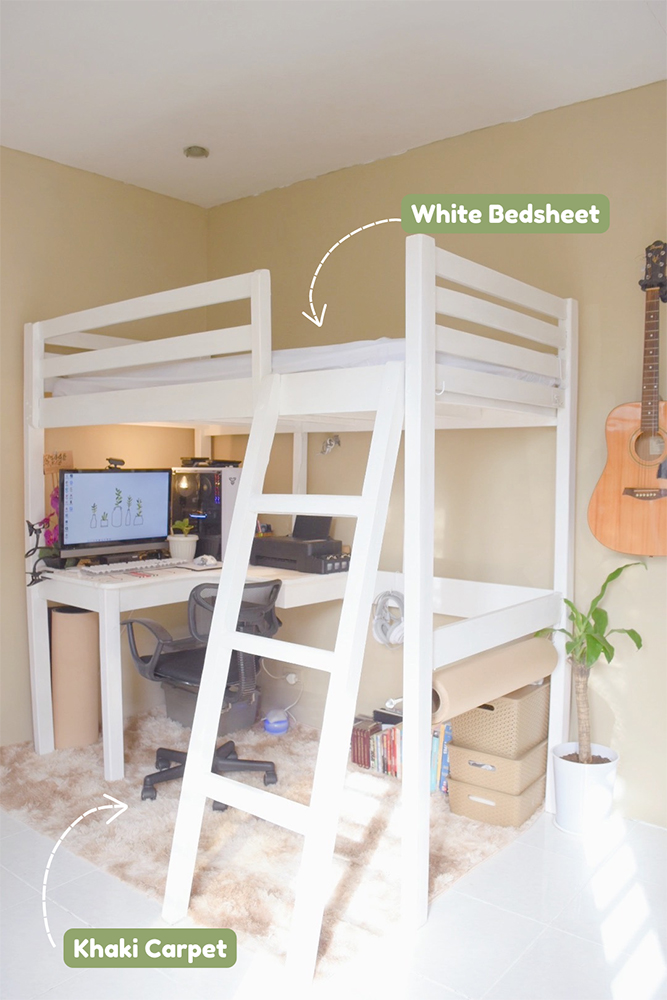 The work/study area houses her computer and printer. To cozy up the nook, she added a khaki-colored carpet. Click here to buy a similar carpet.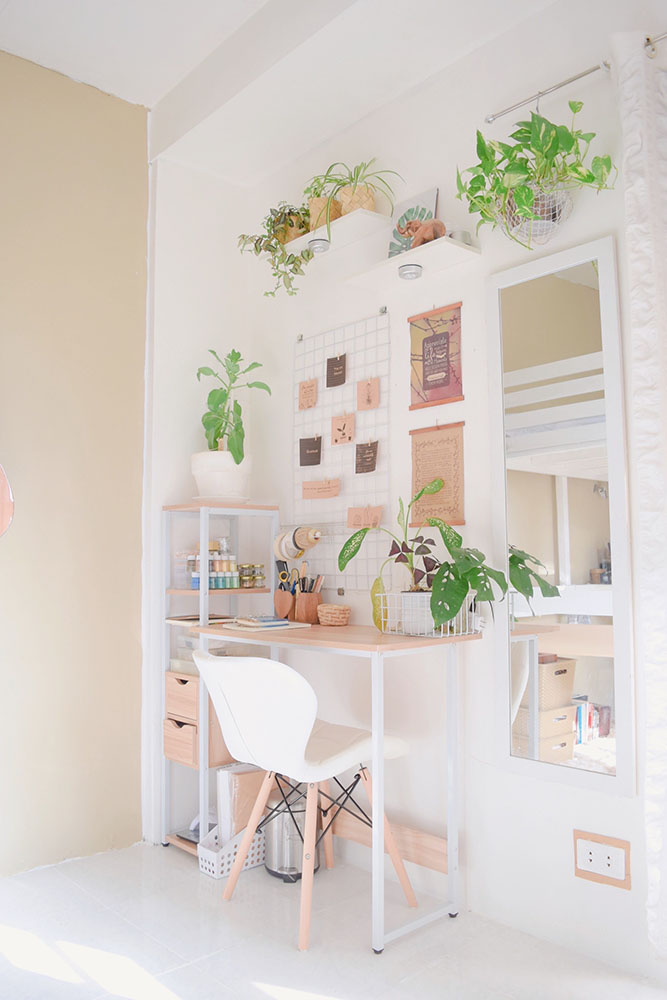 ADVERTISEMENT - CONTINUE READING BELOW
Febie shares that she decided to create a separate art/business area because she often gets distracted in front of the computer. In this nook, she added a desk, floating shelves, a grid wall, and a Nordic butterfly chair which all came from Shopee. Love the items? Check out the links below: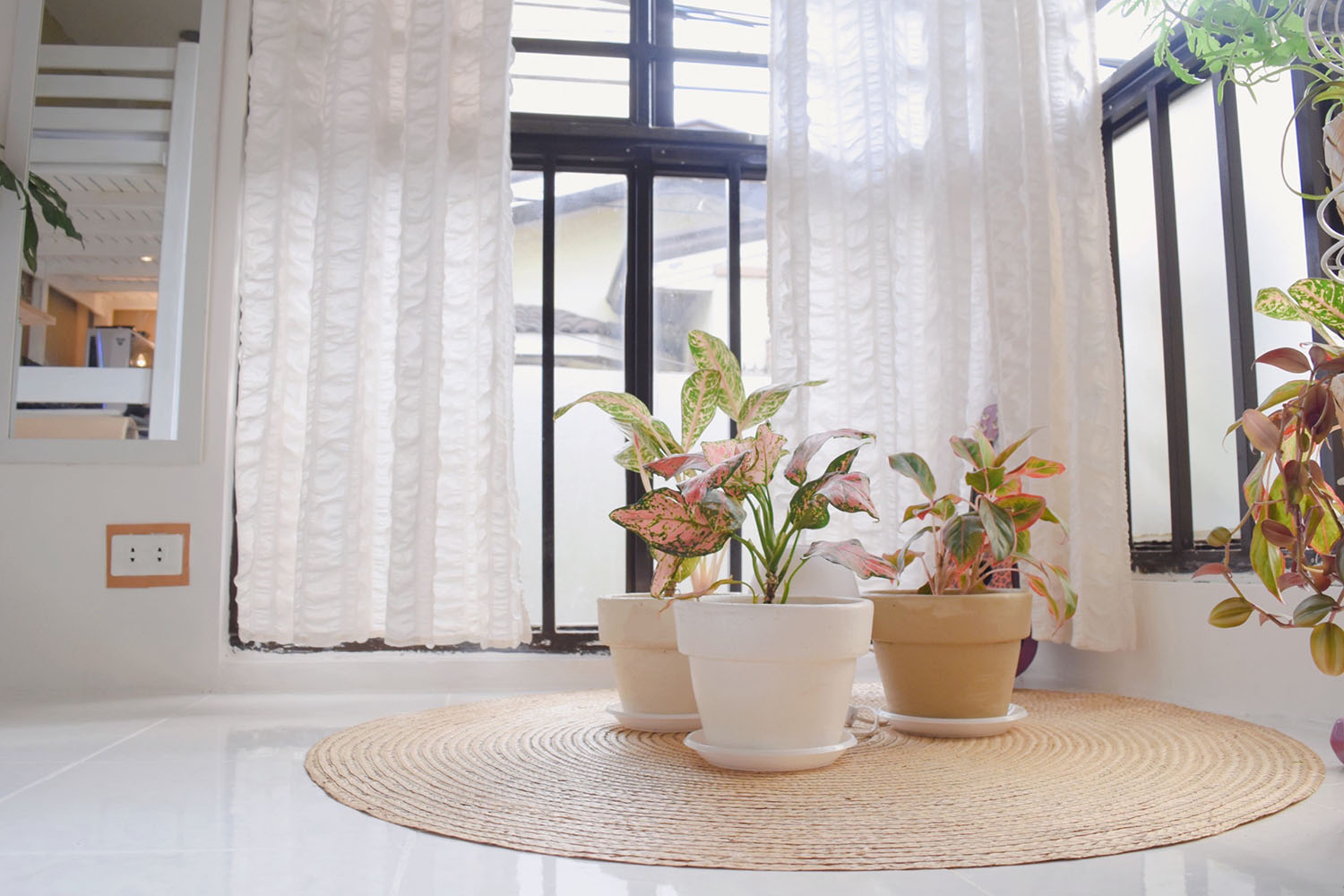 ADVERTISEMENT - CONTINUE READING BELOW
"Surrounding myself with plants makes me feel better," Febie says. "When the pandemic started, we weren't able to go out as much so bringing nature indoors and taking care of plants have helped me cope with the stress," she adds.
Plants in lovely planters take the center stage in her workout nook. The lovely greens complement the buri mat and other green wonders in the room. Click here to buy a similar buri mat.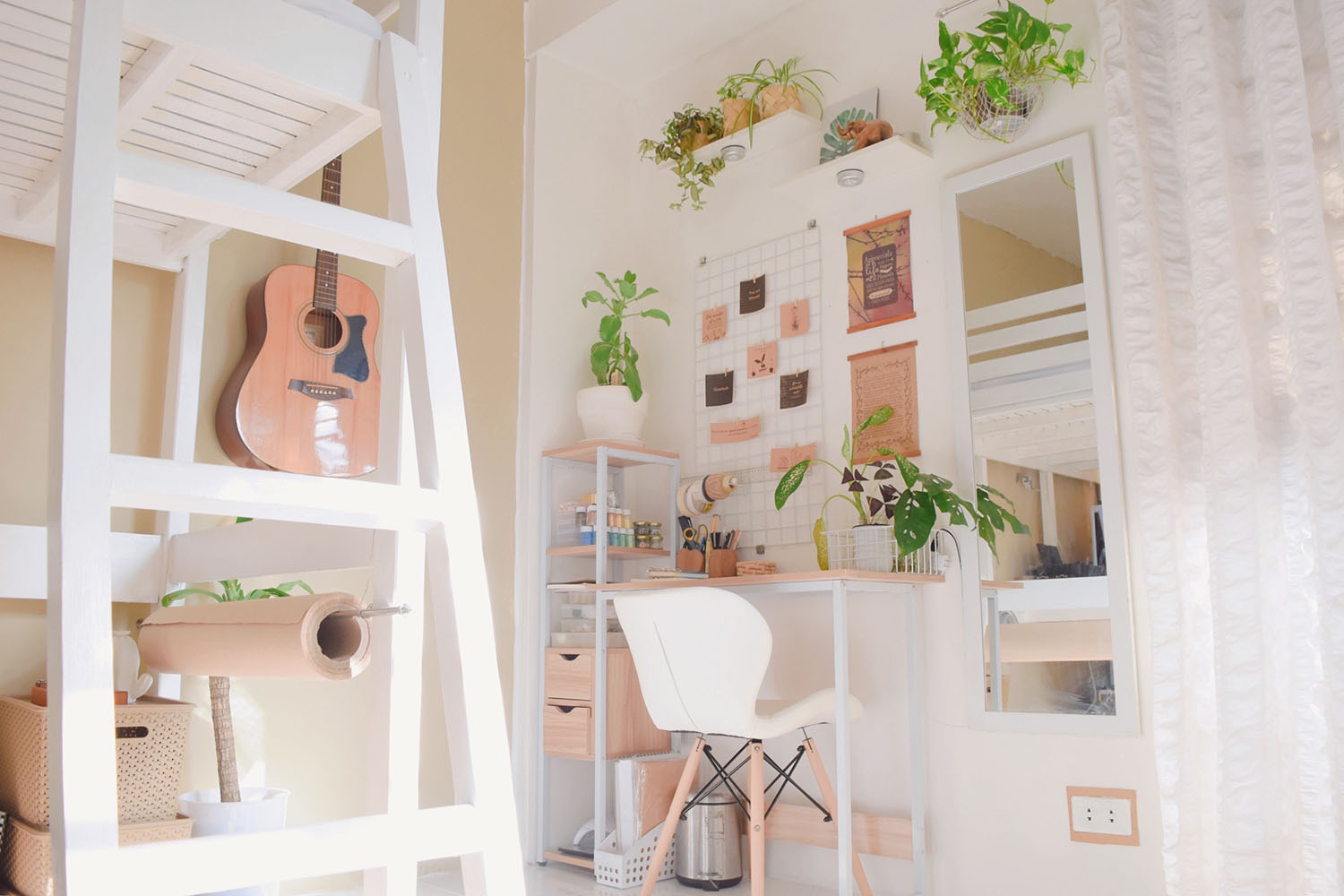 ADVERTISEMENT - CONTINUE READING BELOW
READ: A 1970s House Transformed Into a Modern-Minimalist Mixed-Use Space
"Your room should make you feel positive. Redecorate it in such a way that it can uplift your spirits. Choose colors that make you happy and feature your favorite things," Febie suggests.
Did you recently work on a makeover project? We'd love to see your space! Email us at reallivingonline[at]gmail.com with photos and a quick story about your project or your home. We might feature you next!
More on Realliving.com.ph
Load More Stories