Houses
This OFW Couple Built a P1.8M Tiny Yet Cozy House in Bulacan
The functional space is ideal for welcoming and entertaining friends OFW couple Edward and Pinky Doros' space may be only 65 square meters, but that's not stopping them from living big in this cozy, comfy, aesthetically pleasing, and functional environment.
The husband and wife initially purchased a 250 square meter lot in Bulacan back in 2018, but only reunited with the house after two and a half years. Today, their home not only meets all of their daily living requirements but is also perfect for entertaining visitors.
READ: A Wedding Photographer's Bright, Airy Tiny Home in Cavite
Easy to maintain and functional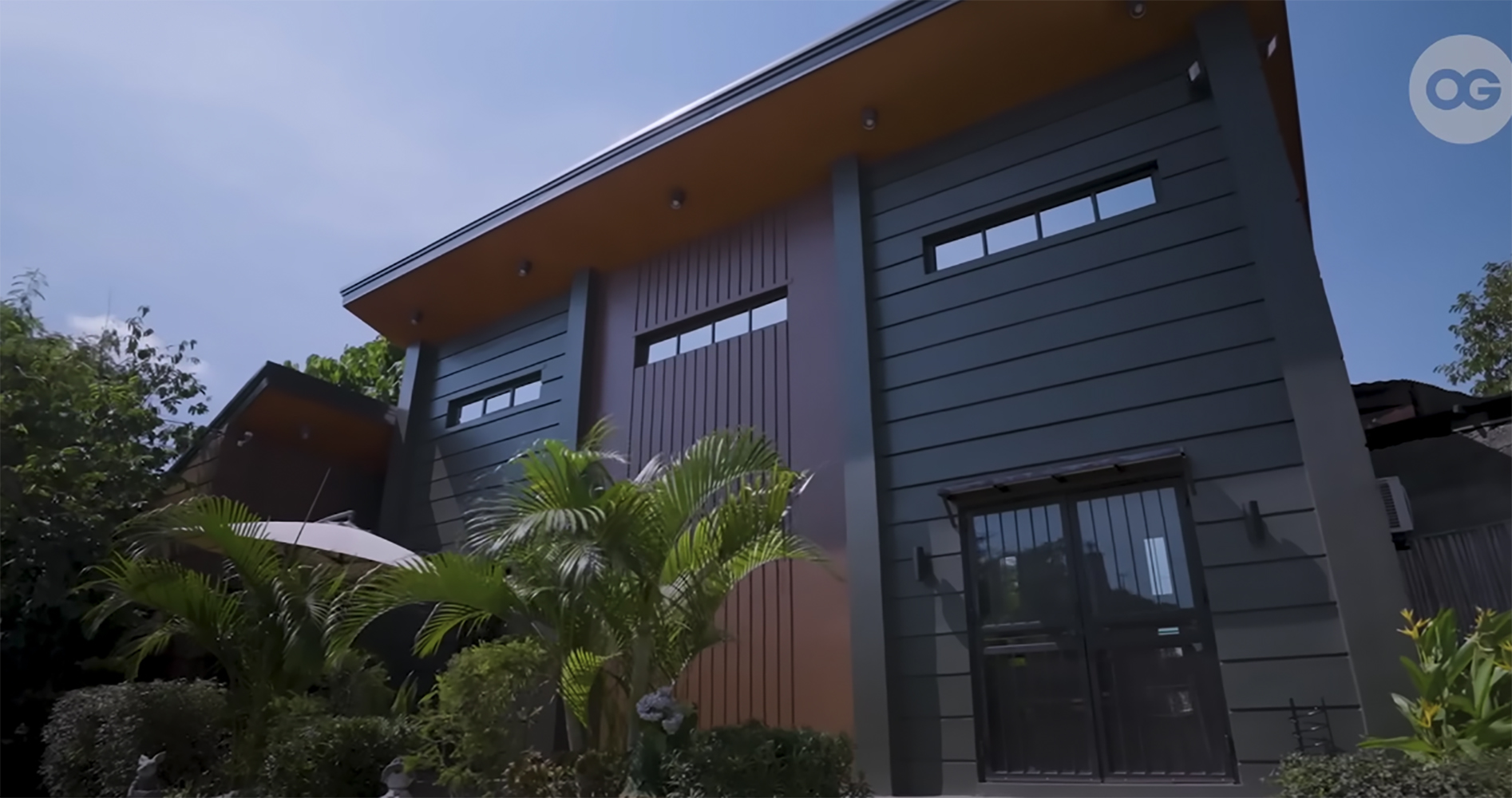 ADVERTISEMENT - CONTINUE READING BELOW
Perhaps the most striking feature of the Doros' house is that the exterior is painted with dark colors such as grey and brown, which was intentional.
"Actually, ang idea nito, is para maging low-maintenance siya," Pinky explains to the OG team. "Kasi 'pag dark ang wall, alam naman natin 'yan, hindi masyadong nadudumihan, kaya we actually love this wall."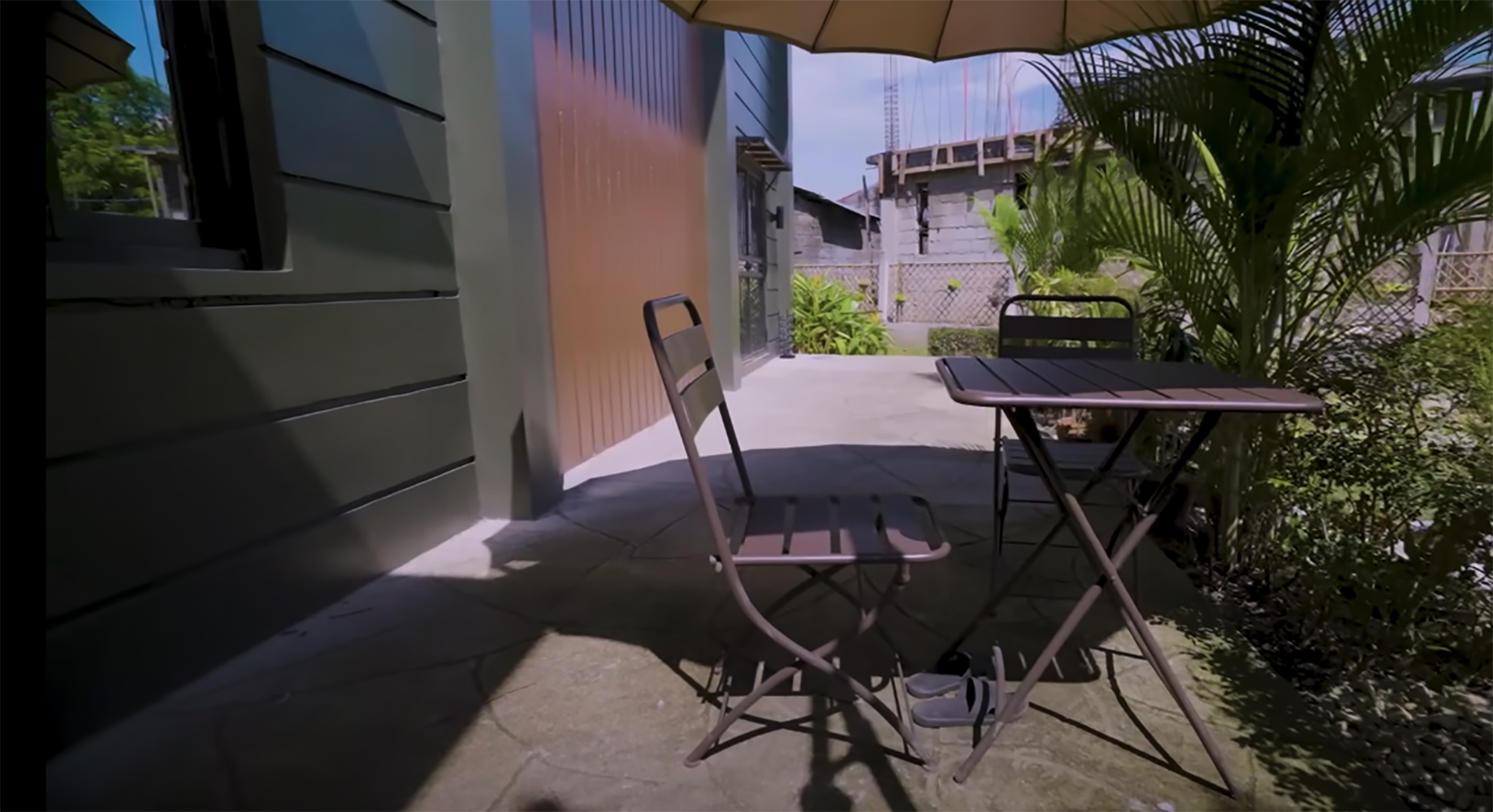 Outside, guests can enjoy playing basketball at a half-court or admire Pinky's outdoor plant collection. There's also a lanai for relaxing, complete with a patio umbrella. Adjacent to the main house is a 10 to 12 square meter space called the annex, which can be used for working, reading, or exercising.
Storage and space-saving elements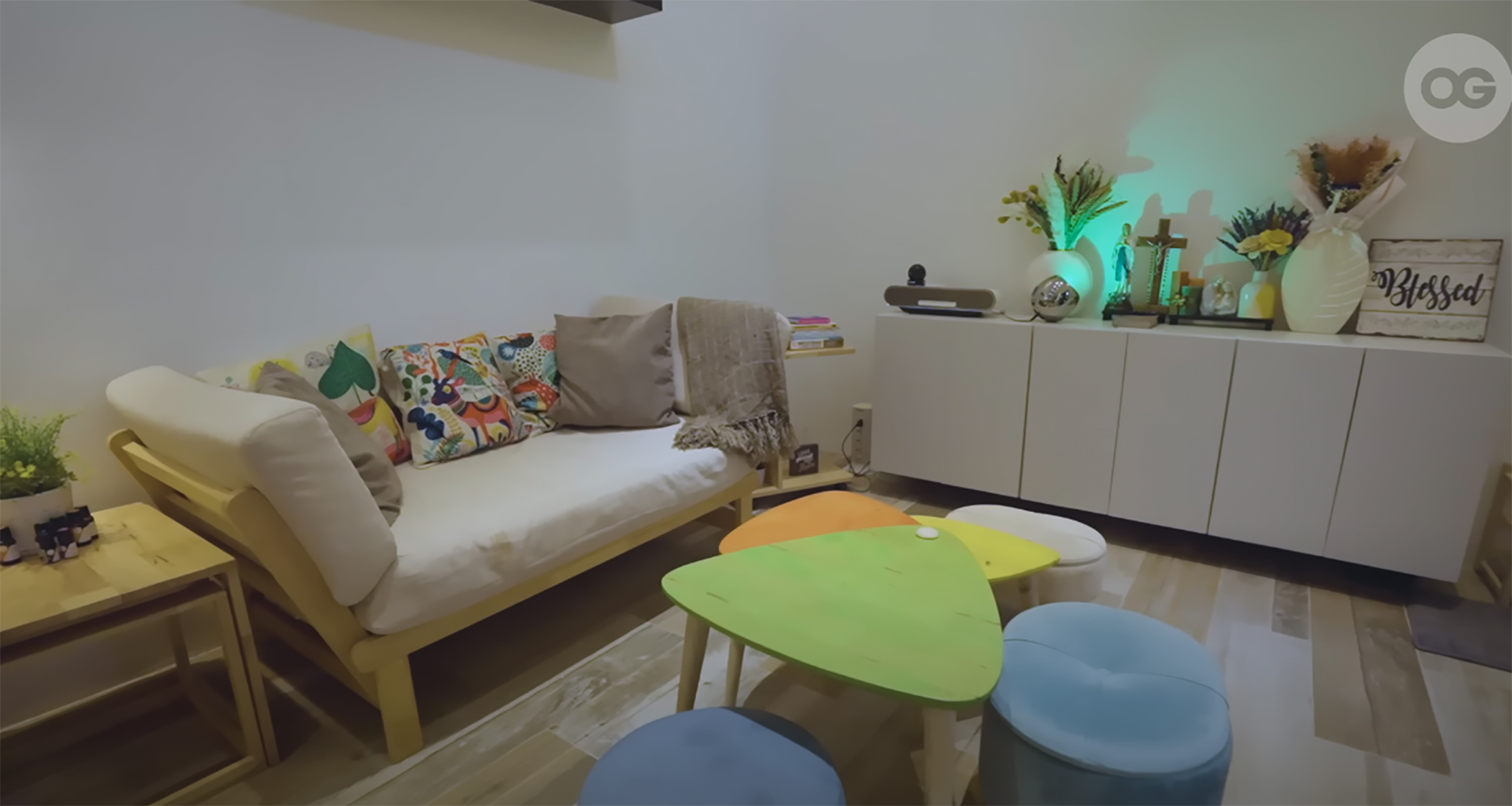 ADVERTISEMENT - CONTINUE READING BELOW
Stepping into the main house, one can instantly get a feel of the couple's personal touches and practical choices. An altar and sofa bed sit in the living area, perfect for morning reflections. The space is also great for entertaining guests with a nested coffee table and storage ottoman chairs. A high ceiling creates a cooling effect and simply opening the doors lets the comforting breeze in.
A bar area, meanwhile, serves as Pinky and Edward's bonding area where they enjoy meals together or have coffee or tea. The kitchen, meanwhile, has all the essentials for daily cooking and storage requirements.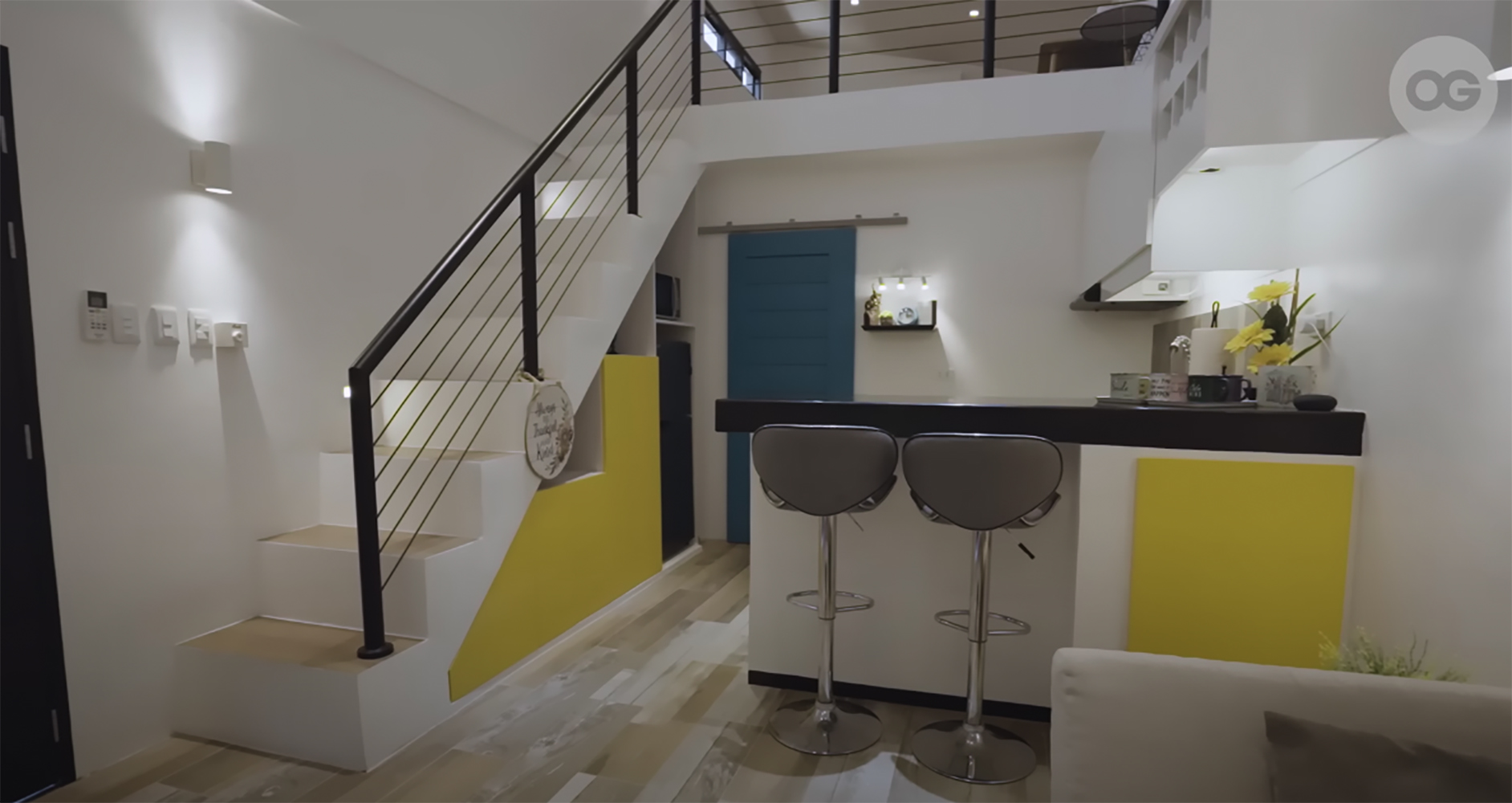 ADVERTISEMENT - CONTINUE READING BELOW
READ: Building Your First Home? You Need to See This Tiny House in Batangas
Being a tiny house, Edward and Pinky made sure that almost every nook and cranny serves another purpose. In fact, the bottom of their staircase contains storage cabinets for easy decluttering.
To access the laundry area, vanity area, bathroom and bedroom, one must enter a bright blue-colored barn door or sliding door, painted in the hue of the couple's wedding motif. Similarly, the toilet makes use of a sliding door, something Edward and Pinky say was Japanese or zen-inspired. More space-saving elements fill the bedroom, such as a foldable table.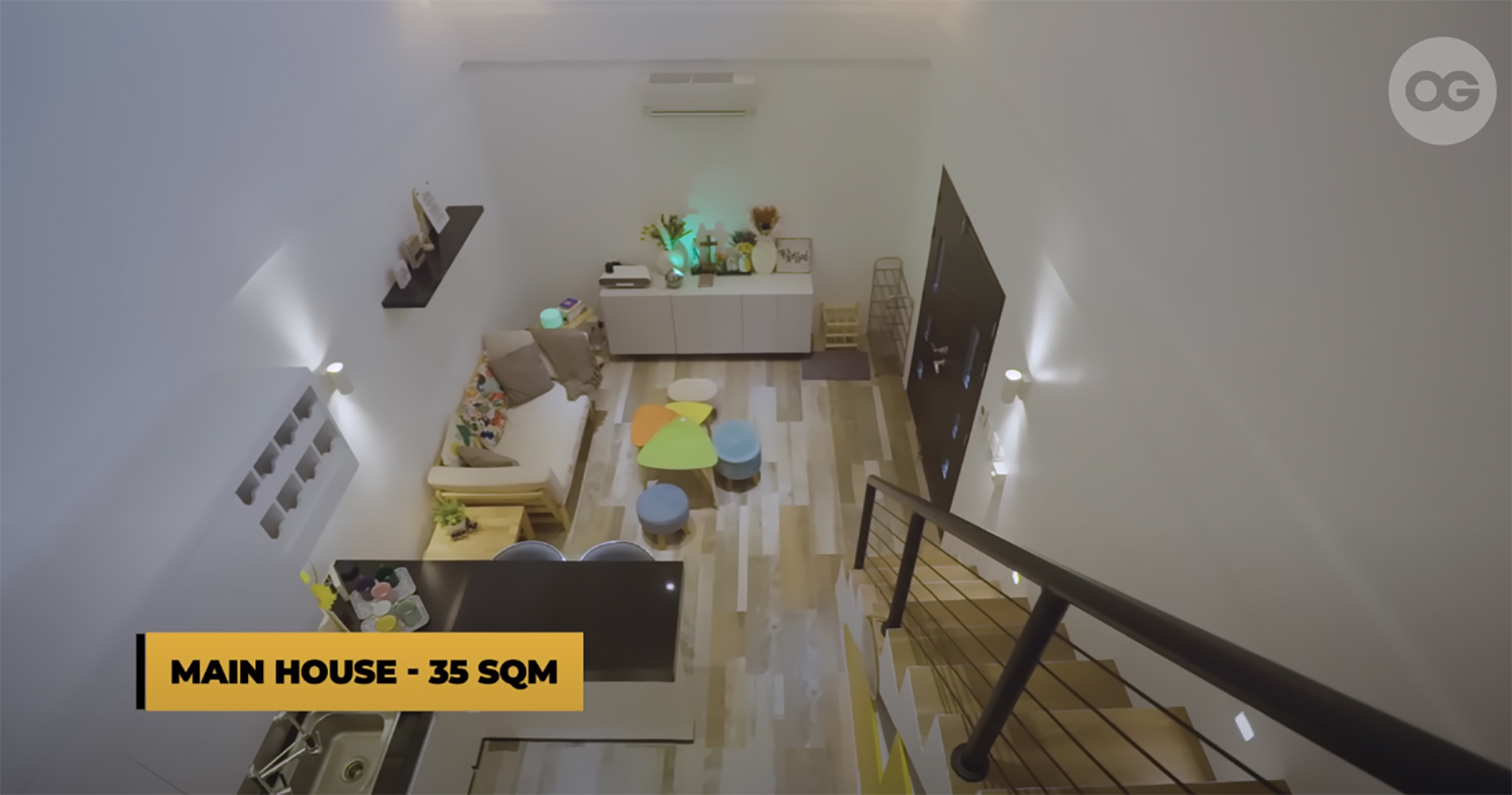 ADVERTISEMENT - CONTINUE READING BELOW
Meant for entertaining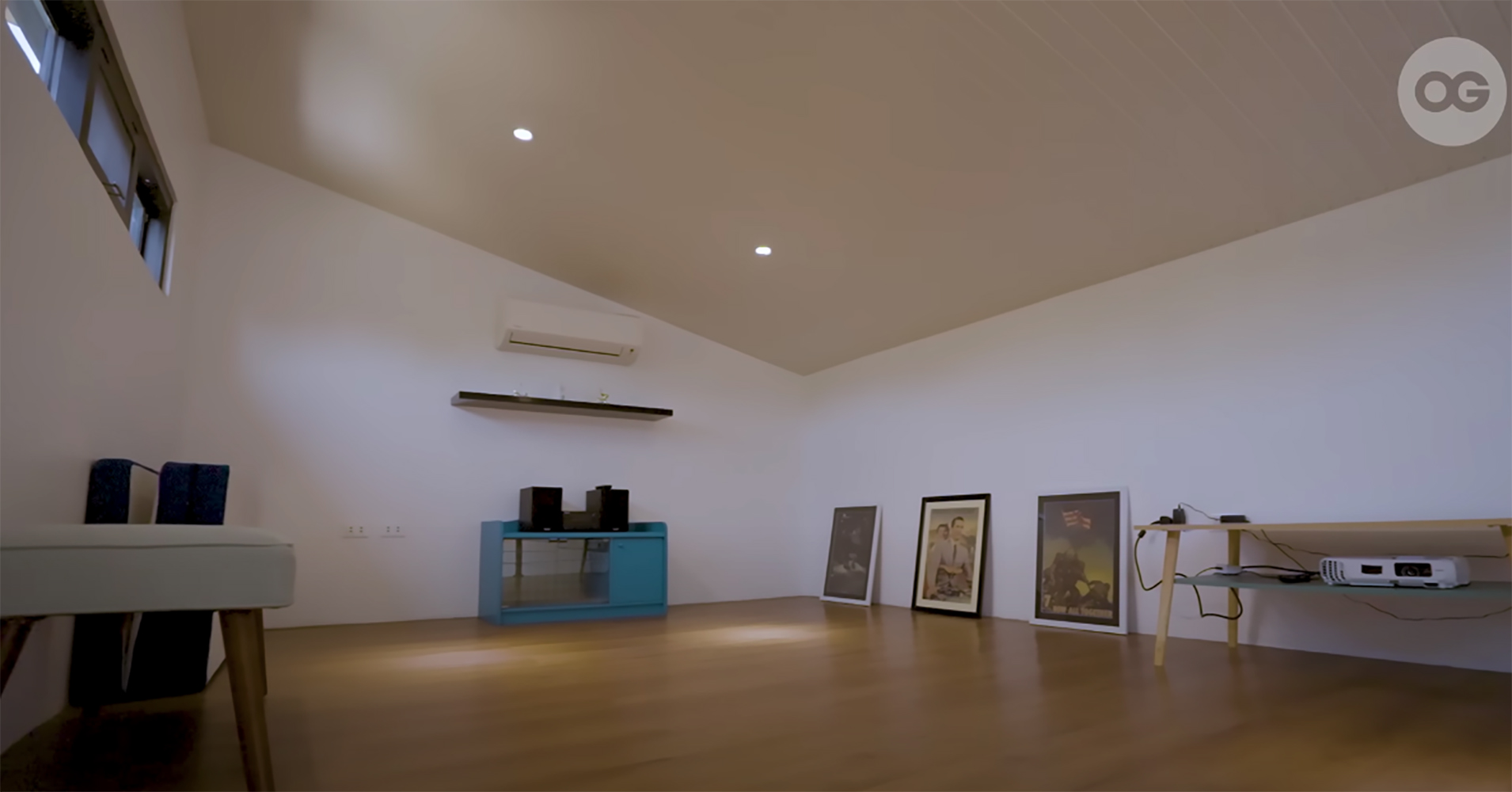 Located at the top of the house is the loft, which serves as a spacious activity area for guests. It also overlooks Level 1. Posters of classic films on display—Edward's favorites—decorate the area.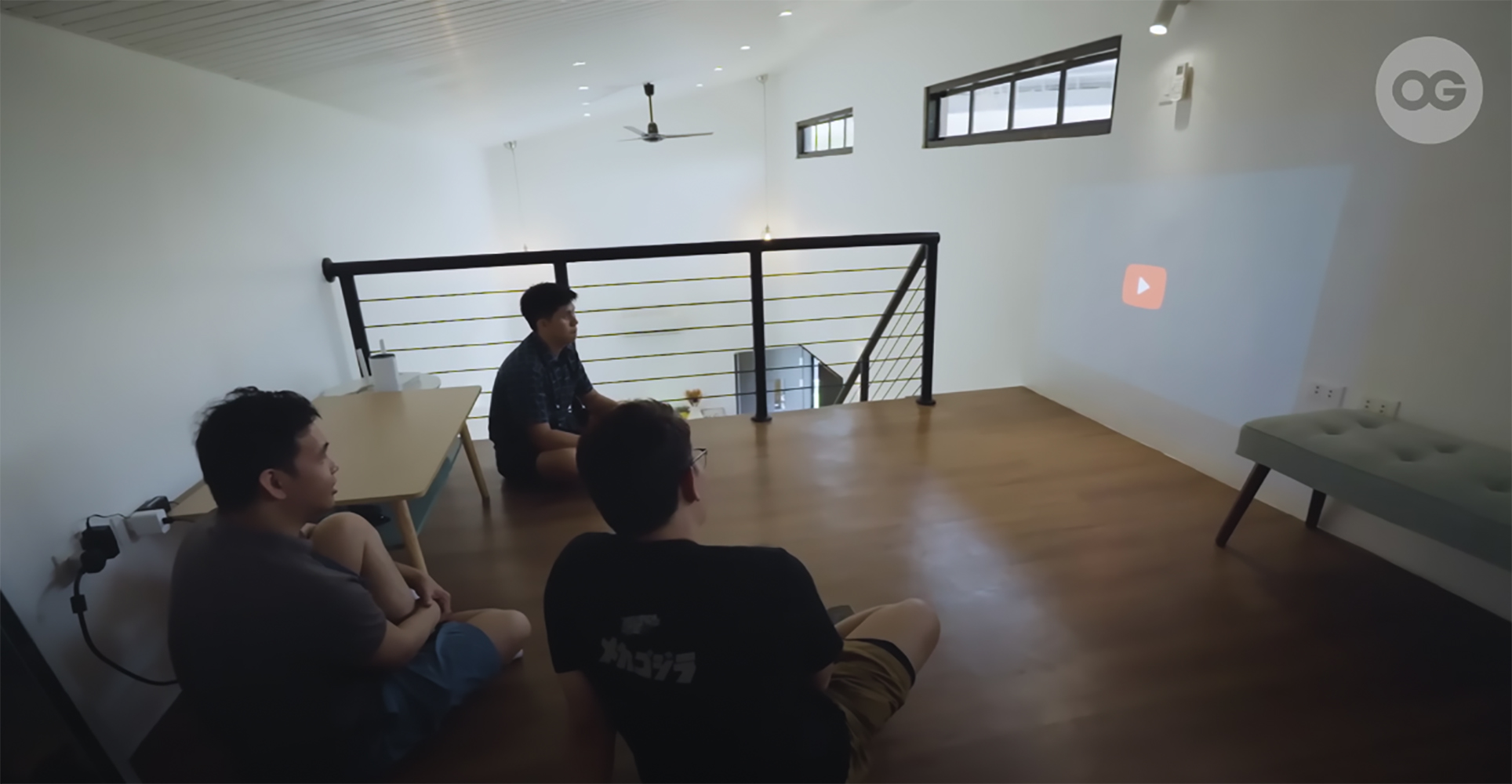 ADVERTISEMENT - CONTINUE READING BELOW
Visitors can watch movies or YouTube videos via a projector, and they can also sleep over with the available folding bed. In the future, Edward and Pinky will add a TV to complete the entertainment area.
READ: Tiny Houses Around the Philippines: From Shipping Containers to a Revamped Bodega
Living the most with the least
All in all, the couple spent around P1.3 million for the construction of the house and P500,000 for the entire lot. They chose common materials such as cement, wood, and some steel for the house to make it easy to maintain and expandable for the future.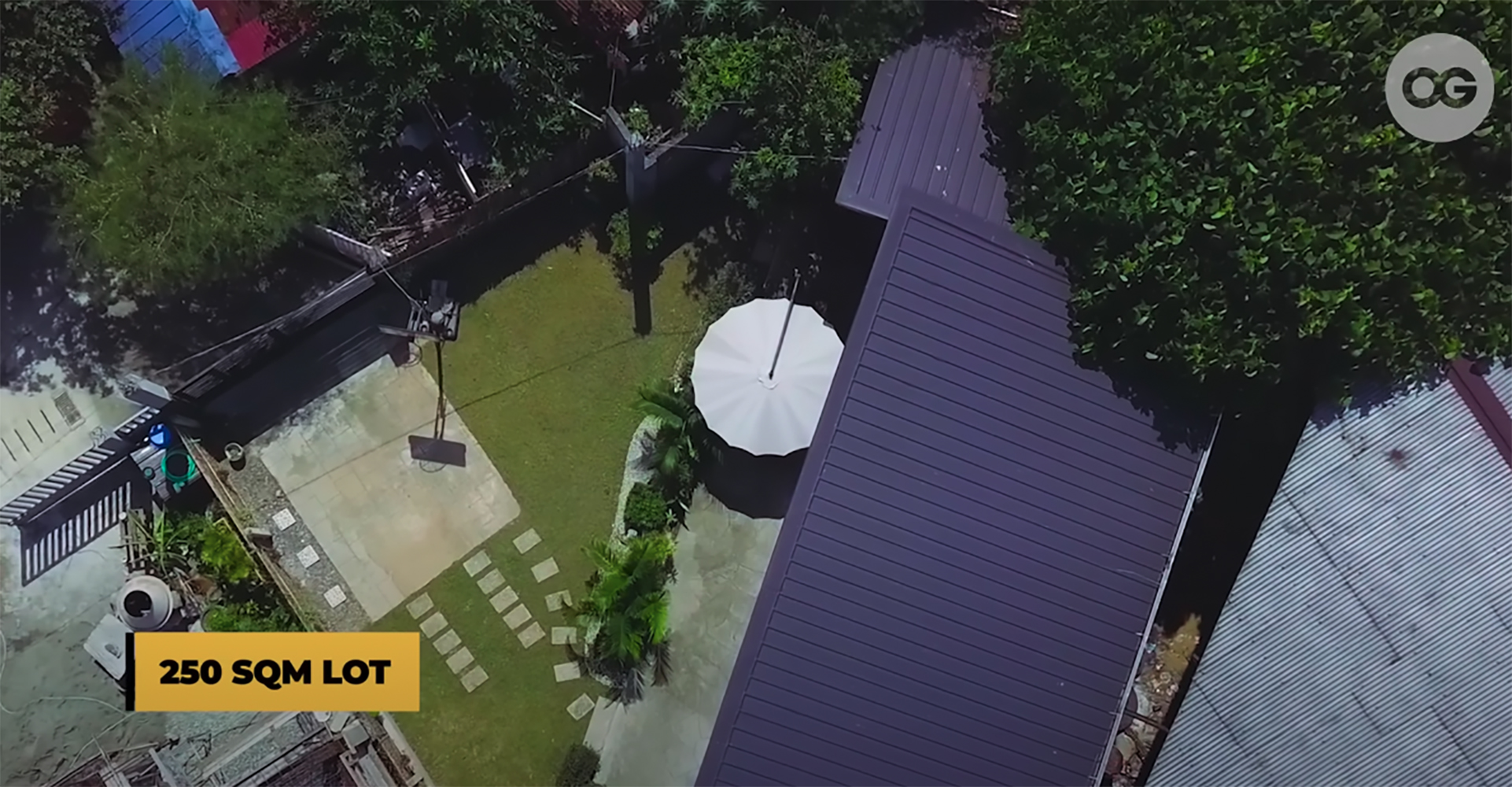 ADVERTISEMENT - CONTINUE READING BELOW
"Ang tiny house is more of living the most with the least so parang zen na rin," he notes. "So you need to infuse your philosophy with that kind of thinking sa paggawa ng bahay at 'saka sa property. Kasi you need to live in it, not just stay in it."
Interested in learning more about tiny living from Edward and Pinky? Visit their Facebook page, Tiny&Tidy House Philippines.
READ: 8 Things to Consider Before Building Your Tiny Home
Watch the full video when you click: https://bit.ly/3phuzTW
OG (Only Good) Channel is Summit Media's first-ever video brand with its own channel on Youtube. OG features content that gives ONLY GOOD vibes with entertaining and informational video series about Amazing Staycation Destinations, Unique Homes, OPM Music, Buhay Abroad, Popular Memes and Trends, and Real Stories about Real People. If you need a dose of good vibes today, visit and subscribe to OG Channel.
ADVERTISEMENT - CONTINUE READING BELOW
More on Realliving.com.ph
Load More Stories