Houses
This Family's Dream Home Was Five Years in the Making
ZAYIN Architects helped the owners turn their Scandi-Industrial vision into reality Photography: Facebook/ZAYIN Architects and the Owners (Main Photos) Architect: ZAYIN Architects
When Jhelyn and her husband started saving up for their home five years ago, she already had an idea of what it would look like. She wanted it to be clean and homey, with a spacious backyard and a jacuzzi, to boot!
"When I come home, I want to feel like I'm on vacation or staying in a hotel. I also want to have plenty of storage because I don't want clutter," she shares with Realliving.com.ph. With these things in mind, she looked for pegs on Pinterest, which she then shared with ZAYIN Architects.
After almost a year of construction, Jhelyn's vision came to life. The 402sqm, two-storey home with mezzanine has four bedrooms, a powder room, three bathrooms, a family area, two kitchens, and a study room, to name a few. Of course, there's also a spacious outdoor area with a jacuzzi, too. The family's home is proof that some things are definitely worth the wait.
READ: A Pinterest Inspired Family Home With Industrial Touches
Take a peek inside the home below:
Façade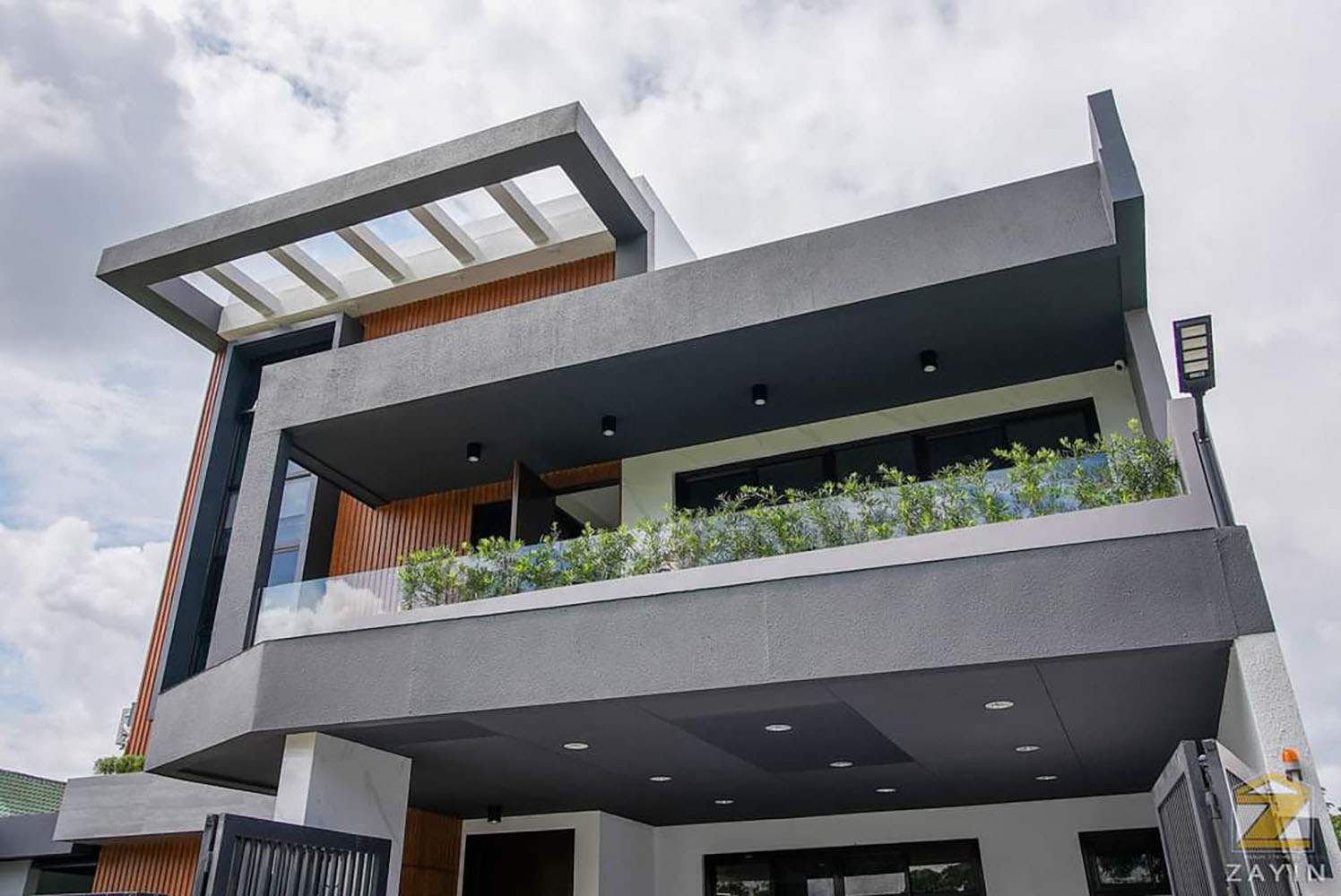 During her discussions with the architect, Jhelyn emphasized how she wanted to incorporate white or black marble, wood, and black accents into the final look. You can see these elements showcased on the home's exterior.
ADVERTISEMENT - CONTINUE READING BELOW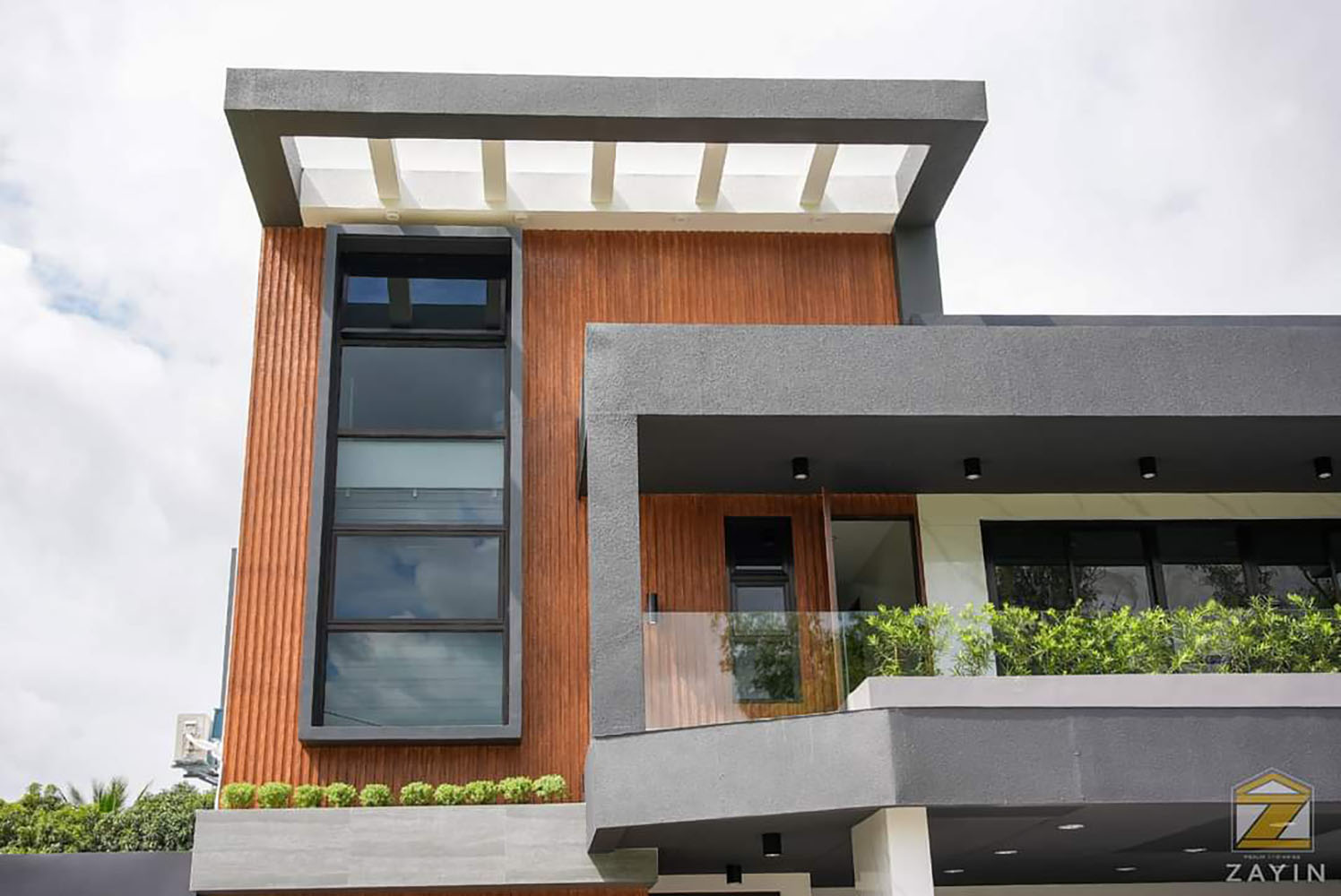 The façade features a sleek and modern aesthetic with the balance of stone, wood, and glass. From this angle, you can also see the roomy balcony where the owners can hang out during their free time.
Main Door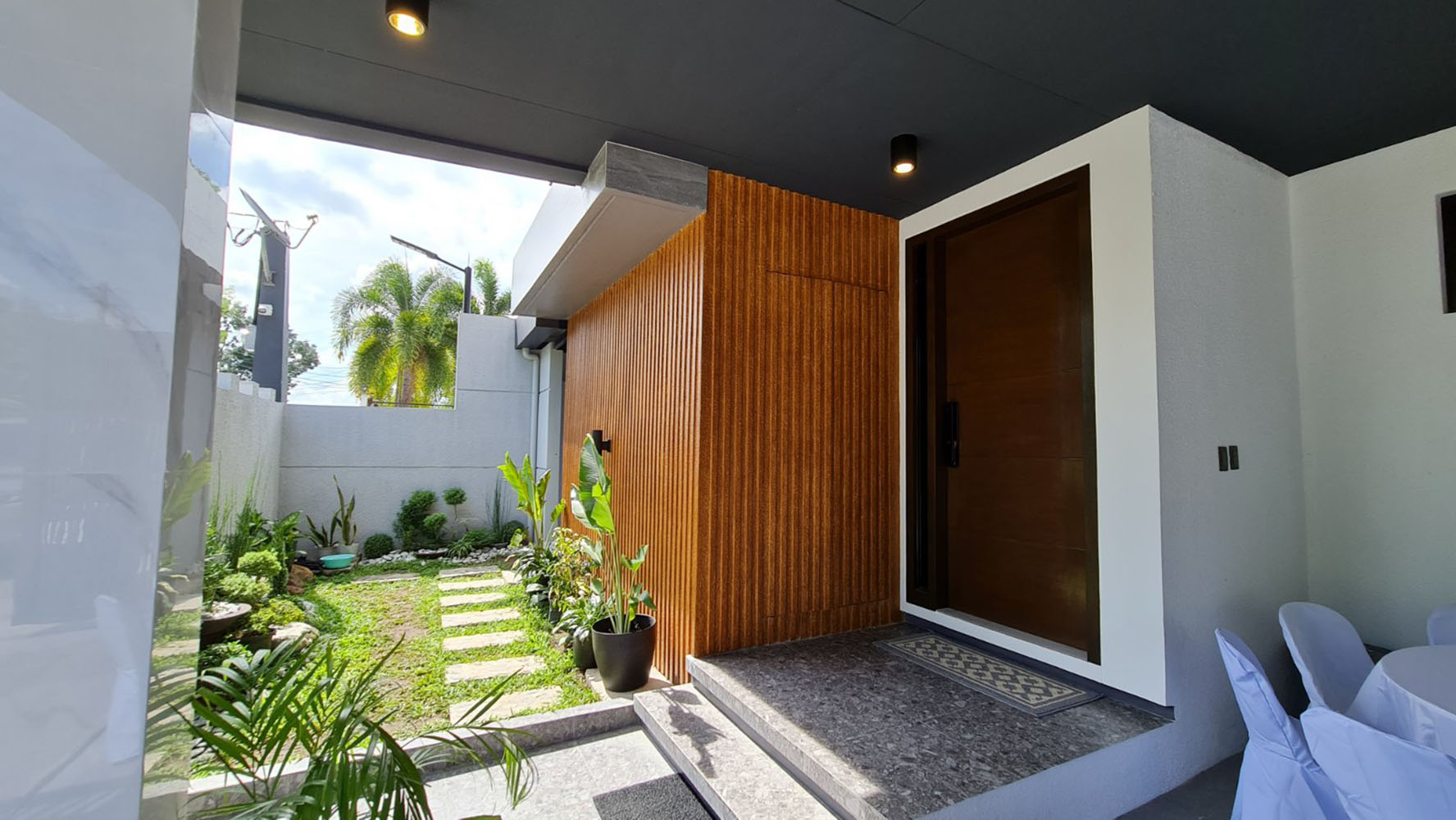 Upon entrance to the property, guests will be greeted by a garden on the left near the main door and a two-car garage on the right. During the house's blessing, the owners were able to turn the garage into a dining space for their guests.
READ: This Modern Vacation Home in Baguio is a Multi-Storey Dream
Dining Area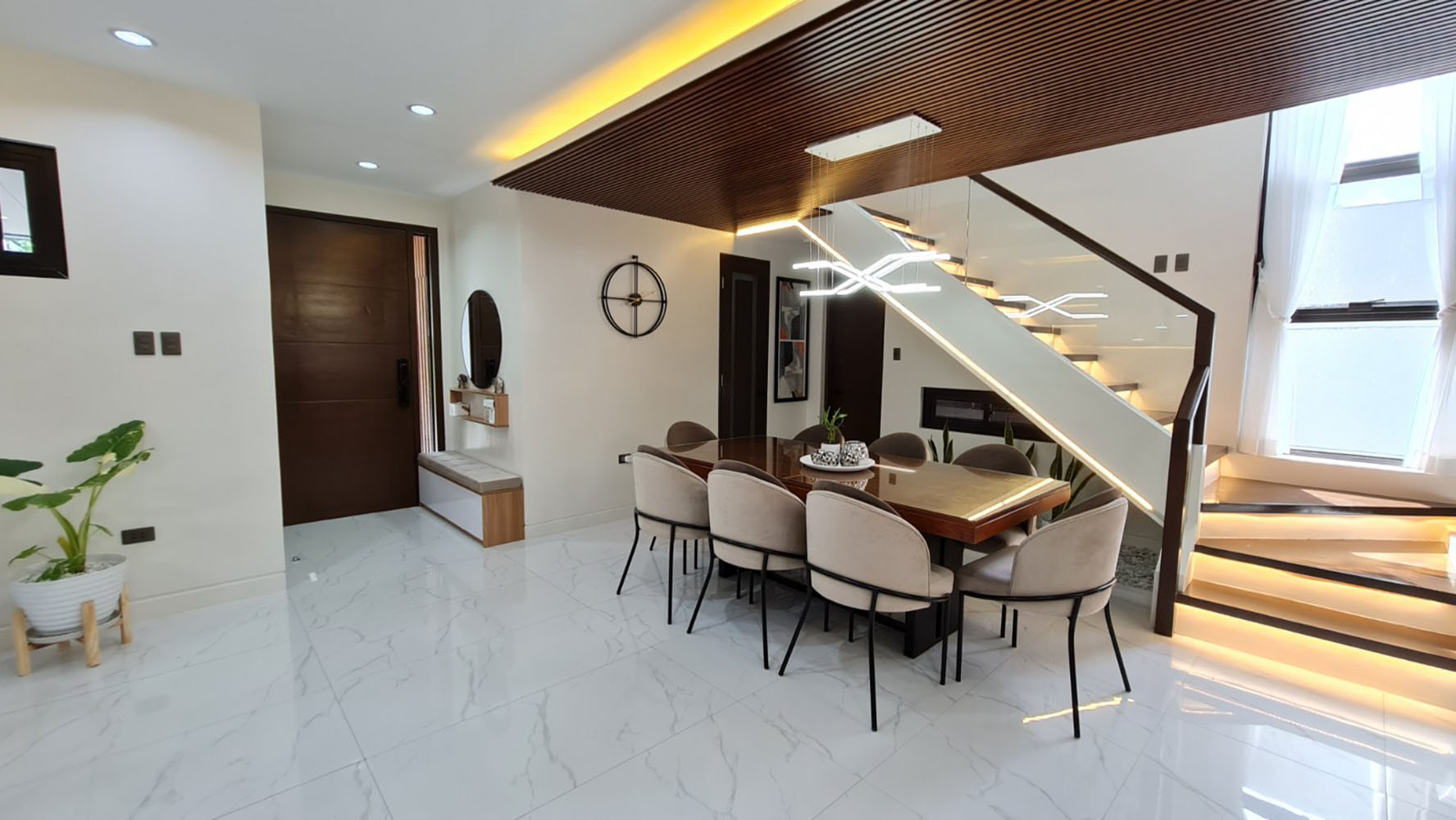 ADVERTISEMENT - CONTINUE READING BELOW
Jhelyn says that their house doesn't follow the layout often applied to Filipino homes. "I was told the layout was European-inspired because from the foyer, you have the main kitchen on the right and the dining area on the left. I preferred this because we were able to locate the receiving or living area near the lanai," she explains.
Pocket Garden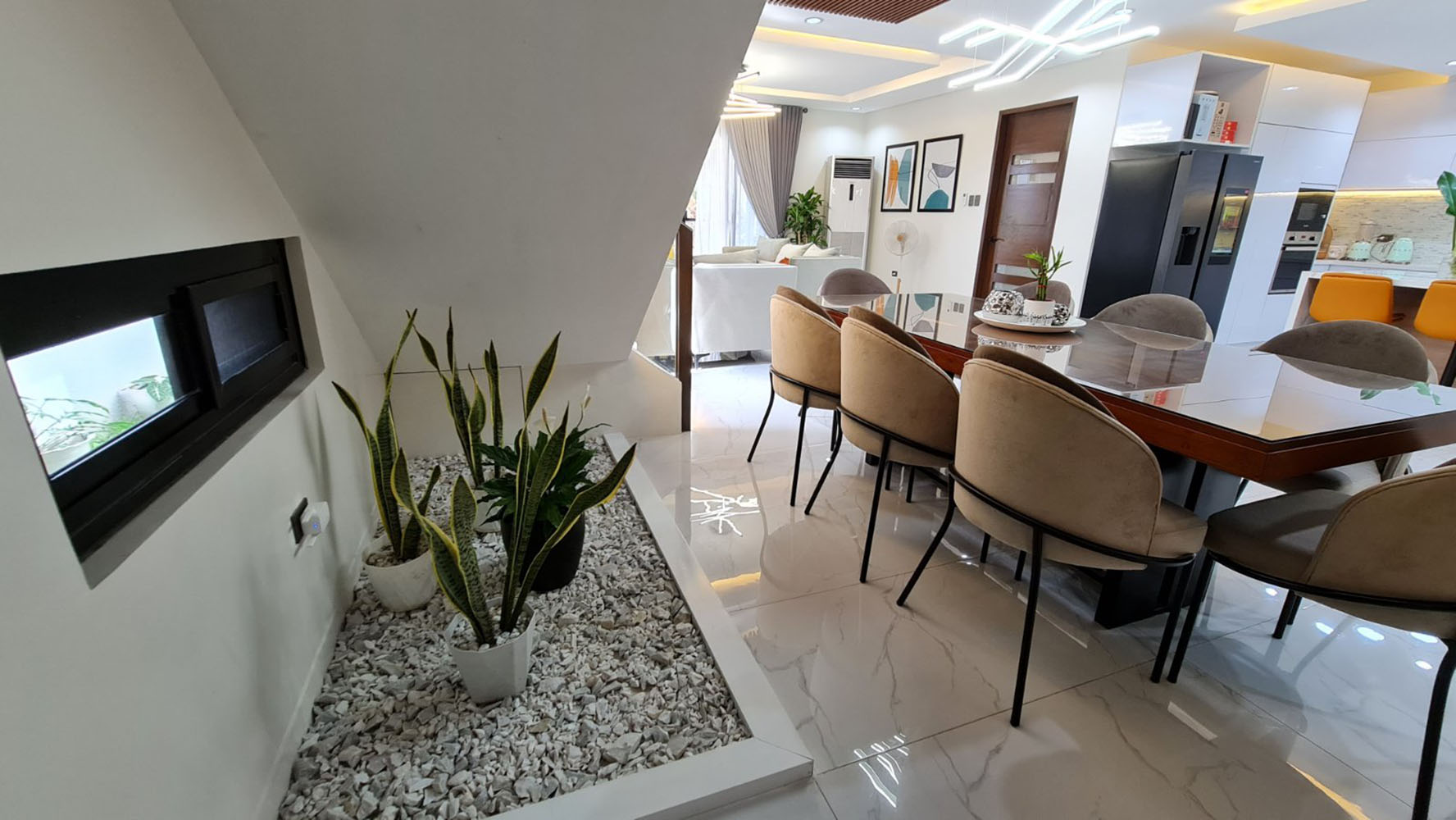 ADVERTISEMENT - CONTINUE READING BELOW
Instead of leaving the space under the stairs empty, they decided to create a small pocket garden with stones and low-maintenance indoor plants. The simple yet calming setup adds a sense of Zen to the home.
Living Area
Jhelyn was very hands-on when it came to sprucing up the areas of the home. The living area, located near the lanai, is furnished with plush seating pieces and two accent chairs that add pops of color to the space. Meanwhile, the chosen drapes that liven up the sliding doors leading to the lanai add a touch of elegance.
ADVERTISEMENT - CONTINUE READING BELOW
READ: This Farmhouse-Inspired Home Has a View of Nasugbu's Beautiful Mountains
Kitchen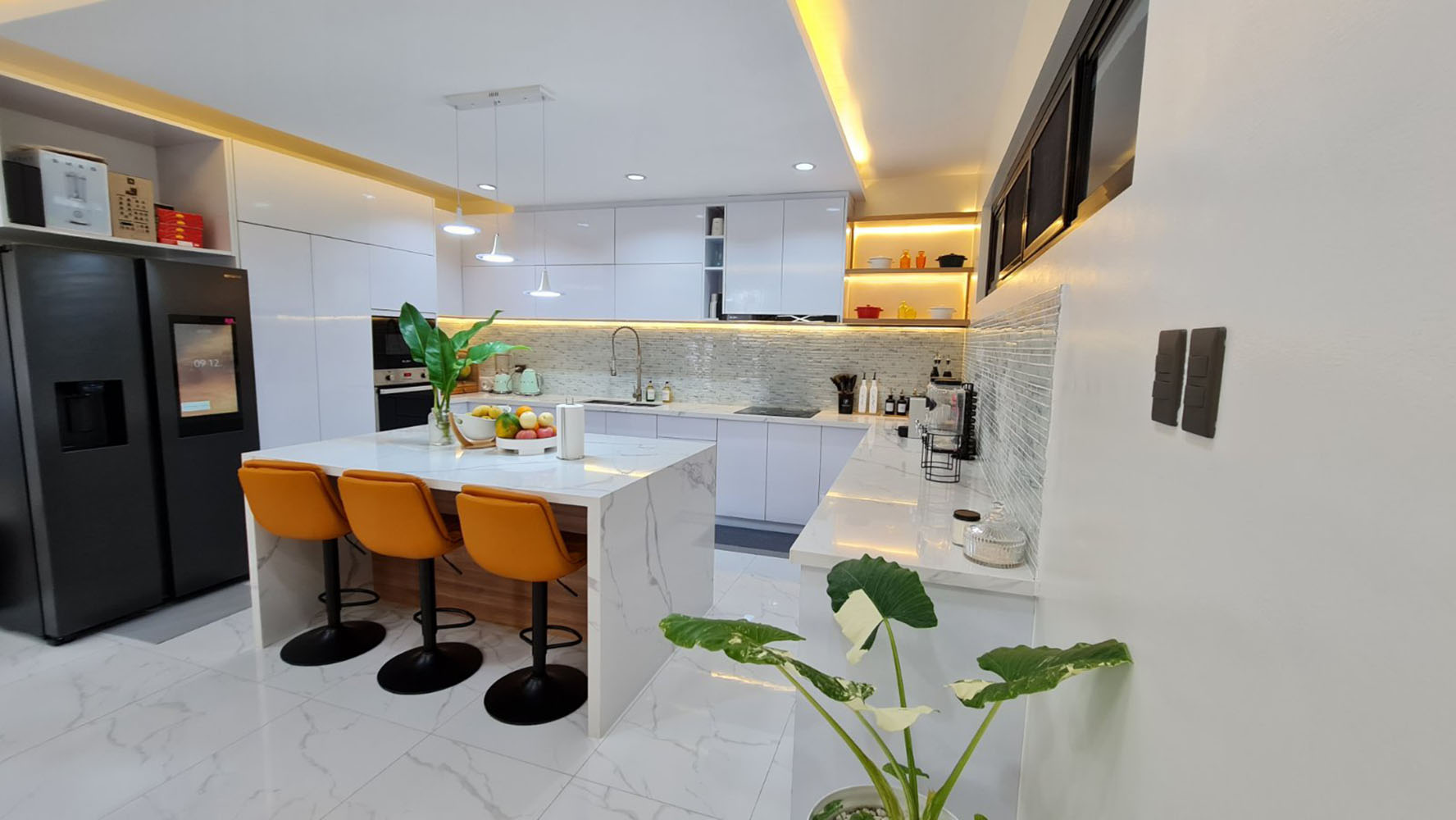 The lady of the house loves her all-white and spacious kitchen. She shares, "I've always dreamed of a white kitchen with an island and tons of modular cabinets."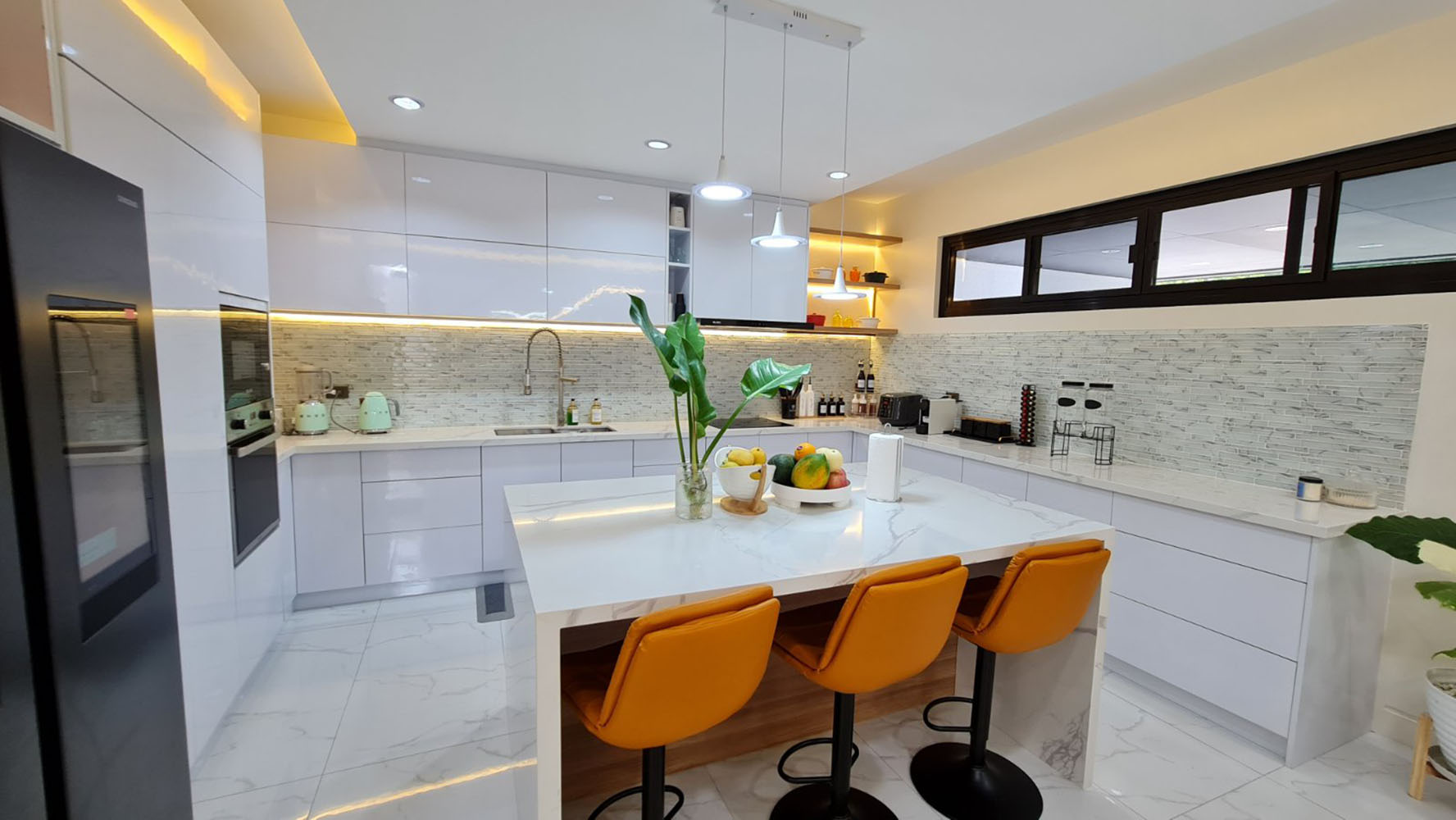 ADVERTISEMENT - CONTINUE READING BELOW
The cabinets feature a laminated finish in glossy white. They also made sure there were enough drawers to keep clutter at bay. According to the owner, the countertops and kitchen island were made of Calacatta quartz because it's durable and beautiful. Most of the décor pieces were bought from Shopee.
Family Area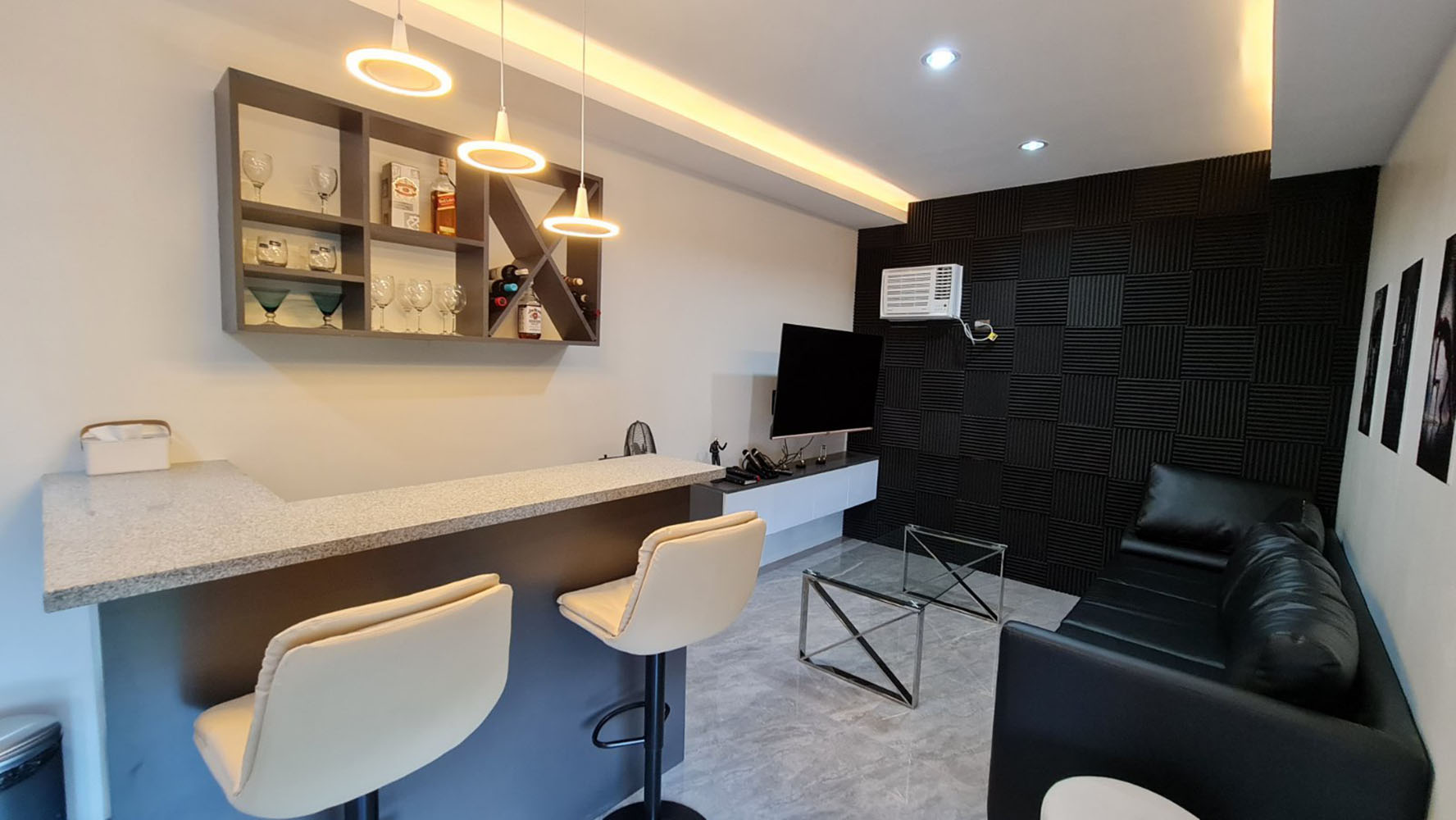 ADVERTISEMENT - CONTINUE READING BELOW
Aside from spending time outdoors, the family can also enjoy movie nights in the family area furnished with an inviting sofa and a bar area. They also have the option of entertaining guests here.
Seating Area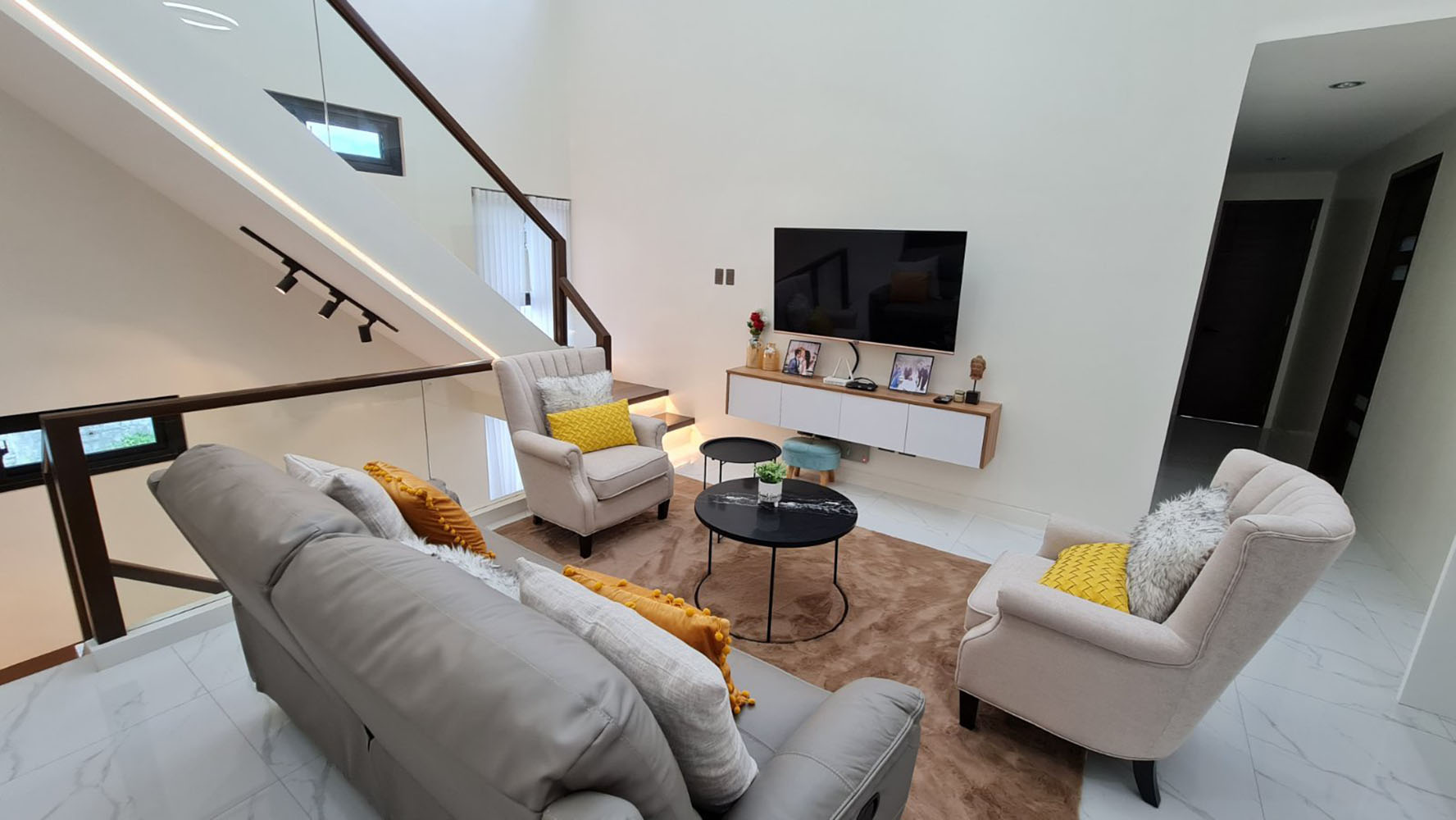 A short flight of steps leads to a seating area anchored by a carpet. Suffice it to say, the family will never run out of nooks where they can relax and pass the time. The area is completed with matching accent chairs, a gray sofa, and a nesting coffee table.
ADVERTISEMENT - CONTINUE READING BELOW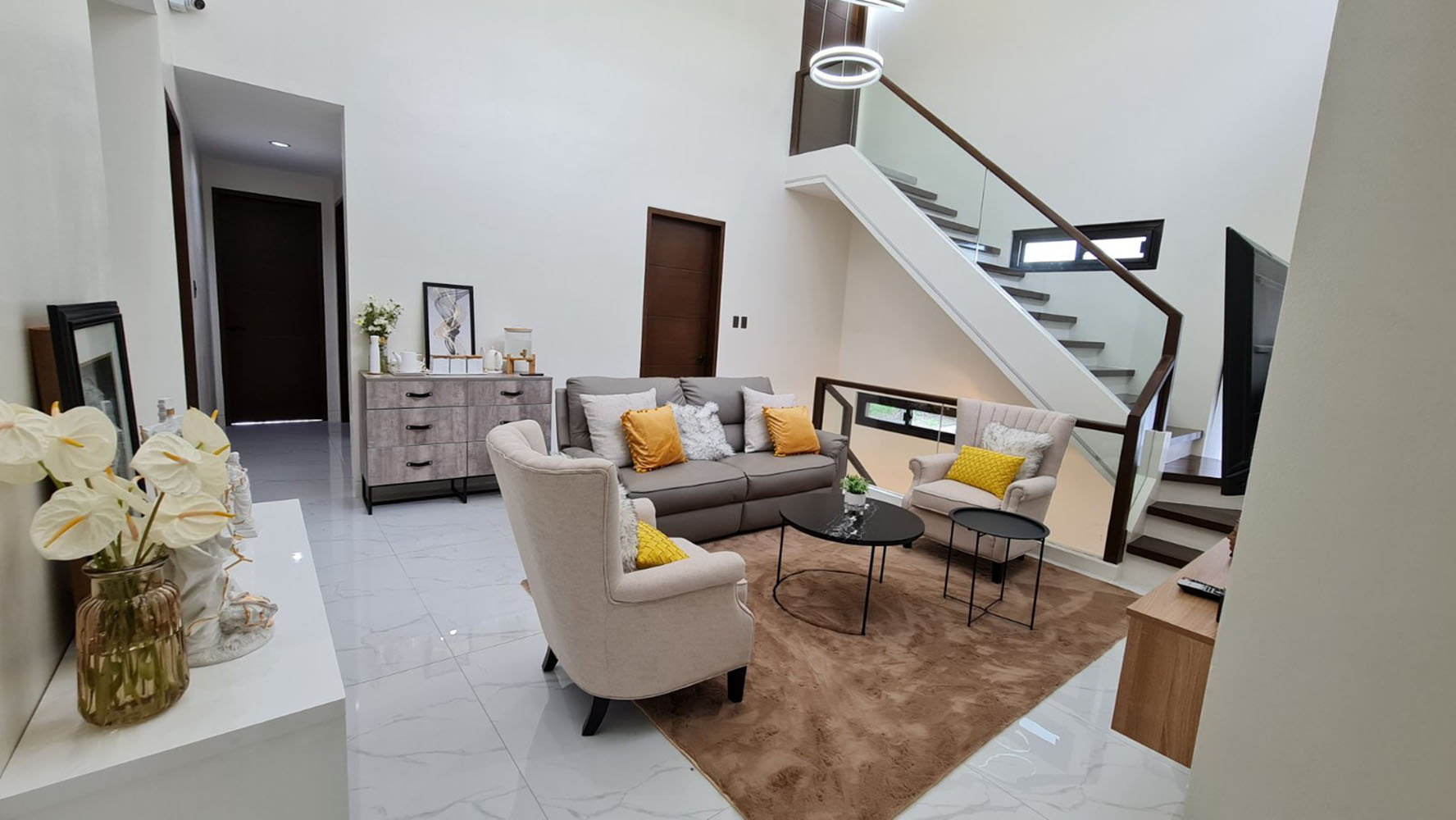 Opting for neutral-colored furniture pieces makes it easier for them to bring in furnishings in bright colors to liven up the space. Also found on this level is a small altar.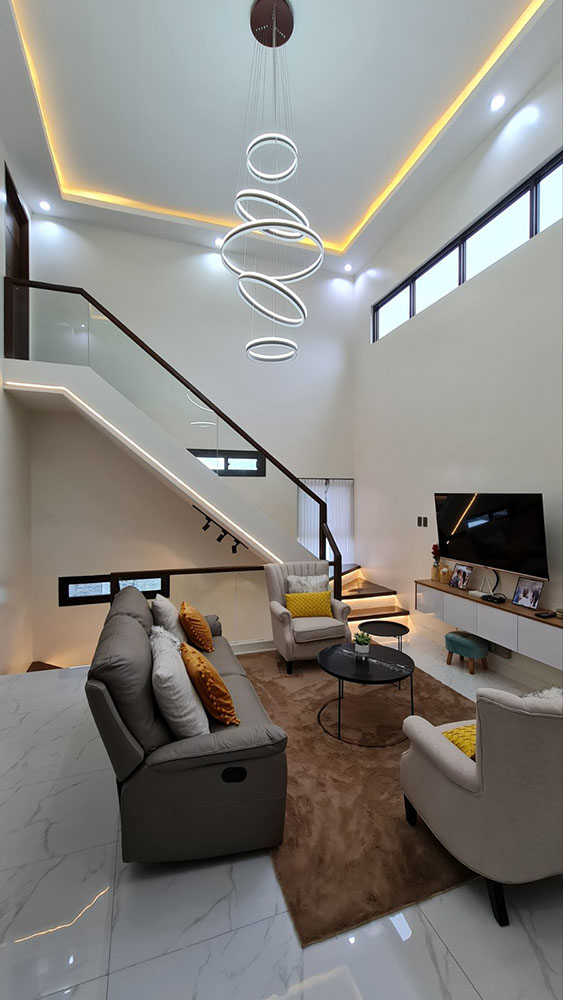 ADVERTISEMENT - CONTINUE READING BELOW
A captivating lighting piece highlights the home's high ceiling as well.
READ: A Unit for Each Sibling: This Modern-Tropical Townhouse in Marikina Used to Be an Ancestral House
Bedroom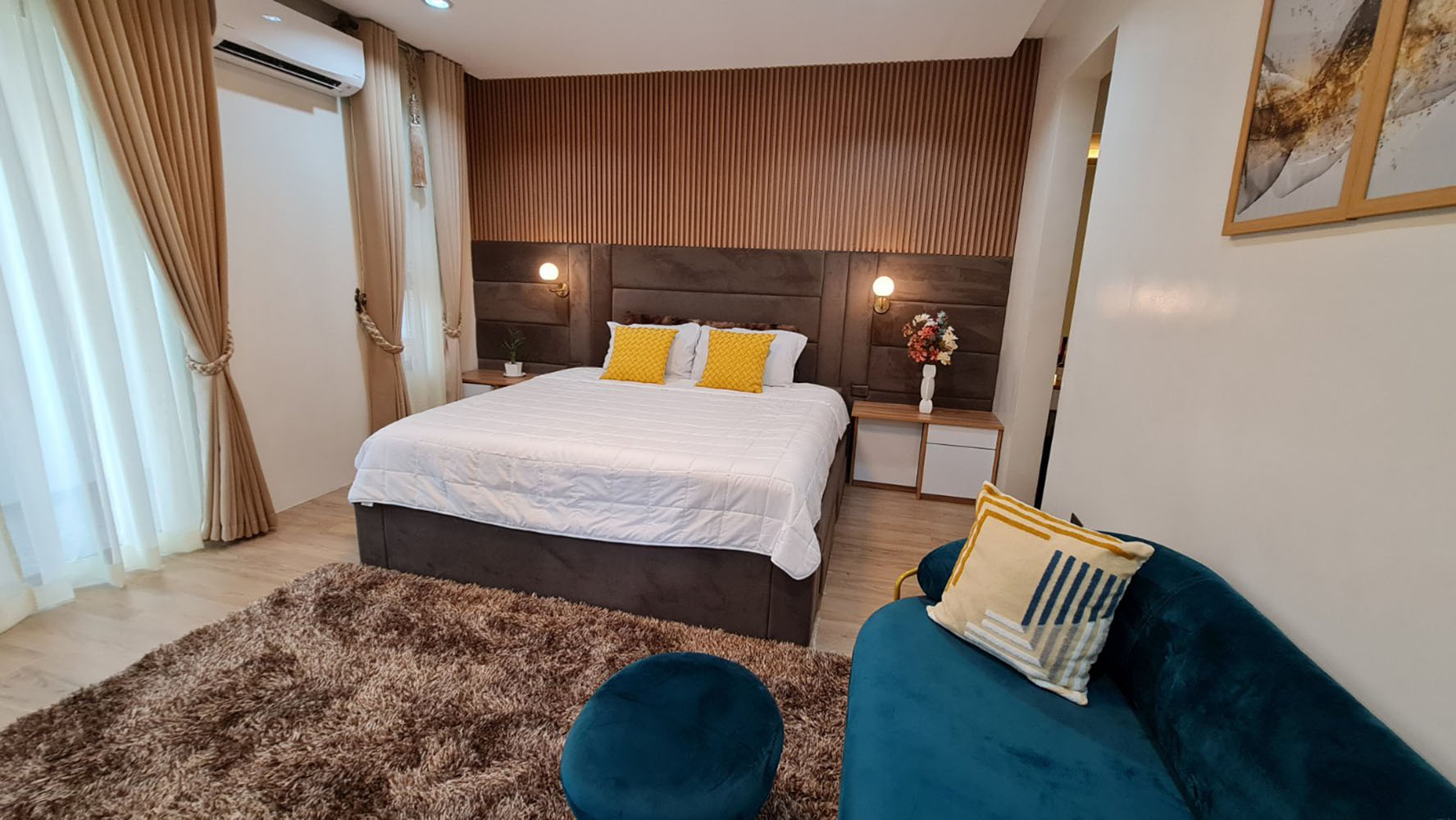 The bedrooms in the house will remind you of vacations and staying in posh hotel suites. This room in particular features a chic headboard that spans the width of the wall, warm lighting, and side tables serving as storage.
ADVERTISEMENT - CONTINUE READING BELOW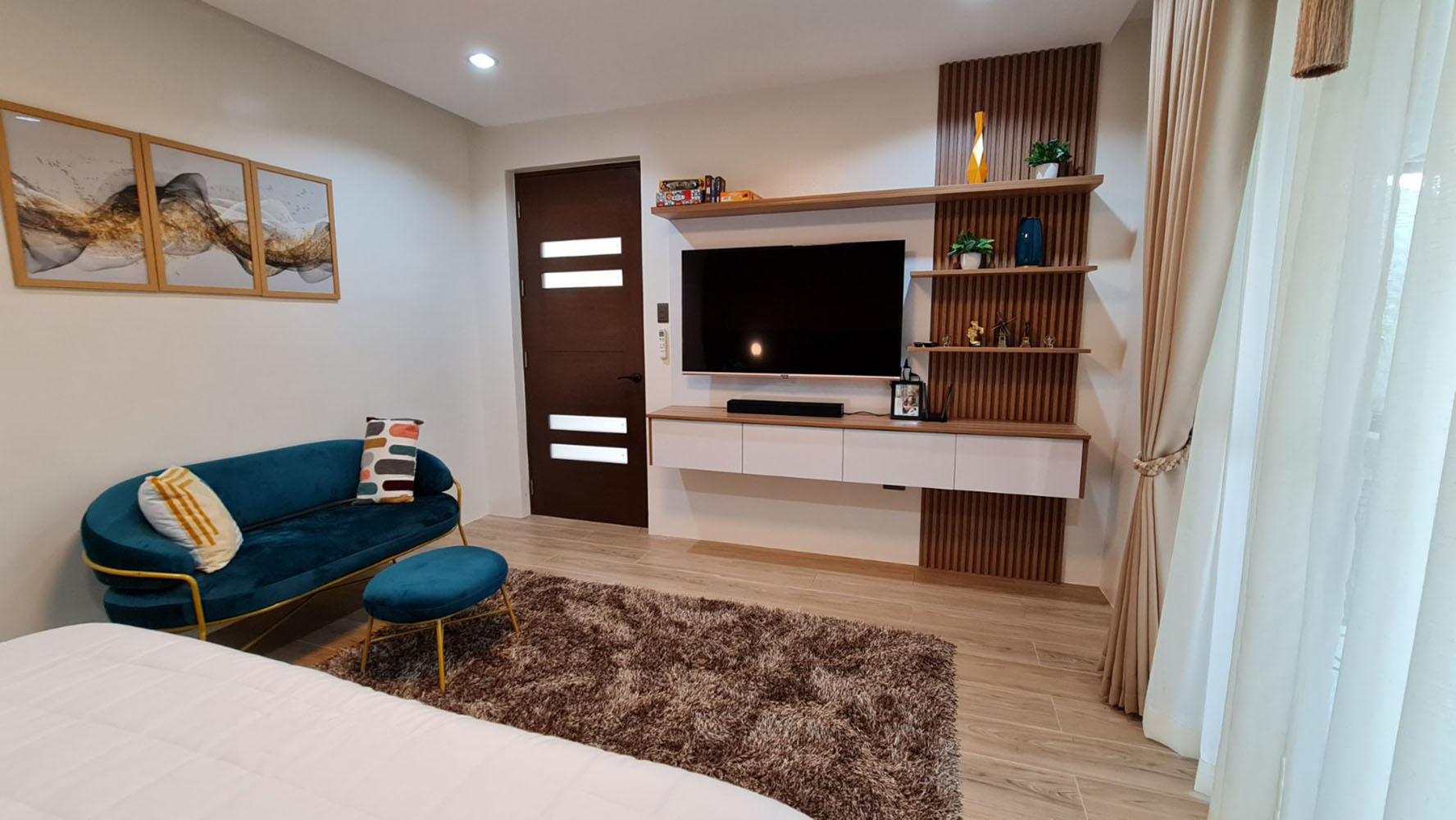 At the foot of the bed is a velvet seating piece and a stool, as well as a TV area defined by open shelves.
Boys' Bedroom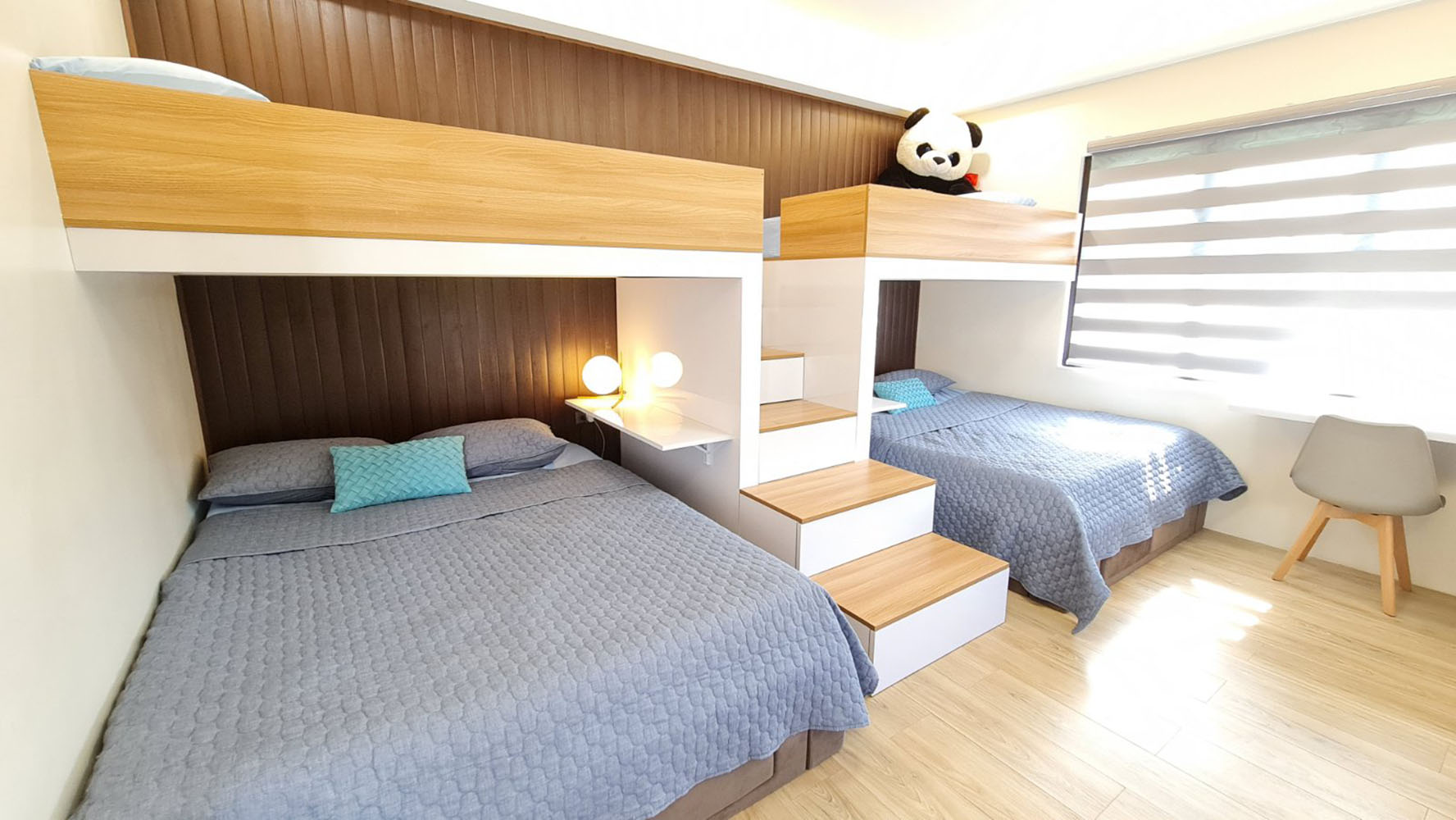 ADVERTISEMENT - CONTINUE READING BELOW
While she loves every area in their home, Jhelyn has a soft spot for her kids' room. "When I was a child, it was my dream to have a bunk bed, so I made sure my sons would have something similar," she says. The 24sqm room can accommodate not just the boys but their friends as well, should they want to have sleepovers.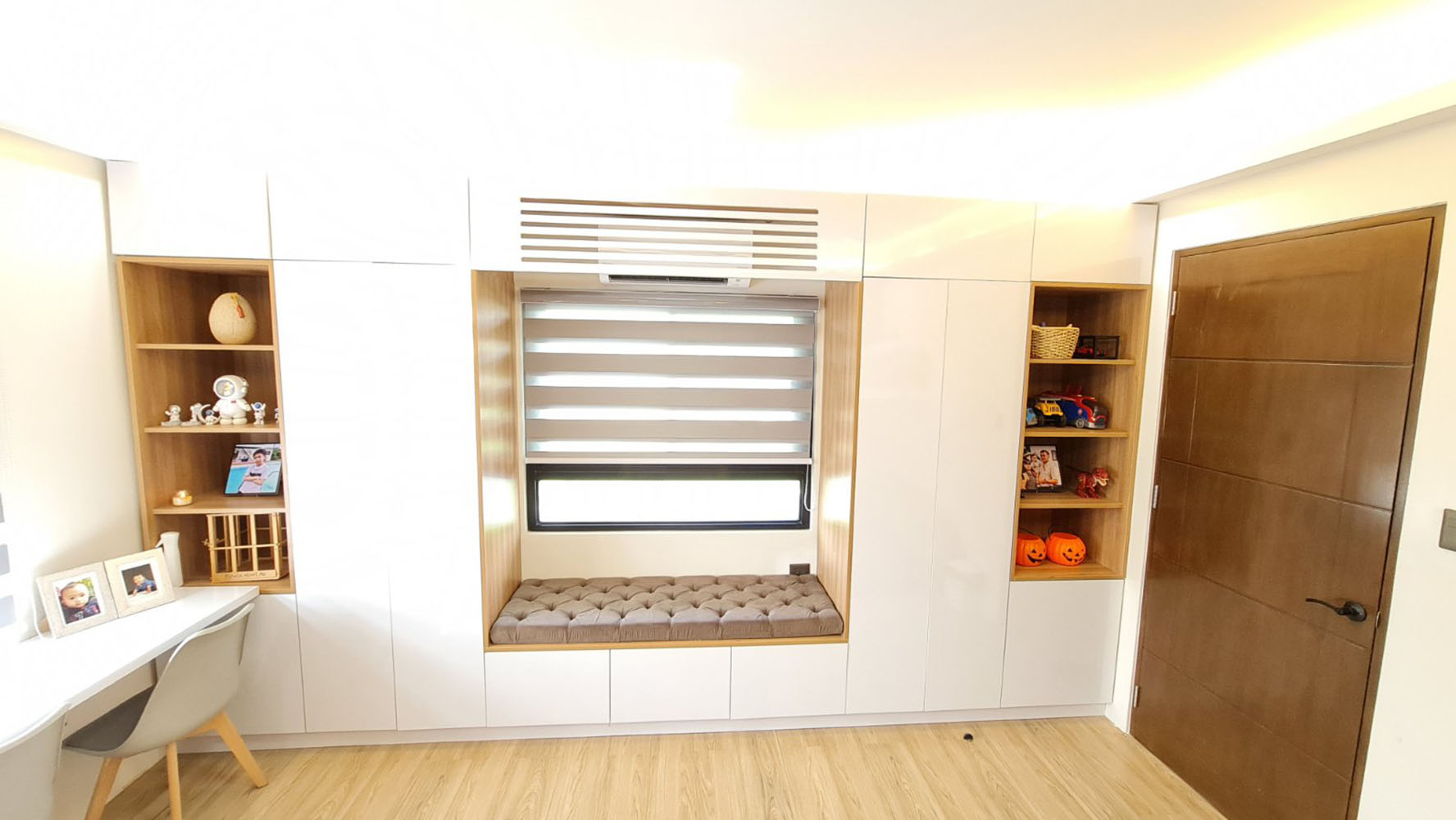 ADVERTISEMENT - CONTINUE READING BELOW
The bedroom has plenty of storage as Jhelyn was very particular about it. The steps leading to the top bunks double as storage units. To maximize the space, there's also a study area and a window seat.
READ: See How This Senior Couple, Both 67, Built a Two-Storey House by Themselves
Master Bedroom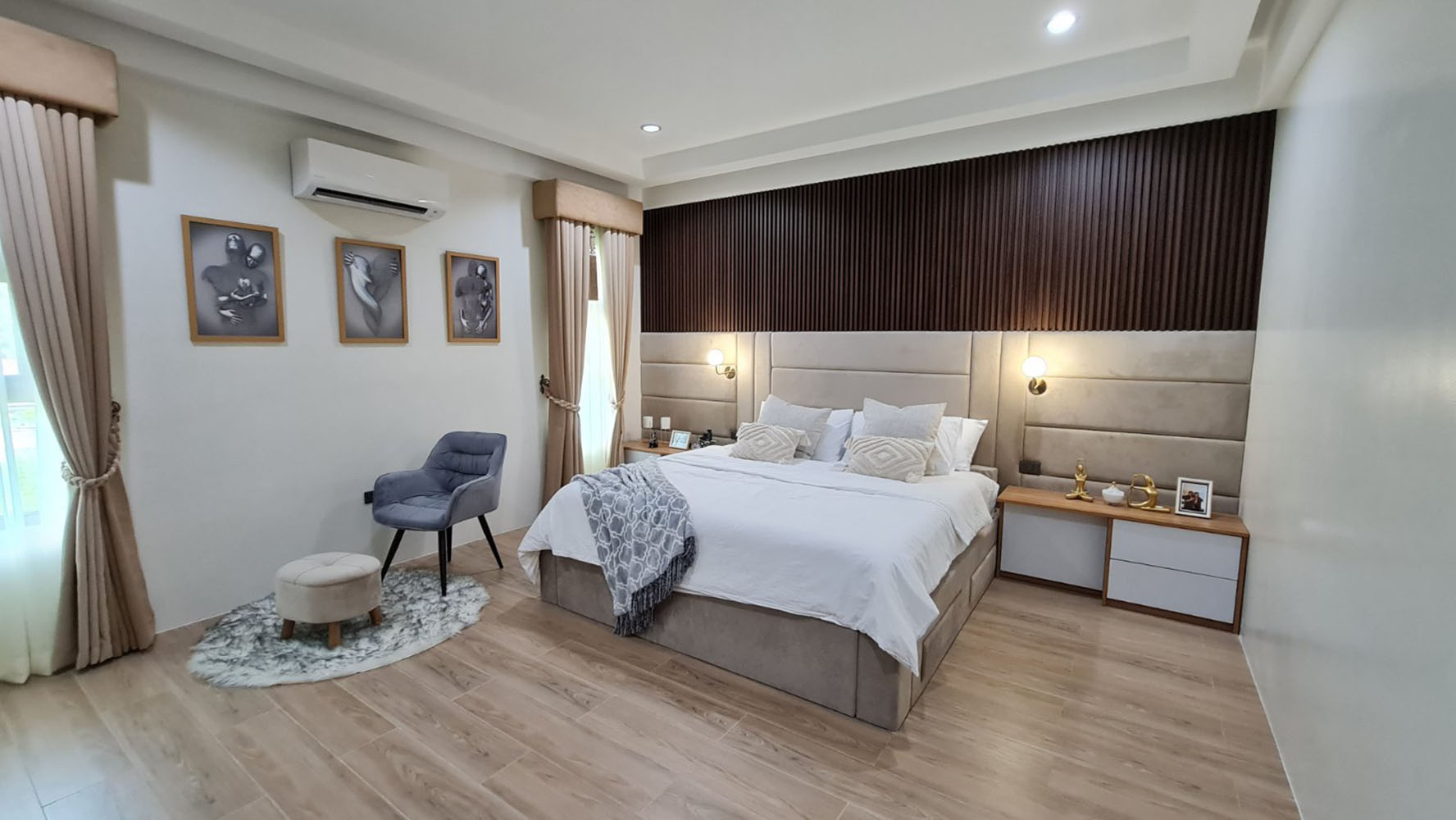 ADVERTISEMENT - CONTINUE READING BELOW
"I opted for a wooden wall cladding to create a warm and homey feel, then contrasted it with marble-like accent tiles. I wanted the room to be easy on the eyes without losing its warmth. Since it's humid here in our country, I don't want our bedroom to look and feel cramped," Jhelyn explains.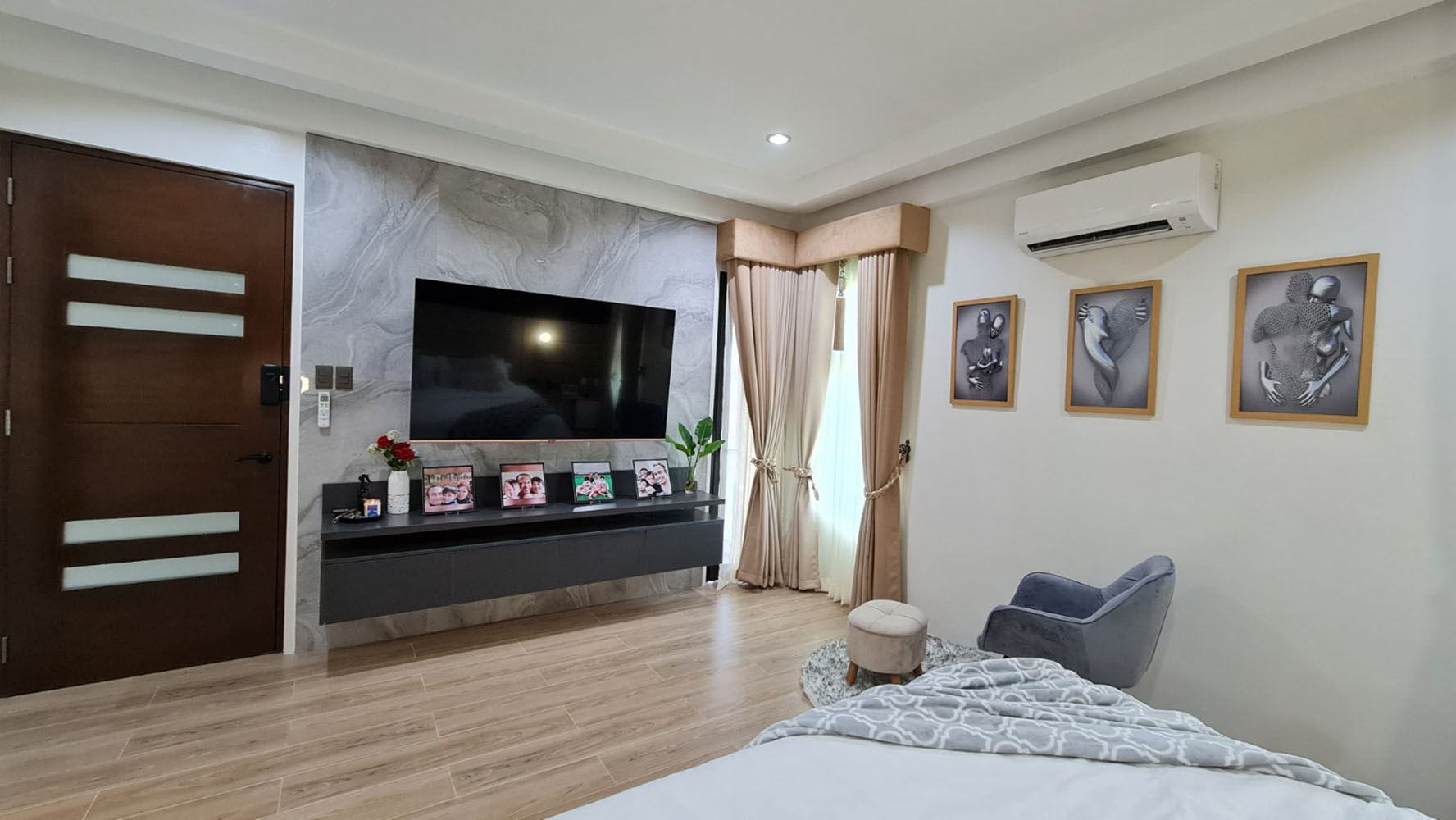 ADVERTISEMENT - CONTINUE READING BELOW
The marble-like tiles create an accent wall behind the TV that defines this part of the room. Jhelyn made sure to polish off the look with chic soft furnishings.
Master Bathroom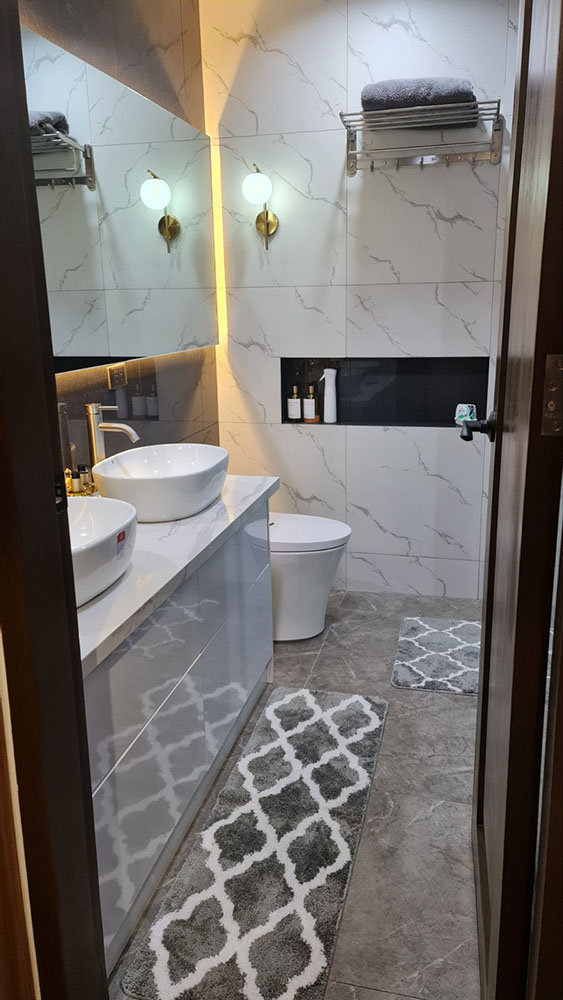 What better way to complement a hotel-like bedroom than with an inviting T&B? The countertops feature Calacatta quartz, while the fixtures complete the modern look. The owners chose to have concealed water closets to achieve a clean and streamlined aesthetic.
ADVERTISEMENT - CONTINUE READING BELOW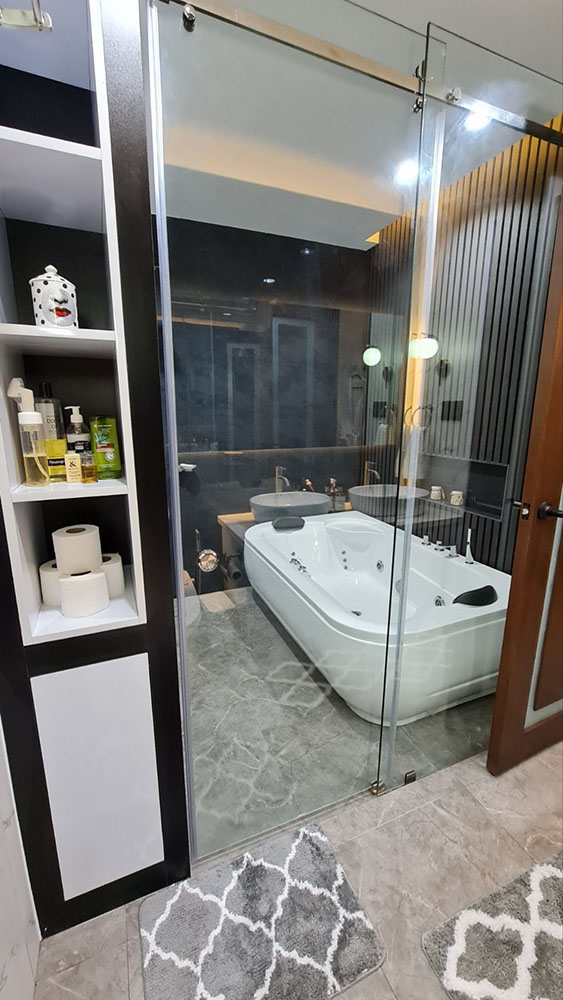 Meanwhile, a glass enclosure with sliding doors separates the shower and bathtub area. Jhelyn handpicked all of the fixtures and the bathtub, completing the T&B.
READ: This Luxurious Home in Alabang Hills Features Works of Ben Cab, Ramon Orlina, and More
Walk-in Closet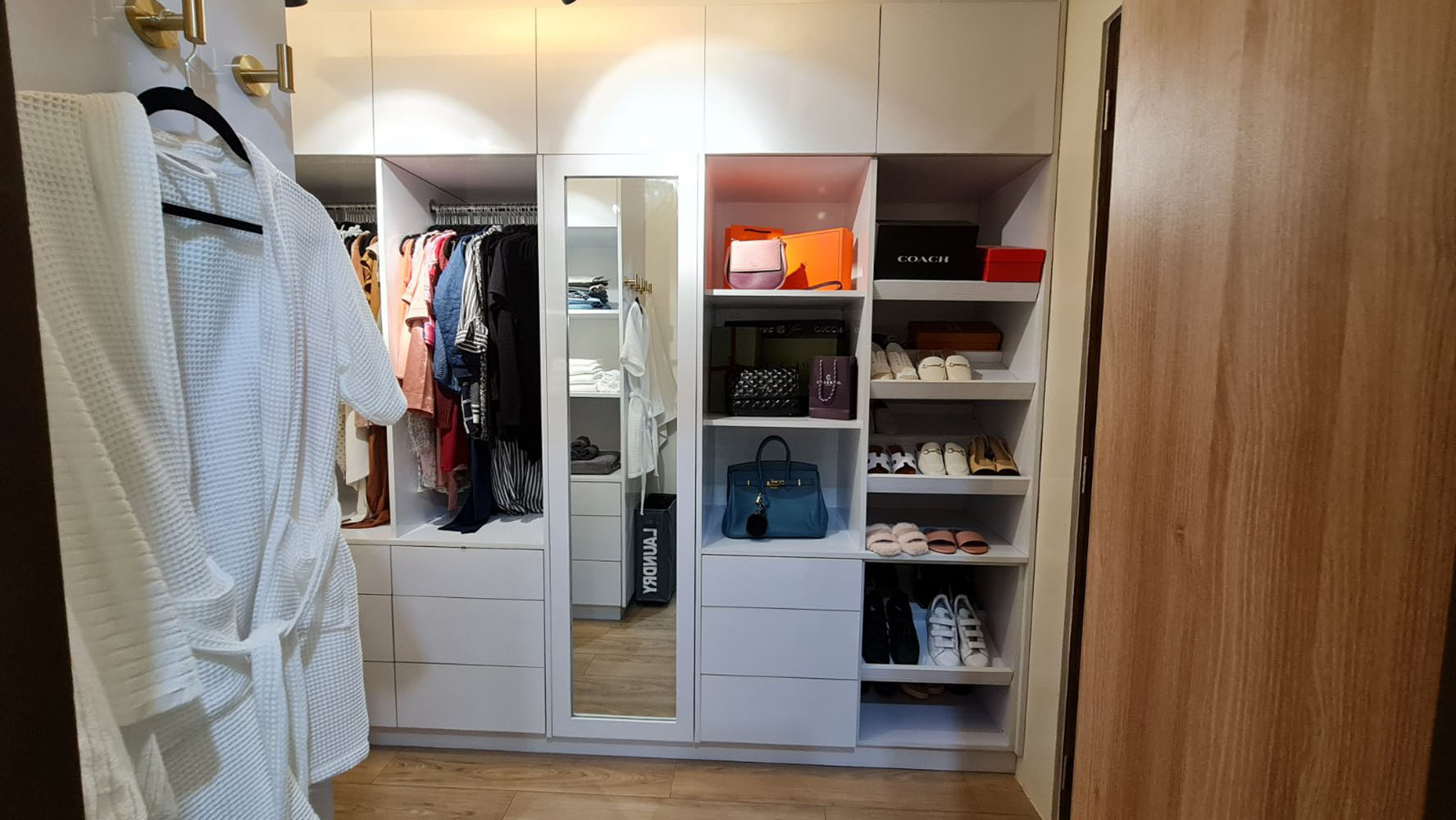 ADVERTISEMENT - CONTINUE READING BELOW
The walk-in closet houses clothes, shoes, and bags. Having enough compartments allows the owners to properly store and organize their essentials, making it easier for them to maintain the space.
Home Office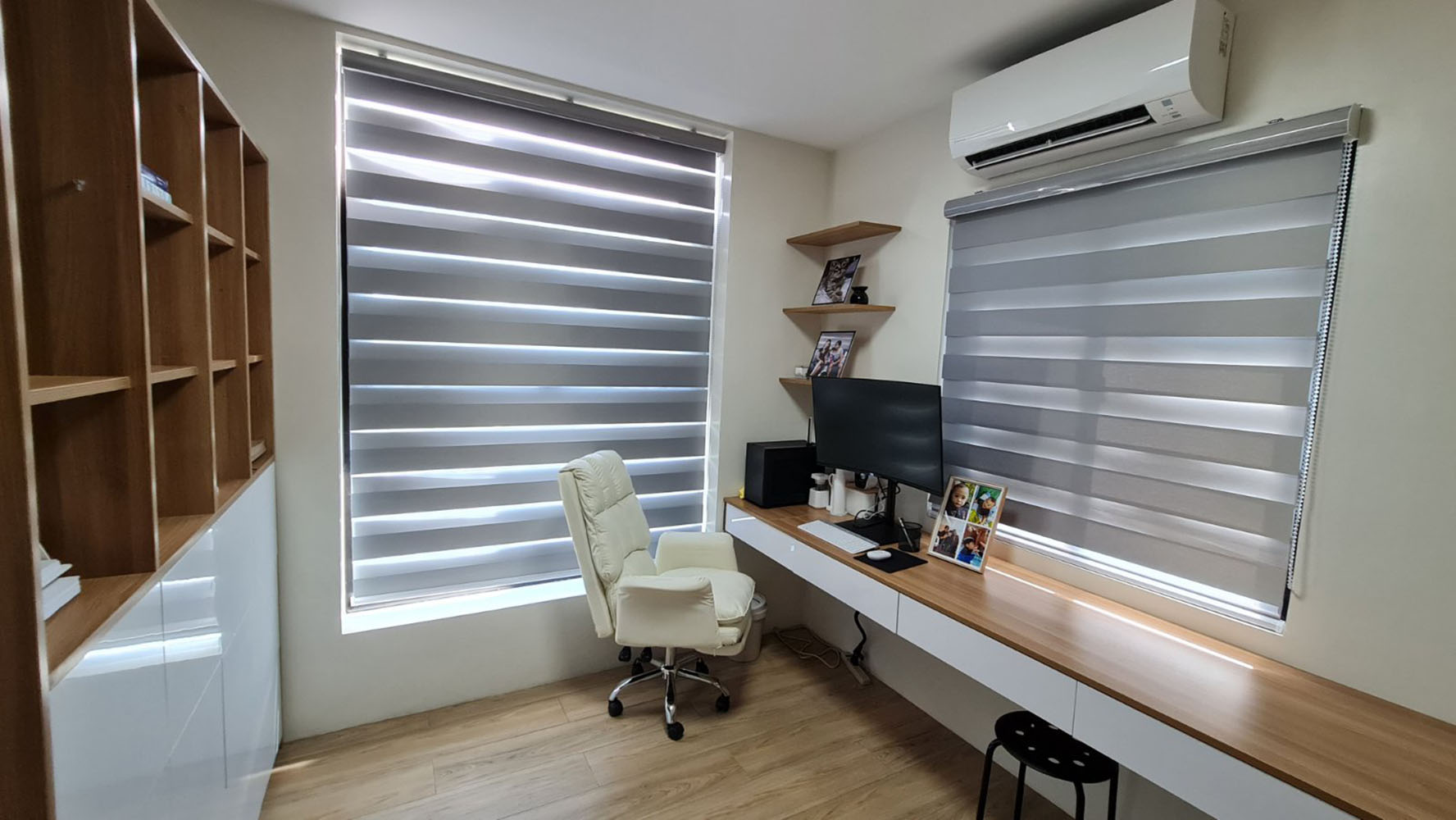 The home office also works as a study area. It's completed with a built-in desk with drawers to save on floorspace and a big shelf with cabinets where supplies can be kept.
ADVERTISEMENT - CONTINUE READING BELOW
Balcony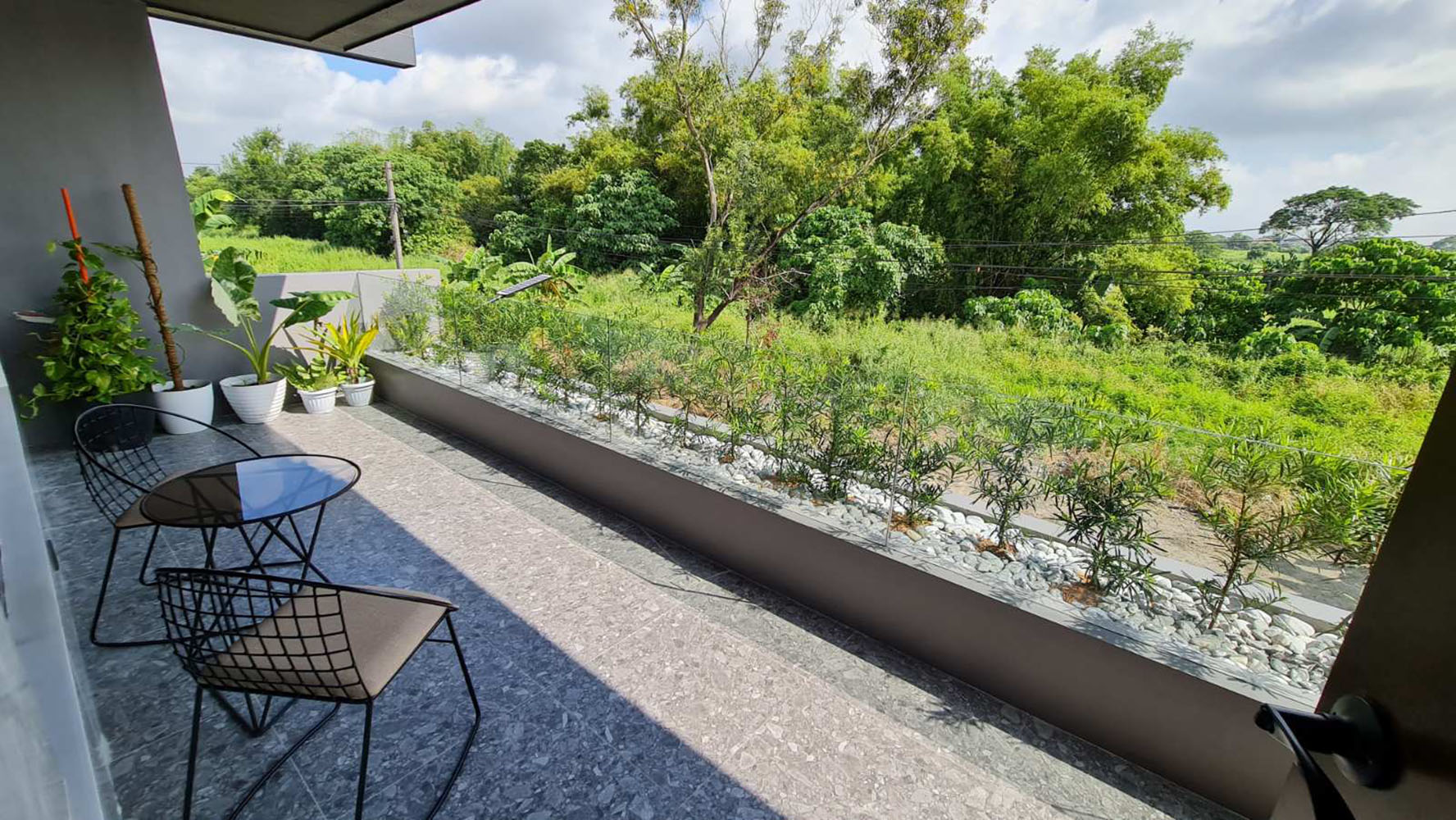 Plants that complement the home's surroundings serve as the balcony's focal point. The owners can lounge here during cool afternoons and even enjoy some snacks.
Outdoor Kitchen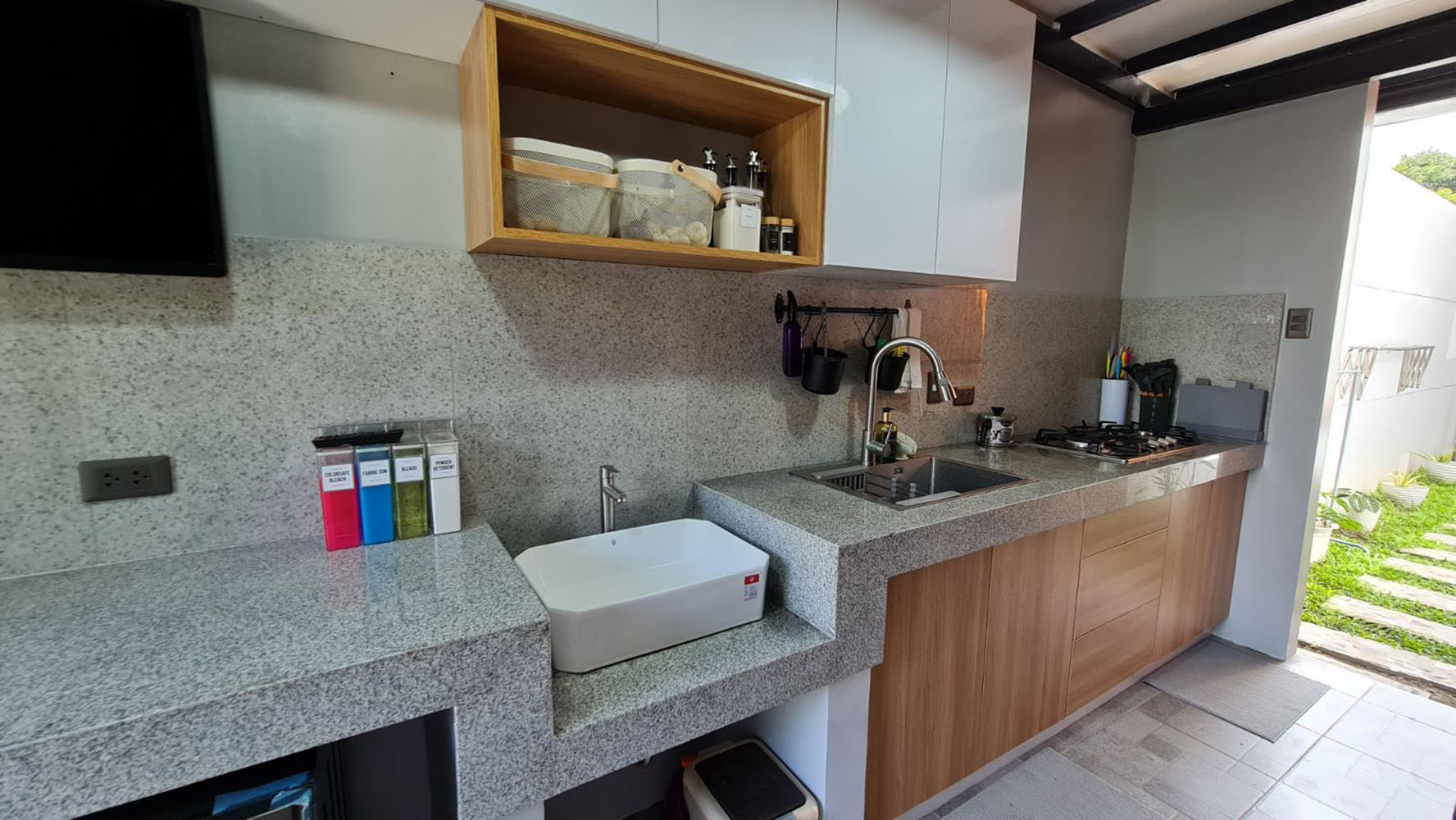 ADVERTISEMENT - CONTINUE READING BELOW
The owners have the option of cooking here instead of inside the house, especially if they are expecting many guests. Aside from completing it with a spacious countertop, there are also cabinets and shelves where ingredients and utensils can be stored.
READ: This Tiny House in Batangas is the Perfect Hideaway
Lanai and Jacuzzi Area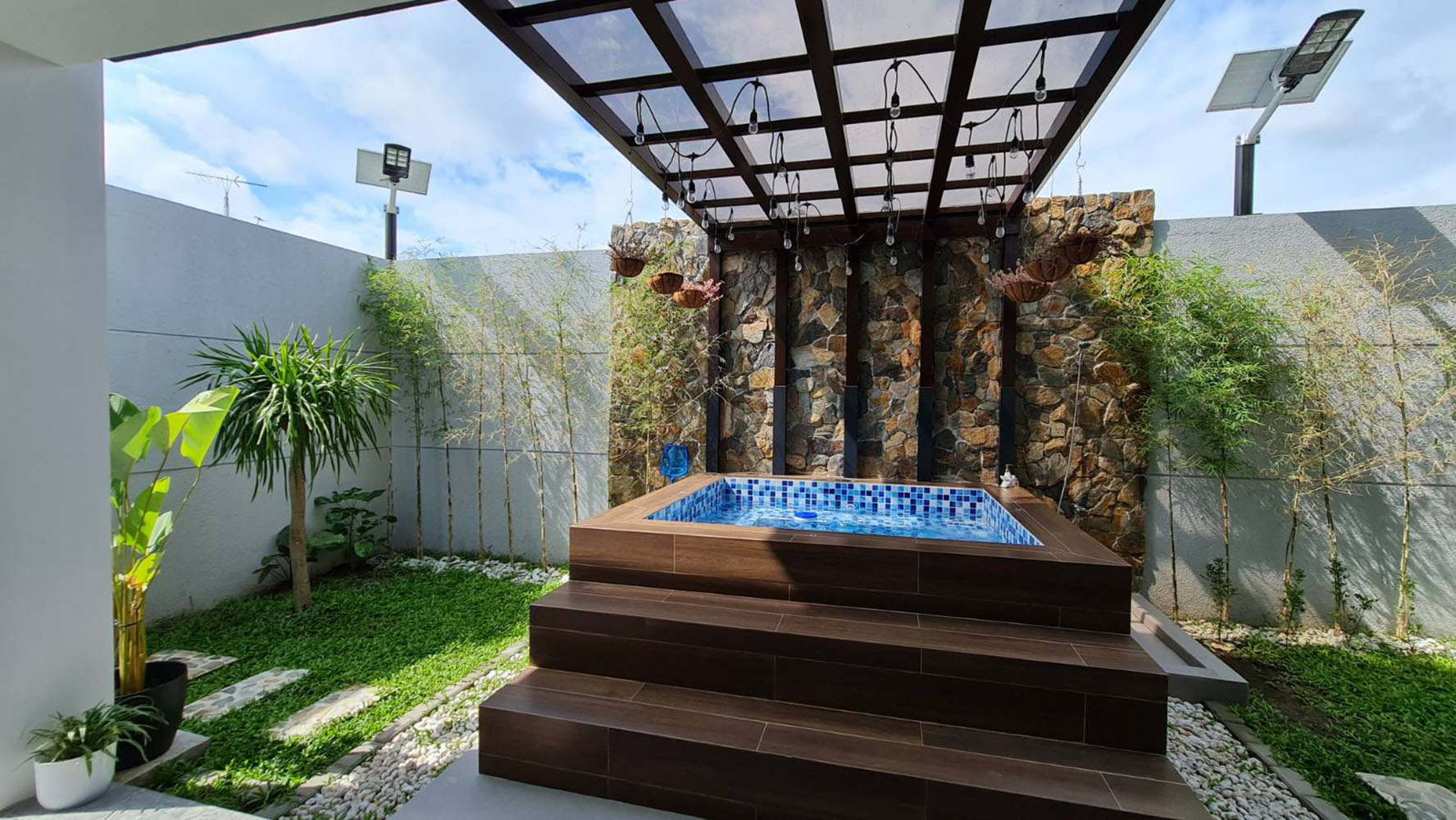 ADVERTISEMENT - CONTINUE READING BELOW
Instead of having a pool, Jhelyn opted to have a jacuzzi since she enjoys hot baths more. To maintain their privacy, she also requested high walls to surround their home.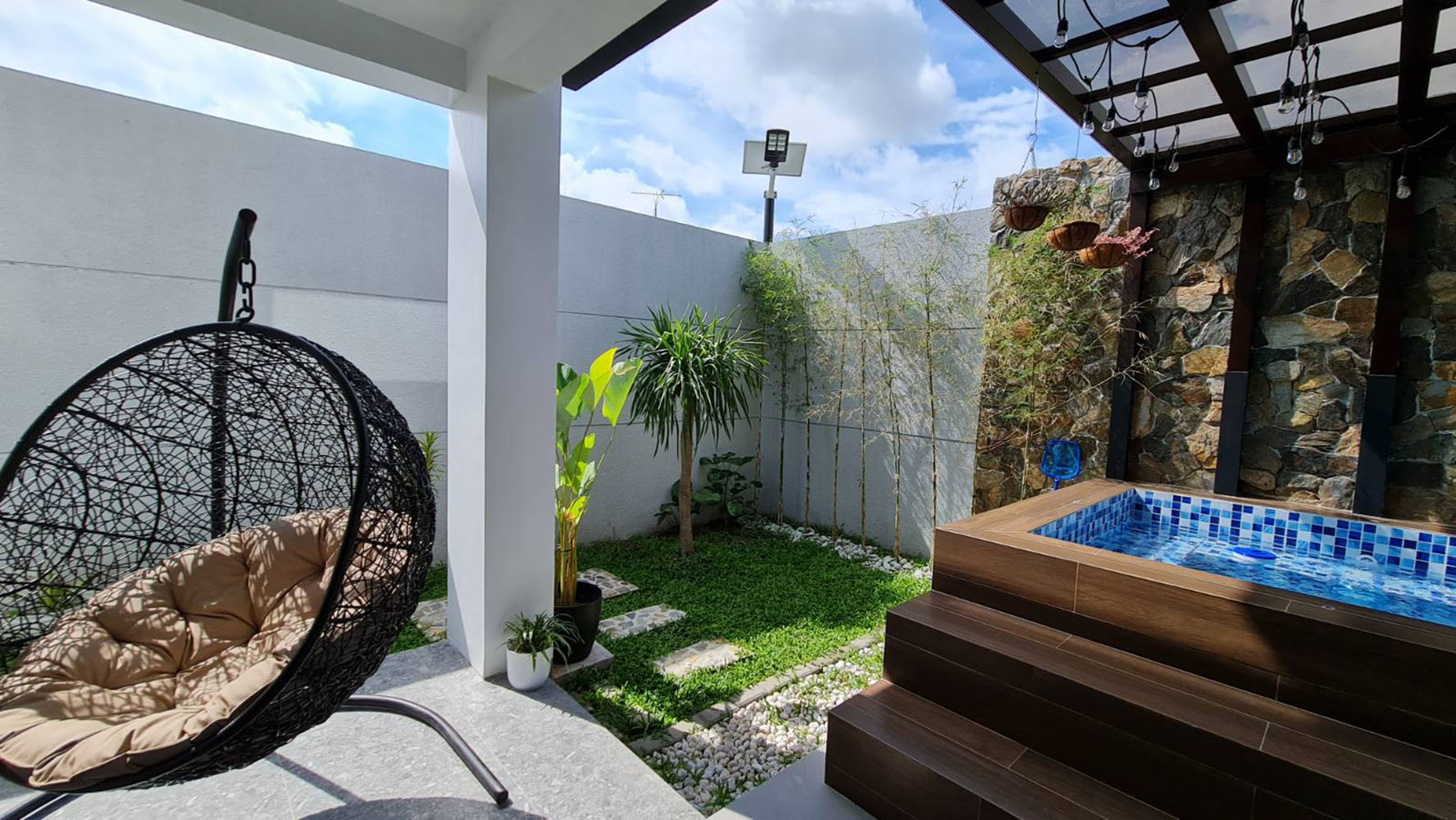 To make the lanai even more inviting, she added ceiling fans, seating pieces, and fairy lights that give off a warm glow at night.
ADVERTISEMENT - CONTINUE READING BELOW
Interested to work with ZAYIN Architects? You can follow them on Facebook: facebook.com/zayindesignbuild.
More on Realliving.com.ph
Load More Stories