Houses
This Farmhouse-Inspired Home Has a View of Nasugbu's Beautiful Mountains
Picturesque best describes the 200sqm vacation rental Photography: courtesy of the owners
Standing on a 1,200sqm lot, this 200sqm farmhouse-inspired home called Gracia Viviente is postcard-worthy. With a captivating façade and lush outdoors that make it exceptional, the house is the product of the owners' perseverance and faith.
"Like many people, we've experienced challenges during the pandemic but it's also during this time when opportunities to export our local banig products internationally presented itself. Our mission is to showcase the talent of Filipinos. We're helping a community of weavers in Samar through our business, URBANigs.ph," shares Mashie Pacula, the owner of the property.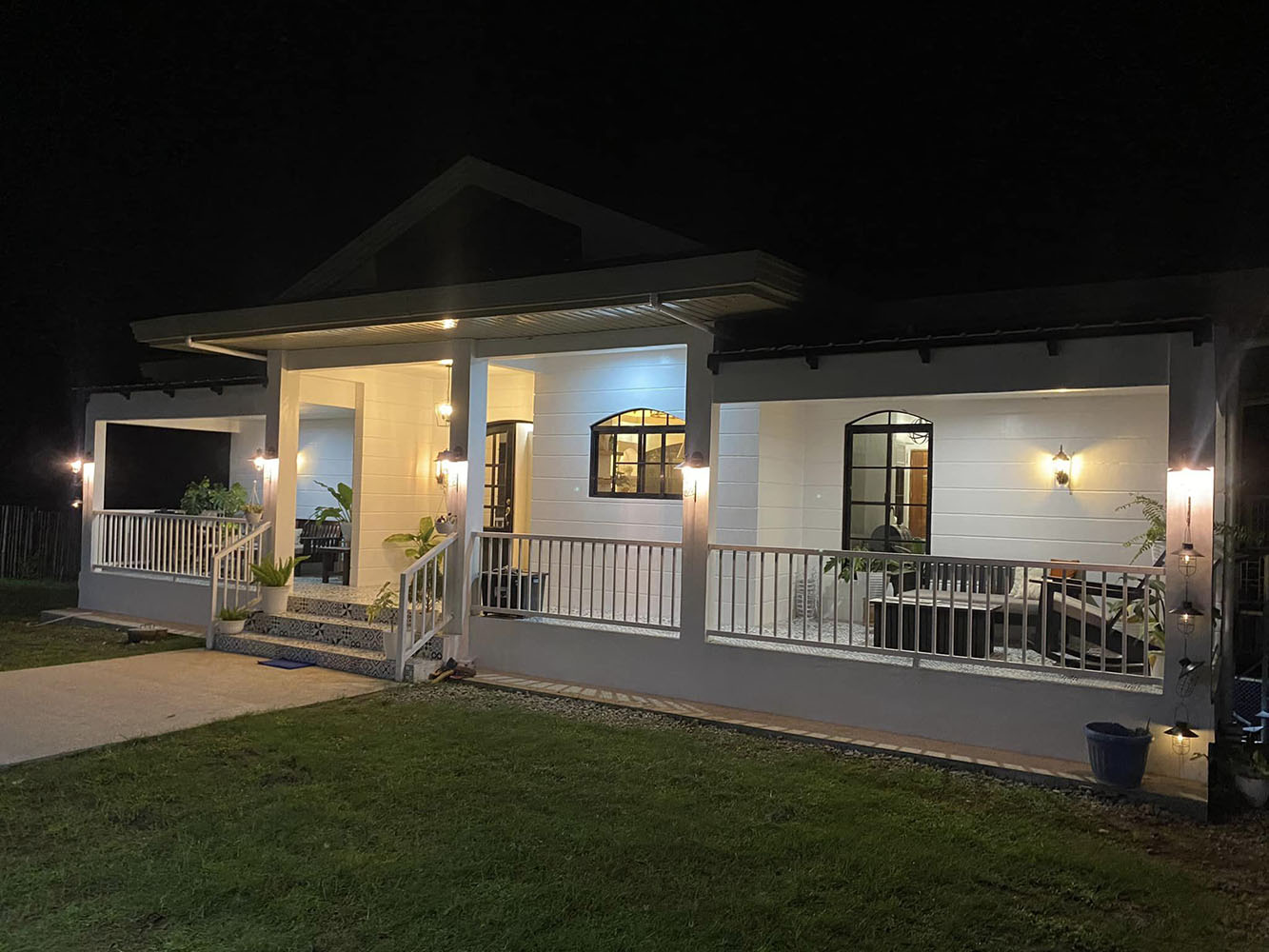 Through her and her family's hard work, Gracia Viviente came to life in 14 months. They decided to work on the project and the furniture on their own. "We made our furniture and we used quality materials to ensure durability," adds Mashie.
To enable others to revel in the serenity of the house, Gracia Viviente can be booked for memorable sojourns with friends and family. Aside from relaxing within its walls, visitors can also take pleasure in admiring the views of Mt. Batulao and Mt. Talamitan.
ADVERTISEMENT - CONTINUE READING BELOW
READ: A Tucked Away Modern Farmhouse in Sariaya, Quezon
An American Farmhouse-Inspired House in Nasugbu, Batangas
Main Gate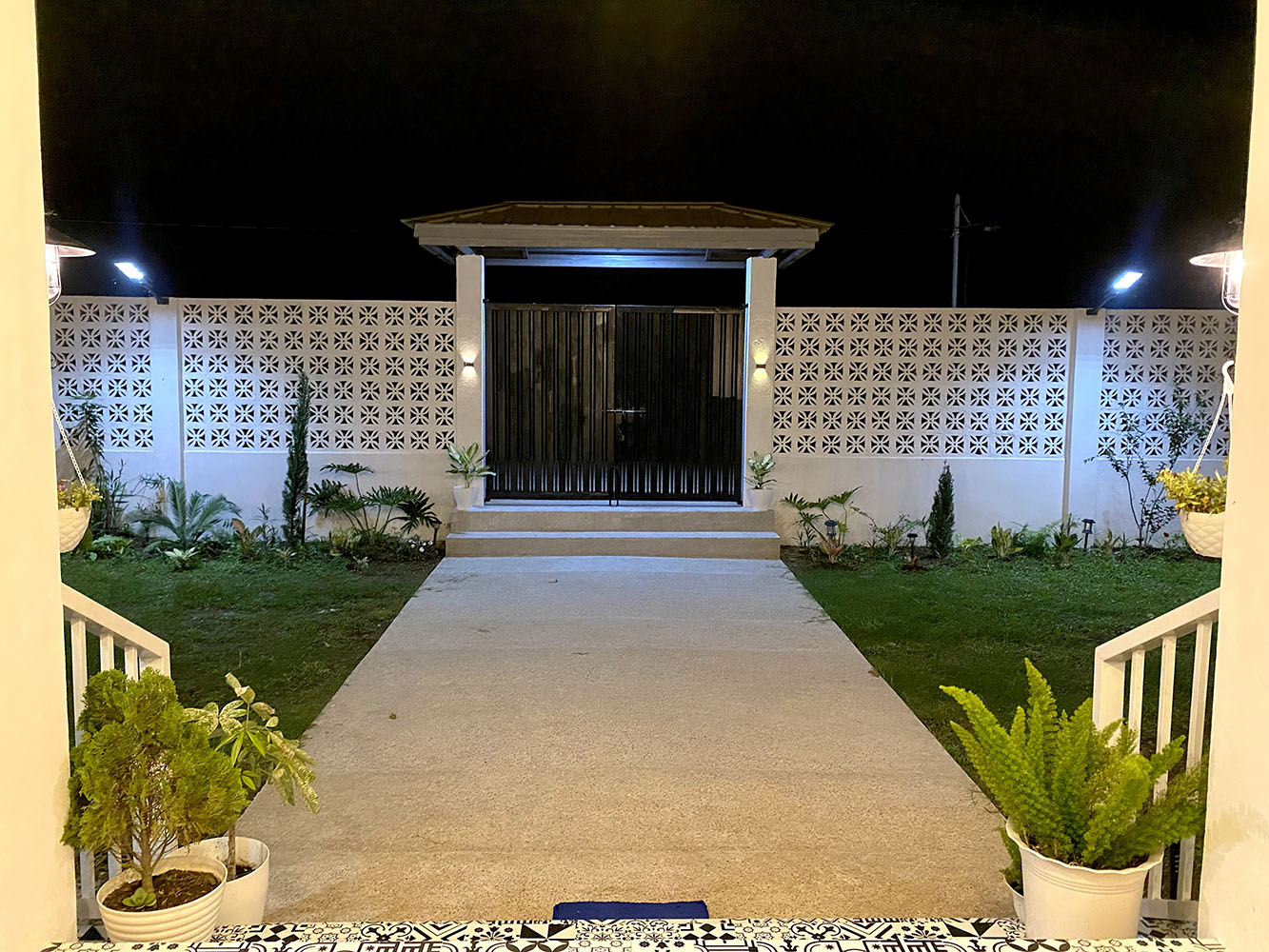 The owners used decorated breeze blocks to add a vintage feel to the property.
Main Door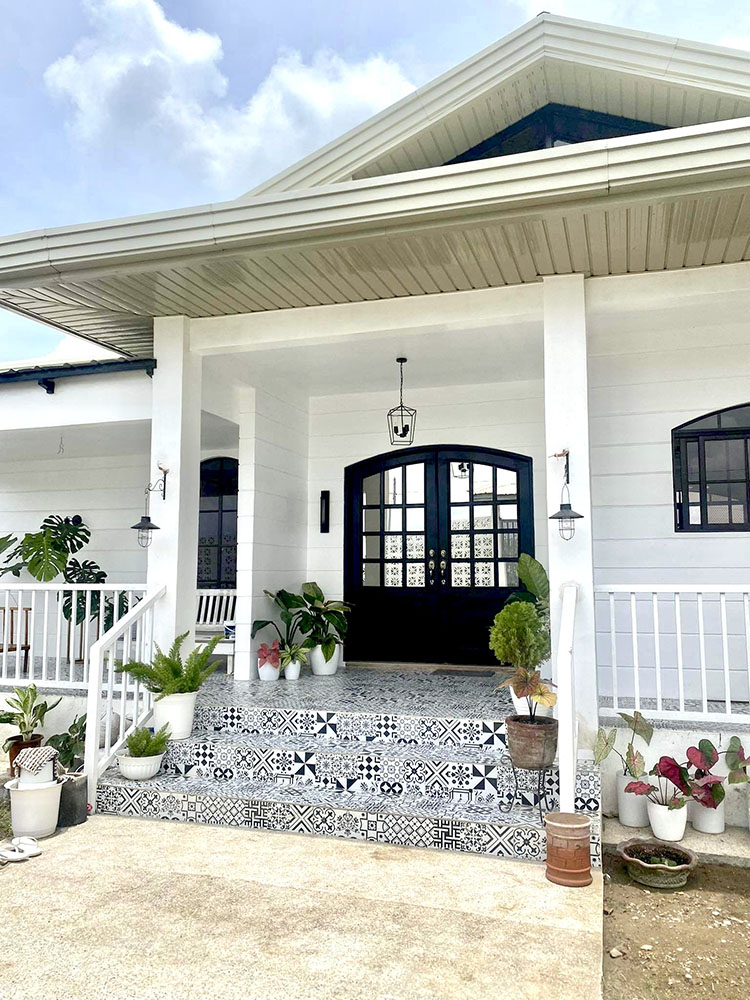 According to Mashie, they curated most of the design inspiration for the house from Pinterest. "Having big doors in American farmhouses is a must. It's like you're entering another beautiful exciting adventure you go through the door," she shares. Thus, a striking black door completes the façade which also features patterned tiles and potted plants.
Porch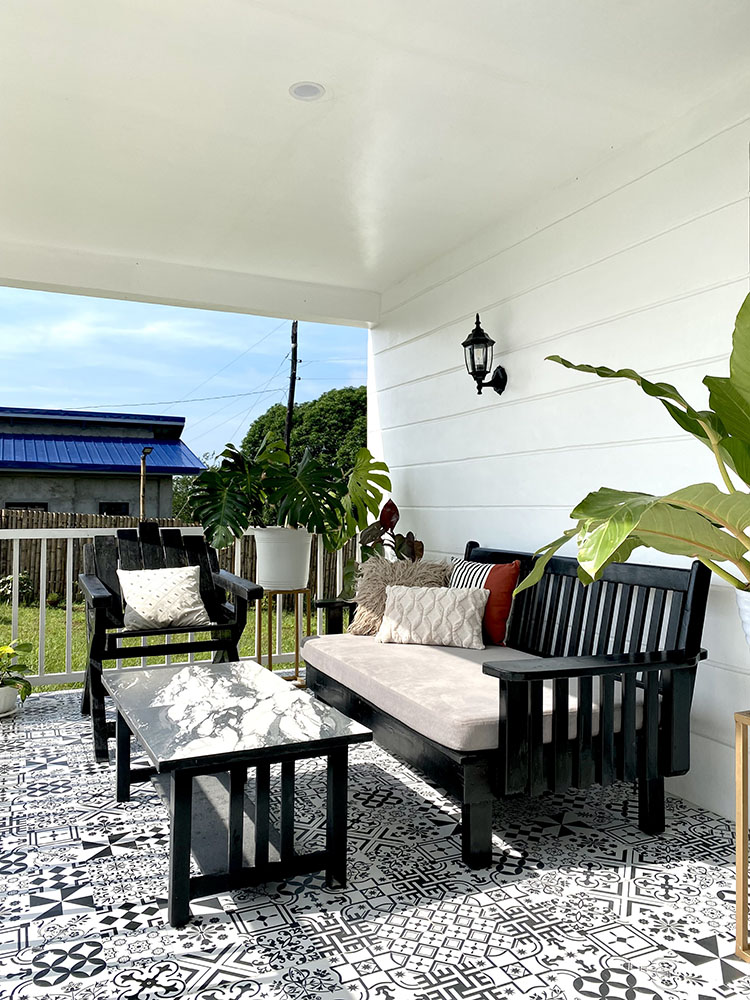 To add to the luxurious feel of the space, the owners decided to have two verandas. Having plenty of seating areas allows the visitors to lounge wherever they please. This seating area is furnished with furniture pieces in black and furnishings in neutral colors to soften up the look.
READ: After Selling Their Property in Manila, This Family Moved to Laguna and Built a Black Farmhouse
Living and Dining Areas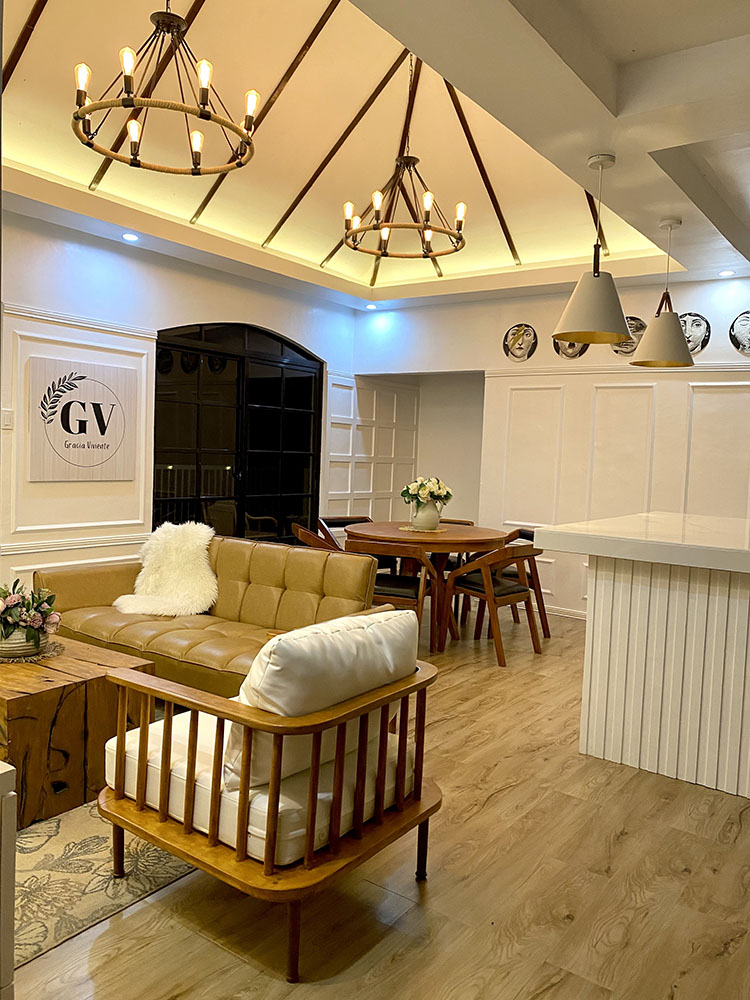 ADVERTISEMENT - CONTINUE READING BELOW
To define the living and dining areas, the owners installed a lovely chandelier that illuminates the space at night. Mashie made sure the areas are picture-perfect so that guests will be inspired to take many photos.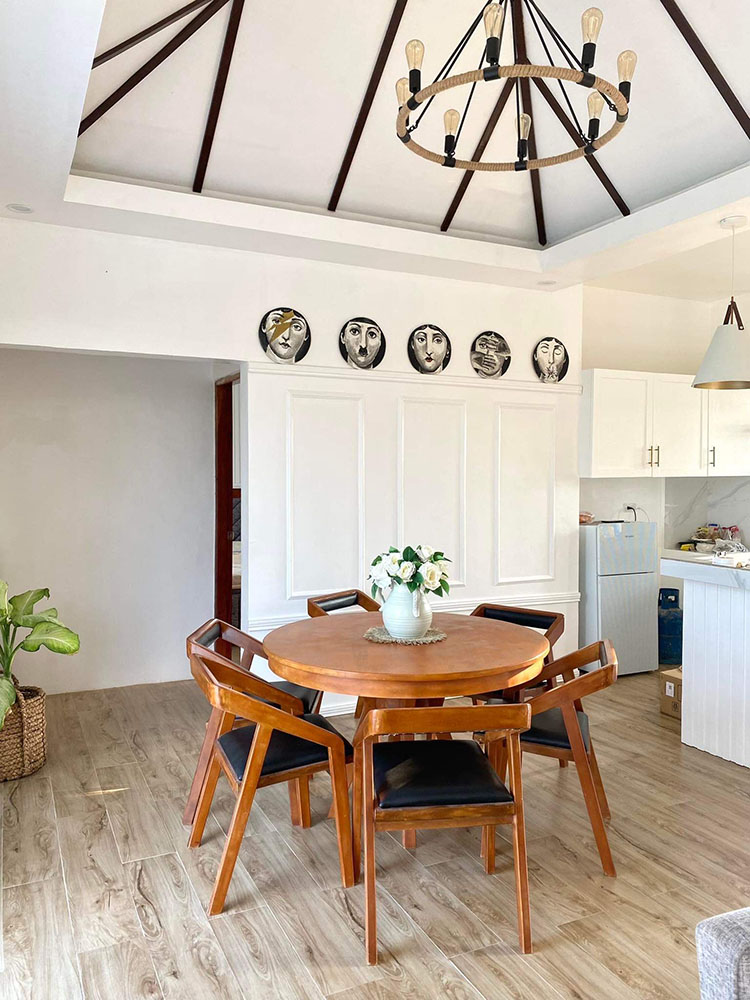 A compact dining nook is located between the living and kitchen areas. Furnished with a round dining table and six matching chairs, it's perfect for hearty meals and snacks.
Kitchen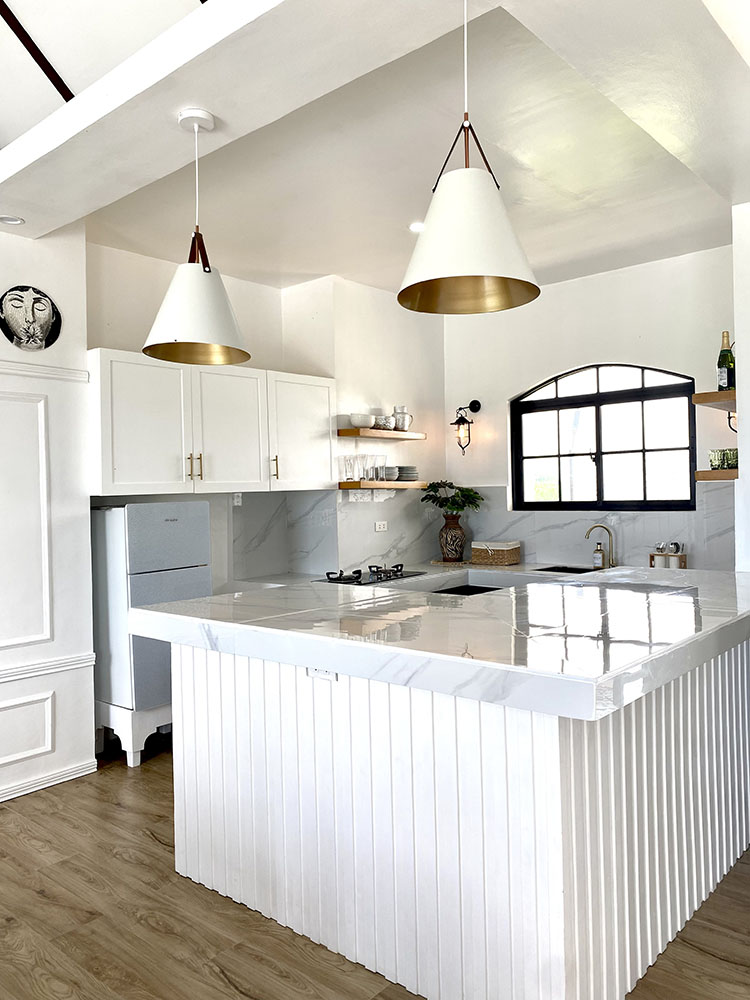 The kitchen is the heart of the home. At Gracia Viviente, the cooking area is functional and Instagram-worthy – allowing the owners and visitors to prep meals easily.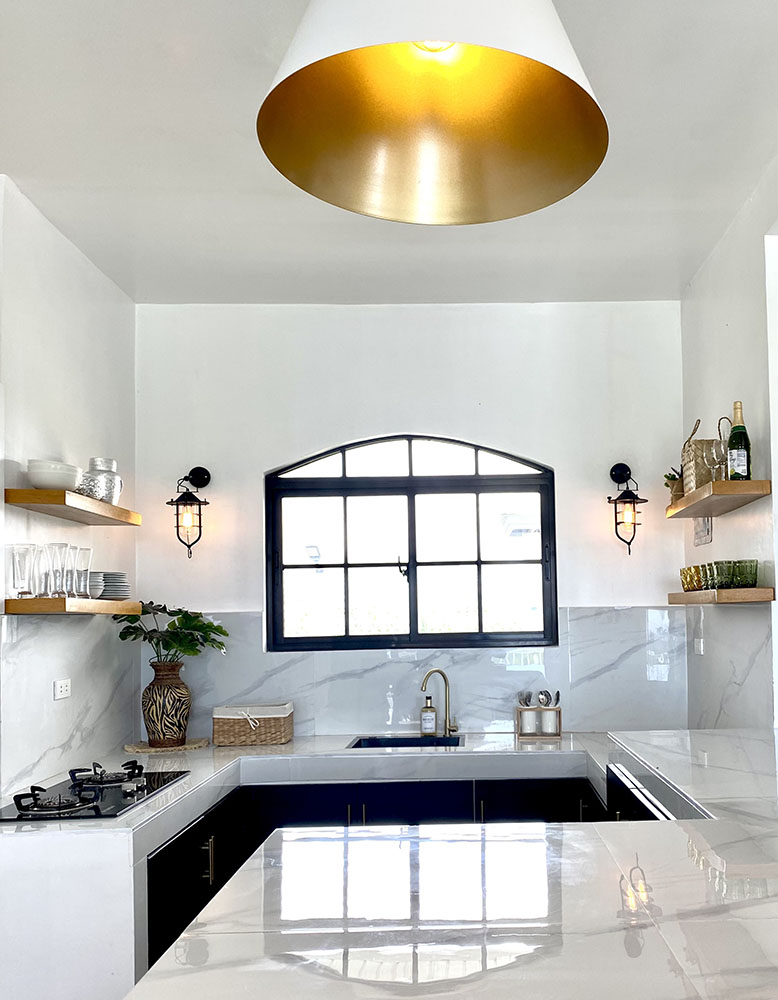 An L-shaped countertop gives the users enough room for preparing ingredients while wall-mounted shelves come in handy as extra storage. Placing a big window allows natural light to stream into the space as well.
Bedroom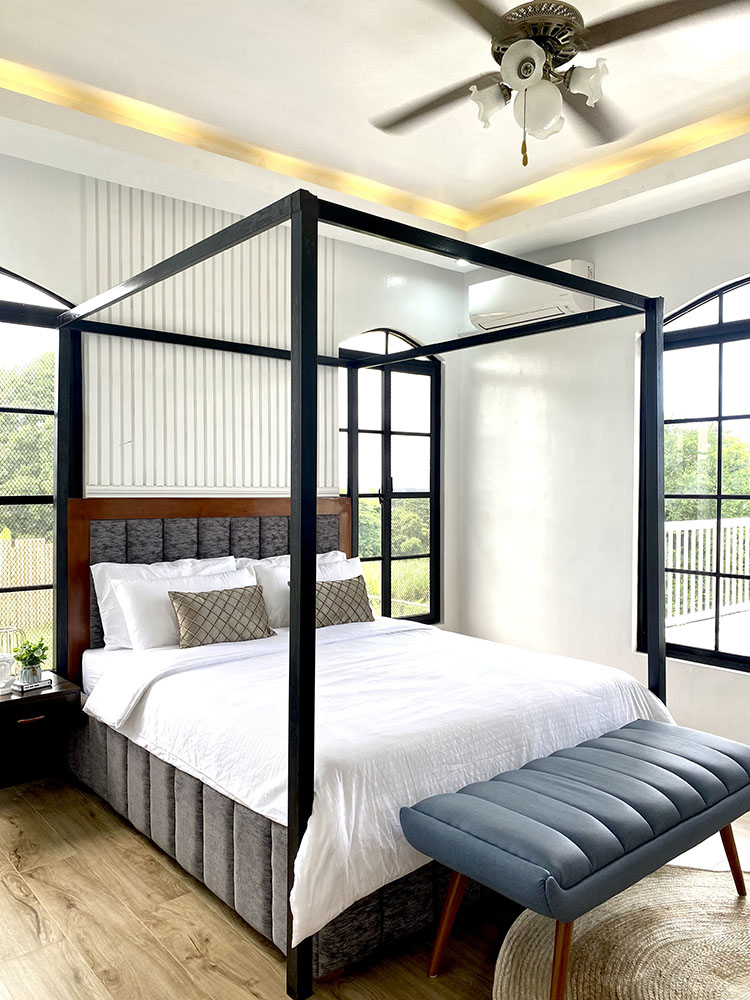 ADVERTISEMENT - CONTINUE READING BELOW
The property has three bedrooms and all three spaces feature customized beds made of solid wood. "You will also notice the beautiful wall cladding here. We have our own furniture business so all the pieces in the home are custom-made," says Mashie.
READ: You Need to See This Floating Farmhouse in Batangas
Bathroom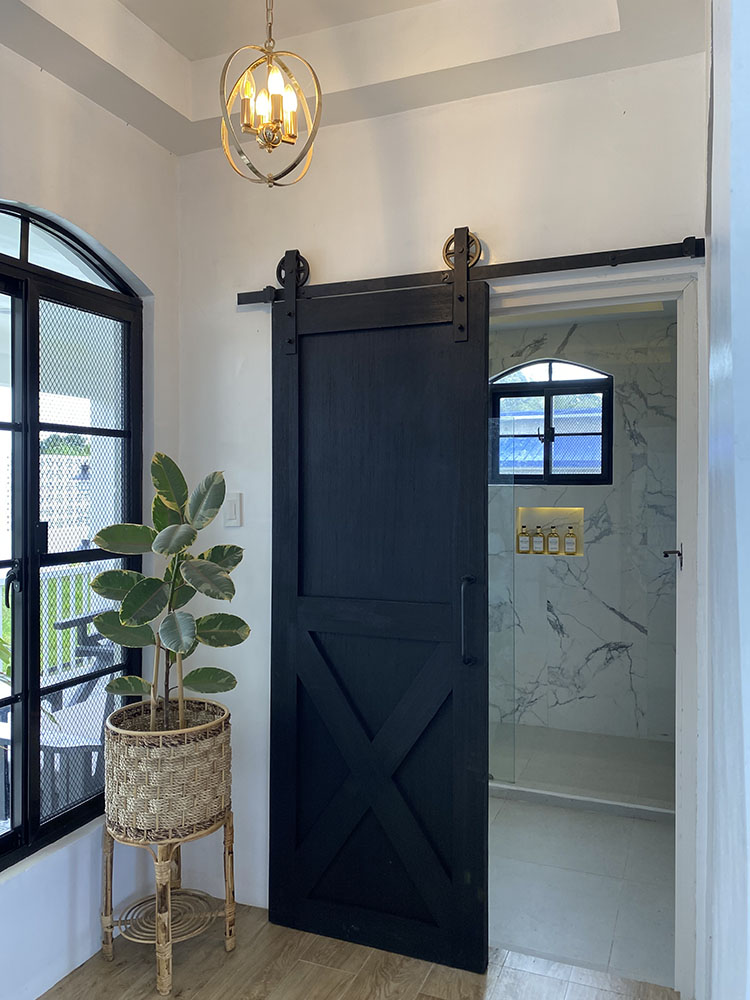 A sliding wooden barn door leads to one of the bathrooms.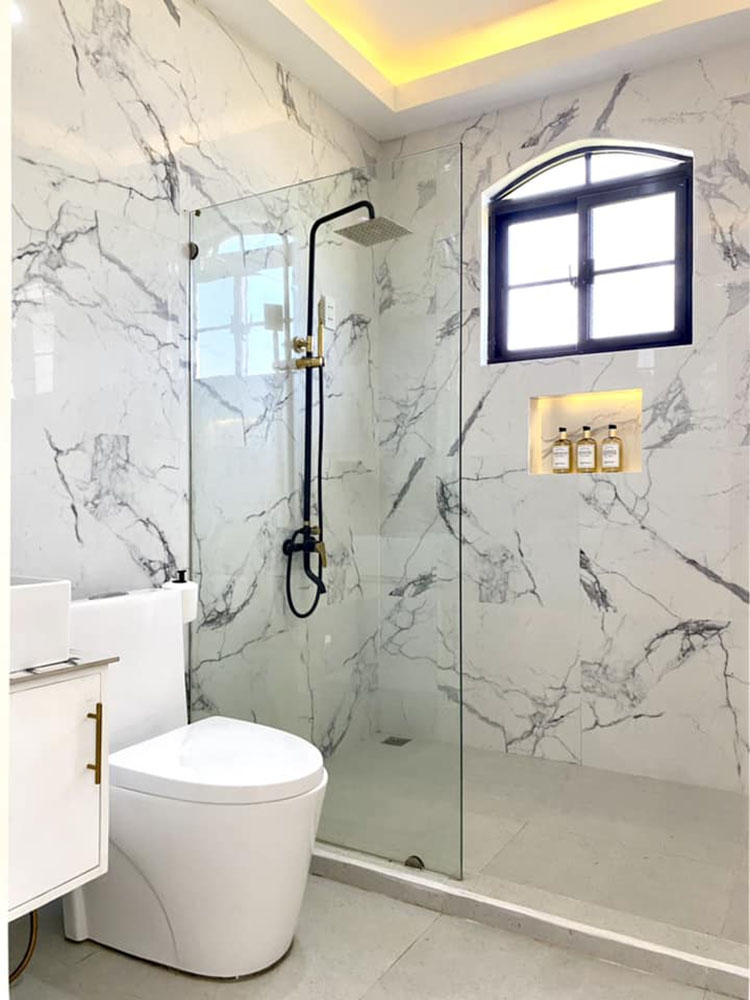 Luxe and completed with vintage-looking fixtures, it's reminiscent of hotel bathrooms.
Veranda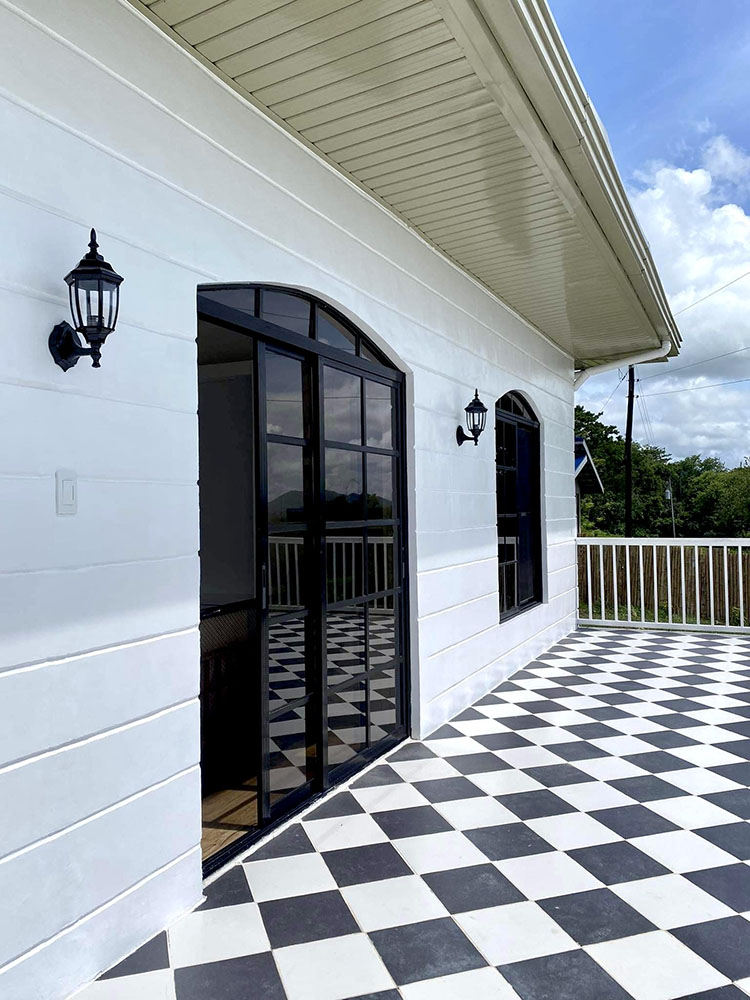 French doors open up to the veranda, an outdoor area defined by black-and-white tiles.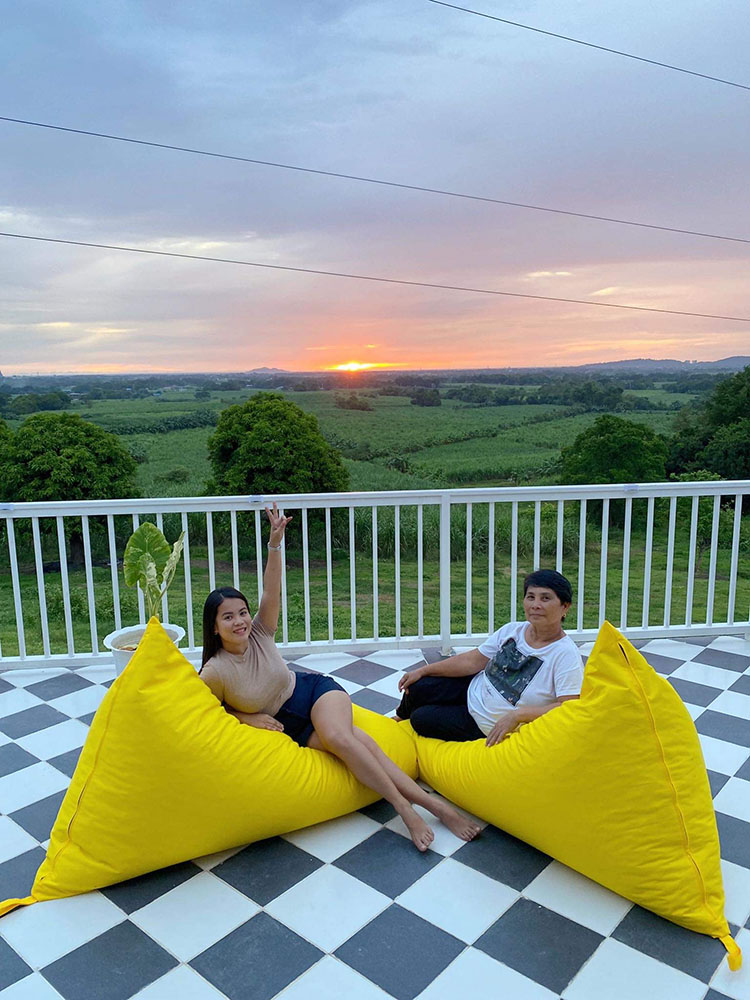 ADVERTISEMENT - CONTINUE READING BELOW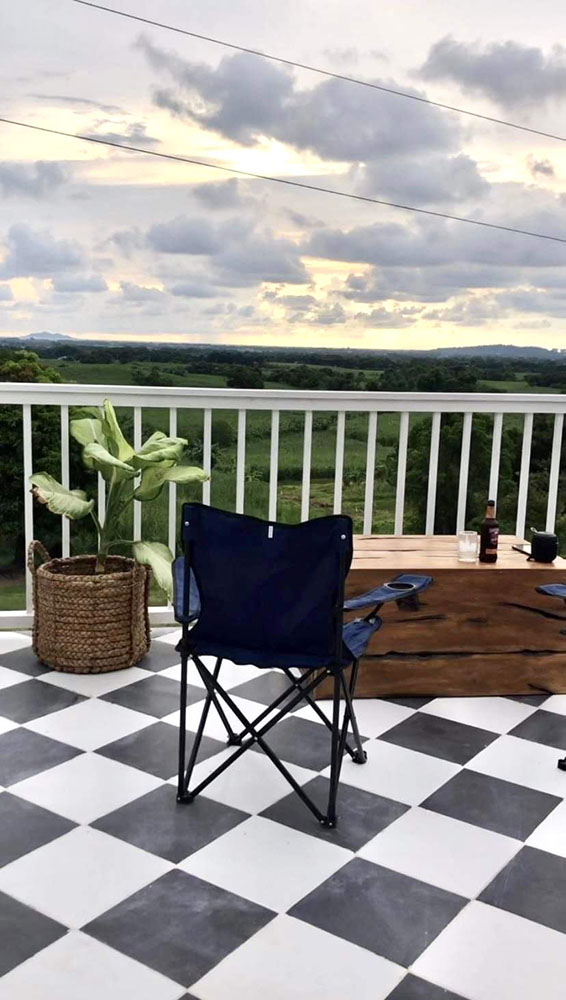 "This is one of my favorite parts of the house as the tiles add beauty to it," Mashie shares. "Imagine having coffee here while looking at the million-dollar view. It's nice to have breakfast here or just enjoy coffee while admiring the sunset," she adds.
READ: This Wooden Farmhouse Offers Breathtaking Views of the Sierra Madre Mountains
Lanai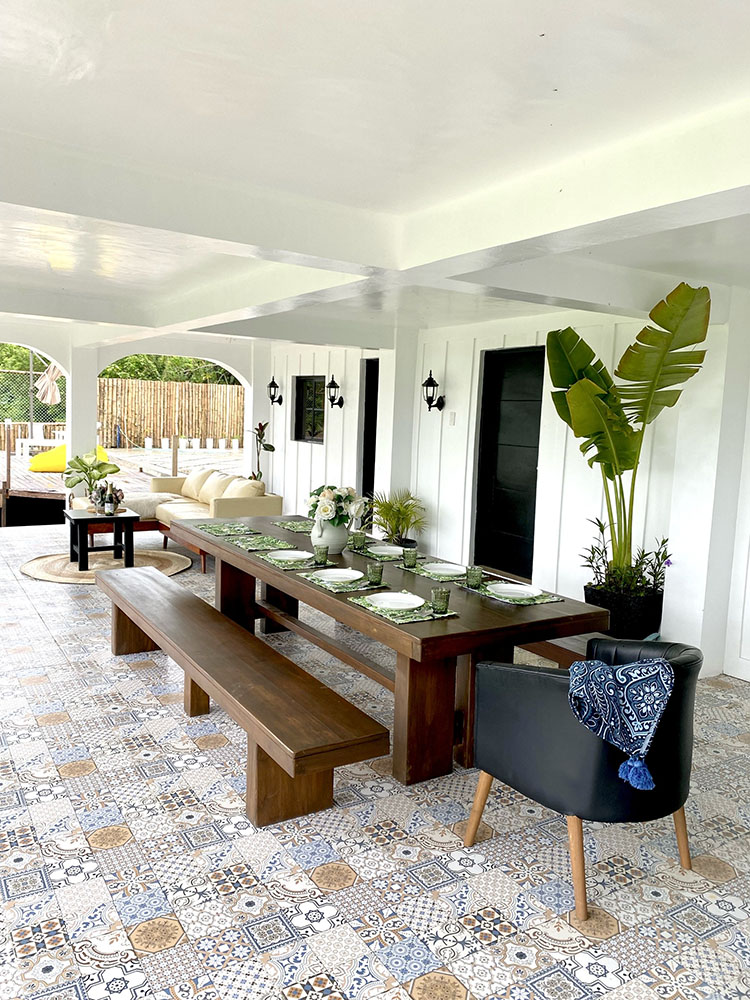 The lanai features a dining space and another seating area. 12 people can sit around the long solid wood table to enjoy meals. Since it has benches, families can gather here, especially on special occasions.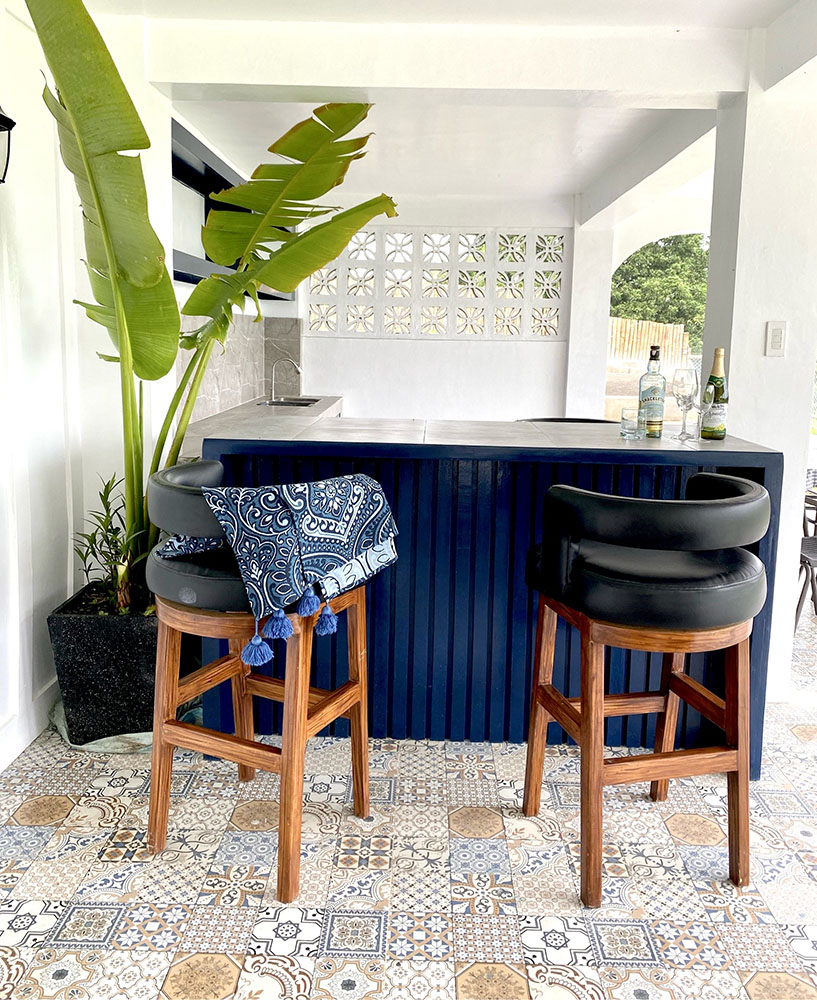 Mashie made sure there was a mini bar area where drinks can be mixed and savored. "The lanai has an open concept that's ideal for big celebrations," she says.
READ: OFW Couple Builds a Mini Farmhouse in Bulacan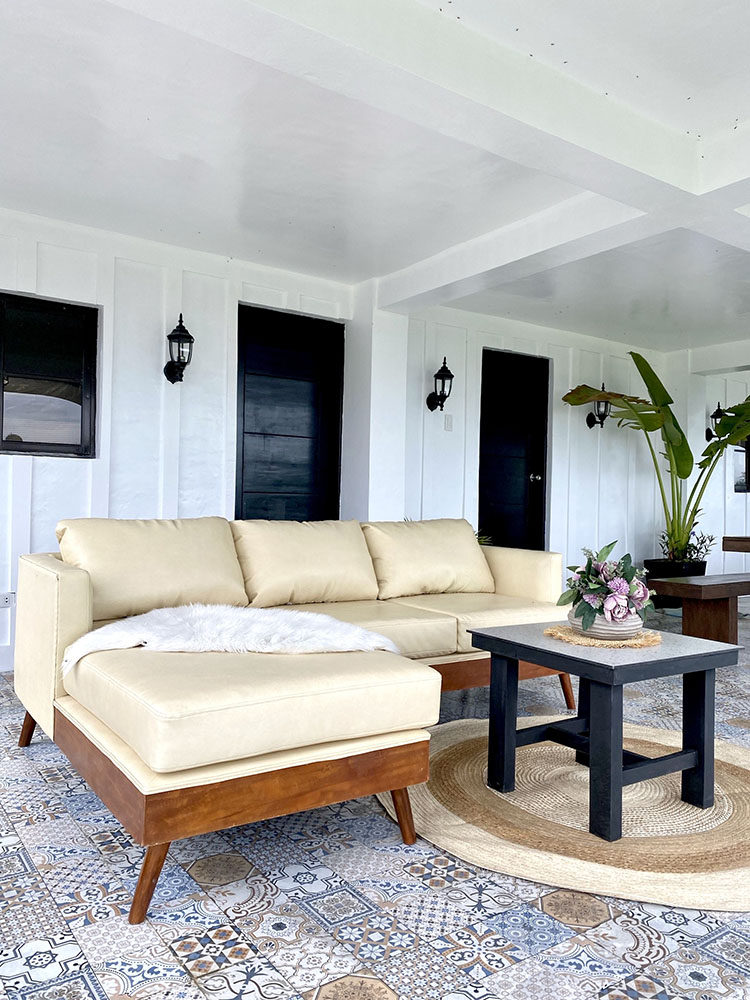 ADVERTISEMENT - CONTINUE READING BELOW
A few steps from the dining table and bar is a seating space complete with an L-shaped sofa and a compact coffee table. Guests can stay here while reading or while eating merienda.
Playhouse and Open Area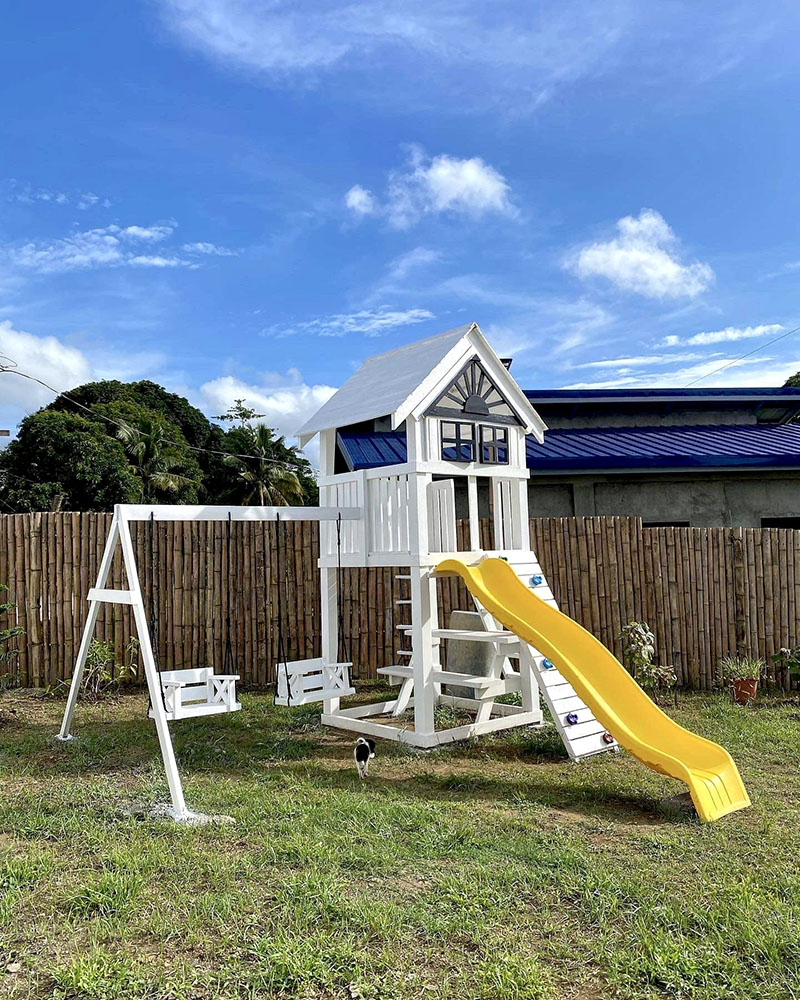 The property has a lifesize playhouse made of solid wood. According to Mashie, it's a dream come true for parents to see their children enjoying the outdoors. They painted the playhouse in the same color as their home.
READ: How A Couple Renovated Their Old House Into a Farmhouse-Inspired Home
Pool Area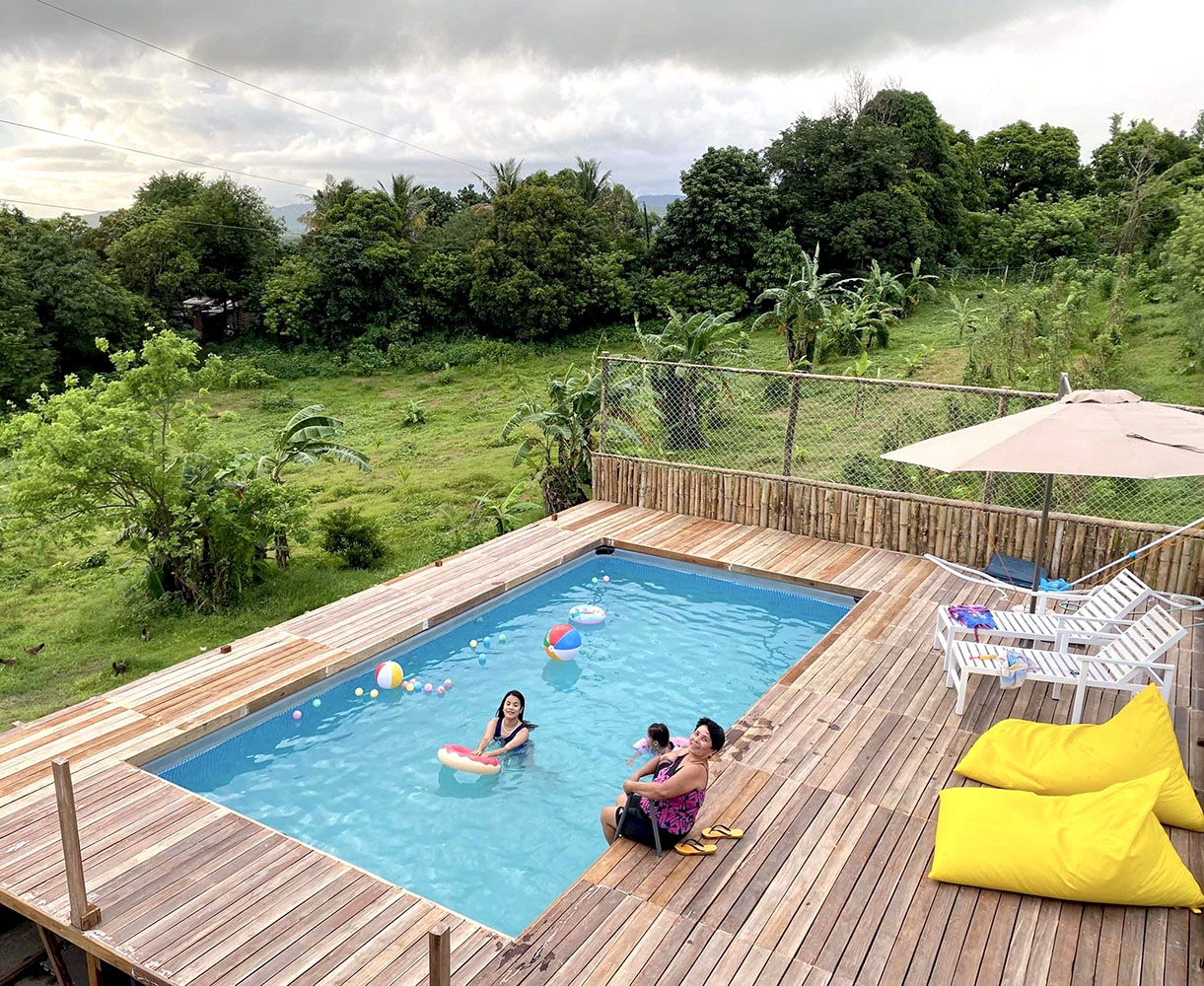 "The pool is the best place to watch the sunset! It's the perfect way to end your day," Mashie says.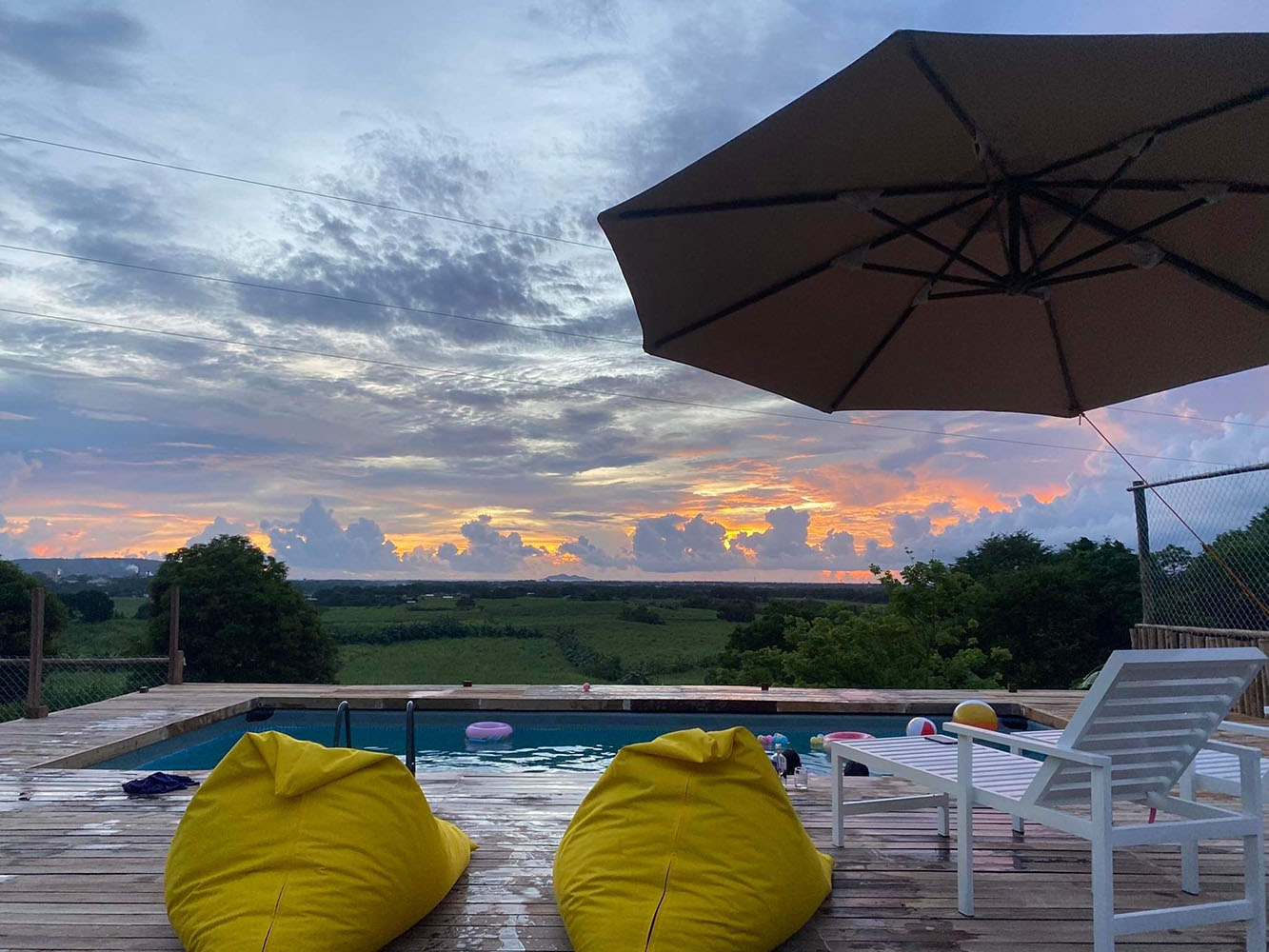 With views of lush greenery and the nearby mountains, this part of the home is the best lounge spot for sure.
Gracia Viviente is located at Sitio Camalig, Brgy. Reparo, Nasugbu, Batangas. For details on how you can book a stay, follow them on Facebook or call (0977) 307-2072.
More on Realliving.com.ph
Load More Stories