Less is More in this Family's Bright and Spacious Townhome
Scandinavian aesthetic-meets-minimalism in the homey space How do you make a home truly yours? Some showcase the interior styles they love, others work on DIY touches, and there are those like Rain and her family who let their chosen lifestyle shine through in the space. The family's airy and spacious home, which they got in January 2020, is a reflection of the slow, intentional living they are pursuing. "My husband and I were both OFWs in Singapore, working in very taxing industries and so we wanted our home to be our safe haven, a place where we'll be comfortable and just enjoy the most mundane things in life," Rain shares.
It seems fate was on their side, leading them to this ready-for-occupancy modern-minimalist property that suited their budget. "It didn't have too much colors or tacky fixtures. It was a blank canvas perfect for the theme we're going for and the size also seemed enough for our small family of three," she recalls.
From the living area to the outdoor nooks, you'll notice that nothing seems out of place in this family home. Each piece serves a purpose and the look is just right to make it inviting. Rain says it best, "less is more. Create a space that will genuinely reflect your character and meets your needs. It doesn't have to be the grandest, it just has to feel like home." Take a peek inside their space below:
Outdoor Area/ Façade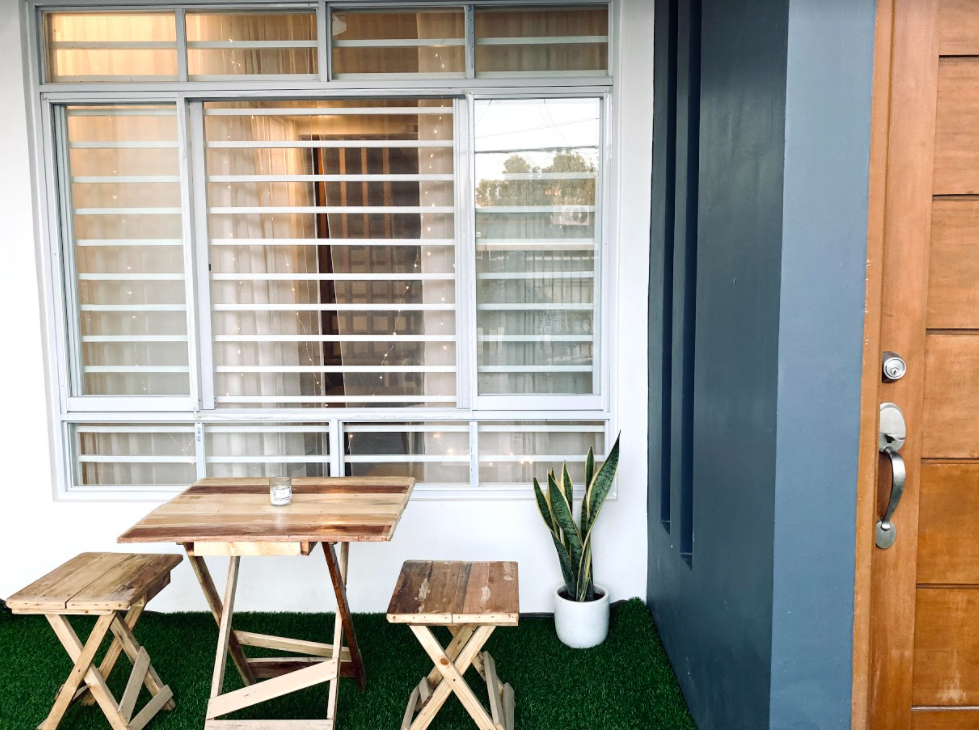 ADVERTISEMENT - CONTINUE READING BELOW
In most townhomes, you seldom get an outdoor area, with the space from the main gate to the front door meant for vehicle parking. To liven up the home's exterior, Rain created a mini al fresco dining area by furnishing it with a wooden dining set then covering the flooring with artificial turf.
Living Area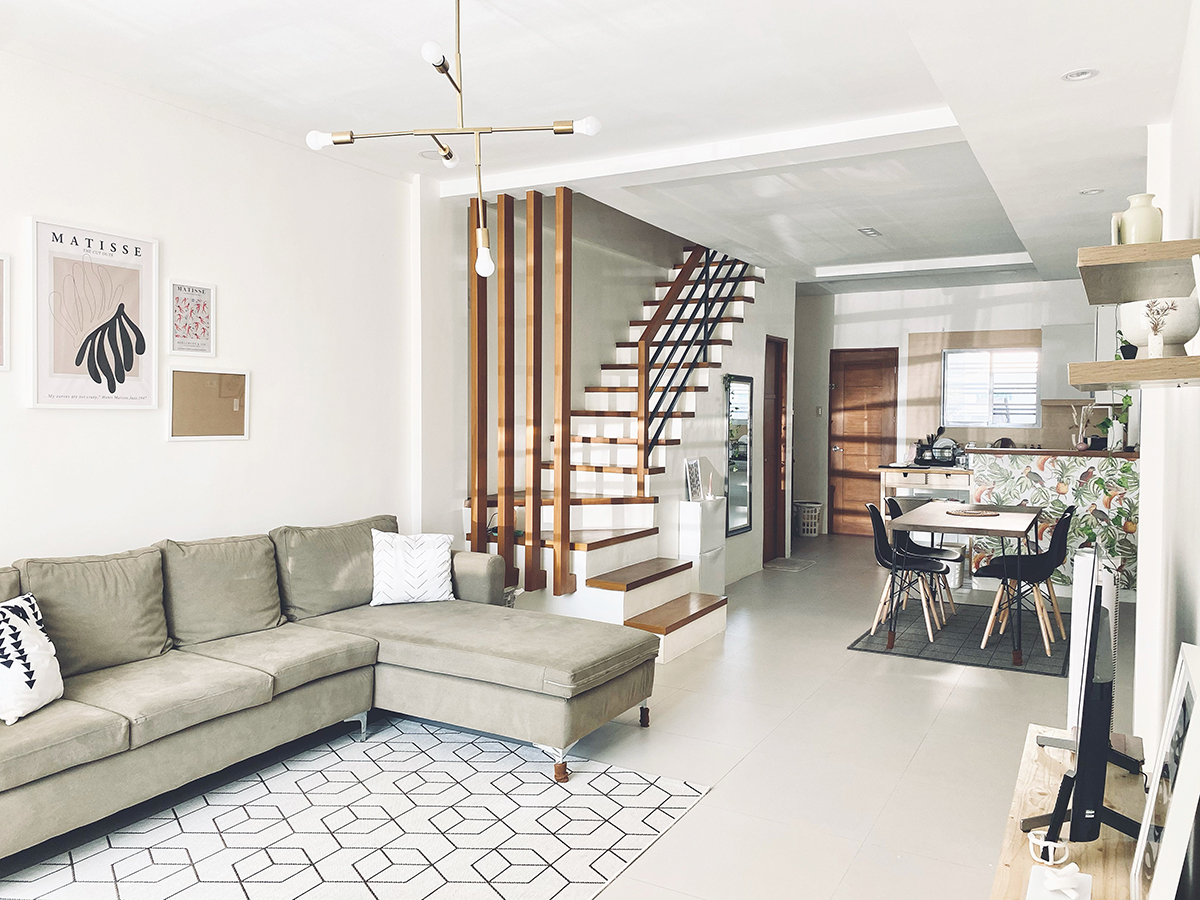 As you enter the house, you'll be greeted by an open layout – with area rugs identifying the living and dining areas. From the chosen colors alone, you'll instantly have a feel of the Scandinavian-minimalist aesthetic they are going for.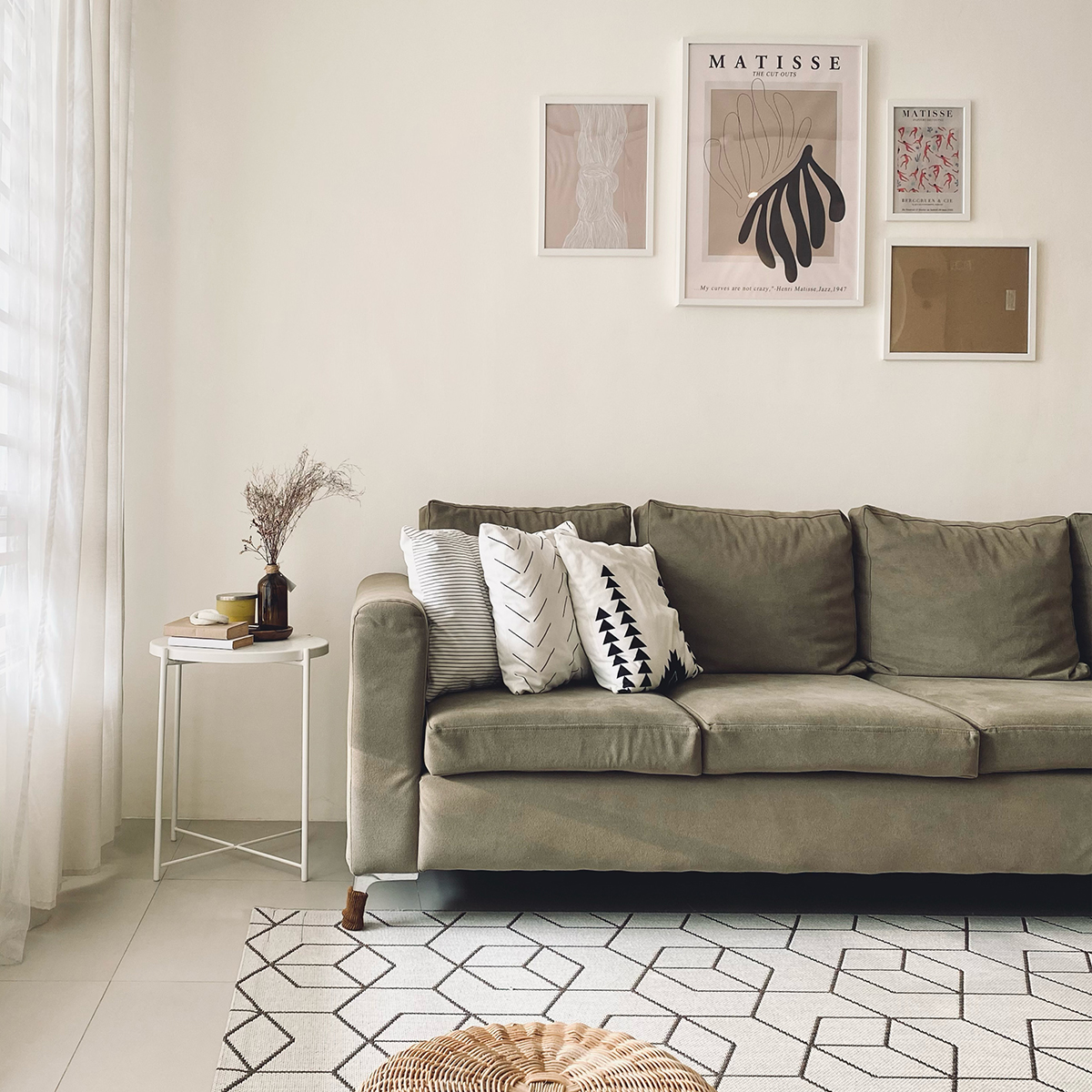 A neutral color palette is easy on the eyes and this is best admired in the living area. With the sofa as the only furniture piece in a solid color, Rain completed the look by opting for pillow covers in white, a few rustic décor pieces, and framed prints in different sizes.
ADVERTISEMENT - CONTINUE READING BELOW
Find a similar sofa in Our Home.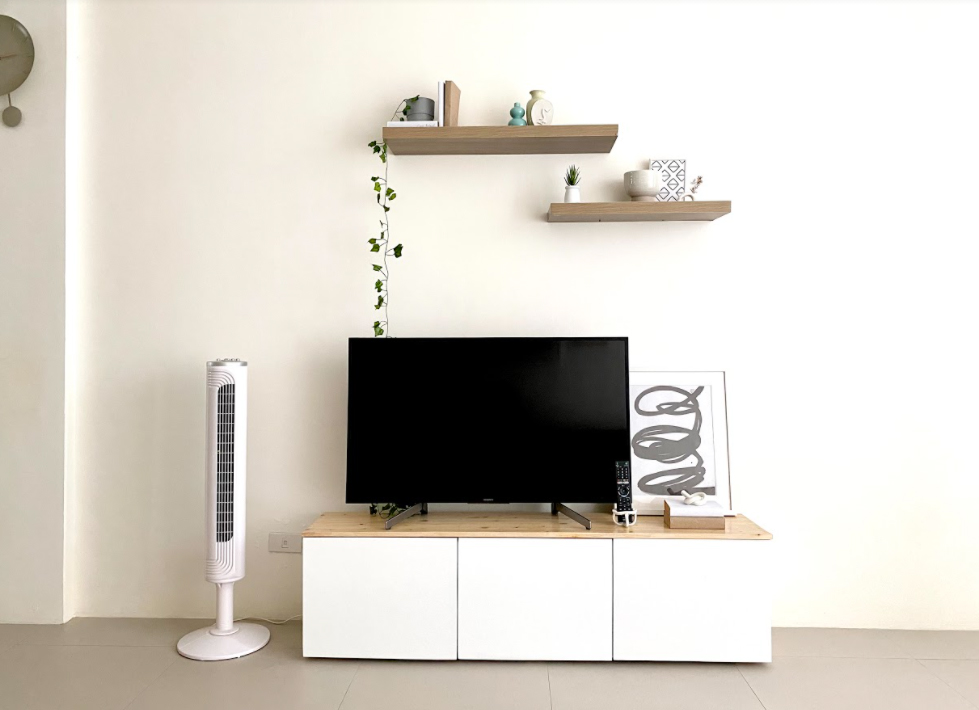 This part of the living area features minimal décor and essentials you'll need when watching TV. "Don't be afraid to leave blank walls and empty corners," says Rain. "We are very mindful of the things we put in our home. We don't buy on impulse and it takes days to weeks of consideration before we purchase things," she adds.
ADVERTISEMENT - CONTINUE READING BELOW
Dining Area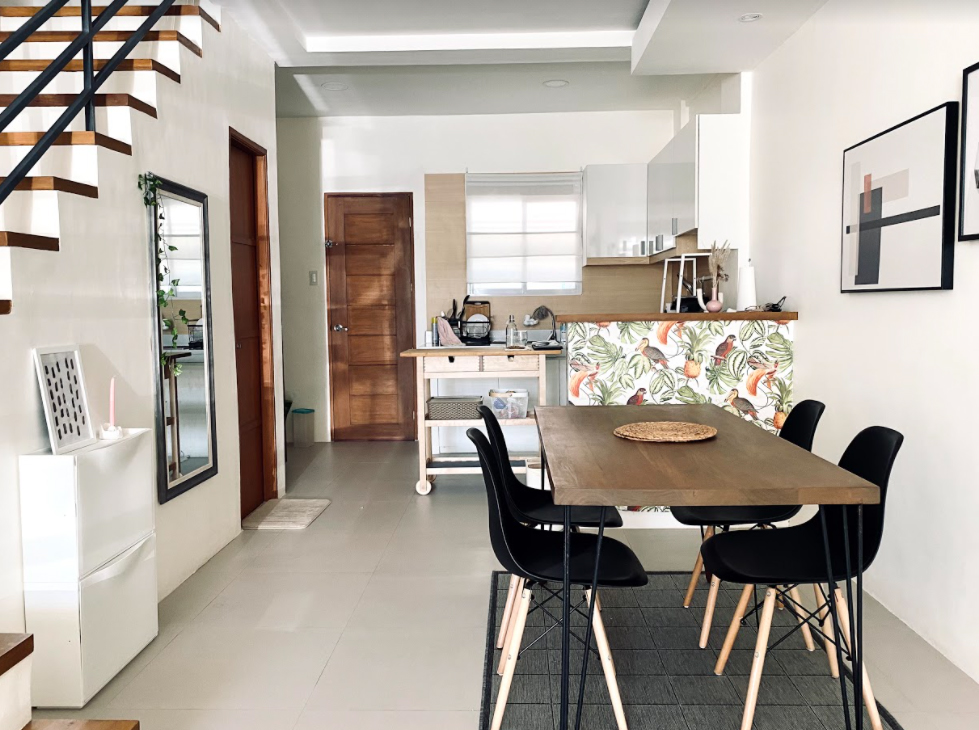 To complement the white walls, Rain and her husband brought in a wooden dining table with metal legs and matching dining chairs in black. Though black is quite a strong color, it complements the wood and white accents in the space to create a homey feel.
ADVERTISEMENT - CONTINUE READING BELOW
By the stairs is a wall-mounted mirror and an inconspicuous shoe cabinet that seems to blend into the wall.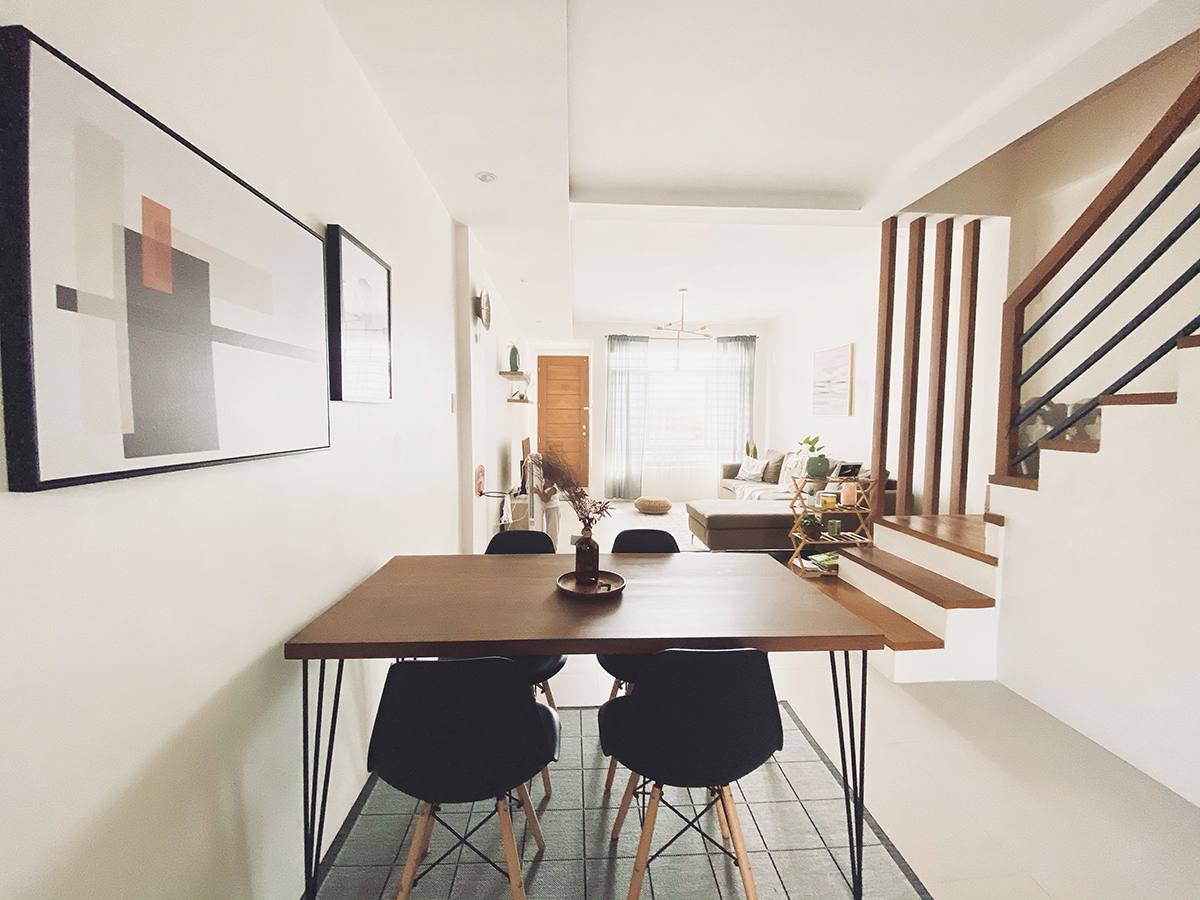 From the dining area, you can also admire how bright and spacious the townhome is. Though it's challenging to maintain white walls, it's still the best option if you want to create an illusion of bigger space.
ADVERTISEMENT - CONTINUE READING BELOW
Kitchen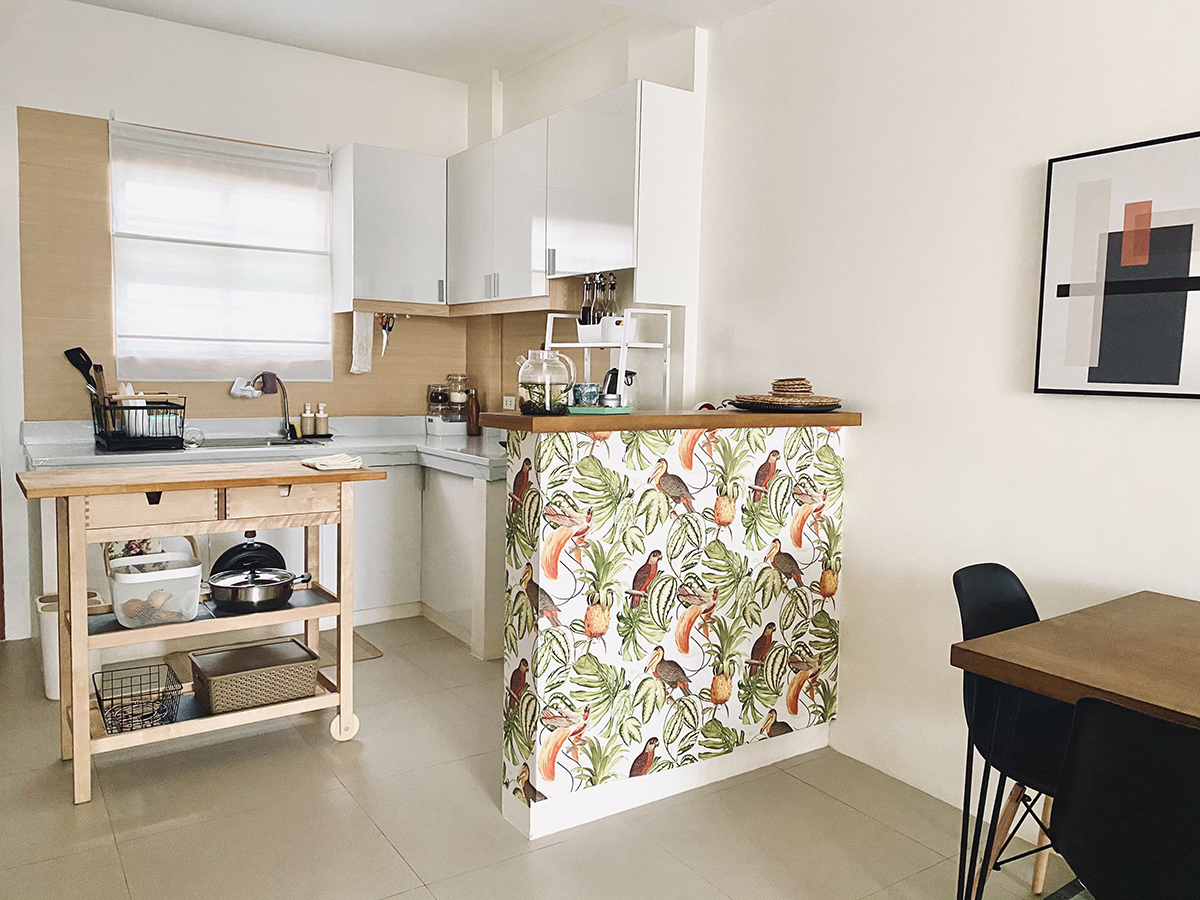 A low kitchen divider separates the dining area from the cooking nook. Going for a nature-inspired print for the divider works well with wood while still keeping within the home's overall theme.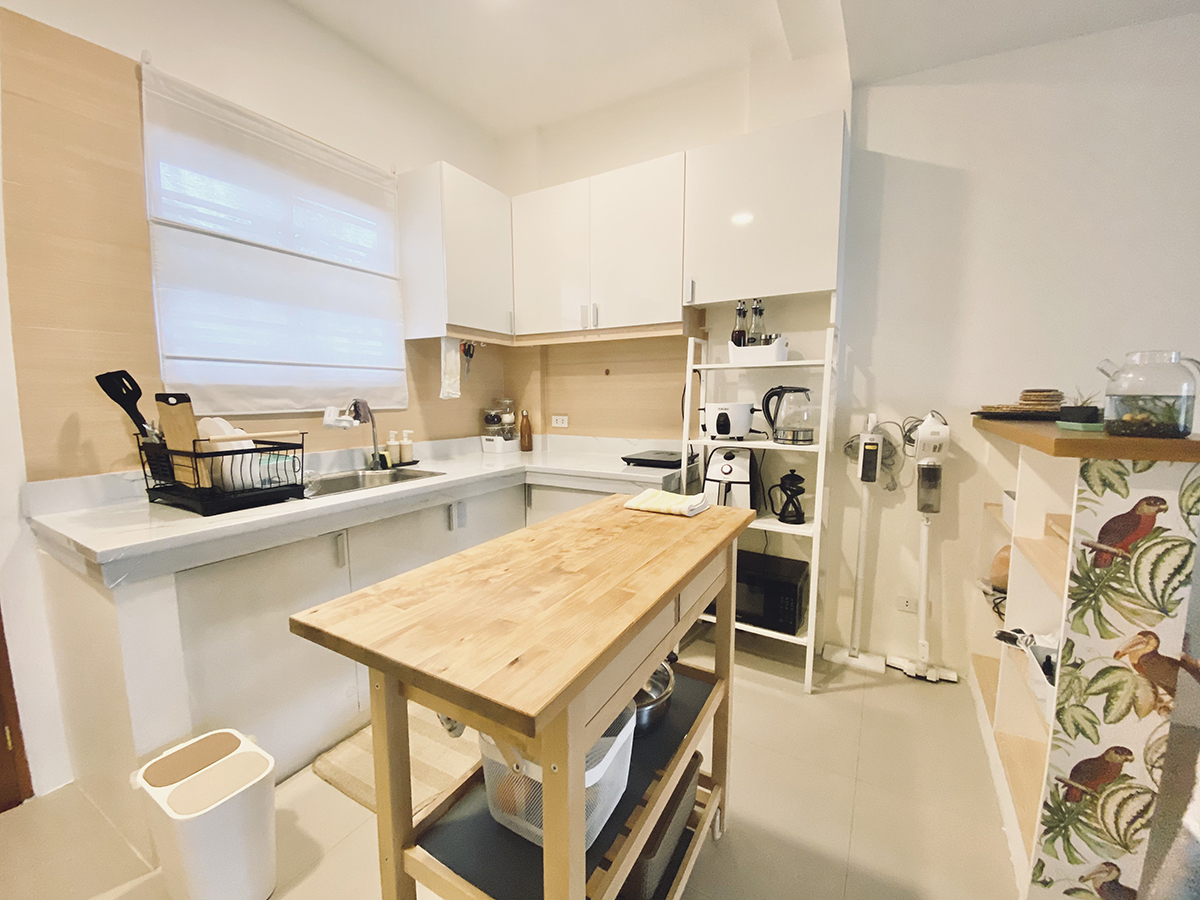 ADVERTISEMENT - CONTINUE READING BELOW
The countertops are almost empty in the kitchen, with only the essentials on display. No kitchen island? No problem! You can add a mobile one that can serve as an extra countertop and storage for frequently used cooking tools.
Investing in appliances that make housework easier is a must for the family. In the corner of the kitchen are just some of their picks. "Less time spent on maintaining the home means more time for important things," Rain says.
Follow @dekko.ph on Instagram to inquire about a similar mobile kitchen island.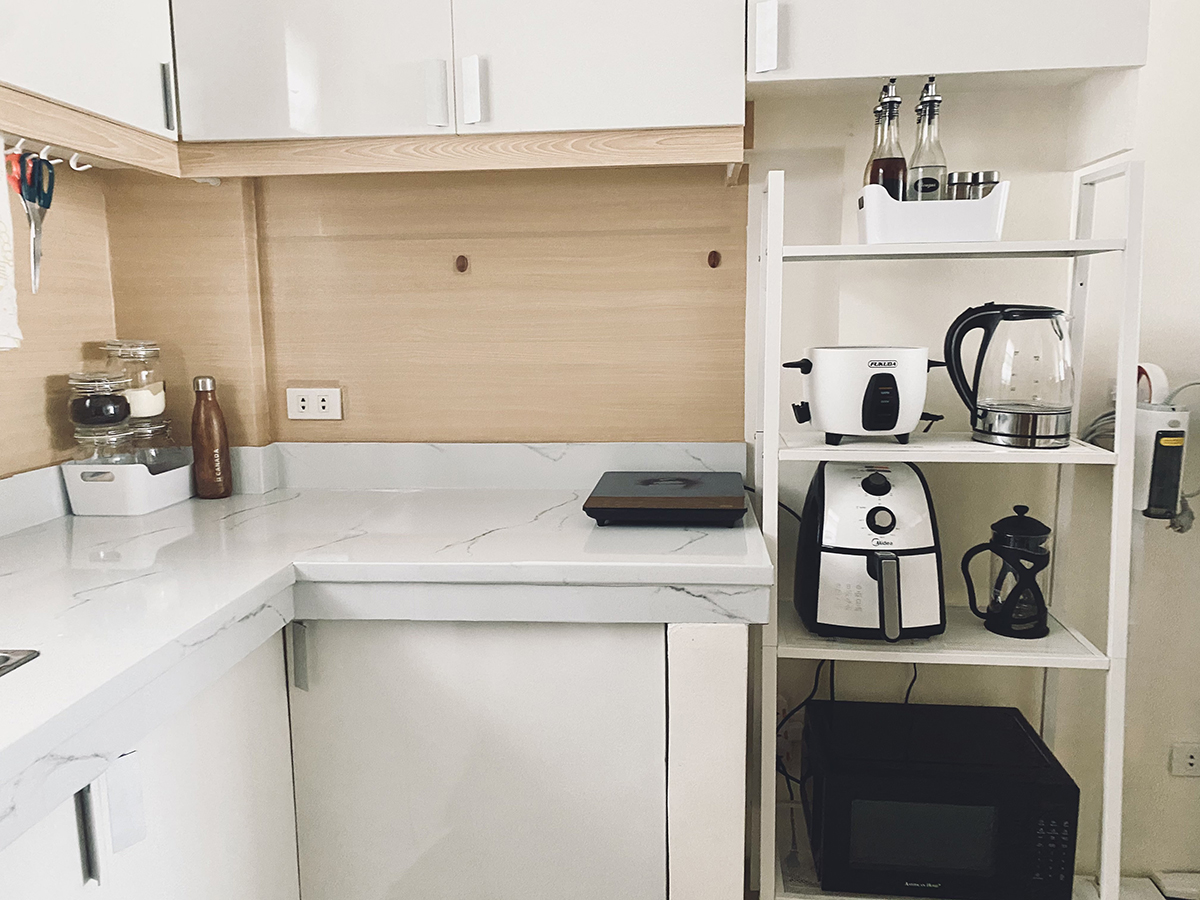 ADVERTISEMENT - CONTINUE READING BELOW
One of the easiest ways to keep a countertop clutter-free is by having a separate shelf where you can keep small appliances. Having these things within reach comes in handy when cooking, plus, they can double as décor as well when neatly arranged.
Find a similar shelf at SM Home.
Master Bedroom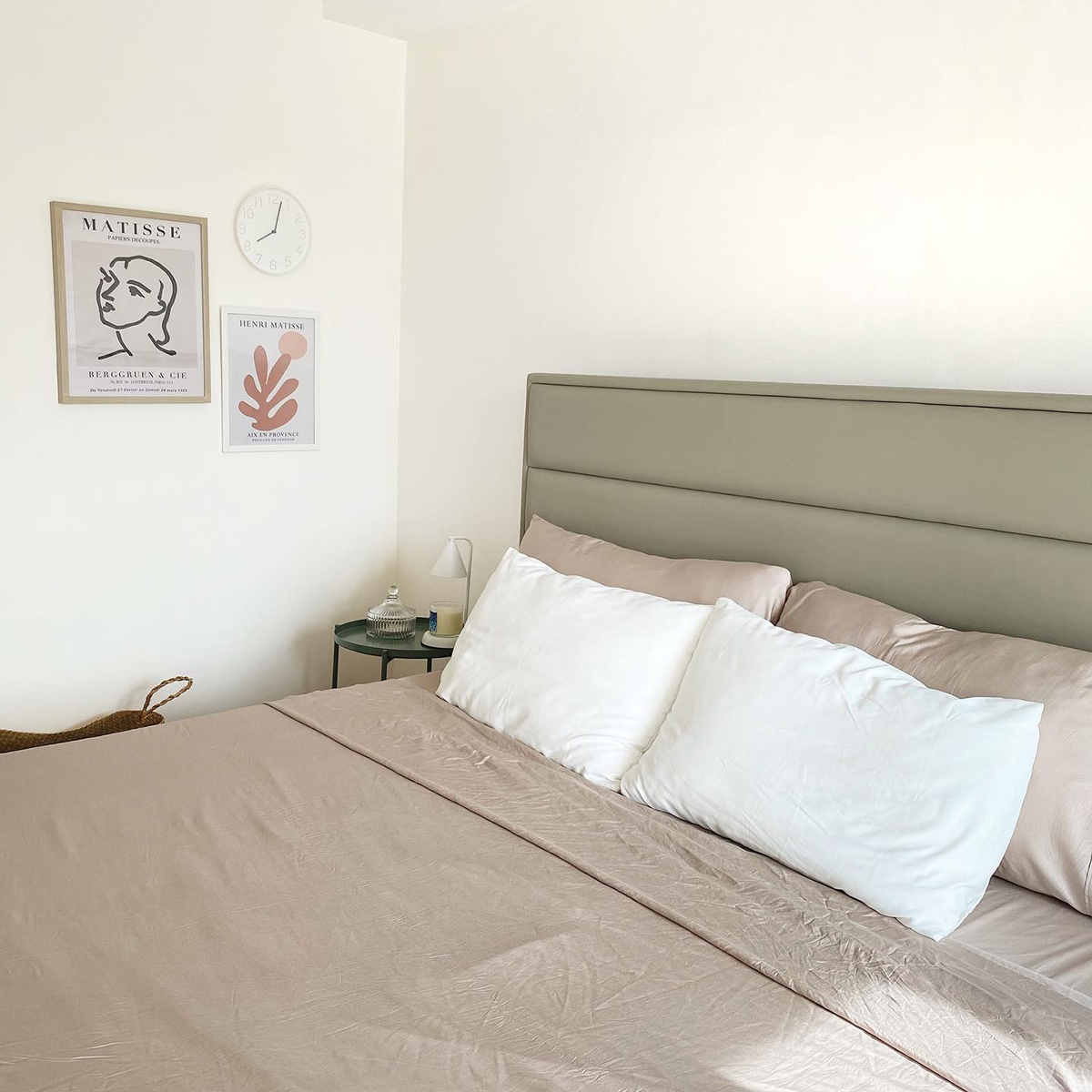 ADVERTISEMENT - CONTINUE READING BELOW
The master bedroom mirrors the look and feel of the living area – with a neutral-colored big-ticket furniture and minimal décor. "My husband and I are pretty laidback and we're already living a minimalist lifestyle even before becoming homeowners. We wanted our home to embody how we live and see ourselves," shares Rain.
Kiddie Room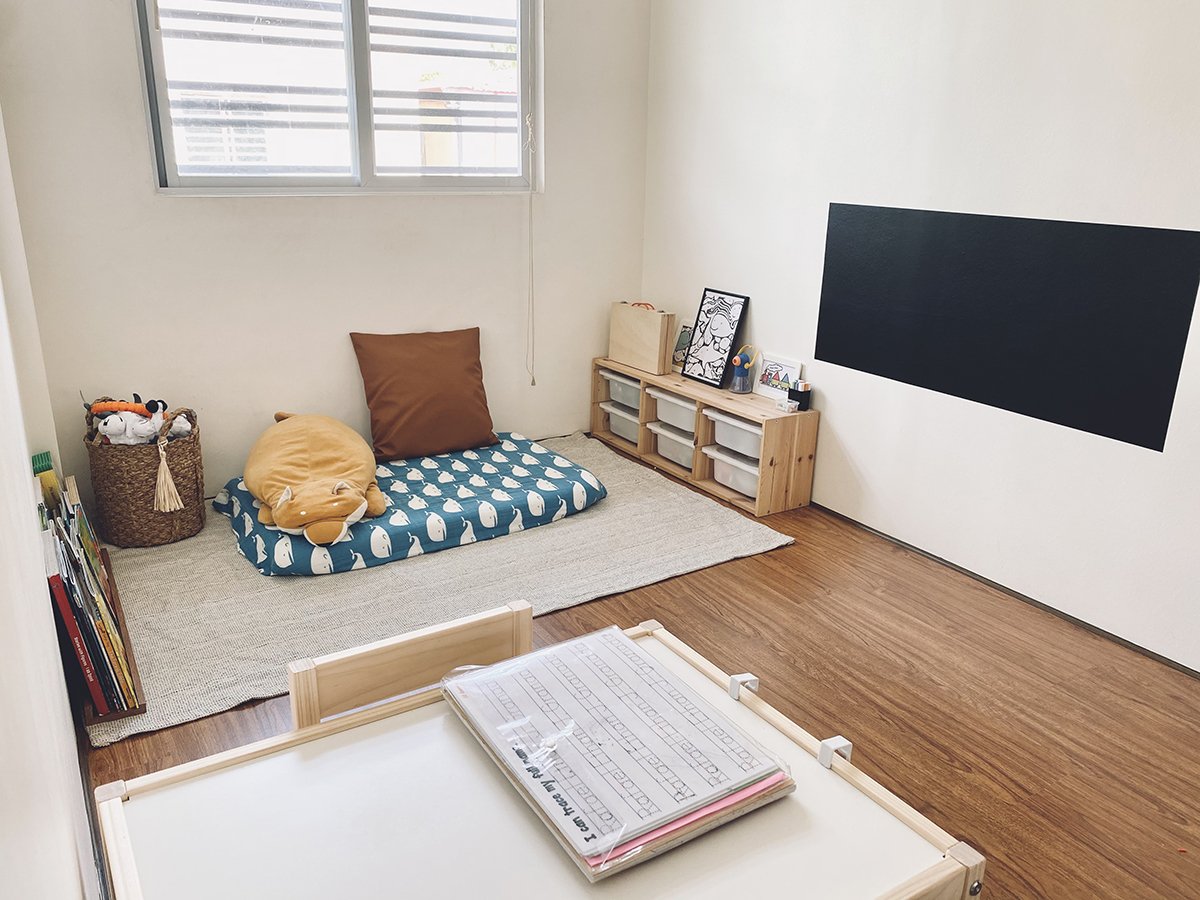 ADVERTISEMENT - CONTINUE READING BELOW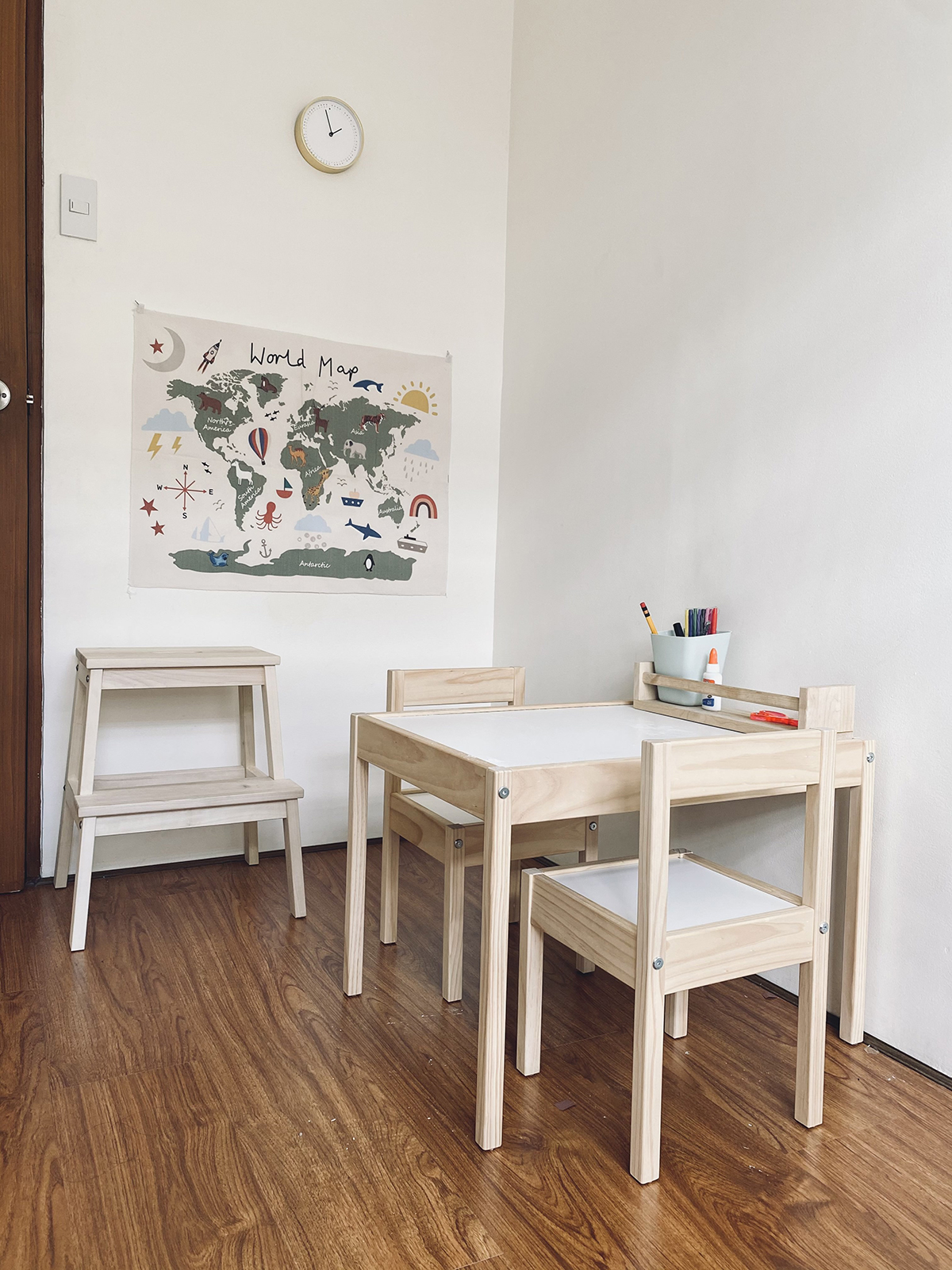 The couple's son gets a room of his own which works as a sleeping space, a study area, and a playroom. A blackboard is installed on the wall where he can draw and learn how to write.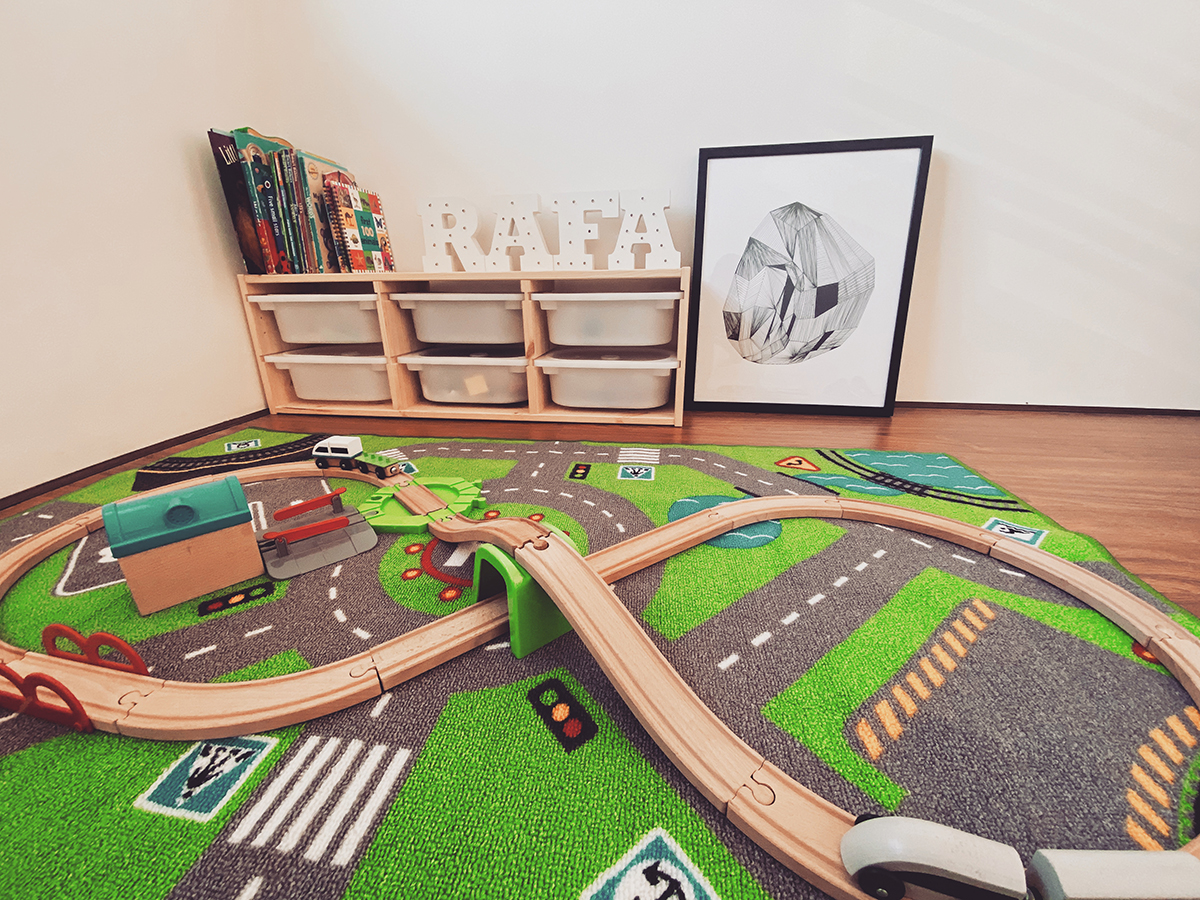 ADVERTISEMENT - CONTINUE READING BELOW
"I'm glad that he isn't dependent on gadgets. He loves walks around the village and playdates at the park which we used to do every morning before the pandemic. Now that we are confined at home, I allow him to have messy play but I also teach him the concept of cleaning up and putting things back in its proper place," says Rain about her son. During playtime, a huge train set takes up space in this room.
Balcony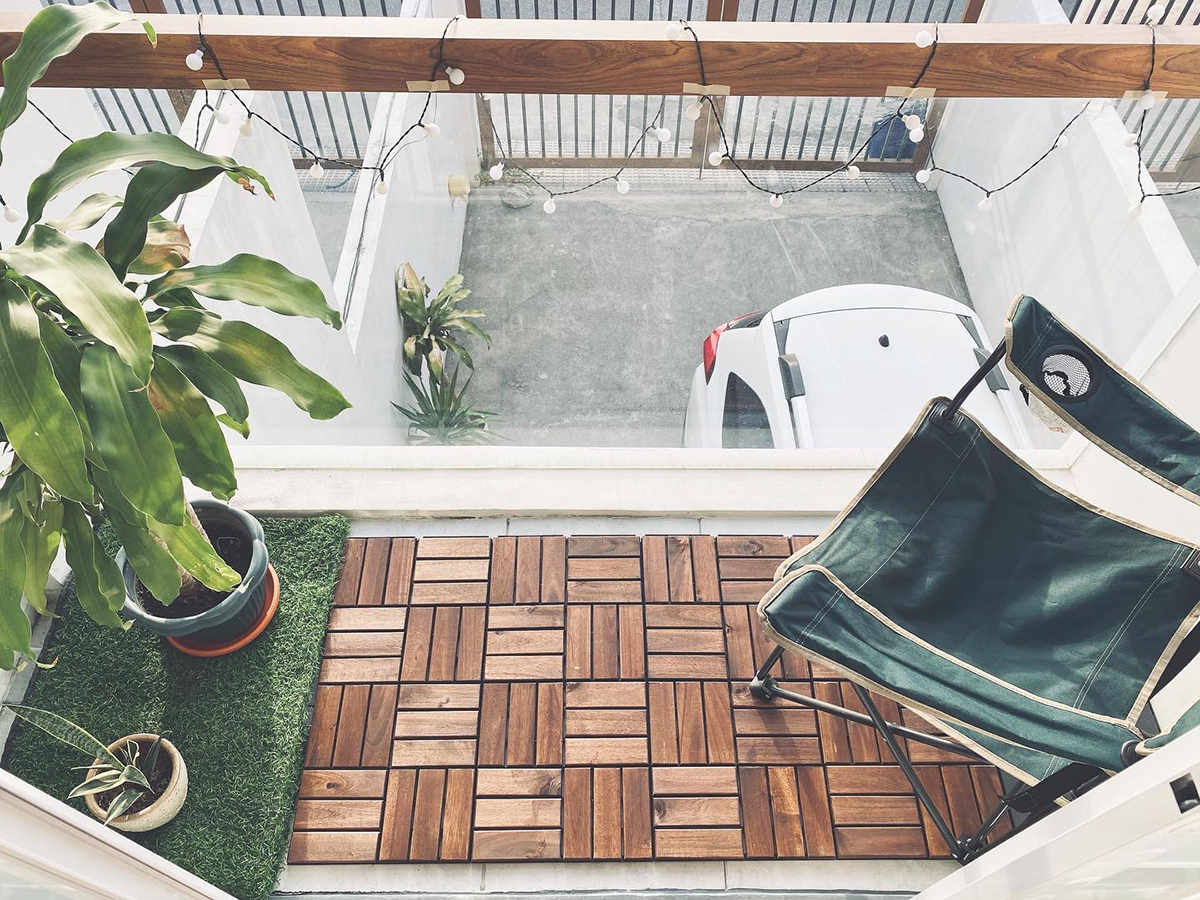 ADVERTISEMENT - CONTINUE READING BELOW
To spruce up the balcony, the couple decided to pair artificial turf with wooden tiles to create warmth. Completing the look are houseplants, a comfy chair, and string lights. It's the perfect spot for afternoon coffee and some alone time. "Each are in this home is unique because we put so much thought in the things we add. This home is special because it's a product of our hard work as a couple," says Rain.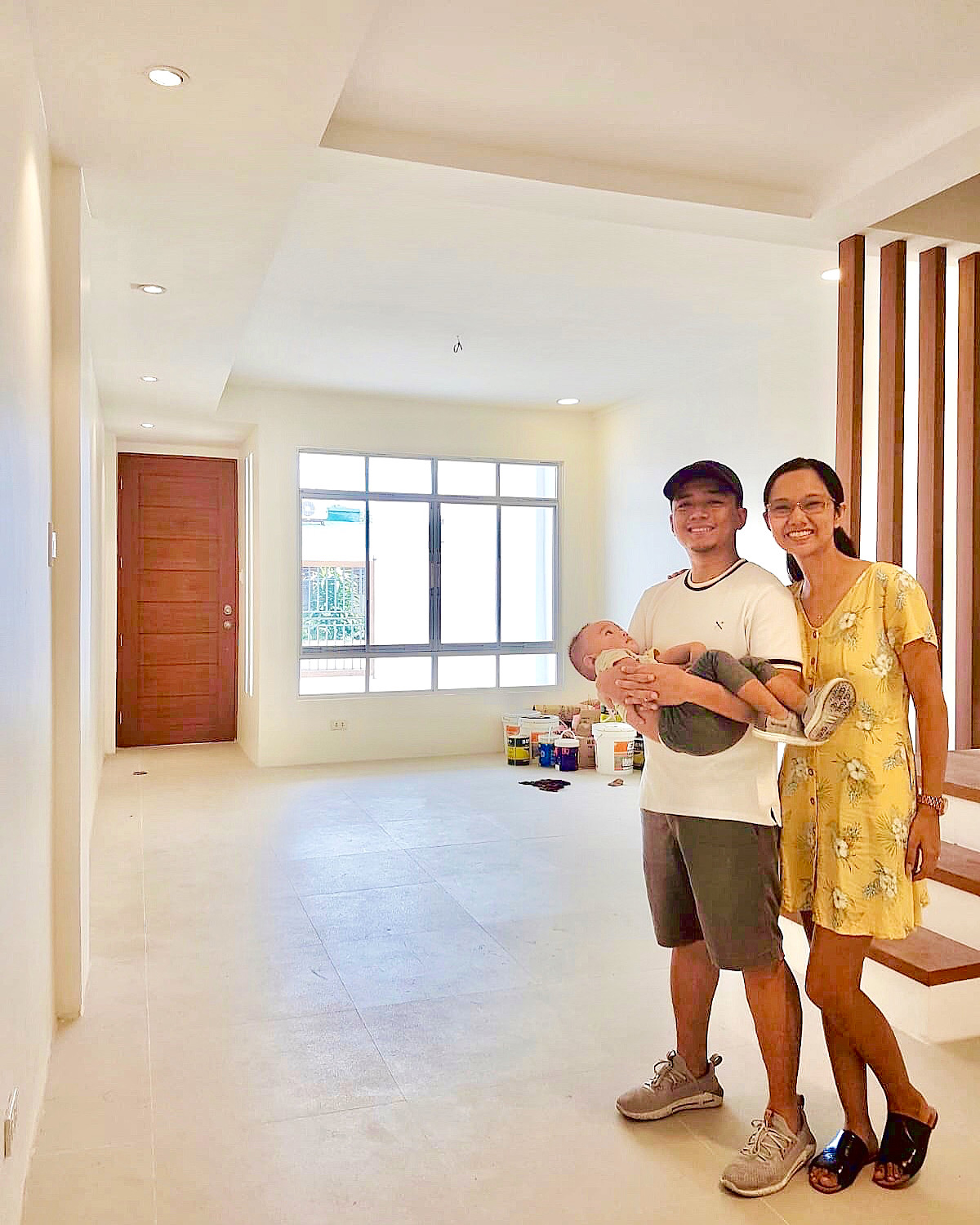 ADVERTISEMENT - CONTINUE READING BELOW
The happy family of three when they got the property.
* * *
Have you recently spruced up your room or renovated your home? We'd definitely love to see the result! Send clear photos (with your full name, city address, and accompanying kuwento) to [email protected] with the subject "DIY Makeover" and we may just feature your DIY project!
More on Realliving.com.ph
Load More Stories