Houses
This Rental Townhome in Batangas is a Boho-Minimalist Dream
A creative couple created an airy space that's warm, inviting, and easy on the eyes Photography: Courtesy of Marielle Gaviola
Those renting a home would know that it can be limiting to spruce up the space because you'll move out eventually and property owners tend to have rules when it comes to renovations. These don't mean you can't make it as picture-perfect and relaxing while you're living there though. As proven by Marielle and RG Gaviola, your rental space can look as lovely as your future forever home. Their townhome in Batangas is airy, inviting, and reminiscent of the pegs we often see on Pinterest. To say that stumbling upon the space is a blessing would be an understatement. "It was already renovated when I found it. We're four months in and since the house is already beautiful as is, we didn't make much changes. We just cleaned, added furniture, and made sure that we do minimal changes so we can revert it back to its original form when we move out," explains Marielle.
ADVERTISEMENT - CONTINUE READING BELOW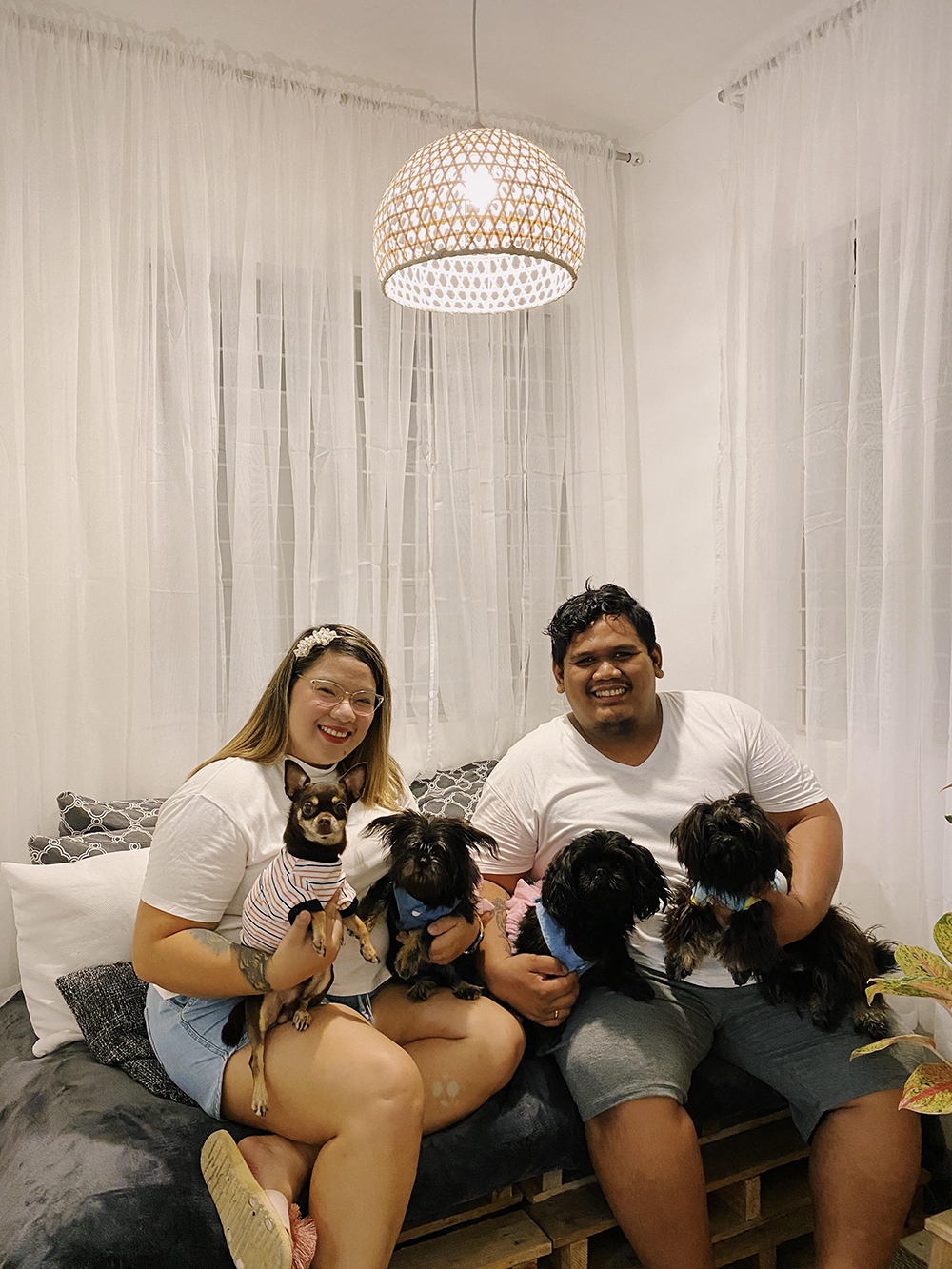 CONTINUE READING BELOW
Recommended Videos
Just looking at the photos will make you appreciate how maaliwalas it is – as if the whole house breathes. Inspired by the work of Studio McGee in the show Dream Home Makeover, Marielle was on top of personalizing the home and turning it into a comfortable place. With the space serving as a blank canvas, livening it up came naturally to the couple. After all, they are both creatives – Marielle is the makeup artist behind @makeupbymariellediaz while RG is the eye behind @rggaviolaphotography. "The home has four bedrooms – one is our bedroom, the other serves as storage for our things which we plan to convert into a small studio, one is a makeup studio, and the last one serves as my husband's office. I'm still working on my makeup studio and the office. I like taking my time and to not rush things when it comes to designing our home," she happily shares. Marielle and RG aren't the only ones happy with their townhome as their four fur babies also agree.
ADVERTISEMENT - CONTINUE READING BELOW
Take a peek inside their home below:
Foyer / Seating Area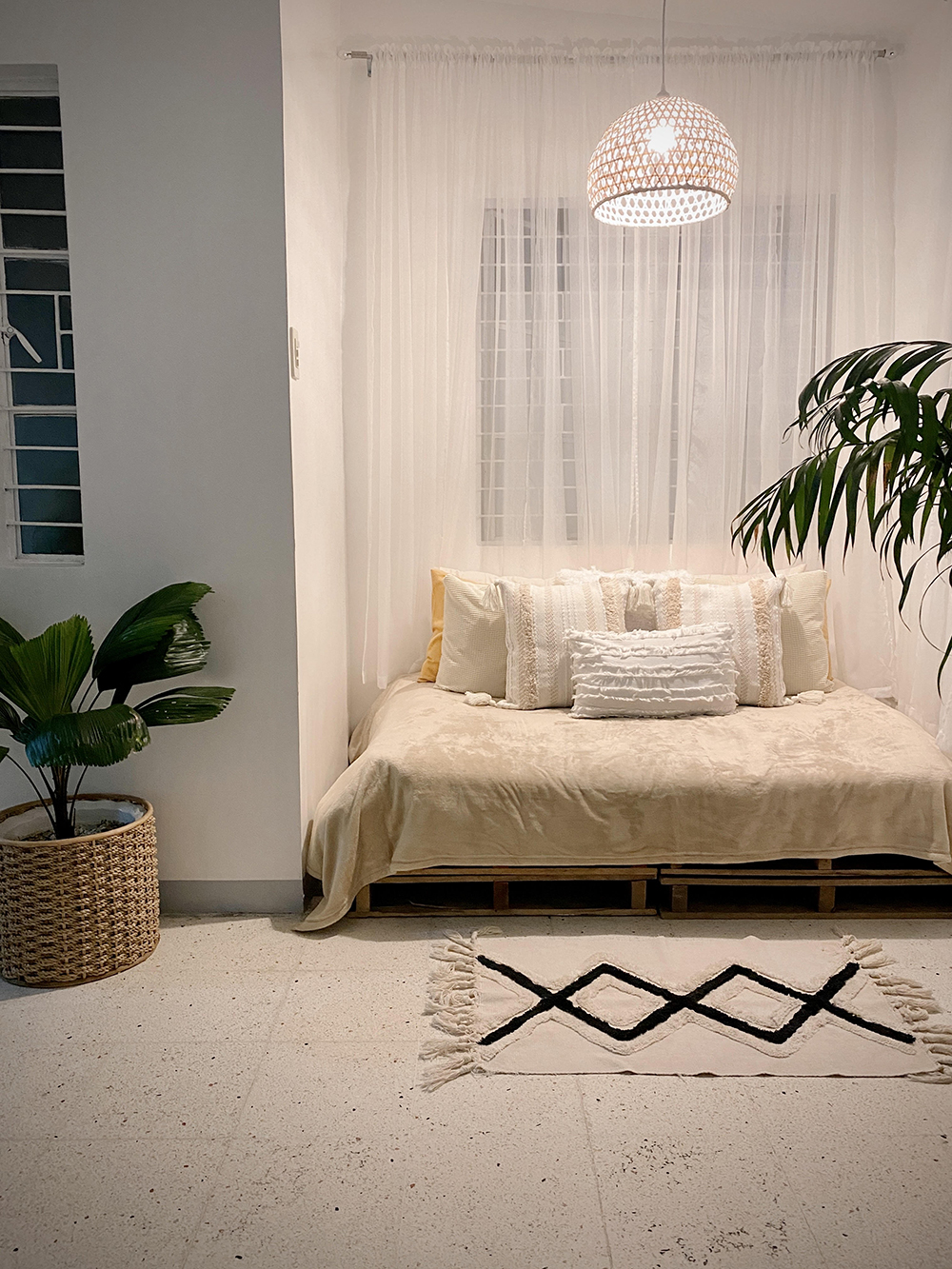 A seating area flanked by potted plants and defined by an area rug is seen a few steps from the door. To achieve warmth, Marielle mixed-and-matched pillows in different sizes and draped a blanket over the furniture.
ADVERTISEMENT - CONTINUE READING BELOW
Living Area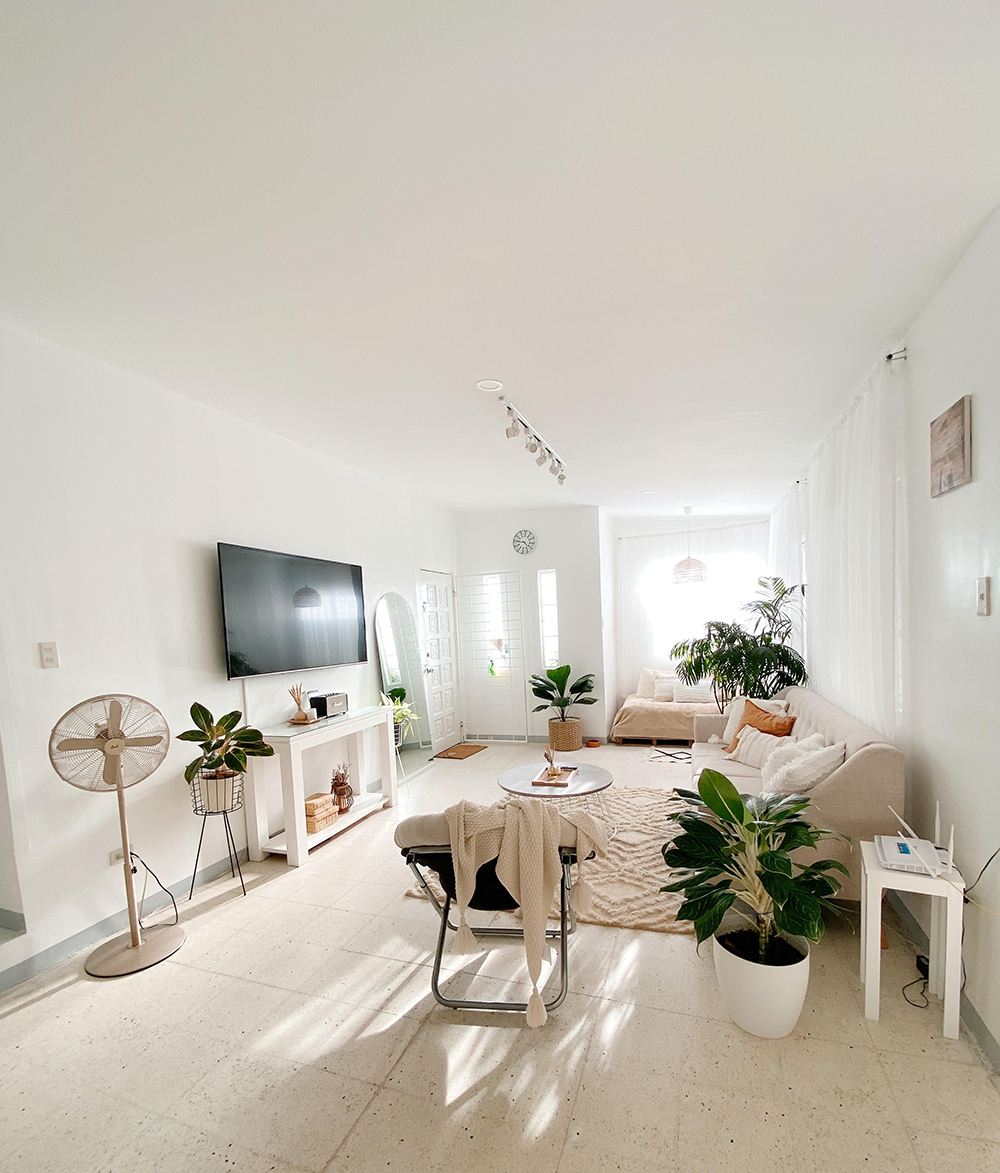 While some shy away from white walls, other homeowners embrace it. In this living area, it serves as the perfect backdrop for the cream-colored sofa, carpet, and numerous plants.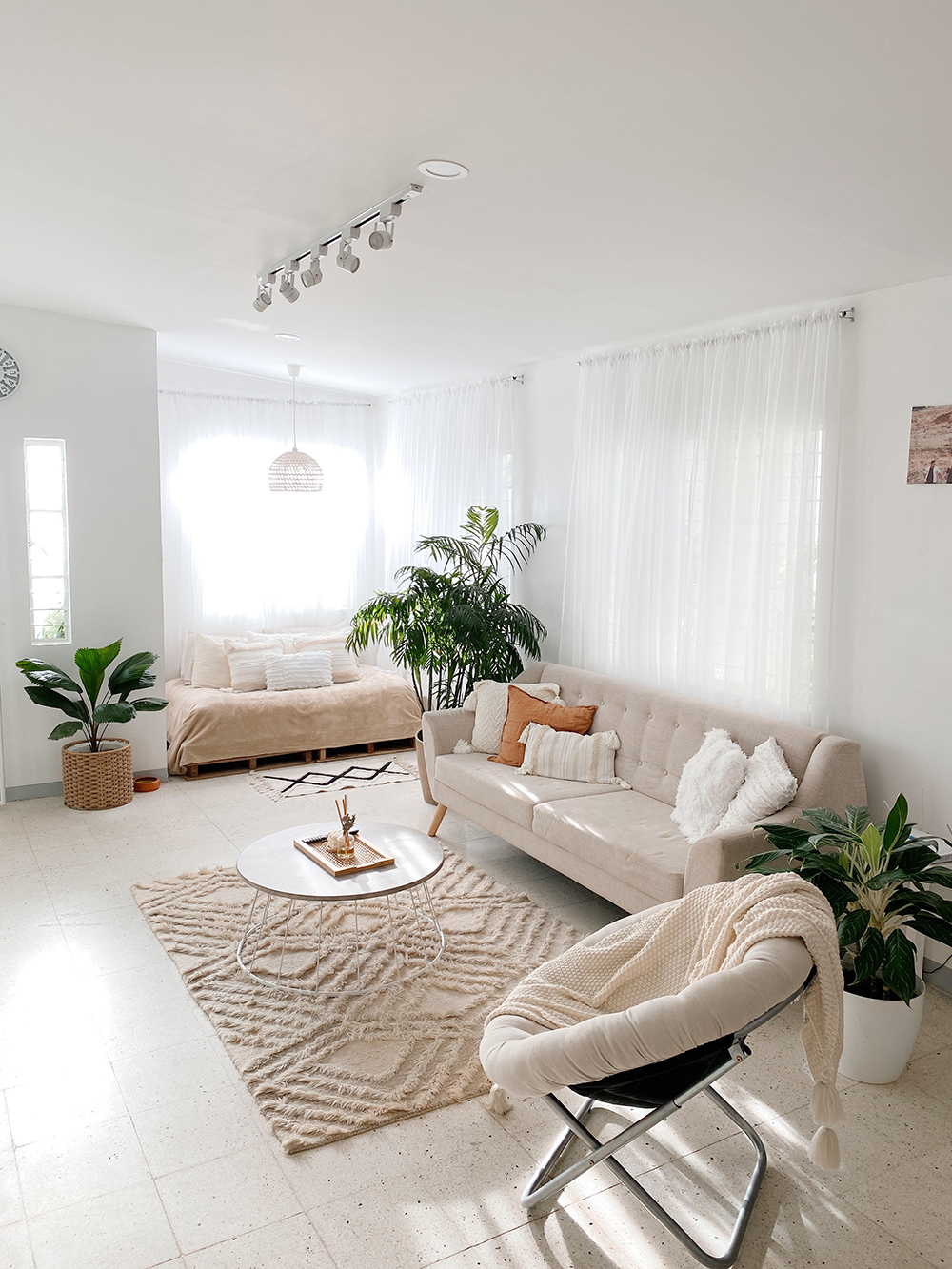 ADVERTISEMENT - CONTINUE READING BELOW
It's so easy to fall in love with the symphony of neutral colors chosen for this part of the home. Opting for sheer white curtains adds to the light and airy feel. "This is my favorite area in the house. I love to sit here and watch shows on Netflix all day," shares Marielle. Track light fixtures in white are also installed to help set the mood in the space at night.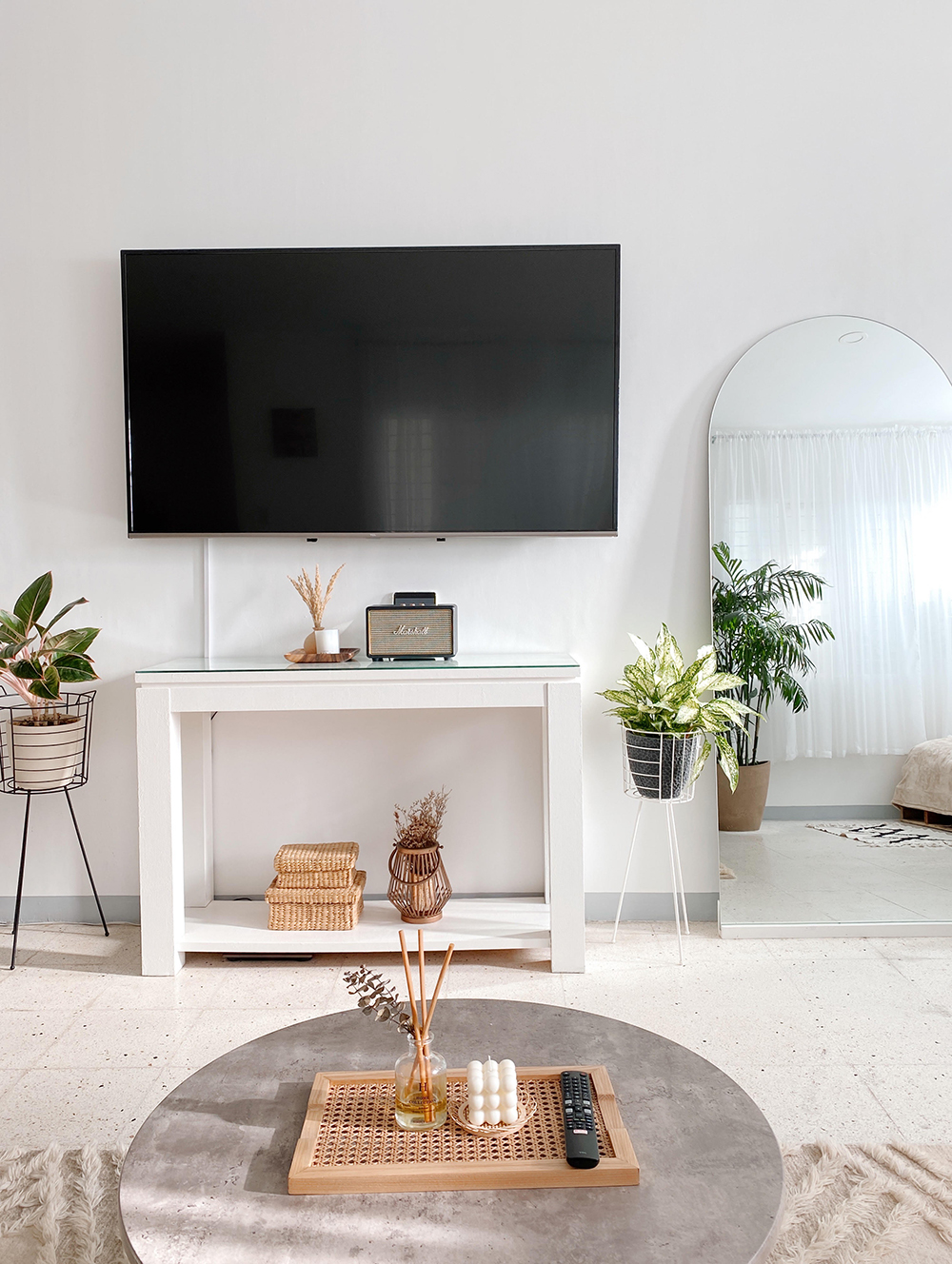 ADVERTISEMENT - CONTINUE READING BELOW
Décor pieces are kept to a minimum, with most items featuring a rustic touch. To keep within the minimalist look, wires are properly concealed to avoid eyesores.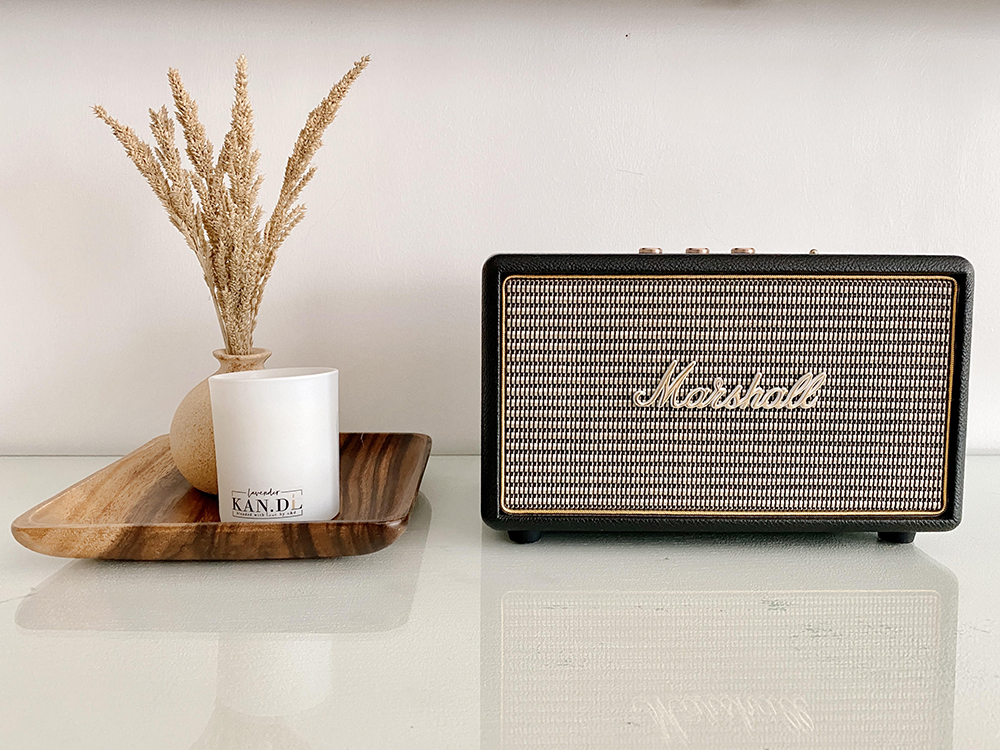 Marielle loves this Marshall speaker, which holds a special spot in the living area. "I've been dreaming to have it for so long and now that we have it, I just love the overall aesthetic and the sound quality playing for it," she muses.
ADVERTISEMENT - CONTINUE READING BELOW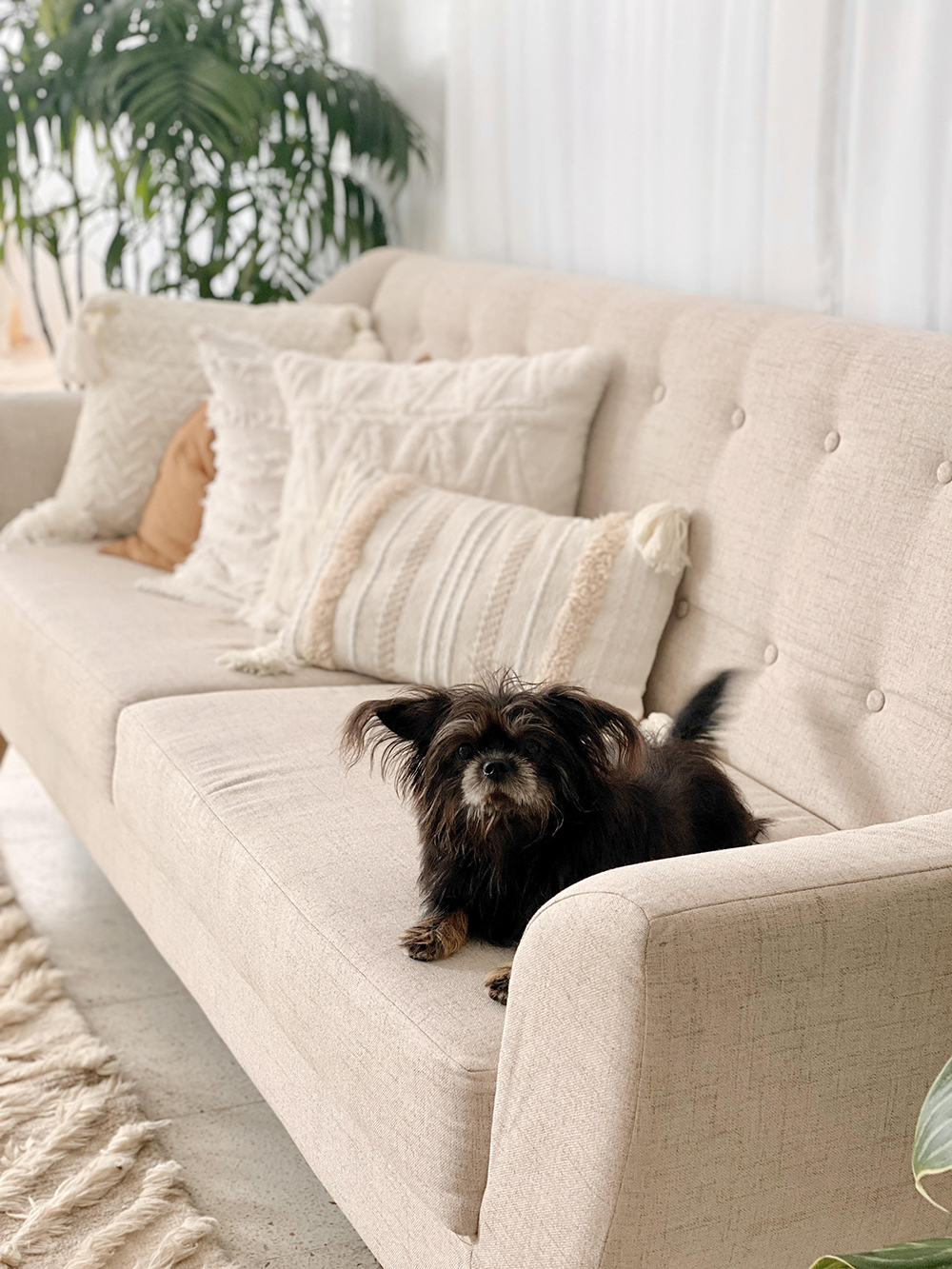 Their pets love the living area, too. Four dogs live with the couple and happily roam around the space.
Dining Area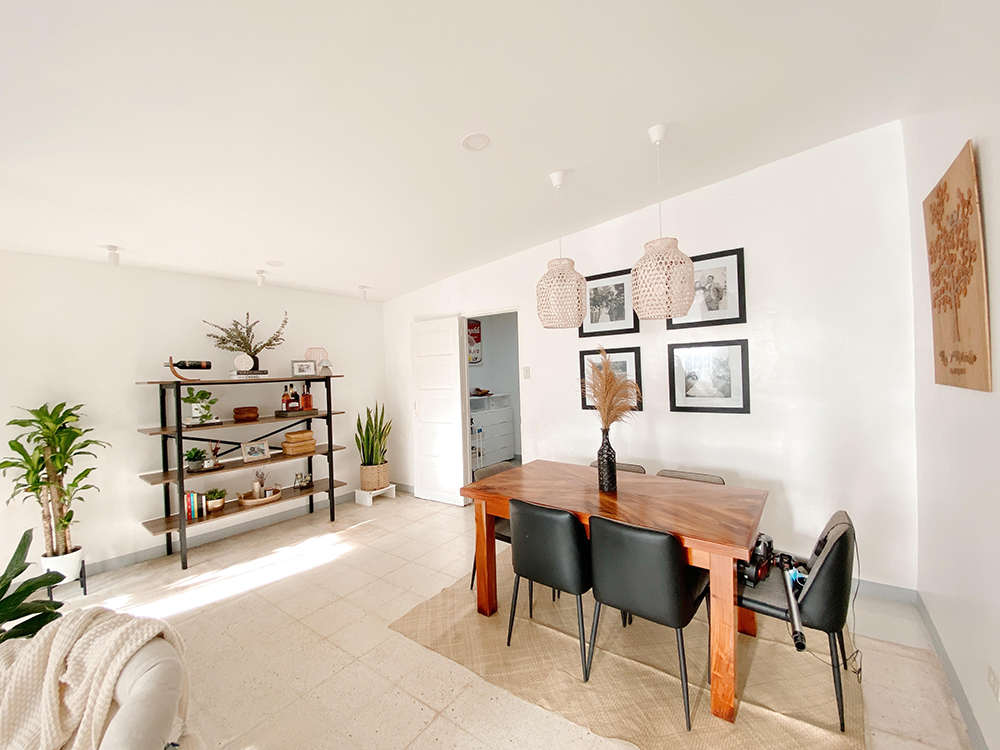 ADVERTISEMENT - CONTINUE READING BELOW
A six-seater dining set takes up space a few steps from the living area. Can you spot the material under the table? It's a good ol' banig working as a carpet. Matching modern chairs are also paired with the wooden table – an unlikely yet pleasing pairing, to say the least.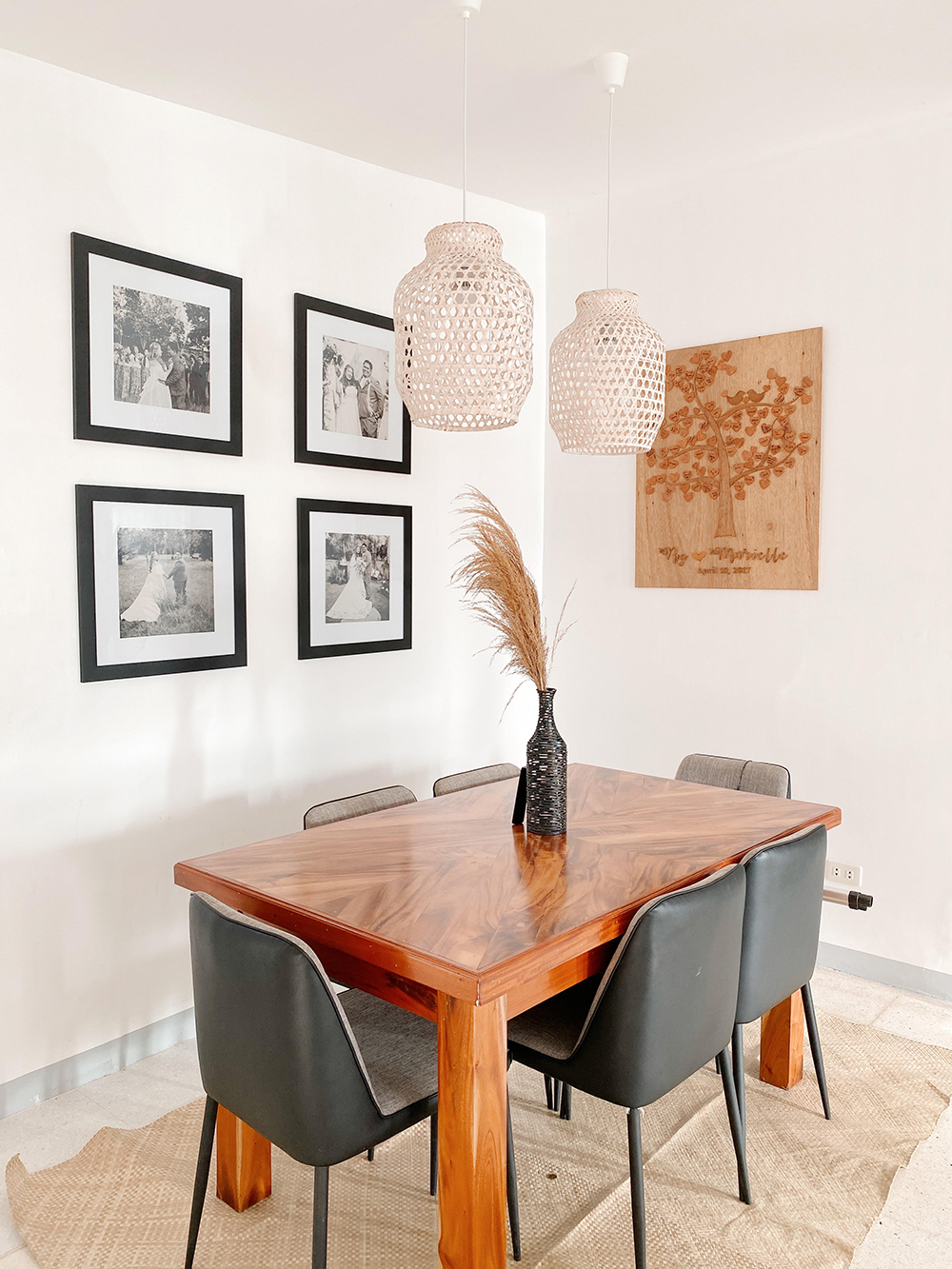 ADVERTISEMENT - CONTINUE READING BELOW
While some prefer to display photos in the living area, Marielle and RG decided to prettify the walls of the dining area with candid photos from their wedding. A wooden wall accent with their names complements the overall look, too.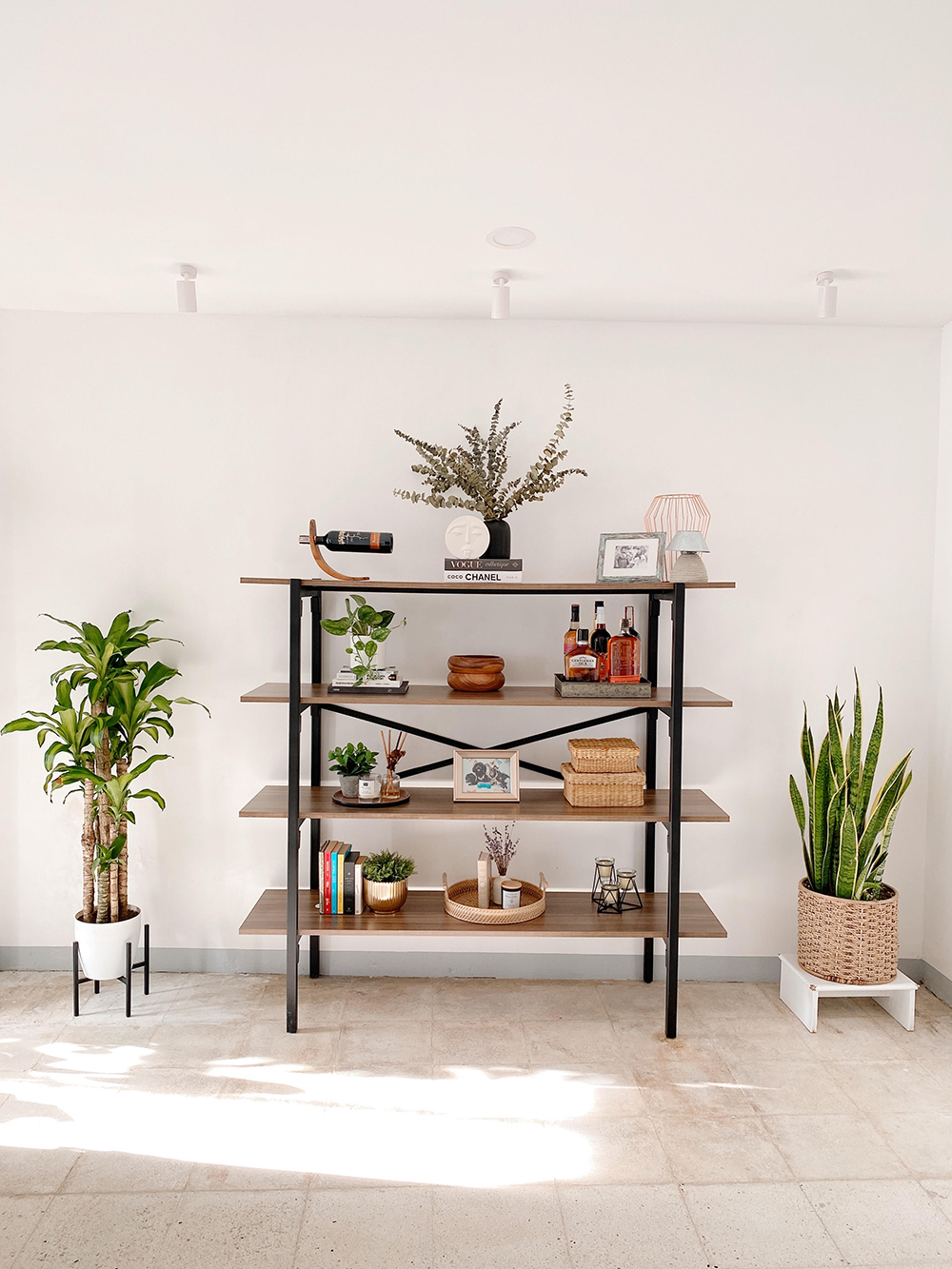 This corner of the home is meant for housing special mementos, décor, and more plants. A slim open shelf is a go-to piece for displaying your favorite things – just make sure to edit your belongings to avoid clutter.
ADVERTISEMENT - CONTINUE READING BELOW
Kitchen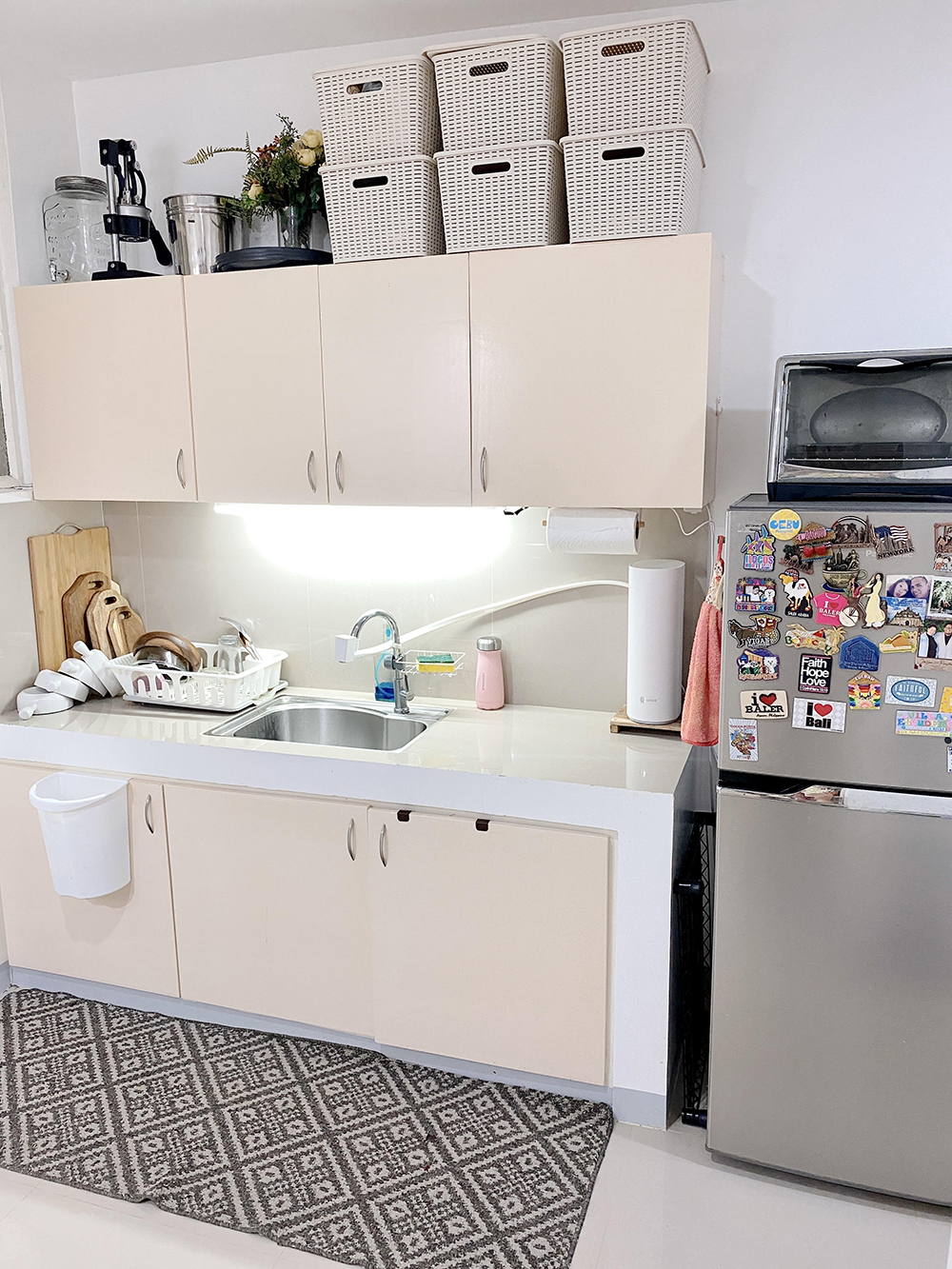 The kitchen follows the saying – a place for everything and everything in its place. The countertop is kept clean and organized, with essentials properly stored in baskets and cabinets.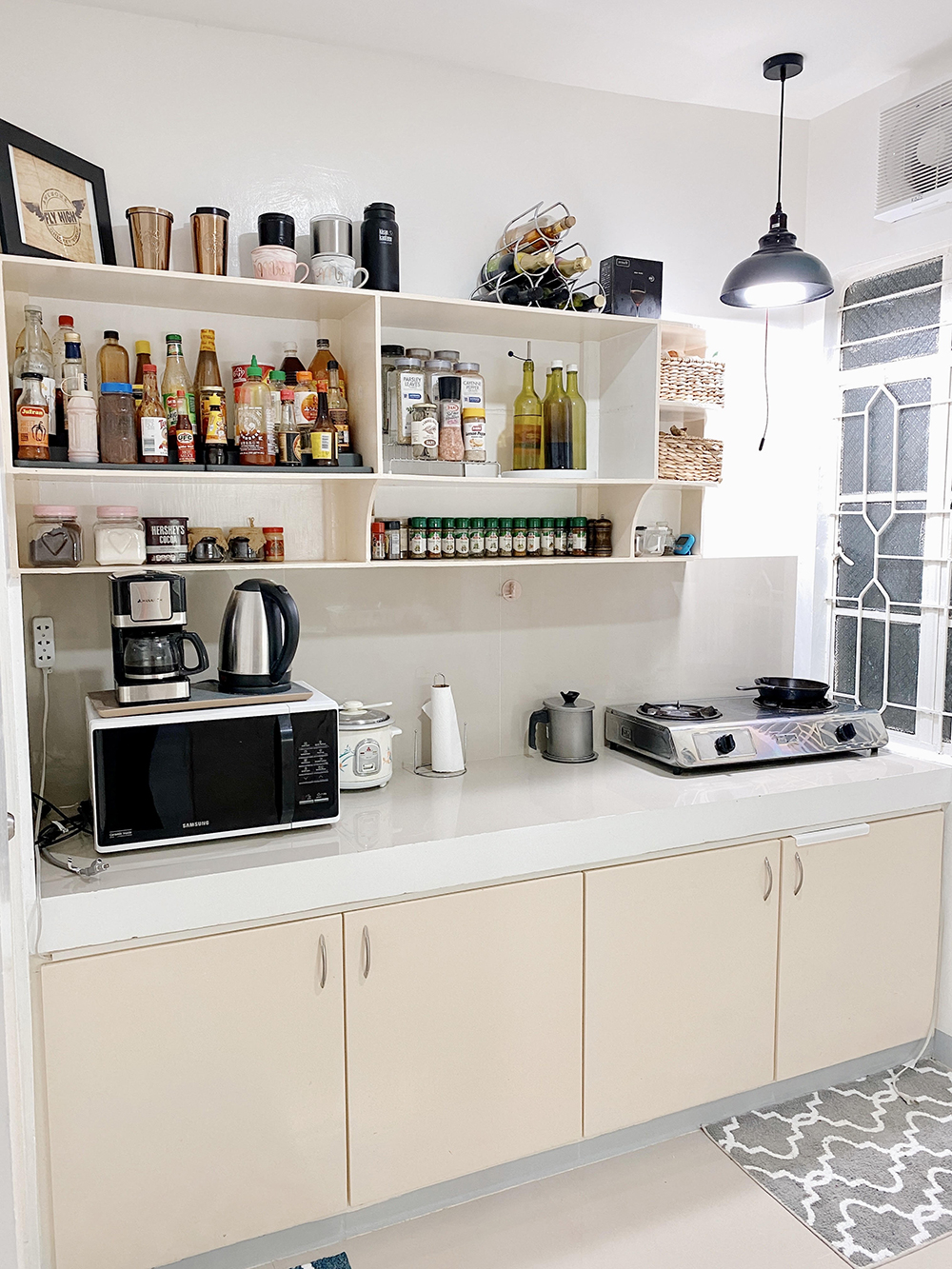 ADVERTISEMENT - CONTINUE READING BELOW
Everything is kept within reach without the risk of creating visual clutter as similar items are grouped together and bottles are arranged according to height.
Pantry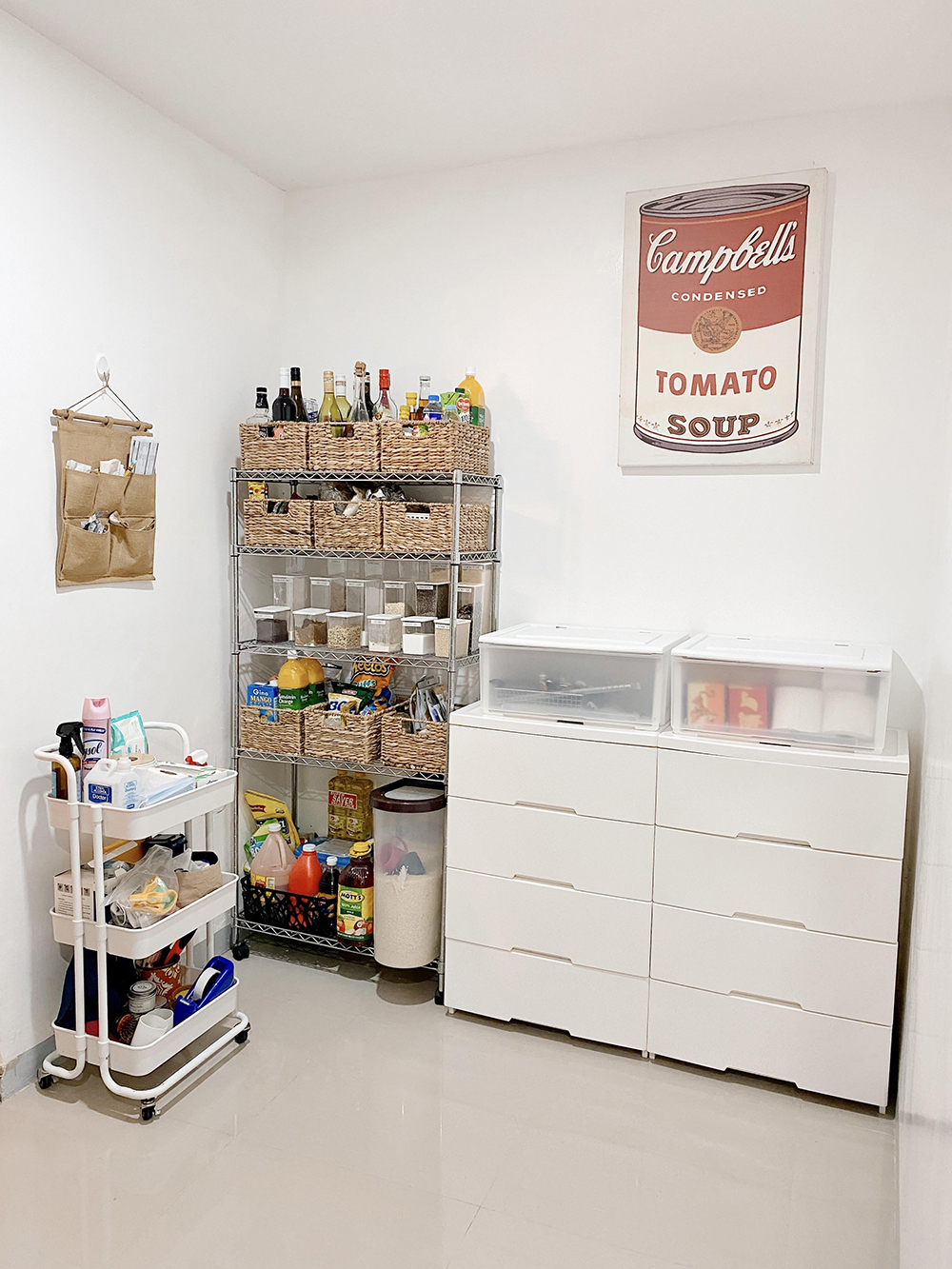 With stocking up on supplies a must these days, having a well-organized pantry is equally important. Marielle made sure it follows the overall look of the home – there are no bold colors here and woven baskets are the way to go.
ADVERTISEMENT - CONTINUE READING BELOW
Bedroom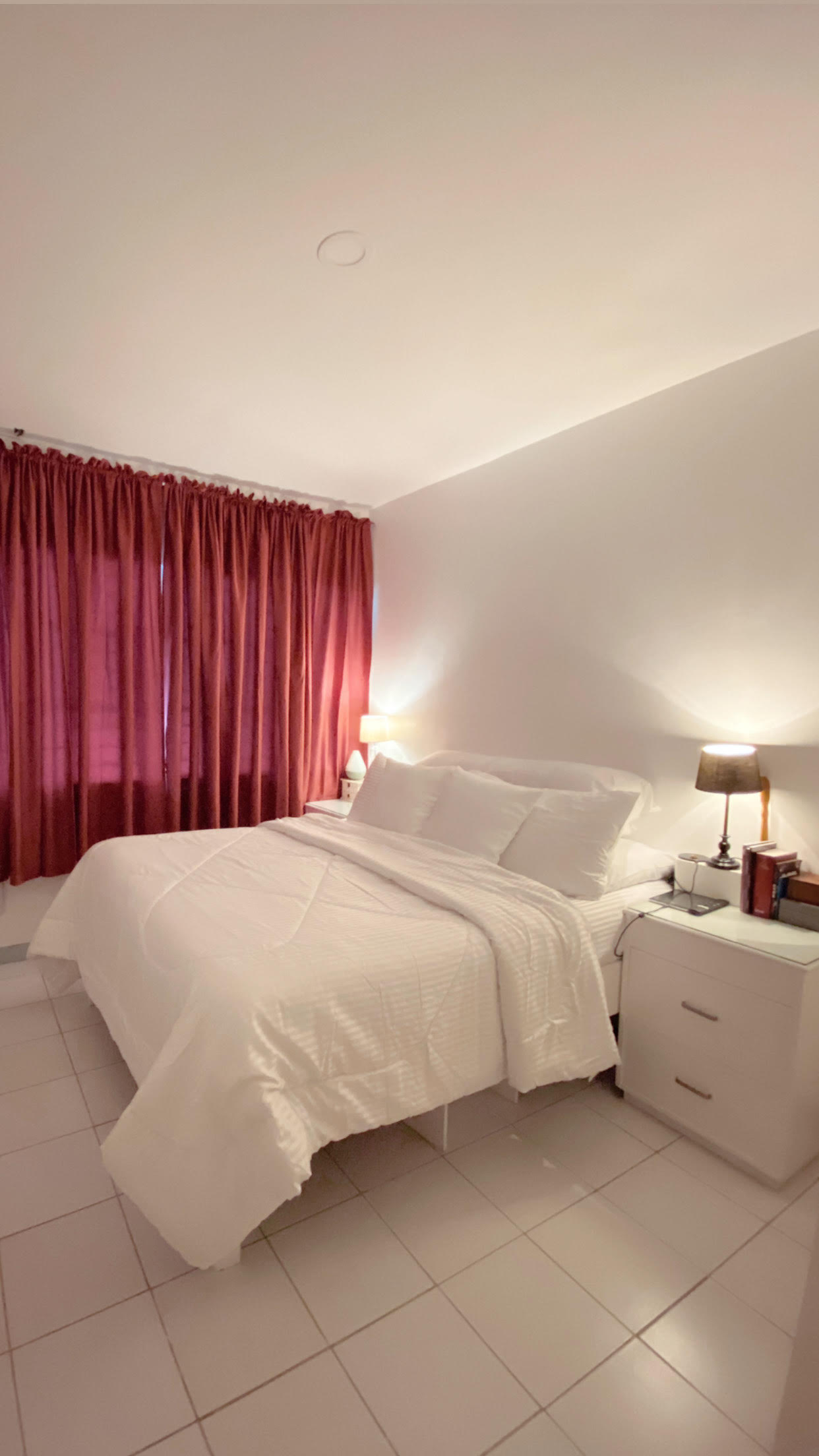 An all-white bedroom can make anyone look forward to a restful slumber. Perhaps the only striking color you'll see in the home is the curtain in this sleeping space – chosen to block out the sunlight.
* * *
Did you DIY your bedroom, your living room, or your entire home? Share it with us! Send photos of your space and your story to [email protected], and we may just feature it next!
ADVERTISEMENT - CONTINUE READING BELOW
More on Realliving.com.ph
Load More Stories