Condos
This Designer's Sophisticated 32sqm Condo Has A Story To Tell
A young designer takes a woodland fantasy and translates it into a magical home filled with organic touches Original Article: Andrea Portugal Photography: Michael Angelo Chua Styling: Dagny Madamba
The ambiance of the 32sqm condo unit is moody but not dreary, solemn but still homey; just what you'd expect a man-cave to feel like. Almost immediately, you recognize the home as a space with a story to tell, and that's exactly what draws you in.
"The first time I saw the space when it was still bare, I thought that it was really small, so I immediately had that cave theme in mind," the designer recalls. Gino took to the drawing board and allowed the cave concept to weave itself into a design narrative. "I've always seen myself as kind of a hermit, so it was just a matter of finding a way to translate that cave theme and come up with a story."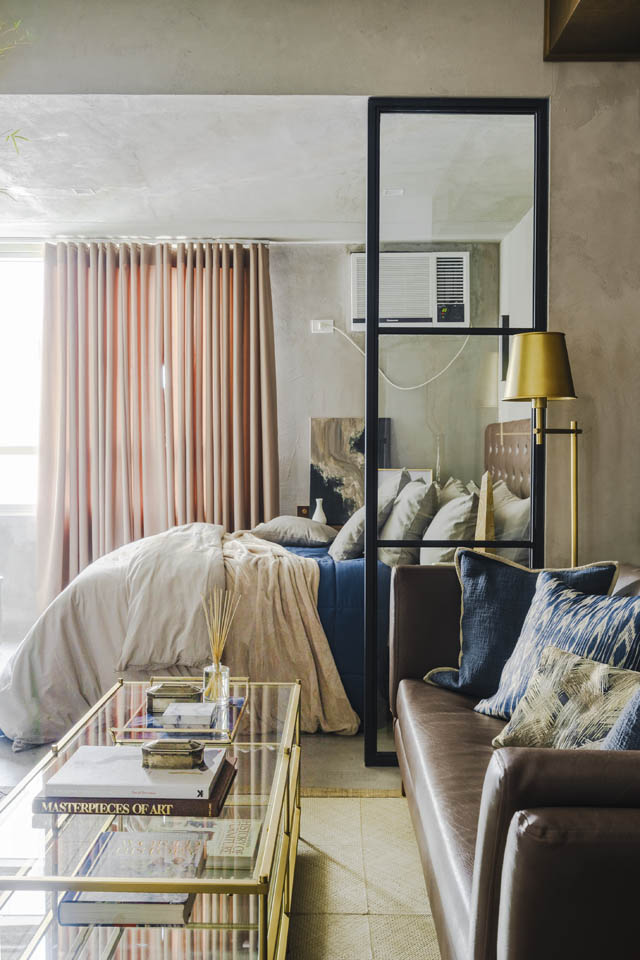 Picking a "story"
For his home, the narrative revolves around the experience of exploring the woods. He adds, "That's my thing, I don't go with design styles straightaway like, 'Oh, I want it to be Georgian.' Usually, I start with a story and the design kind of follows." The result is a home that clearly represents Gino's vivid imagination, refined aesthetic, and the distinct means by which he is able to marry the two.
When asked if the living area is the "forest" that one traverses before going into the "cave," Gino heartily replies, "Yes, that's exactly it! I took inspiration from a trip to Tokyo last year, I wanted it to feel like how I felt when I was in the backstreets of Tokyo—super unpredictable in the sense that you have these temple structures right next to these modern structures." Dark wood panels line opposite walls of the space and wrap existing beams, leaving the impression of being under a canopy of large trees. A tall bamboo plant sits in one corner of the room, adding an organic touch to the area.
Defining spaces transparently
The unit does not feel cramped, because instead of putting up a solid wall, Gino separated the sleeping and living areas with simple, black-framed, clear glass dividers. A peek into the bedroom reveals the full concept of his "cave" design. "I think you need time conceptualizing because it dictates everything," Gino explains. "You need to establish a strong foundation, a strong point of view. For this, it was just cave—so when you hear that, you already know it's going to be dark, it's going to be moody, and it's going to be textured."
ADVERTISEMENT - CONTINUE READING BELOW
Gino points to the polymer clay "fungi" and the dramatic streaks on his bedroom wall. "I created these brown streaks with acrylic paint and a palette knife. I wanted it to feel the way you'd feel inside a cave, with lichen growing around you. That's the story." And what a grand story this tiny space is.
Living area
Says Gino about the wood paneling in the living area: "Initially, the ceiling was also dark and painted to match the wood…when I saw the finished ceiling, I didn't like it. I think the white makes the space feel taller than it really is somehow." The leather-upholstered sofa was customized to Gino's design (for a similar look, get the Briarwood sofa at Crate & Barrel); the metal-and-glass coffee table is from West Elm.
Black-framed, Crittal-style glass partitions physically separate living and sleeping areas, but let in natural light. The designer decided to forego a dining area so that he could maximize the living area instead. "When I was designing this, that Japan trip was fresh and I was still really inspired by that Japanese back alley vibe that's kind of unpredictable. It's a combination of modern, traditional, and luxe—accessible luxe," he explains with a laugh.
These bamboo cuttings by the customized entertainment center further add to the organic feel of the condo. Gino deliberately lets the dry leaves fall to the floor to mimic what you see in a forest. To achieve that modern-organic look, the designer suggests using "Lush greens, earthy browns…but you can also inject more interesting organic colors such as from unrefined minerals." He adds that you should avoid colors that look synthetic.
Sleeping area
On his favorite part of his space, Gino says, "Probably the bed. I love being in a sea of pillows." Aside from pillows, Gino is also surrounded by his art. "Art is my hobby. If I'm not reading up on skincare, or these coffee table books, I make clay things or I draw." You can have a leather headboard like this customized at Urban Abode.
On the wall next to his bed is a narrow ledge that displays his artwork. "I wanted a display area where I could change it up now and then. I do my art on a whim, and I think that's a great way to approach design—don't be afraid, just do it." This fearlessness translates into the space itself where every detail finds its place in his unique design story.
Study nook
Gino was able to carve out a small study nook in the sleeping area, with the spot behind it serving as a highly textured accent wall appliquéd with his handmade polymer creations. The study chair is by Stellarworks, available at Design Story, Uptown Mall, Bonifacio Global City.
READ: How To Care For A Fiddle-Leaf Fig
In the nook where his study area is, Gino's amazing handiwork comes into play: his polymer clay "fungi" appliqués, painstakingly attached to the wall, and painted over to make it look that the accent wall is covered in lichen.
The walls are covered in Vasari plaster, a natural stony finish that subtly simulates the inside of a cave. To this surface, Gino adds layers of his polymer lichen, completing the cave-like appearance.
Bathroom
The bathroom is utilitarian and sleek, and even though it is just about a meter in width, Gino was able to fit in a luxe shower stall complete with rainshower. You can get a similar rainshower like this at Kuysen.
Kitchen
The kitchen is a picture of straightforward functionality with its clean lines and basic necessities. "I do prepare my own meals. I cook and I bake. Lately, I've been into baking polymer clay, so I do that here, too," Gino narrates.
Read the original article ("The Boy And His Cave") in the June 2017 issue of Real Living Magazine. Download your digital copy of Real Living on the Real Living App. Log on to summitnewsstand.com.ph/real-living for more details.
More on Realliving.com.ph
A Bachelor Pad defined by Designer Furniture and Personalized Touches
An All-White 67sqm Bachelor Pad
Load More Stories
---