Condos
A Chill Coffee Shop-Inspired Condo Unit in Cavite
The 26sqm is homey and relaxing, the perfect place for working and hanging out with friends Photography: Jabs Santos
Research shows that plenty of millennials decided to invest in a home in 2020, a bold move in the middle of a pandemic. While some say it's a risk, purchasing a home proved to be a good decision given the flexible terms offered by most developers. Jabs Santos, a 30-year-old apprentice supervisor at the country's leading superapp, is one of the many who took the plunge and acquired his own space.
Though bank financing, he was able to buy a condo unit in Cavite in 2020. "It was tough and I was lost in the beginning, thinking that I might be pushing for something that I may not be able to pull off properly," he recalls. Motivated by his yearning for independence and having a place where he can work peacefully, Jabs didn't let his hesitations get in the way as he moved into his unit in September of the same year.
ADVERTISEMENT - CONTINUE READING BELOW
In personalizing his space, the self-confessed coffee addict took inspiration from the vibe of coffee shops. "I always feel very relaxed whenever I work or just hang out with friends in a coffee shop that's why I've always imagined walking up in a coffee-inspired home," shares Jabs. He prepared sketches of how he wanted the home to look like and hired laborers who can turn it into reality. After a three-month renovation period, Jabs finally achieved the coffee shop-inspired home he has dreamed of.
From deciding to get his own place to making it his own, Jabs has learned to trust the plan you've set for yourself and to work hard to achieve your goals. It won't hurt to have a fallback plan, too.
Take a peek inside his condo unit below:
Living Area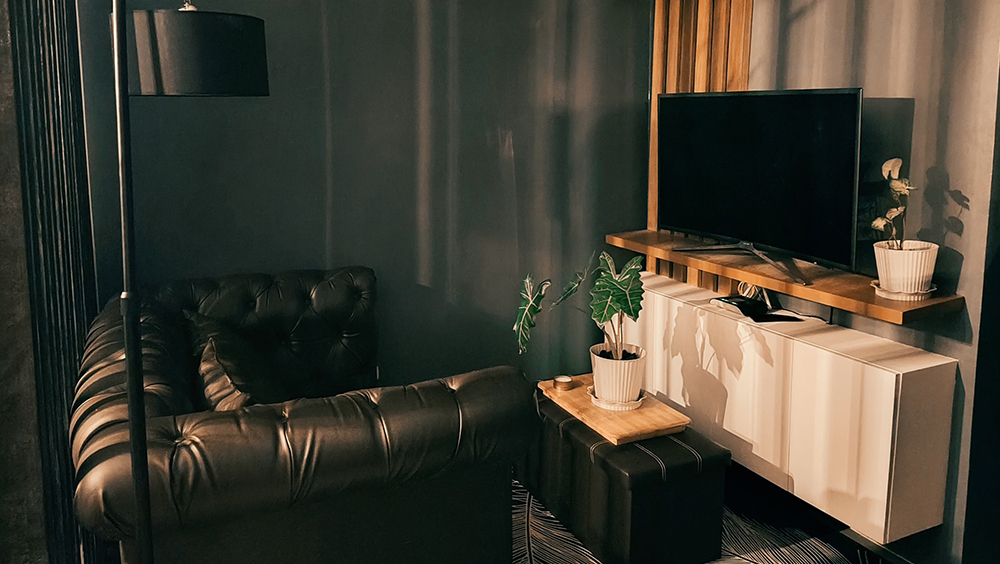 Though the space is compact, Jabs was still able to carve out a living area which serves its purpose – a place for watching TV and entertaining friends. Complementing the tufted sofa in black are the extra seating piece that doubles as a center table and the sleek floor lamp. To break the monotony of dark colors, the entertainment console is in white and wooden touches complete the space.
Kitchen and Dining Areas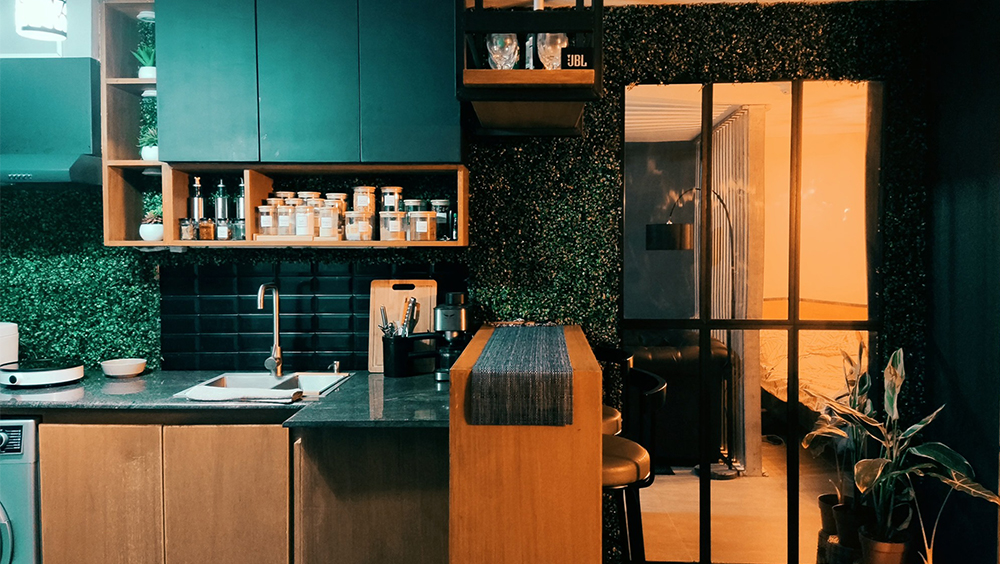 ADVERTISEMENT - CONTINUE READING BELOW
Jabs loves to cook and the kitchen is one of his favorite spots in the unit. To tie the look of the kitchen with the rest of the unit, it also features a mix of dark and wooden touches softened up with faux greenery. "I was also able to fit in a washing machine under the countertop to save on space," he says.
Dining/Bar Area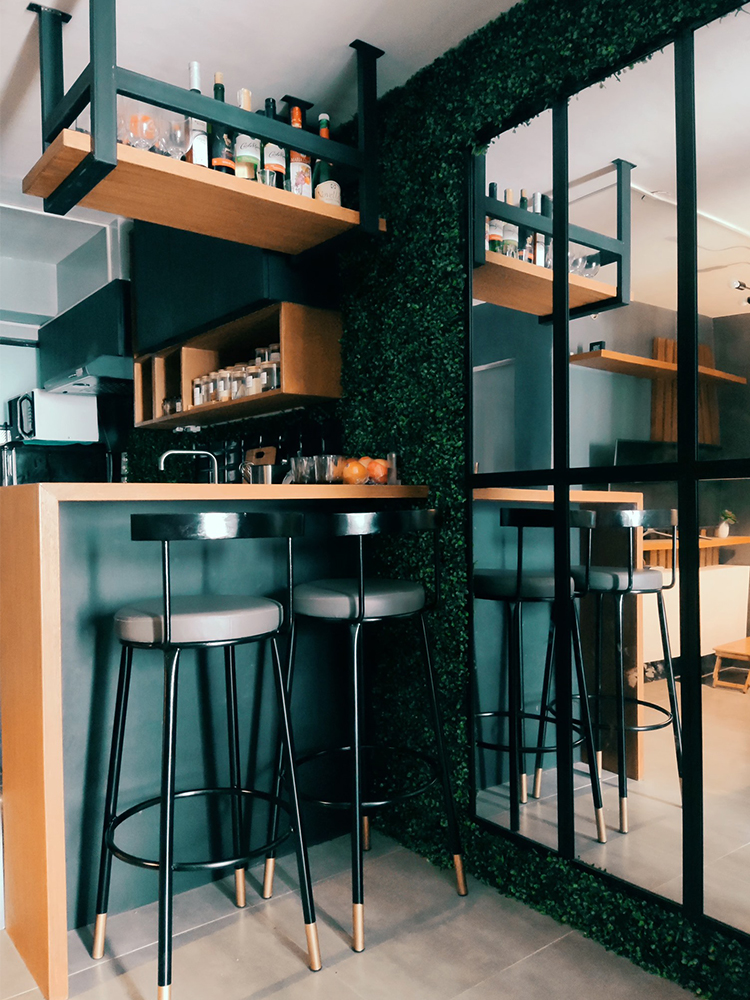 ADVERTISEMENT - CONTINUE READING BELOW
"According to Jabs, his friends stay in the dining area where they can watch him prepare food. As the special spot where conversations take place, he completed it with sleek barstools and faux greenery to make it more inviting. Using mirrors as wall accents help create an illusion of a bigger space as well.
Bedroom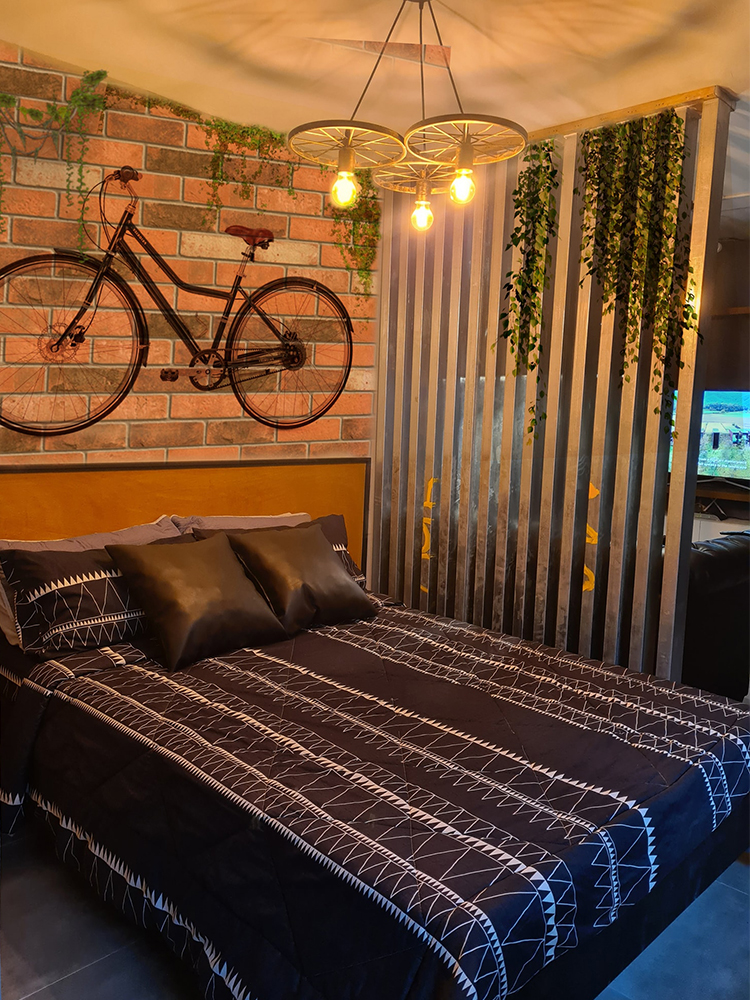 ADVERTISEMENT - CONTINUE READING BELOW
A wooden divider separates the sleeping area from the living room. An industrial-inspired lighting piece gives the space a warm glow which works well with the accent wall. Jabs made sure to pick soft furnishings that go with the overall look while still showcasing his personality.
Work Area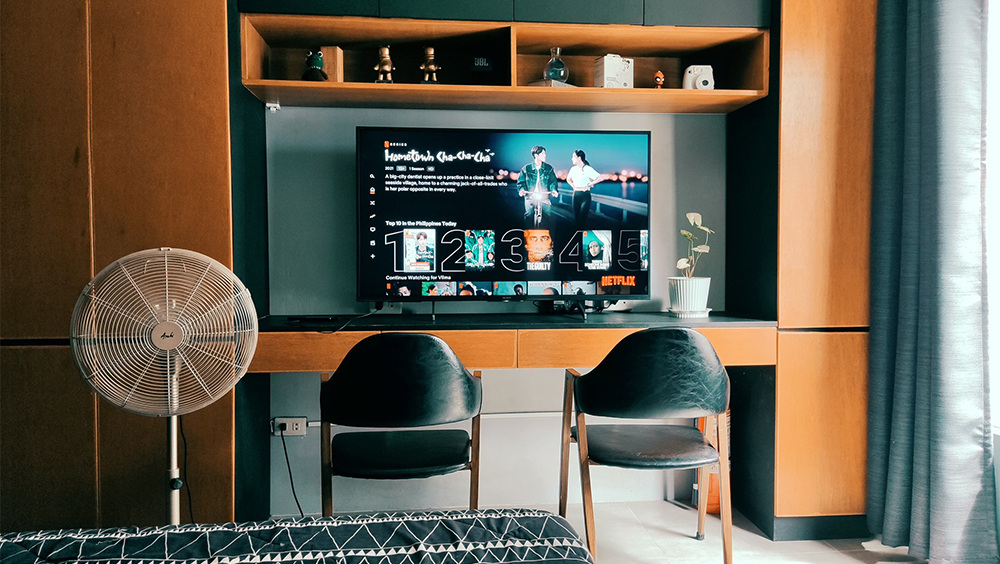 ADVERTISEMENT - CONTINUE READING BELOW
The TV will be mounted on the wall to free up space for working. Since he will be spending most of his time here, Jabs made sure he will be comfortable. He scored a couple of comfy seats from Lazada that work well with the rest of the materials used in the space.
Bathroom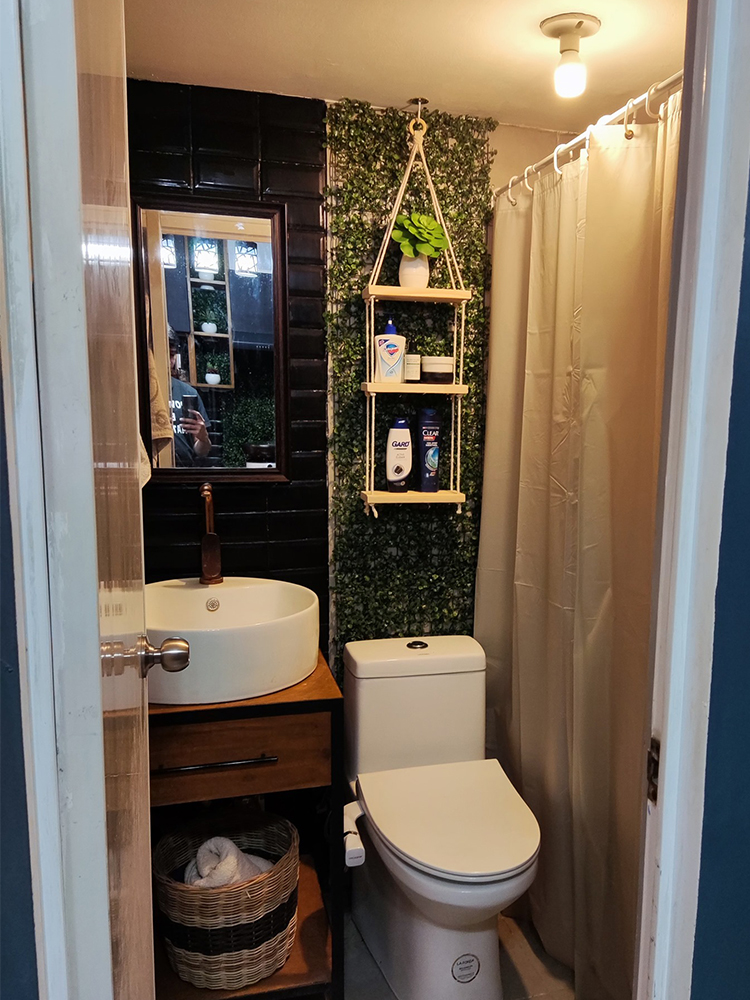 ADVERTISEMENT - CONTINUE READING BELOW
"This used to be my least favorite part of the unit," says Jabs. After adding a few things in the space, like the similar faux greenery seen in the other areas, he was able to tie it in with the rest of his space.
Balcony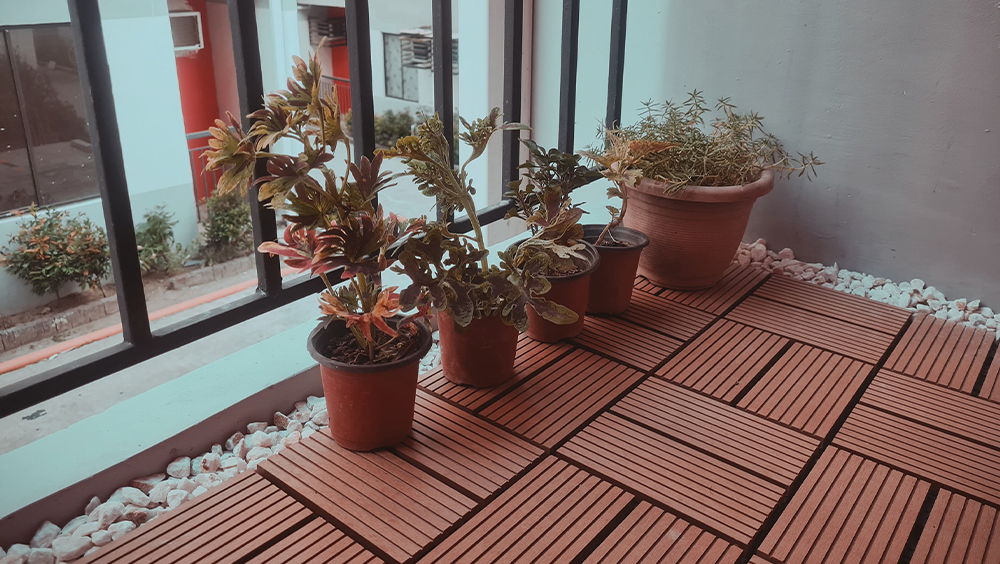 Instead of adding faux turf in the balcony, the owner opted for wooden looking tiles that add warmth the small outdoor space.
ADVERTISEMENT - CONTINUE READING BELOW
* * *
Have you recently spruced up your room or renovated your home? We'd definitely love to see the result! Send clear photos (with your full name, city address, and accompanying kuwento) to [email protected] with the subject "DIY Makeover" and we may just feature your DIY project!
More on Realliving.com.ph
Load More Stories