Condos
A Bright 30sqm Scandinavian Studio Unit in Makati
Interior designer Claudine Medina maximized space with multi-purpose furniture and a light color palette. Photography: Courtesy of Claudine Medina Styling: Claudine Medina
In 2019, interior designer Claudine Medina furnished this 30sqm rental unit in Makati for a repeat client. She admits that while she was hesitant to accept the styling project at first, the risk was more than worth it in the end.
"This project ended up having the highest engagement, impressions, and saves in my IG feed and it gave birth to more opportunities—[definitely] more than what I expected it would do," she shares.
See how the designer turned the small studio unit into a bright, Scandinavian-inspired space:
Hallway
Her client's vision for the space was minimalist, with only a few pieces of furniture to allow the tenants more moving space. Fulfilling this request, Claudine carefully opted for multi-purpose pieces to and curated each piece of decor.
For example, she placed a woven basket in the hallway that can either be a clothes hamper, storage for extra linens, or a planter. It also complemented all the wooden furniture in the room.
ADVERTISEMENT - CONTINUE READING BELOW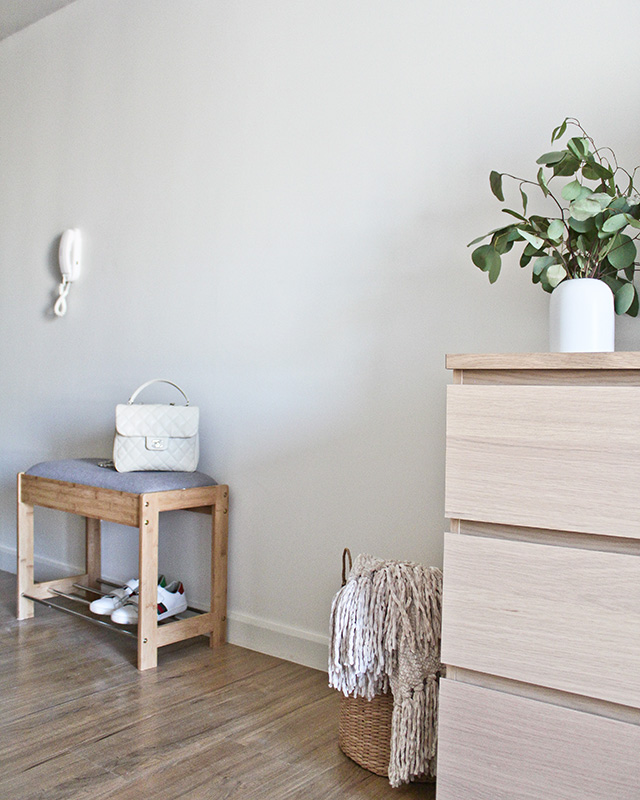 Living Area
The unit's living room, which is connected to the sleeping area, utilizes some simple tricks that make it easier on the eyes and less cramped. It has neutral walls, light-colored furniture, and a monochromatic color palette for everything from the art on the wall to the pillows and rug.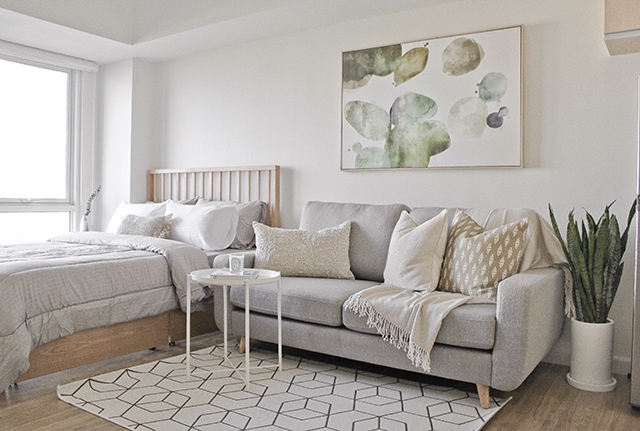 Sticking to the multi-purpose furniture theme, the designer used a Malm chest of drawers as a TV stand, taking away the need for a separate miscellaneous storage unit and display cabinet.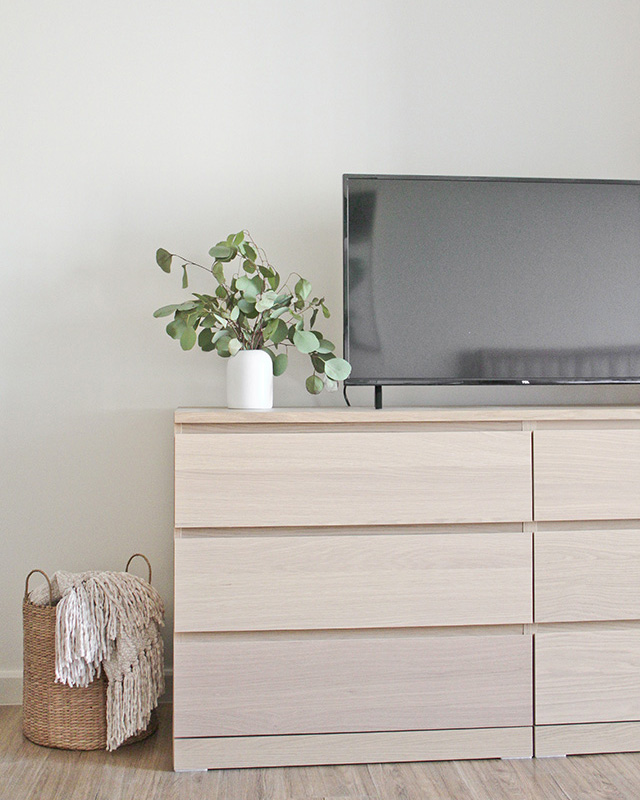 ADVERTISEMENT - CONTINUE READING BELOW
Kitchen and Dining Area
"One of my client's few requests for this project is a drop-leaf dining table that can be folded away when not in use," shares the designer. She chose a wall mounted piece from Furniture Source Philippines, which allows the renters to get the table out of the way without worrying about storage.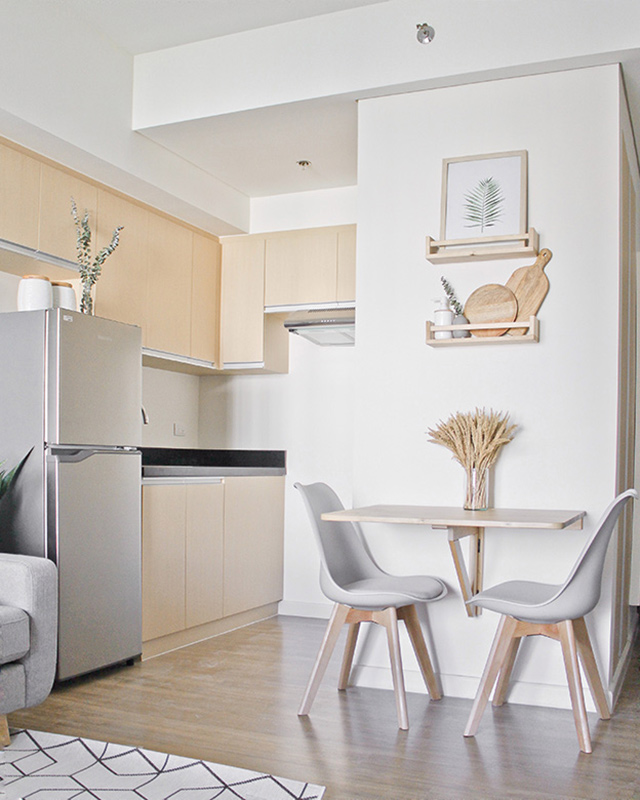 ADVERTISEMENT - CONTINUE READING BELOW
Sleeping Area
Matching the linens of the bed with the sofa made the transition between living and sleeping area in the condo subtle yet seamless. The wooden bed frame tied in perfectly with the rest of the space, too.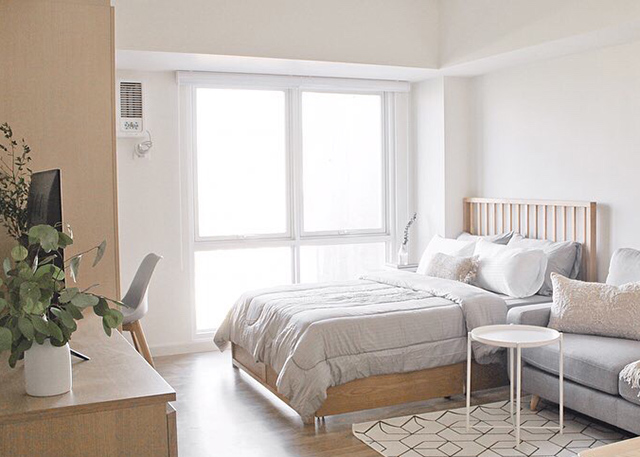 Filling the space between the large windows and the bed with this bedside table was a smart touch, and gives the renter somewhere to place their personal decor like books and candles.
ADVERTISEMENT - CONTINUE READING BELOW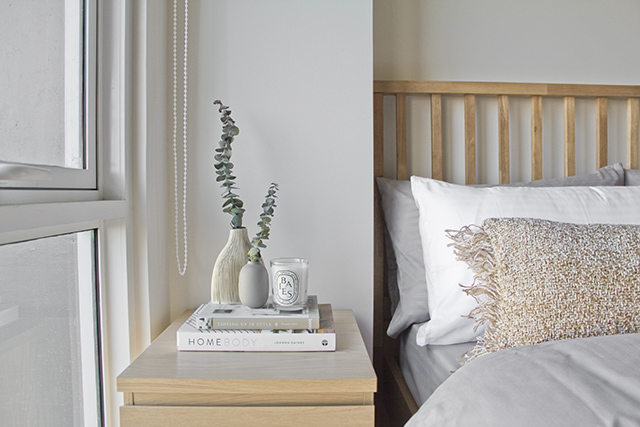 Workspace
What used to be an awkward space at the foot of the bed was turned into a comfortable work area. Claudine used ready-made floating shelves and the smallest table to make it as functional as possible without spending too much and overloading the already-tiny nook. 
ADVERTISEMENT - CONTINUE READING BELOW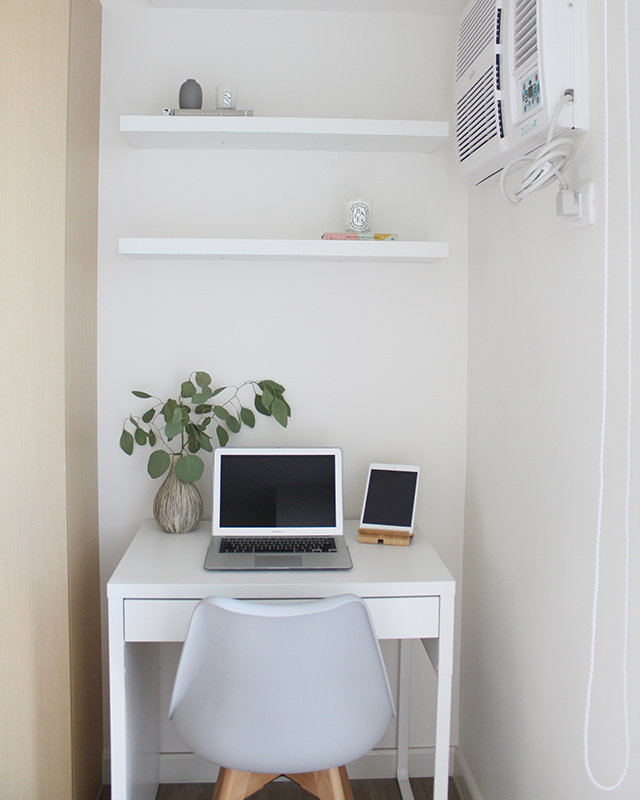 More on Realliving.com.ph
Load More Stories