Condos
This Young Homeowner Dedicates His Japanese-Inspired Home to His Late Lolo Photography: courtesy of the Homeowner Architect: Arch. Faye Ison
Growing up in a close-knit family, Danhills Pabiloña knows the importance of hard work and focusing on the things you want to achieve. "I owe my outlook in life to my cheerful and hardworking Lolo who used to work as a bagger in a supermarket before becoming a business owner," he says.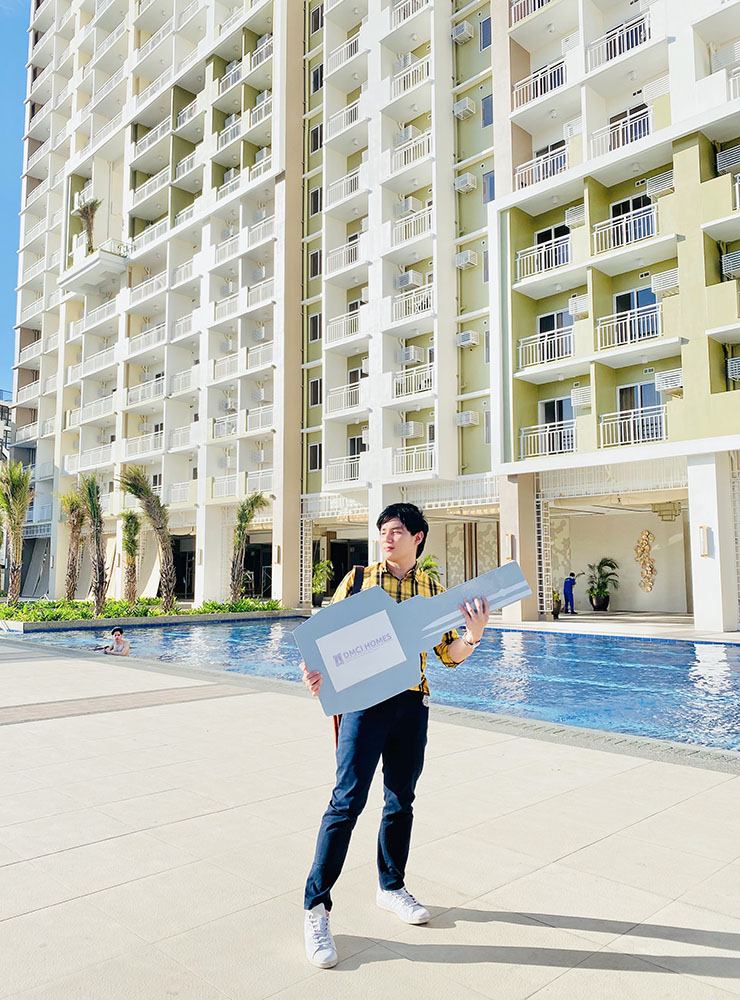 Having your own home is an achievement and Danhills was able to accomplish this in 2018 when he purchased a condo unit. While it was only turned over this year, he spent the time gathering inspiration for his space, mostly from Japanese interior design and architecture.
With the help of architect Faye Ison and her team, Danhills was able to turn the two-bedroom unit into a one-bedroom cozy space completed with well-thought-out pieces, features, and wooden touches.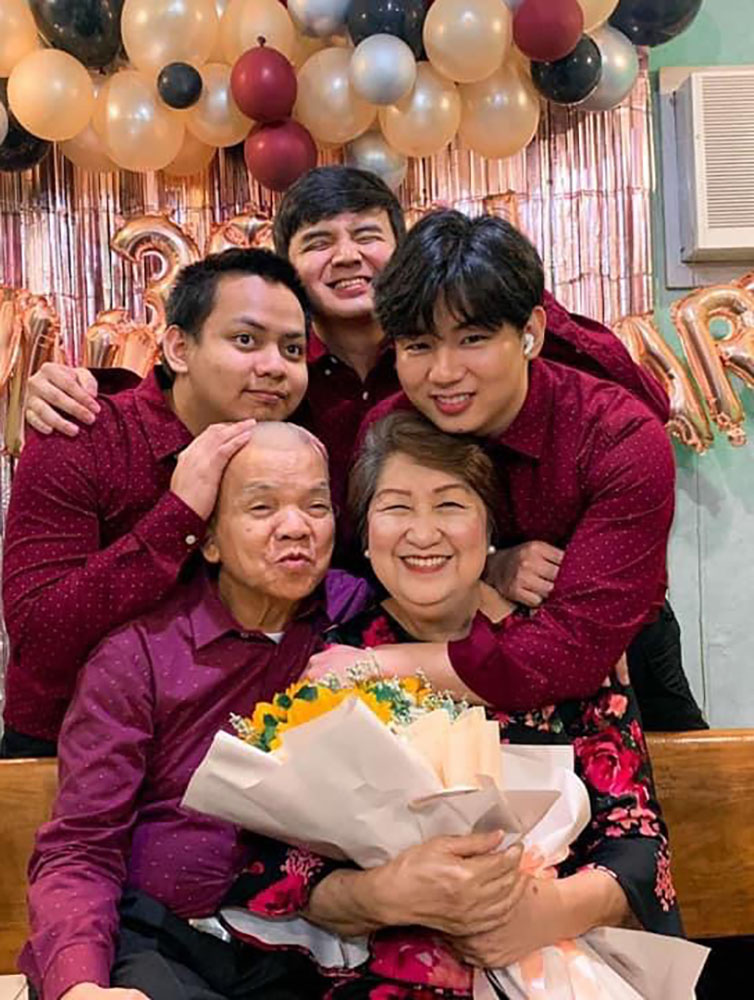 ADVERTISEMENT - CONTINUE READING BELOW
Unfortunately, Danhills' Lolo wasn't able to see the fruit of his grandson's perseverance as he passed away early this year. "This year was a tough one…but my grandfather was a fighter and he didn't give up until the end. And so will I… I dedicate my home to my Lolo, my real home and happiness," Danhills shares.
READ: Thanks to His Cookie Business, this 22-Year-Old Was Able to Turn a Storage Room into a Bedroom
Take a peek inside Danhills' Japanese-inspired condo unit below:
Entryway/Living Area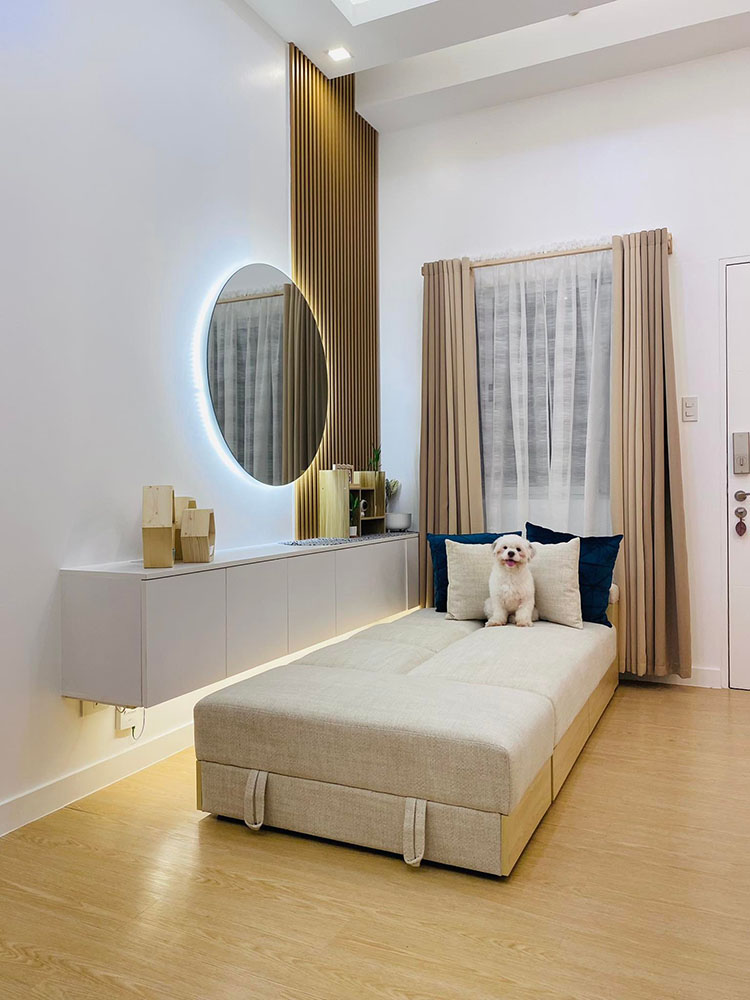 A multifunctional cinema sofa bed greets guests upon entrance to the unit. It can accommodate friends or family members for sleepovers.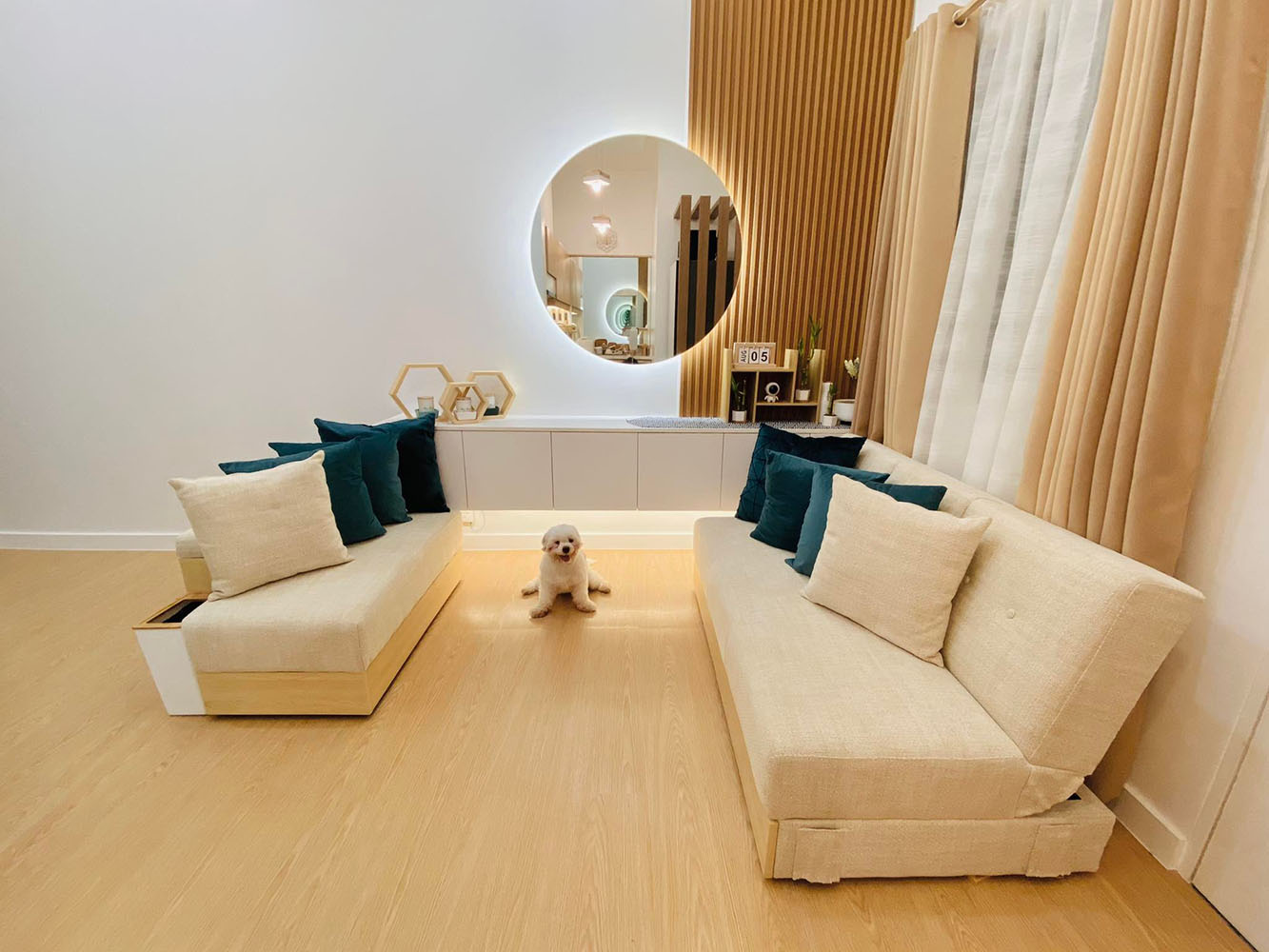 The chosen color mirrors the minimalist-inspired look of the entire unit. Danhills can easily transform the sofa bed into a more spacious seating piece when needed. Meanwhile, this part of the unit is completed with a round mirror and a wooden accent wall. Wall-mounted storage was also installed to avoid clutter.
Kitchen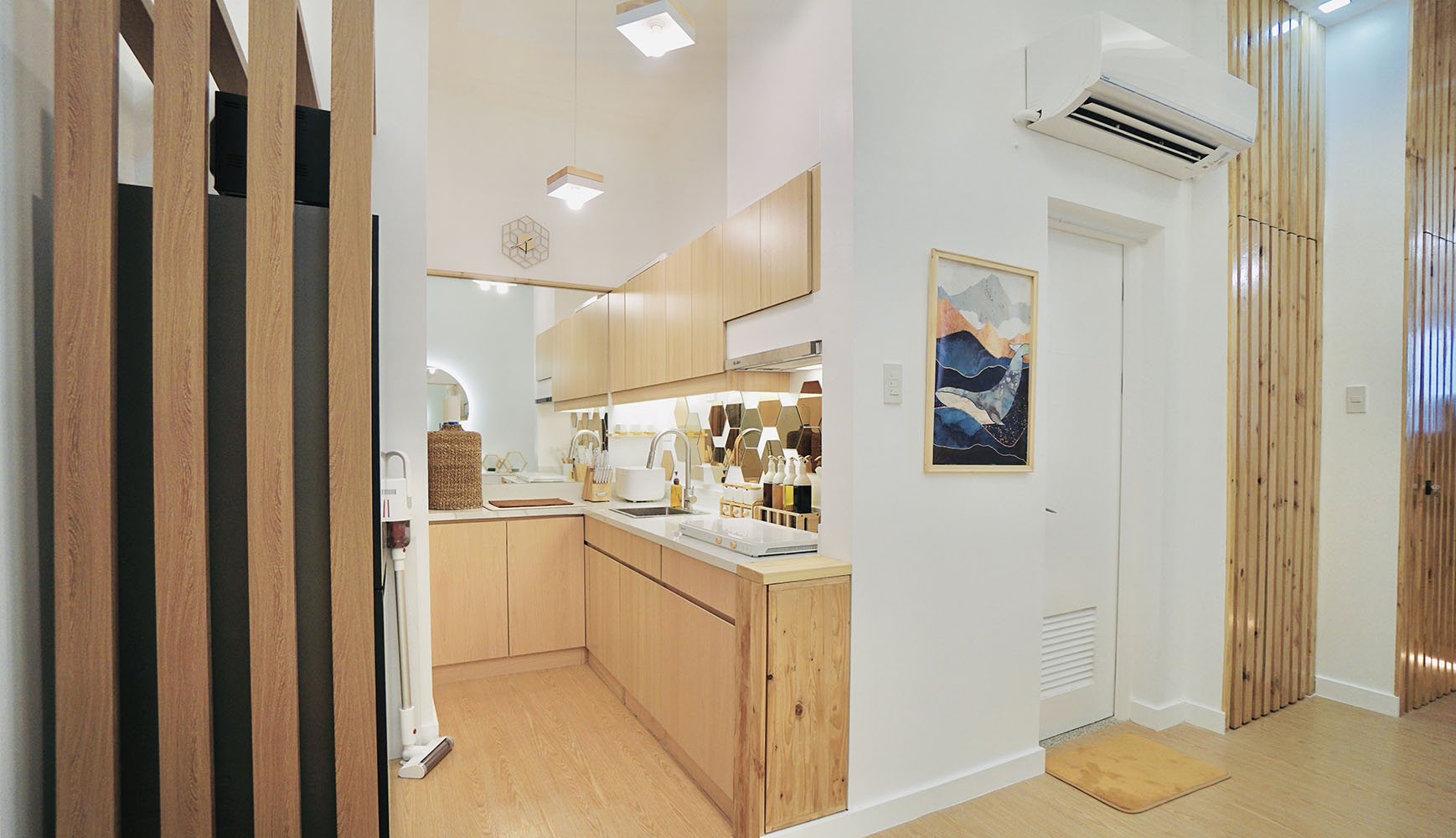 On the left of the main door is the compact yet functional kitchen. It has a wood-and-white palette which can also be seen in the chosen color of the cooking essentials.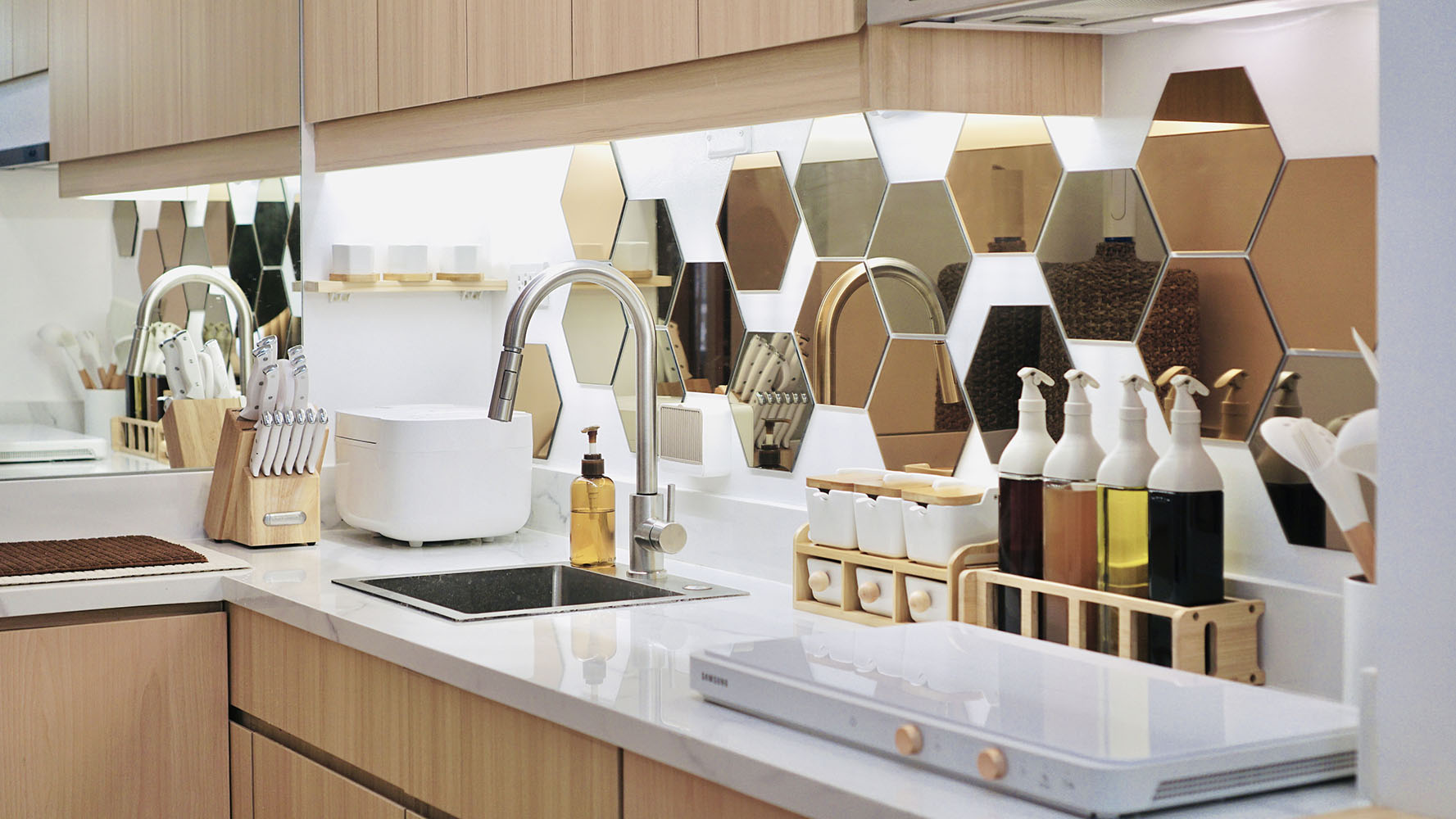 ADVERTISEMENT - CONTINUE READING BELOW
"I especially like my white induction stove from Samsung. It's sleek but still functional," Danhills shares. Sprucing up the wall above the sink are carefully arranged reflective pieces that double as accents.
READ: How a 26-Year-Old Achieved Her Tiny Minimalist Home
Pantry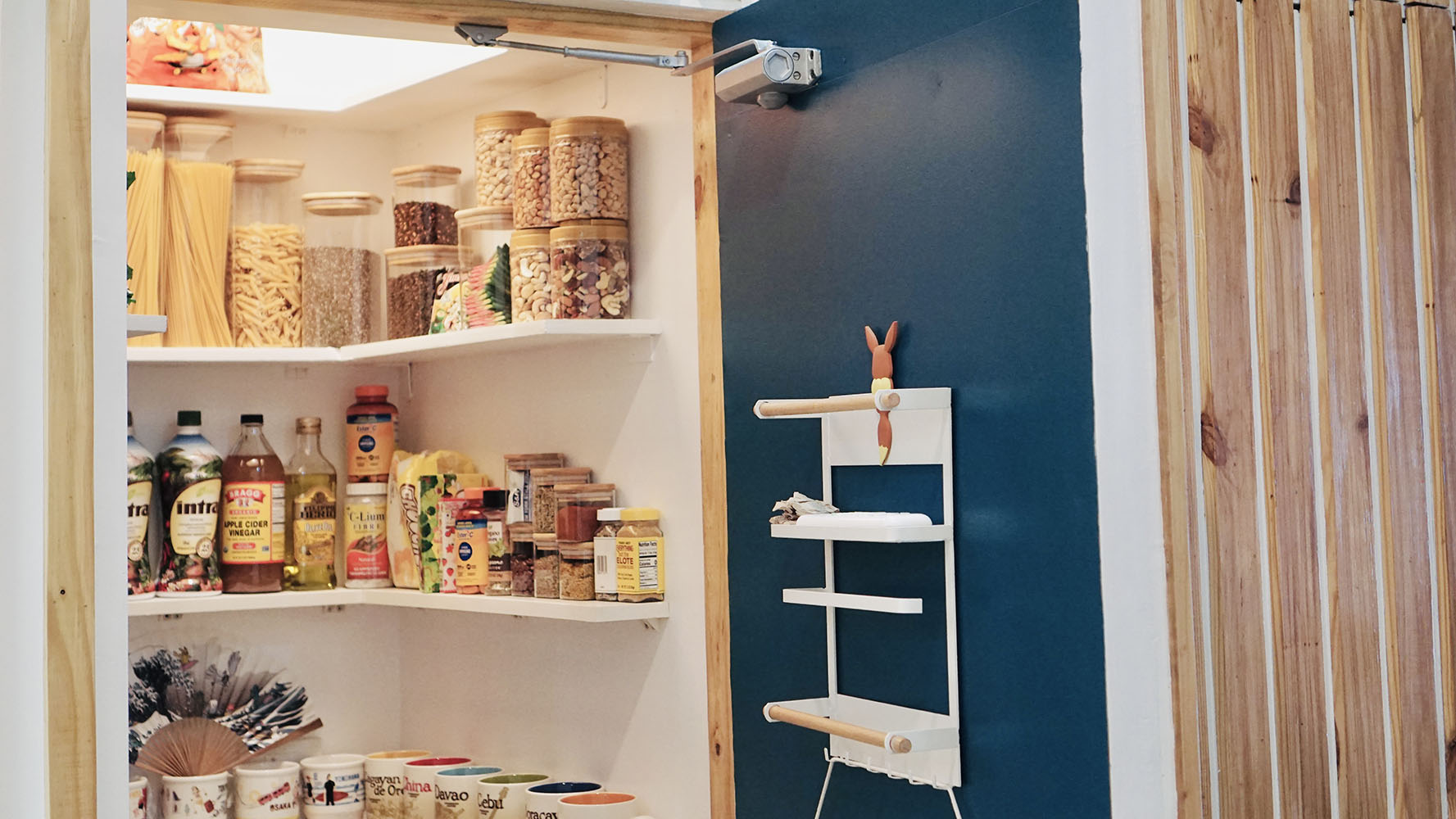 The pantry used to be a laundry area transformed into a nook where Danhills can keep food and other supplies. Hidden behind a concealed door with solid wood panels, it is always well-stocked and organized. After working in a hotel kitchen for five years, he knows how important it is to keep this part of the home neat.
Horigotatsu-inspired elevated area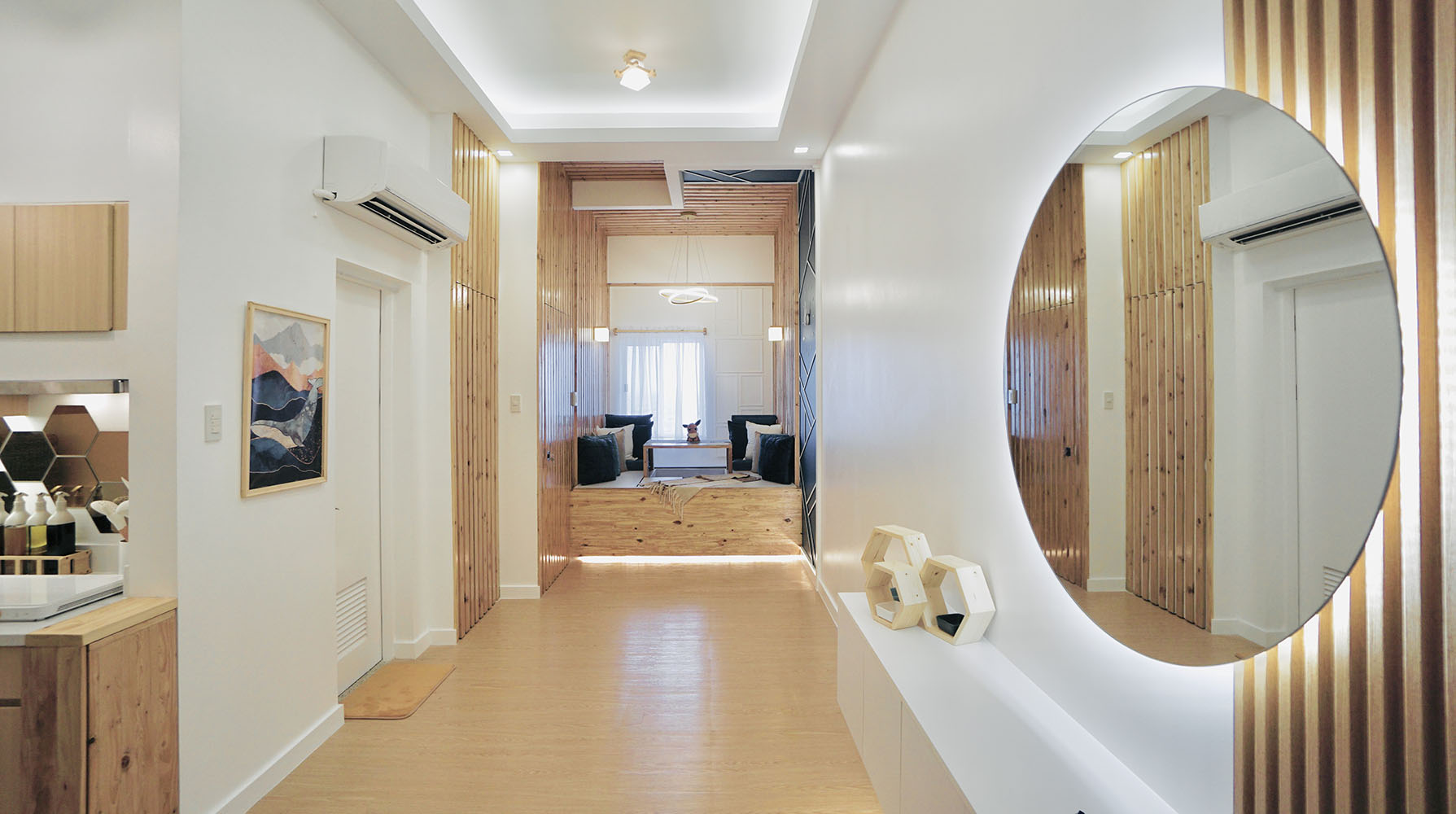 Danhills converted the two-bedroom unit he purchased into a one-bedroom home to let more natural light into the space. A wall was taken down to create space for the Horigotatsu-inspired area, an elevated space that can be used for dining and entertaining friends.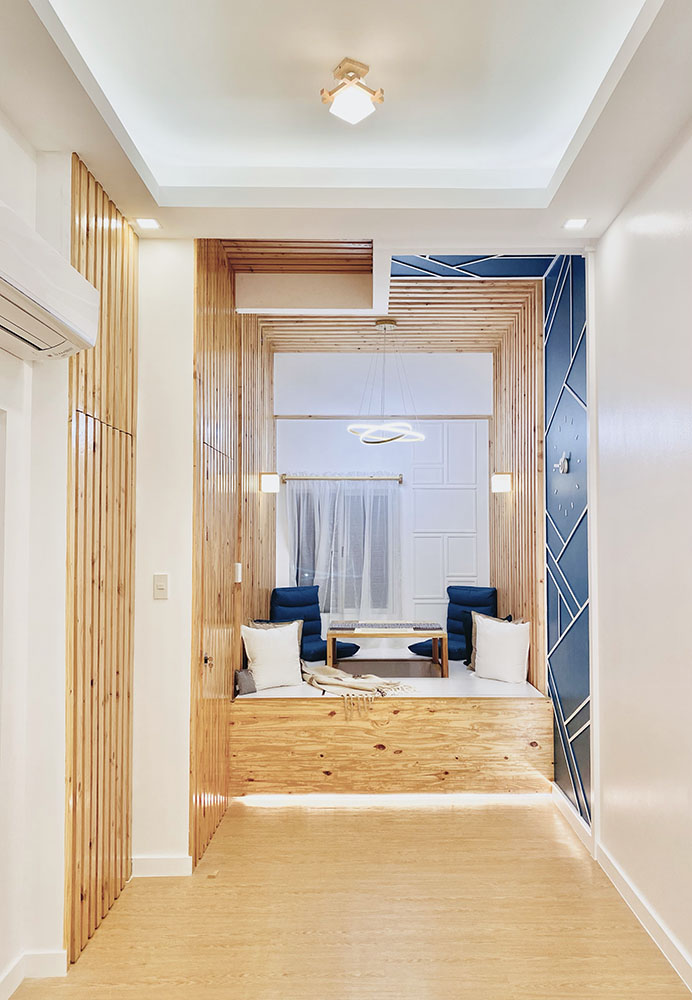 According to gurunavi.com, "a horigotatsu is a type of traditional Japanese table that's low to the ground and has a recessed floor beneath it so that people can stretch out their legs."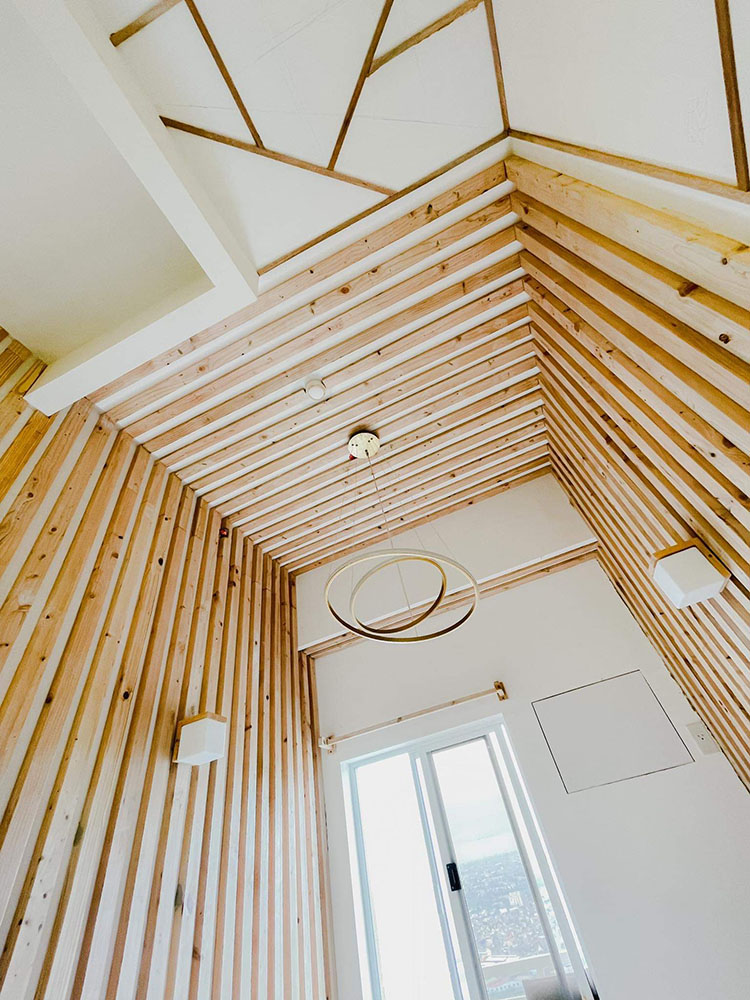 ADVERTISEMENT - CONTINUE READING BELOW
Wooden slats envelop the area adding warmth and serenity to the space.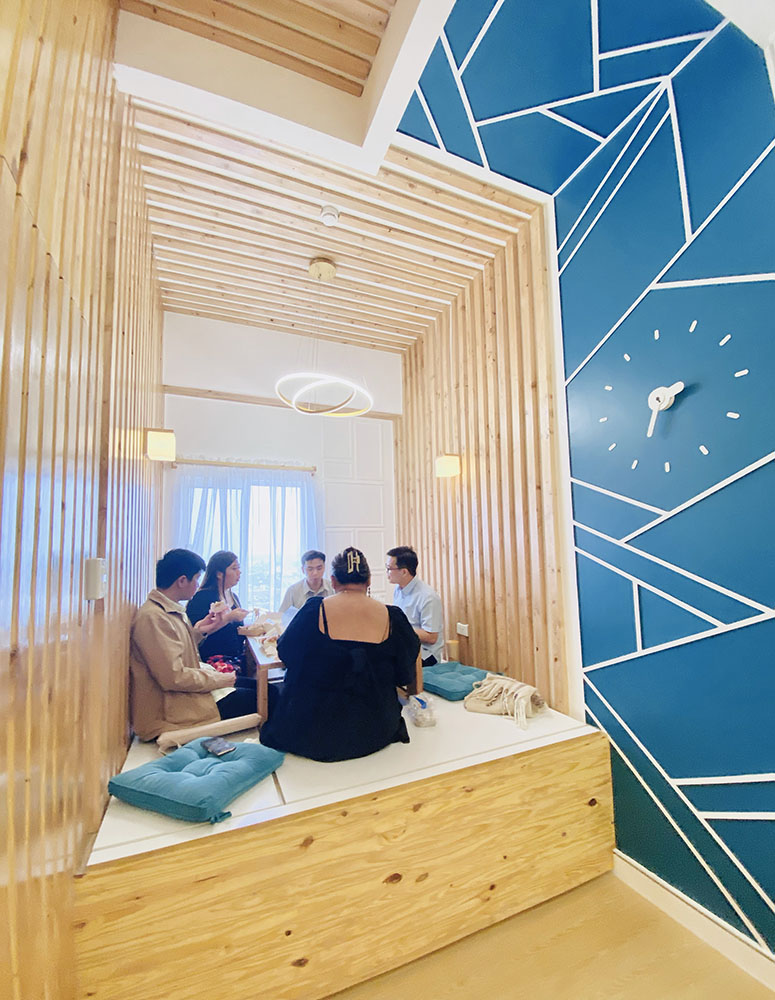 To avoid monotony, a deep teal wall also captures the attention of guests near the elevated area. "It's a color I liken to the deep blue ocean while also representing my passion for traveling. The color palette is like waves of the deep that crashes to the sandy beach," the owner explains.
READ: A Bright and Contemporary Look for a 10-Year-Old Condo
Work Area/Game Nook/Sleeping Space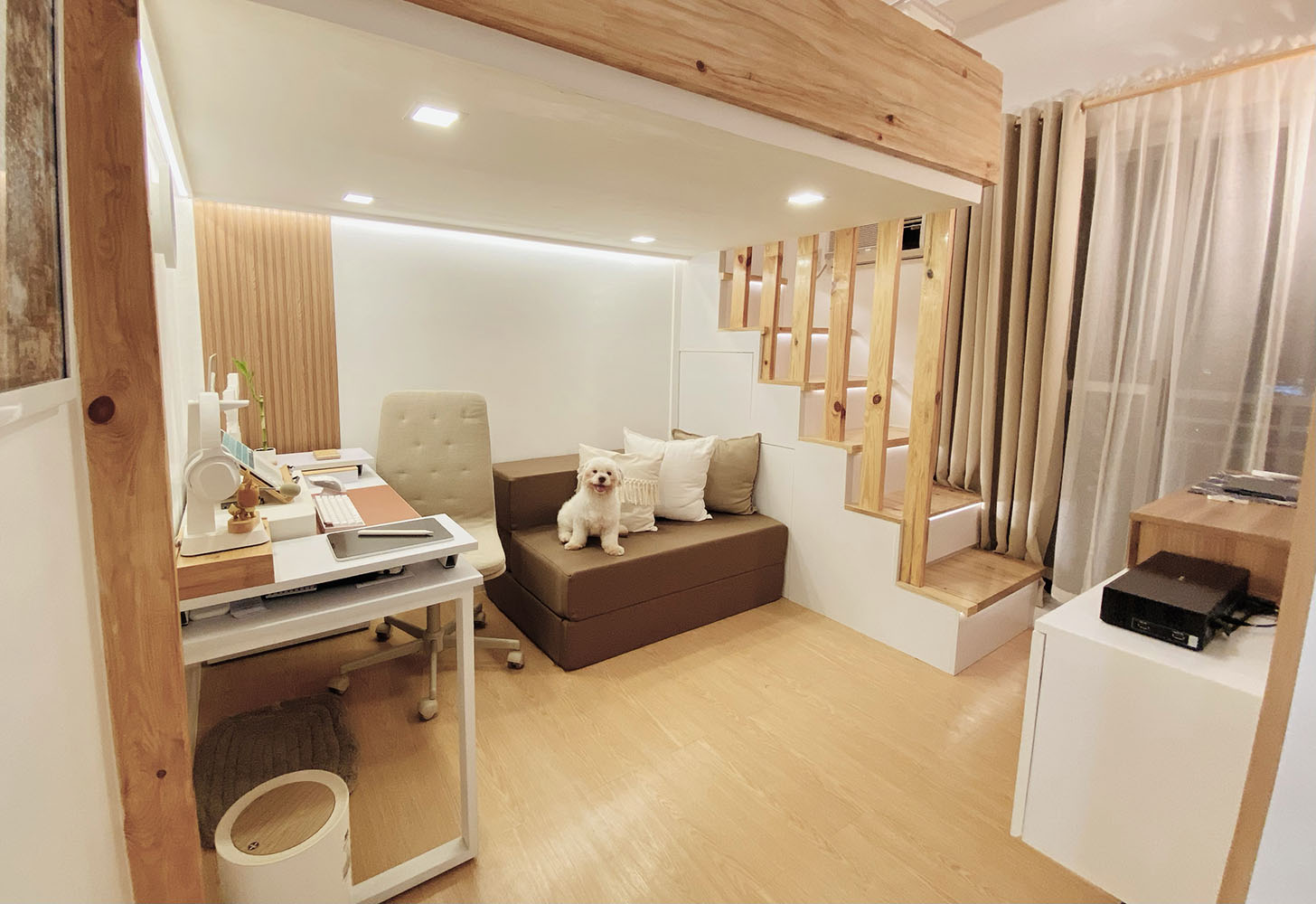 Danhills spends most of his time here either practicing the Japanese language or simply doing digital sketches.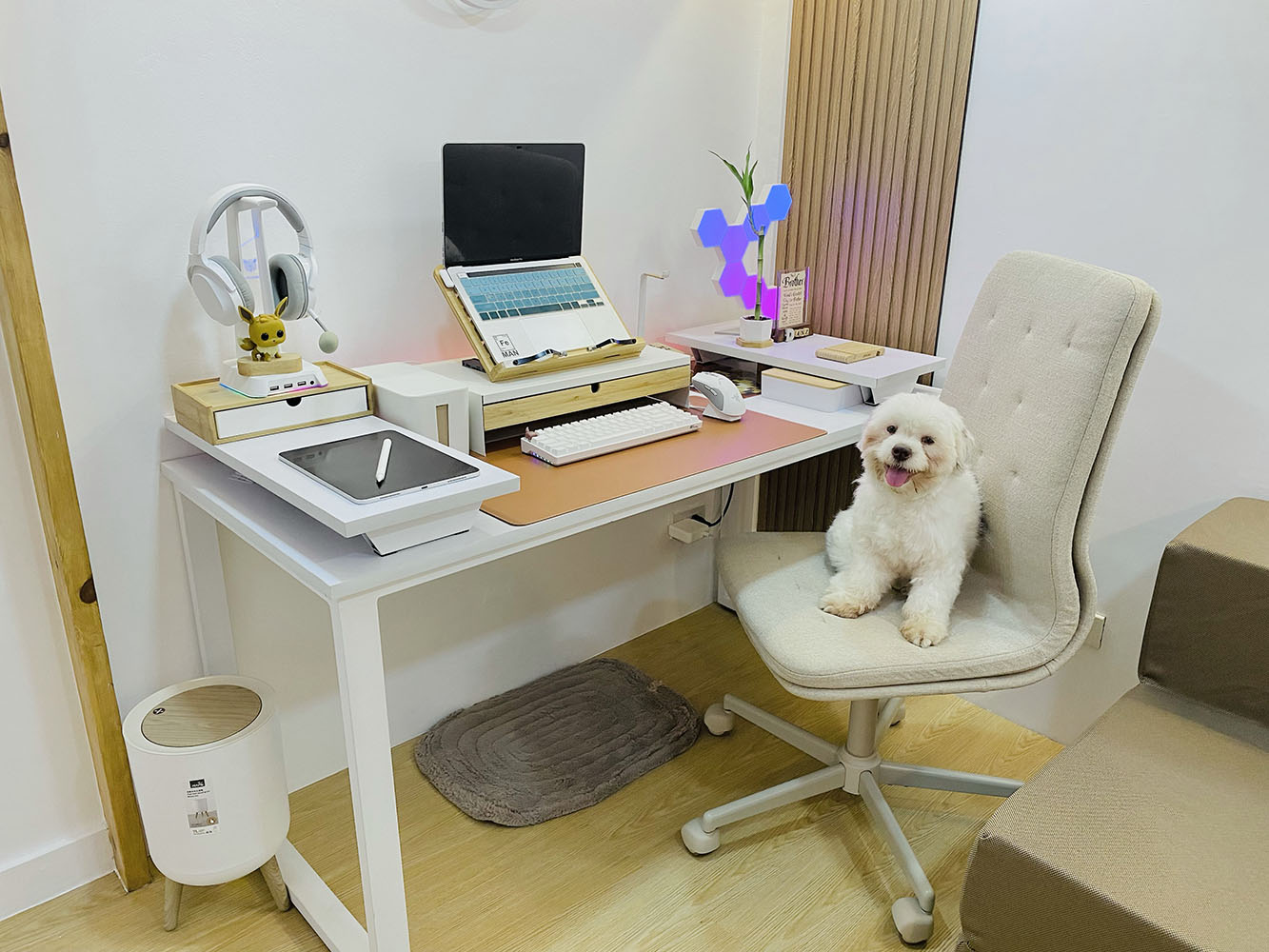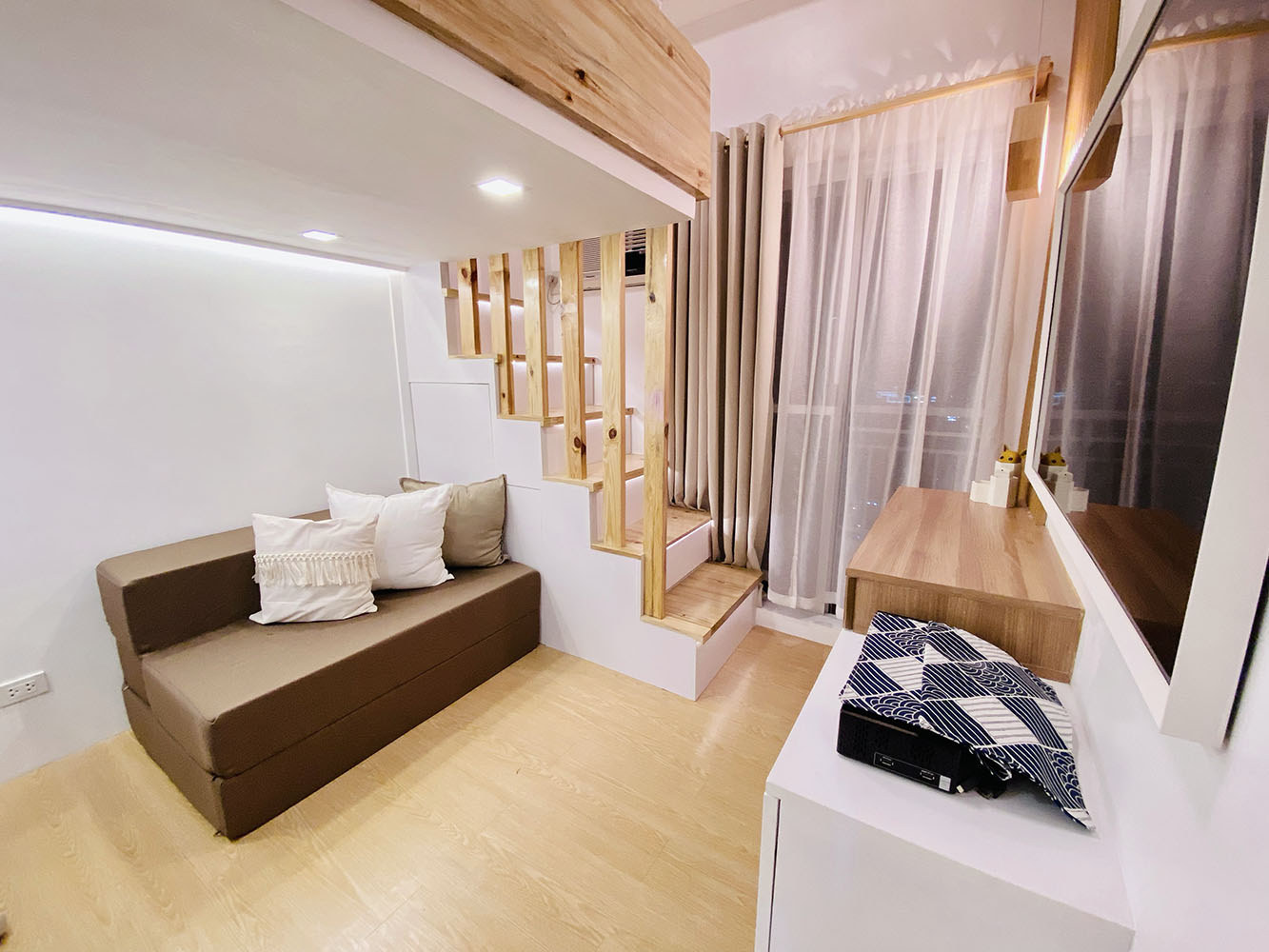 ADVERTISEMENT - CONTINUE READING BELOW
There's another sofa bed that can be transformed into an extra sleeping space when needed. Whenever he feels like it, the owner can spend time here watching movies and playing some games.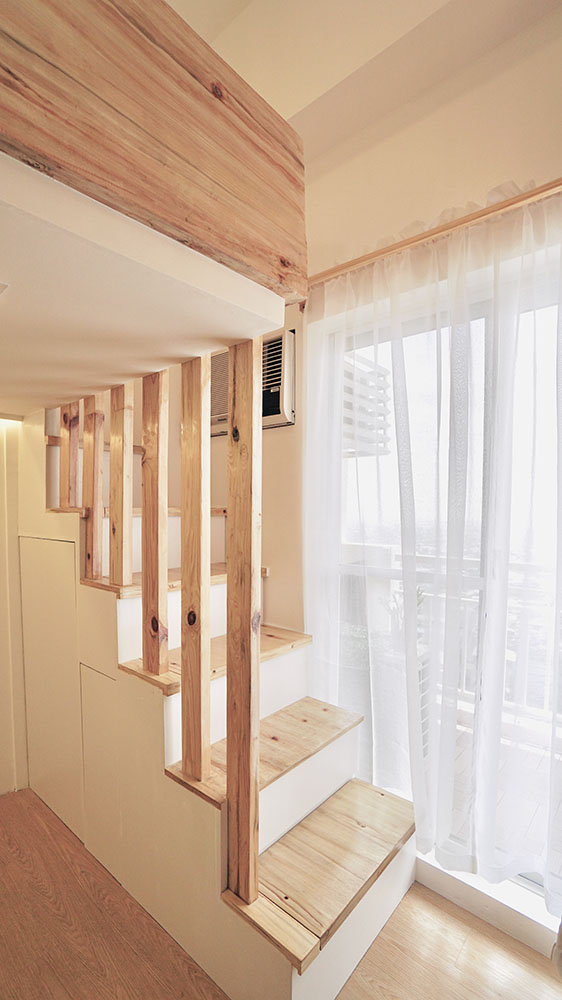 "The height of the ceiling is perfect for a loft-type bed," says Danhills. To maximize the space, the steps leading to the sleeping area also double as storage compartments.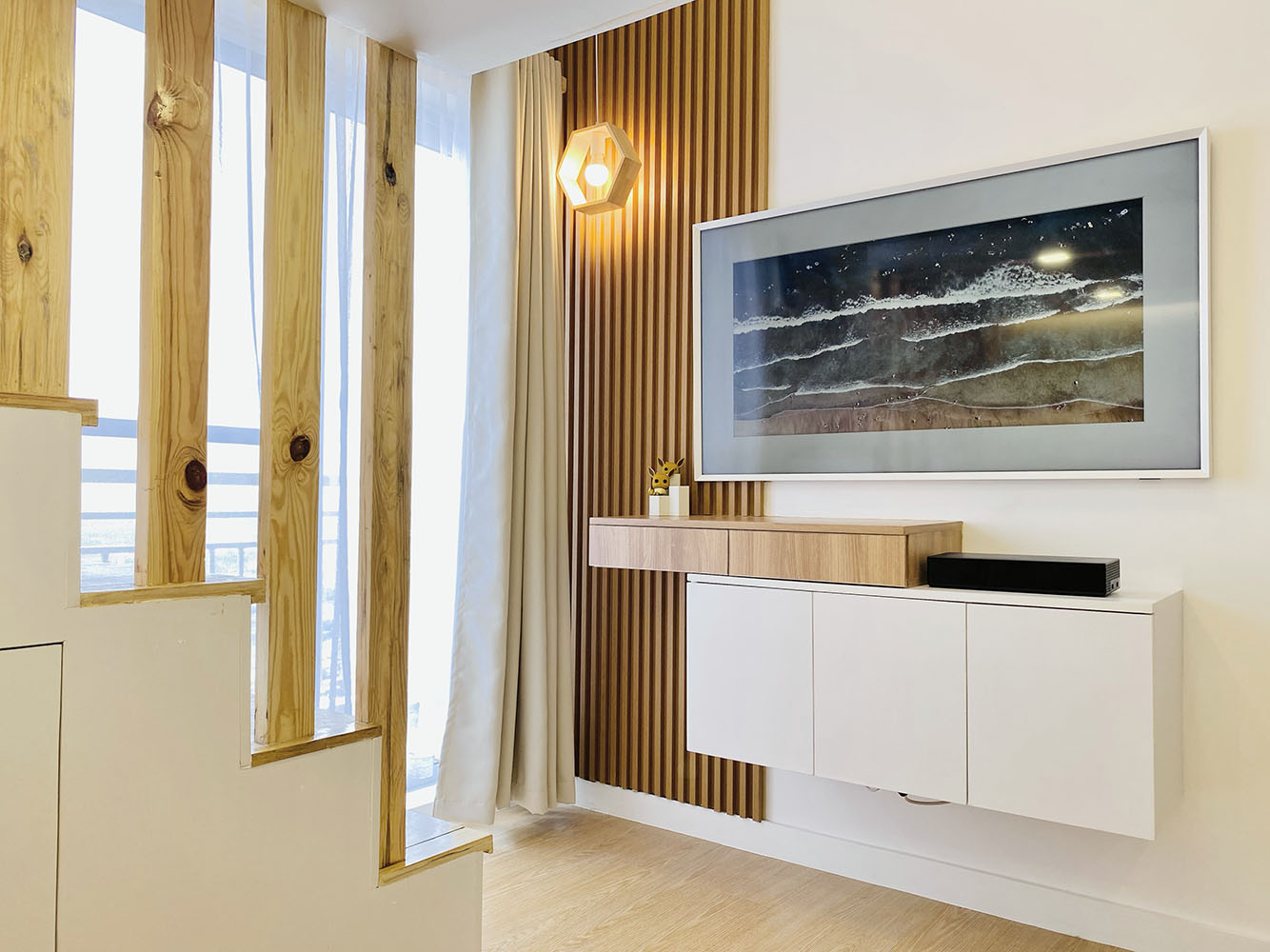 According to the homeowner, his condo unit also takes inspiration from #teamputi and #teamkahoy, and this is seen in this private space. Decor pieces and soft furnishings in other colors liven up the palette.
Bathroom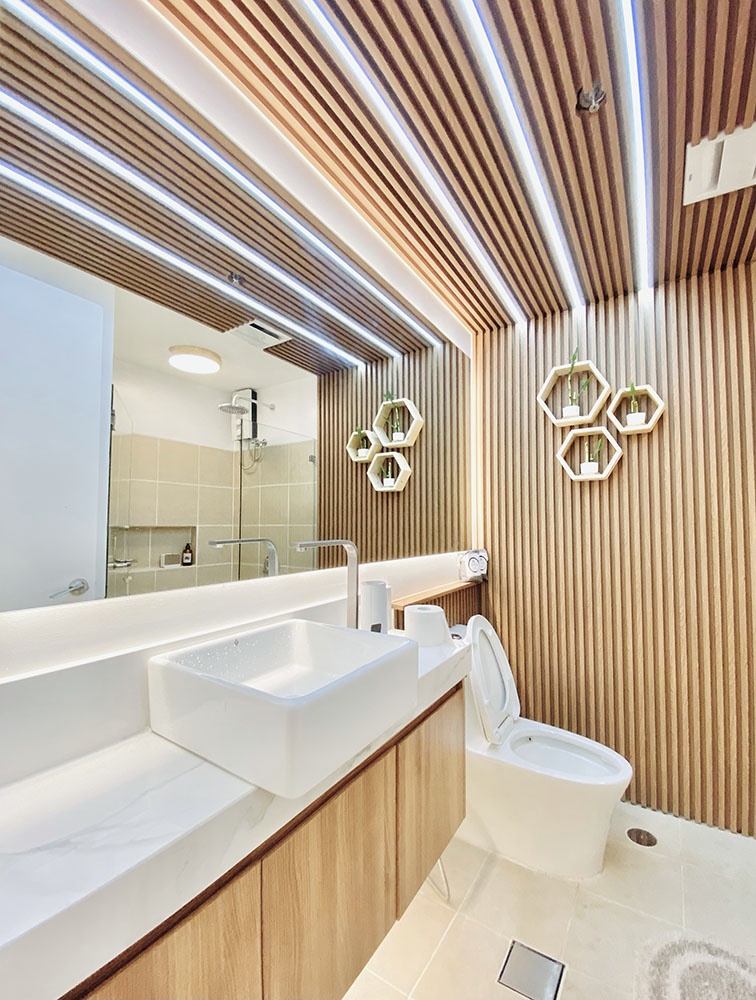 "I decided to turn the wall into a mirror to create an illusion of a bigger space," explains the owner. The accent wall in the T&B features PVC wood cladding that as seen on the wall and ceiling. LED lights were also added on the ceiling, behind the mirror, and underneath the cabinets to keep the area from looking cramped.
Balcony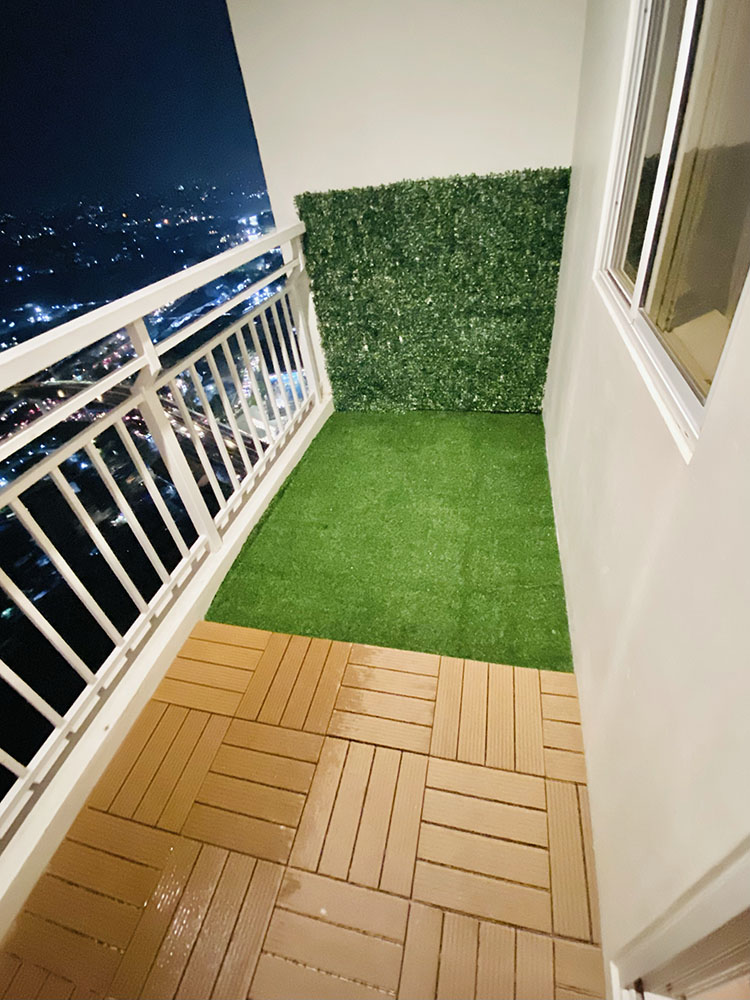 ADVERTISEMENT - CONTINUE READING BELOW
Danhills spruced up the compact balcony with decking tiles and faux grass "I'm planning to buy an egg chair and lights to complete the space. It's the perfect spot where you can admire the scenic view from the 47th floor," he muses.
Connect with Danhills and see his creative work on Instagram: @danjodesu
Interested to work with Arch. Faye Ison? You can get in touch with her via mobile at (0998) 970-2026.
More on Realliving.com.ph
Load More Stories