Decorating
5 Things You Can Do With Old Frames, According to a Crafter
Crystal Bautista-Valiente shares how she upcycled old frames that were about to be thrown away. Photography: Courtesy of Crystal Bautista-Valiente
Confession time. I have recently come to terms that I might have a problem when it comes to frames. Yes, frames. It seems I am not quite capable of getting rid of them, even the really battered and grubby ones. When I see an old frame, I see possibilities. Let me share with you some of the projects I've done at home. Take note that most, if not all of these are items I've just saved from getting tossed in the bin.
1. A fancy bulletin board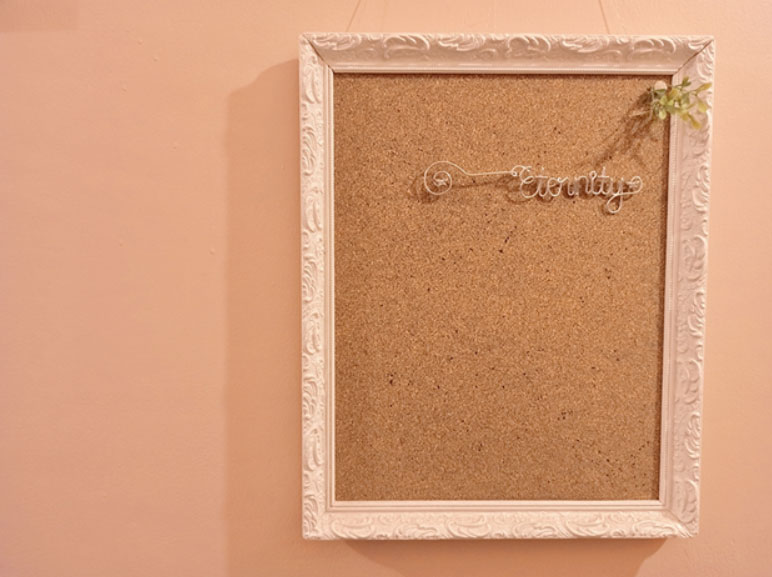 This is a vintage frame that quite possibly belonged to my grandparents at one point. It was empty, the glass was missing, and it was in the purge pile from one of my mom's decluttering sessions. With just a bit of paint and a thin sheet of cork I got from a local bookstore (I discovered you can actually get to choose from a lot of differently hued cork sheets!), this old frame was revamped into a pretty bulletin board. 
ADVERTISEMENT - CONTINUE READING BELOW
2. An eye-catching shadowbox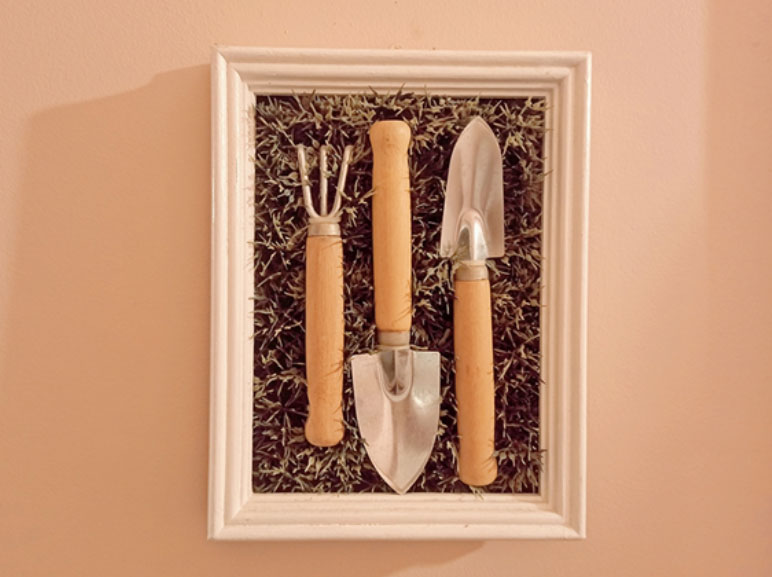 There is quite a feeling of accomplishment when one is able to breathe new life to an otherwise beaten up item from the past. I wasn't able to take a photo to show the original state of this frame before, but mine was, shall we say, not so well-preserved. The cutouts were dirty and already missing a lot of pieces. So I took those out and started on the fun bit of deciding exactly what to do with it. It was deep enough to be a shadow box so after painting it, I looked around for materials I had on hand. I had some faux grass we used as décor from a previous children's party and I used a section of that as the background. I then fastened small gardening tools I got from one of my grandmothers with some cable ties. In the end, I think we managed to come up with quite an interesting piece. 
3. A handy whiteboard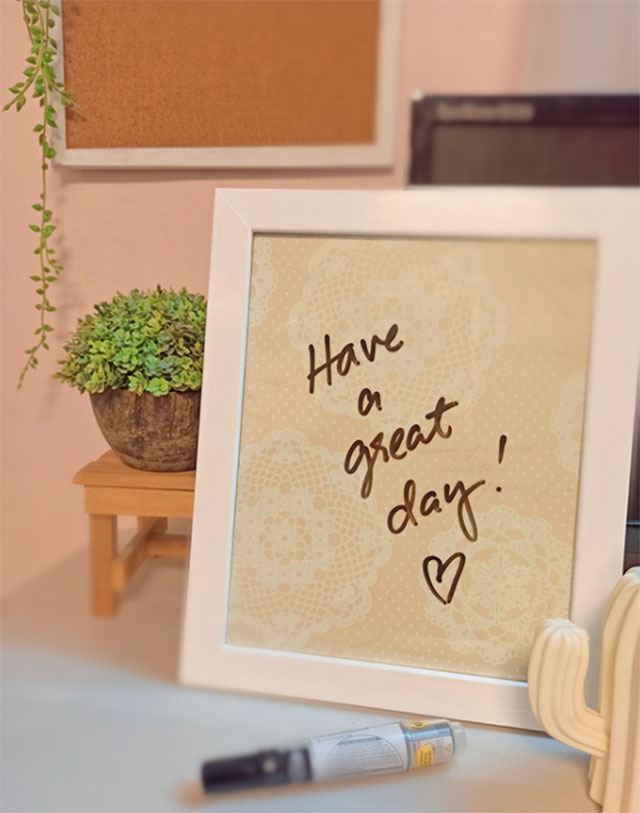 This is fairly straightforward. The old frame's dark green paint was flaking so some light sanding was needed. After a lick of paint, I picked out a sheet of wrapping paper. The design has to be on the lighter side so written notes would not be hard to read. The glass also makes it so easy to write on and a breeze to erase whiteboard marker ink off. 
4. A mini art gallery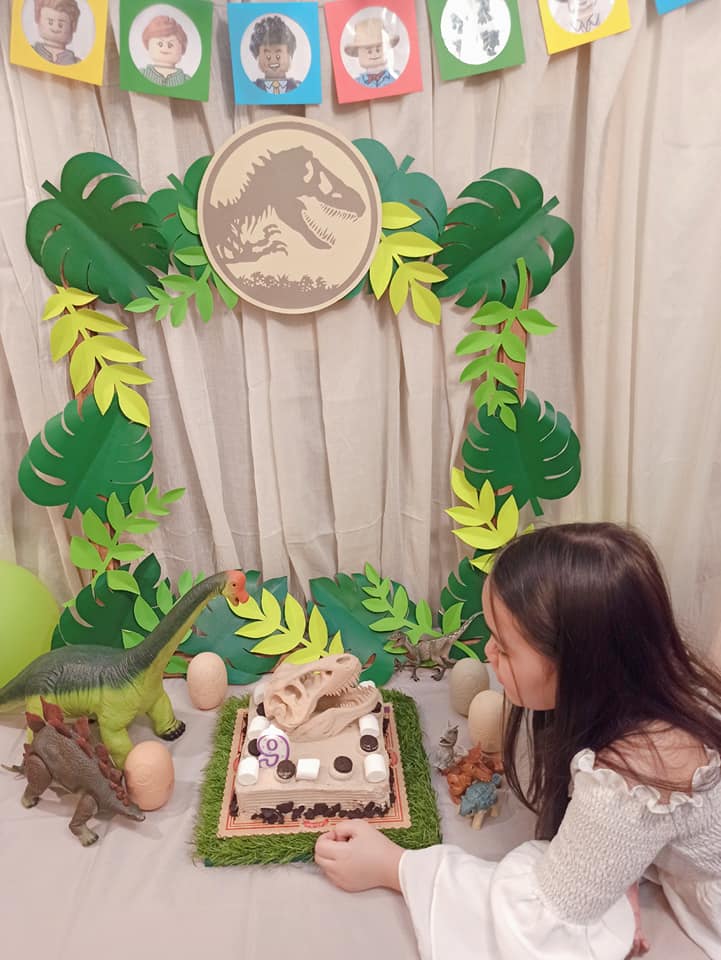 ADVERTISEMENT - CONTINUE READING BELOW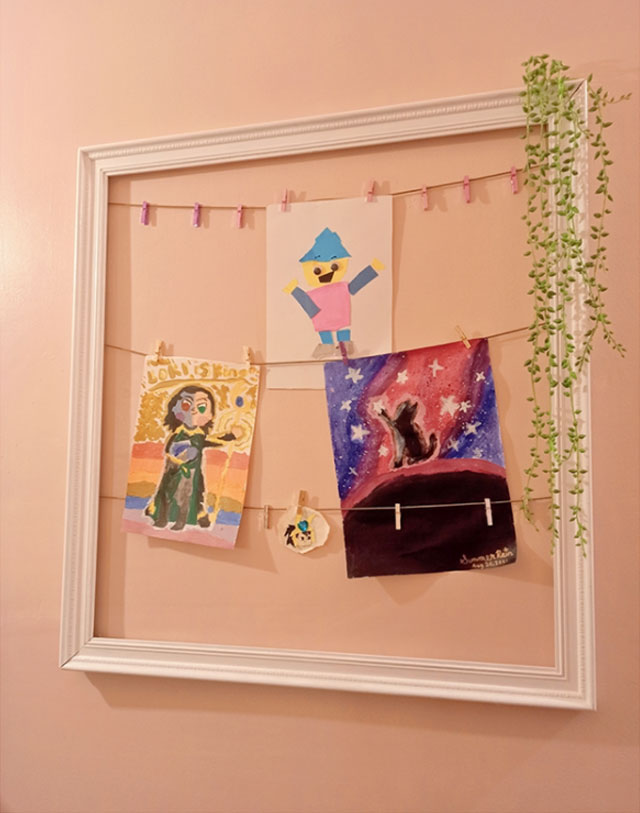 This large frame used to feature cross stitching. My cousin had the piece removed to make it possible for her to pack it in a suitcase for her flight home. To be honest, I was quite stumped because of the frame's size, but I hung on to it and kept it in storage for a while. Eventually, I used it as a backdrop for my daughter's birthday, as a scaffold of sorts for leaf cutouts. Soon after I had a eureka moment of transforming into a mini art gallery for the kids. This entailed painting (yet again), and attaching string at the back with a stapler. I had intended to use twine, but since there wasn't any available at the time of the project, we opted to use parachute cord instead. The kids and I fell in love with the result and it most definitely beats the fridge door by a mile. 
5. A sweet earring organizer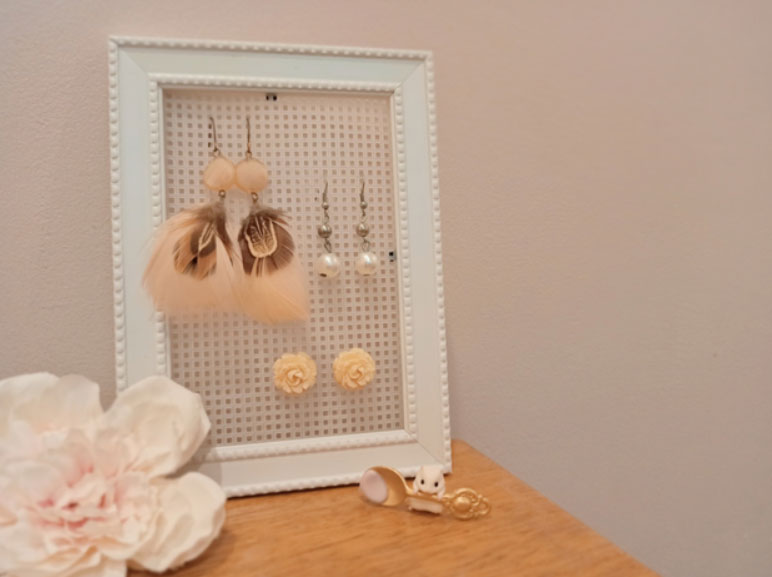 One of my grandmothers was very crafty and left me a bunch of materials, among which was plastic canvas mesh. Since I don't know how to do embroidery, I used them to make a floating hammock/log for my betta fish, and this cute earring organizer with a really cheap small frame. If you'd like to replicate this earring organizer project, plastic canvas mesh sheets are readily available in online shops. 
Crystal Bautista-Valiente is a mom of two, a pre-school teacher, an artist, and a crafter. She is based in Quezon City. 
* * *
Do you have any DIY  projects to share? Send them to [email protected], and we may just feature them next!
More on Realliving.com.ph
Load More Stories