Decorating
10 Ways to Make Your Small Living Room Look Bigger and Better
Don't let the small space limit your creativity when it comes to decorating! You deserve to have a beautiful home. Even if you live in a small space, there are plenty of ways you can turn it into a sanctuary you have dreamed of. Here are 10 tips to help you spruce up a small living room.
Invest in great seating
Seating is undoubtedly the most important part of any living room since it is where you spend family time or receive guests. Therefore, don't forget to invest in some quality seating pieces. Even if you have limited space, you don't have to confine yourself to small pieces. Instead, you can get a large sectional sofa.
Interior decorator and graphic designer Elle Uy tells RealLiving.com.ph, "Don't go small. People tend to put a lot of small furniture in a small space, which clutters up a room. I have seen a lot of small sofa sets out there that are not even comfortable. Use a normal size sofa that you can actually enjoy using, and just add one accent chair. A few key functional pieces [are] way better than a lot of small ones."
Stick to a consistent color scheme
A consistent color scheme is one of the simplest ways to tie any room together. Aside from making a space look cohesive, a color palette can also help guide you in choosing which pieces to put in that space. Select a couple of hues that go well with one another in deciding what paint to use for your walls and what you will use as décor.
For small spaces, neutrals and light colors are typically fail-safe choices, since these can help brighten up the room and make it look a lot more open. For instance, House Beautiful suggests painting your walls white to allow you to get a furniture piece in a bold color, which can then serve as the focal point of your space.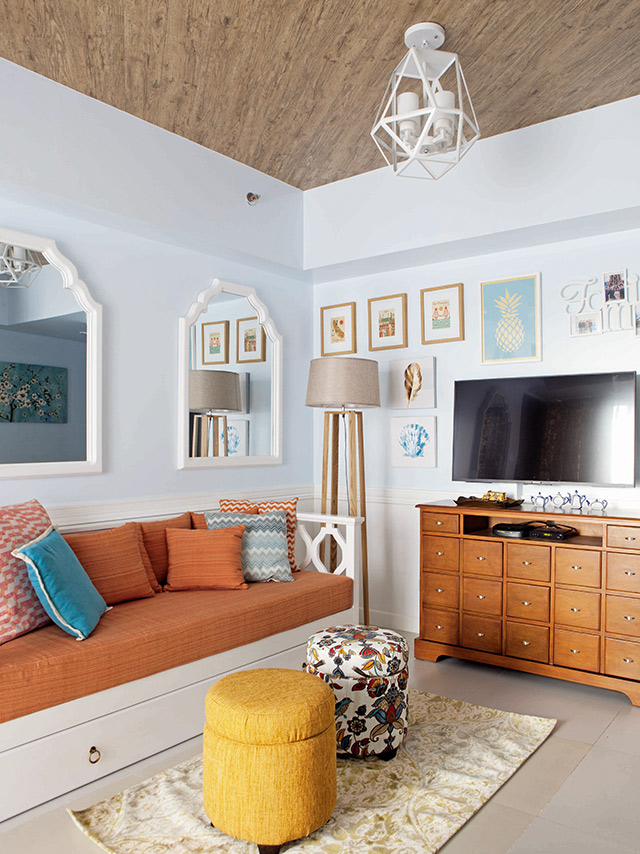 Like the space above? Take a tour around the home here. 
ADVERTISEMENT - CONTINUE READING BELOW
Don't be afraid to mix and match
Don't just stick to one color or texture because this can soon make your space look dated or boring. Instead, incorporate a couple of different materials and textures to keep things interesting.
"If you lean towards one style all the time, it can be monotonous. Go to the opposite end of the spectrum; always have a foil. Try to achieve a balance by using contrast," design consultant Carlo Tanseco tells Real Living.
Another way to make your living room look fresh is by making use of bold patterns. According to Apartment Therapy, it can help distract from how small the space is. Still, make sure to be smart in incorporating patterns, because too much of them can also make your space look overwhelming. Sticking to a color scheme can help you in this regard.
Mixing and matching is also a good idea when it comes to the furniture pieces you use. Instead of purchasing a standard sala set, you can try buying the pieces separately. This is another way to make the living room look visually appealing.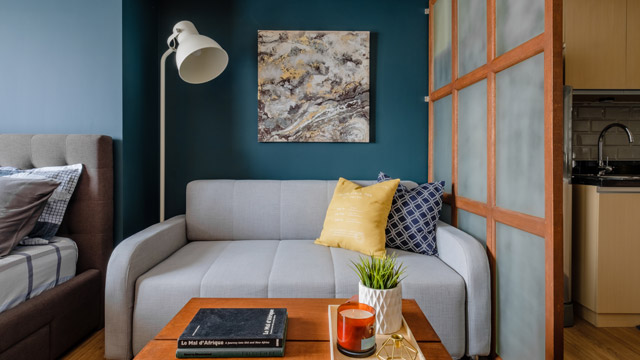 Like the look of this space? Take a tour around the home here. 
Get the right size of rug
You may not think of it as such, but a rug is a vital part of any living room since it can serve as an anchor for the rest of the pieces in the space. It also comes in handy if you have young kids who enjoy playing on the floor — a rug can help them feel more comfortable sitting there.
ADVERTISEMENT - CONTINUE READING BELOW
When choosing a rug for your living room, the size is crucial. Before you visit your go-to store, first measure the space. According to home furnisher seller One Kings Lane, if you have a small space, putting a rug in the center under the coffee table can help define your seating area. If you have furniture against the wall, it suggests having the two front legs of your couches on the rug.
Some experts say that large rugs can actually work in small spaces. House Beautiful says that a large rug doesn't break up the floor visually, therefore tricking you into thinking that the space is much larger than it is. Still, don't forego measuring your living room first to help you decide the right rug for you.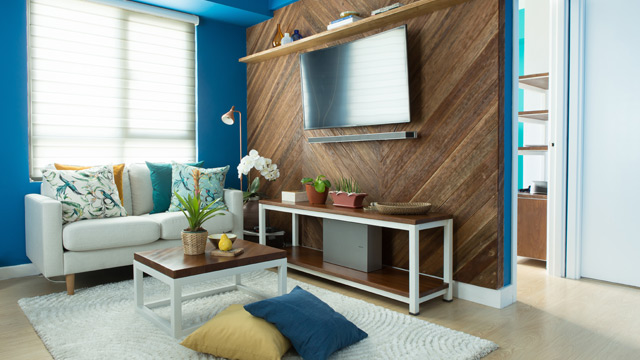 Like the space above? Take a tour around the home here. 
ADVERTISEMENT - CONTINUE READING BELOW
Incorporate smart storage
It pays to be smart about the storage solutions you use at home, especially if you don't have much space! Some examples of these that you can incorporate in your living room are vertical storage like floating shelves, built-in cabinets, and multifunctional furniture like ottomans with storage. The great thing about multi-purpose pieces is that they not only feature space for you to stow your stuff; they can also be used for other functions like extra seating, a makeshift coffee table, or a footrest.
Get rid of clutter
It's easier said than done, but decluttering is one of the simplest ways to maximize the space you have, especially if that space is limited. After you finally get rid of the things you don't actually use or need, it can be a lot easier to envision how you can actually use the space that is available to you.
ADVERTISEMENT - CONTINUE READING BELOW
Let there be light
There's just something about natural light that can make any space look much more appealing. You don't need to have large windows; just make use of every way you can let some sunlight into your space. One way to do this is by choosing breezy window treatments, like sheer curtains.
If natural light is not an option for you, you can always invest in great lighting pieces, like lamps or pin lights. These pieces can help create a cozy, intimate atmosphere in your space, making it a much more comfortable area for you and your family to just hang out in.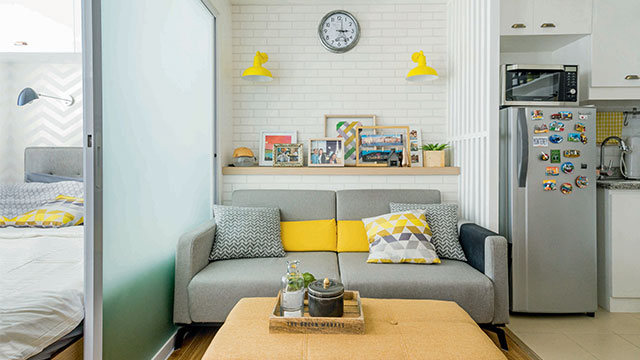 Like the space above? Take a tour aroung the home here.
ADVERTISEMENT - CONTINUE READING BELOW
Use transparent furniture
Interior designer Vera Villarosa-Orila tells Real Living that transluscent pieces can aid in making a space look less visually cluttered and trick the eye into thinking that there is a lot more free space than there actually is. Examples of transparent furniture you can find in stores are coffee tables and chairs.
Add some plants
It's always a good idea to incorporate a little bit of green to any space. Plants do not only beautify a space; there are also some kinds which can purify the air, repel mosquitoes, and even help you fall asleep better. On top of that, plants and flowers at home have been proven to ease anxiety, according to a study by the American Society for Horticulture Science (ASHS).
Make it your own
Finally, don't forget to inject your own personality to your living room! You can try adding some of your favorite decorative pieces or hang up family photos or artworks made by your child. It's your home, so it should also tell your story.
ADVERTISEMENT - CONTINUE READING BELOW
This story originally appeared on Smartparenting.com.ph.
* Minor edits have been made by the Realliving.com.ph editors.
More on Realliving.com.ph
Load More Stories