Decorating
This Brand's Unique Throws and Pillows Will Inspire You to Decorate Your Space
Meet Emilia's Home, your new go-to for all things home and pretty. Photography: Courtesy of Emilia
Spending more time at home has inevitably given many of us a huge redecorating kick. Whether you're painting your walls, filling your space with plants, or putting new knick knacks for every corner of your home, it's a productive and not to mention fun way to make the most out of your time indoors.
If you're a newbie at decor, getting a new rug or changing your pillow covers will refresh the look of your space without the heavy commitment. There's no need to get lost in the department store to find good ones either. For one, you can shop from the wide array of designs of online brand Emilia's Home—the internet's new go-to for Instagram-worthy accent pieces.
Emilia's Home
A quarantine-induced redecorating kick and a childhood dream of opening a store together have led long-time friends Janelle Inojales and Nicole Tejano to start their own label for decorative pieces. "Emilia's Home is a personal sanctuary filled with love mixed with curated home goods and original designs for everyone to enjoy," Janelle tells Real Living.
ADVERTISEMENT - CONTINUE READING BELOW
Their products include embroidered throws, rugs, and pillows with an aesthetic that fuses the best friends'—who are total opposites. "There's a side of Emilia that's very bright and lush, which is my kind of aesthetic, and on the other hand Emilia is also earthy, natural, and casual, which is Janelle's aesthetic," Nicole explains.
CONTINUE READING BELOW
Recommended Videos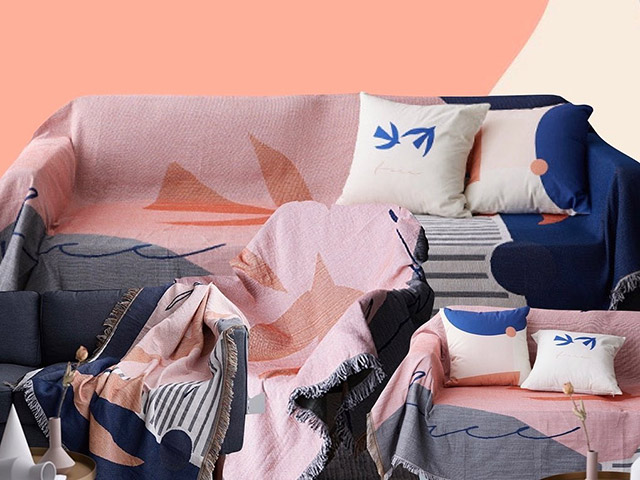 ADVERTISEMENT - CONTINUE READING BELOW
Nantucket, P1500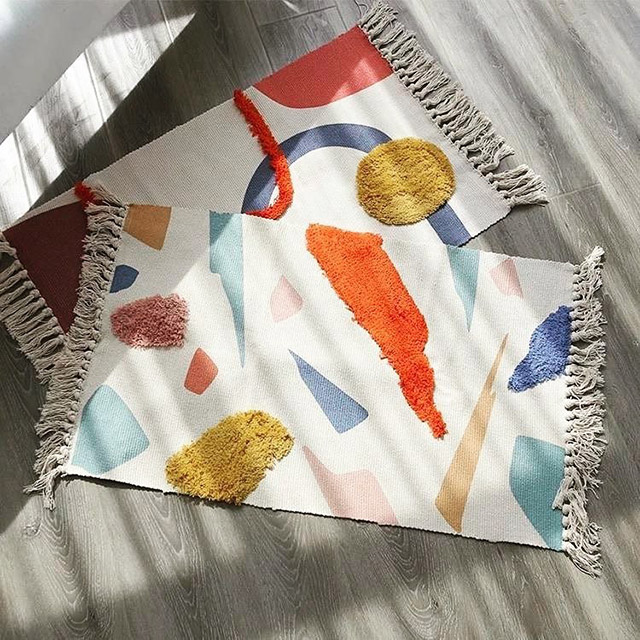 Juana, P1650
Their Best-Sellers
The brand began with curated designs, the most popular being their throws in Space, Cady, and Mermaid. In late June, they released their first original designs called Emilia La Filipina and Lios, which quickly became best-sellers. Janelle shares, "It was also our first experience in designing. We were really anxious about releasing our own designs and we're really happy that both [are] well-received by our clients!"
ADVERTISEMENT - CONTINUE READING BELOW
See their best-selling designs below, along with real reviews from clients!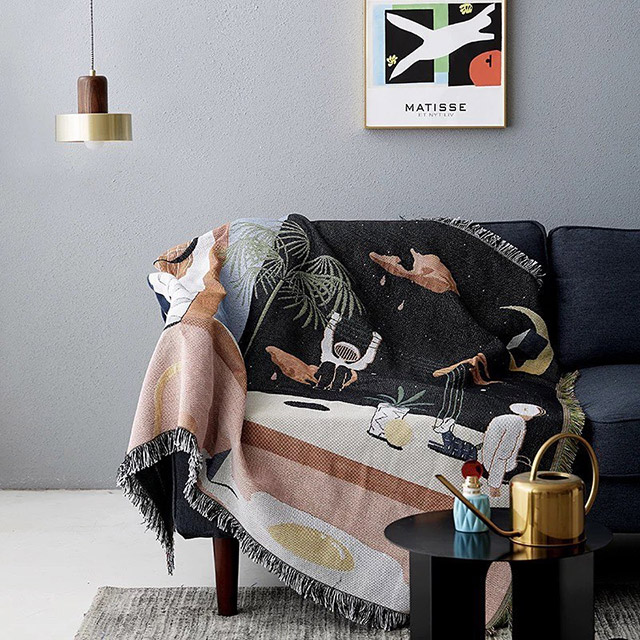 "This rug (Space, P1500) can actually be a throw blanket or tapestry but it just fits so well in my living room. It's inexpensive and easy to wash since it's not too thick! Plus the design is so kyot!" -Lauren Young
ADVERTISEMENT - CONTINUE READING BELOW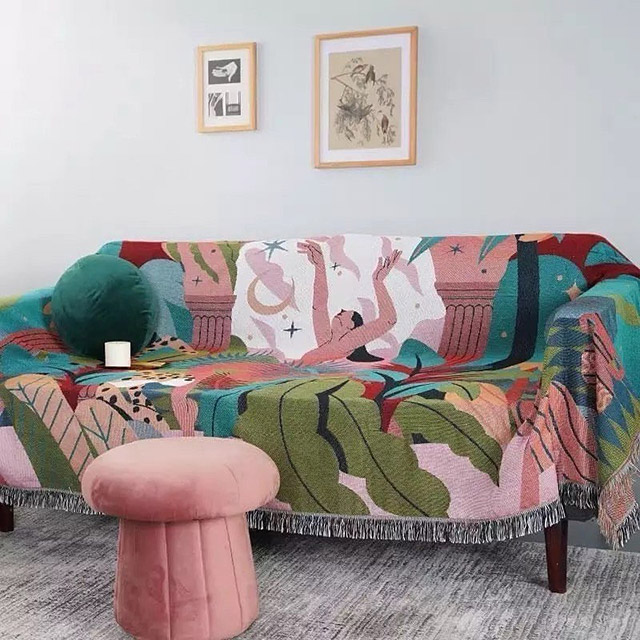 "It's (Cady Throw, P1750) so pretty! Super love it! Even my husband told me it's pretty and he is hard to please!" -Sharon Joy Saguil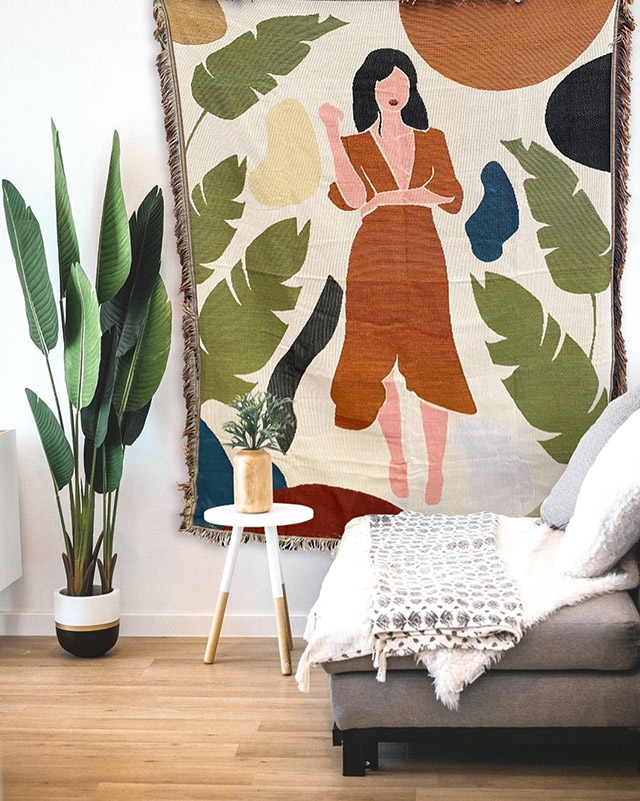 ADVERTISEMENT - CONTINUE READING BELOW
Emilia La Filipina, P1950
"From designs, to pricepoint, and to their AMAZING and Unparalleled customer service, I'm not surprised that this brand is steadily growing and reaching heights at the time of this pandemic. I'm looking forward to seeing more original designs, as their La Filipina collection definitely exceeded my expectations." - Elise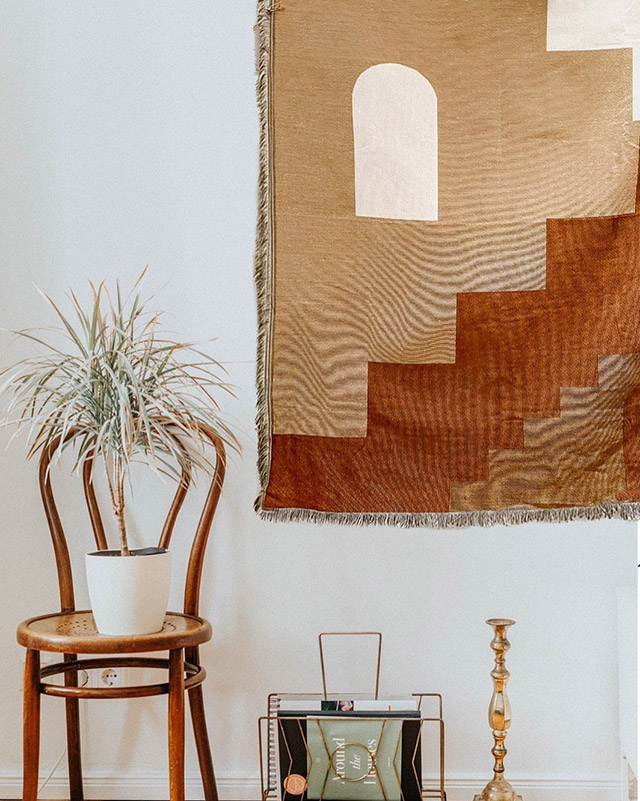 ADVERTISEMENT - CONTINUE READING BELOW
Lios, P1950
"Customers or what we call #EmiliasFriends can expect that all are items are handled with utmost care (and love). Emilia's Home is very personal to us and we'd like to our customers to feel that personal touch from the designs we curate and make to the packaging and personal note cards we send out to each client," Nicole assures.
Each item is also washed, dried, and ironed before delivery—in fact clients often comment on how good they smell. "We get that all the time when we deliver," she adds.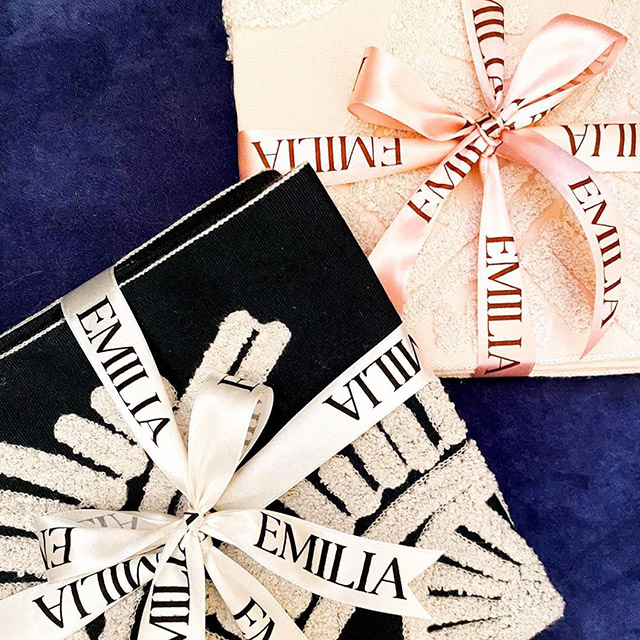 ADVERTISEMENT - CONTINUE READING BELOW
The Future of Emilia's Home
According to the two, more original designs and collaborations are coming to the brand in the future. "With the positive reception of our first two original designs, we've been working more and more on exclusive designs and at the same time continuously curating for pretty items," says Janelle.
Nicole continues, "We can't share exactly what we're working on for the year ahead, but I can say that we will have new products and several collaborations planned. We're very excited to introduce them to #EmiliasFriends (and future friends)! We really want to show our small community that as Emilia grows they can expect more fun, beautiful, and slightly crazy ideas from Emilia."
To shop Emilia's Home products, visit emiliashome.com
Looking for other ways to improve your home? Try to upgrade with the following:
Hanging Shelves Below P1,500 For Extra Storage in Your Tiny Home
ADVERTISEMENT - CONTINUE READING BELOW
Sleek Indoor Plants That Are Perfect for Condos
Kinds of Bedsheets That Can Keep You Cool
More on Realliving.com.ph
Load More Stories