Building & Renovating
What You Need to Know About Small House Design
Are you a fan of tiny houses and compact homes? Build the small house of your dreams with these tips. Photography: Shutterstock
A quick scroll on social media will give you an idea just how many homeowners are transitioning to small space living. It might seem surprising—especially if one has tons of belongings or have kids who would need their own space, but living in a compact home has benefits. It's not only easy to maintain and clean, it's cozier and decorating can be done in a breeze. If there's one thing we learned, though, any home big or small, can be special and comfortable.
The secret? Making the most of the space you have. Whether you've always wanted a small house or if binge-watching Tiny House Nation on Netflix has inspired you, we have a few tips that can help you plan your small house design. Keep in mind that these are general inputs you can use when you discuss what you want to achieve with a design professional. An architect or an interior designer can help you plan your small home better and their expertise will come in handy during construction.
ADVERTISEMENT - CONTINUE READING BELOW
What are the things you need to consider when building a small house?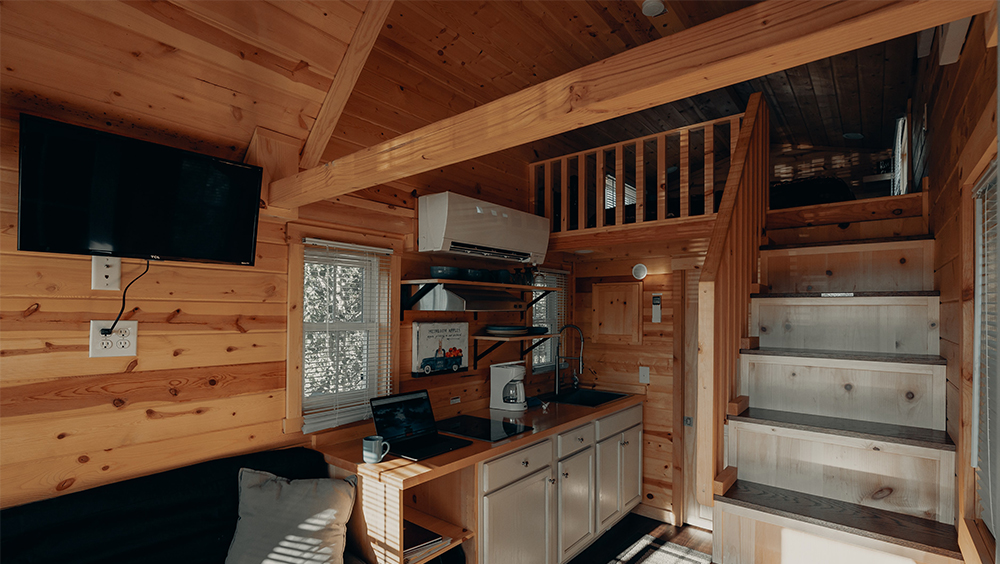 CONTINUE READING BELOW
Recommended Videos
How do you get started? It's one thing to want to work on a small house design and another to execute it. Do you simply find a lot, come up with a design, and push through with construction? In an article on Storey.com, Derek Diedricksen, author of Micro Living and Microshelters, building a small house shouldn't be rushed. "Rushing into a project without thorough contemplation, daydreaming, and planning could be one of the more expensive mistakes you'll ever make. Take your time. Do it right. It's not a race," he explains.
ADVERTISEMENT - CONTINUE READING BELOW
Use the photos you see and shows you watch as references, but don't let it pressure you into building your dream home as soon as possible. Be guided by the list of the things you need to take into consider when planning a small house design below:
1. Study the site of your future home.
Derek suggests knowing the place where you're planning to build your home well. Do you own it? Does it often get flooded? Where are you planning to place your windows? Will you have outdoor area where you can start a garden or an al fresco dining space? These things can serve as an extension of your space.
2. Do your research.
While you can have photos and videos you can use as pegs, researching about small house design also helps. As Derek explains, "go online, read books, check out plans, soak up all the ideas and inspiration you can." Having enough knowledge can also come in handy when discussing what you want with the design professional you're working with.
ADVERTISEMENT - CONTINUE READING BELOW
3. Experience small space living first.
Are you ready to live in a compact space? To see if it is something you can commit to, try spending a night in a tiny house rental or an apartment overnight (like an Airbnb!) to help you visualize your life in a small house. Take note of the home's layout and where you can incorporate storage nooks.
4. Identify what you need in the space.
To complete your small house design, you need to know what you need in the space and what you plan to complete it with. Do you need a home office, a separate room for your kids, and a laundry area? What are the appliances that you plan to bring in? Make a list and take these into consideration when you discuss the final design with the design professional.
5. Ask for professional help.
Derek says that, "you don't have to do every single thing yourself. It's perfectly all right, and often safer, to seek help." You can still call the shots on the look and feel you want for the home. A design professional can have inputs on the materials to use, how best to maximize the space, and make sure it's built to last.
ADVERTISEMENT - CONTINUE READING BELOW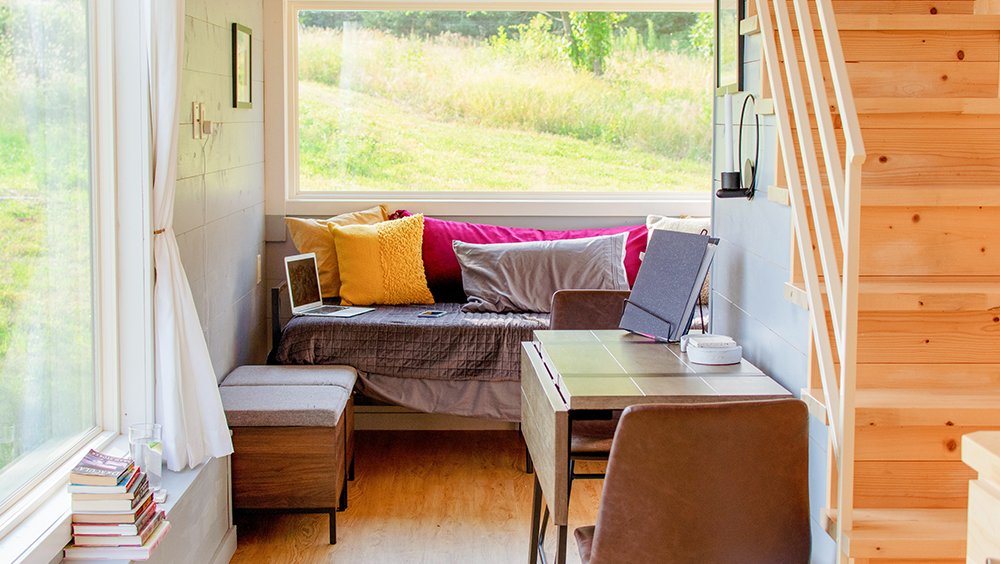 What are the non-negotiables in small house design?
The key to a successful small house design is how you will plan the layout and how you'll furnish it. Some homeowners opt for a minimalist house design or work on a small loft-type house design to make the most of the available floor space. When getting started with your plan, make sure you bring up the following with your architect or designer:
ADVERTISEMENT - CONTINUE READING BELOW
Open floor plans
An open floor plan gives you free flowing spaces that are flexible and can be modified according to your needs. As explained by linesmag.com, "an open layout, which is the one with no doors or walls between zones, might be solution to make the space look and feel expansive."
Window placement
Big windows can let in plenty of natural light and breeze. Depending on the aesthetic you want to work on, you can have picture windows, floor-to-ceiling, or side-by-side windows.
Lively color palette
The wood-and-white combo can instantly create a homey ambiance, but if you want to stand out, you can experiment with a neutral color palette. Mix-and-match grays with pale blue and lilac. Playing with textures is also key to keep your space from being boring. You can showcase these through soft furnishings to keep your home from being cluttered.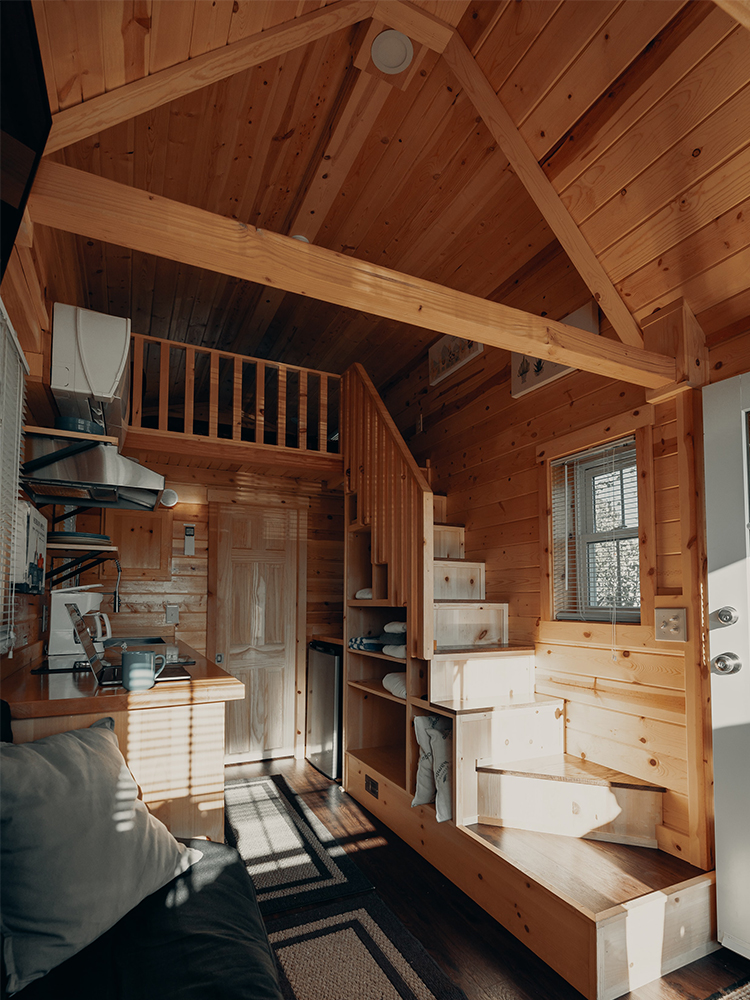 ADVERTISEMENT - CONTINUE READING BELOW
Multipurpose furniture
Similar to how you furnish a condo unit or a small apartment, multipurpose furniture pieces are must-haves in a small house. Choose furniture pieces that can be easily moved around when needed or items that can be used in different ways—think foldaway tables, stackable chairs, and bench seating that can double as storage.
Versatile areas
In most small house designs, the different areas don't just serve one purpose. Your living area can also work as a dining nook or a home office, while the kitchen can also be a dining area. There are also instances when the sleeping area or a loft-type area can also serve as the study room or sitting room.
Built-in storage
The key to keeping clutter at bay is turning empty corners into storage nooks. According to build-review.com, "built-ins are the savior of small homes. They don't stick out into a room or take up space. Rather, they're simply part of the wall, floor and furniture." Your designer can expertly incorporate pull-out storage and hidden niches where you can keep your essentials.
ADVERTISEMENT - CONTINUE READING BELOW
How to achieve small minimalist house design
It's safe to say that clutter is a big no-no in a small house design. If you're leaning toward a minimalist lifestyle, it needs to be one of the first things you need to address after taking into consideration the previously mentioned ideas.
Be guided by the principle of "less is more." As linesmag.com explains, "minimalism aims to find the beauty in function, by voiding the unnecessary, distracting elements, and allowing function to dictate an object's form to perfection."
To ace small minimalist house design, allot space for the essentials and work on achieving a streamlined and harmonious aesthetic. A minimalist aesthetic can also keep your home cramped, taking away the attention to the size of the space.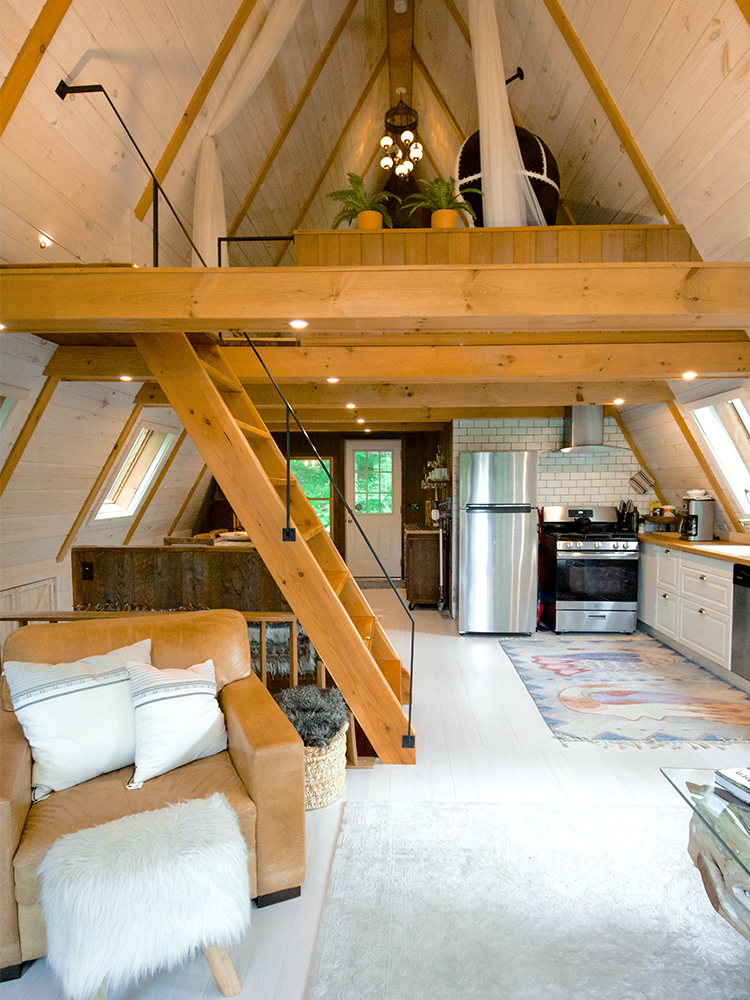 ADVERTISEMENT - CONTINUE READING BELOW
Looking into the possibility of a small loft house design
Small homes have limited floor space, encouraging homeowners and designers to maximize the available vertical space. This is where a loft-type design comes in—many prefer using the ground floor as one big common area with the loft serving as a more private, sleeping space.
According to build-review.com, "small homes often come with the advantage of having high ceilings. This allows spaces with limited square footage to still feel large." To further make the most of vertical spaces, you can hang shelves, install lighting, and wall-mounted storage.
Aside from using the loft area as the bedroom, it can also be utilized as a home office, a study area, or a space where the owner can showcase his or her passion—may it be books, arts and crafts, or music. The possibilities are endless even in a small home.
How else can you make the most of small house design?
ADVERTISEMENT - CONTINUE READING BELOW
You can always count on tried-and-tested small space hacks to make the most of your compact home. Keep in mind the following ideas when working on the design of your small home:
1. Make magic with mirrors.
Reflective surfaces can create an illusion of a bigger space. You can install one long mirror or take inspiration from fellow homeowners by installing multiple panels that can moonlight as wall accents.
2. Be creative.
If you're bringing in old furniture pieces from your former house, see which ones you can add to your small house. Bulky chairs can be used as side tables and lighting pieces can always be reused.
3. Opt for a day bed.
No guest room? No problem! A day bed in the living area can help you create an instant extra bedroom when needed. Make sure you pair it with two fluffy pillows and a throw.
4. Mount your TV.
ADVERTISEMENT - CONTINUE READING BELOW
Doing so saves you a ton of floor space which a console can eat up.
5. Think about the design of your kitchen.
An extra dining table can take up space, so if you're living solo or with a partner, a kitchen counter can work as a dining nook. Just pair it with comfy yet pretty barstools.
6. If you need a dining table, make sure you measure!
Every inch of space counts in a small home. Before you buy a table, don't forget to measure the area where you intend to place it. This way, you'll be sure that it won't block any pathways going to and from the dining nook.
7. Use furniture or soft furnishings to create zones in your home.
Just because you don't have walls doesn't mean you can't separate the different areas in your home. Using shelves, tables, even rugs creatively can help you define one area from the next.
ADVERTISEMENT - CONTINUE READING BELOW
8. Add storage wherever you can.
If you have a loft, the stairs leading to the bed can be sturdy drawers where you can keep some of your things.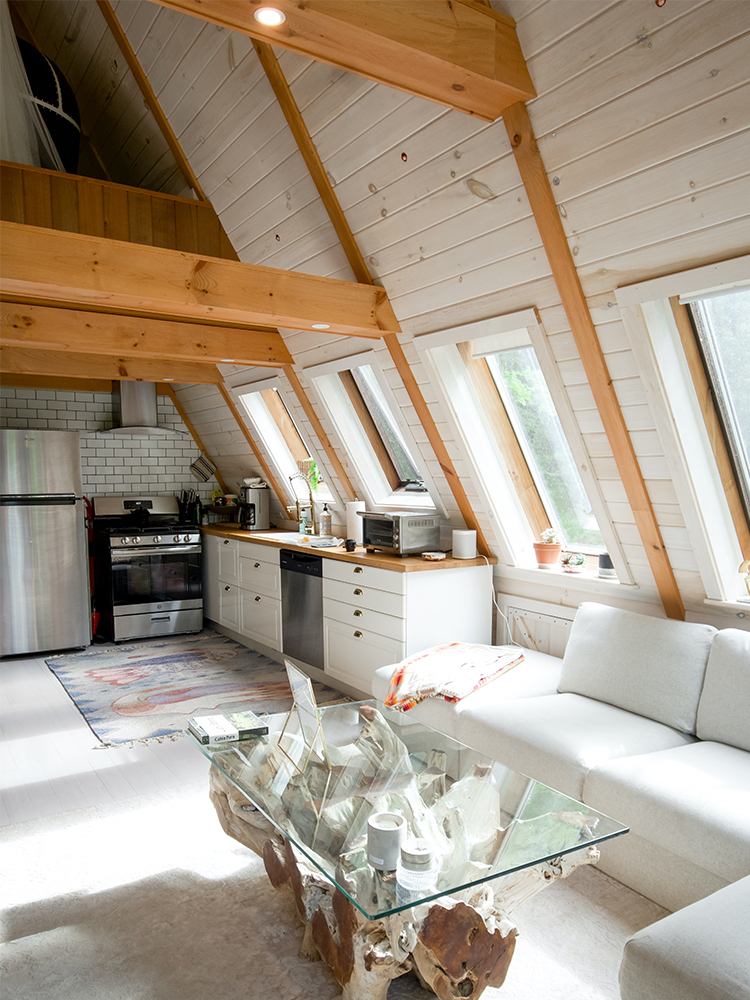 9. Edit your décor.
As explained by House Beautiful, "you don't have to display everything…nothing makes a room smaller than clutter." Pick the pieces you will display—it can be your favorite piece or a conversation-starter.
ADVERTISEMENT - CONTINUE READING BELOW
10. Downsize if you can.
Given the limited space you have, it might be best to let go of unnecessary things that are just taking up storage. You don't need to throw away or donate items in one day. It's a process you need to go through. An article on Storey.com says, "downsizing isn't an overnight endeavor. It's personal, painstaking, and tough, and it will take you three times as long as you think it will."
11. Decorate with plants.
Potted plants can instantly liven up a space, more so if it's compact. Linesmag.com explains that, "plants are a wonderful way to add depth to a small living room." You can add small plants in corners, on shelves, or even hang a few of your favorites.
To nail a small house design, you need to think about how you'll use every area, what you'll do in it, and how you intend to live in the space. It's also important to decorate with intention – it helps if your chosen décor serves another function. According to build-review.com, "when it comes to small living spaces, every detail matters."
ADVERTISEMENT - CONTINUE READING BELOW
From the materials and paint you'll work with, to the décor and furniture—each must be chosen and used in a clever way. A design professional can guide you in making your dream small home a reality by providing expert suggestions and advice. Don't let a small floor area limit your creativity in completing your space. Remember, you can always live large in a small house.
 * * *
Have you recently spruced up your room or renovated your home? We'd definitely love to see the result! Send clear photos (with your full name, city address, and accompanying kuwento) to [email protected] with the subject "DIY Makeover" and we may just feature your DIY project!
Real Living is now on Quento! Enjoy more of our stories by clicking here to download the app.
More on Realliving.com.ph
Real Living is now on Quento! Enjoy more of our stories by clicking here to download the app.
Load More Stories