Building & Renovating
Want to Build a Small House? Architect Shares a Cozy and Practical Design
Architect Oliver Austria shares a minimalist and self-sustaining design for a 30sqm home Photography: Screenshot from Youtube/Oliver Austria
After deciding to finally build a home, the next step involves setting a budget for the project and making sure it has everything you need so you can live comfortably. What do you prioritize? Do you go for a multi-storey structure or is a compact yet well-thought-out house enough for your needs?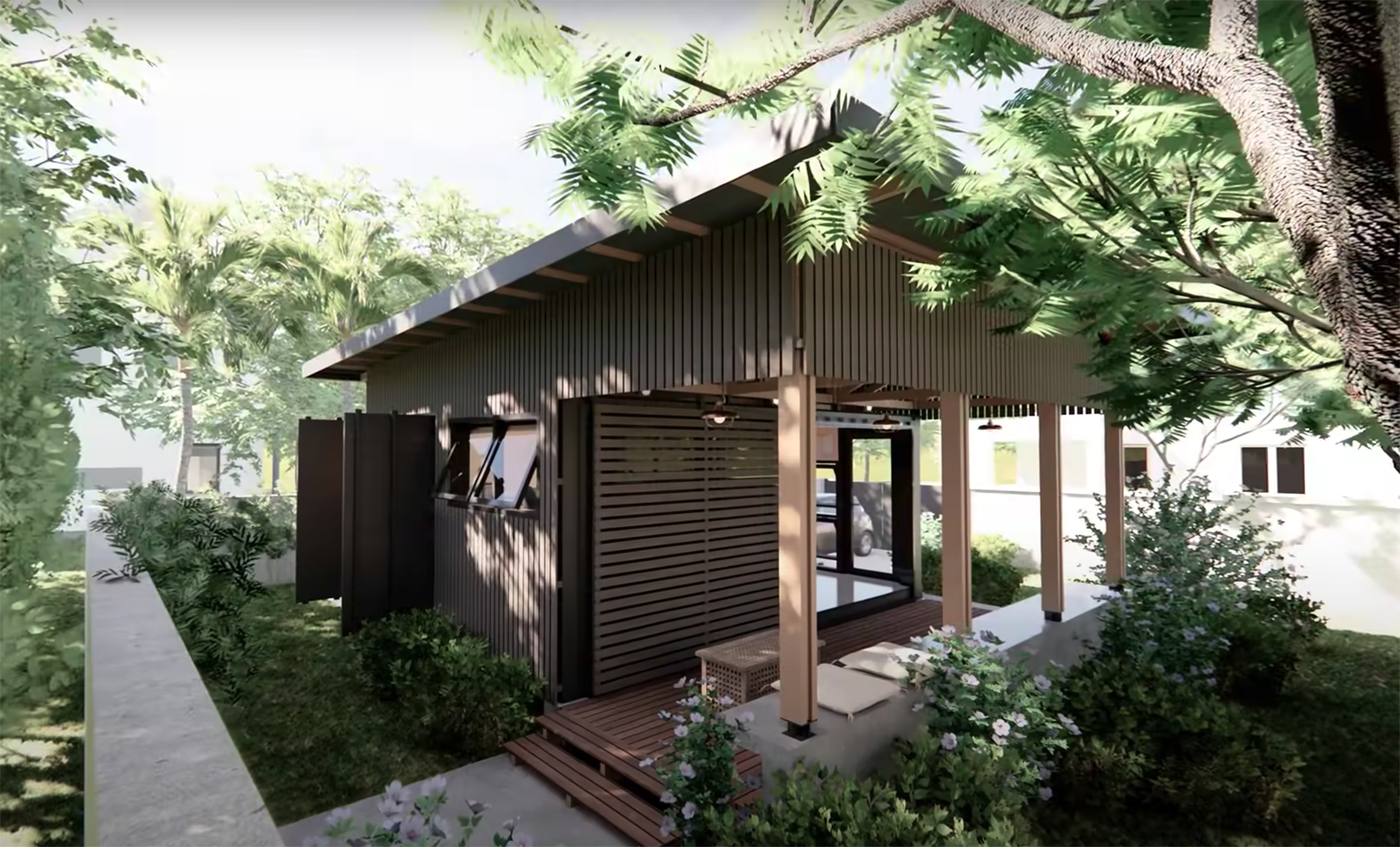 ADVERTISEMENT - CONTINUE READING BELOW
In a video he uploaded on his Youtube channel, architect Oliver Austria shares that if you want to accomplish this feat within a set budget, going for a small house is best choice. He then shared a practical and striking design for a house measuring 30sqm. Despite the size of the house, it looks beautiful and welcoming.
CONTINUE READING BELOW
Recommended Videos
READ: What You Need to Know About Small House Design
According to architect Oliver, the design he came up with is perfect for any location—whether you're planning to construct your dream home in the city or the province.
Getting ready to build your house? Here are ideas you can consider based on architect Oliver's design:
1. Consider using shipping containers.
A quick scroll on social media will give you an idea how many homeowners are working with shipping containers to build the home of their dreams. In the video, architect Oliver shares that he used shipping containers as the frame of the house to make the construction easier. At the time of the video's recording, he shared that a 20-foot container costs around P60k to P100K.
ADVERTISEMENT - CONTINUE READING BELOW
READ: Thinking of Building a Container Home? Know the Pros and Cons First
2. Choose the right materials for your home.
Since shipping containers are made of metal, you need to make sure it doesn't get hot inside the house. To remedy this, architect Oliver suggests using wood slats on the walls to keep sunlight from entering the home.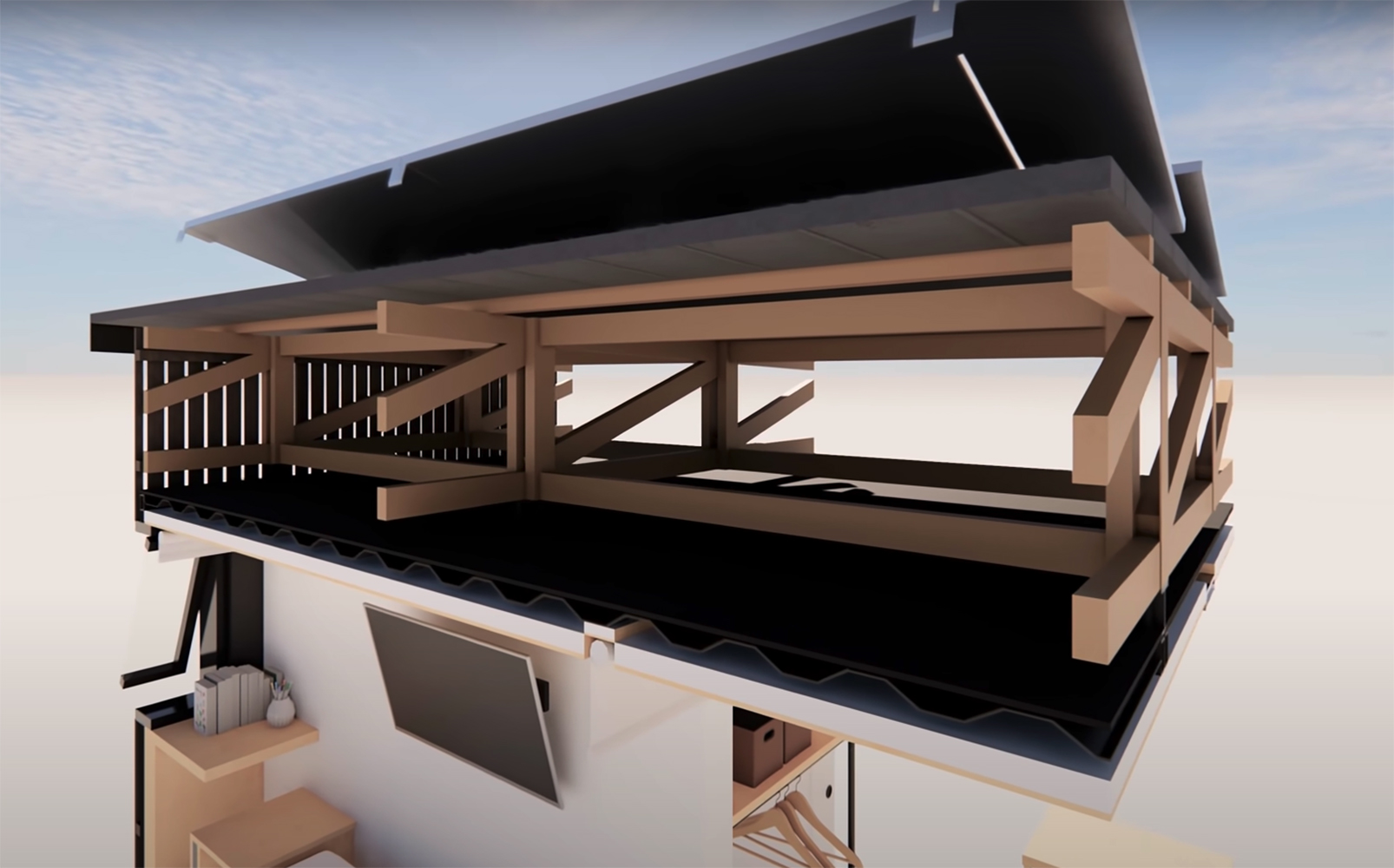 ADVERTISEMENT - CONTINUE READING BELOW
In photo: The double roof that architect Oliver incorporated into the home's design. It has air gaps that allow air to pass through.
3. Discuss with a design professional how you can keep the house cool.
Working with a design professional can help you make sure the home is cool and comfortable from day to night. In his design, architect Oliver incorporated a double roof—meaning there's another roof above the roof of the shipping container. Based on the rendering, there's also an air gap between the roofs which allows air to pass through to insulate the home's interiors.
4. Work on an open layout.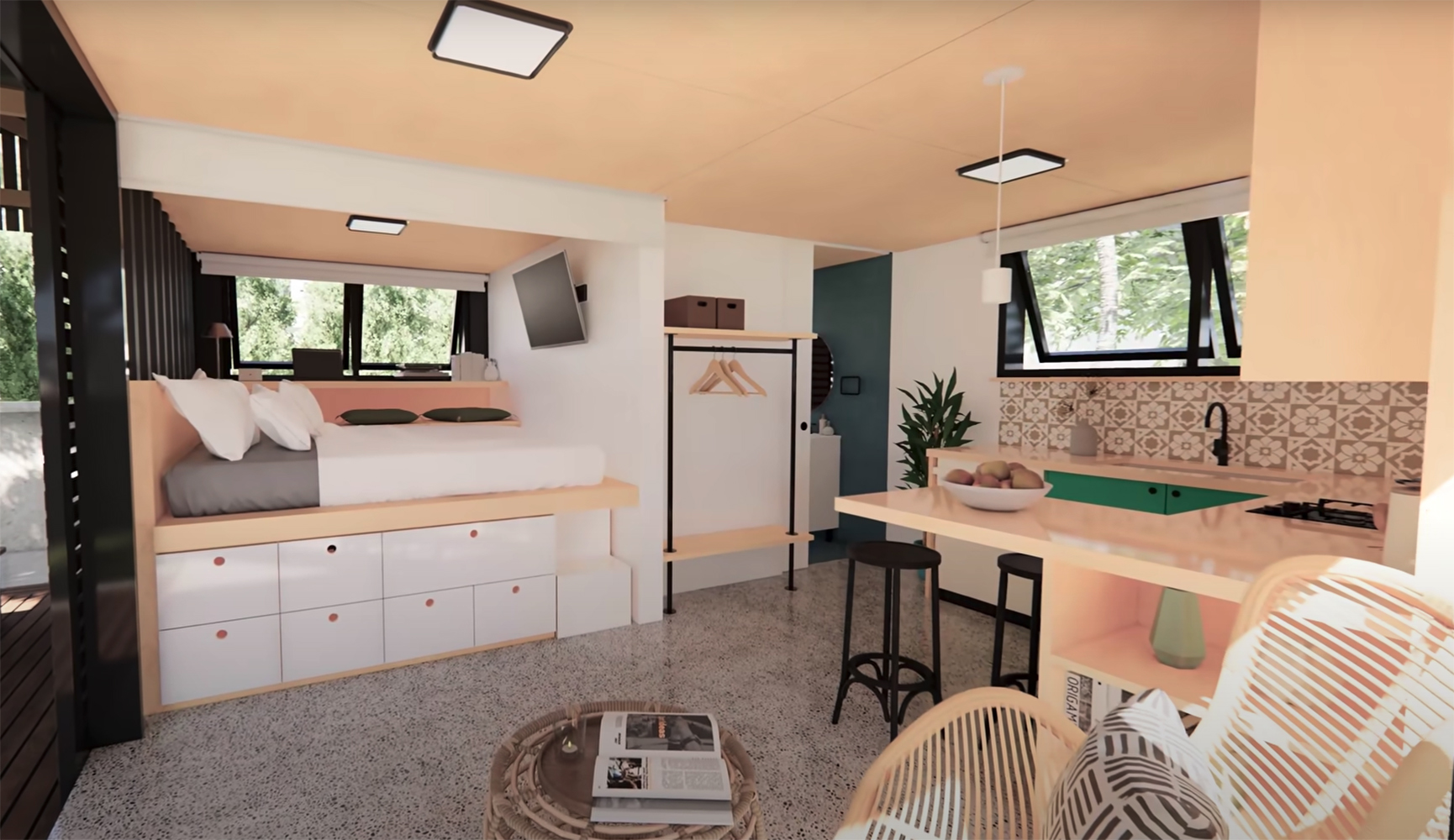 ADVERTISEMENT - CONTINUE READING BELOW
Many small spaces feature an open layout to keep the house from looking cramped. Architect Oliver's design features a foyer that also works as the living area, a sleeping/working space, a kitchen with a dining bar, and a bathroom/laundry room. By opting for glass sliding doors and adding windows, the house looks bigger than it really is, plus, natural light streams into the space.
5. Prioritize storage.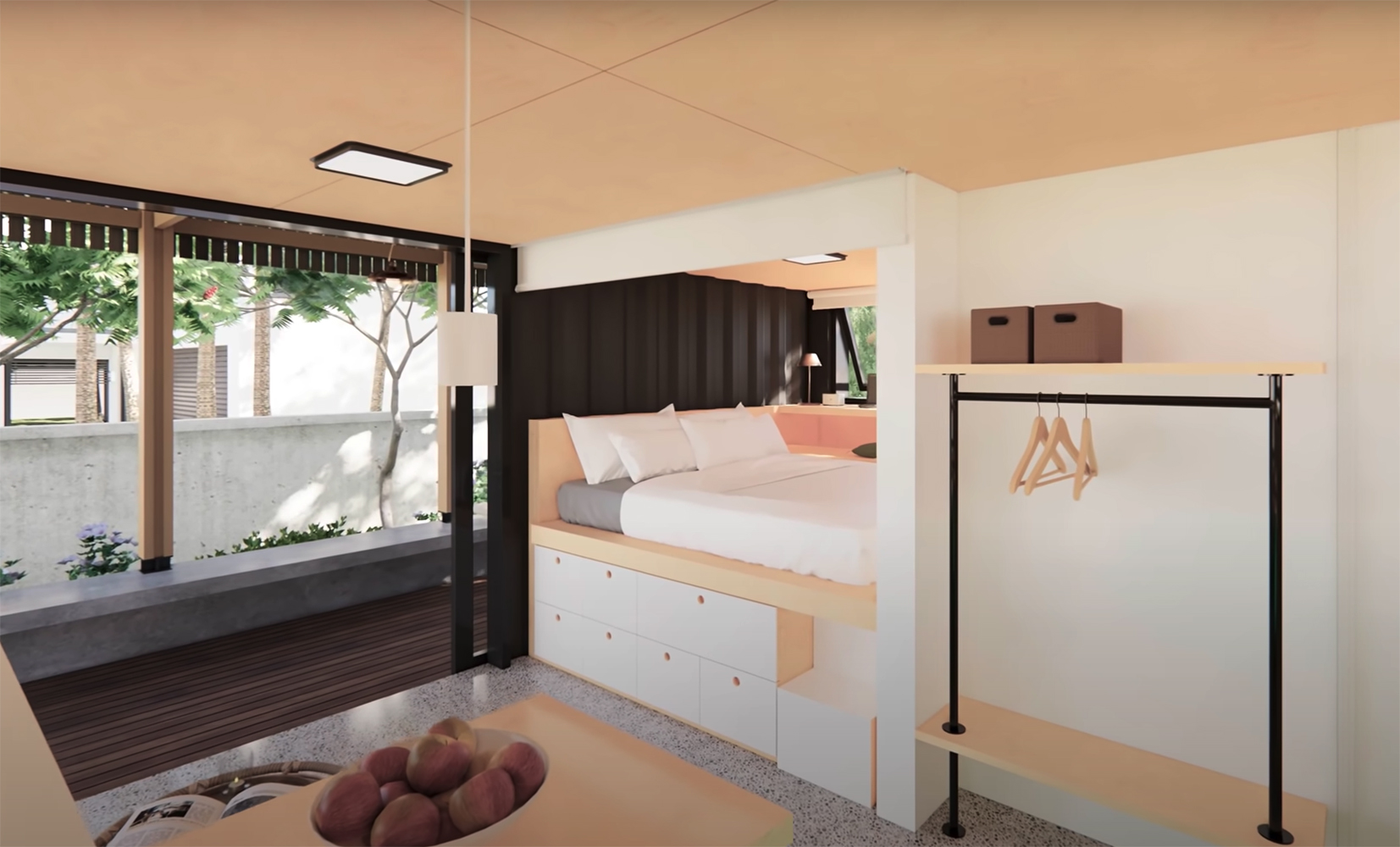 ADVERTISEMENT - CONTINUE READING BELOW
In small spaces, storage is a must. Understanding how important it is to have as many storage nooks as possible, architect Oliver made sure there are compartments where essentials, clothes, books, and shoes can be kept.
Since the sleeping area is elevated to visually separate it from the foyer/living area, the architect added compartments to create storage. The rightmost part are steps leading to the bed which double as storage for books.
Beside the bed is a desk meant for getting work done and a seating piece that also doubles as storage.
6. Maximize the available outdoor area.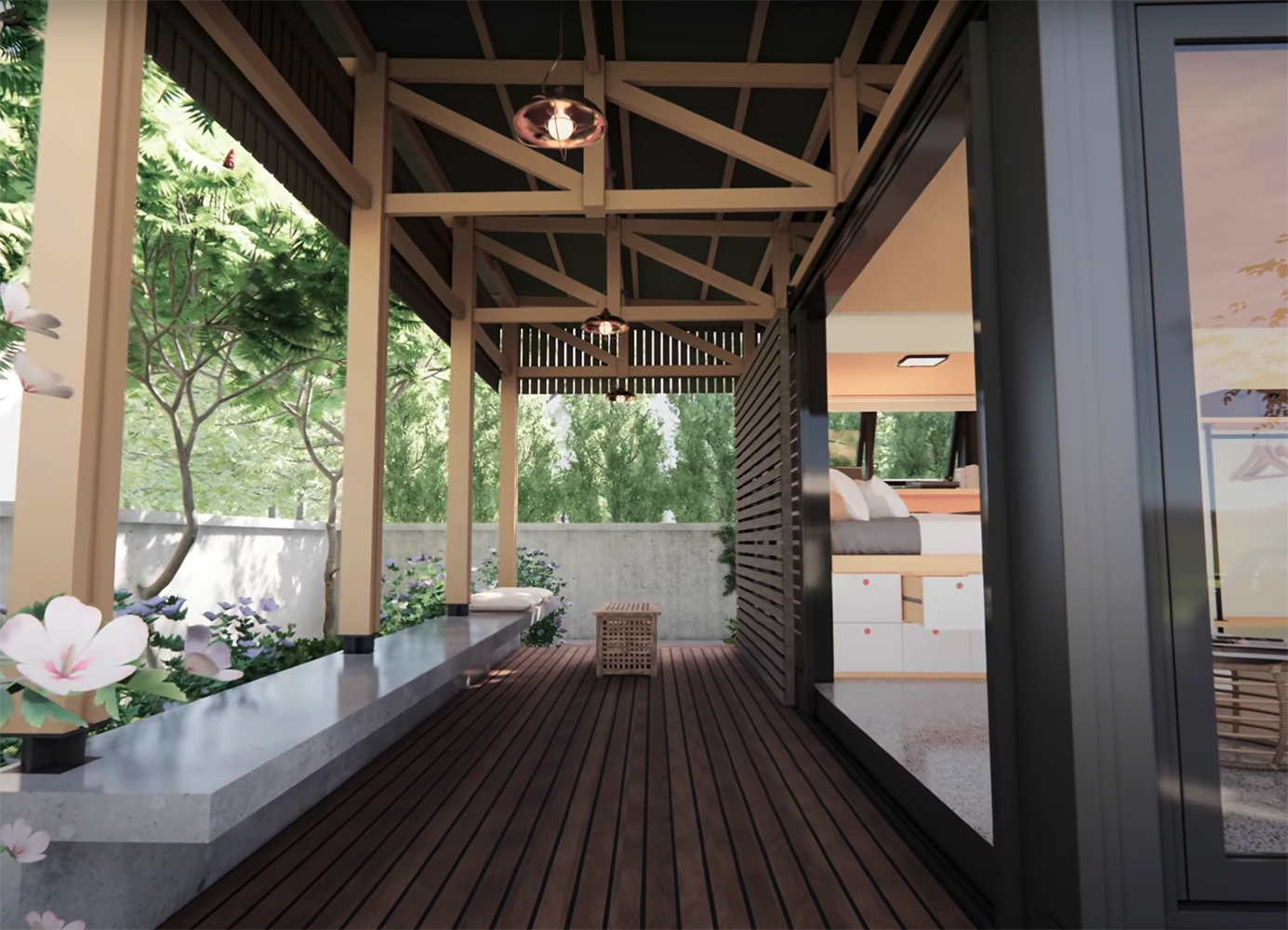 ADVERTISEMENT - CONTINUE READING BELOW
You can start a garden or take your cue from architect Oliver by creating a patio where you can entertain guests or simply hang out during your free time.
7. Make it self-sustaining.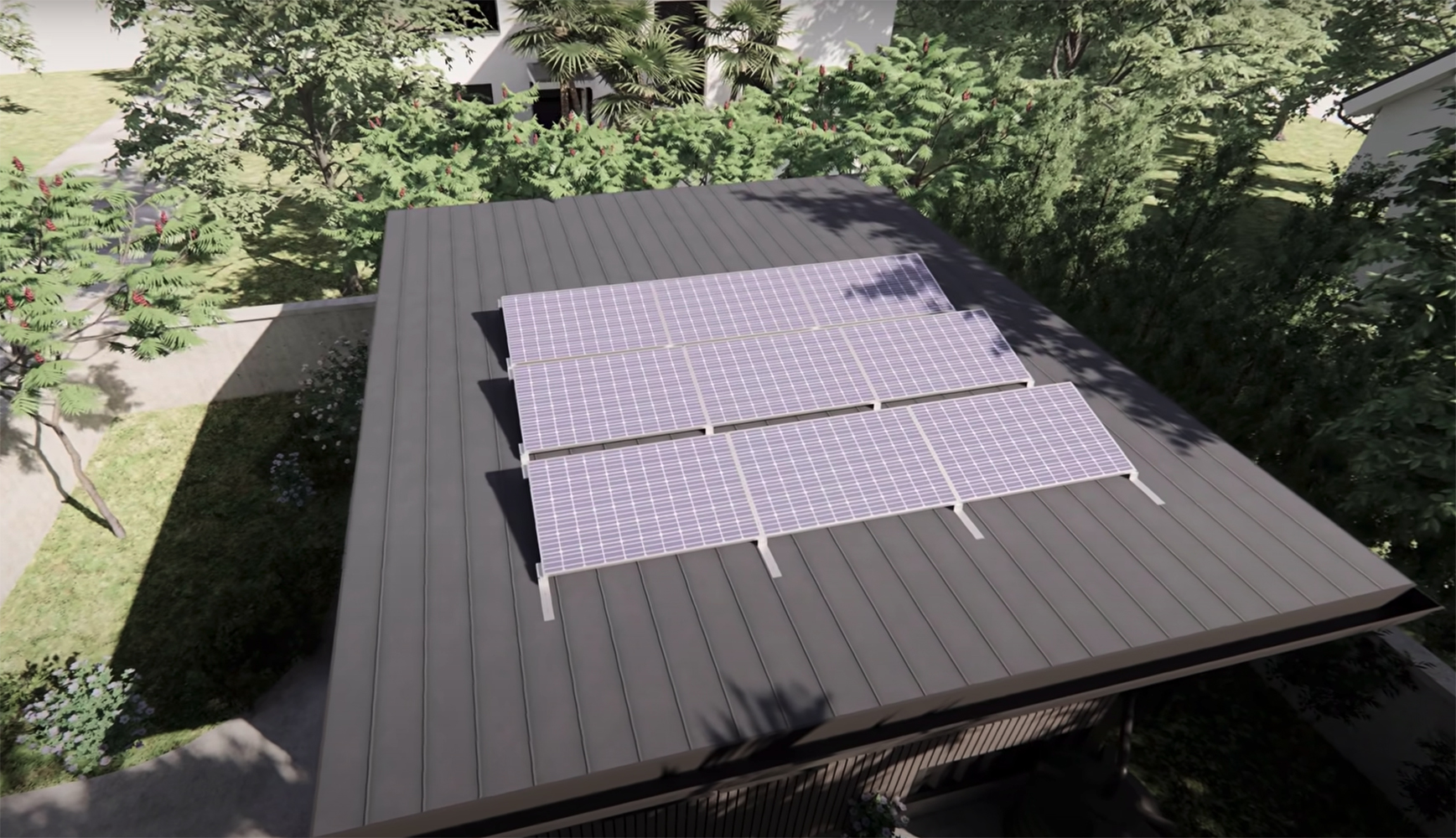 Depending on the budget you have, you can consider installing solar panels for your small home. Since architect Oliver wants to make the small house self-sustaining, he designed it to have solar panels on the roof. The windows found all over the space help promote cross-ventilation, too.
ADVERTISEMENT - CONTINUE READING BELOW
Learn more ideas and get started on your small house by watching the video below:
Follow architect Oliver Austria on Instagram: @llyanoliver. You can also email him at austriallyan[at]gmail.com.
More on Realliving.com.ph
Real Living is now on Quento! Enjoy more of our stories by clicking here to download the app.
Load More Stories