Building & Renovating
How Much Does It Cost to Build a Loft-Type Bed?
Architect Oliver Austria gives tips on what materials to use and how to measure your DIY piece Photography: Screenshot from Youtube/Oliver Austria
Loft-type beds have become a favorite because it's not only a space-saver, it also helps you create a separate space for sleeping and another nook for working/gaming/schoolwork. We've published quite a number of homes that feature loft-type beds and we're sure you're wondering how much it costs to build one.
ALSO READ:
Thanks to His Cookie Business, this 22-Year-Old Was Able to Turn a Storage Room into a Bedroom
A Modern Loft-Type House in Manila
A Loft Exists in this 21sqm Condo Unit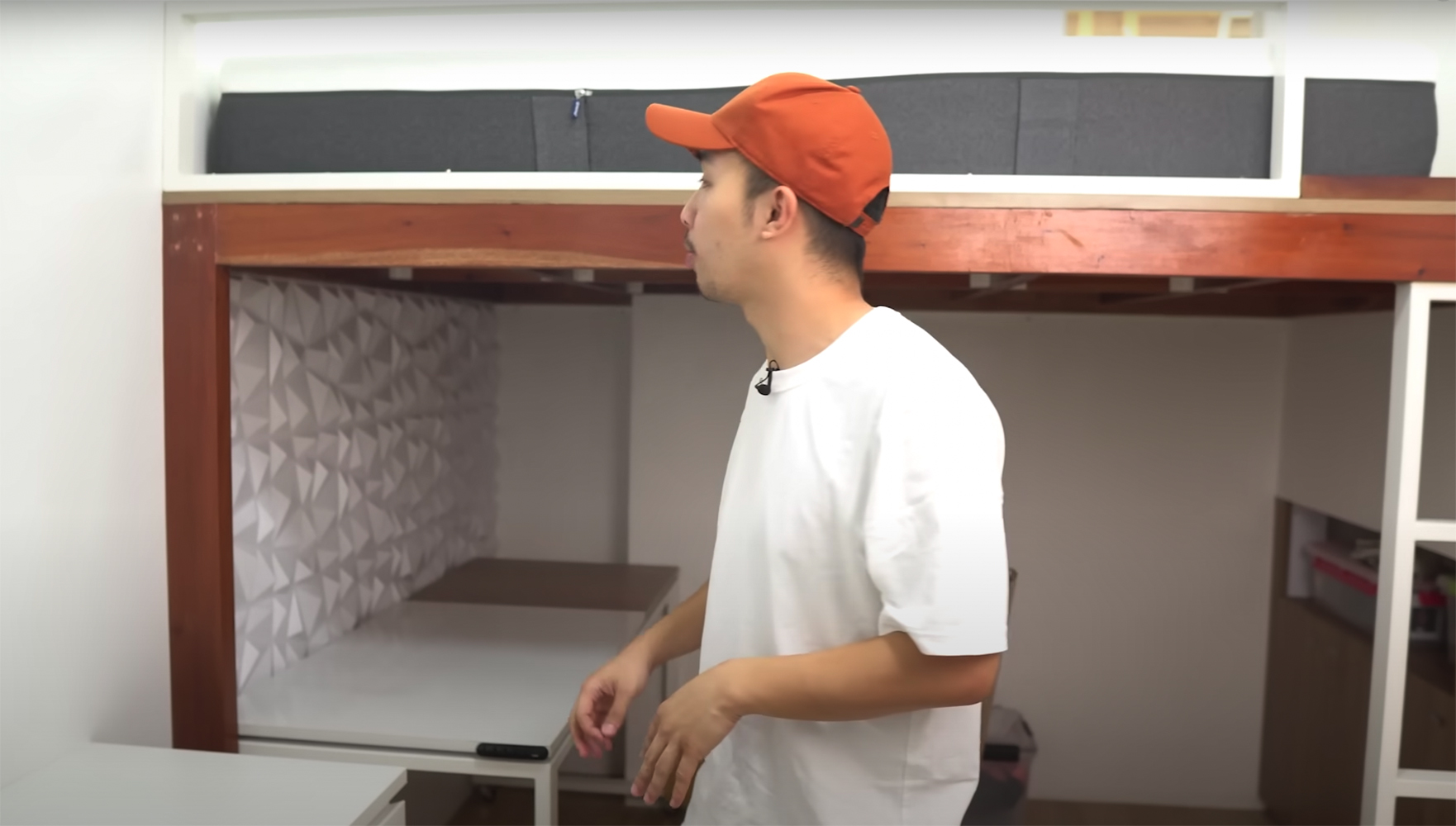 ADVERTISEMENT - CONTINUE READING BELOW
If you're thinking of revamping your bedroom or condo unit and you want to have a loft-type bed, architect Oliver Austria gives a list of materials you can use as reference. While some prefer using metal or steel for their beds, he chose to work with wood.
Plan your own loft-type bed using architect Oliver's tips below:
Measure the room you're working with.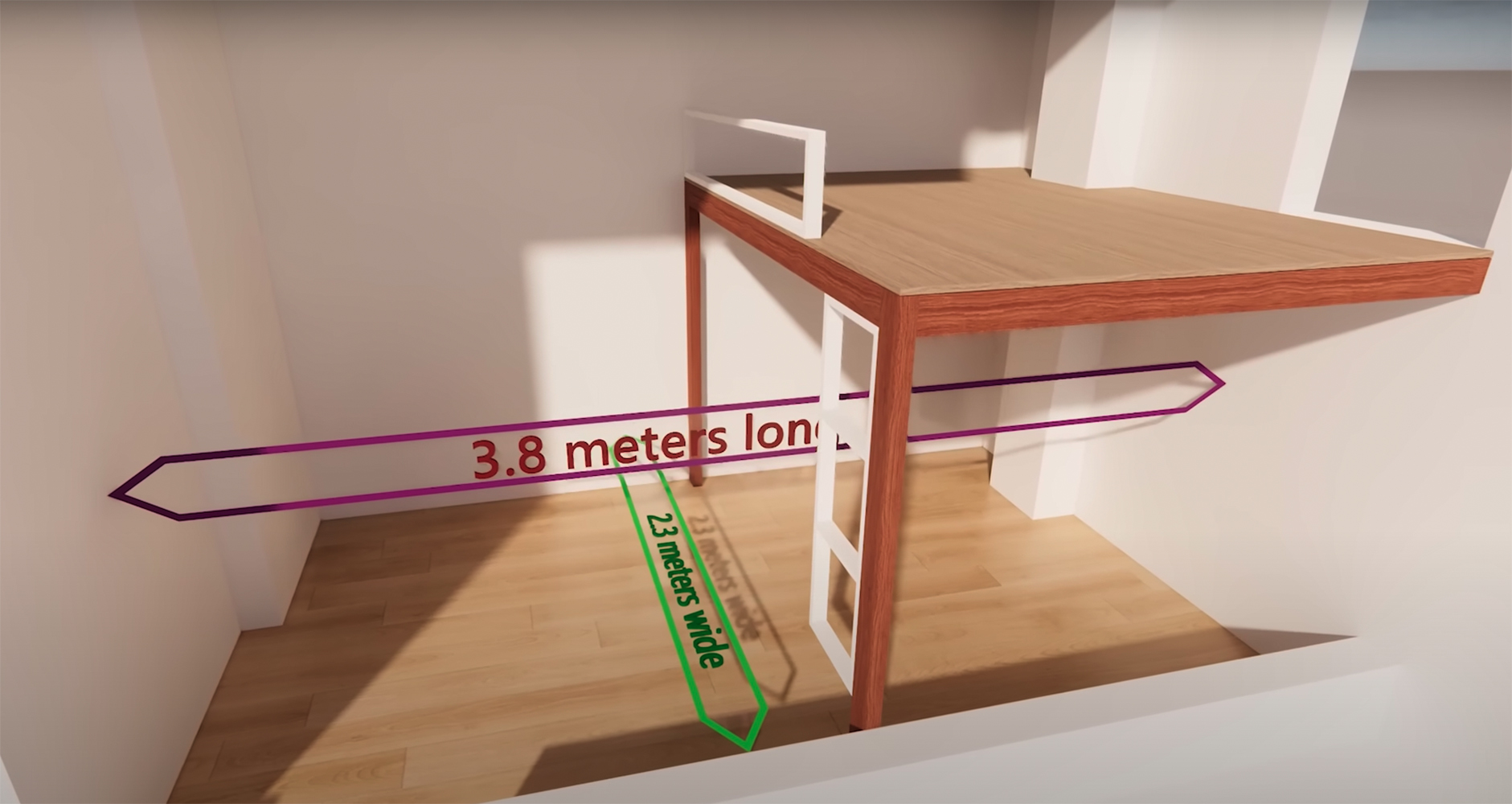 You don't want your bed to take up the entire space of your bedroom. For reference, the room the architect placed the loft-type bed in measures: 2.3m wide, 3.8m long, and with a ceiling height of 2.7m.
Take this into consideration when planning your loft-type bed as it's important to get the measurements of the platform and height clearances correctly.
READ: This One-Bedroom Condo Unit Has Its Own Mini Loft
Make sure your bed has enough space for the work area below.
For the loft-type bed he built, architect Oliver measured the height from the floor to the bottom of the platform (1.47m) so that he can sit comfortably in his chair while using the computer. At the same time, you need to make sure you don't hit your bed on the ceiling when you wake up. For this bed, there's a 1.1m clear distance between the loft/sleeping area and the ceiling.
ADVERTISEMENT - CONTINUE READING BELOW
Know which materials to use.
Architect Oliver used 2x4 wood on both sides, with a similar-sized wood used for the header joints and middle support. For the supporting members, he used 2x3 wood. Meanwhile, for the platform surface, he opted to work with melamine-faced plywood as it's mold-resistant and you can skip painting it to retain the natural finish.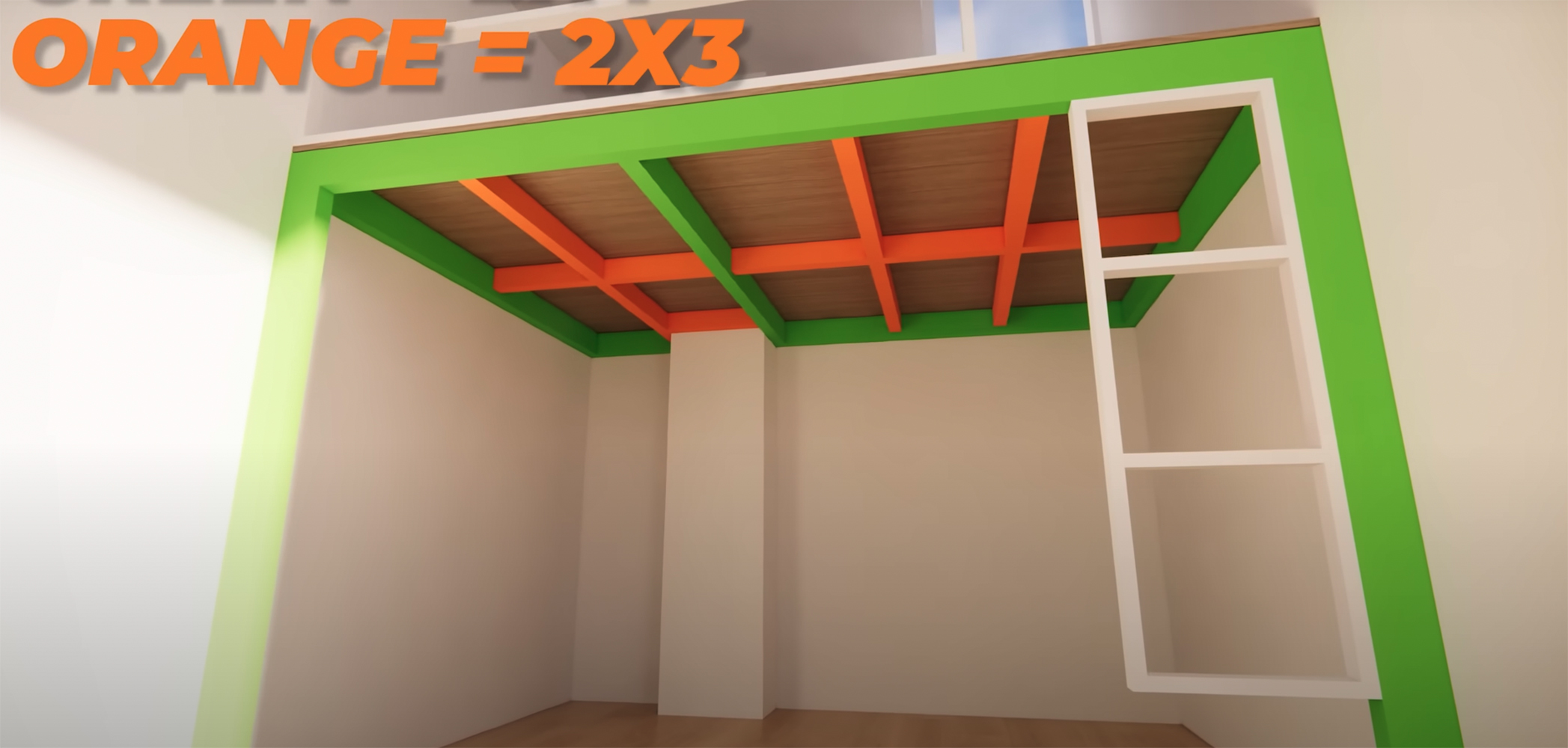 ADVERTISEMENT - CONTINUE READING BELOW
Ensure the bed can carry your weight and that of the mattress.
The architect says proper support is the most important part you need to consider. Aside from securing the wooden posts to the walls and columns, angle bar plates were also screwed to the structural members. Architect Oliver also drilled expansion bolts to the load-bearing wall to securing the loft-type bed.
READ: This 23sqm Cabin Can Sleep 6 People Comfortably
Plan your ladder.
Take your cue from the architect by opting to use 1x2-inch tubular steel as this is durable. To further save on space, you can create a foldable ladder as well. You can use the same material for your bed's railing.
Keep it budget-friendly.
Architect Oliver spent Php10, 855 for the materials which already covers the paint for the railing and ladder, the polyurethane topcoat for the wood members, screws, and rental of tools used. For the labor, he spent around Php2, 690 which brings the total amount spent to Php13, 545.
ADVERTISEMENT - CONTINUE READING BELOW
You can save on costs if you're taking the DIY route and if you have tools you can use. More or less, to build a loft-type bed you would need around Php10, 000.
Get more tips from architect Oliver when you watch the video below:
Did you build your own loft-type bed and other furniture pieces? Send us photos and share your story on our Facebook page. We might feature you on Realliving.com.ph!
More on Realliving.com.ph
Load More Stories