Building & Renovating
How to Choose a Ceiling Design for a Small House
You can create an illusion of a high ceiling in a small space! Photography: Upstage MNL (main)
How often do you look up at the ceiling of your home? We often do this when we're thinking and it's not every day that we stop to admire the underside of our roof. Unlike big houses where we usually see high ceilings, small houses tend to have other ceiling designs to create an illusion of a bigger space. 
While our eyes are drawn to the walls, you might be wondering if ceiling design is important or if you can leave it as is. "Ceiling design is important because it can serve as the focal point of the room as it takes a massive amount of visual space. A good ceiling design can also improve the room's acoustics or the soundwaves bouncing off the ceiling," explains interior designer Roch Granali.
Aside from having potential as a focal point of a room, ceiling design also helps establish the aesthetic of a house. As Roch says, "it must be consistent with the overall design style of the home." 
ADVERTISEMENT - CONTINUE READING BELOW
Given this, you might be wondering how you can choose the right beaceiling design to elevate the interiors of your space. Keep in mind that if you are planning to build a house, the ideal floor-to-ceiling height is 270mm to give design professionals enough room to incorporate other design elements.
 To help you achieve a ceiling that captivates, take note of the tips below: 
What are the most common challenges when it comes to designing ceilings for small homes? 
In addition to the low floor-to-ceiling height, Roch notes structural elements like beams and columns as well as the slab level that can make working on the ceiling more challenging. "For condo units, the renovation guidelines also pose limitations to the design. However, these restrictions also enable us to think of creative solutions through the play of forms, finishes, and colors," explains the designer. 
To solve these challenges, you need to work with an interior designer or a design professional who can suggest solutions you can look into. Since cove lighting and a smooth ceiling can help create an illusion of a higher ceiling, a professional can deliver polished work that can help you achieve this. "Poor plaster work on ceilings can draw the attention to the uneven texture and imperfections, thus, making the room feel cramped. Professionals have also studied the technical design standards that would help ensure the quality, the structural integrity of the space, and the safety of the homeowners," Roch shares.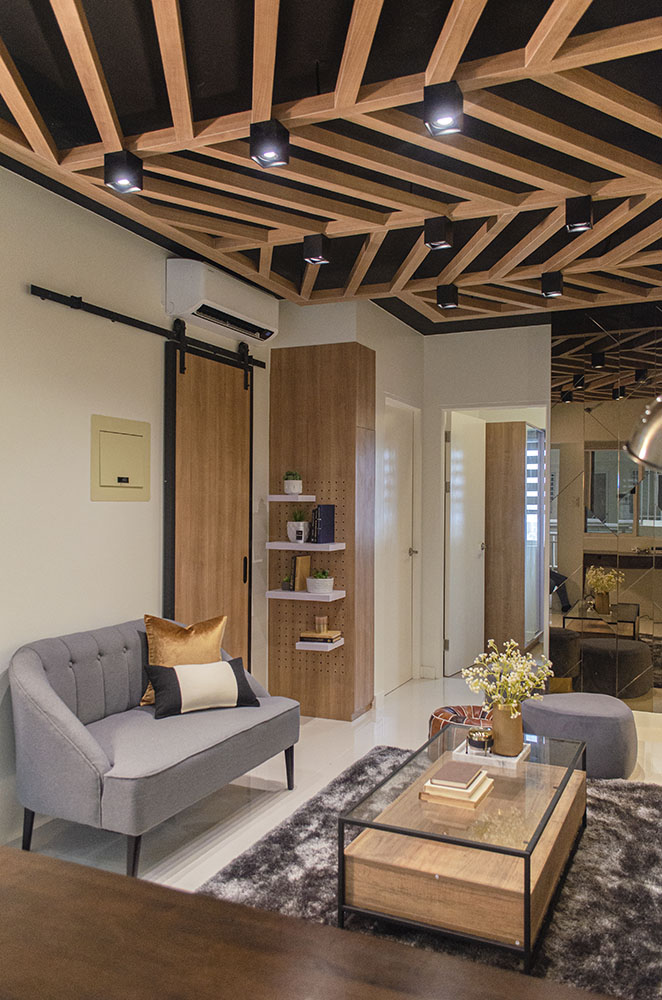 What's the best ceiling design for a small house?
Just like how you choose the décor pieces you'll add to your space, finalizing the interior style you want to work on can help you design the ceiling. While a high ceiling is ideal for small houses, you can also explore different designs depending on the theme you've chosen. Roch gives the following suggestions: 
ADVERTISEMENT - CONTINUE READING BELOW
· Modern theme – flat ceiling
· Classical style – coffered ceiling with grid recessed square panels
· Industrial style – a ceiling design that incorporates architectural elements such as beams, trusses, pipes, and ducting
How do you create an illusion of a high ceiling in a small house?
As much as you would like to have a high ceiling in a small house, this may not be possible given the structure of your home. Fortunately, you can still achieve the illusion of a high ceiling that can make your home feel airy and spacious. The secrets? Picking the right color, proper lighting, and decorative accents with height. Keep in mind the following must-dos:
1. Experiment with color
Colors can do wonder in a space, especially in small houses. Roch suggests using the same color for the walls and the ceiling or you may also opt for a color that's 50 percent lighter in shade than the one used on your walls.
ADVERTISEMENT - CONTINUE READING BELOW
"Off-white acts as a reflector that helps illuminate the space while using eggshell or satin finish also helps reflect light. If you want to create a dramatic effect, you may choose to create contrast by opting for dark colors like charcoal gray or black," suggests the designer.
2. Hang drapery
Go for drapes that are in the same color as your walls. By hanging them 12 inches higher above the window, you can make the room look bigger as well.
3. Display tall decorative pieces
"Floor-to-ceiling built-in cabinets or bookshelves can make the room feel taller while tall plants and a large collage of pictures can direct the eyes upward," advises the designer.
4. Bring in vertical patterns and forms
Roch suggests using wallpapers with vertical design or if your budget allows, you can incorporate a vertical wood slat cladding or a board and batten style siding to achieve the illusion of a higher ceiling.
ADVERTISEMENT - CONTINUE READING BELOW
5. Invest in proper lighting
Similar to how the right color can help you improve the look of your space; lighting contributes as much. "Applying multiple lighting sources at various levels of the room create visual interest at all levels," says Roch. "The play of levels, lighting, and materials adds beauty and gives character to the space," she adds.
Whether you're building a new home or renovating an existing space, remember that every element in your interior plays a role in helping you achieve a captivating yet comfortable space. Aside from keeping the ideas mentioned above in mind, make sure you get in touch with a design professional who can execute your ideas flawlessly. He or she can give suggestions on how to make your dream home better, too.
What ceiling design ideas do you have in mind? We want to hear about it! Send us a message on Facebook or Instagram!
ADVERTISEMENT - CONTINUE READING BELOW
Ready for your own home makeover? Get in touch with interior designer Roch Granali through email at idr.rochgranali[at]gmail.com.
More on Realliving.com.ph
Load More Stories