Shopping Guide
Space-Saving Furniture Ideas for Tiny Homes
Let these multipurpose pieces help you turn tiny into fantastic Photography: Eloisa Lopez (Main Photo)
Those who live in a small apartment or a compact condo unit are familiar with the challenge of finding the right furniture. Many visit different stores just to look for a bed that will fit in the space and there are a few who depend on online research to score a sofa that won't make the unit seem cramped. If you've just moved into a new home, you might be experiencing a similar dilemma.
While you can also visit different shops and go online for hours, you may want to consult with a contractor or a design professional to see if it's possible for you to have customized transforming pieces instead. These might cost more and may involve careful production—but it will be worth the wait. Not only will it help you save on space, it can serve different functions, too. In need of design inspiration? Let these smart solutions designed by one of our readers motivate you:
ADVERTISEMENT - CONTINUE READING BELOW
1. A console cabinet that transforms into a divider and dining nook
Who knew that this plain cabinet that holds framed photographs and decor pieces has a secret? Move it a few steps away from the wall and it can serve as a divider that separates the living/sleeping area from the rest of the condo unit.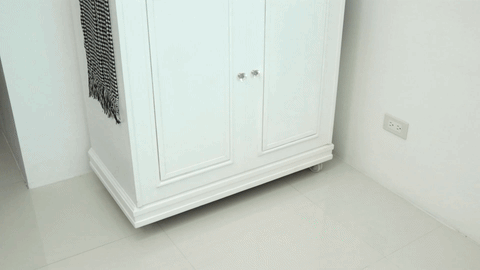 Need a place where you can enjoy a meal or get some work done? By simply lifting the back of the cabinet, a niche that holds a pair of folding chairs is revealed. Bring out the chairs and make sure the legs of the table are steady. You can now set up the table for a simple meal or keep it clutter-free if you are working from home.
2. A magical and inviting wall bed 
It's common for those who recently moved into a new place to settle for mattresses that allow them to get a few hours of sleep. After a while, many invest in sturdy folding beds or a slim and simple bed frame to complete the bedroom. If you're low on space and would want to maintain the aesthetic you have in mind, you may want to have a wall bed instead.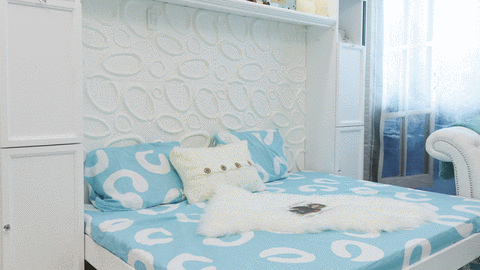 ADVERTISEMENT - CONTINUE READING BELOW
Inspired by the wall beds she saw online, our reader designed her own piece. When not in use, it looks like a typical wall with shelves on top. The sofa is placed in front of it to entertain guests and friends. It also frees up enough floor space for other activities.
When it's bedtime, the sofa can be moved to the side (near the window) and the supporting legs are lifted. Once you have unlocked the cabinet that keeps the bed, slowly put it down and have a relaxing slumber.
3. A shelf and work desk in one
Forgot to reply to an urgent e-mail before calling it a day? You can customize your bed to have secret compartments and desks, too! Having an instant desk at your disposal can make it easier for you to catch up on work or reading.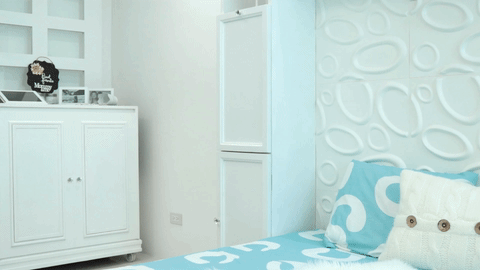 ADVERTISEMENT - CONTINUE READING BELOW
The door of the cabinet below serves as support. Open the compartment above it and use this door as a table. You can now grab a chair and finish your task. The compartments on both sides of the bed can be used to store books, magazines, bags, and other personal belongings as well.
4. A cleverly hidden kitchen
Given the items we store in the kitchen and the daily food preparation, it can be stressful to keep it clean and sparkling 24/7. If your cooking corner is small and you'd want to keep the look of your unit seamless, you may conceal it with the help of sliding doors.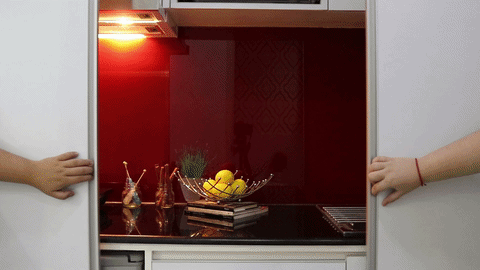 ADVERTISEMENT - CONTINUE READING BELOW
Slide the door open to access the countertop and the cabinets. To keep it spic-and-span, remember to return the utensils you've used in its proper place. You can also install metal rods and open shelves to hold jars of ingredients and kitchen towels.
See the pieces come together by watching the video below:
Click here to see more photos of this inspiring reader home.
GIFs by Gio Oliva.
More on Realliving.com.ph
Load More Stories