Shopping Guide
The Olive Tree Finds Its Roots in Creating Inspired and Curious Pieces
Visiting its refreshed store gives a peek into what's next for the brand Photography: Kurt Alvarez Pictorial Direction: Tala Singson Styling: Tala Singson
When Kyla Olives took over the reins of The Olive Tree, it was up to her to figure out what path the brand would take. Fresh out of college, she came up with the idea of creating throw pillows that double as works of art.
Seramika, one of the brand's early collections, features distinct throw pillows and placements you can identify anywhere. Highlighting the beauty of ceramic pieces, the collection pairs lively colors with captivating patterns, allowing clients to style their spaces with soft furnishings.
ALSO READ:
5 Ways to Style a Tiny Living Area
A Style Makeover for a Plain Living Area
Fast forward to 2022, The Olive Tree has released more than a dozen collections, each with a story to tell. As the brand's creative director, Kyla is ready and excited to chart The Olive Tree's course marked by the recent makeover of their store in Loyola Grand Villas.
ADVERTISEMENT - CONTINUE READING BELOW
The refreshed Olive Tree HQ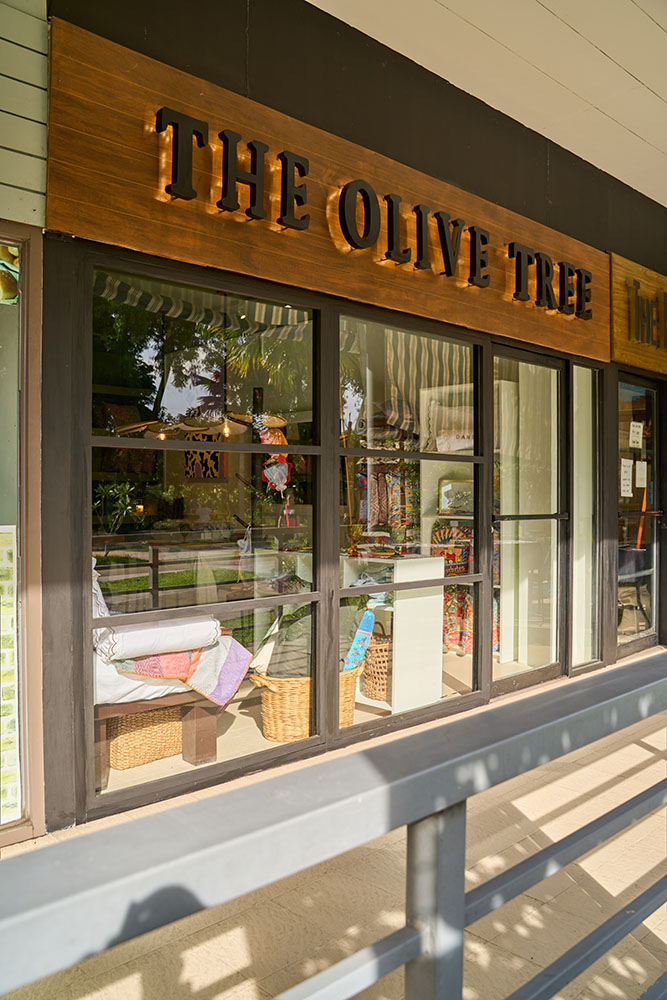 ADVERTISEMENT - CONTINUE READING BELOW
Recommended Videos
After years of joining pop-ups where she would meet with clients, Kyla decided it was time to revamp the store so that she can have a space that clients can visit while also having a place where private meetings can be held.
ADVERTISEMENT - CONTINUE READING BELOW
Interior designer Tala Singson stepped in to oversee the store's renovation, making sure every inch of the 24sqm area is maximized. Since Kyla and Tala collaborated on multiple projects before, working on the HQ was a laid-back and smooth-sailing process. "We wanted to make it as lean as we could given the circumstances and I was really happy with the outcome. Tala was able to fulfill the requirements," shares Kyla.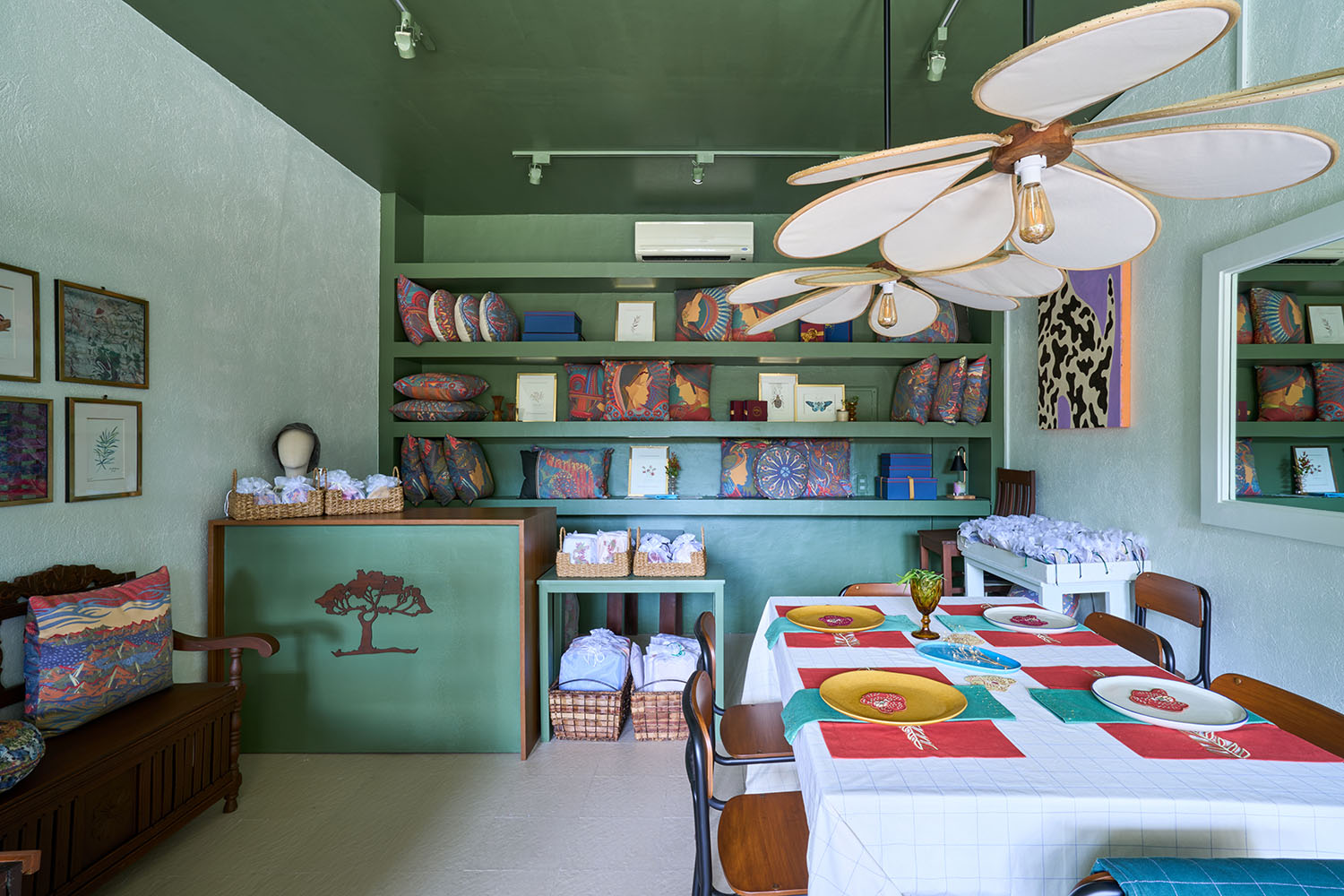 ADVERTISEMENT - CONTINUE READING BELOW
In photo: The green shelf flanked by rough-finished walls serves as the store's focal point. According to Tala, a trusty handyman helped execute the new look for space.
According to the creative director, the new look of the store takes inspiration from displays she loved in Japan and Australia. "It doesn't look like we tried too hard to make it look nice," adds the creative director.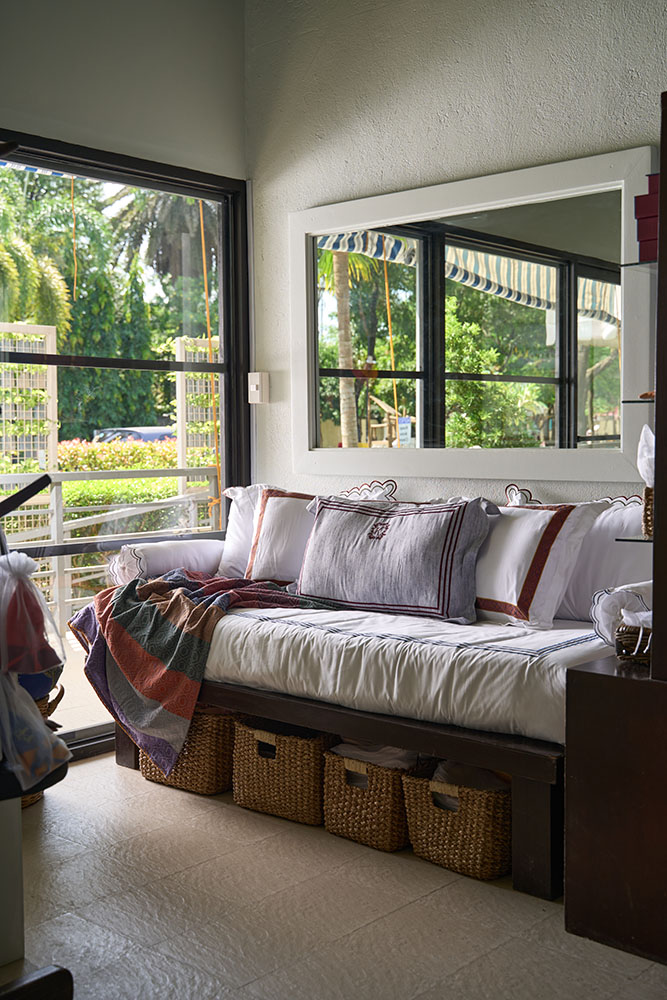 ADVERTISEMENT - CONTINUE READING BELOW
In photo: This cozy setup, which Tala styled to look like a daybed, welcomes guests into the store. In completing the look, classic bed linens are paired with a commissioned Inabel throw blanket made by the Nagbacalan weavers of Ilocos Norte.
Visitors who have dropped by remarked how stepping inside the store feels like entering your living room – which Kyla and Tala consider as the best compliment they can receive. "In such a small space, we were able to fit a lot and showcase everything," Kyla says.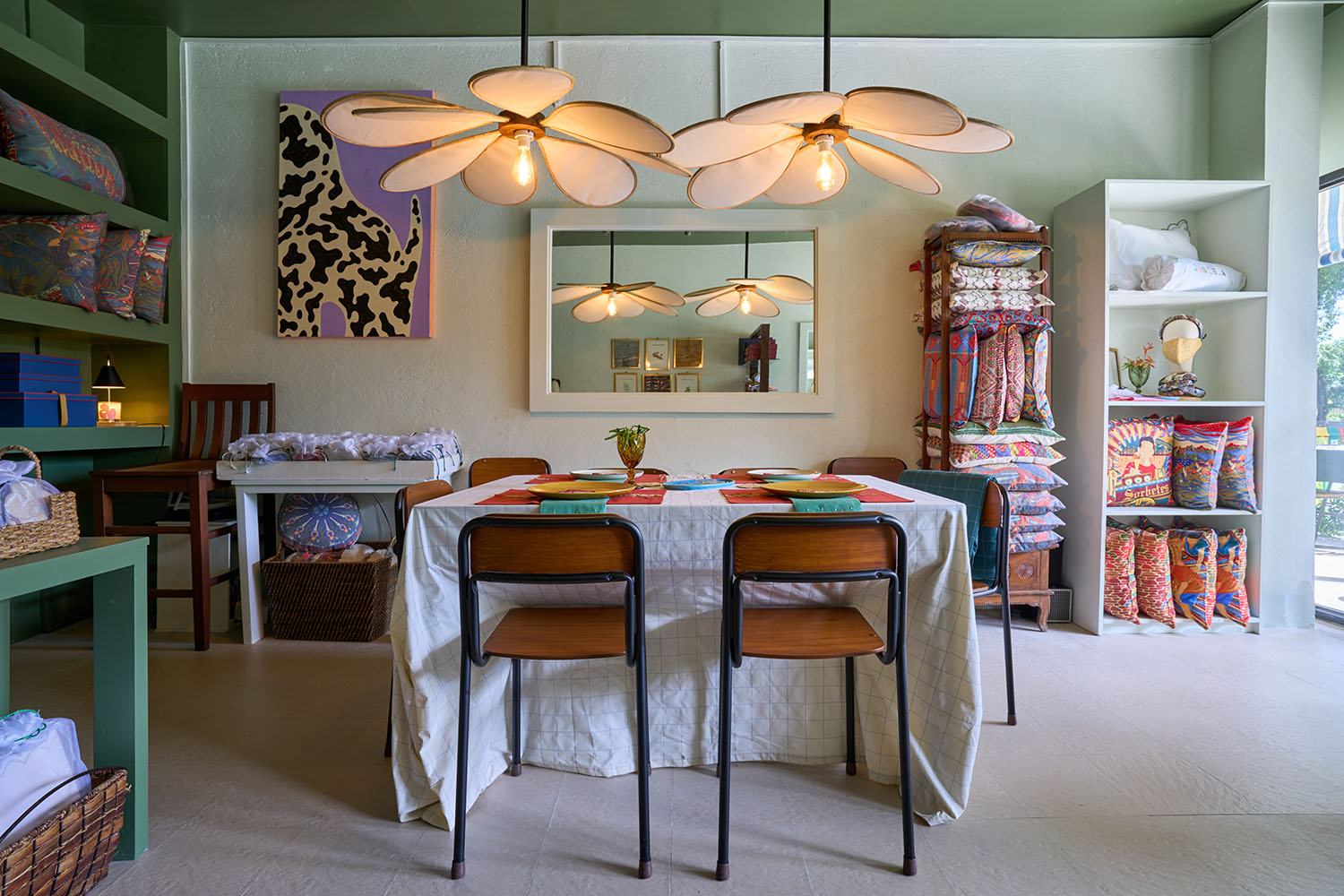 ADVERTISEMENT - CONTINUE READING BELOW
In photo: Some of the pieces in the store are antiques, including the dining table. Above the table is a captivating lighting piece, the Bulaklak Lamp which was designed in collaboration with The Olive Tree's sister company, Casa Mercedes.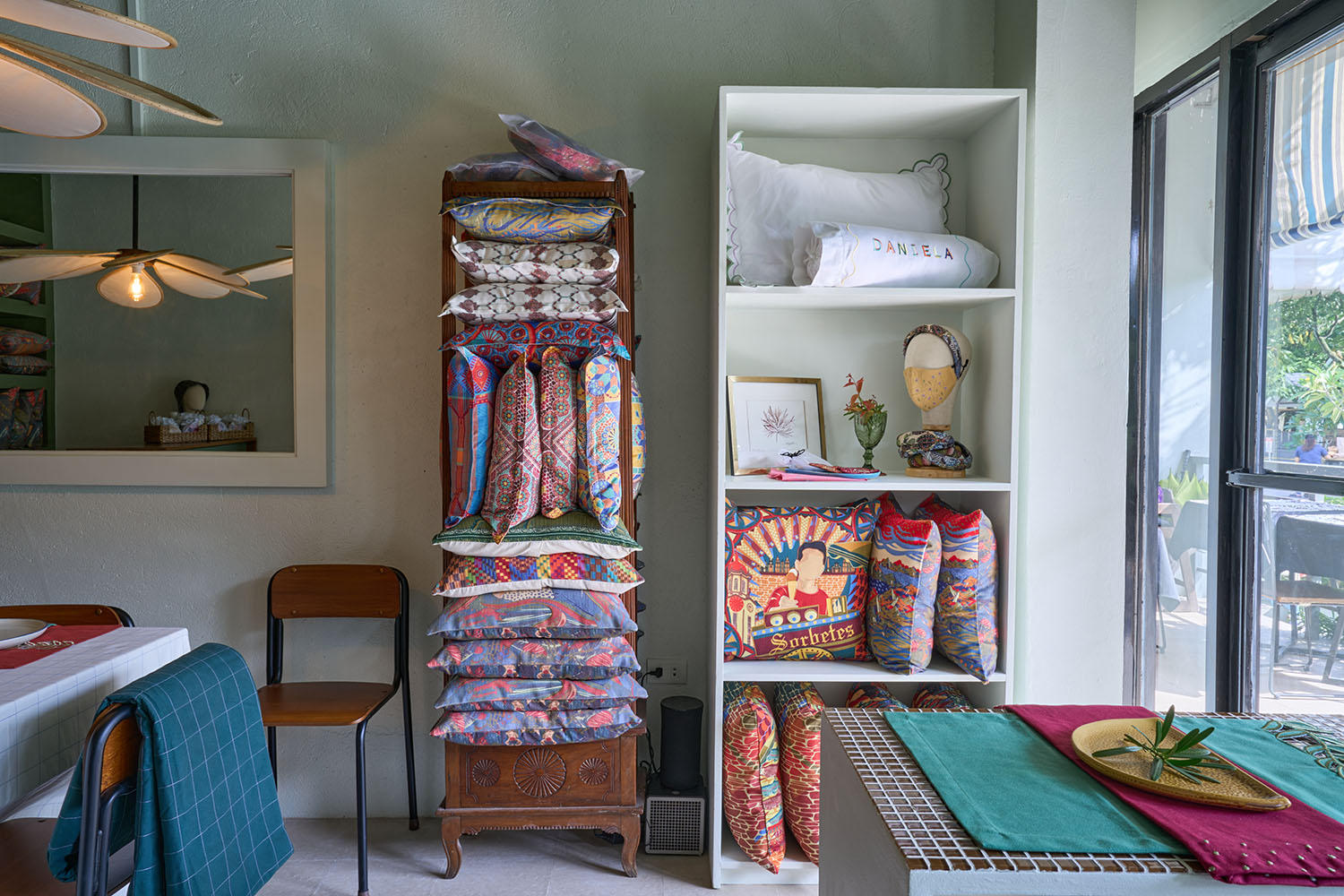 In photo: Pillows from different collections are put on display around the store. 
ADVERTISEMENT - CONTINUE READING BELOW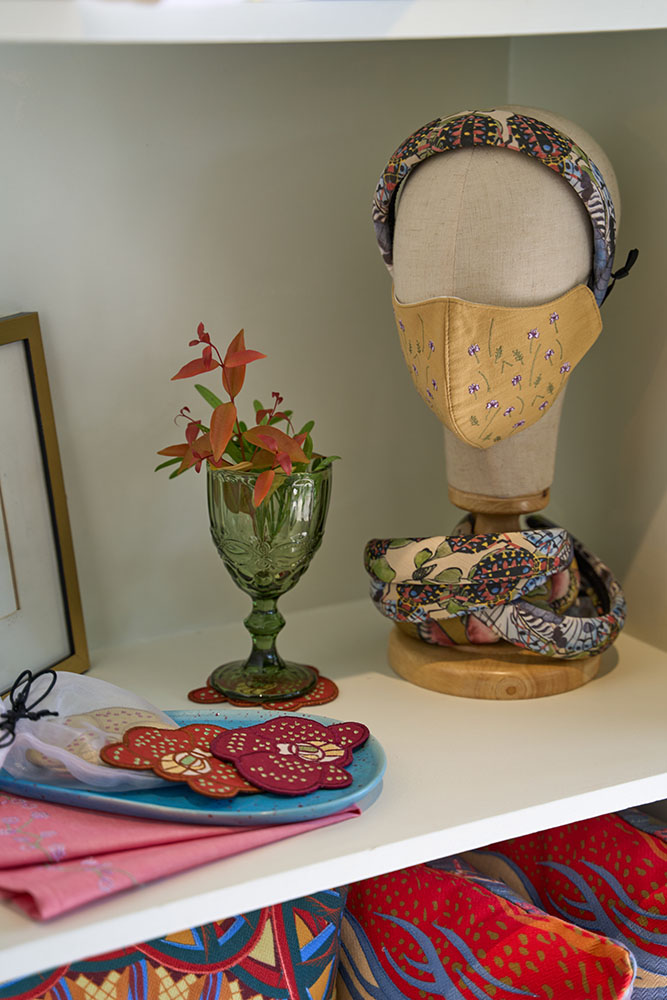 In photo: Well-though-out vignettes complete the store's new look. This corner features embroidered face masks, Anika & The Olive Tree Orchid coasters, and the Bundok headbands only available in-store.
READ: A Homey Minimalist Look for a 36sqm Studio Unit
A tree growing and spreading its branches
Like all businesses, The Olive Tree experienced challenges during the pandemic. Understanding how everyone is trying to navigate the uncertain times, Kyla continued posting on Instagram to stay connected with clients.
ADVERTISEMENT - CONTINUE READING BELOW
"I had 20 clients who ordered and I didn't ask them to pay for anything until production started. [In a way, it shows that] it's not just about the money. The connecting part was always so special," the creative director shares.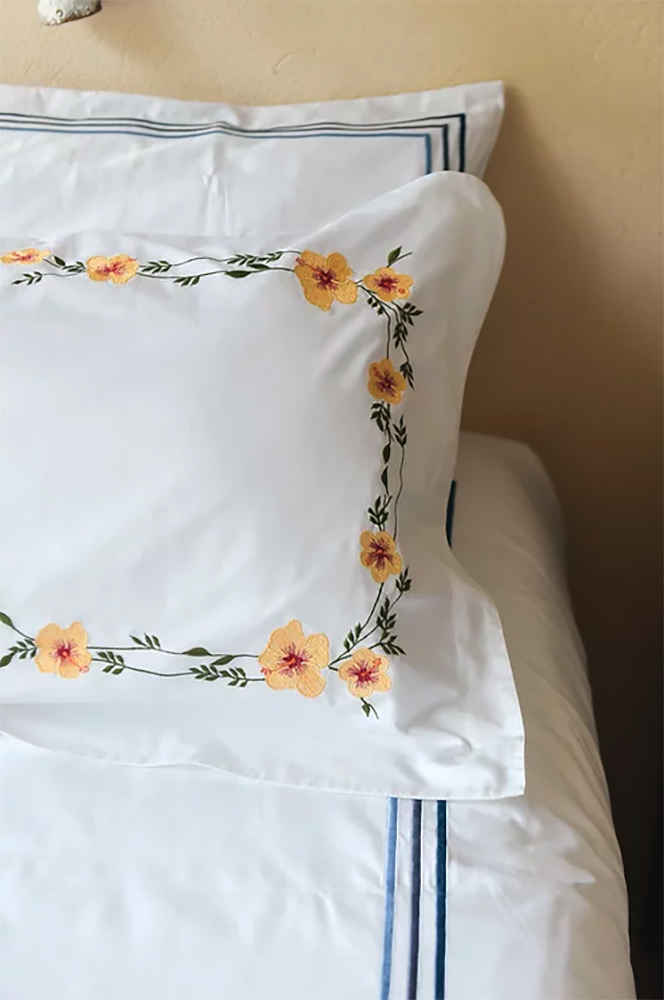 In photo: Gumamela Fleur Chain Sham from The Dreamers collection
ADVERTISEMENT - CONTINUE READING BELOW
On the positive side, the lockdown also inspired a collection called The Dreamers that features dainty pieces that bring the outdoors in. "I felt like everyone was daydreaming of being elsewhere…the focus was to bring the outdoors in so that when you look at your home, it's organic, it's white," says Kyla. In a way, The Dreamers also reflected her change in aesthetic, of becoming more minimalist and just letting go of clutter.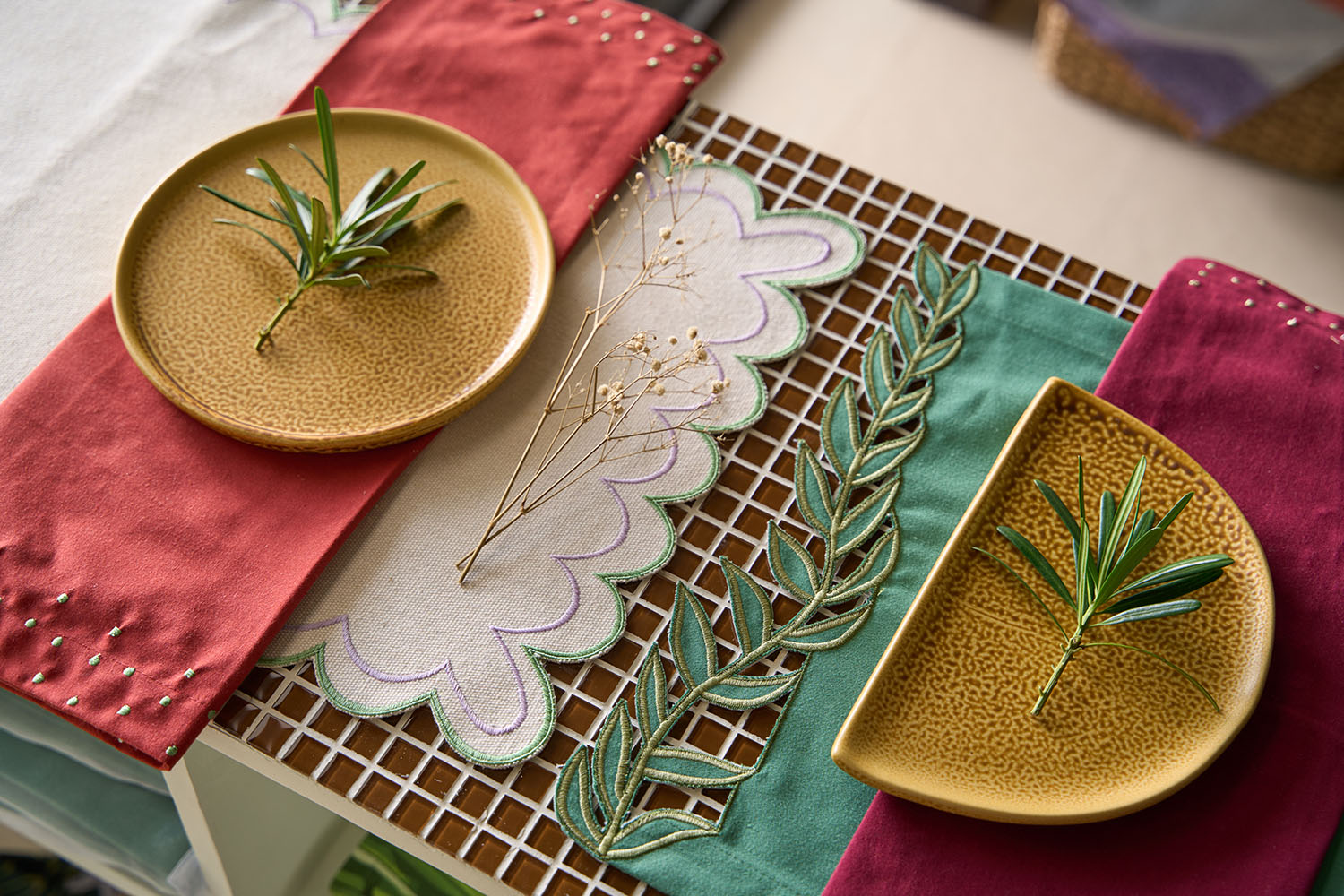 ADVERTISEMENT - CONTINUE READING BELOW
In photo: A mix of different pieces from various collections featuring flatware from Aarde.
Like a tree that grows and spreads its branches, the brand is set to scale new heights and Kyla is excited to show clients that The Olive Tree goes beyond creating monograms and printed placemats. "I feel like this is a good introduction for Olive Tree. I like making curious things that make people wonder and items that are conversation-starters," she explains.
READ: 10 Finds From The Olive Tree Corporation
In addition to introducing The Dreamers in 2020, The Olive Tree also produced Lockdown Baby Buckets, a collection of cute bucket hats for kids, and The Classics, pieces that can liven up your table, bed, and bathroom.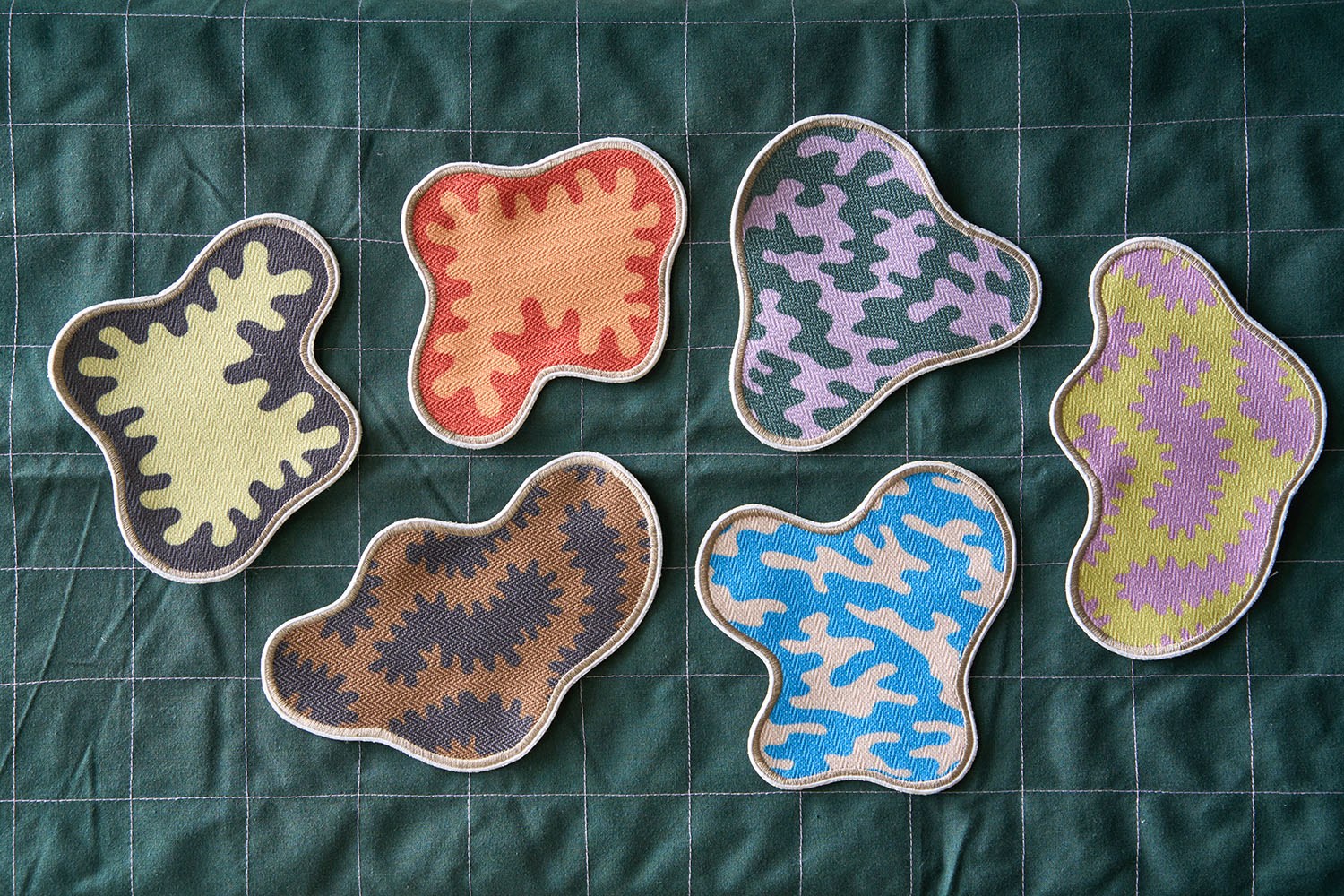 ADVERTISEMENT - CONTINUE READING BELOW
In photo: Squiggly coasters from the Portrait of a Good Meal That Never Ended, a collection made in collaboration with All Caps Mikee.
Staying true to her commitment to thinking outside the box, Kyla has also started collaborating with other artists and fashion designers. "I'm veering away from just doing all graphic work by doing more patterns on things," she muses.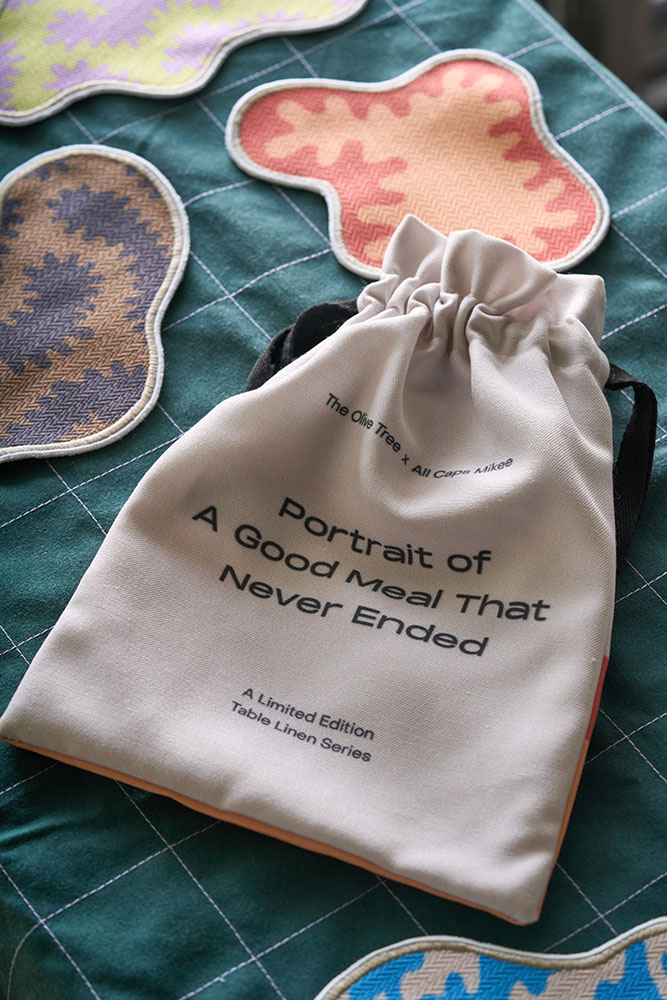 ADVERTISEMENT - CONTINUE READING BELOW
A limited-edition table linen series, Portrait of a Good Meal That Never Ended is a collection made in collaboration with Mikee Silva of All Caps Mikee. The Olive Tree also recently released Hostess with the Mostest in partnership with Anika, a proudly Filipino lifestyle brand known for its wearable and seasonless pieces. Mirroring Anika's items, the Anika & The Olive Tree collaboration likewise highlights "wearables" for the table like neutral items with a pop of color.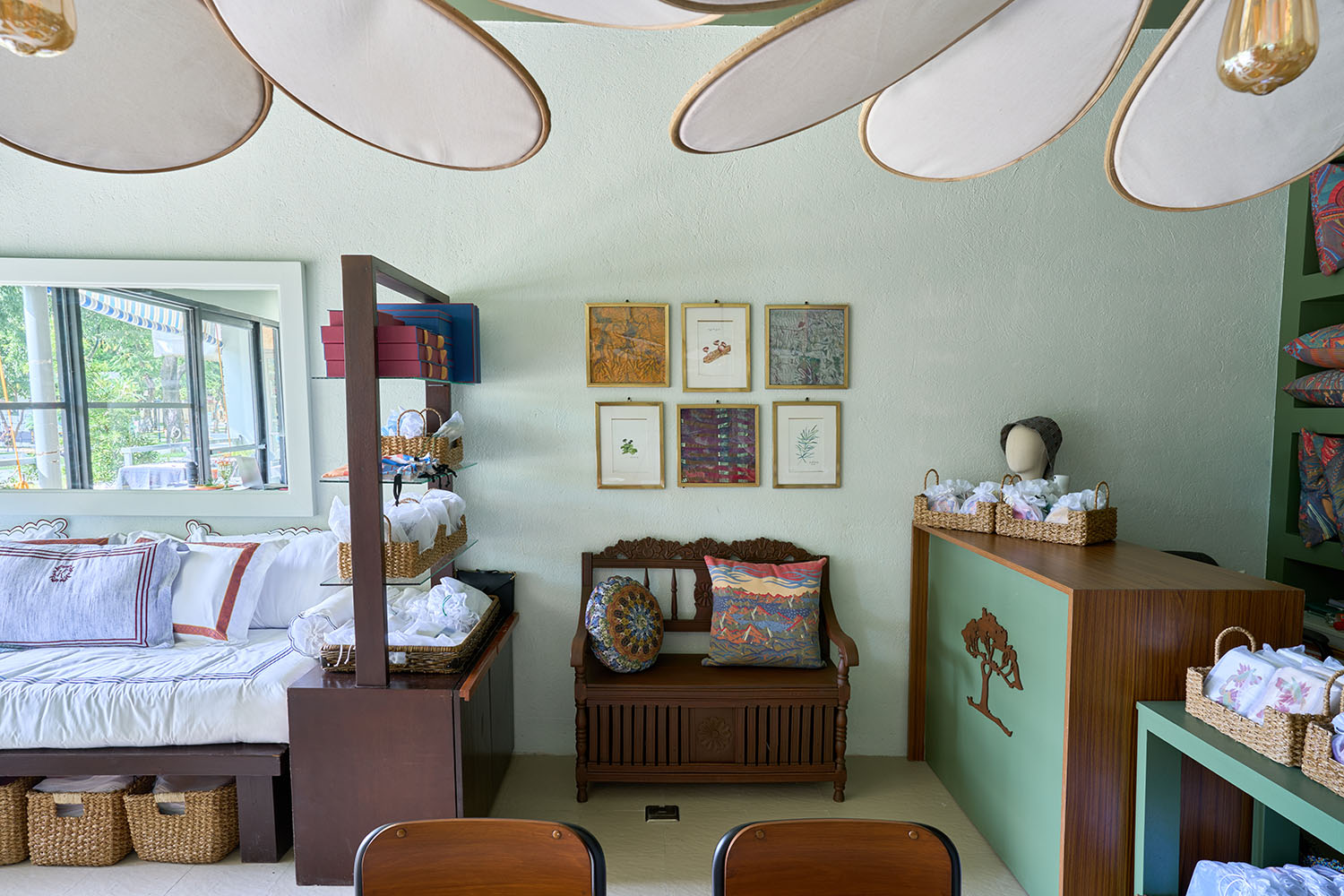 ADVERTISEMENT - CONTINUE READING BELOW
With things slowly getting back to normal, Kyla is ready to reintroduce The Olive Tree to everyone. The next few months will be busy for the brand as it gets ready for the Artefino Fair happening from September 22 to 28 and the Spectrum at the Fifth event taking place in November.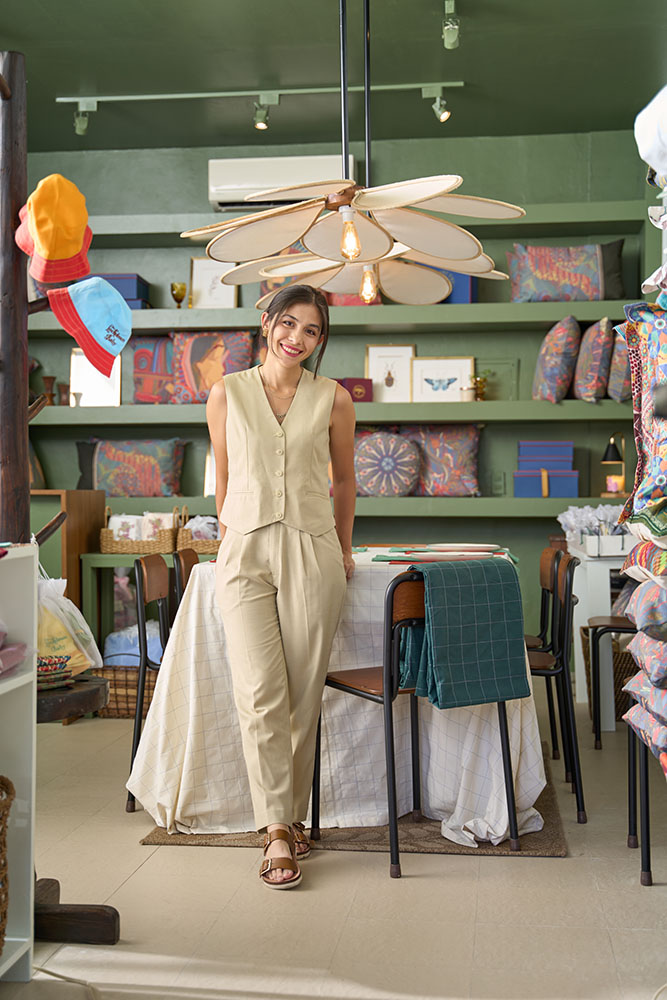 ADVERTISEMENT - CONTINUE READING BELOW
In photo: The Olive Tree creative director Kyla Olives
"I'm proud of what we've come up with and I feel like it's been so long since I felt like I made a strong product. It stands for a lot of things that I learned during the pandemic," Kyla shares. We're excited to see what The Olive Tree is going to create next.
Visit The Olive Tree Store at The Gardens, Soliven II Avenue, Loyola Grand Villas, Quezon City. Stay updated about new collections and upcoming events by following The Olive Tree on Facebook and Instagram. You can also log on to https://www.theolivetreeph.com/.
Special thanks to Kyla Olives and Tala Singson.
More on Realliving.com.ph
Real Living is now on Quento! Enjoy more of our stories by clicking here to download the app.
Load More Stories