Shopping Guide
These Are the Kitchen Essentials You Need in Your New Home
Move into your own space and have a fully functioning cooking area in no time Photography: Hans Fausto (Main Photo)
Other than a stove, a refrigerator, and a sink, there are a lot of other things you're going to need to start cooking up a storm in your new kitchen. However, moving into a new place can be hard on the wallet so keeping things within reasonable budget is always something to consider.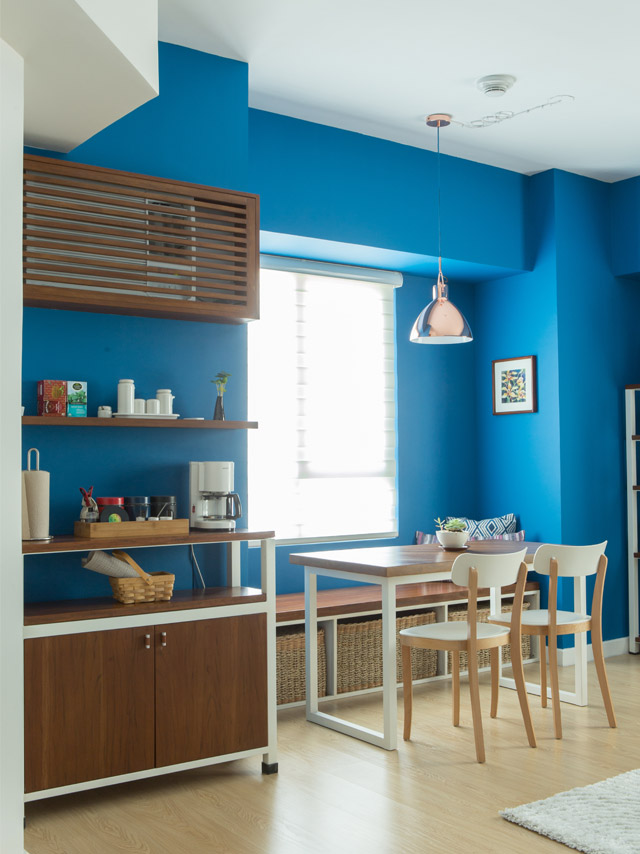 As much as you want to get that pastel-colored stand mixer, you're going to want to put it off until later. What exactly do you need initially for your kitchen to be useful? Here's a list of essentials to prioritize:
Prep Tools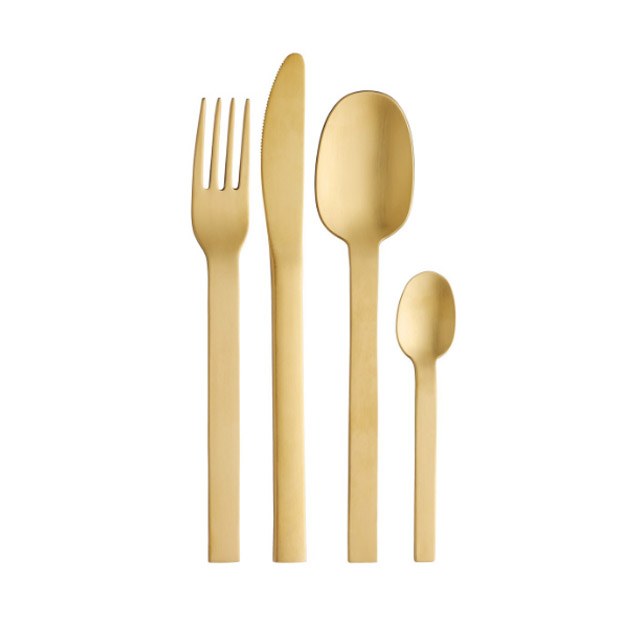 Turini Gold Finish 16-Piece Cutlery Set, price available upon request, Habitat
You're always going to start whipping up recipes by preparing the ingredients so your prep tools are non-negotiable. This should include chopping boards—a plastic one for meats and a wood one for other ingredients—knives, a peeler, a grater, a can opener, kitchen shears, measuring cups, and mixing bowls.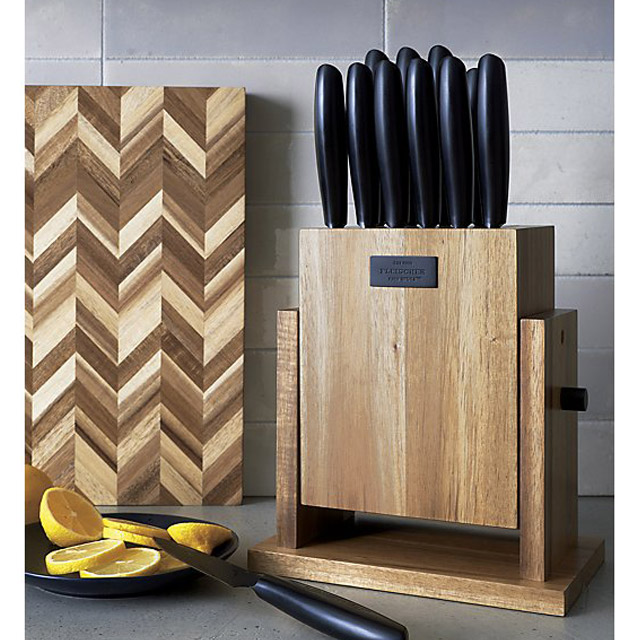 Herringbone Cutting Board, price available upon request, Crate & Barrel
This seems like a lot but trust us, there are no substitutes for these tools so you should really have them. As for knives, a chef's knife is the most versatile knife you can start with. If you want to expand your options a little, then you can add a paring knife, a serrated bread knife, and a carving knife to your set.
Quality Cookware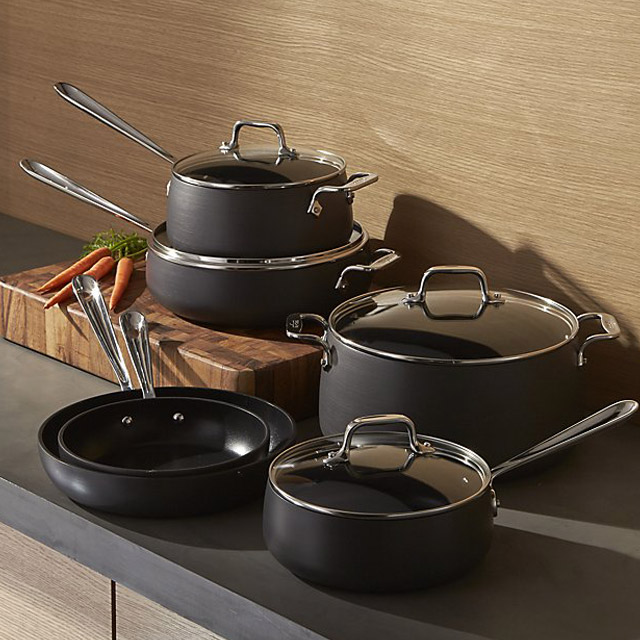 All-Clad Non-Stick 10-Piece Cookware Set, price available upon request, Crate & Barrel
Buying your first set of cooking essentials can be, we admit, a little overwhelming. It's hard to know where to start when the options are practically limitless: stainless steel, ceramic, non-stick, cast-iron, pots, pans, skillets, and more. Thankfully, for a basic kitchen, you're only going to need three cookware staples.
ADVERTISEMENT - CONTINUE READING BELOW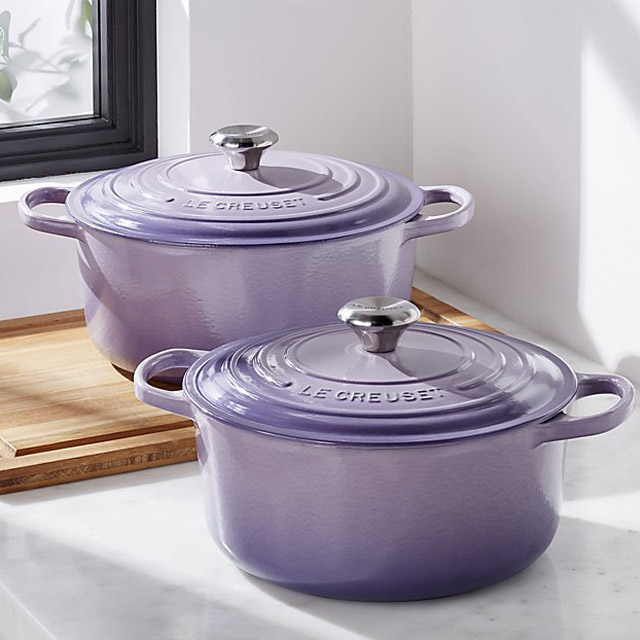 Le Creuset Dutch Ovens, price available upon request, Crate & Barrel
Get yourself a reasonably-sized, non-stick pan, a saucepan, and a soup pot. That's it! As for cooking utensils, you're going to want to grab a basting spoon, a slotted spoon, a slotted spatula, a ladle, a pair of tongs, a whisk, and a colander. If you're budget allows, you can also get a coveted Le Creuset piece as gift to self.
Serving and Storage Essentials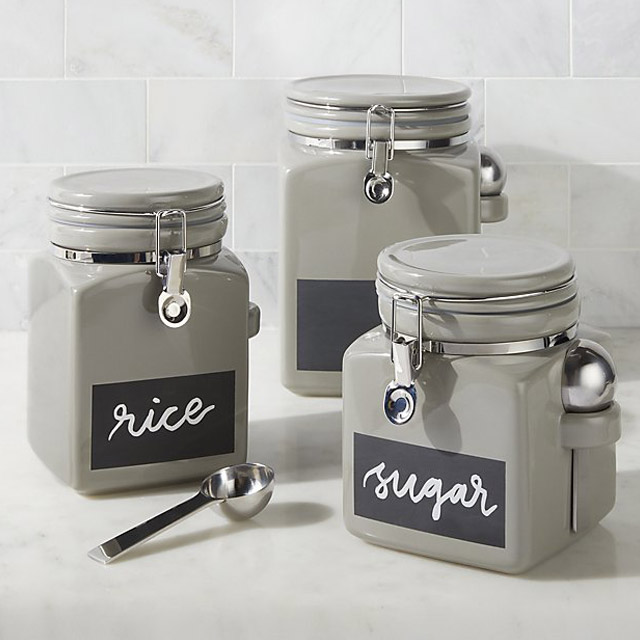 Grey Clamp Chalkboard Canister, price available upon request, Crate & Barrel
After cooking up a delicious meal, you need a piece to serve them in. We suggest getting a pair of glass or ceramic bakeware (in different sizes) that can double as serving dishes.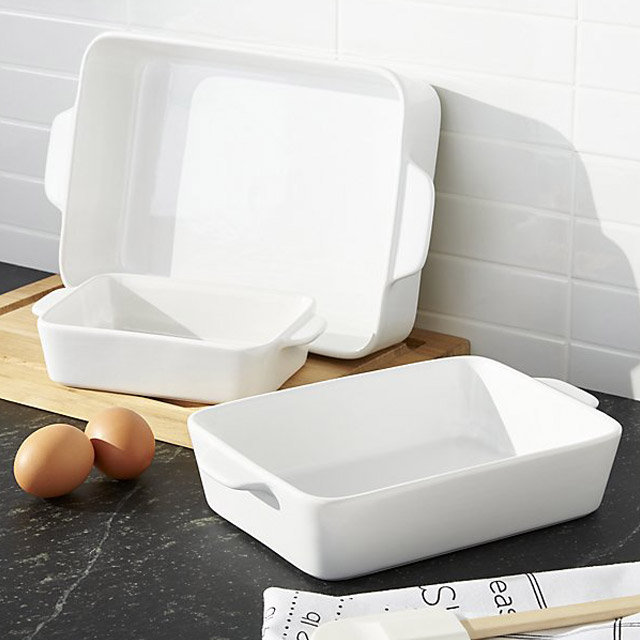 White Potluck Baking Dishes, price available upon request, Crate & Barrel
You can even find options that come with rubber lids so they triple as storage containers as well. But if you can't find those, you can always get food containers to keep your leftovers in. Don't forget to pick up a serving bowl for your rice.
Dinnerware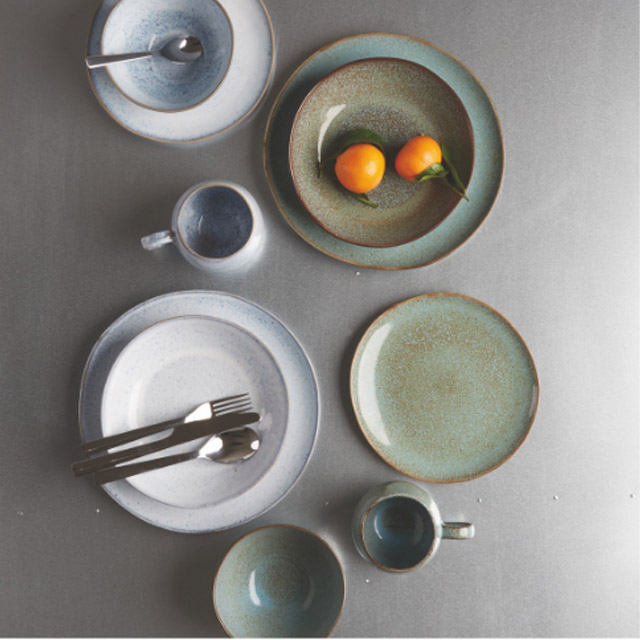 Olmo Turquoise Speckled Set of 4 Dinner Plates, price available upon request, Habitat
Finally, every home needs dinnerware. There is no substituting a good meal served on proper plating so make the investment. Luckily, many home stores already sell complete dinnerware sets that have all the essentials.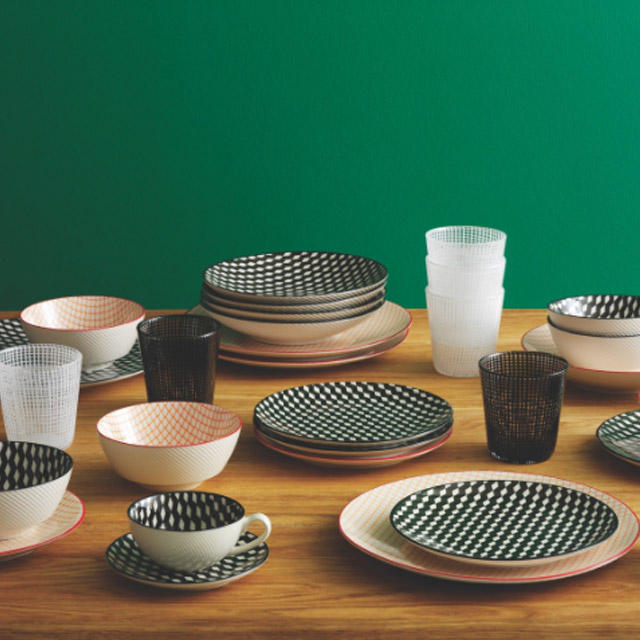 Brookland Orange Set of 4 Side Plates, price available upon request, Habitat
Your set should include dinner plates, dessert plates, bowls, drinking glasses, mugs, forks, spoons, knives, and teaspoons. Initially, you can buy a set for 4 or a set of 6 if you have a bigger family.
WHERE TO SHOP:
Crate & Barrel
4/L Mega Fashion Hall, SM Megamall, Mandaluyong City
Tel. (02) 942-0761
Habitat
3/L Abenson, 4th Avenue corner 28th Street, Bonifacio Global City, Taguig City
Tel. no. (02) 887-5247
More on Realliving.com.ph
Load More Stories
---