Shopping Guide
Gift Ideas for Succulent Lovers and Beginner Gardeners
Here's a selection of unique and creative gifts for those with (and without) green thumbs. Products and services recommended on our websites are independently selected by our editors. If you buy something through our links, Summit Media may earn an affiliate commission at no extra cost to you.
If you're looking for a gift that keeps on giving, consider succulents. Beginners—and even those without green thumbs—can easily start a garden just with a selection of succulents.
These small wonders aren't just charming and low-maintenance. These potted plants can also spruce up a space in a snap. The following guide explores various options, from essential gardening tools to stylish décor. 
Gift ideas for succulent lovers and beginner plantitos and plantitas
Succulent lovers are always on the lookout for new additions to their collections and tools to care for their plants. Here are some gift ideas that will surely delight any succulent enthusiast. These gift ideas cater to succulent lovers' practical needs and aesthetic preferences, making these thoughtful and unique presents.
Succulent starter kit
This kit (available online for P580) with everything needed to start a succulent garden: a succulent, a set of garden tools, a syringe, one neem boss plant, and a bag of Akadama cultured soil for cacti and succulents.
Succulent-care tools
Check out gardening tools specifically for succulent care, such as precision pruning shears (available online for at least P288) and soil moisture meters, or a three-in-one soil tester that lets you measure sunlight, moisture, and pH levels (available online for P299).
Books about succulents
Shop these informative books about succulents online: Project Succulent: Genius Ideas for Arranging Succulents, Cacti and Air Plants by Baylor Chapman (P712, Fully Booked) and Succulents Simplified: Growing, Designing, and Crafting with 100 Easy-Care Varieties by Debra Lee Baldwin (P1,372, Fully Booked).
Read more: 5 Common Succulents To Start Your Tiny Home Garden With
Succulent jewelry
Let them wear their love for succulents on their sleeve—or earlobes. A pair of cactus dangling earrings (available online for P49) makes for a sweet stocking stuffer.
ADVERTISEMENT - CONTINUE READING BELOW
Succulent décor 
Ceramic pot holders (available online for P200–P300 each), terrariums (check out Bio-Art Philippines on Facebook), and wall art featuring succulent designs are perfect for adding a touch of greenery to any space.
DIY gift ideas for succulent lovers
For those who enjoy getting creative, opt for DIY gifts that even the giver will enjoy. These DIY gift ideas not only provide a creative outlet for succulent lovers but also allow them to personalize their gifts. Here are some DIY projects to try:
Succulent arrangement
Provide succulent cuttings, a variety of pots, and decorative elements like pebbles and moss, allowing the recipient to create their own arrangements.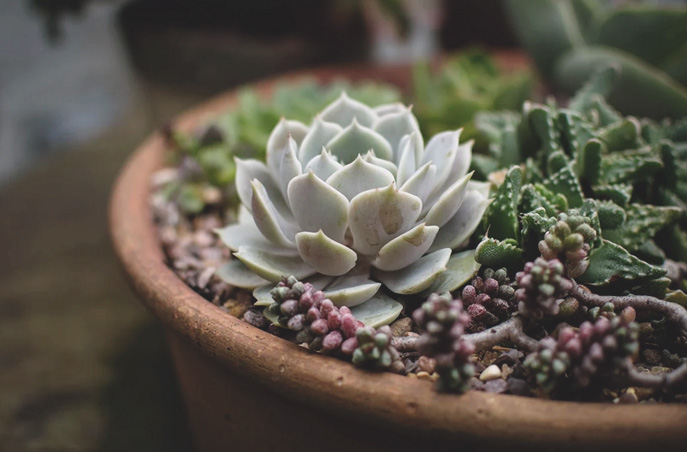 Succulent terrarium
Let the recipient to build their own mini succulent ecosystem. Assemble a glass container, succulent plants, and terrarium supplies like activated charcoal and decorative stones. 
ADVERTISEMENT - CONTINUE READING BELOW
Succulent art
Give art supplies like watercolor paints, brushes, and succulent-themed reference materials, encouraging the recipient to create their own succulent-inspired artwork. You can also opt for a set such as this art kit (available online for P328) and assemble it yourself before giving it as a gift.
Read also: DIY: Paper Succulents
Succulent wreath
Group together a wreath frame, floral wire, and a variety of succulent cuttings to let the recipient create a beautiful succulent wreath for Christmas.
To get tips from enthusiasts, join The Succulent Club Philippines group on Facebook. This community is "focused on proper care of the plants. We share experiments and [lessons] in the hope that we [could] successfully grow them here in the Philippines."
More gift ideas: stylish planters and décor
Succulent lovers often enjoy displaying their plants in stylish and unique planters. Here are some options for trendy planters and décor that also make great gifts. These stylish planters and decor items not only enhance the visual appeal of succulent displays but also serve as statement pieces at home.
ADVERTISEMENT - CONTINUE READING BELOW
Hanging planters
 Macrame (available online for P70–P199 each) or ceramic hanging planters allow succulents to be displayed in a visually striking display.
Geometric planters
Look for modern and minimalist planters with geometric shapes (such as these ones available online for P600–P700 each) that can add a contemporary touch to any space.
ADVERTISEMENT - CONTINUE READING BELOW
Wall planters
Vertical wall planters (like these diamond-shaped ones available online for P250–P450 each) that can be mounted indoors or outdoors create a living wall-art installation.
Read more: Dos and Don'ts of Caring for Succulents
Ceramic plant pots
Handcrafted and beautifully glazed ceramic pots in various shapes and colors add an artistic touch to any succulent collection. Is the succulent lover in your life a minimalist? Give them these white and brown pots (available online for P200–P350 each) that will go well with their aesthetic.
Succulent plant stands
Metal (available online for P846) or wooden plant stands designed specifically for displaying succulents provide an elevated and stylish showcase for the plants.
ADVERTISEMENT - CONTINUE READING BELOW
Where to Buy Succulents in Metro Manila
Thinking of starting your own garden? Get your fix of affordable potted pals from these spots in White Plains, Quezon City: Roxas Garden, Winter Green Garden, and Marleina's Farm.
Watch this video to see these shops before you drop by:
Don't have time to drive to QC? Follow these online stores on Instagram instead:
As of this writing, Smarty Plants is on hiatus, but who says you can't follow this account for some green inspo?
The Greenhouse Project also has brick-and-mortar stores in Quezon City, and has products consigned at Common Room and Rustan's Flower Shop.
@mrandmrsgreenph
The Instagram account of Mr. and Mrs. Green is private, so follow it to see their creations.
Femi's handmade creations are available in small batches, so if a design catches your eye, act fast.

FAQs
What are succulents?
Succulents are plants that store water in their leaves, allowing them to survive with little water.
ADVERTISEMENT - CONTINUE READING BELOW
Are succulents easy to care for?
Yes, succulents are known for being low-maintenance and are perfect for people who don't have a lot of time and patience to care for plants.
Can succulents be grown indoors?
Yes, many succulent varieties can thrive indoors as long as they receive enough sunlight and are planted in well-draining soil.
How often should succulents be watered?
Succulents should be watered sparingly, allowing the soil to dry out between waterings to avoid root rot.
Links are updated regularly and as much as possible but note that products can run out of stock, discounts can expire, and listed prices can change without prior notice.
For more discounts and deals, check out Real Living's exclusive vouchers.
More on Realliving.com.ph
Load More Stories