Shopping Guide
10 Stores to Check Out in LRI Design Plaza
Looking for chic home pieces? Drop by this building in Makati, which is a one-stop-hub for stylish designer pieces. Photography: Ocs Alvarez (Open House) & Michael Angelo Chua (Atelier Aguila)
If you're planning to buy new furniture or lovely décor for your home, make sure to pay a visit to LRI Design Plaza–a one-stop hub for all your home needs. Inside this three-story complex is a cluster of beautifully laid-out shops that offer lots of accent pieces. The best part about LRI is that the stores sell mostly original designer furniture, and there are quite a number of designer's and architect's offices in the building, making it a true designer hub.
Schedule your shopping day and make sure to include these stores—and don't forget to have a quick bite or drink at the elegant restaurants within the building.
LRI Design Plaza is located at 210 Nicanor Garcia St., Bel-Air II, Makati City. Store hours: Monday to Saturday, 10am-7pm. For more information, visit lridesignplaza.com.
Inside Atelier Aguila's showroom are unique pieces made of wood from demolished old houses, sunken logs, boats, driftwoods and other organic materials, mostly made by owner and artist Karl Aguila. The furniture pieces and adornments are massive in scale and rustic in character.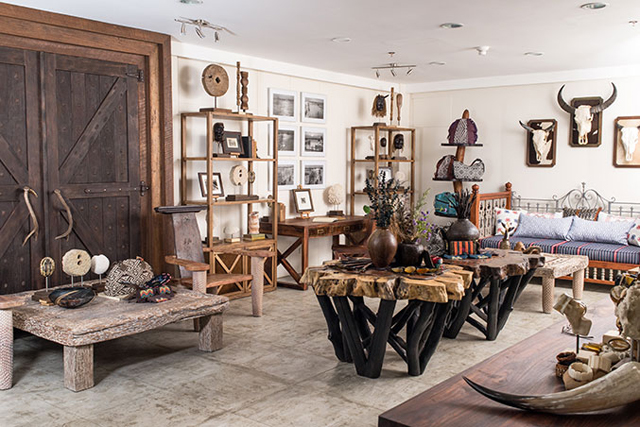 Their latest collection for 2017 includes the Fernando Table, which is made out of a huge driftwood. The table could be separated and conjoined into different configurations.
Atelier Aguila is located at Suite 121 LRI Design Plaza, 210 Nicanor Garcia Street, Belair II, Makati City. You can call them at 0917-5822176 or send them an email via info[at]atelieraguila.com

READ: Shop of the Week: Atelier Aguila
Give your home an elegant look with Masterpiece furniture pieces. Choose from a wide array of sleek tables, accent chairs, comfy sofas and other furniture pieces. Their products are highlt recognized by hotels, resorts and offices making them a reliable furniture provider.
Visit Masterpiece Furniture at Suite 126 LRI Design Plaza, 210 Nicanor Garcia St., Bel-Air II, Makati City. You can them at (02) 535-3332 or send an email at inquiry[at]simbulan.com.ph.
Known for pieces that combine traditional Filipino materials with European designs, this store has branched out to include home accessories and a wide range of upholstered furniture.Don't miss out on their unique driftwood planters and tables, distressed candleholders, and resin animal heads.
Diretso is at the 2/L LRI Design Plaza, tel. (02) 896-3277
Locsin Furniture and Lighting is known as a top exporter of furniture and lamps. They make sure their products are both functional and sets as a work of art that will fit into your stylish home. Many of their sculptural, woven pieces such as their Genie chair have won design awards.
Locsin Furniture and Lighting is located at Suite 209 LRI Design Plaza, 210 Nicanor Garcia St., Bel-Air II, Makati City. Contact them at (02) 846-1498 or send an email at locsin[at]locsin.com.
If you are looking for proudly Pinoy pieces that are classic yet timeless, Luzon Rattan Industries has a lot to offer. Every product is made durable and comfortable from quality rattan, wicker, and other natural materials. Incidentally, "Luzon Rattan Industries" is what LRI Design Plaza is named after!
Luzon Rattan is located at Suite 109 LRI Design Plaza, 210 Nicanor Garcia St., Bel-Air II, Makati City. You can call them at +(02) 890-1188 or send an email at inquiry[at]luzonrattan.com
LRI is full of art galleries on the upper floors, and Ricco Renzo is one of the more established ones. They hold frequent exhibits of noted Filipino artists such as Federico Aguilar Alcuaz, Alan and Ivi Cosio, and Manuel Baldemor, among many others. Their upcoming exhibit this end of February will focus on the glass works of Marge Organo.
Ricco Renzo is located at Suite 206, LRI Design Plaza, tel. (02) 898-2545, visit their Facebook page for exhibit schedules and updates
Entering this charming store is like finding yourself in a fascinating curio shop filled with Filipino antiques and eclectic accessories, most of them from the Northern region of Baguio and the Cordilleras, where owner Pinky Magsino is from. Don't miss the earthenware and the beautiful vintage jewelry pieces.
PNKY is located at 2/F LRI Design Plaza, tel. (02) 403-0392
Shop for furniture, leather goods, and have a sip of good wine all in one go at Massimo Trulli, located at the front of LRI. Check out their customized leather pieces with tongue-in-cheek pop culture patterns, Hollywood icons, and Art Deco references in their unique furniture pieces and bags, and then enjoy premium wine and Italian food in the Nina Santamaria-designed restaurant within the store.
Shop and dine at iTrulli at G/F LRI Design Plaza, or click here
Designers Gabriel Lichauco and Stanley Ruiz teamed up with engineer RG Roa to create Open House. The stylish store features an impressive lineup of designers Lichauco, Ruiz, Melissa La'O, and award-winning export company SC Vizcarra to create truly unique Filipino pieces with a modern-global touch. There are also modular cabinets and furniture pieces on display in the store.
Visit Open House at Unit 320, LRI Design Plaza, tel. (02) 831-6929 / 0917-541-2671
This brand is famous for its modern and dynamic wood furniture exports that are made in Pampanga. Handcrafted furniture includes chairs, dining sets, lamps, tables and accessories; beautifully crafted modular bookshelves make for interesting wall decorations. Everything is finished in clean, natural shades that transport you straight into resort living. Check out their new Art & Play collection.
Drop by Triboa Bay Living G/F LRI Design Plaza, tel. (02) 403-6281
PHOTOS Ocs Alvarez (Open House), Michael Angelo Chua (Atelier Aguila & iTrulli), Vincent Cosculluela (Triboa Bay Living, Atelier Aguila, & Luzon Rattan Industries), and LRI Design Plaza website
More on Realliving.com.ph
6 Stores To Check Out When You Visit HUB: Make Lab
4 Home Stores to Visit this Weekend
Load More Stories
---