Neighborhoods
5 Reasons To Live In Kapitolyo
This neighborhood affords you both convenience and a laid-back lifestyle that makes for stress-free living Photography: Rockwell Primaries (Main Photo)
In an effort to avoid getting stuck in traffic every morning, I moved to a rented place in Kapitolyo. It isn't much—I only rent bed space in a room I share with three other girls. But this, for me, is a wise move, as my one and a half- to two-hour commute from our family home in Balintawak has been reduced to a 15- to 20-minute trip to the office that comprises two tricycle rides. Life has never been more convenient. 
Good food is everywhere.
ADVERTISEMENT - CONTINUE READING BELOW
I stay at a townhouse with 11 other girls and a caretaker on one of the streets named after saints in Kapitolyo. It is a mere 10-minute walk to East Capitol Drive, where rows of restaurants vie for your attention. There's Charlie's in its garage-like location serving mouthwatering burgers, and Cab Cafe with its cakes, pastries, sandwiches, and pastas. My roommates and I have gone out more than once to have dinner together. We've enjoyed Filipino dishes served at Qubiertos, ribs, nachos, and other American and Latin American fare at Brad and Pit's Ribshack (both along East Capitol Drive), and comforting pastas and pizzas at Pomodoro, a small but quaint restaurant tucked in a quiet corner along San Rafael Street.  These are just among the many restaurants you will find, which include mainstays Three Sisters, Epic, Poco Deli, Kanto Freestyle, Rub, and recent additions Main Street and Titto's. 
ADVERTISEMENT - CONTINUE READING BELOW
CONTINUE READING BELOW
Recommended Videos
It doesn't lack for recreation spots. 
When you feel stressed and you want to unwind, you can treat yourself to a spa or massage at Ace Hotel and Suites located at the corner of United and Brixton Streets. I've even attended a couple of yoga classes at Urban Ashram Manila along Brixton Street. And since we're already talking about Brixton Street, why don't you pop in at home and lifestyle store Heima? This shop located at Three Brixton Building offers colorful furniture and accessories as well as collectibles like Design Anthology and Kinfolk magazines. decorating books, CDs of indie bands, and LP Records. And for those of you who love to skate and surf, you wouldn't want to miss Easy Skate-Surf, also at Three Brixton Building, where you can get your skating and surfing apparel and accessories.     
ADVERTISEMENT - CONTINUE READING BELOW
Estancia Mall is just a stone's throw away. 
In Kapitolyo, we enjoy the convenience of having a mall nearby. We can simply take a tricycle (or walk if we're not in a hurry) to Kapitolyo's main gate and cross Shaw Boulevard to go to Estancia Mall. More restaurant choices are available at the mall and at the park in Capitol Commons. The park is also perfect for jogging, walking your dog, or simply sitting on the park benches to have a lovely conversation with a friend. We even see high school students practicing dances and sports-lovers playing badminton or Frisbee on the park's grassy areas. 
ADVERTISEMENT - CONTINUE READING BELOW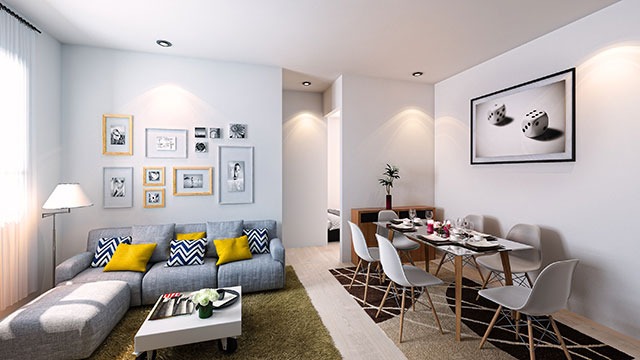 IMAGE Rockwell Primaries
Looking for a condo? You might want to buy one in Kapitolyo.
If you want to live in Kapitolyo, you have plenty of choices of places to live in. DMCI's Brixton Place, located along Brixton Street, is a high-rise development that is perfect for young professionals and starting families. Rising at Capitol Commons are Ortigas & Company's Maven for a hip, creative, and cosmopolitan lifestyle, The Royalton, dubbed as "the sexiest tower in the city" because of its balcony curves and stunning architecture, and The Imperium, an upscale development that spells luxurious living. Rockwell Primaries' The Vantage At Kapitolyo is also worth considering, as it is right smack along West Capitol Drive—a definitely convenient location. 
ADVERTISEMENT - CONTINUE READING BELOW
It is a laid-back neighbourhood and everything you need is here. 
I would say that the place I'm renting is found in a perfect location. It is tucked in one of Kapitolyo's inner streets that is far enough from the busy East Capitol Drive yet close enough to everything—restaurants, a mall, parks, and places of worship. We live in a quiet neighborhood where you can hop to the nearest sari-sari store to buy chichirya, where lutong bahay is sold next-door, and where you can buy inihaw every afternoon. Almost everyone knows everybody, or is at least familiar of who lives in the neighborhood. Moving to Kapitolyo is one of the best decisions I have ever made. Now, which restaurant will we try next? 
ADVERTISEMENT - CONTINUE READING BELOW
More on Realliving.com.ph
Load More Stories