Makeovers
Your P2,000 Budget Can Afford A Mini Makeover
Turn sad corners and uninspired nooks into spaces that wow Original Article: Rachelle F. Medina Photography: Jun Pinzon Styling: Rachelle F. Medina
When it comes to sprucing up the home, have you ever thought about changing the look of your coffee table or turning a bookshelf into a charming focal point? We have to admit, there are corners that we often neglect because we focus on bigger areas that guests instantly see. However, keep in mind that these little details can make or break your space.
A dull nook can stand out and may look out of place in a home. A few, well-thought-out pieces can help you achieve a cohesive and delightful home. The best part? You don't need to shell out thousands to transform your home. A minimal budget of P2,000 can work wonders—let the makeovers below inspire you:
A stunning coffee table in the living area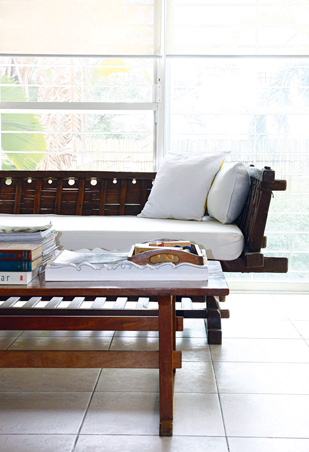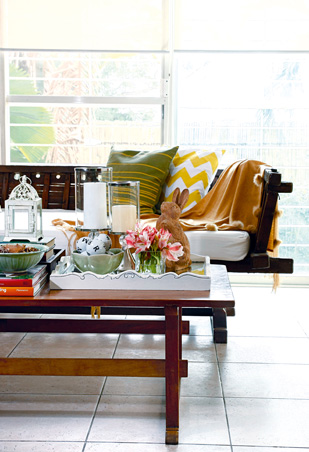 Are you guilty of leaving magazines, remote controls, bills, and other knickknacks on the coffee table? With clutter taking over, your living area can instantly look cramped and boring. Turn things around with these ideas:
1. Colors, layers, shapes, and height can turn the coffee table into your focal point. A wooden tray (available in department stores for P500 or less) can be used to hold scented candles, a vase of flowers, figurines, and hurricane candleholders. These accessories cost less than P1, 000 each. Work on a theme or mix-and-match accessories for a delightful display.
2. Don't leave your favorite reads in disarray. Stack coffee table book at different heights and your magazines, too. Top your towers with cute accessories as a finishing touch.
3. Liven up your sofa with a bright throw and pair it with colorful throw pillows.
Shop for tabletop accessories and soft furnishings at The Landmark, Ayala Center, Makati City and SM Home.
A cozy reading nook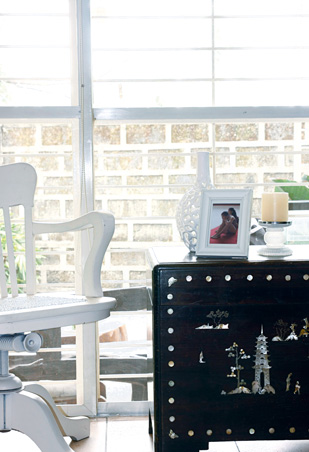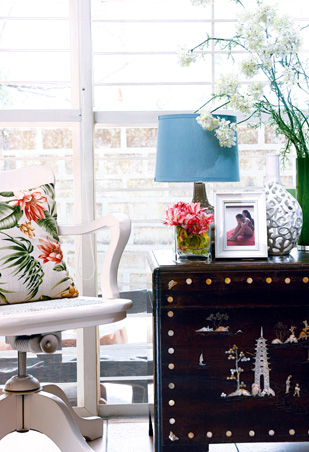 In many homes, the side table holds a bunch of framed photographs, a lamp, and catchalls filled with coins and whatnots. Instead of leaving this spot plain and dusty, add a few pieces to make it more functional:
1. Make the chair more comfortable by adding a throw pillow. To make the setup reminiscent of the beach, a printed pillowcase showcasing flowers is your best bet.
2. Curate the items on your side table. Pick a table lamp with a cozy shade and pair it with a tall vase of flowers. Shop for an affordable lamp (less than P2,000) at SM Home.
3. Aside from the vase of blooms, you can also display potted succulents. Choose one frame you want to highlight and make it part of your setup.
Find affordable decor pieces at Dapitan Arcade.
A command center under the stairs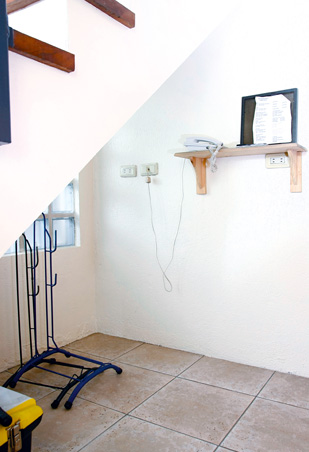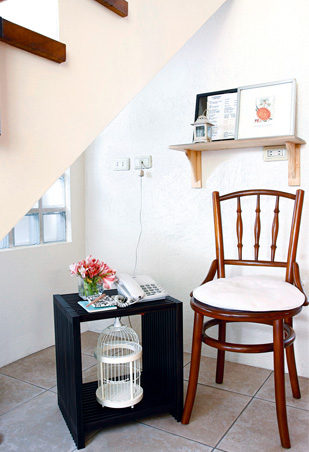 The space under the stairs is one of the most versatile spots at home. Some use it as storage for shoes and bags, while others turn it into a bodega for old appliances and furniture. With the right styling, it can be used as a command center where you can keep bills, take calls, and leave important messages.
1. Depending on the connections at home, you can place the landline, answering machine, and other gadgets under the stairs. You can even have a charging station!
2. Turn the space into a hardworking part of the home by adding a side table, a chair, and a small chalkboard where you can write messages and reminders. A stall in Dapitan Arcade sells pedestal tables for only P1, 200 to P1, 500 (depending on the height), while another store sells pretty chairs for less than P2,000. Small corkboards and chalkboards are available at National Book Store for less that P200.
3. Don't forget to decorate! Small birdcages and lamps add a charming country vibe to any nook. Shop for these at The Landmark for less than P1, 000.
An envy-worthy bookshelf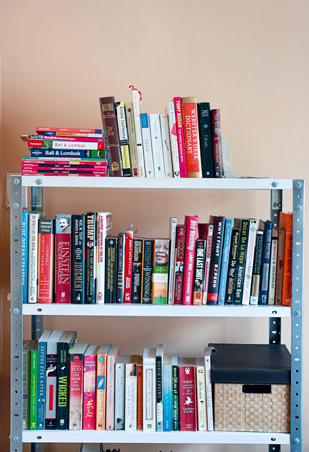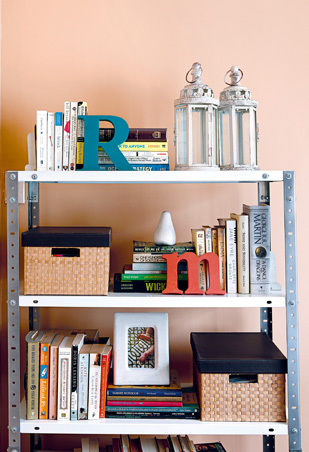 As a certified bookworm, I'm guilty of having unread books and leaving the shelf cluttered. Remember that too much weight may cause it to topple over and a disorganized storage piece can make it more difficult to find the book you want to read. Turn it into a pleasing part of your room with these tips:
1. Arrange your books properly. Make a call—do you want your books grouped per genre, author, or according to the color of the spine?
2. Control clutter by keeping important brochures and knickknacks in storage boxes. Depending on the look you want to achieve, you can opt for woven boxes for a neutral touch or colored ones for a quirky vibe. Find boxes that cost P500 or less at Regalong Pambahay.
3. To keep your shelf from being too plain, you can alternate stacked and standing books.
4. Personalize your shelf with framed photographs or your favorite prints and accessories. You can use potted plants and mini lamps as bookends, too. Find faux plants for less than P500 at The Landmark.
This article ("4 Easy Makeovers") originally appeared in the July 2012 issue of Good Housekeeping Magazine.
More on Realliving.com.ph
What Can You Do with a P10,000 Makeover Budget?
A 4-Week Makeover for a Tiny Kitchen
Load More Stories
---