Makeovers
What Can You Do with a P10,000 Makeover Budget?
Believe it or not, you can revamp a studio unit Original Article: Manix Genabe and Fran Ng Photography: Bahaghari MFI Styling: Manix Genabe (For Condo 1) Interior Designer: Tiffany Chua-Siy and Johanna Ang (For Condo 2)
Every once in a while, we get the feeling of wanting to change a thing or two at home. Whether it's redoing the living area's layout or repainting the walls of your bedroom, a new look can bring a healthy dose of good vibes. While we'd all want to work on a makeover as soon as possible, setting a budget is a roadblock we all face. Many homeowners are concerned about the costs of renovation and the price of the pieces you'll need to accomplish it.
Instead of putting your mini project on hold, you may want to start gathering pegs, sourcing for pieces, and putting together a look for an area you want to improve. Dramatic transformations don't have to cost a lot, as proven by the condo makeovers we're featuring below. With a budget of P10, 000 each, the design teams were able to give the owners a better and more inviting space to live in. Take note of their solutions and start planning your own makeover next:
Space #1: A 64sqm condo unit with a fantastic view. The owner kept the look of the unit simple and comfortable—most if it is in white, with pops of blue and yellow, his favorite colors. To match with these elements, the furniture is in lightwood, metal, and glass. While the aesthetic makes use of the available space, the home lacks character and it could use a little texture.
Here's a rundown of the changes done in the unit: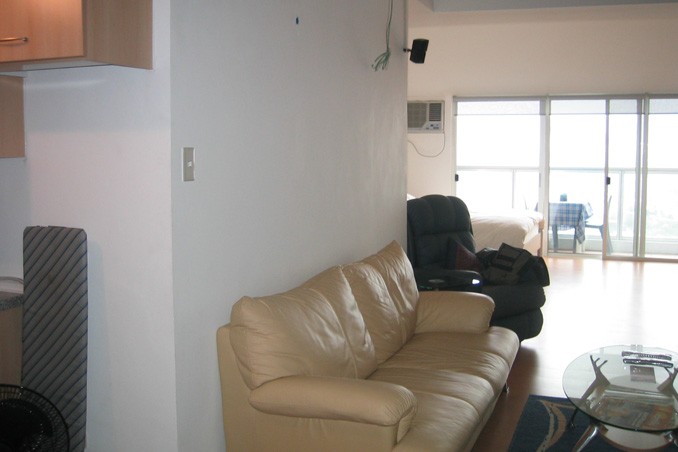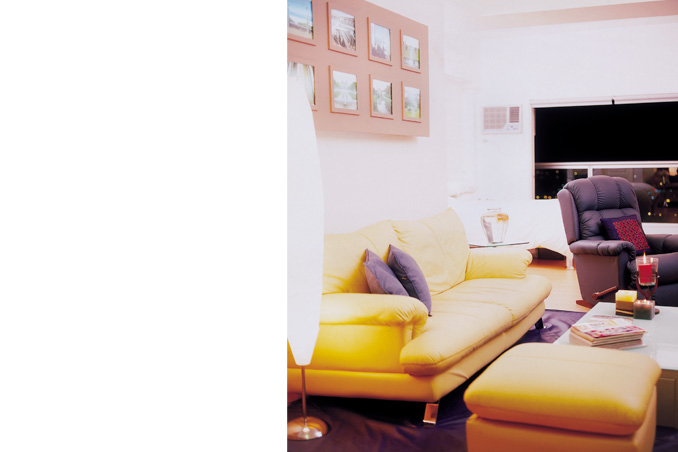 The entertainment area that welcomes guests into the unit has the basics—a dark blue La-Z-Boy, a three-seater sofa in yellow leather, an ottoman, and topnotch audio and video equipment. To complete the look, a blue leatherette area carpet was added to define the space. It complements the smooth surfaces in the room.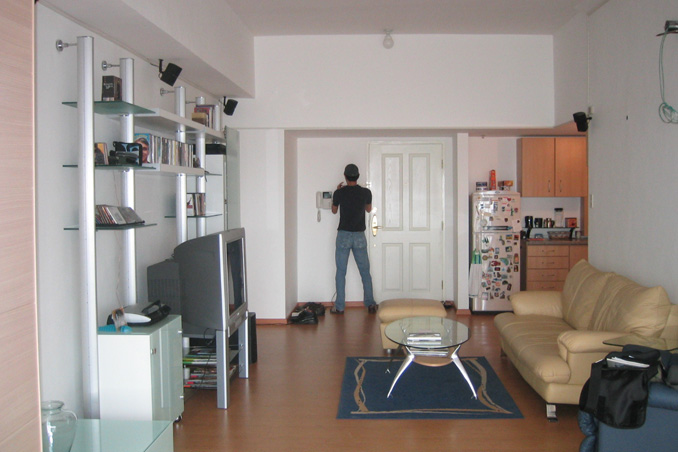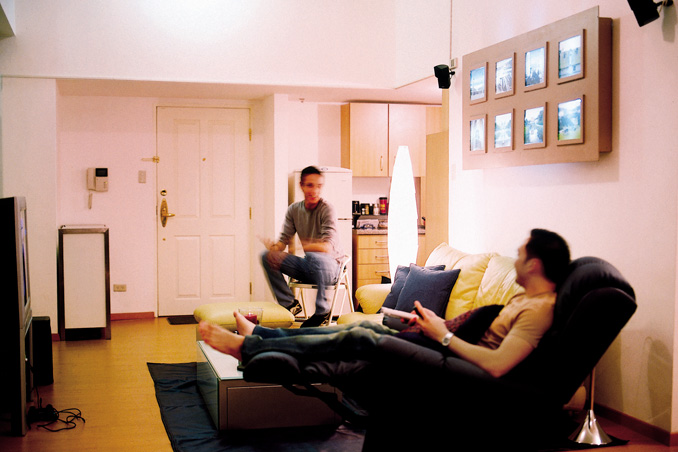 To separate the fun corner from the work corner, the design team constructed a worktable with simple lines in light mocha and placed it beside the cabinet between his entertainment area and bedroom. With this nook, he can quickly organize his belongings and get things done efficiently.
Since the owner is into photography, his own snapshots can be used as accent pieces in the unit. The best ones were put in a customized frame in light mocha. Since it is lit from behind, the wall accent can double as a source of light.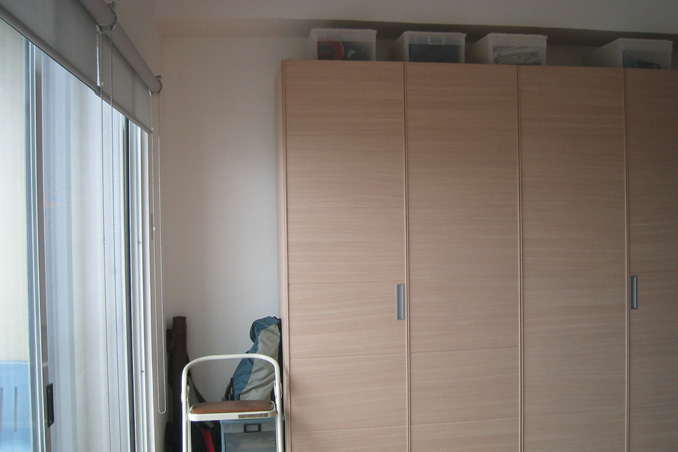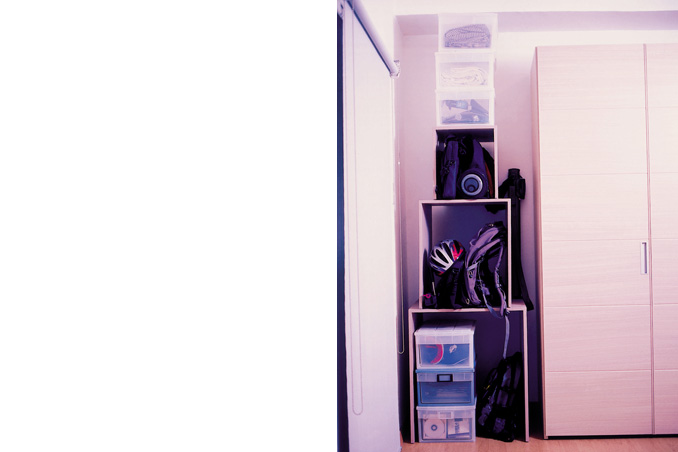 At the foot of the bed, there's a cabinet that can be maximized. To avoid clutter and to make sure the owner has enough space for his belongings, the design team had nesting tables constructed in different sizes. One was placed on top of the other and each was used to organize storage boxes, photography equipment, and other essentials.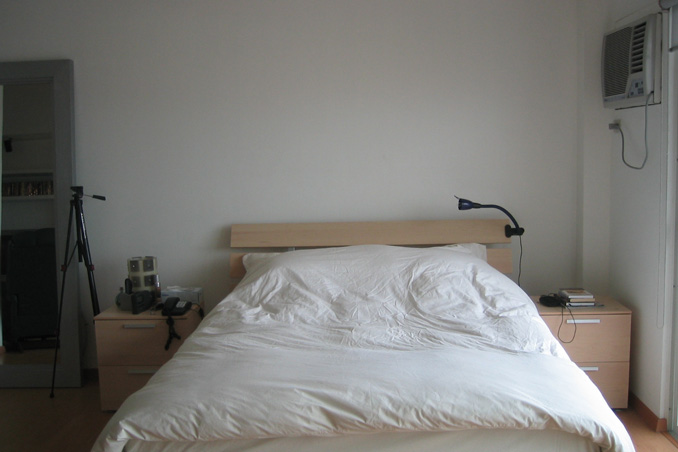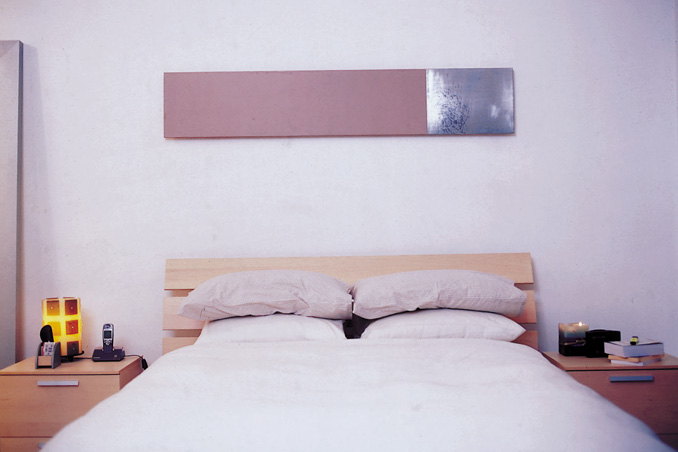 Just like the other nooks in this unit, the bedroom is simple and completed with pieces in lightwood. To keep it from being boring, a wall art was added to liven up the wall above the bed. It's made of wood in light mocha and a piece of GI sheet to complement the existing pieces of furniture.
The budget:
Construction costs for frame, nesting shelves, work table, and wooden plank—P6, 700
7.5 years of Leatherette from Shell Canvas—P1, 300
Carpet sewing by Pap's Upholstery—P1, 000
3 square vases from Landmark—P510
2 throw pillow cases from Landmark—P140
2 throw pillow fillings from Landmark—P120
Goldfish from Bio Research—P205
Total: P9, 975
Space #2: Similar to the first unit, this condo home also has the owner's essentials—a bed, a computer, and a lounge chair. While the space serves it purpose, it isn't homey and inviting enough. Since the bachelor who owns it also wants to have a meditation space, interior designers Tiffany Chua-Siy and Johanna Ang came up with a modern Asian look. Aside from moving the furniture pieces around, the designers also painted the walls in chocolate and avocado. The chosen color combo definitely adds warmth to the space.
Let's look into the changes done by Tiffany and Johanna below: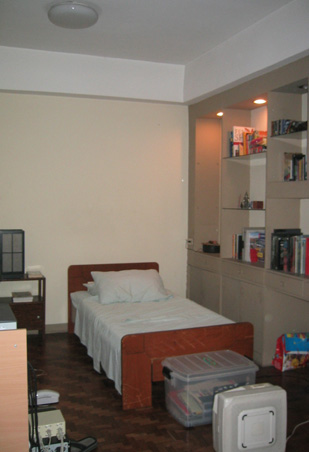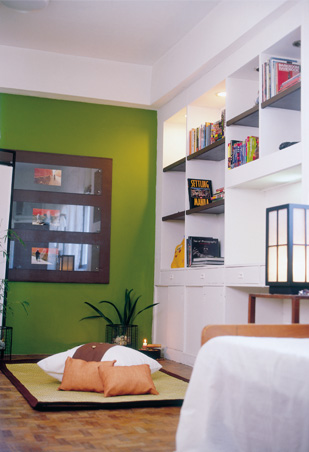 One of the unit's pros is the amazing view. To further highlight this feature and to meet the owner's requirements, the designers had to move nooks around and bring in new pieces. Since the owner wanted to have a meditation area, they moved the bed to the window area, then painted the wall avocado green to create an accent wall. To complete the Zen vibe, a bordered mat was placed on the floor. Throw pillows, bamboo low planters, and candles were also added to make it even more calming.
Instead of leaving the green accent wall bare, the designers installed a large wooden board to give the owner a place for his travel photos. They used double-sided tape to stick the photos to the board, then they attached the glass using screws.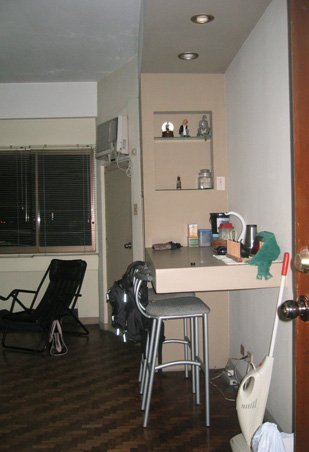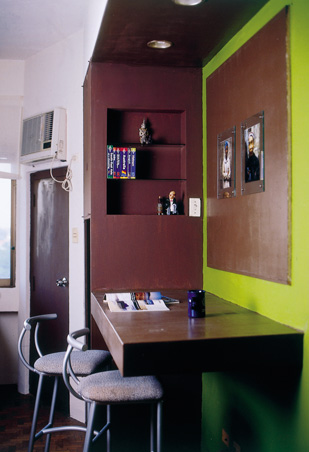 We all want to separate work from play. Curtains were used to conceal the computer area and define the workspace from the sleeping/meditation areas. "Psychologically, it's nice to have your workspace separate from your living space. It tells you it's time to stop working," says Tiffany.
Similar to what's added in the meditation area, another photo wall was installed in the bar area. The chocolate-colored board stands out against the avocado green wall.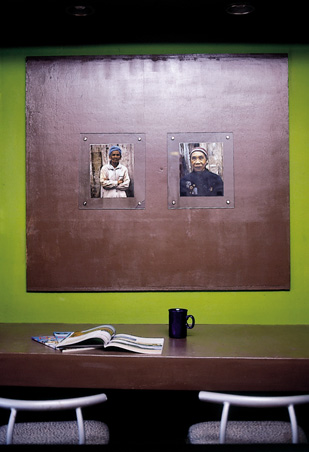 "I like these glass panels most of all. I can put my photos there and change them," shares the owner.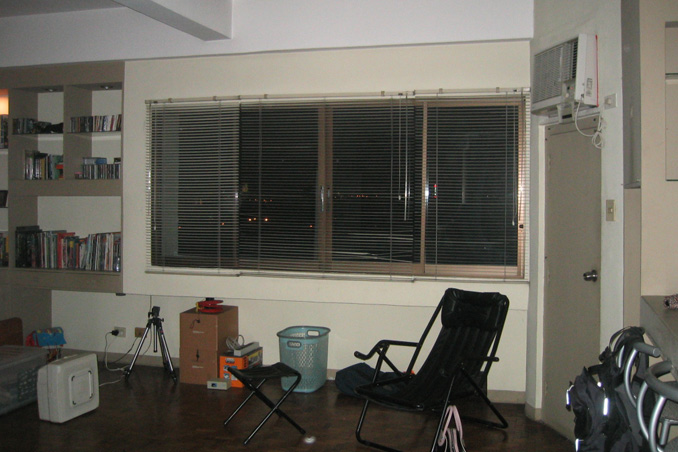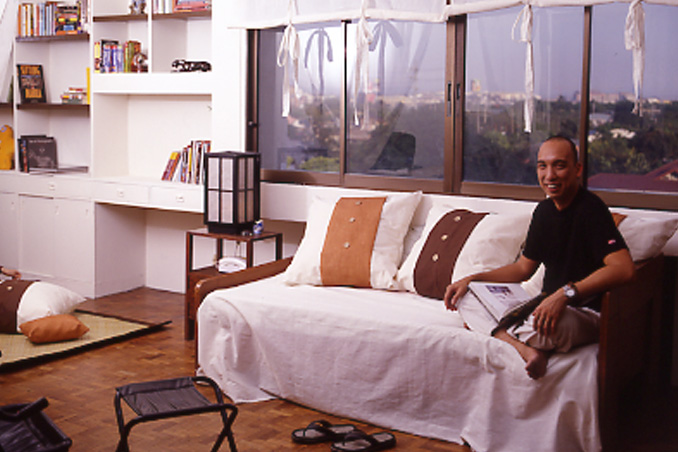 The bed by the window has been transformed into a daybed by adding katsa throw pillows. Aside from serving as a sleeping space, it can accommodate guests during get-togethers, too. Katsa was also used as slipcover for the bed and for the curtains that cover the blinds above it. The designers used Velcro to stick the katsa to the blinds.
The budget:
Plywood, glue, nails, and brushes—P3, 232
5 gallons of paint—P890
Glass sheet (11 square feet) —P1, 554
Curtain rod (2 meters)—P678
Homemade pillows (4 large and 2 small) and filling from SM Department Store—P720
Velcro (7 meters)—P130
Katsa (15.5 yards)—P440
60 pieces pebbles—P100
Banig—P500
Labor—P1, 200
2 planters from Dapitan Market—P300
Tealights from SM Department Store—P60
2 candleholders from Dapitan Market—P70
Total: P9, 874
Ready for your own makeover? If you're looking for design professionals you can work with, click here.
Read the original article ("Real Living's P10, 000 Challenge: Bachelor Bash") in the May 2004 issue of Real Living Magazine. Download your digital copy of Real Living on the Real Living App. Log on to summitnewsstand.com.ph/real-living for more details.
*Ed's note: Final cost does not include designer's fee.
More on Realliving.com.ph
Mini Makeovers: An Instant Bathroom Update Under P5,000
How Much Does It Cost to Renovate A Bare 50sqm Condo Unit?
Load More Stories
---