Ultimate Makeover
A Scandi-Style Makeover for a Couple's 30sqm Condo Unit in Pasig City
See how this bare condo unit became a calming abode. Photography: OLA Interior Interior Designer: Catherine Cena Interiors
For over five years, Real Living reader Jamie Rose Silva-Obeña and her husband were living in a bare condo unit. "It was turned over to us back in August 2014," Jamie recalls. "We wanted it to be designed by a professional interior designer. So instead of completely furnishing the space, we decided to only get the bare necessities." 
The couple used to only have a mattress, a fridge, a shoe rack, and an induction cooker in their unit.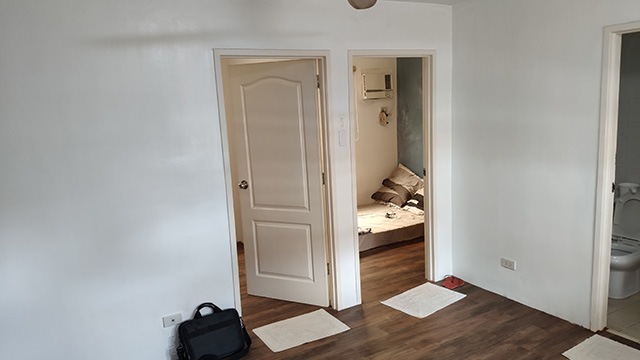 ADVERTISEMENT - CONTINUE READING BELOW
"We made a commitment to only start buying more household items once we get the unit fully renovated, thinking that it was going to happen in the span of a year or two. But you know how life is, things don't always go according to plan." Because of financial constraints, Jamies says, "we lived like this for more than five years. We couldn't invite friends and family to come over because we didn't even have a chair. We both ate our meals on foldable tables while sitting on the floor."
Finally, the couple had their condo unit renovated last January 2020.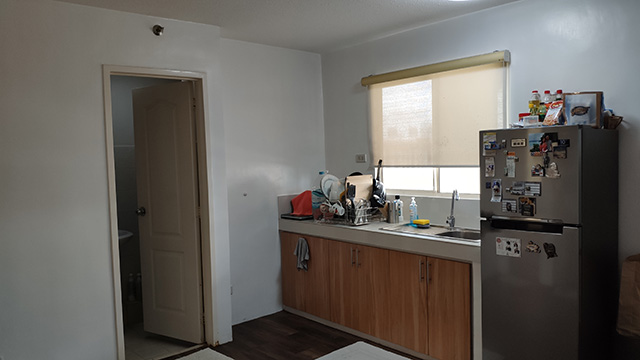 Since they live in a compact space, Jamie and her husband wanted their home to look bright and maaliwalas, and they thought a Scandinavian theme was perfect for that. "Our condo unit is only 30sqm in floor area so [we wanted to keep] the design minimal and make the unit appear bigger than its actual size."
With the help of interior designer Catherine Cena Interiors and contractor La Arte Design Interior Works, the blank space became a relaxing home dominated by white and wooden touches. 
Living area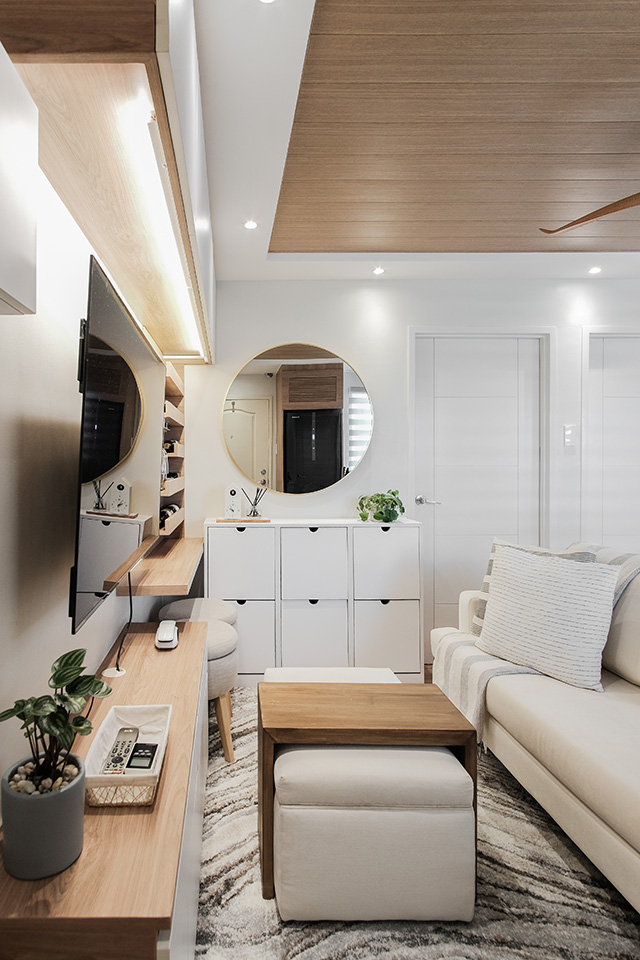 ADVERTISEMENT - CONTINUE READING BELOW
To achieve a light and airy feel, the living area is mostly furnished with white furniture pieces. Meanwhile, wooden accents add a distinct warmth to the condo unit.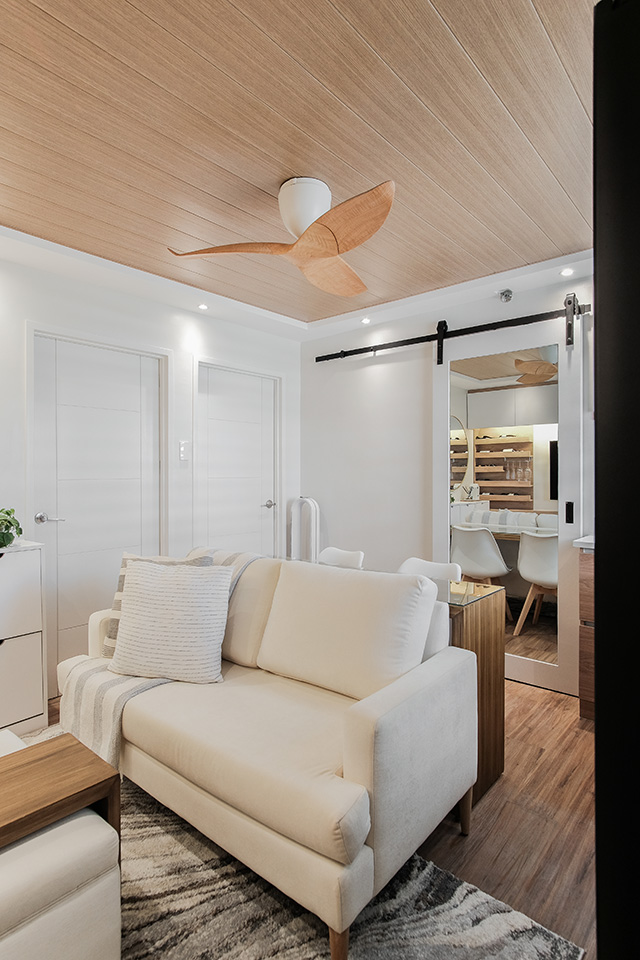 You can spot some white overhead cabinets in the living room, which seemingly fade into the background. "I wanted our things to have a designated storage space so the unit looks neat and tidy," shares Jaime. "Majority of our possessions are hidden and whatever is visible are items that we really want to put on display."
ADVERTISEMENT - CONTINUE READING BELOW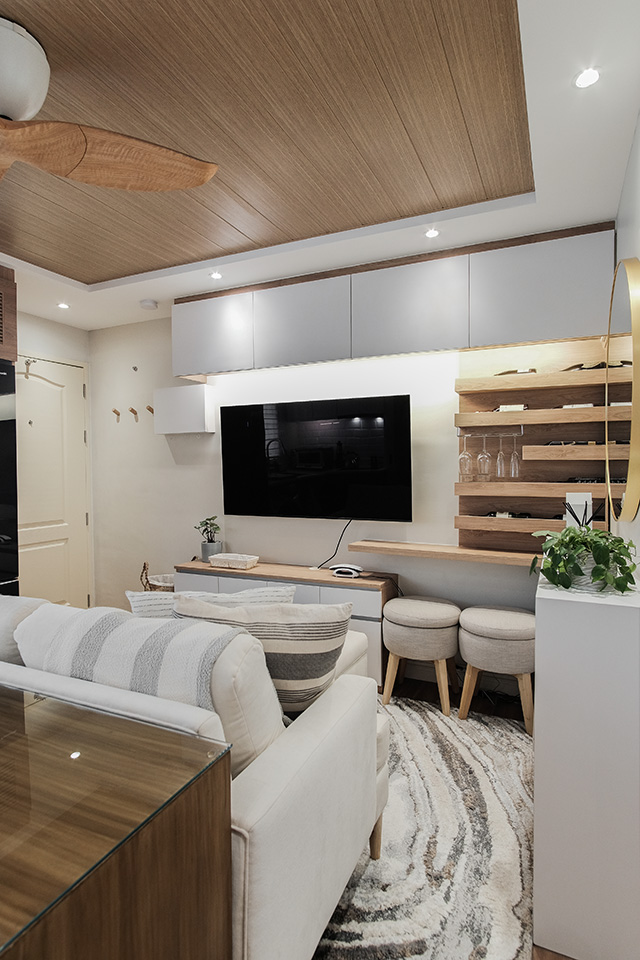 To help create the illusion of a bigger space, Jamie opted for a mirrored door for the bathroom in their living area.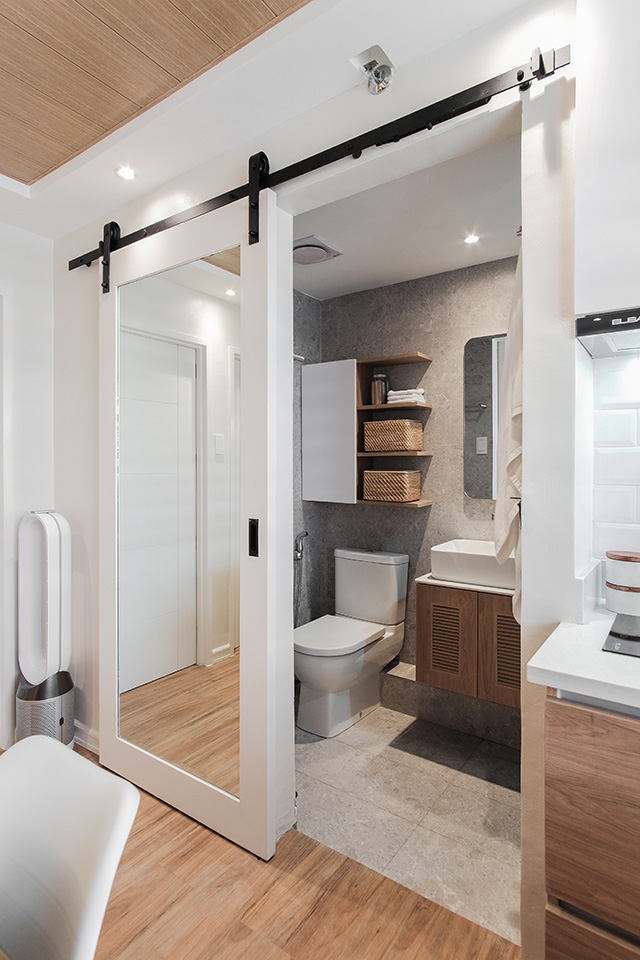 ADVERTISEMENT - CONTINUE READING BELOW
One of our favorite details is this wall-mounted wooden shelf, where the couple keeps their wine bottles!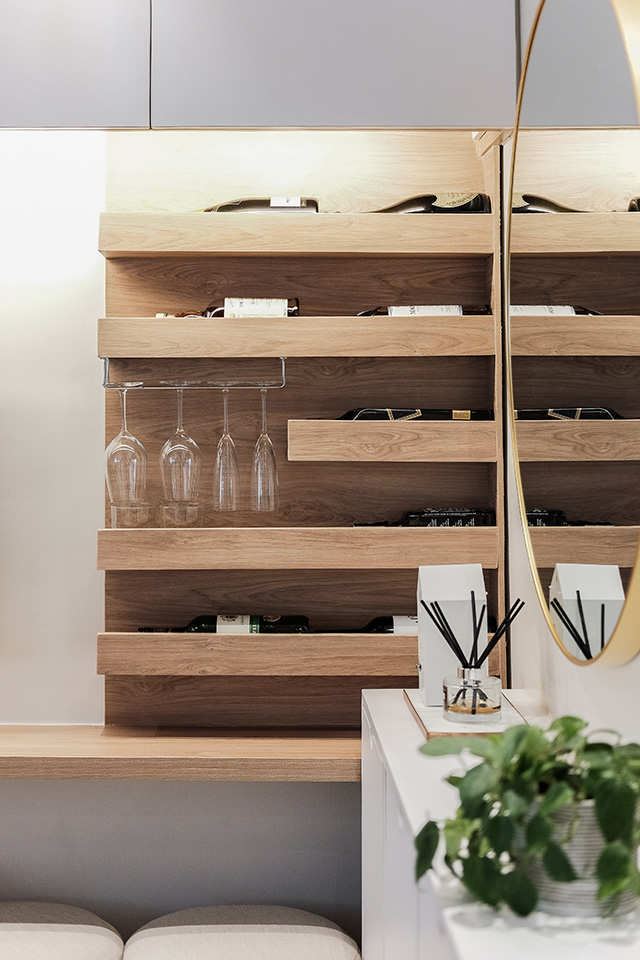 Kitchen
The homeowners kept the look of the kitchen in tune with the rest of the unit by using wooden cabinet doors, white countertops, and white subway tiles.
To keep the area from looking cramped, they also opted for white overhead cabinets with non-visible handles. 
ADVERTISEMENT - CONTINUE READING BELOW
Dining nook 
Beside the kitchen is a dining nook that's furnished with a wooden console table.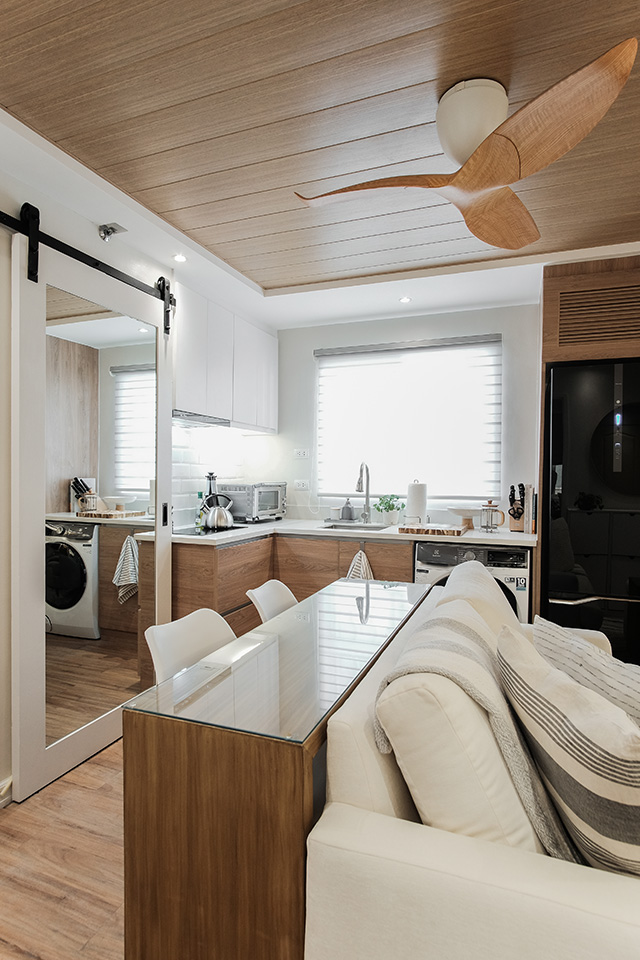 ADVERTISEMENT - CONTINUE READING BELOW
According to Jaime, they positioned the dining table right behind the couch so they can watch TV while enjoying their meals.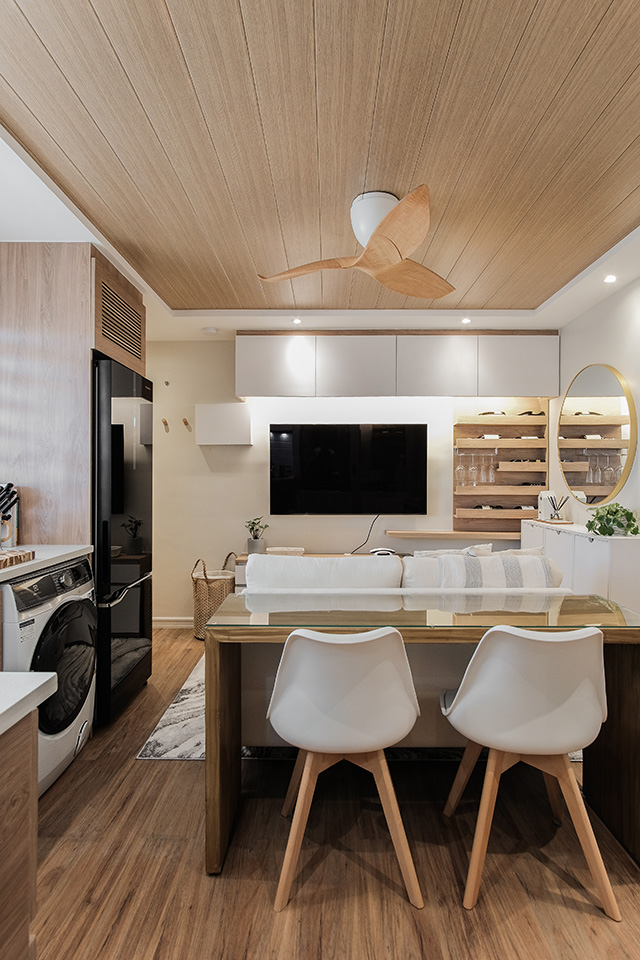 Bedroom 
Jaime and her husband decided to have an elevated bed for their bedroom, which has plenty of storage space underneath. It keeps the small space looking neat and tidy, too! 
ADVERTISEMENT - CONTINUE READING BELOW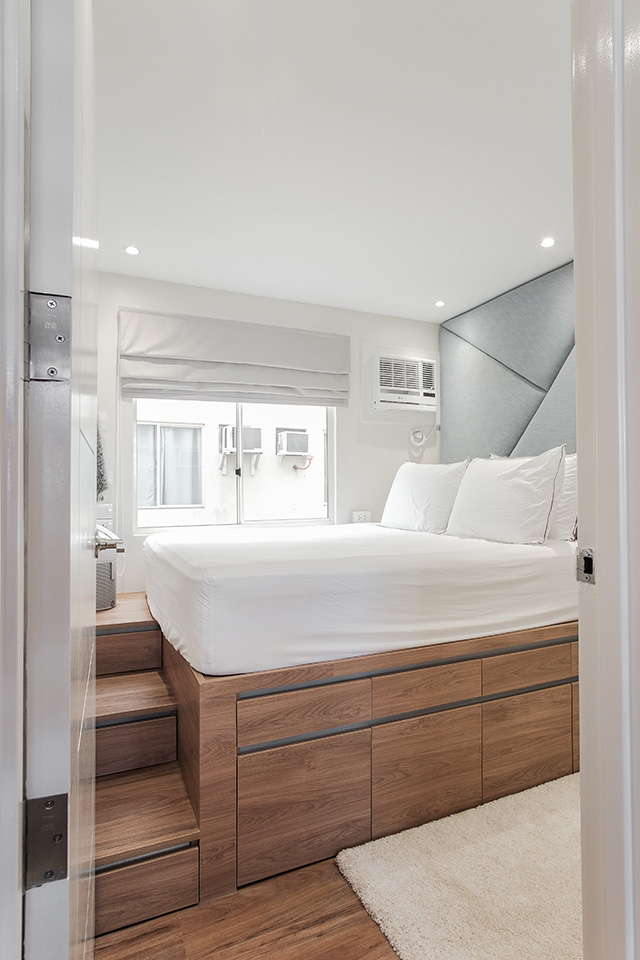 Home office 
Check out how the couple converted the other bedroom into a lovely workspace: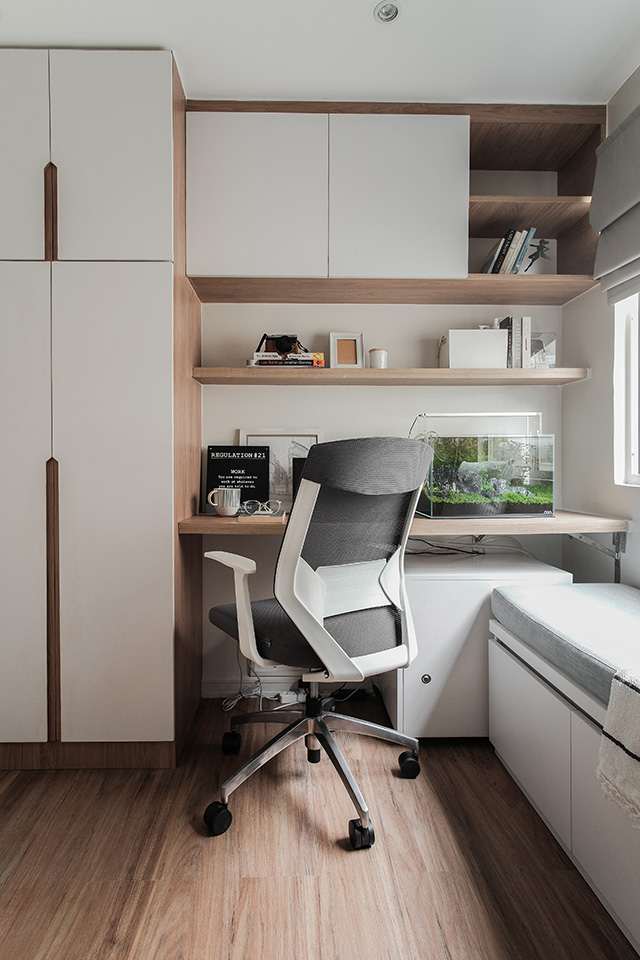 ADVERTISEMENT - CONTINUE READING BELOW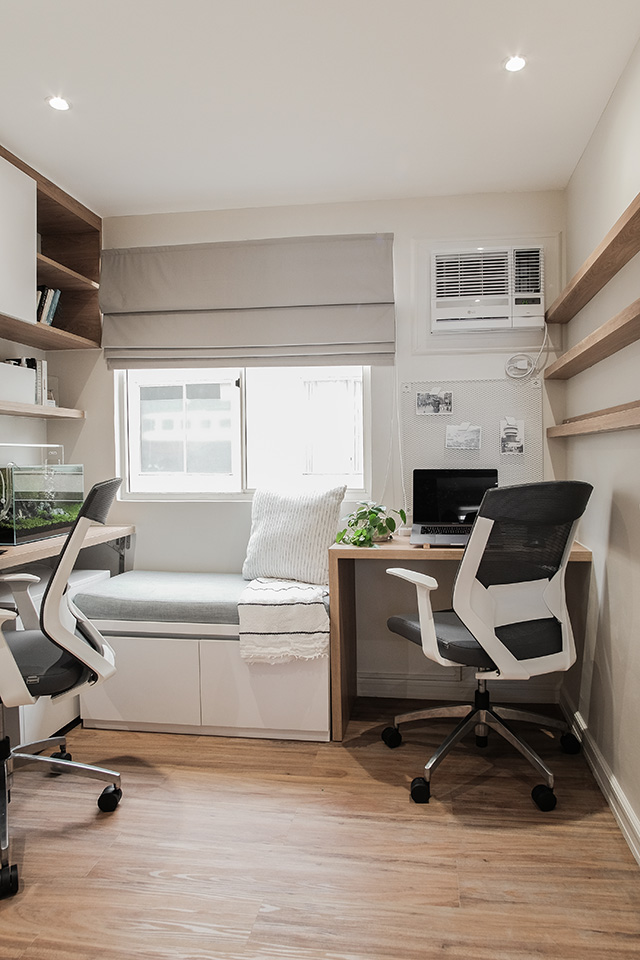 Bathroom 
Despite its size, the couple's bathroom packs a punch.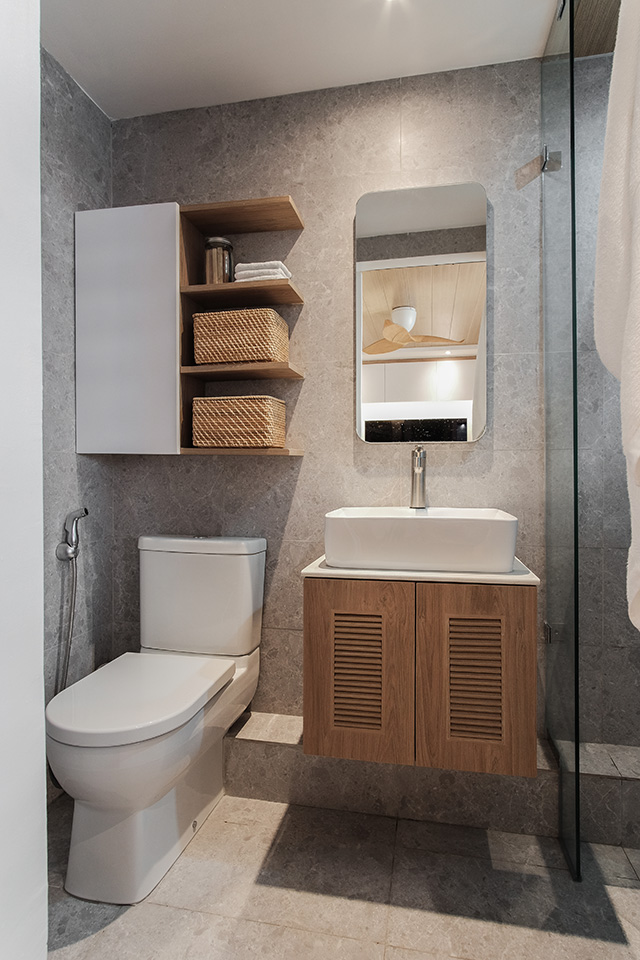 ADVERTISEMENT - CONTINUE READING BELOW
In case you're wondering, Jaime sourced these chic wooden baskets from MUJI!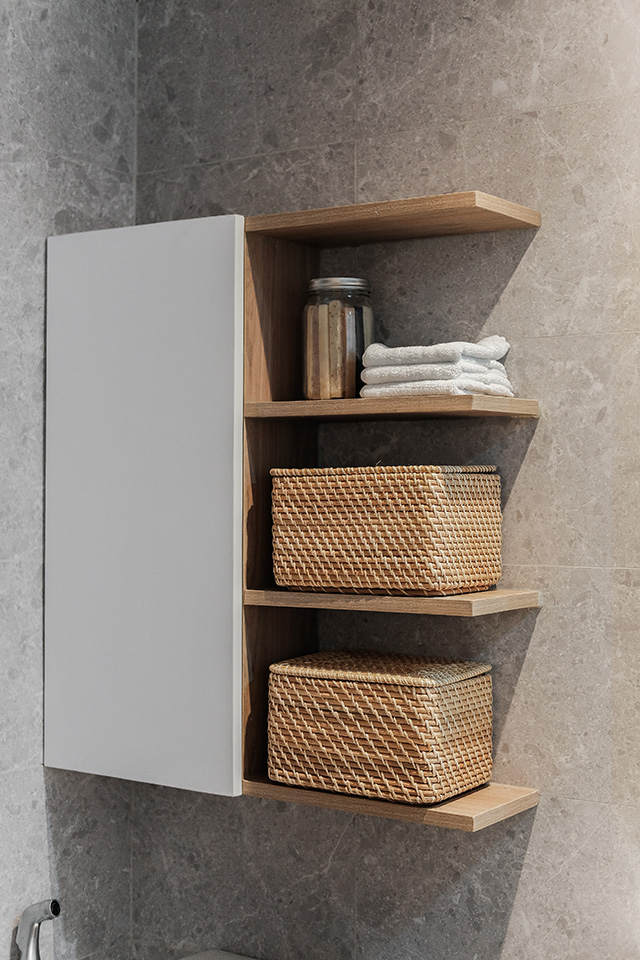 Have you recently spruced up your room or renovated your home? We'd definitely love to see the result! Send clear photos (with your full name, city address, and accompanying kuwento) to realli[email protected], and we may just feature your DIY project! 
ADVERTISEMENT - CONTINUE READING BELOW
More on Realliving.com.ph
Load More Stories