Ultimate Makeover
RL Makeovers: Organizing and Decorating Ideas for a Family Home
Interior designer Vivian Gacad transforms a plain space with personalized touches Photography: Jun Pinzon
Couple Gabe and Diane Gabriel's home has always been neat and orderly, but they wouldn't describe it as pretty. Since they were busy taking care of two young boys, they couldn't give the space a makeover.
To improve the family's living and dining areas, Real Living turned to interior designer Vivian Gacad. After only a week, the space feels completely different because of the new storage options and decorative details. Everything that Gabe and Diane have imagined was now something they can come home to every day. "It's like Vivian [read] our minds!" Gabe exclaims.
Read the original article ("Storage Problems -- Solved!") in the November 2012 issue of Real Living Magazine. Download your digital copy of Real Living on the Real Living App now! Log on to summitnewsstand.com.ph/real-living for more details.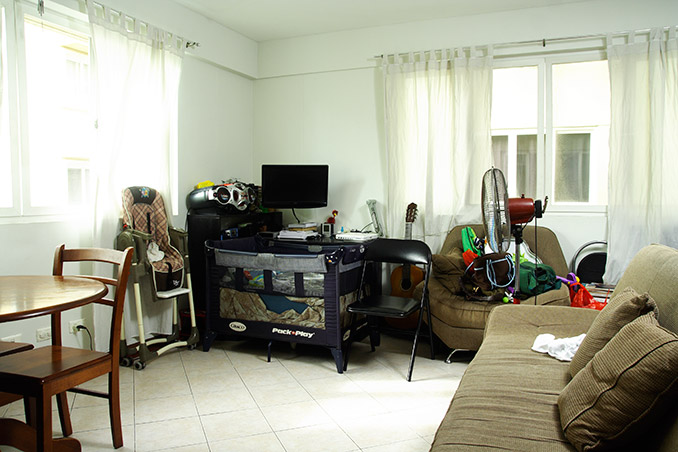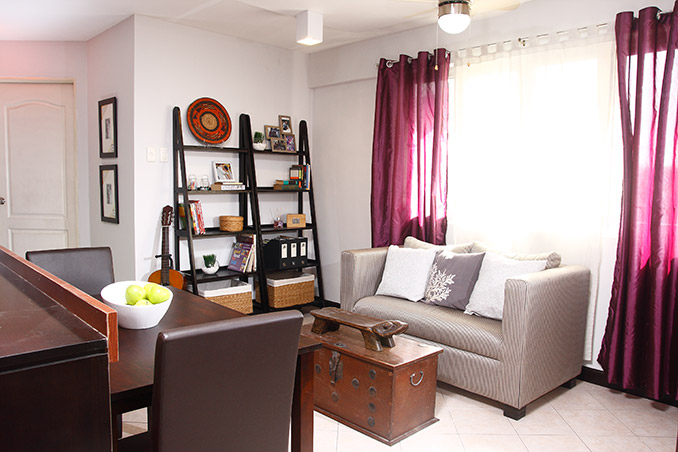 Vivian paired old furniture pieces with new ones. An antique-looking baul was used as a coffee table for the living area. A console table that once held books and other documents was placed near the home's entrance. The comfortable couch, wooden dining set, and freestanding shelves were from Crossings Home.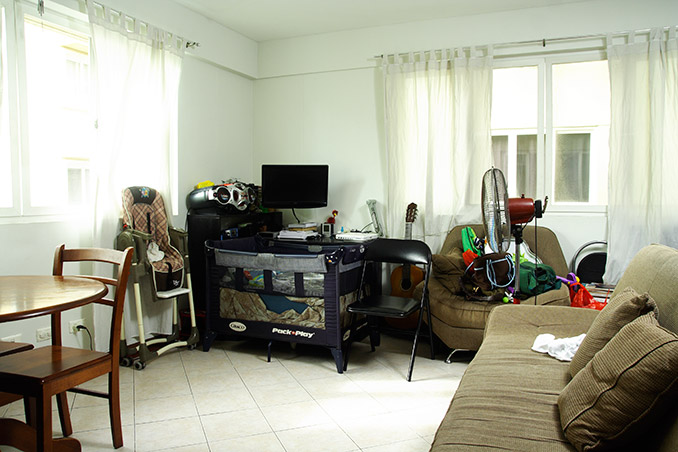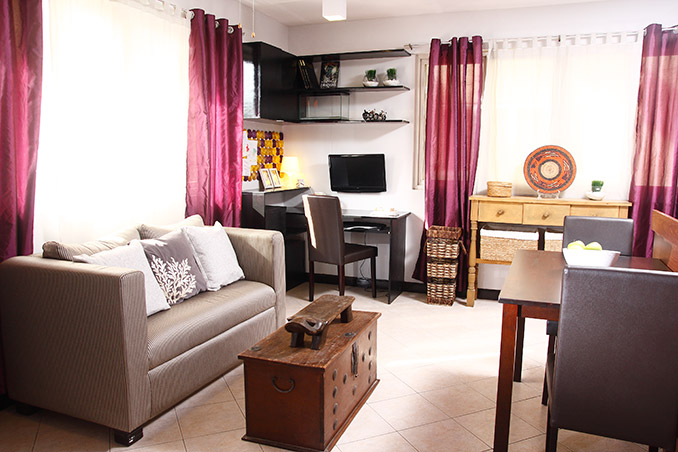 "With small spaces, it's always good to have furniture [pieces] that are multifunctional," the designer explains. She adds that the baul can be used as a coffee table, side table, and a storage piece.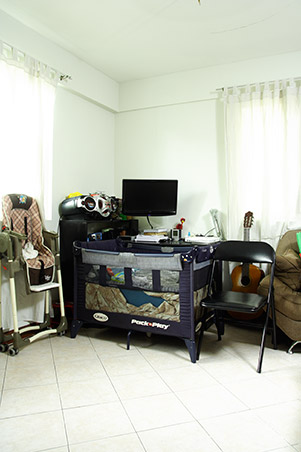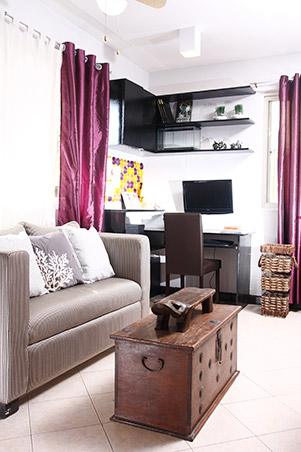 Vivian used shelves to keep the living area tidy and organized. She also added shelves to Gabe's work station where he uses his computer and plays his guitar. "I wanted to eventually put shelves above, and this is fantastic! This is better than what I wanted! It's amazing!" gushes Gabe.
More shelves were also added in the pseudo-laundry area, to Diane's delight. "As a stay-at-home mom, this is my job…this is my work. And so having neat stuff, a nice looking laundry, would inspire [me] to work, in the same way [as having] a nice office," she shares.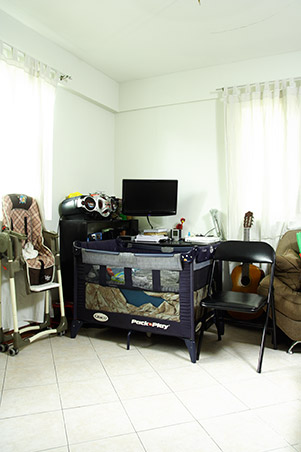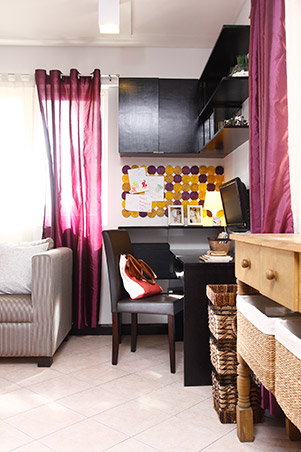 Vivian kept the living area spacious enough for the kids to move around in and concealed the kitchen wires. Her favorite task was to find the perfect spot for Jamie Oliver, the family's pet turtle. Jamie Oliver used to be in such a cramped container located over the washing machine. Now, he is located over Gabe's work station.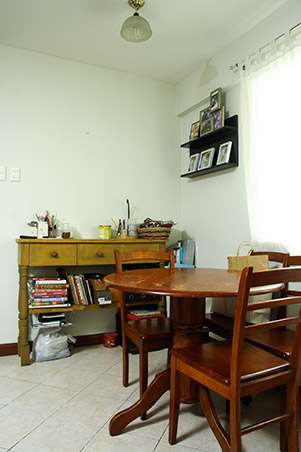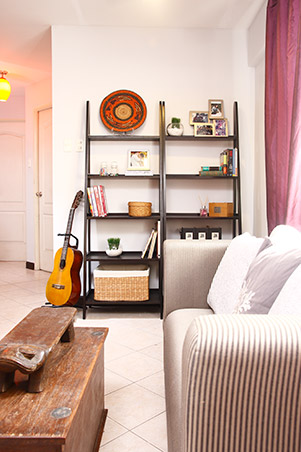 Diane and Gabe love cooking, which explains the handful of cookbooks found in their house. Both are also music enthusiasts, and Gabe has a penchant for motorcycles. One can easily recognize these hobbies as Vivian made sure to incorporate these in her design. The couple's treasured cookbooks have found a place on a set of freestanding shelves, sitting next to Gabe's acoustic guitar. His toy motorcycles are also prominently displayed on the shelf atop his workstation.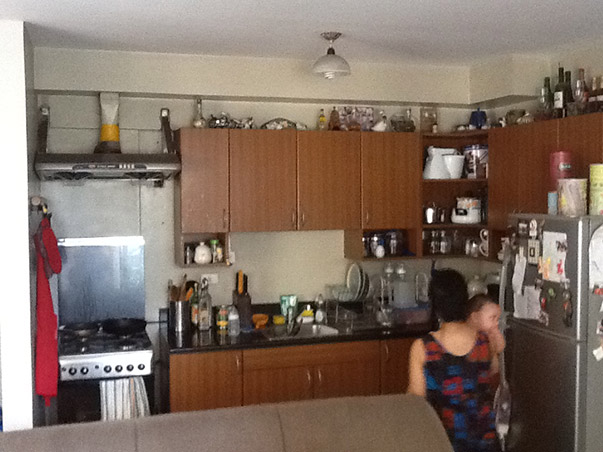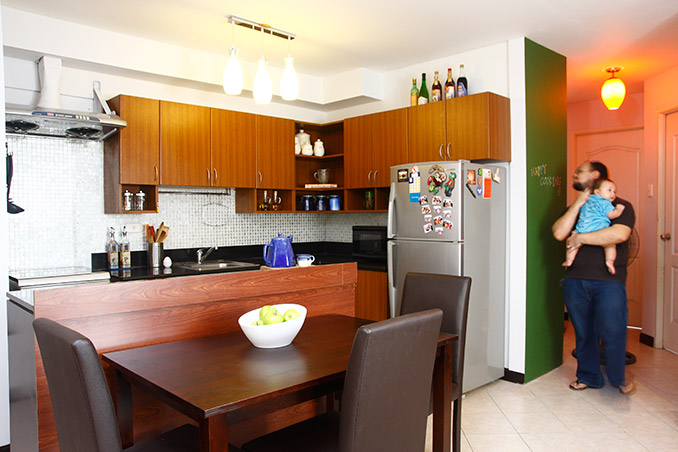 Although the original plan was to change only the living and dining areas, Vivian also worked on the kitchen area. The team installed a new backsplash, covering the beam running from the range hood, and added hooks. The space is completed with a console table from Crossings Home that serves as a kitchen island counter.
How Much It Costs:
Crossings Home
Couch, dining set, pillows, curtains, console table, decorative elements - P 60,000
Labor and Materials
Carpentry, paint work, labor fee for customized items - P 39,200
Ready for your own makeover? Contact Vivian Gacad at 0917-5328484, or email her at [email protected]
Load More Stories
---