Ultimate Makeover
After Years of Renting, Family Renovates an Old House They Can Now Call Their Own
Take a look at how they achieved their dreamy home! Photography: Dancyl Lumbab Nalzaro
Most couples dream of saving up for a house that they can call their own, but it's not an easy thing to do when you have bills to pay and kids to raise. For Dancyl Lumbab Nalzaro, 32, and husband Aaron Nalzaro, 34, it took a couple of years of "pakikitira," before they were finally able to have enough money to renovate an old house that was gifted to them by Dancyl's parents.
At first, they stayed in their Tita's apartment unit located in their family compound in Davao City. But after their eldest son suffered from asthma attacks and was even hospitalized for pneumonia because the unit did not have proper ventilation, they decided to rent a 3-bedroom townhouse for the health and safety of their kids, Jace, 5, and Jelena, 2.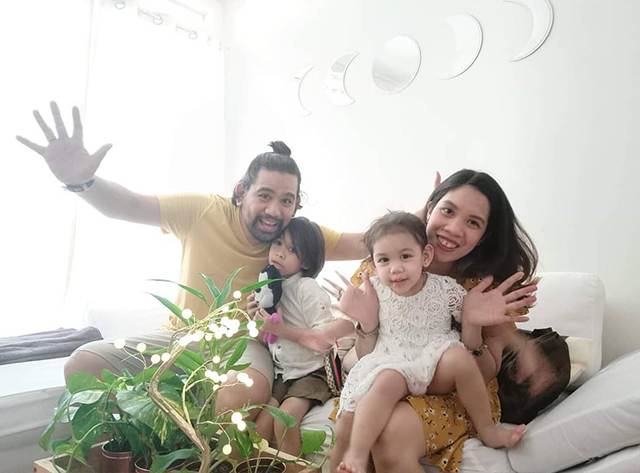 ADVERTISEMENT - CONTINUE READING BELOW
CONTINUE READING BELOW
Recommended Videos
When their contract with the townhouse was up, the couple was already looking at other apartments when Dancyl's father convinced them to renovate another unit in their family compound. "He offered to help us with the expenses as a gift, but I think he just wanted to see his grandchildren often," Dancyl tells SmartParenting.com.ph in an email interview.
"I realized it's more practical to just have it renovated rather than renting because we pay around Php25,000 monthly for the apartment plus electricity, water, and groceries. It also makes me feel at ease [knowing] I get to see my parents every day because they are just within the compound," Dancyl shares.
Transforming an old house into a bright, dreamy home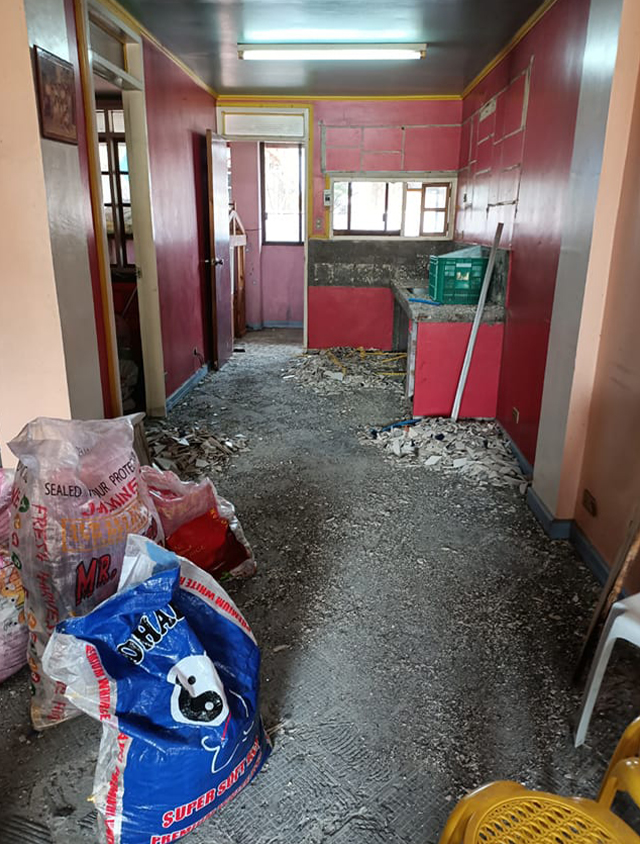 ADVERTISEMENT - CONTINUE READING BELOW
Despite being gifted with a budget to renovate, it was still a challenge since the house really needed a major renovation: The ceilings leaked whenever it rained, the floor and cabinets needed to be upgraded, and steel frames needed to be installed in the attic so they can use it as an extra room.
Dancyl wanted to maximize the opportunity they were given and turn the old house into their dream home, so she made sure it would be a place where the whole family can relax and be happy. "I really wanted to have a minimalist kind of home — not too many things and not too many colors," the mom of two shared.
She was inspired by her son's playhouse made of paleta or wood pallets. "I was very specific on what I want and that is the walls to be white, the furniture wood just like Jace's playhouse and for it to be filled with greens or plants," she adds.
ADVERTISEMENT - CONTINUE READING BELOW
Take a look at how they achieved their bright, minimalist, and dreamy home!
Living room, dining room, and kitchen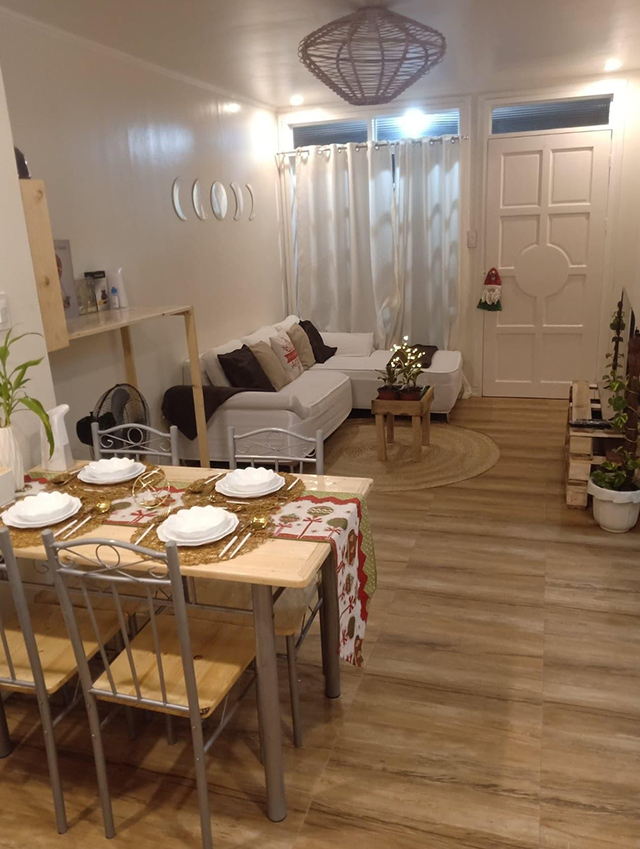 Dancyl and Aaron already had their appliances, sofa, and dining table from their rented home, but they needed beds for the children's and master bedroom plus shelves and cabinets in the kitchen.
ADVERTISEMENT - CONTINUE READING BELOW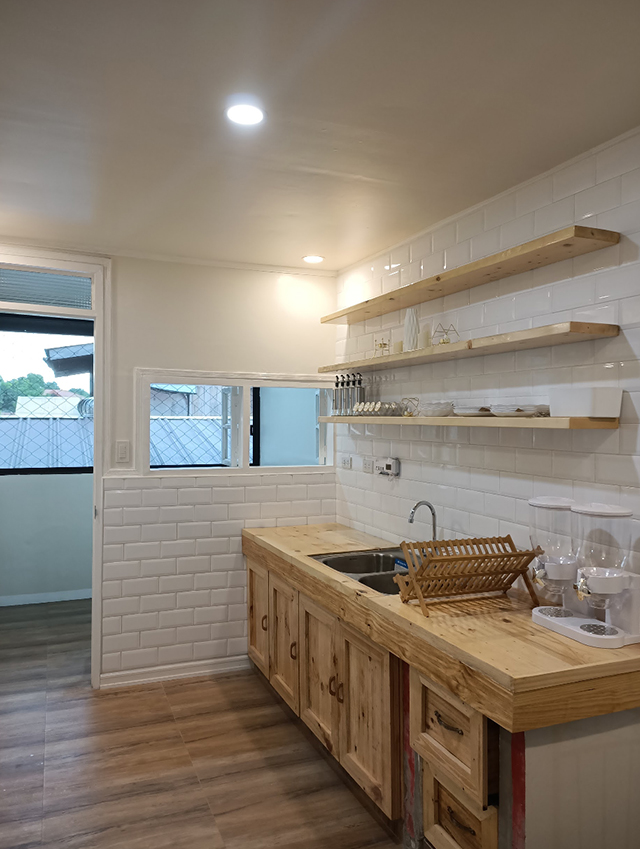 "I asked my Tito Leo from L.A. Upcycled to make all the furniture that we needed for the house. I chose the design and I was really happy with the outcome," the mom shares.
Children's bedroom
The beds are Montessori-inspired and it's safer for the kids to sleep on. It's great for pretend play — just hang some curtains and the kids pretend it's a castle!
ADVERTISEMENT - CONTINUE READING BELOW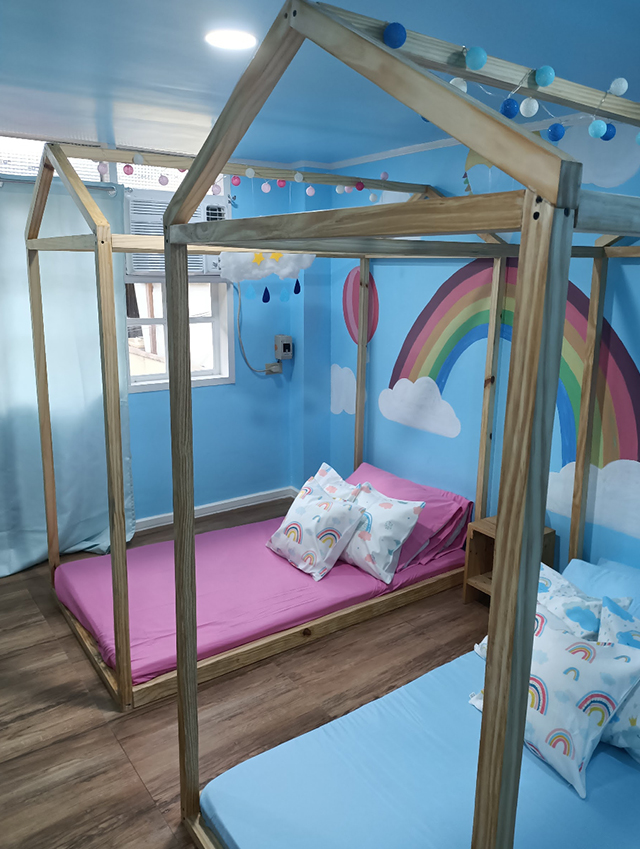 The kids even have their own personalized cabinets. Cute!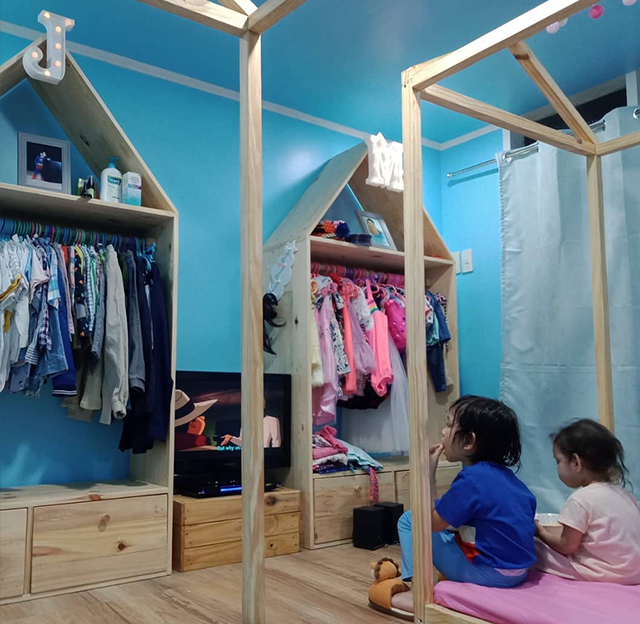 ADVERTISEMENT - CONTINUE READING BELOW
Dancyl painted the mural on the wall herself. Since the renovation happened during the pandemic, the mom also maximized online shopping. All the accessories you see in the bedroom are from Shopee! 
Master bedroom 
Dancyl wanted their bedroom to have minimal decor but still look inviting. The bed frame is made of paleta and she placed fairy lights around it which she bought from Shopee.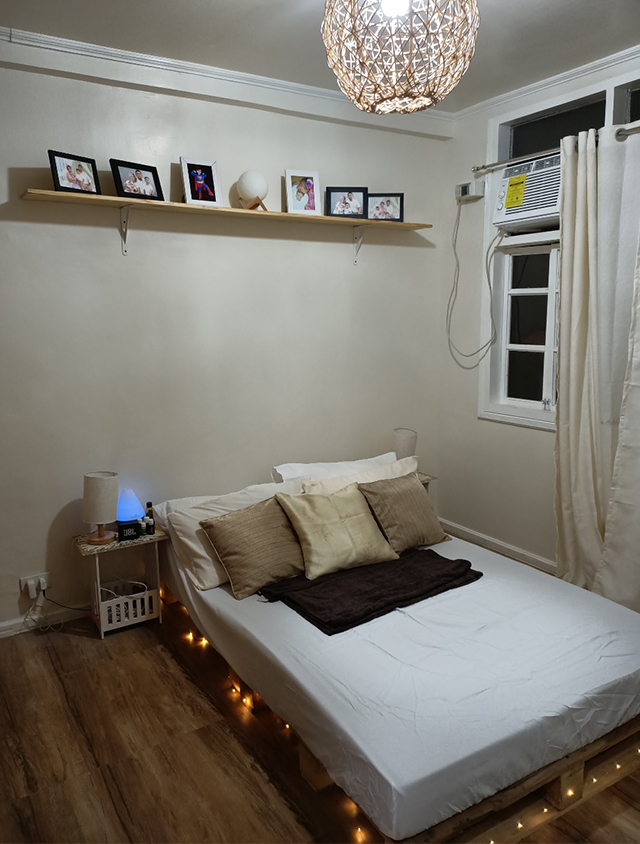 ADVERTISEMENT - CONTINUE READING BELOW
Plants
The couple made this hangout spot look cozy with wooden benches, plants, and fairy lights!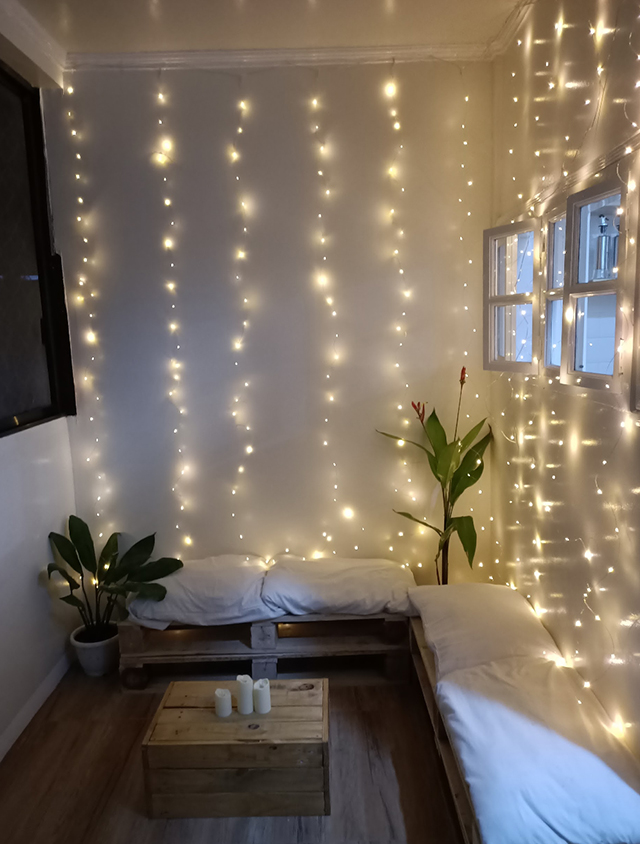 The path leading to the second floor looks lush, too!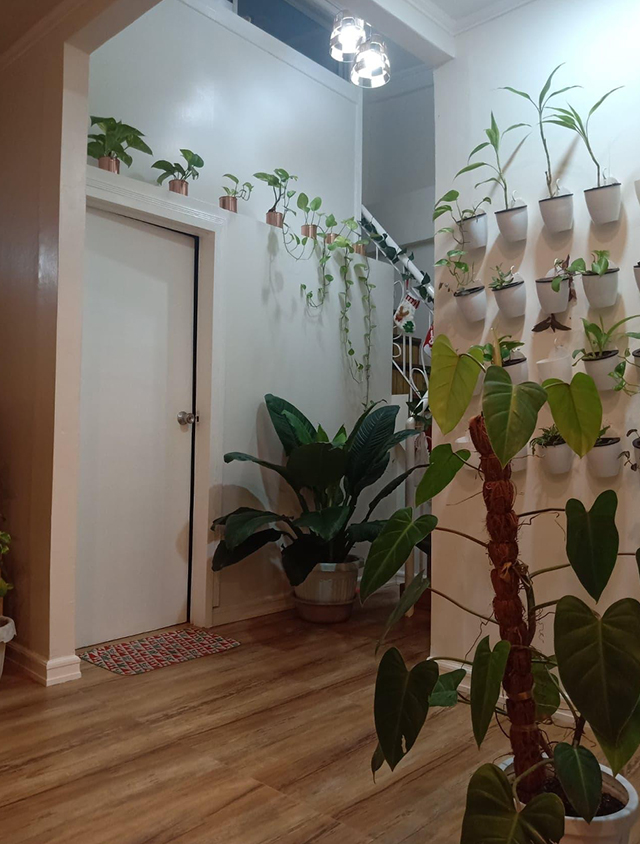 ADVERTISEMENT - CONTINUE READING BELOW
Renovating during the pandemic
 The total cost for the renovation was Php350,000. Considering they transformed 3 bedrooms, 1 bathroom, the living, dining, and kitchen areas, and the back area of their house, they were still happy that they were able to stick to their budget and see the beautiful outcome of their major renovation.
If you're planning to do a makeover for your own home, Dancyl suggests the following tips:
1. Source locally. 
 "All of the materials we bought for the house are from Davao," says the mom. "Aside from the fact that it's convenient, it's also cheaper because we don't have to outsource and pay for shipping. At the same time, we help our fellow Davaoenos."
2. Be involved in the project and do your research. 
 "I spent a lot of hours on Pinterest and on Facebook looking for ideal designs that match our theme. I didn't have to pay for an interior designer anymore since I got it all covered.
ADVERTISEMENT - CONTINUE READING BELOW
"But just because you hired someone to do the project doesn't mean you won't check their work. I constantly call the contractor regarding the progress of the construction and I visit the site. That way we know what needs to be changed or improved and if there are any problems it will be addressed right away," Dancyl shares.
3. Ask suppliers for brochures and if they have online delivery. 
 "It's very hard to have something renovated during this time so what I did was I look for suppliers that have websites or Facebook accounts where I can call and order. Luckily Wilcon Depot, Citi Hardware and FC Tiles have this.
"I message them my orders then they'll deliver it to you or you can pick it up at their store. That way you'll be less exposed," the mom explains.
4. Upcycle. 
 "Not everything should be new. Use your old furniture and old appliances — repaint or reface if it doesn't match the theme. The shade of our old sofa is brown but I opted for a customized sofa cover so it will match the theme of our house. It's easy to wash, too!"
ADVERTISEMENT - CONTINUE READING BELOW
Want to share your #budgetperofancy home makeover and get featured? Email  [email protected] and tell them about your project. For more home improvement and renovation ideas, click here.
This story originally appeared on Smartparenting.com.ph.
* Minor edits have been made by the Realliving.com.ph editors.
More on Realliving.com.ph
Load More Stories